There are enough things to do in Jerusalem to warrant spending up to a week in this ancient city. Jerusalem is a place of the utmost spiritual importance to people of the three main monotheistic religions.
After all, it is here where Jesus was crucified and resurrected, the Prophet Mohammed rose to heaven, and the Jews constructed one of their most notable holy sites. However, you do not have to be religious to enjoy travelling through Jerusalem.
Jerusalem is the largest city in Israel, as well as the country's capital. Due to its religious significance, Palestinians also consider Jerusalem as being their capital city.
Jerusalem as it stands today dates back over 5,000 years. It is believed that the first settlers in Jerusalem arrived in the Bronze Age – around 3500BC.
Falling in Love with Jerusalem
Jerusalem is essentially divided into two halves. There is the old city and the new city.
The two parts of town are distinctly different and both have their own unique personalities. For the best experience in Israel's capital, you should take the time to explore them both.
The old city is a mesmerising place to explore regardless of your interests or religious affiliations. Historic Jerusalem consists of winding narrow passageways, bustling souks, quaint tearooms, and beautiful historical sites
The various cultures and religions that live in such close proximity to each other add a sense of mystery and magic to Jerusalem. One moment, you are walking through the Muslim quarter listening to the call to prayer echo from the minarets.
The smell of oud and incense waft through the air of the Islamic markets. In the next breath, you are in the Jewish district where locals queue for freshly cooked matzo balls. Jerusalem is a very special place.
Tensions in Jerusalem
Years of clashes and conflict have meant that the city of Jerusalem has been destroyed and rebuilt countless times over thousands of years. It may not come as a surprise to learn that Jerusalem is one of the most fought-over places in the world!
In documented history, it has been destroyed nine times, seized 44 times, and attacked 52 times! It's unfortunate that the city of Jerusalem has become somewhat synonymous with tension and the Israel-Palestine conflict.
Both Israel and Palestine regard Jerusalem as their capital. There are certainly many different religions and perspectives coexisting here. However, Jerusalem is peaceful enough most of the time.
Before travelling to Jerusalem, check your government's latest travel advice, and follow the local news for developments. If you can, try and avoid travelling during any religious holidays or political anniversaries.
31 of the Best Things to Do in Jerusalem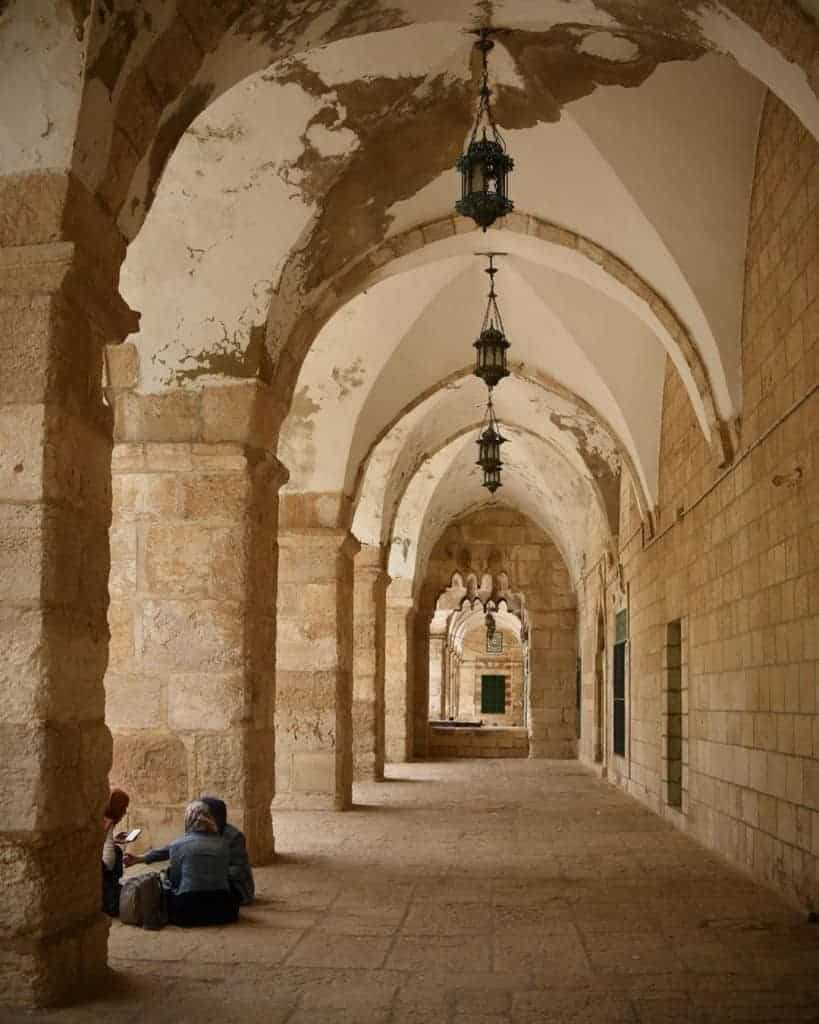 In an ideal world, you would have the freedom and flexibility to spend countless days exploring Jerusalem. Even if you spent a month here, you would feel as though you have barely scratched the surface of what the city has to offer.
However realistically, perhaps you have only a day or two to dedicate to the city during your wider Israel itinerary or Palestine trip. The best places to visit and things to do in Jerusalem are outlined below.
Explore the Old City of Jerusalem
The ancient walls of old Jerusalem have been standing for centuries and still protect the city today. They were built by Suleiman of the Ottoman Empire.
The old city that resides within is relatively compact. It has a diameter of just 1km.
That considered, the majority of Jerusalem's most important sites are contained here. This includes the Temple Mount, the Church of the Holy Sepulchre, and St David's Tomb.
One of the highlights of exploring this area is the distinctly different neighbourhoods that make up the old city. Each Jerusalem neighbourhood is populated by a different religious group, and each has its own personality and culture. You can explore the Muslim Quarter, the Jewish Quarter, the Armenian Quarter, etc.
Walk on Top of the Old City Walls
One of the best things to do in Jerusalem is to walk along the top of the UNESCO-protected walls of the old city. Follow the Ramparts walk trail along the 1km route around the city.
You can enjoy some incredible views and photo opportunities from up here. Modern-day Jerusalem has expanded well beyond the old town and the city walls. Venturing up here really gives some perspective as to precisely how small the city was centuries ago.
Shop at the Mahane Yehuda Market
The Mahane Yehuda market is the largest market or "shuk" in Jerusalem. It is nestled between the streets of Aggripas and Jaffa in the "new" part of town.
This is one of the best things to do in Jerusalem if you really want to get an insight into local life. Over 250 vendors set up their stalls here every morning.
They sell everything from fresh fruits and vegetables, to traditional delicacies and Middle Eastern spices. Take this opportunity to sample some of the spiced, mixed nuts or the sweet halva.
Mahane Yehuda market is a fascinating place for people-watching, especially if you come right before Shabbat. At this time, local women pick up the ingredients for their Shabbat dinner.
It is popular to take a food tour of this area like this one if you are interested in doing so. This is a good opportunity to meet a local who can advise you on some of the best places to eat, drink, and hang out in Jerusalem.
Haggle Your Way Through the Old City Bazaar
The Old City Bazaar of Jerusalem is far more touristic than the Mahane Yehuda market. However, it is well worth a visit nonetheless.
This is the place to purchase all of your wonderful souvenirs and trinkets from your time in Israel. You can find everything here from ceramics and ornaments to jewelry, mezuzahs, kippahs, and yarmulke.
It is customary to haggle here. Most initial prices are inflated.
You should aim to negotiate a price that is around 60% of what was initially quoted. It is not rude to haggle in Israel, it is expected.
The Temple Mount and Al Aqsa Mosque
The Al Aqsa mosque is the stunning golden-domed mosque that sits at the top of the Temple Mount. The mosque has pretty much become the iconic image of Jerusalem and is often displayed on postcards and travel literature.
It is also one of the most photographed buildings in the world. The Temple Mount is of religious significance to Jews, Muslims, and Christians alike.
Muslims believe that it was here where the Prophet Mohammed made his "night journey" to depart this world. This is one of the world's most important Islamic sites.
It comes third after Masjid al-Haram in Mecca, and Al-Masjid an-Nabawi in Medina. Meanwhile, Jews believe that the temple stands on the site where Abraham offered his son Isaac as a sacrifice.
Practical Information for Visiting Temple Mount
Guards and tanks encircle the site of the Temple Mount and you have to pass through airport-style security in order to access the area. You must dress conservatively and pass through metal detectors.
There are lockers here where you will be required to leave any item that could be used as a weapon. If you don't leave them, they may be confiscated. This includes things like selfie sticks, tripods, and walking umbrellas.
Muslims are not permitted to step inside the mosque or be on-site during prayer. Regardless, visiting the Temple Mount is one of the best things to do in Jerusalem and you can snap some incredible photos here.
The gardens that surround the mosque are a beautiful place to stroll and enjoy the views out to the Muslim quarter of the city. Lines at the site are not uncommon so stop by early if you can.
The Temple Mount is open to tourists on a very limited schedule that works around prayer times. You can enter between Sunday and Thursday between 7:30 am to 10:30 am and then again from 12:30 to 1:30 pm.
Follow Jesus' Last Steps at Via Dolorosa
The old cobbled street of Via Dolorosa is of significant importance in Jerusalem. It is here where Jesus is said to have walked his last steps as he staggered through the city to be crucified.
As you make your way along the processional route, it is not uncommon to see devout pilgrims carrying crosses as they follow the footsteps of their savior. Numbered plaques on the wall indicate where various notable scenes from the Bible took place.
Look out for a rock with a handprint on it that has been surrounded by protective glass. It is said that Jesus touched this rock as he tried to balance himself, leaving an indentation in the stone.
The Church of the Holy Sepulchre
The Church of the Holy Sepulchre on Via Dolorosa is one of the most important sites in Jerusalem and all of Christianity. The beautiful structure was built over the hill where Jesus is said to have been crucified.
The elaborate interiors are one thing. However, what makes the church special is the stone slabs inside where Jesus is said to have been prepared for burial and resurrected.
Prepare to queue to approach the slabs. Here, devout Christians rub their belongings on them in order to obtain a blessing.
Revel in the Views from the Austrian Hospice
The Austrian hospice is an old hostel that awaits at 37 Via Dolorosa. It was founded by the Archbishop of Vienna in 1854 and acted as a guesthouse for pilgrims.
Today, a wonderful quaint coffee shop sits inside. Not only is this a great place to have an espresso and a generous slab of chocolate cake, it also boasts a magnificent rooftop.
The views of Jerusalem from up here are some of the best in the city. You can look right across to the old town, and the Church of the Holy Sepulchre. The ambiance here is particularly special at sunset.
Experience Jerusalem by Night
Considering how religious a lot of Jerusalem residents are, it may be surprising to hear that the city is home to a wonderful selection of pubs, speakeasies, and cocktail bars. Jerusalem by night offers a little something for everyone.
Hataklit bar (Heleni ha-Malka St 7) is a popular evening rendezvous point for locals. It's a simple, unassuming dive bar with ample outdoor seating – perfect for enjoying a beer or two on a warm summer's night.
Hataklit sits just off Jaffa street and always attracts a Bohemian crowd of writers, artists, and creatives.  Happy hour is on weekdays from 4.30 pm to 9 pm and features a buy-one-get-one-free deal on all drinks. Considering how expensive Israel is as a travel destination, that's good to know!
For something a little more chic and sophisticated, join the well-heeled crowd at the Gatsby cocktail room (Hillel St 18). This upscale establishment pays homage to the roaring 20s with its grand vintage decor that exudes opulence at every turn.
Gatsby is widely regarded as being the home of the best craft cocktails in Jerusalem. They boast a diverse menu showcasing innovative creations thought up by their own mixologists, along with classic cocktails from around the world.
Visit Yad Vashem – The Holocaust Museum
Yad Vashem, aka the Holocaust museum, is a large complex that tells the story of the holocaust from a Jewish perspective. Inside you can find various testimonies and stories from survivors, recovered artifacts, and historical videos.
A visit to the Holocaust Museum is a somber experience, but a moving one. After all, this is a very important historical event to remember. You should set aside at least 3-4 hours for exploring Yad Vashem.
The Western Wall
The western wall (also known as the "wailing" wall) is a place of prayer for Jews. It was built over 2000 years ago in 79AD.
Fascinatingly, despite the fact that Jerusalem has been destroyed and rebuilt nine times throughout history, this wall has remained intact. The cracks and crevices of the wall are jam-packed full of little notes and crumple of paper expressing prayers and wishes.
The wailing wall is sort of like a mailbox to God. The best time to visit the western wall is on a Friday evening. This marks the beginning of Shabbat and is a time when many locals come to pray.
The Tunnels of the Western Wall
It is possible to take a tour of the tunnels of the western wall to obtain further insight into the history and construction of the site. As you transcend down the tunnels, it is somewhat bewildering to see precisely how far down the wall extends.
Several artifacts and archaeological finds have been discovered in recent years. The excavation work still continues to this day.
If you are not interested in doing a tour of the tunnels, righteous women (aka all women) can enter the tunnels for free if they want to pray. Just let the guards know that you want to pray and they will let you pass.
This is a good option if you are a bit claustrophobic and just want a quick peek inside the tunnels. Prayer tunnels for men and women are segregated.
Check Out the Jaffa and Dung Gates
Old Jerusalem is divided into five distinct districts. There are eight gates that provide access to the old, walled city.
Namely, these are Damascus Gate, Jaffa Gate, Dung Gate, New Gate, Herod's Gate, Lion's Gate, Golden Gate, and Zion Gate. Jaffa Gate is one of the most important entrances into the city.
Dung Gate is the smallest entrance into the city. Apparently, the city's dump was once located here. So, the gate was aptly (yet grossly) named!
Indulge in Delicious Israeli Delicacies
Israeli food is incredibly flavourful and diverse. The national cuisine offers a lot of variety, even for vegetarians.
It shares a lot of similarities to Arabic food and truthfully, many Israeli dishes originated from various places across the Middle East. Over the last few years, the restaurant scene in Jerusalem has exploded.
Plenty of trendy restaurants serving both local and international foods have opened up across the city. Today, Jerusalem is quite the gourmand.
There are several Jerusalem restaurants to have on your radar. Look out for Machneyuda market-to-table restaurant, Satya Mediterranean cuisine, and Eucalyptus. The latter is a restaurant that utilises Jerusalem-sourced herbs and ingredients in ancient biblical recipes.
Stop by King David's Tomb
King David's tomb is the supposed burial site of King David, former King of Israel. David ruled between 970 and 1010 CE and his tomb can be found on the slopes of Mount Zion.
Whether or not he is actually buried here is widely disputed. Nonetheless, you will find the site filled with locals who pray at the site.
The building is now managed by a Jewish seminary group. There are different entrance and praying areas for both men and women.
Visit The Site of the Last Supper
The Cenacle is a room that is situated directly above King David's Tomb. It is here where the last supper is said to have taken place.
The Cenacle was also the very first Christian church. Today, it is one of the most important religious buildings in the city.
Eat a Shabbat Dinner
74.2% of people living in Israel are Jewish. It is important to learn a little about Israel's culture and traditions during your trip.
Attending a Shabbat dinner, and learning about Judaism is a good way to do that. Weekends fall differently in Israel and cover Fridays and Saturdays as opposed to Saturdays and Sundays.
Shabbat dinner usually takes place on Friday evenings after the sun has set. This is typically a lavish multi-course meal featuring challah (braided bread), gefilte fish, and tcholent (stew).
There are several cultural initiatives in Jerusalem that allow travellers to experience a Shabbat dinner. You can enjoy a Shabbat meal with a local family or try your hand at cooking Shabbat food with other travellers.
Participate in a Walking Tour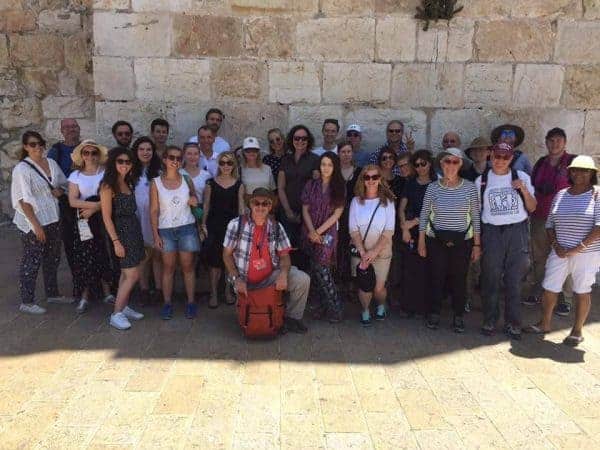 There are some excellent walking tours that lead you around the best things to do in Jerusalem. These tours also help you to obtain more insight into the history and background of the various Jerusalem attractions.
A handful of reputable Jerusalem walking tours are detailed below for your consideration. If you are interested in doing a tour, it is a good idea to do one very early on in your Jerusalem trip.
That way, you can really get your bearings in the city. Exploring with a local also means that you have someone that you can ask for the best insider recommendations on where to eat, drink, and hang out.
Visit the Israel Museum
The Israel Museum is an important place to visit in order to obtain more insight and information into the history and culture of Israel. The museum contains artifacts and exhibits that cover the last 5000 years of history in the region.
One of the most notable exhibits here is displaying the Dead Sea scrolls. There are more than 800 scrolls in total.
These were found by Bedouin teenagers in 1946 in the Qumran Caves in the Judaean Desert, near Ein Feshkha. They date to around AD 132 – 35.
The scrolls, written in Hebrew, contain excerpts from every book of the Old Testament, except for the Book of Esther. Nobody knows for certain who wrote them.
Things to do in Jerusalem:
Additional Suggestions
If you have a little more time to spend in the Israeli capital, consider exploring the various things to do in Jerusalem that are outlined below.
Enjoy the Views of Old Jerusalem from the Mount of Olives
The Mount of Olives is just a short walk away from the old city. You can ascend to the top in order to enjoy magnificent views over Jerusalem.
There are several sites to look out for around the Mount of Olives. Notably, the Silwan Necropolis, an important Jewish cemetery, the tomb of the virgin mary, and the garden tomb of Jesus.
The Garden of Gethsemane sits at the bottom of the hill. It was here where Jesus is said to have gathered with his disciples before he was captured and taken to be crucified.
Pay Your Respects at Oscar Shindler's Grave
Oscar Schindler, the man who helped thousands of Jews escape from the Nazis, is buried at Mount Zion Catholic Cemetery just outside the walls of Old Jerusalem. This is the most visited grave in the city.
Many locals and tourists often stop by here to leave tributes. Unfortunately, the gates to the graveyard are often locked. However, you can try and enter on your way to the Mount of Olives, if you are interested.
Admire the Basilica of Agony
The Basilica of Agony (quite a name, eh?) is also known as the Church of All Nations and is situated on the Mount of Olives. The beautiful Roman Catholic church was constructed in the 1920s.
It is widely believed to be one of the most stunning churches in Israel. It boasts a remarkable facade of mosaics, statues, columns, and arches.
There is a giant stone on display inside the church. This is supposedly where Jesus prayed in despair the night before his crucifixion.
Nearby, don't miss the Russian Orthodox Church of Mary Magdalene. This dramatic blue and white structure with gold-domed roofs were built in 1886 in honour of the mother of Tsar Alexander III.
Enter the Tomb of the Virgin Mary
There is a small cave at the foot of the Mount of Olives, within the Kidron Valley. This is considered to be the burial place of the Virgin Mary.
This is a widely respected theory, particularly within Israel. However, there are also other tombs in other countries that claim to be her final resting place.
Cross into Palestine's West Bank
If you are interested in travelling to the West Bank, it is easy to do a day trip from Jerusalem. Buses to Bethlehem depart regularly from Damascus Gate.
You can take the Arab bus 21, 321, or 324. Get off at the separation wall or go into central Bethlehem.
Many of graffiti artist Banksy's most notable pieces can be found in Palestine. You can also visit the Church of the Nativity where Jesus was born.
Windowshop at Yoel Moshe Salomon Street
Yoel Moshe Salomon Street is a pedestrianised street in the leafy old neighbourhood of Nahalat Shiva. There are many quaint boutique stores here that sell gorgeous one-of-a-kind apparel items.
This is a great place to go shopping, pick up souvenirs, or sit and watch the world go by in a coffee shop. The southern part of the street, just off Yosef Rivlin street is decorated with colourful umbrellas and outdoor art installations.
It is the perfect spot to stop and take photos! You will also find some very highly rated restaurants in this area too.
Zuni זוני (Yo'el Moshe Salomon St 15) is an understated gastropub that is very popular among locals. They serve food all day and have everything from breakfasts and brunch, to evening dinners.
Nearby, Piccolino Italian restaurant (Yo'el Moshe Salomon St 12) is a nice place to eat if you fancy a change from Middle Eastern food. You can find all of your favourite Italian dishes on the menu here – from focaccia and pizza to handmade gnocchi and pasta.
During the evenings, Piccolino hosts live musical performances in its courtyard. Food is locally sourced and any leftovers are donated to Jerusalem charities that support women in need.
Stop by the Garden Tomb of Jesus
The garden tomb of Jesus is an ancient Jewish tomb that is carved into the rock face on the Mount of Olives. Though there is no historical evidence, this is widely believed to be the tomb of Jesus.
The site shares many similarities with its descriptions from the Bible.
Take a History Lesson at the City of David
The city of David is the location where the original inhabitants of Jerusalem once lived. It is here where King David is said to have united the Israelites and dreamed of building Jerusalem.
The city is very much an excavation site. New finds are constantly being discovered. The city of David and its tunnels are worthy things to do in Jerusalem that warrant at least half a day of your itinerary.
Check Out the Jerusalem Art Scene
Jerusalem is a multicultural, diverse, and exciting city. As such, it makes sense that artists from across Israel and the world would draw inspiration from its culture and architecture.
There are several excellent independent galleries in Jerusalem to add to your radar if you are interested in art. The Jerusalem House of Quality (12 Hebron Road) first opened its doors 25 years ago and promotes the works of the city's contemporary artists.
You will find a variety of different pieces here – glassware, ceramics, copper, jewelry, and mosaic art. From the rooftop, you can enjoy excellent views across the city.
Yehoshua Aryeh Fine Art Gallery (23 Shlomo HaMelech Street) contains a collection of beautiful photos of Israel. Meanwhile, Time Art Gallery (15 Queen Shlomziyon Street) is an art gallery with a twist.
Time Art displays the pop art style creations of renowned Israeli artists. These artists are experimental and they use bright, vibrant color palettes while incorporating artistic 3D methods into their works.
Take a Day Trip to Masada, Ein Gedi and the Dead Sea
Several tour companies like this one offer excursions from Jerusalem to Masada, Ein Gedi, and the Dead Sea. Some may also stop briefly at Qumran – the place where the Dead Sea scrolls were discovered.
Masada is an ancient fortress that is perched on top of a natural, rocky plateau in the middle of the Judean desert. The fortress was built by King Herod for defensive purposes.
The fortress in itself is interesting. However, what is more spectacular, and what is the main draw for a lot of tourists coming here, is the majestic sunrise that can be viewed from the top.

Get here at 4 am to see unparalleled views as the desert sky is illuminated in shades of red and orange. From here, you can venture onwards to Ein Gedi.
Ein Gedi is a nature reserve that is perhaps best known for its hiking trails and waterfalls. You can swim in the falls here.
Although they do occasionally get busy, it does not detract from their charm. Continue onwards to the Dead Sea – the lowest point on earth with waters so salty that you can actually float.
Explore the Tunnels Beneath the City of David
Wandering along the tunnels of the city of David is one of the most unique things to do in Jerusalem. There are two main tunnels that you can opt to walk along – Hezekiah's tunnel, and the warren tunnel.
The tunnels were built in 700 BC and led to hidden water springs where Kings were coronated. Walking through Hezekiah's tunnel is done in pitch-black darkness. Be sure to pack a flashlight!
Discover Ein Kerem
If you are interested to go off the beaten path in Jerusalem, head to Ein Kerem. This is a lovely little village of Arab-built stone houses surrounded by leafy Lebanese pine trees.
Ein Kerem is located in a valley just outside the city limits of Jerusalem and it does not see many tourists. There are various churches scattered throughout the village that boast beautiful exteriors and vibrant, intricate frescoes.
Notably, do not miss the Church of the Visitation. It was supposedly here where John the Baptist and his family had their summer home.
Brasserie is a beloved local restaurant to keep in mind for lunchtime. If you want to sample a Shabbat dinner, head to Mala Bistro.
Getting to Jerusalem
There are no airports in Jerusalem. To get here, your best option is to fly into Tel Aviv's Ben Gurion international airport.
Israel is a relatively small country. So although it sounds less than ideal to fly into a separate city to access Jerusalem, there is only a 67km distance between the two cities.
The journey from Tel Aviv to Jerusalem takes approximately one hour. If your schedule permits, it is worth spending a day or two in Tel Aviv either before or after your Jerusalem trip.
To make the journey, you have a couple of options available. Arguably the easiest and most economical option is to take the bus.
Ben Gurion Airport to Jerusalem bus
The #485 bus runs between Ben Gurion airport and Jerusalem every hour of every day, with the exception of Shabbat. It stops at 6 designated stops in Jerusalem city.
This includes the Central Bus Station and the Givat Ram-Hebrew University area. You can board the bus at terminals 1 and 3 of the airport
Tel Aviv city centre to Jerusalem bus
If you are spending a few days in Tel Aviv prior to visiting Jerusalem, you can also take the #405 bus from the Tel Aviv Central Bus Station to the Jerusalem Bus Station. The bus departs from platform 603 / 607.
You can also take bus #480 from Tel Aviv's Arlozorov Bus Terminal. Both buses run every 10-20 minutes. Tickets are NIS 18 ($5.60) for a one-way fare or NIS 30 ($9.30) for a return fare.
Tel Aviv to Jerusalem train
As of 2022, a new high-speed train is running between Tel Aviv and Jerusalem. However, it only stops at the Hagana Station in south Tel Aviv.
In the future, it will also stop in central Tel Aviv and Herzliya. The journey to Jerusalem takes approximately 30 minutes by train.
Two trains an hour will run in each direction from Sunday to Thursday, from 6:20 am until 21:30 am. On Saturday nights, one train an hour will run in each direction from 9:56 pm unti midnight.
How Long to Spend in Jerusalem
Four or five days is the perfect amount of time to spend in Jerusalem. There are just so many things to see and do here!
If you are tight on time though, three days is sufficient to cover the city's highlights during your first visit. That way you always have a reason to return later.
Where to Stay in Jerusalem
Jerusalem boasts a wide range of hostels, homestays, and hotels. Even if you opt to stay in the newer part of the city, the old town can be reached by a short walk. The best places to stay in Jerusalem based on various budgets are outlined below.
Budget/Backpacker Accommodation in Jerusalem
I would strongly recommend that backpackers and solo travellers stay at the Abraham Hostel in Jerusalem. This is where I stayed and honestly, Abraham's hostels are so much fun!
If you don't want to share a dorm there are also private rooms available. I loved this hostel because they organise lots of events each day as well as free tours around the city. You can check the latest rates and availability here.
Mid Range Options in Jerusalem
It is worth keeping in mind that Israel is generally quite an expensive travel destination. What would be considered "mid-range" elsewhere still comes with quite a high price tag in Jerusalem. At a minimum, you can expect to pay around $80 per night for accommodation, if you can find a good deal.
The centrally located Agripas boutique hotel is a stylish hotel located by the Mahane Yehuda market, within just a few minutes walk to the old town. The hotel is decorated with plush modern furnishings and serves excellent breakfasts and snacks on the scenic terrace.
The Zion Hotel is another high-rated option that is situated close to the city gates.
Jerusalem Luxury Hotel Picks
If you prefer to travel in comfort and luxury then you will be pleased with the number of upscale accommodation options available in Jerusalem.
The American Colony Hotel in East Jerusalem oozes effortless elegance and sophistication.
Encapsulated by beautiful gardens, a sprawling pool, and Arabian-style courtyards, this hotel is a favourite among International Politicians, Spies, and Journalists. It has that certain je ne sais quoi that makes you feel as though you are in a Bond Movie.
For a more central alternative, the King David Hotel is close to all of Jerusalem's main attractions. Over the years, the hotel has hosted an array of notable celebrities and diplomats including Winston Churchill and various US Presidents.
The highlight of this hotel is the breathtaking verandas which boast incredible views over the old city. Click here for the latest room rates and availability.
Solo Female Travel in Jerusalem
I explored Jerusalem as a solo woman traveller and had a great time. I spent almost a week in the ancient city before taking day trips to Ein Gedi and Masada.
You should be aware of your surroundings and not wander around after dark. This is true of travelling anywhere.
Be careful about walking near East Jerusalem and the Mount of Olives. Join a walking tour if you can, and try to avoid being here in the evenings.
Parting Words
Do you have any other queries or concerns about things to do in Jerusalem, planning a trip to Israel, or the dreaded Israeli passport stamp? Feel free to pop me a comment below or send me an email.
I will do my best to reply as soon as I can. Safe travels! Melissa xo
---