This Israel itinerary enables you to discover the best of Israel's highlights with a limited amount of time. This beautiful destination has soared in popularity in recent years.
Historically it has mostly been people on birthright tours or those with a religious interest that would travel to Israel. However, word has finally gotten out about all that Israel has to offer. One or two weeks in Israel is the perfect amount of time to scratch beneath the country's surface.
About This Israel Itinerary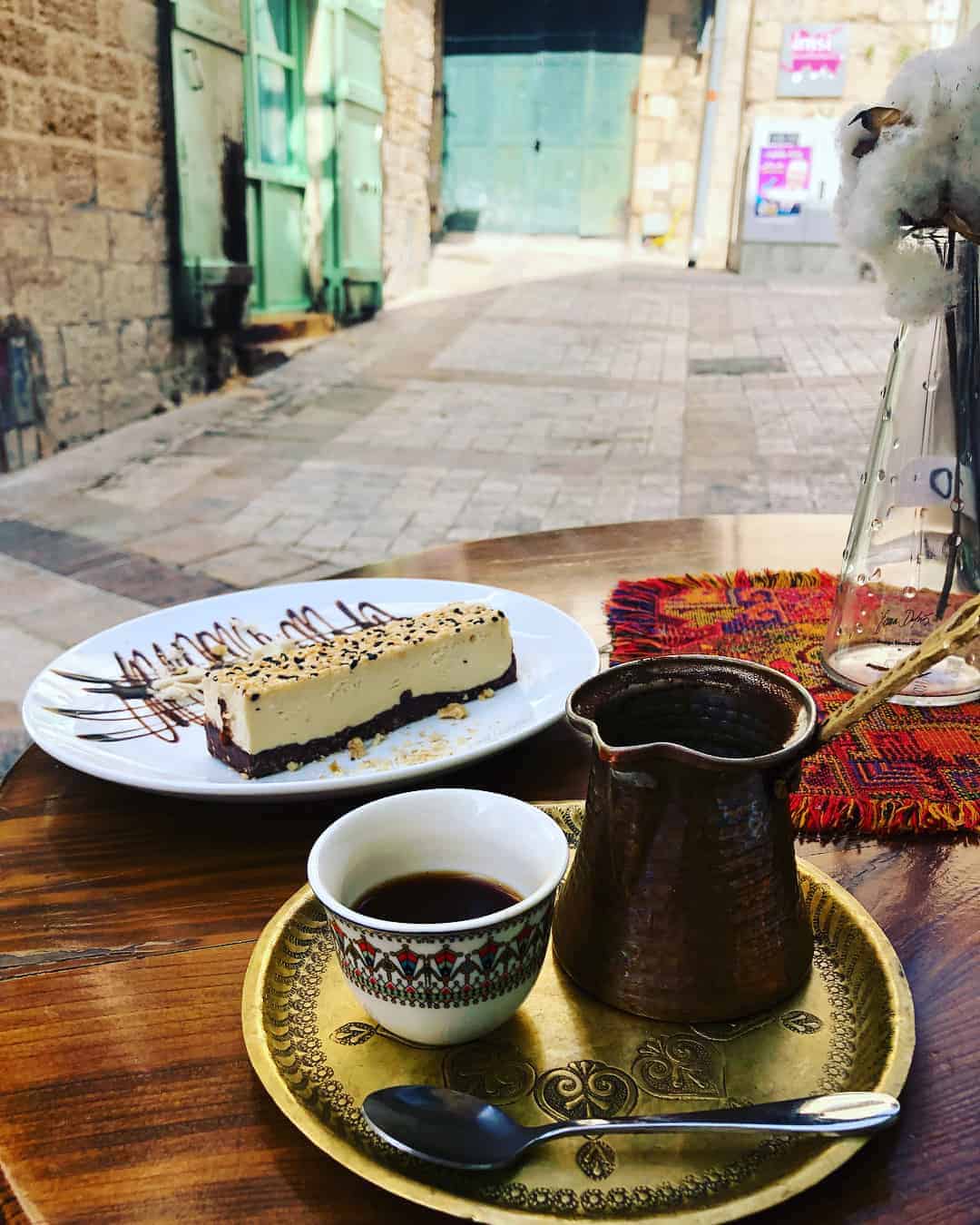 Israel captures the hearts of all of those that visit. From the quirky neighbourhoods of Tel Aviv, to the eerie stillness of the Dead Sea, and the majestic sunrises over Masada, Israel has a little something for everyone. This country is rich in culture, history, and outdoor adventures.
You will find all of Israel's main points of interest enclosed in this Israel itinerary. Suggestions for extending your trip and sticking around a little longer are also provided.
It is possible to "cherry-pick" the destinations and activity suggestions provided. This way, you can tailor-make an Israel travel itinerary that best suits you.
Israel Itinerary: Your Perfect Cross-Country Route
Start your Israel itinerary in the trendy, vibrant city of Tel Aviv. Israel's Ben Gurion International Airport is connected to the city by rail, making for easy transfers in and out of Tel Aviv.
Israel Itinerary Days 1 & 2:
Tel Aviv & Old Jaffa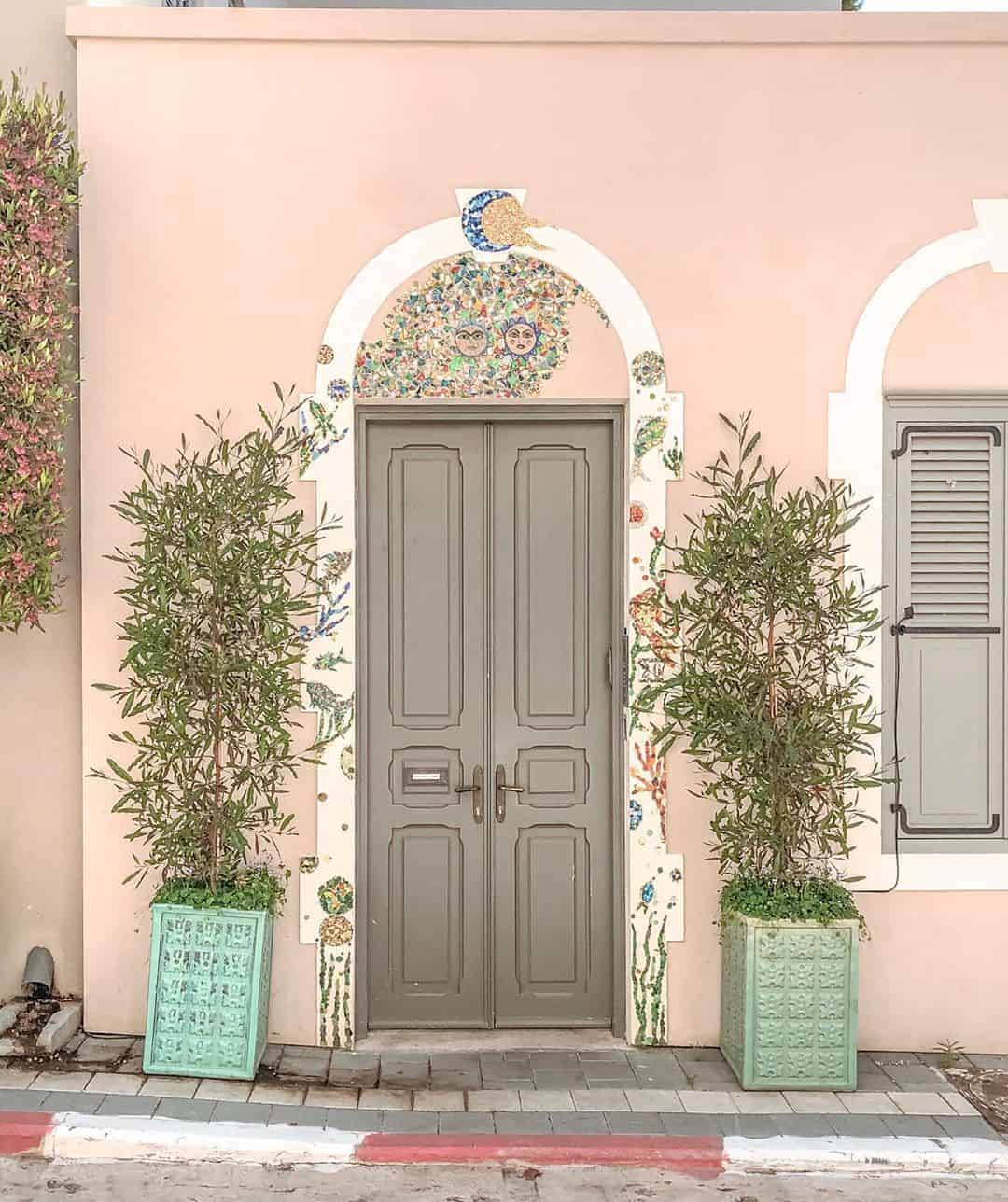 Tel Aviv may not boast the same level of historical sites as Jerusalem. However, what the city lacks in crumbling ruins, it more than makes up for with its lively bar scene, its pristine beaches, and its cosmopolitan culture.
The coastline of Tel Aviv spans over 14km. It runs all the way from Metzitzim beach in the north, down to Jaffa and Alma beach in the south. This is a great city to simply hang out, relax, and meet fellow travellers and locals.
Old Jaffa is essentially an extension of Tel Aviv. It is easily reached on foot or by bike. There are many local companies that offer free daily walking tours of Jaffa.
Best Things to do in Tel Aviv and Jaffa
Rent a bicycle and cycle along the seafront from Hilton beach to Old Jaffa

Admire Tel Aviv's impressive 1930's Bauhaus architecture


Shop for trinkets and souvenirs at the HaCarmel Market


Embark on a self-guided walking tour of Florentin's street art scene


Party until the early hours on Rothschild's Boulevard


Witness fascinating scenes of local life at the Jaffa flea market


Order a homemade Israeli mint lemonade and relax on Tel Aviv's trendy beaches
Israel Itinerary Day 3:
Haifa & Akko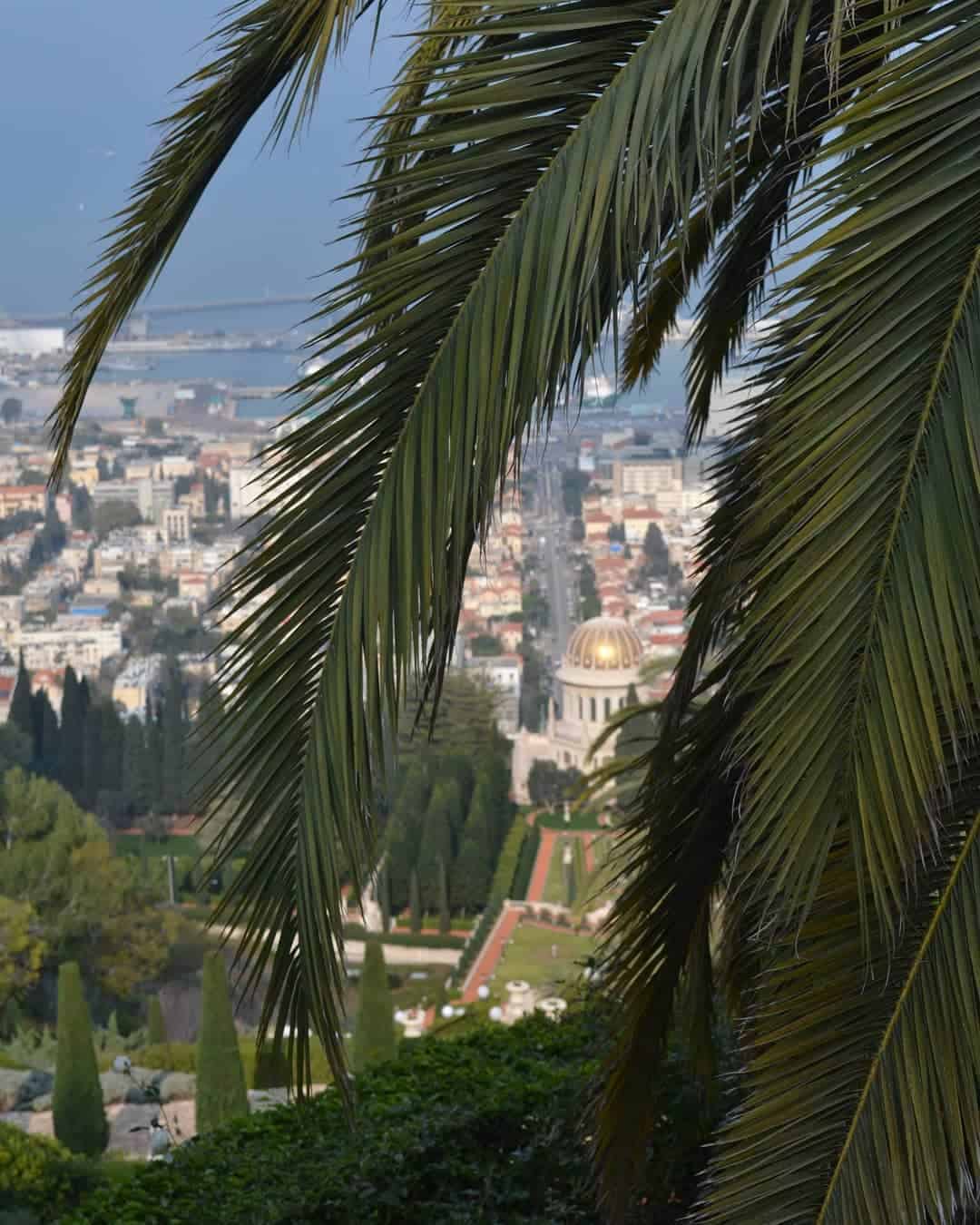 Akko and Haifa are two stunning locations that are a highlight of any Israel itinerary. Ideally, you would dedicate a day to exploring each spot. If you are short on time, however, it is possible (if a little tiring) to visit them both in a day.
Haifa sits 92km north of Tel Aviv. Venture here early, spend the morning in Haifa, and then travel onwards to the medieval crusader city of Akko.
Best Things to do in Haifa and Akko
Marvel at the Shrine of the Bab – a Baha'i' temple encapsulated within breathtaking gardens.


Admire the murals and frescoes inside the Stella Maris Monastery


Take an audio tour of the stone-vaulted Knight's halls


Step inside the green-domed Al Jazzar mosque – an impressive Ottoman-style mosque in Akko


Eat sweet, sticky knafeh at Akko's Souq Al Abiad


Tread the 350m underground Templars' Tunnel that was used by the Knight's Templar to get from their fortress to the marina.
Israel Itinerary Day 4:
Nazareth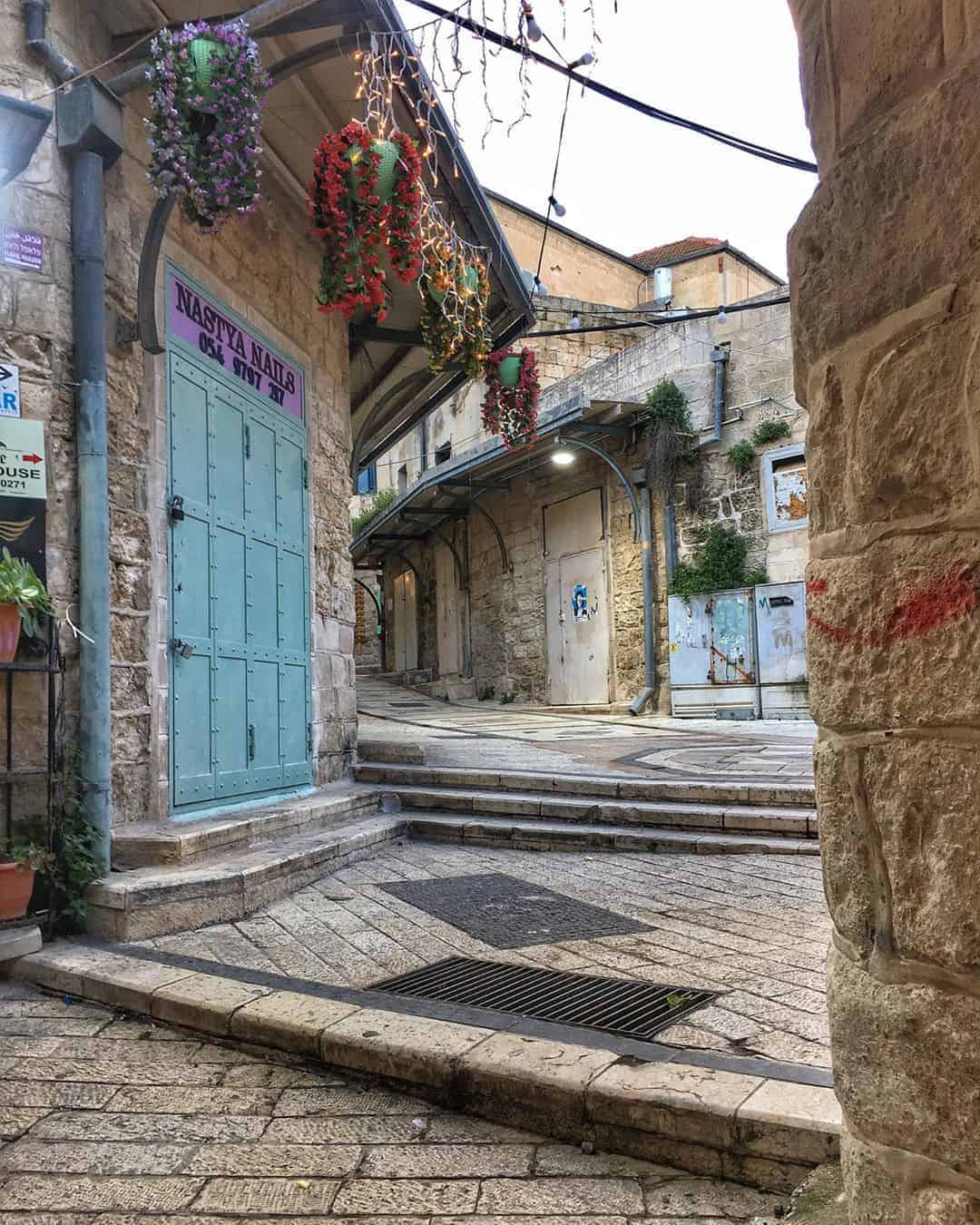 Nazareth is often considered as being Israel's "Arab capital". The culture here is a lot different from that which is felt in cosmopolitan Tel Aviv.
The city in general is quite a bustling metropolis. It is the Old Town of Nazareth that you should focus your time on. Nazareth old town provides a journey back in time. Here, cobbled alleyways are lined with ramshackle eateries and the sunbleached remnants of Ottoman-era mansions.
Best Things to do in Nazareth
Sample Inar – a warm, flavourful Arabic cinnamon drink


Hike the Jesus trail


Admire the ornate Basilica of the Annunciation


Sip coffee and play backgammon with locals at Cafe Abu Salem – the oldest coffee shop in Israel


Browse the old bookshops and antique stores of Nazareth old town


Stay in a 200 year old mansion at the house of Fauzi Azar (a converted hostel)


Take a free walking tour of the city with a local resident


Take an Arabic cooking class and learn how to make "Freekeh"


Book a trip out to Tiberius and the Sea of Galilee
Israel Itinerary Days 5 & 6:
Jerusalem
Jerusalem is steeped in history. The city has been knocked down and rebuilt countless times over thousands of years.
There are so many things to do in Jerusalem. Even with a week here, you will still feel as though you have barely scratched the surface.
This city is of significant importance to Jews, Muslims, and Christians alike. It is here where the Prophet Mohammed rose to heaven, where Jesus was resurrected, and where Jews built one of the most important sites in Jewish history.
There are so many cultures and ethnicities living at close proximity to each other in Jerusalem. Jerusalem has an almost magical ambiance about it. One moment you are waiting for your order of fresh matzo balls in a Jewish market. The next, you are navigating through a bustling souk in the Islamic district.
Best Things to do in Jerusalem
Meander the souks and stalls of Jerusalem's Muslim district – from Damascus Gate to the Temple Mount


Take a pilgrimage to the Church of the Holy Sepulchre – the place where Jesus is said to have risen from the dead


Walk through the Christian and Armenian quarters. Follow the same route that Jesus took when carrying the cross


Shop for sweet Arabic pastries and street food delicacies at the bustling Mahane Yehuda market


Pay your respects at the Temple Mount. This site is of significant importance in both Islam and Judaism


Write a prayer and slot it into the cracks of the wailing wall


Visit the Church of the Dormition – the place where Mary was taken to heaven


Step inside the room where the Bible's famous last supper was supposedly eaten


Spend an afternoon exploring East Jerusalem – The Mount of Olives, David's City, and Oscar Shindler's Grave
Israel Itinerary Day 7:
Masada, Ein Gedi & the Dead Sea
A very popular excursion in Israel is to take a day trip out from Jerusalem to Masada, Ein Gedi, and the Dead Sea. It's possible to do this independently.
Many tour companies also offer affordable tours that follow the same route. Since the main draw of visiting Masada is getting there in time for sunrise, it is often preferable to do this on an organised tour like this one.
Doing so means that you have someone collect you from your hotel, rather than having to try and navigate Israeli roads by rental car, or take various buses very early in the morning.
Masada
Masada is an ancient fortress that is perched on top of a natural, rocky plateau in the middle of the Judean desert. The fortress was built by King Herod for defensive purposes.
The Masada fortress is great, but the main reason to come here is to watch a majestic desert sunrise. Get here around 4 am for spectacular panoramas over the Holy Land and out to the Dead Sea.
Ein Gedi
Ein Gedi is an idyllic nature reserve. It is known for its hiking trails that lead to hidden, secluded waterfalls and clear pools of water that you can swim in.
The Dead Sea
The Dead Sea is the lowest point on Earth. The waters here are so salty that you float.
You should visit the Dead Sea as soon as you can because it's quickly evaporating. Dead Sea mud is renowned around the world for its skin rejuvenation properties. Scoop some up while you are here, slather it all over your body, and watch how much smoother your skin feels after you wash it all off.
Suggested Dead Sea Tours
Suggested Israel Itinerary Extensions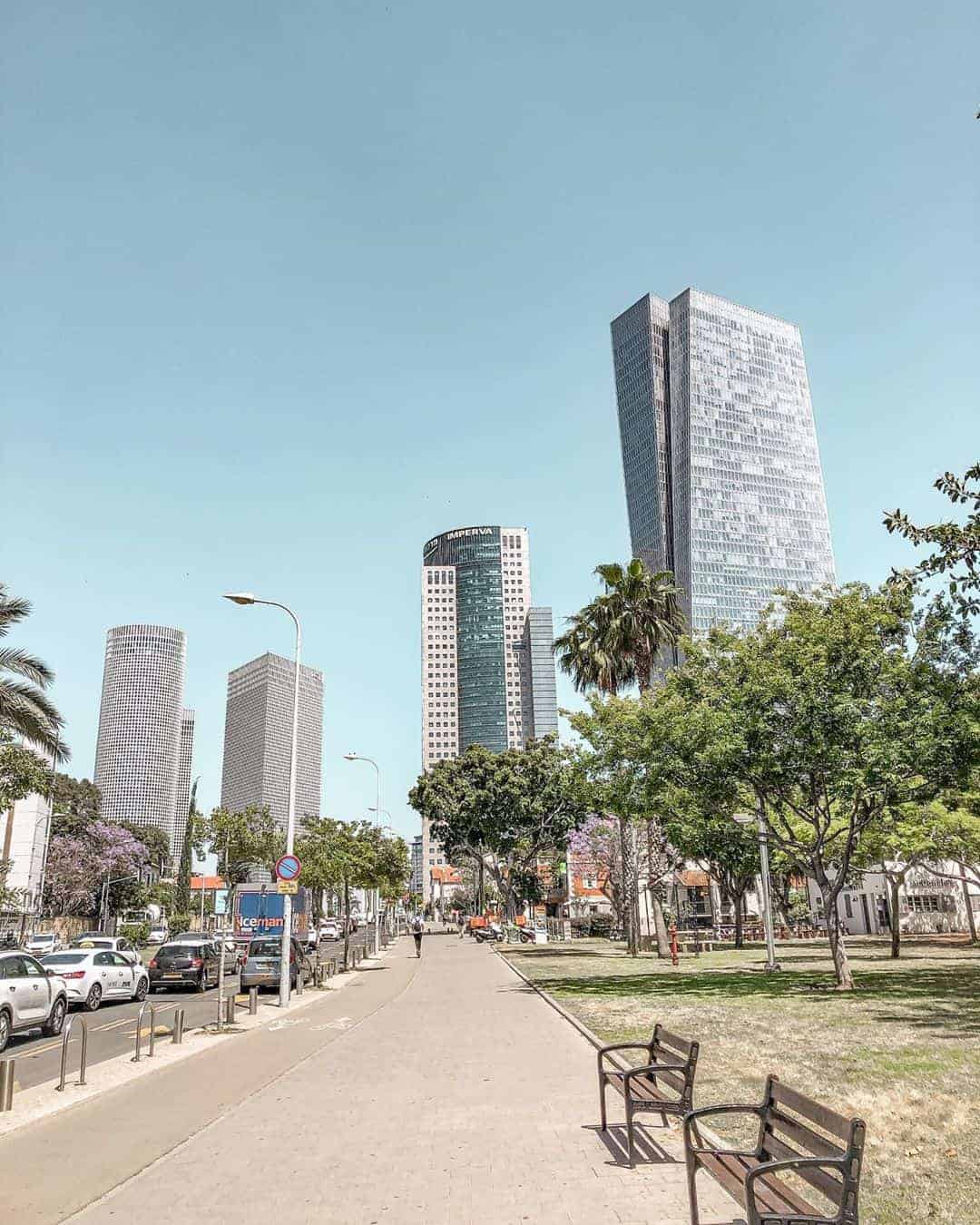 There are many more wonderful destinations that you may wish to incorporate into your Israel itinerary if you have more time. You can also consider spending a little longer at each place. For example, spend 3-4 days in Tel Aviv, 3 days in Nazareth, 5-6 days in Jerusalem, etc.
Eilat
Eilat is a popular coastal town in South-eastern Israel. Many Israelis come here for their vacations.
Crystal clear, cerulean waters surround Eilat. The conditions here are perfect for diving and snorkeling, and there are many stunning reefs beneath the surface to explore.
Hiking trails weave through the desert close to Eilat offering plenty of adventure.
The West Bank, Palestine
It is easy to access Bethlehem and Palestine's West Bank via bus from Jerusalem. Travelling here offers you the opportunity to see what life is like on both sides of the separation wall.
The West Bank is a complex and fascinating region. The area is worthy of its own two-week itinerary. The highlights of Bethlehem can be enjoyed on a day trip from Israel.
See the spot where Jesus was born in the Church of the Nativity, search for Banksy's Palestine street art, and venture out to the Mar Saba Monastery.
Tiberius and the Sea of Galilee
Tiberius and the Sea of Galilee can be easily reached from Nazareth or Akko. This is a nice day trip to make if you have a little more time in Israel.
The Sea of Galilee is the location where several biblical miracles are said to have occurred. This includes Jesus' walking on water, and the feeding of 5,000. The Sea of Galilee is actually a freshwater lake rather than a sea, and the only one in Israel.
Qumran
Qumran is the place where the Dead Sea scrolls were discovered. You can make a short stop here on your way to the Dead Sea.
It is easier to get here if you have access to your own car. Some tours may stop here for photos. While you are in the area, you may also want to participate in a desert safari.
Continue on to Jordan
If you are planning your Israel itinerary as part of a wider Middle East adventure, you can consider crossing the border to Jordan. Israel and Jordan make a nice travel pairing.
In Jordan, you can visit the lost city of Petra, see the Dead Sea from the Jordanian side, and explore the ancient Roman city of Jerash.
Alternative Sample Israel Itineraries
Israel is a relatively small country. Travelling from one side of Israel to another only takes a couple of hours.
It's not difficult to cover a lot of ground during your Israel Itinerary. All things considered though, ideally, you will spend at least a couple of days in each city. Some alternative sample itineraries are provided below.
Whistle-Stop Israel
This whistle-stop Israel itinerary is great if you are limited on time. If you only have a week in Israel and you don't want to travel back and forth, divide your time between Tel Aviv and Jerusalem.
3 days in Tel Aviv


4 days in Jerusalem
Ultimate Israel
This Ultimate Israel itinerary is perfect for those who have two weeks in Israel, or even 21 days to spend in the country.
3-5 days in Tel Aviv


1 day in Haifa


1 day in Akko


3 days in Nazareth


1 day in Tiberius & the Sea of Galilee


4-6 days in Jerusalem


1 day in Masada & the Dead Sea
Israeli City-Hopper
If you are mostly travelling to Israel for the culture and the history, this 10 day Israel itinerary will suit you perfectly.
3 days in Tel Aviv


2 days in Nazareth


4 days in Jerusalem


1 day in Bethlehem (day trip from Jerusalem)
Best of Israel & the West Bank
With two weeks in Israel, you can divide your time between Israel and the West Bank.
2 days in Tel Aviv


2 days in Nazareth


3 days in Jerusalem


2 days in Bethlehem (West Bank)


1 day at the Mar Saba Monastery


2 days in Ramallah


2 days in Nablus
When to Visit Israel
Israel is a wonderful year-round travel destination. The best time to visit Israel depends a lot on your personal preferences. The country's Mediterranean climate means that it never really gets too cold, even during the winter months.
January to March
January through to March could be a good time to plan your Israel itinerary If you are interested in culture and hiking. This is the rainy season, but the cooler temperatures make being outdoors a pleasant experience.
This is the low season, so it is also the cheapest time to visit Israel. At this time of year, the Judean hills, Golan Heights, and Galilee are covered with fragrant wildflowers.
The Jewish holiday of Purim is now a major celebration in Israel during March. Think Mardi Gras style parties and events. This can be an interesting spectacle to behold.
April to June
The rainy season ends and temperatures in Israel become more pleasant in April. However, Easter sees an influx of tourists and a huge soar in prices.
May and June are arguably some of the best months to schedule your Israel itinerary. The temperatures are hot but pleasant. In terms of degrees Celsius, you can expect temperatures that range from the late twenties to early thirties.
July and August
During the height of summer, temperatures in Israel get very, very hot – to the point where they often exceed 40 degrees Celsius and hiking or exploring for extended periods outside becomes almost unbearable.
September to December
The shoulder season in Israel runs between September and December. The temperatures are cooler, the crowds have disappeared, and prices are lower. However, you should be mindful of travelling during religious holidays if you hope to plan your Israel itinerary during these months.
The Jewish holiday of Yom Kippur in September sees the country grind to a halt and virtually everything closes. Similarly, the week-long holiday of Sukkot takes place in early October. This is a popular time for religious Jewish pilgrims to head to Jerusalem.
Understanding the Political Situation in Israel
Israelis are kind-hearted, warm, and friendly people It is quite sad that the media depiction of Israel is often that it is a dangerous place to travel to, and people query whether Israel is safe to visit.
Most of the time, life goes on here as normal. Before you embark on your Israel itinerary, review this list of essential Israel travel tips and check your government's travel advice. This is good practice wherever you go.
Is Israel Expensive?
Israel is certainly not a cheap travel destination. Some of the prices you will find here will make you want to cry more than chopping an onion. Fortunately, there are ways that you can travel to Israel on a budget and reduce your costs as much as you can.
Getting Around Israel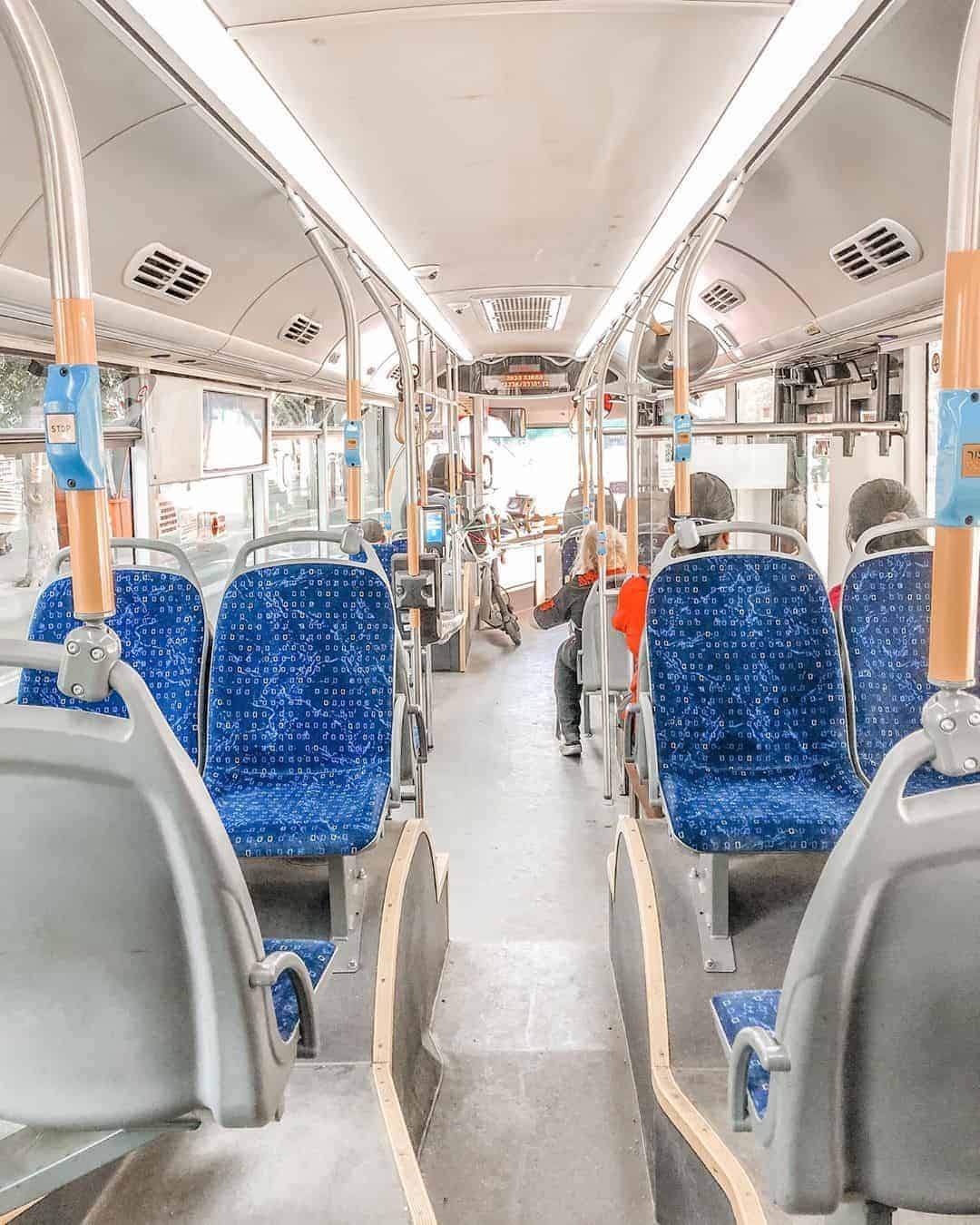 Transport links in Israel are not perfect, but they are getting there. The best option for getting around on your Israel itinerary is to rent a car. If you are not comfortable with driving by yourself, you can get to most Israeli towns, cities, and tourist attractions by bus and rail.
Public Transport in Israel
Trains and buses run between major Israeli towns and cities. There are frequent daily trains from Tel Aviv to Jerusalem, Haifa, Nazareth and most main stopping points.
Egged buses run regularly and are a good way of accessing the Dead Sea and smaller Israeli villages. You can find Israeli bus information and schedules here.
Taking Sheruts in Israel
Sheruts are small shared cabs that run on a specified route within or between cities. Typically, they seat 9-10 people. Sheruts cover large distances for a small amount of money.
This is a much better option than taking cabs on your Israel itinerary. A cab just from one side of Jerusalem to another can set you back $30.
Hitchhiking in Israel
Some guides will recommend that you do not hitchhike in Israel but that all depends. I personally did not hitchhike, but I met many travellers who did and had wonderful experiences. Considering how open-minded and friendly the locals are here, I would expect that you can secure rides between locations fairly easily.
Travel Insurance for Israel
You should ensure that you have comprehensive travel insurance before embarking on your Israel itinerary. Israel is a very expensive country, and as you may expect, the costs of medical treatments (if required) follow suit.
You do not want to be in a position where you need treatment and cannot afford to foot the bill. As a rule of thumb, try and opt for travel insurance packages that offer at least $1million of medical coverage.
Not all insurance policies cover activities such as hiking. Check the specifics before you go. It is worth buying a package that covers extras such as theft and loss of luggage.
Avoiding the Israel Passport Stamp
Many visitors to Israel are apprehensive about visiting the country and receiving an Israeli passport stamp. The reason for this is that several countries within the Middle East will not allow entry to anyone that has traces of Israel in their passport.
The standard protocol is that Israeli immigration officers will not stamp passports on arrival. Instead, they hand visitors a blue slip of paper that acts as a stamp. You must keep this with you at all times as many hotels request to see it at check-in.
The only caveat to this is that you will receive a stamp if you decide to cross the border into Jordan or Egypt. I have written a detailed post about the Israeli passport stamp and its implications here.
Did You Enjoy this Israel Travel Itinerary?Pin it For Later!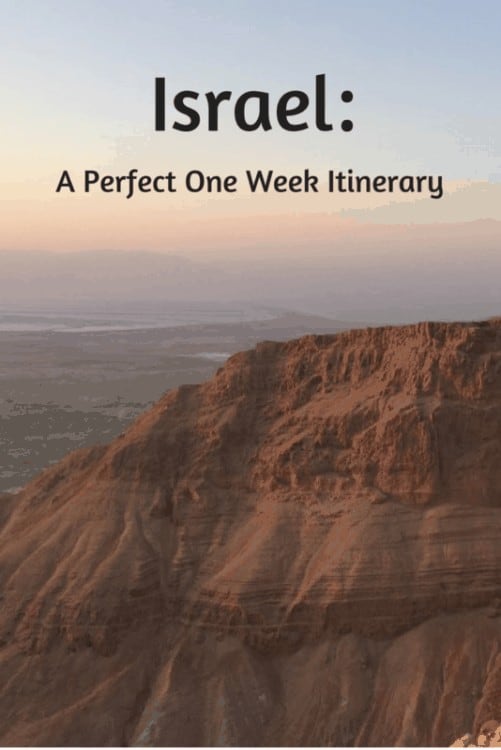 Are you still concerned about any aspect of planning your Israel itinerary? Please don't hesitate to reach out to me. I will do my best to get back to you as soon as I can.
Safe travels, Melissa xo
---