Visiting Petra is a highlight of any trip to Jordan. For a lot of people, the mysterious city with its rock-carved tombs and structures is the entire raison d'etre that they decide to visit the country in the first place.
The UNESCO world heritage site is one of the "new" seven wonders of the world and was designated as such in 2007. It was inscribed to the UNESCO list in 1985.
The city is fascinating because after it was abandoned, it was not discovered again until thousands of years later. It dates back to 312 BC, making it one of the oldest settlements in the world.
It was the Nabateans who initially founded Petra. This Ancient Middle Eastern civilisation is still a subject of fascination for many archeologists and researchers to this day.
Much of their technology and construction was very advanced for its time. The Nabateans carved grand, intricately designed buildings into the face of the rose-red cliffs.
The buildings served various purposes and Petra quickly established itself as one of the most important stopping points along the old silk road trade route. Caravan camel traders would stay here as they moved from East to West bringing spices, incense, silk, and fabrics.
This article has been written by a British Travel Writer. It will run through all the things you need to know when visiting Petra Jordan – what to see and do, how to get there, where to stay, and practical information for your trip.
Visiting Petra Jordan in 2023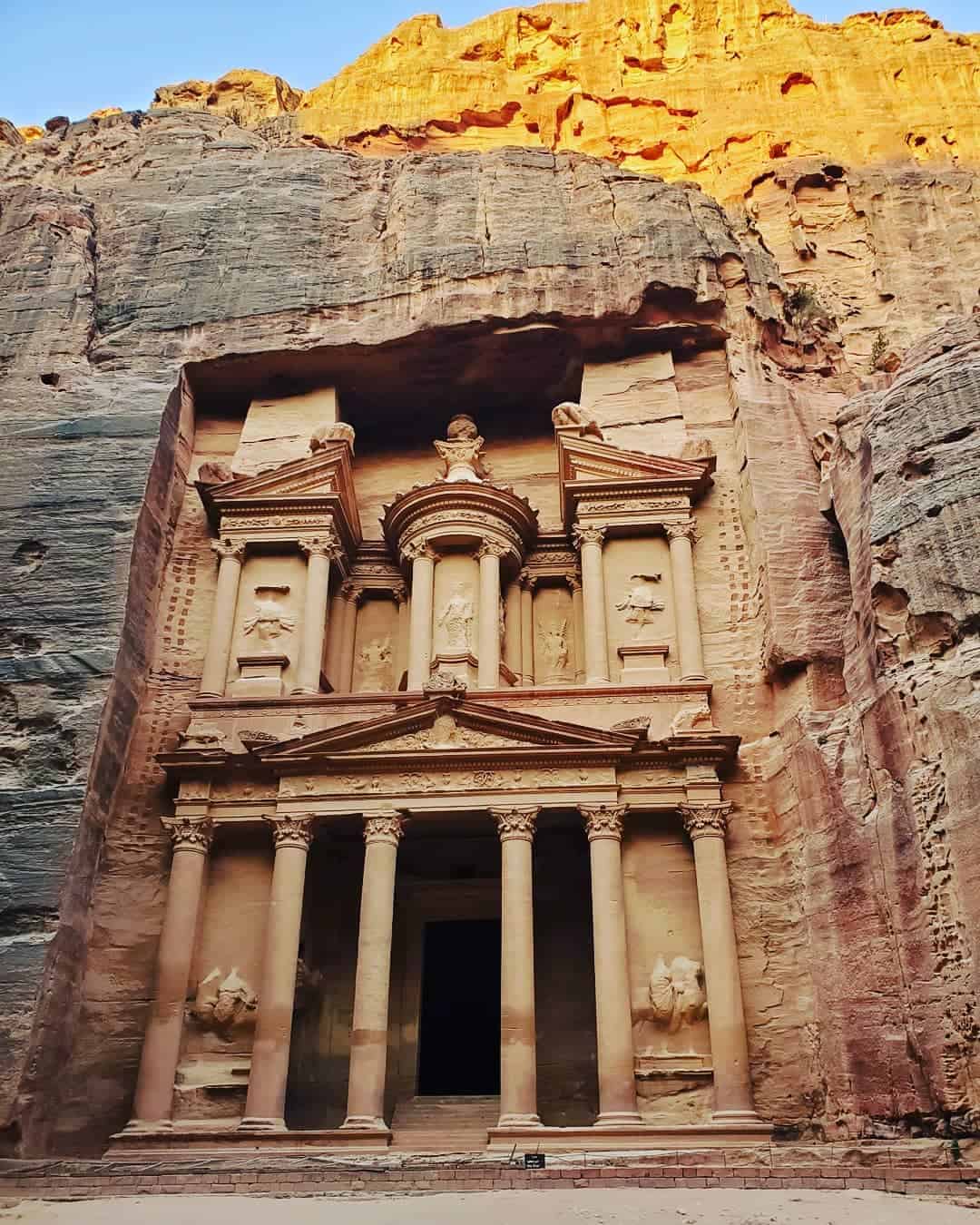 The Nabateans grew Petra into one of the most important commercial hubs in the region. At one point, they controlled the entire region from Petra to Damascus, Syria, Northern Arabia, and parts of the Sinai and Negev deserts.
Sadly, this power and prosperity were not to last. The Romans arrived in 64 BCE and renamed it "Arabia Petrea".
The city was absorbed into the Roman Empire in 106AD.
Petra continued to be a key stopping point for caravan camel traders through the 13th and 15th centuries. After it was eventually abandoned, local bedouin people and sheep herders sought refuge from the sun in the caves and carved buildings of the city.
It wasn't until 1812 that it was rediscovered by Swiss explorer Johann Ludwig Burckhardt.
Recommended Petra Jordan tours
Arguably the best way to visit Petra is to do so on a guided tour. Various reputable local tour companies operate throughout Israel and Jordan.
They offer one-day and multi-day tours from various pick-up points including Amman, Aqaba, Tel Aviv, and Jerusalem. This can take some of the stress out of managing the logistics of your trip as you don't have to worry about navigating local buses or public transport.
Opting to visit Petra on a tour can sound quite limiting. However, most tools do offer some free time for independent exploration if that's what you are looking for.
A selection of excellent Petra Jordan tours is detailed below for your consideration. Book your place online in advance to avoid disappointment.
Visiting Petra – Things to See and Do in Petra Jordan in 2023
You should dedicate at least one day of your Jordan itinerary to visiting Petra Jordan. However, if your schedule allows, the area warrants at least 2-3 days of exploration.
One day is just about enough to get a lay of the land, take some photos, and hike to the monastery (Ad Deir). With an extra day, you can conquer some more of the hiking trails in the area and experience Petra by night if it coincides with your travel dates.
It is helpful if you have an idea of what specific sites you want to see, and what hikes you wish to conquer before you travel. This way, you can manage your time accordingly.
Visit the Petra Museum
Visiting the Petra Museum is one of the first things you should do when you arrive at the Petra archeological site. The museum sits in a modern contemporary building within the Visitor's Centre beside the main entrance to the site.
It is one of the first things that you will see as you arrive at the car park. The museum exhibits give you a little more history and context about the ancient city and what you will see when you enter the complex.
280 different recovered artifacts are divided among five exhibition halls. The items on display range from tools and weapons to household objects used by the Nabateans in their daily lives.
Admission to the Petra Museum is included in your Petra entrance ticket. You only need to dedicate about 30 minutes to the exhibits.
While you are probably eager to head on to the site, the museum helps you better appreciate everything you see when you get inside.
The Siq
The Siq is the dramatic gorge that marks the entrance to the Nabatean city of Petra Jordan. The narrow canyon feels almost like a secret passageway that twists and turns into the city.
The rocks on either side reach up to 80 meters in height.
The Royal Tombs
The Royal Tombs of Petra were the final resting places of various Nabataean Kings and notable figures. Some of the tombs are very ornate.
Many also served a dual purpose as a place of worship. You can reach the tombs by taking a right turn from the Street of Facades.
The Amphitheatre
The Petra amphitheater dates back to the 1st century AD. This magnificent sun-bleached structure has been carved out of the solid rock of a nearby cliff.
The Nabateans originally built the theatre. It was later renovated and rebuilt by the Romans when they took control of the city.
The theatre can seat 4000 spectators and is larger than the famous Amman Roman theatre.
The Treasury
The Treasury is the iconic structure that has become the symbol of Petra. This is the very first thing that you see when you exit the Siq at Petra's entrance.
The building was made famous by the Indiana Jones movie "The Last Crusade".
Hordes of gold and treasure were once stored inside the Treasury. The structure was built to be the final resting place of King Aretas III of the Nabateans.
The Monastery (Ad Deir)
The Monastery is tucked away in the hills high above the rest of the Lost City of Petra. It is believed that this structure was built for religious purposes as the name suggests.
The design is similar to the Treasury but much larger.
There is a challenging, yet worthwhile hiking trail that leads from the Lost City to the Monastery. This is a processional route that pilgrims would follow years ago.
Setting eyes on the Monastery for the first time will take your breath away. This impressive structure stands tall at a height of 148 feet.
The doorway alone is the size of a house.
The Monastery Hike
Visiting Petra is a wonderful choice if you love hiking and the great outdoors. Several walking paths in this region lead to hidden shrines and breathtaking panoramas over the desert.
The processional route to the Petra Monastery (Ad Deir) is one of the most challenging hiking trails at Petra. The trail is approximately 1.6km in length including more than 850 steps and an uphill climb. This route leads past cult niches, places of sacrifice, and rock-cut halls.
It is only an adventurous few that attempt to conquer this trail. This means that when you arrive at the monastery, you will often find that you have the site almost entirely to yourself.
You can also reach the Monastery through the back route if you do not feel up to the hike from the ancient city.
The High Place of Sacrifice
The High Place of Sacrifice is one of the easiest and most popular hiking trails in Petra. This route takes just 30-40 minutes to complete.
The hiking route leads you to a shrine dedicated to Nabataean gods Dushara and Al-'Uzza. When you arrive at the top, you will find a sacrificial altar, inscribed obelisks, and incredible views of the ancient city below.
During the Nabatean era, animal sacrifices were held here.
It is easy to find the High Place of Sacrifice. The route is well-signposted. You will find the first marker close to the old amphitheater.
The Al Khubtha trail
The Al Khubtha trail leads you to the famous picture-perfect view of the treasury that you may have seen on social media and in countless travel publications. You will find many Bedouins at the Petra site that offer to take you here for a fee.
However, this is not necessary as the trail is easy to find. Follow signs for "the best view" from a trail that starts close to the Royal Tombs.
They will lead you to the Al Khubtha trail and a wonderful view overlooking the treasury.
Experience Petra by night
Petra by night is an incredible light show that happens three times a week in the ancient city. Candles and lanterns illuminate the complex and notable buildings such as the treasury are illuminated in different colors.
Add to this the fact that you can see a beautiful starry night sky above, and you have one of the most magical experiences that you can have in Jordan. Petra by night happens on Mondays, Wednesdays, and Thursdays every week.
It is not included in your regular Petra site ticket and requires a separate entrance fee.
Getting to Petra
Buses connect Petra with Amman, Aqaba, and other cities around Jordan. This can be a comfortable way to travel to the ancient city on a budget.
However, buses run on a very limited schedule and are not the most convenient choice. Some luxury hotels in Petra offer transfer services, meaning that if you are going to be staying at their property in Petra, you can pay for them to send someone to collect you from Amman.
This isn't the most economical choice but it's safe and comfortable. If there is a group of you travelling together, it doesn't work out that expensive.
Take the bus from Amman to Petra
JETT buses bound for Petra depart from Amman at 6.30 am daily. It takes around 4 hours to get to the ancient ruins.
This means that you arrive at the site when it is already pretty crowded with tourists and tour buses. The return bus departs for Amman at 5.00 pm, although it is better to opt to spend at least one night at Petra.
The buses are air-conditioned, and you can purchase your ticket from the JETT office in Amman. It is a good idea to arrive at the station at least 30 minutes before departure.
Bus tickets cost 10 JD in each direction. You can check the JETT website for scheduling and additional information here.
Although the bus doesn't usually sell out, it is a good idea to stop by and buy your ticket a day or two before travelling if you can. If you miss the JETT bus, there are also Jordanian mini-buses that run from Amman to Petra each day and leave when full.
They are not air-conditioned and make a lot of stops so the journey takes much longer this way. Although this arguably makes for a real "local" experience, I wouldn't recommend this option.
Renting a car in Jordan
Renting a car in Jordan is not as intimidating as it may sound. The roads here are modern, well-maintained, and generally excellent.
Everywhere is signposted in both English and Arabic. Two main roads run through the length of Jordan.
One is known as the King's Highway. The other is the Desert Highway.
It is near impossible to get lost in Jordan because these stretches of the road take you virtually everywhere that you need to go. Numerous reputable car rental companies operate in the country including the likes of Dollar, Europcar, SIXT, and Thrifty.
It takes around 3 hours to drive from Amman to Petra by the Desert Highway. The King's Highway is the more scenic route but driving along this road takes around four and a half hours.
Prices vary somewhat depending on the season. (Spring and autumn are peak travel times for Jordan whereas the ultra-hot summer months are considered out of season).
Still, you can expect to rent an economy-style car such as a Kia Picante or a Hyundai i10 for as little as $20 USD per day. Rental costs include some insurance policies.
(Collision damage waiver, theft protection insurance, third-party liability, and roadside assistance are included.) You can pick up your vehicle from central Amman, Amman's Queen Alia International Airport, and various other towns and cities around Jordan.
Discover Cars is a great platform for comparing quotes between different rental providers.
Organise a private transfer
Taking a taxi or a private transfer to Petra can be the most comfortable option. Your hotel in Petra may be able to organise a transfer for you in advance, or you can find a reputable taxi company in Amman to take you to the site.
Expect to pay between $120 and $140 each way for the transfer. (It's worth obtaining a couple of quotes between various hotels and taxi companies. Petra hotels may offer more economical rates for their guests).
Do note that you will need to reserve your transfer in advance. You may not be able to wander into a random street taxi in Amman and organize a transfer to Petra on the same day because it is a long journey.
FAQs about Visiting Petra Jordan
Do you have any further questions about visiting Petra Jordan or planning a trip to Jordan in general? The answers to some frequently asked questions on the topic are detailed below.
Hopefully, you will find the information that you were looking for that. If not, please do not hesitate to reach out to me
How much do tickets for Petra cost?
Different Petra admission tickets are available depending on the length of your stay and the number of travelers in your party. If you're going to be spending at least one night in a hotel close to petra, you are classed as an accommodated visitor.
If you are not going to be staying in a hotel, you are classed as a non-accommodated visitor. Admission prices vary depending on which category you fall into.
A one-day ticket for an accommodated visitor is 50 J.D., a two-day ticket is 55 J.D. and a three-day ticket is 60 J.D. If you are a non-accommodated visitor, a one-day ticket is 90 J.D.
If you want to hire a local guide, prices vary depending on the specific services you are looking for and the area you want to explore. You can find more detailed information on Petra ticket prices and tour guide services on the visit Jordan website here.
A good way to save money on your Petra trip is to purchase a Jordan pass. The Jordan pass offers free entrance to more than 40 sites in Jordan.
Having the pass also waivers the 40JD fee that you typically need to pay to enter the country. (Although you must spend at least three nights in the country to be eligible for this.)
There are different tiers of Jordan passes available. Prices start from 70JD.
What time does Petra Jordan open?
Petra Jordan opens from 6:00 a.m. until 6:00 p.m. during the summer months and 6:00 a.m. until 4:00 p.m. during the winter months. It opens again during the evening on days when Petra by-night celebrations are scheduled.
How much time do you need in Petra?
A full day should be the absolute minimum amount of time that you spend visiting petra. two to three days are the perfect amount of time if your schedule allows it.
What days is Petra open at night?
Petra by night is open every Monday, Wednesday, and Thursday each week. It starts at 8.30 pm and finishes at 10.30 pm.
When is the best time to visit Petra Jordan?
The spring or Autumn months are arguably the best time to visit Petra Jordan. Temperatures at this time and either hot or too cold and seldom soar above 28 or 30 degrees Celsius.
Rainfall at this time is also minimal. The months of September, October, and November, or march, April, and May, are the peak times for visiting Petra.
Tour and accommodation costs are at their highest during this time. However, even though Petra is one of the most famous historic sites in the world, you can always find deals, especially if you book everything in advance.
The winter season is the quietest time to visit Petra. However, it is also the coolest with daily temperatures around 13 to 16 degrees Celsius.
Heavy rainfall is not unheard of and you should expect to pack more layers and sweaters. Still, travelling out of season guarantees one thing: lower travel costs.
Can tourists wear shorts in Petra?
Jordan is a conservative Muslim country and for the most part, it is important to dress modestly. In Amman, Jerash, and other parts of the country, your go-to daily attire should be lightweight cotton trousers and t-shirts or long-flowing dresses.
Wearing shorts or showing your bare legs, shoulders, or cleavage is generally considered disrespectful in Jordan. However, in Petra, you will often see a lot of people wearing shorts.
People here are accustomed to seeing a lot of tourists wearing shorts.
It is still better to be respectful and try to cover up where you can. It would be less controversial for male travelers to wear knee-length shorts than it would be for a female traveler to wear short booty shorts.
Can you enter Petra without a guide?
You don't need a guide to explore Petra. It all comes down to personal preference whether you would like to hire one or not.
You will be given a map when you arrive and it is just as easy to explore independently. Although a guide can provide you with more facts and information and can deter over-zealous street vendors from pestering you.
Is 5 hours enough in Petra?
5 hours is the absolute minimum amount of time that you should allow for exploring petra. This is just about enough time to visit the most important structures and tombs and then choose to hike to either the place of high sacrifice or the monastery.
Truthfully, with just 5 hours, everything is going to be rushed and you are better to allow more time if you can.
What time of day is best to visit Petra?
You should aim to arrive at Petra Jordan when the doors open at 6:00 a.m if you can. Watching the sunrise over the Siq and the Treasury is breathtaking.
At this time, you can see the archaeological site at its calmest and capture some great photos before all of the tour buses roll in around 9 or 10:00 a.m. It is also much cooler in the early morning.
If you are traveling in the autumn, winter, or spring months, you should consider taking a light sweater or cardigan for the early mornings and evenings. In the summer, it is good to arrive early and head straight to the monastery or the place of high sacrifice or any other hiking trails are interest you before it gets too hot.
From midday in June, July, or August, the desert heat can feel unbearable. You should try and structure your day so that you are out of the sun and perhaps sitting in the shade enjoying a cup of mint tea in one of the on-site cafes or tea rooms at this time.
How much walking is required in Petra?
The historic complex at Petra Jordan is pretty expensive. Buildings and points of interest are spread out across an area of 102 square miles.
Even if you don't plan on doing any hiking and you just want to visit the most notable buildings, you should expect to be walking for at least 2 to 3 hours. Even the entrance to the complex through the Siq takes you along a three-quarter mile-long path which is at least a 30-minute walk.
Still, everything is pretty manageable provided you have a general level of fitness.
What to wear in Petra
Jordan is a conservative Muslim country. So, you should generally dress quite modestly when you are exploring the country.
However, Petra is a tourist place and you will see many people wearing shorts and dresses here.
You can afford a little more leniency in your attire at Petra. However, you should still avoid wearing anything too revealing.
The terrain at Petra varies from sandy and desert-like to rocky and uneven. Make sure that you pack a pair of comfortable, sturdy walking shoes.
Pack a sweater if you plan on seeing Petra by night as temperatures dip in the evenings.
Is Petra safe?
It is safe to visit Petra and Jordan in general. Jordanians are very welcoming and friendly and they want visitors to have a positive experience in their country.
Jordan is consistently ranked as one of the safest countries in the Middle East. Solo female travel in Jordan is becoming increasingly common and the majority of visits to the country are trouble-free.
Still, it is important to note that I and other solo female travellers have reported harassment by groups of male tourists at the Petra site. Some of the more off-the-beaten-path ruins and structures are in more isolated, remote locations so be mindful of where you walk alone.
There are several kiosks for the Jordan tourist police scattered throughout the site. They are there for your safety and protection so if you should feel unsafe or experience any harassment, report it straight to them.
Prepare for the hot weather
If you plan on travelling to Petra during the summer months, keep in mind that it will be very hot. Temperatures here can often exceed 40 degrees Celsius and there is no shade in the Lost City.
Always carry plenty of water and sunscreen and consider wearing a hat or a scarf to protect your head. If you forget to bring sun protection for your head, many of the local women sell beautiful camel-hair scarves and they can help to tie them up for you.
Facilities at the Petra site
There are several stalls and cafes selling water, snacks, and refreshments throughout the Petra site. The toilet facilities are not great.
However, there are several portacabins that you can use if you pay a small fee to the local Bedouins.
Vendors and touts at Petra
Many vendors and touts are trying to sell their wares at at souvenir shops and stalls in Petra. Be prepared to be constantly hassled to buy things.
Some of the vendors at Petra can be a little persistent and even aggressive. Sure, they are just trying to make a living and many have fallen upon hard times after the pandemic, but some cross a boundary of inappropriate behaviour.
If you are not interested, don't hesitate to give them an abrupt "no". If someone hassles you, you can also seek out the Tourist Police who have several stations scattered around the site.
Where to Stay in Petra
There are plenty of accommodation options in the Petra area to suit every travel style and budget. The town of Wadi Musa is a good place to base yourself so that you are close to the city entrance.
There are a lot of bedouin campsites and luxury yurts in this area that offer travellers the opportunity to sleep beneath the stars. Meanwhile, luxury hotels offer a completely indulgent experience.
The Movenpick Hotel
The Movenpick Resort, Petra is one of the most elegant luxury hotels in the entire Middle East. Its lavish, vibrant interiors are representative of an Arabian-style palace fit for a Sheikh. Browse the hotel's current rates and availability here.
The Petra Guesthouse
The Petra Guesthouse is a great accommodation choice in Wadi Musa. This hotel is a great mid-range option that offers both comfort and a quirky character.
Petra Guesthouse sits directly adjacent to the Petra Museum. The hotel is renowned for its "cave bar".
This is a bar and restaurant set in a restored first-century Nabatean house. You can review the latest room rates here.
Final thoughts on visiting Petra Jordan
Visiting Petra Jordan is a once-in-a-lifetime travel opportunity. It is one of those trips that you have had on your bucket list for years and you never know if the reality is going to live up to your expectations. When you visit, it does!
Visiting the ancient city of Petra is one of those experiences that will stay with you for a lifetime. It is one of the best places history buffs can travel. This guide is updated periodically to reflect the latest information, admission info, etc.
If you are visiting Petra as part of a wider Middle East trip, you might also enjoy this ultimate guide to crossing the border to Israel.
Feel free to reach out to me if you need anything for planning your trip. I will do my best to get back to you ASAP.
Safe travels! Melissa xo
---