There are countless things to do in Amman. You could spend weeks in the Jordanian capital and still feel as though you have barely scratched the surface.
Falling in Love with Amman
Amman offers a perfect introduction to the Middle East. It makes a nice alternative travel destination for a weekend break, or as a starting point for your Jordan itinerary.
This city is rich in history and culture. Amman provides a wonderful juxtaposition of contemporary living meets tradition.
Here, thousand-year-old Roman amphitheaters sit beside quirky coffee shops and eclectic art galleries. Amman has all of the histories of Cairo paired with the vibrancy of Tel Aviv.
The best part? It is never overcrowded as many tourists seem to skip the city completely. This may well be one of the Middle East's best-kept secrets.
Suggested Amman Tours
It is both possible and enjoyable to explore Amman independently. However, sometimes there are times when the presence of a local guide can help to provide additional information and context on the places that you visit.
Opting to explore Amman with a Jordanian local gives you the opportunity to find places that you may not have found alone. Similarly, your guide can advise you on the best places to eat, have coffee, and hang out.
It's a good idea to do a walking tour early on in your trip so that you get your bearings around the city. A handful of Amman tours and experiences that you may wish to consider are discussed below.
30 of the Best Things to do in Amman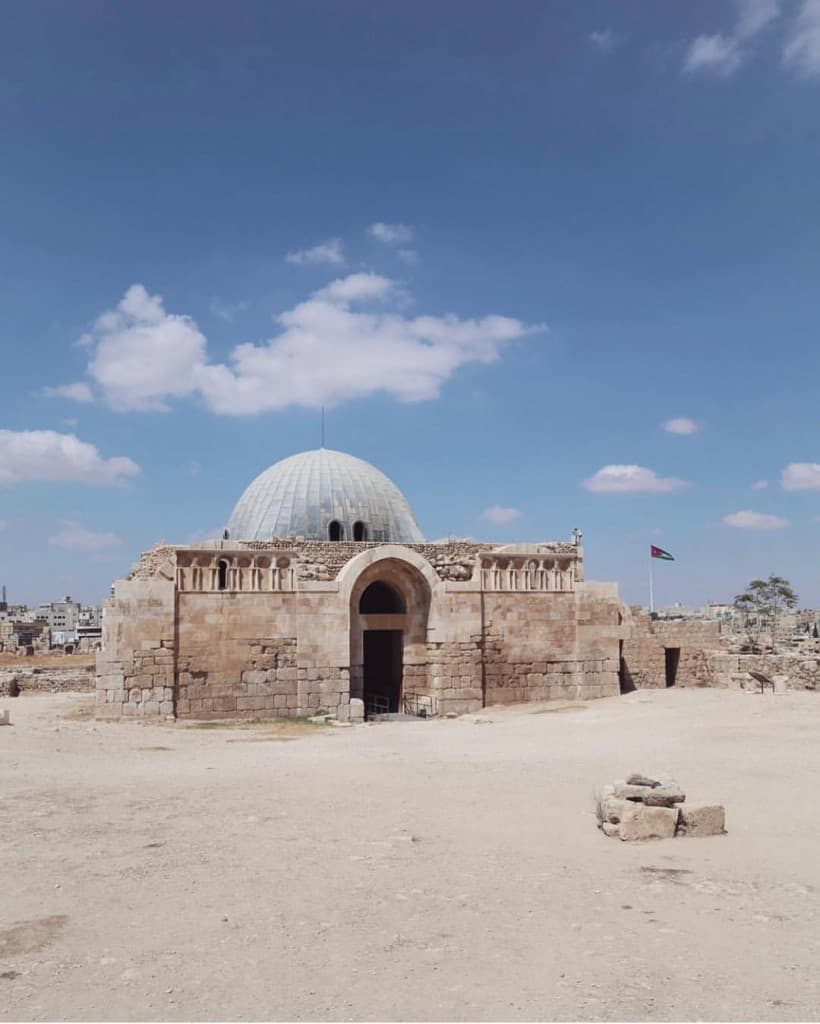 This article discusses some of the very best things to do in Amman. The experiences detailed here are a blend of must-see Amman attractions and lesser-known secrets.
Shop at Quirky and Artistic Markets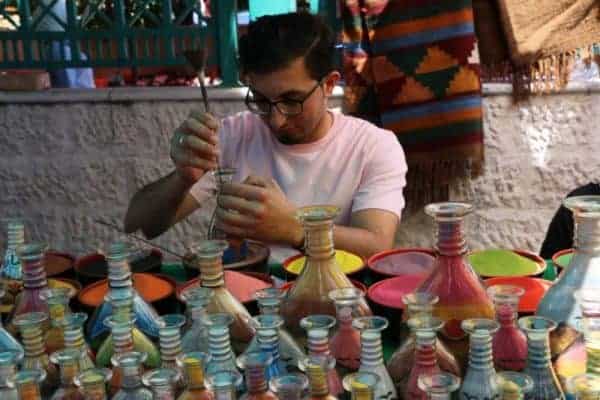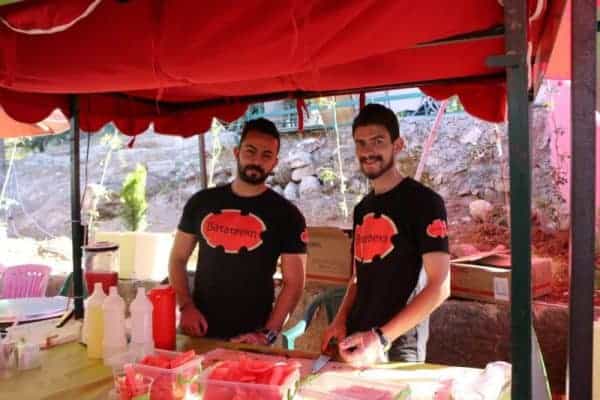 Souk Jara is a wonderful open-air craft market. It operates during the summer months.
Local vendors and artisans sell their handmade creations at the canvassed stalls here. You will find everything from edible goods (preserves, jams, etc), handicrafts, and artwork.
Jabal Amman's Rainbow Street is equally charming. The market is located at the corner of Fawzi Malouf street. This is a good place to pick up woven rugs, textiles, and home furnishings.
Haggle Your Way Through Bustling Souks
Amman's food markets give an authentic glimpse into life in the Middle East. The Souk El-Atareen is a spice and apothecary market that provides an attack on all of the senses.
Meanwhile, the Souk El-Khoudra is a local vegetable market where you can go to see locals put their haggling powers into action. The Amman bazaar is also worth a visit.
It is located close to the King Hussein Mosque. It is a little touristic and caters mostly to international visitors. However it is a great place to pick up souvenirs, and Jordanian products to take home nonetheless.
Visit the Citadel of Amman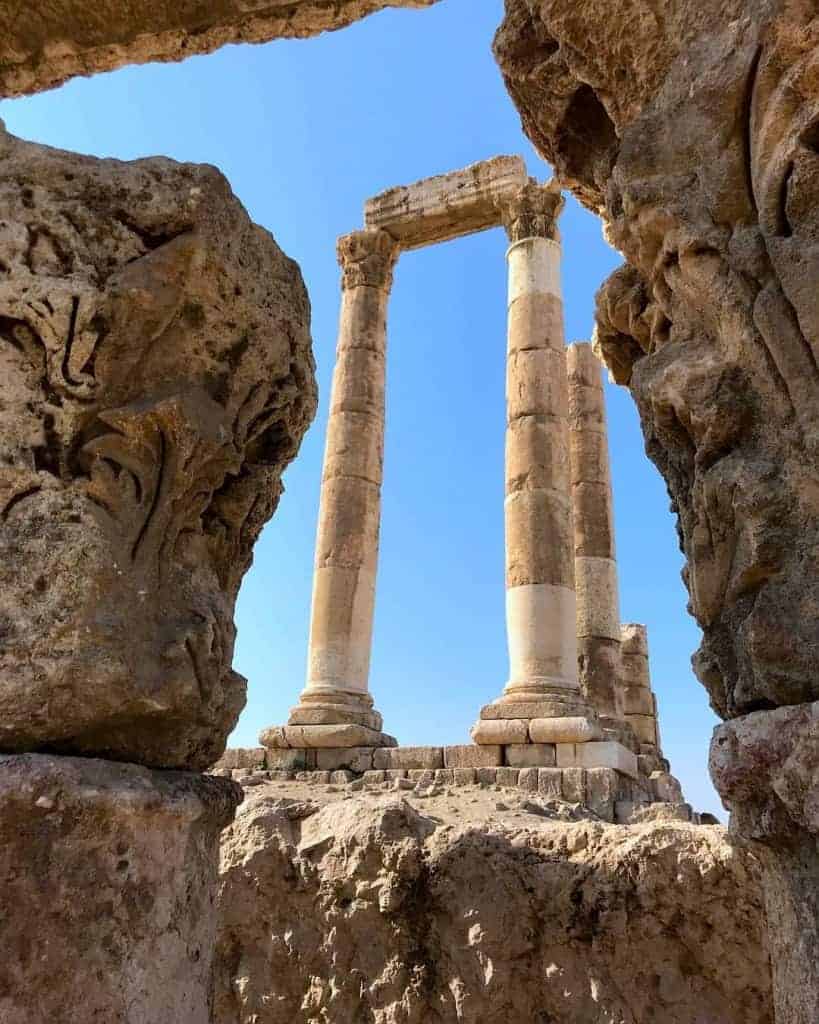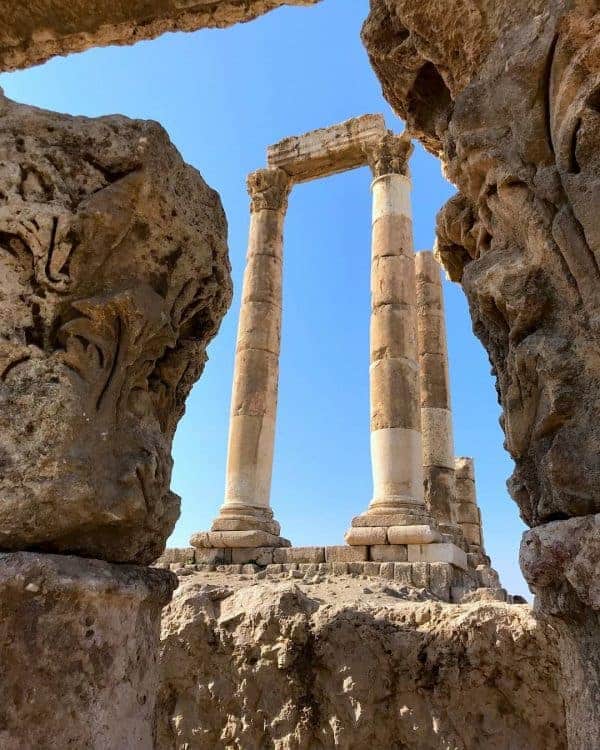 Where: K. Ali Ben Al-Hussein St. 146, Amman, Jordan
The Amman Citadel is famed for being one of the oldest continually inhabited sites on Earth. It has been occupied since the Neolithic period (between 10,000 – 2,000 BC).
This place has passed hands through various civilizations over the years. Namely, the Nabateans, the Romans, the Greeks, and numerous others have once occupied this land.
Look out for a giant stone head sculpture that protrudes from the ground. This marks the location of the Roman Temple of Hercules. The Byzantine basilica is equally interesting and contains several fading frescoes.
You don't have to be an avid history buff to enjoy visiting the Amman citadel. The site's hilltop location also boasts some of the most impressive panoramas in the city.
One of the best things to do in Amman is to time your schedule so that you are here when the sunsets. The ambiance is ethereal in the early evening.
The sky is illuminated with hues of pink and orange, and the call to prayer echoes through the valley. Seeing the citadel on an Amman city tour like this one provides more information and context to what you are seeing.
Browse the Pigeon Market of Amman
The pigeon market is one of the quirkiest things to do in Amman. The market is located close to Al Hashemi-street.
Stalls at the pigeon market are bustling with activity and lined with vendors selling pigeons. The pigeons are not sold for food, but for pigeon training. This is a unique Jordanian hobby.
Sample Fresh-Pressed Ammani Fruit Juice
You will find that practically every street corner in Amman is lined with vendors selling fresh fruit juices. You can find them everywhere from Jabal Al Weibdeh to Al Hashemi.
Many delicious summer fruits are farmed locally. This means that smoothies and juices can often be purchased at a fraction of the price of what you would pay elsewhere.
You can also try sugar-cane juice. This is essentially a natural Jordanian energy drink. It is distinguishable by its light green colour.
Visit the King Abdullah Mosque
The beautiful blue-domed King Abdullah mosque is one of just a few mosques in Jordan that allows non-Muslims to enter. The late King Hussein built the impressive structure in memory of his father.
The mosque interiors are every bit as spectacular as the exteriors. This is an impressive sight to behold, whatever your religion.
Women should cover their hair upon entering. When you enter any religious site in Jordan, you should dress conservatively, covering your shoulders and legs.
Embark on a Street Art Treasure Hunt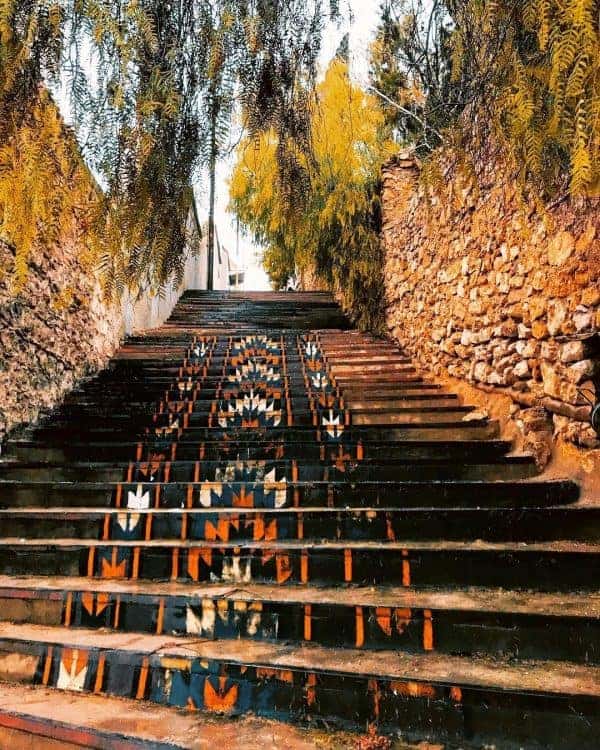 Brightly coloured murals are scattered throughout the city of Amman. Some of the pieces are philosophical and thought-provoking, while others exist purely to brighten up the scenery or depict unusual images.
Street artists like Yara Hindawi have emerged in recent years as an eccentric underground art scene has developed. Hindawi has a distinctive style. Obscure, cartoon-like graffiti, and depictions of peculiar creatures and monsters can be found around the city.
Street art is a relatively new concept to Amman and Jordan. The government is supportive of the local people's needs and desire to explore their creative sides.
However, Jordan is still a conservative Islamic country. Local artists must refrain from painting anything political or potentially controversial. Everything else is fair game though, and Amman has one of the best emerging street art scenes in the Middle East.
See the Roman Amphitheatre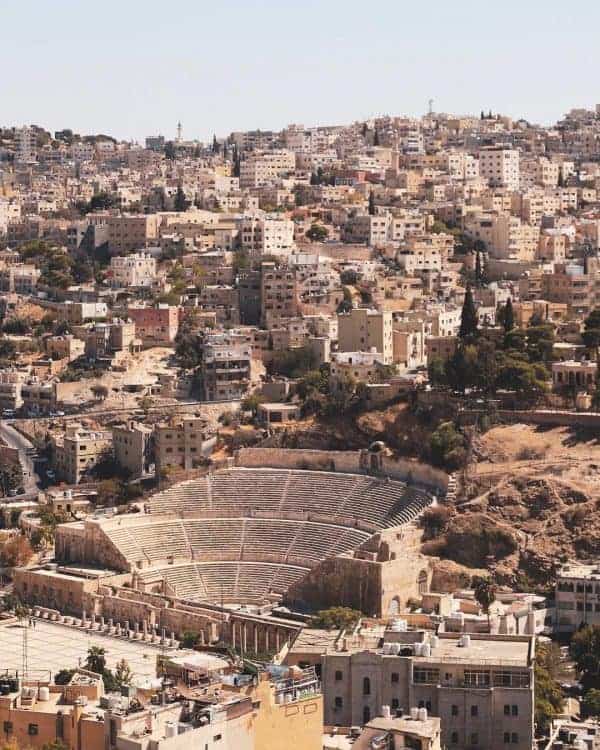 The restored Roman amphitheater dates back centuries and held 6,000 spectators back in its day. During the Roman era, Amman was actually known as Philadelphia.
The amphitheater still hosts the occasional traditional weekend or evening performance. It is well worth checking the websites and schedules of the Jordanian tourism board prior to your visit to Amman in order to see if there are any events that coincide with the dates of your trip.
Visit the Archaeological Museum
Jordan has had a fascinating history that has seen control of the country exchange hands numerous times. The museum contains relics that have been gathered from ruins and historic sites across the country.
The Archaeological Museum is one of the best things to do in Amman. You should try to schedule your museum visit at the beginning of your trip in order to get a feel for Jordan's background and history.
There are exhibitions and recovered artifacts stored in the museum that depicts all of the various civilisations and empires that have called Jordan home over the years. These range all the way from the Neolithic era to the Nabateans and the Romans.
Visit the Jordan Museum
Amman's Jordan Museum is the largest museum in the country. It is also well worth a visit during your time in the capital if your schedule permits.
The museum is located in the downtown district of Ras al-Ayn. It discusses various elements of Jordanian history and culture – from pre-history to modern-day.
Indulge in Jordanian Cuisine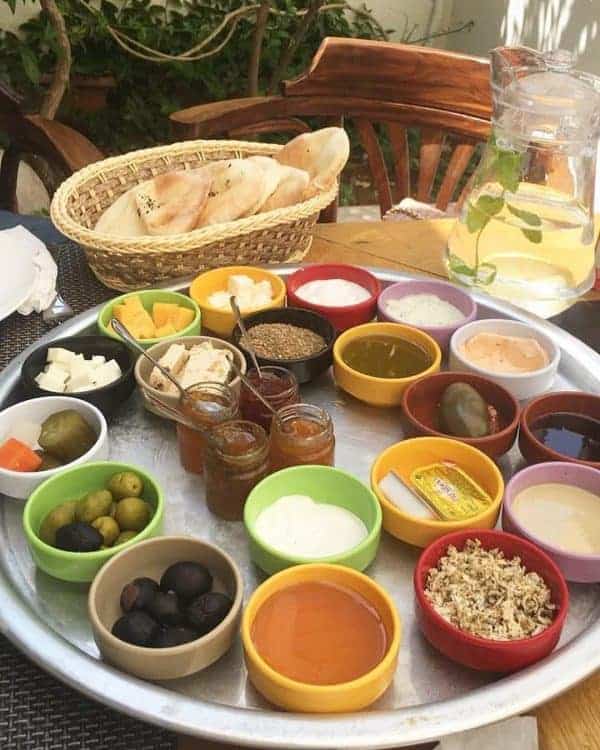 Jordan is a food lover's paradise and the Jordanian cuisine is a highlight of any trip to the country. The most famous local dish is Mansaf.
This is a traditional lamb dish that is served in fermented yoghurt. The latter is much nicer than it sounds and you will note that yoghurt is a common accompaniment to meals in the Middle East.
Mansaf is typically served with rice or bulgur wheat. If you're looking to experiment with the local cuisine, this is definitely a good starting point.
Al Quds restaurant on King Al Hussein street is frequently referred to as being the best in town. For falafel, check out 'Hashem falafel' Amman's best falafel joint.
You will have plenty of opportunities to try out Jordanian street food as you wander around the markets and streets of Amman. Most delicacies can be purchased for just a few dollars.
If you prefer a more "hands-on" approach, then you can consider taking an Arabic cooking class. Beit Sitti comes highly recommended for learning to cook Jordanian style.
Uncover The Mystery of Qasr al-Abad
Qasr al-Abad is the ruins of a Hellenistic palace from around 200 BC. It is located just west of Amman's city limits.
Little is known about the palace. There are many speculative stories about its purpose and who actually built it which makes a visit here incredibly fascinating and eerie.
The neighboring burial caves of Iraq al-Amir feature several carvings of lions and other predators on the rock face. However, no one knows entirely who made them or what their meaning is.
Explore The Cave of Seven Sleepers
Similar to Qasr-al Abad, there is a lot of mystery surrounding the cave of the seven sleepers. Legend has that seven Christian boys were going to be persecuted by a Roman Emperor. They fled here where they slept for over 300 years.
The cave is like something straight out of Tomb Raider. It consists of a series of sealed tombs with peepholes through which you can see a spooky collection of human bones.
The ruins of several ancient mosques surround the cave. No one is entirely sure about the history of this site.
Explore the Amman Culture Scene in Jaman Al Weibdeh
Jabal Al Weibdeh is the quiet, eloquent hub of "intellectual Amman". Young professionals and Entrepreneurs frequent the book stores and artisan coffee houses here. There are lots of lovely places where you can relax and unwind with a book and a slice of cake on Al-Shariah street.
This neighbourhood is a little more "westernised" as compared to the more traditional parts of downtown Amman. Many ex-pats live and hang out in this area.
From trendy coffee shops to upscale eateries, there are plenty of hip, contemporary options for hanging out in Jabal Al Weibdeh. For a spot of brunch or a freshly brewed coffee, head over to Rumi. For some of the best Arabic food in the city, consider dining at Abu Mahjoob.
Watch a Movie at an Outdoor Theatre
Any outdoor movie theatre experience that you have had is likely to be trumped by the outdoor theatres in Amman. Here, you can watch the latest releases, (in addition to more independent creations) on the stone steps of an old amphitheater.
As you do so, you have the magnificent citadel and downtown Amman as your backdrop. The experience is magical. Just imagine watching a movie as the city of Amman is illuminated by hundreds of twinkling lights.
The Royal Film Commission screens movies from across the world so that they can be shown here. The unique thing is that the experience is relatively interactive. At the end of the movie, it is not uncommon for locals to engage in discussions and debates about the themes and symbolism of the movie.
Sample the Most Famous Shawarma in the City
Shawarma is the quintessential fast-food snack of the Middle East. Delicious shawarma wraps are the perfect choice for a quick bite, even among those who generally consider themselves as being fussy eaters.
Shawarma originated from the Turkish kebab. The dish consists of sumptuous marinated meat that is slow-cooked on a skewer.
It is then added to a pitta with a generous serving of salad and salsa. One of the best local places to eat shawarma is at Reem.
Reem is a teeny tiny cafe that serves beautifully marinated shawarmas for just $1. There is almost always a line outside. If you want to dine like the locals, this is the place to go.
Admire the Al Husseini Mosque
There are dozens of beautiful mosques throughout Amman. The atmosphere when the call to prayer rings out from their minarets is almost magical.
The Al Husseini Mosque is one of the oldest mosques in the country. It was rebuilt by King Abdullah I in 1932. The original structure dates back to the 7h century.
Try Jordanian Coffee
Jordan's contemporary coffee shops are a wonderful place to spend a lazy afternoon. You should also be sure to sample the more traditional Jordanian coffee.
Coffee culture has been an important aspect of life in Jordan for centuries. The coffee here is strong and bitter. It is served in a small espresso-style cup, similar to Turkish and Greek coffees.
The beans are usually roasted, brewed, and served in front of the person ordering the beverage. Cardamom is added to the mixture for an extra kick of flavour. You will find this served at many coffee shops and traditional restaurants.
Marvel at the Abu Darwish Mosque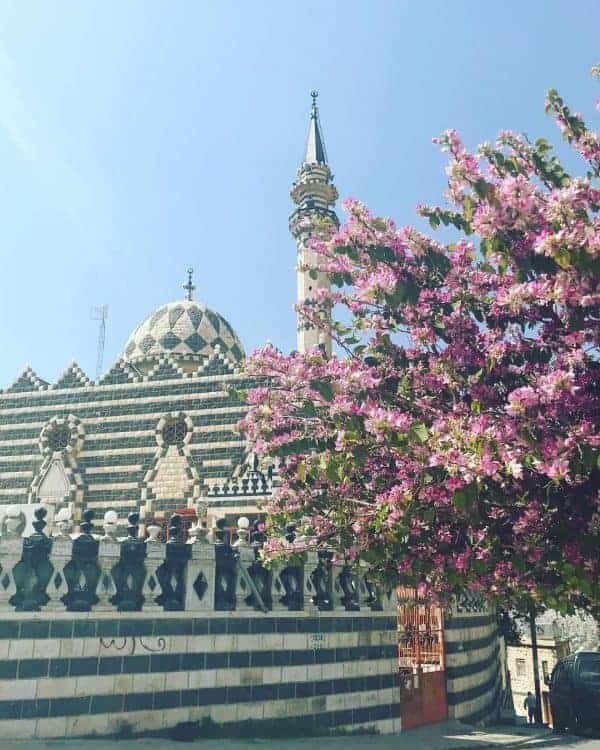 There are seven small hills that exist within the city limits of Amman. On top of one of these hills is the Abu Darwish Mosque.
This is perhaps one of the most beautiful mosques in the city. The mosque was built in 1961.
It isn't really all that old. However, its unique black and white "checkerboard" design is what makes it special.
From the top of the Amman Citadel, you can see the Abu Darwish mosque in the distance. Unfortunately, non-Muslims are not allowed inside.
However, it is still very much worth taking a short stroll up to this stunning structure. That way, you can admire its architecture and its courtyards from the outside.
Relax in a Traditional Hammam
There are few better ways to relax at the end of a long day's sightseeing in Amman than at a traditional hammam. A hammam is a Middle Eastern bath, a little like a sauna or a Korean jimjilbang.
Typically, a hammam will see the visitors sit in a circular room as steam is gradually increased into the atmosphere. Hammams are gender-segregated. As such, female travellers don't need to worry about feeling uncomfortable.
In addition to the steam room, hammams offer treatment packages such as full-body scrubs. This sounds questionable but it is very worth a try in order to get baby soft skin!
You can also indulge in more western-style treatments at Jordanian hammams such as massages and facials. Al Pasha is a great choice in Amman.
Explore the Oldest Residence in the Country
One of the more unusual things to do in Amman is to venture inside the oldest residence in the country – The Duke's Diwan. The house is just a few minutes away from the noisy, hectic souks of crowded downtown Amman.
Stepping inside the Duke's Diwan transports you back to the 1920s. Everything here is seemingly frozen in time – from the furnishings to the vintage radios, and the old paintings hanging on the walls.
The residence was built by Abdul Rahman Madi in 1924. It has passed hands through several notable families through the years. Its name "Duke's Diwan" is in relation to the Arabic for the living room "diwan".
Indulge Your Sweet Tooth with Homemade Knafeh
You may be familiar with knafeh, especially if this is not your first trip to the Middle East. This sweet treat is beloved throughout the region.
It is especially popular in Jordan and Palestine. Knafeh is a hot cheese pastry that is soaked in a sweet, sickly syrup and then sprinkled with sugar or pistachio nuts. Habibah Sweets are one of the best places to try the sweet.
Habibah Sweets is extremely popular among locals. The servers may even allow you to sample some baklava and some other yummy desserts while you're there.
Take a Trip to the Dead Sea or Petra
There are several notable destinations that can be reached within a couple of hours from Amman. This includes Petra and the Dead Sea.
It is preferable if you can stay overnight at both of these locations. However, if you are short on time, you will find many day tours to accommodate you.
Many Petra tours, like this one, include pick-up and drop-off at your hotel. You can opt to take a private Petra tour or to participate in a small group tour with other travellers, depending on your budget and travel style.
Recommended Petra Tours
Indulge at a Local Spa
There are plenty of luxurious spa facilities in Amman that you may wish to consider if you are looking for something a little more contemporary than a hammam. Many of the city's upscale hotels offer facilities and packages that anyone can enjoy.
A few highly-recommended luxe spas that you may wish to consider are provided below. It is advisable to contact them in advance to make a reservation.
Gaia's Cocoon Spa (Complex No 20، Shat Al Arab St 20)


Le Spa (11 Fawzi al Kawikji street Abdun Al Shmali, Amman)


Riva Spa 7 (Abdali, Istithmar Street Abdalimall , 1st floor Box 5290 Amman)


Elixir Beauty Spa (Um Uthaina, Al-Madina Al-Monawara St. Villa #34, Amman)
Explore Art Galleries and Exhibitions
Amman is Jordan's central hub for culture and arts. There are many wonderful galleries in the city that showcase modern and ancient creations.
The Jordan National Gallery of Fine Arts showcases the very best of contemporary Middle Eastern artwork. Darat-al-Funun displays the works of contemporary Arab artists from across the Middle East.
The latter is especially interesting. Darat-al-Funun is housed in the crumbling remnants of an old Byzantine church.
Check Out Amman by Night
Jordan is a Muslim country, but that does not mean there are no places in the city that come alive when the sun goes down. There are several sleek rooftop bars and cocktail lounges.
These places cater to international tourists and ex-pats. It is possible to buy alcohol, although it should be noted that this can be somewhat expensive.
Copas Central is a nice bar that boasts a 2-for-1 happy hour menu on its cocktails weekday evenings. The Ghoroub Lounge at the top of the Landmark Hotel is a clear choice if you want your drinks accompanied by city views and glamorous patrons.
If you do not drink, or you want a more Ammani evening experience, you can enjoy visiting one of the many shisha lounges that are scattered throughout the city. This is a wonderful way to see how locals unwind at the end of the week.
There are also a few live music joints in Amman. The Jafra Restaurant & Cafe is a local favourite that showcases the very best local bands.
Drive to the Ruins of Jerash
Jerash is arguably one of the most well-preserved Roman cities in the world. It is the largest of its kind in Jordan.
The ancient city is filled with the sun-bleached ruins of colonnaded walkways, majestic temples, and sprawling amphitheaters. Don't miss the imposing Hadrian's Arch or the magnificent hippodrome which once hosted chariot races for audiences of up to 15,000 people.
It takes an hour to reach Jerash. Additionally, there are many tour companies that offer daily excursions to the site.
Visit the Rescued Animals at the Al Ma'wa Sanctuary
The Al Ma'wa Sanctuary is a reserve for rescued animals. Al Ma'wa means "shelter" in Arabic. The animals here are vulnerable and unable to be released back into the wild or returned to their country of origin.
There is a diverse range of animals that call the sanctuary home. You will find lions, tigers, bears, and several other species that have been trafficked illegally in Jordan.
The Al Ma'wa sanctuary is located in Jerash. It is possible to visit the site in combination with the Roman ruins if you have your own transport.
The sanctuary is part of an initiative by the Princess Alia Foundation and Four Paws. It aims to raise awareness of the mistreatment of animals.
Spend a Morning at Al-Balad
Al Balad is the beating heart of Amman. This district is located below the Citadel and dates back to the Neolithic period. The infamous Arab bank, Souk el-Bukharia, and countless souvenir shops can be found in this area.
Take a Food Tour of Amman
A food tour is a great way to uncover Amman's culinary history and tradition. A local guide can help you to uncover some of the city's most off-the-beaten-track food markets and eateries.

Additionally, you can also consider booking a Jordanian cooking class. This experience will see you shop for spices and fresh ingredients at Souk El-Atareen and Souk El-Khoudra before cooking in a local's home.
Recipes like Mutabbal (Baba ghanoush) and ouzisurar are fun and simple to make! Then after your trip, you can impress your friends at home with your exotic new dinner party recipes.
Where to Stay in Amman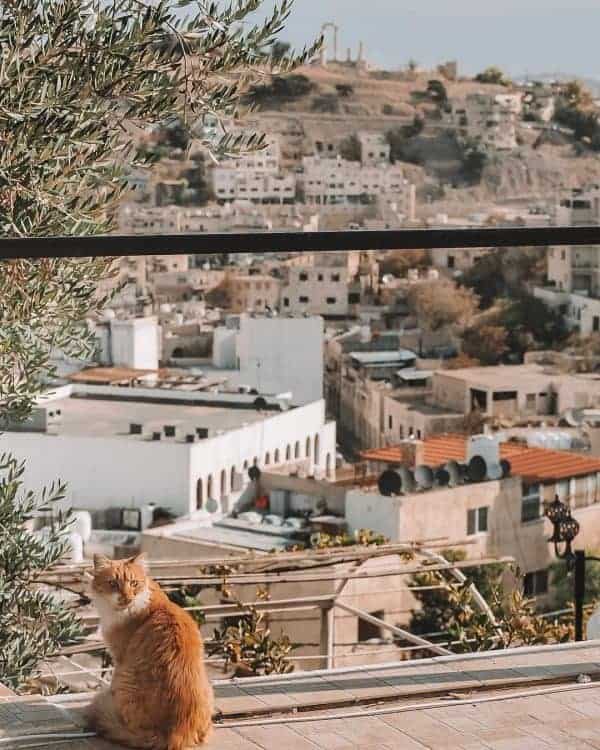 You will not be short of accommodation options in Amman. There is not really any such thing as a "sketchy" Amman neighbourhood.
That said, you may want to consider looking for a hotel or Airbnb in Jabal Al Weibdeh. This is a relatively peaceful and central district that is popular among westerners.
It makes for a great introduction to Jordan for first-timers. If you opt to stay here, you have everything you need on your doorstep, along with great transport links to other parts of the city.
A selection of well-rated hotels to suit every budget are provided below.
Mid-Range Amman Hotels
Luxury Amman Hotels
Getting Around Amman
Amman is a large, sprawling city. It may not seem like the most pedestrian-friendly place at first.
However, a lot of Amman's main sights are centralised within the downtown district. Consequently, it is not difficult to explore on foot.
Besides, what better way to stumble across random street art or hidden cafes than by wandering around the city in this way? That being said, public transport options here are available and they are pretty good.
By Cab/Shared Taxi
Cabs are arguably the best way to get around Amman. Furthermore, a journey from one part of the city to another should set you back no more than 1-3 JD.
That said, you should be vigilant when haggling with taxi drivers and use Uber where you can. It is not uncommon for local cab drivers to try and charge tourists much more.
Make sure that your driver turns the meter on, or be prepared to haggle if agreeing on a price beforehand. Uber is widely used in Amman. This often takes a lot of stress out of the process.
Rent a Car
Renting a car in Jordan is not as daunting as it may sound. The roads here are well-built. Everything is signposted in both English and Arabic.
It is possible to collect rental cars from both Amman centre and Queen Alia International Airport. Additionally, many reputable international companies operate here – including Sixt and Avis.
Take a Shared Cab
There are seven jebels (hills) that make up the landscape of Amman. Consequently, this often means having to walk up steep hills to get from one landmark to another.
Fortunately, you will see shared taxis situated at the bottom of a lot of these hills. A journey in a shared cab costs just 1 JD.
Safety in Amman and Jordan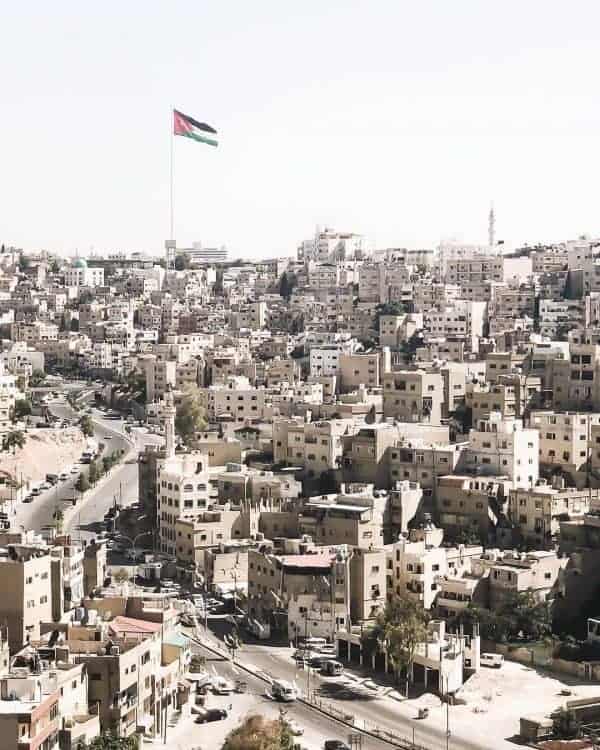 It is very safe to visit Amman and to explore Jordan in general. I explored Jordan alone as a solo female traveller and I never felt unsafe.
The World Safety index lists Jordan as being one of the safest countries in the Middle East. It is unfortunate that many stereotypes about this part of the world exist, but people here are friendly and welcoming.
"You're welcome here" is a phrase that you will hear again and again during your travels through Jordan. The locals are very hospitable.
Although people can get a little pushy when they are trying to make a sale, they will not harass you if you give them a firm "no".Crime rates in Jordan are very low.
There are many international expats that call Amman home. This should be a positive checkpoint in your mind, in terms of how progressive and open-minded the locals are.
When to Travel to Amman
Spring (March to May)
Spring is a perfect time to travel to Amman. Daytime temperatures are between 25-and 30 degrees Celsius.
Conditions are optimal for hiking and trekking without getting too hot. It can get chilly during the evenings so it is worth packing a cardigan or two.
Summer (June to September)
Amman has a hot, desert climate and is generally very warm for the majority of the year. The summers can be scorching, particularly if you travel in July and August.
Between the months of June and September, temperatures are often in the mid-thirties (degrees Celsius) during the day. However, you should not right this period off completely.
The benefit of travelling to Amman in the off-season is the absence of crowds. Additionally, hotels and travel packages are slightly cheaper during this time.
Autumn (October to November)
Autumn in Amman shares similar conditions to Spring. Consequently, this is another great time to travel. Temperatures are hot, yet bearable during the day and a little chillier in the evenings.
Winter (December to February)
Winters in Amman can be cold. However, fortunately, the cold weather doesn't last very long.
Temperatures of around 10-15 degrees Celsius can be expected during the daytime. Snow is not completely unheard of but is still a pretty rare occurrence in Amman.
If you are visiting Amman with the sole intent of exploring the city and its historical and cultural sites, the cooler weather should have no impact on your trip.
Additional Travel Tips for Visiting Amman
A few additional things to keep in mind for your trip to Amman are detailed below.
Ensure that you purchase travel insurance before you travel. World Nomads offer comprehensive packages


Consider buying a theft-proof backpack for navigating busy streets and markets like these from pacsafe


Pack comfortable walking shoes. You will spend a lot of time on your feet.


Female travellers should dress modestly covering shoulders and legs


Be prepared to cover up if you wish to enter mosques


Female travellers should carry a scarf or pashmina in case they need to cover their hair


Download an offline map such as Maps Me so that you can easily navigate through Amman


Get Your Guide is an excellent tour company for organising excursions and day trips from Amman to other parts of Jordan.


When taking cabs, be prepared to haggle. Try to check what the price should be before getting a cab somewhere.


Arm yourself with a few Arabic phrases. "Salam" (hello) and "shukran" (thank you) go a long way.
Parting Words
You will find plenty of things to do in Amman to occupy your time. That is true whether you visit Amman for a few days as part of a wider Jordan itinerary, or on an extended weekend break.
You could happily spend a week in Amman just enjoying the different foods, checking out local art exhibitions, and hanging out at the various coffee shops on Shariah Street. Do you have any more questions about things to do in Amman or planning your Jordanian adventure?
Please don't hesitate to reach out to me. I will do my best to get back to you ASAP. Safe travels! Melissa xo
---