There are plenty of things to do in Amman in order to get a feel for Jordan's culture, history, and cuisine. The Jordanian capital is a perfect introduction to the Middle East and makes a nice alternative travel destination for a weekend break, or as a jumping-off point for a wider exploration of the Hashemite Kingdom of Jordan.
When you think of the Middle East, I am sure that adjectives such as "quirky", "artsy", or "cultural melting pot" are not the first that will pop into your mind but they are certainly terms which can be used to describe aspects of travel in Amman.
To those who venture here, exploring the Jordanian capital can feel like uncovering hidden treasure. The city is as rich in history and archaeological sites as Cairo, and as unique and inspiring as Tel Aviv, but simply does not get the attention it deserves. Amman is undoubtedly one of The Middle East's best-kept secrets.
Things to do in Amman, Jordan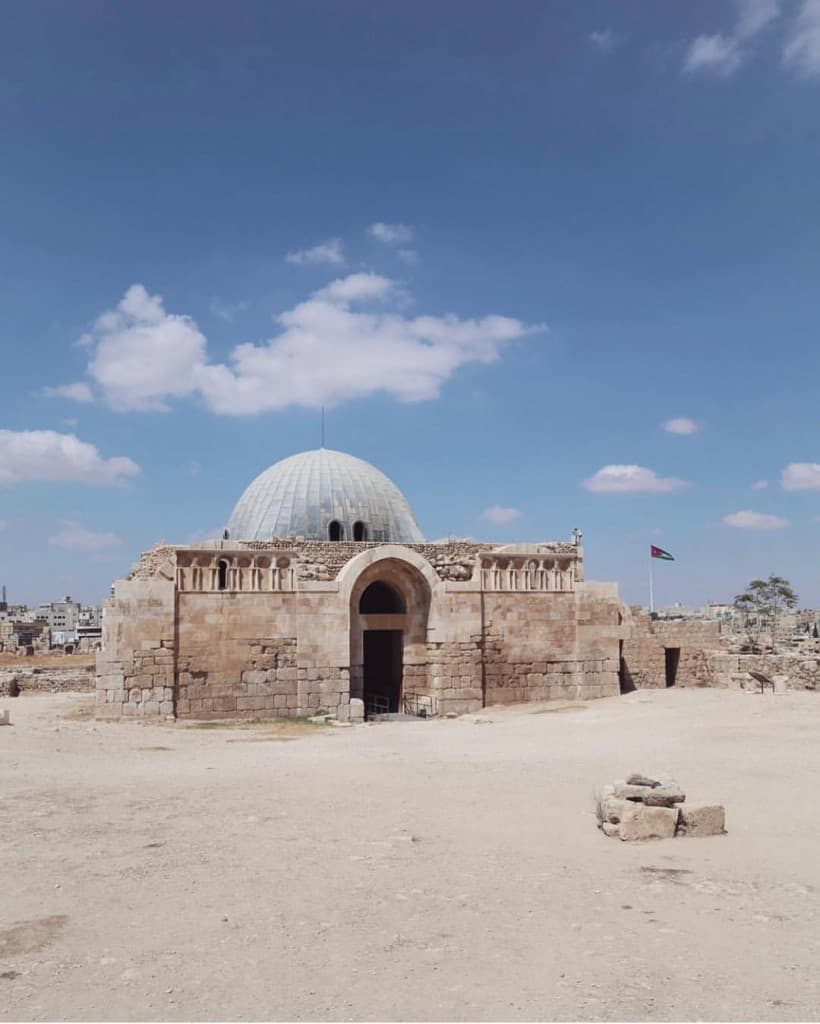 Where trendy, hipster cafes sit adjacent to traditional souks, and where high-rise office buildings tower over crumbling Roman ruins, Amman is a wonderful juxtaposition of ancient traditions meet modern cultures. It's almost like Amman has one foot remaining in the past, and the other striding out into the future.
Within this article, I've explored some of the very best things to do in Amman to help you discover Jordan's fascinating history and to ensure that you have the very best authentic local experiences. The experiences detailed here are both "must see" and off-the-beaten-path delights.
#1 Shop at Quirky and Artistic Markets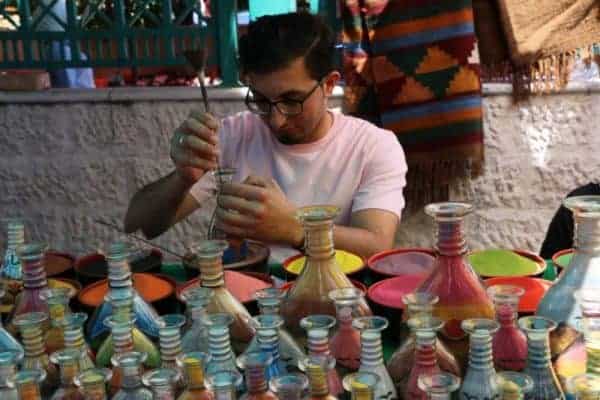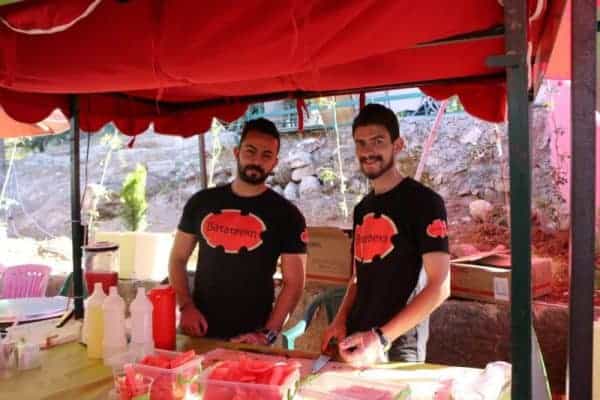 If you're lucky enough to be travelling in Jordan during the Summer months, you can have the pleasure of exploring the canvassed stalls of Souk Jara, Amman's open air craft market where local vendors and artisans sell their handmade artworks, handicrafts, and edible goods. Souk Jara is reminiscent of an artisanal market that you may expect to see in parts of Europe and is a great place to pick up one of a kind souvenirs.
Of equal quirkiness are the boutique stalls and independent coffee shops that line upper Jabal Amman's "Rainbow Street", and the market located at Fawzi Malouf street corner which sells woven rugs, textiles, and home furnishings.
#2 Haggle Your Way Through Bustling Souks
Those who are looking for a more authentic Middle Eastern market will enjoy the bustling atmosphere of the local food markets. Check out Souk El-Atareen for a spice and apothecary market that provides an attack on all of the senses, and Souk El-Khoudra, a local vegetable market to see locals put their haggling powers in action.
The Amman bazaar, located close to the King Hussein Mosque features on most tourist's "must see in Amman" lists. It's more catered to international tourists than to locals but is a great place to pick up souvenirs, and Jordanian products to take home nonetheless.
#3 Visit the Citadel of Amman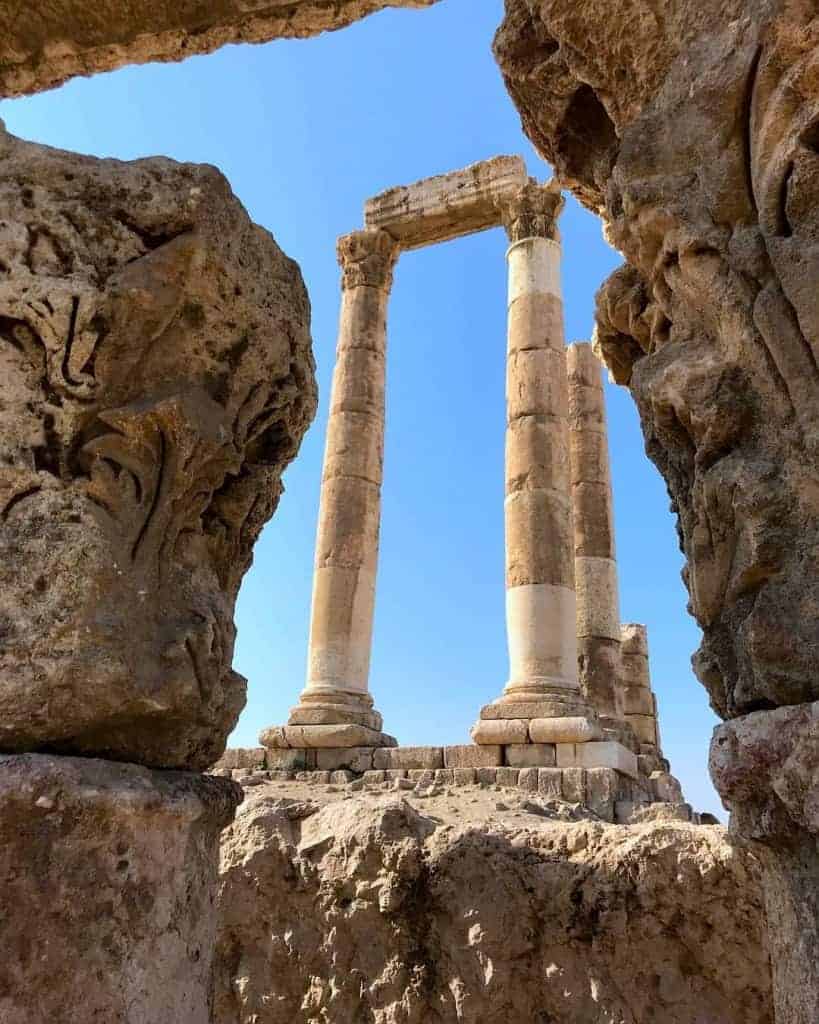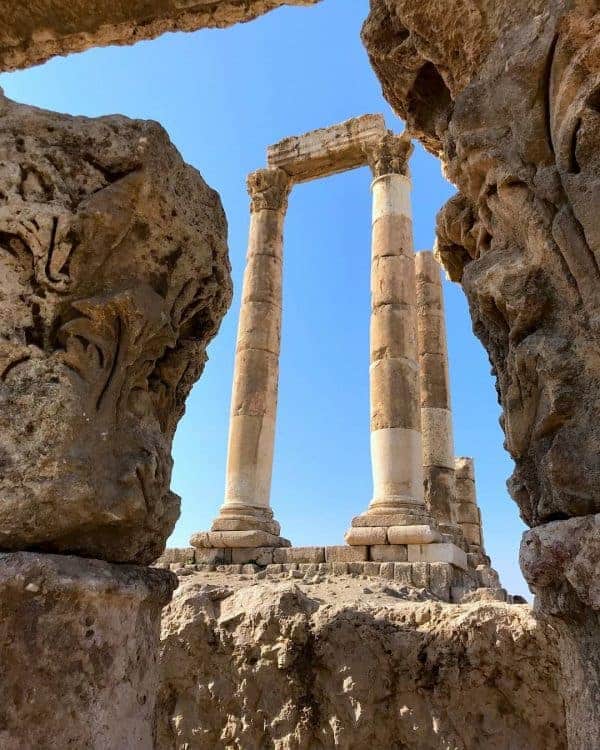 Where: K. Ali Ben Al-Hussein St. 146, Amman, Jordan
Famed for being one of the oldest continually inhabited sites on Earth ( since the Neolithic period, i.e. somewhere between 10,000 to 2,000 BC!), Amman's citadel has passed hands throughout the years to be occupied by Nabateans, Romans, Greeks, and numerous other civilizations. A giant stone hand protruding from the ground marks the Roman temple of Hercules, and the Byzantine basilica contains a few fading mosaics. No doubt the citadel is one of the best things to do in Amman for history buffs.
Owing to its hilltop location, the citadel offers incredible panoramic views across the city. One of the best things to do in Amman is to time your schedule so that you are here for when the sunsets. As the sky is illuminated with hues of pink and orange, and the call to prayer echos through the valley, the atmosphere is magical.
The Citadel of Amman is just a stone's throw away from the Archaeological Museum and so, the two attractions can be conquered at once.
#4 Visit the King Abdullah Mosque
It's rare to stumble across a mosque that allows non-Muslims to enter, but fortunately, Amman's beautiful blue domed King Abdullah mosque is an exception to that rule. Built by the late King Hussein in memorial of his father, the mosque is an impressive structure and a beautiful sight to behold no matter what your religion.
#5 Embark on a Street Art Treasure Hunt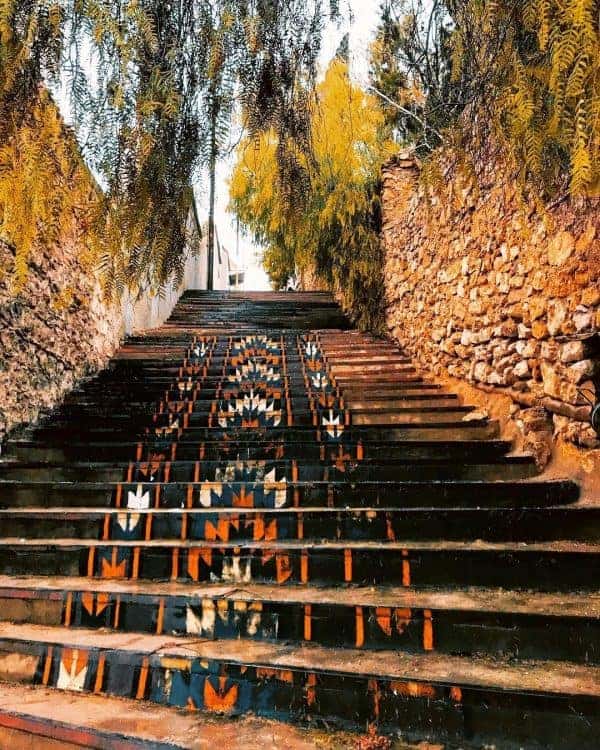 Keep your eyes peeled as you explore the streets of the Jordanian capital. Stunning, brightly coloured murals can now be found scattered throughout the city. Some of the pieces are philosophical and thought-provoking, whereas others exist purely to brighten up the scenery or depict unusual images.
Street artists like Yara Hindawi have emerged in recent years as an eccentric underground art scene has developed. At the occasional twist and turn, you will be greeted with obscure, cartoon-like graffiti and depictions of peculiar creatures and monsters.
Street art is a relatively new concept to Amman and Jordan. While the government is supportive of the local people's need and desire to explore their creative sides, Jordan is still a conservative Islamic country and as such, the local artists must refrain from painting anything political or potentially controversial.
#6 See the Roman Amphitheatre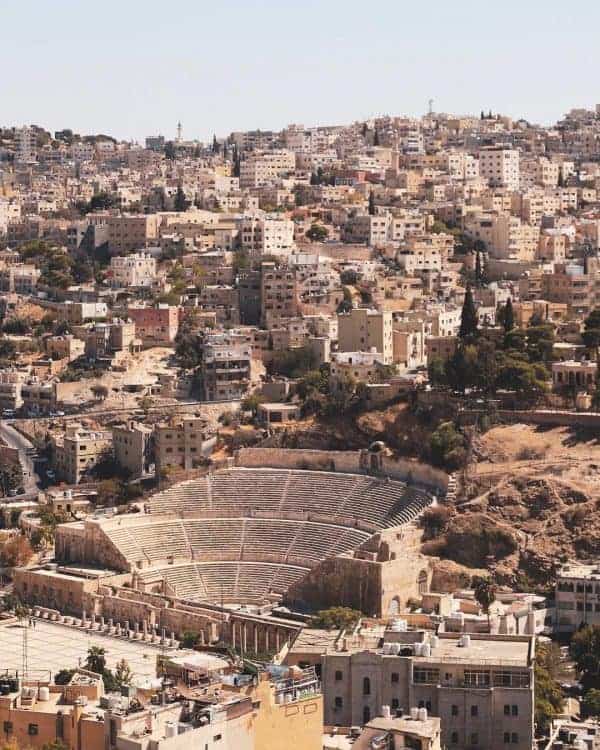 The restored Roman amphitheater dates back centuries and held 6,000 spectators back in its day. During Roman rule, Amman was known as Philadelphia. The amphitheater still hosts the occasional traditional weekend or evening performance. For a unique travel experience, it is well worth checking the websites and schedules of the Jordanian tourism board prior to your visit to Amman in order to see if anything coincides with the dates of your trip. The amphitheater is situated at the foot of the hill close to the Amman Citadel making it easy to tie in a visit to the two together.
#7 Visit the Archaeological Museum
Jordan has had a fascinating history which has seen control of the country exchange hands numerous times. The museum contains relics that have been gathered from ruins and historic sites across the country. The Archaeological Museum is one of the best things to do in Amman at the beginning of your trip in order to get a feel for Jordan's background and history.
Exhibitions and recovered artifacts depict all of the various civilisations and empires that have called Jordan home over the years – from the Nabateans to the Romans.
Situated in the modern district of Ras al-Ayn, Amman's Jordan museum is the largest museum in the country and also well worth a visit during your time in the capital.
#8 Indulge in Jordanian Cuisine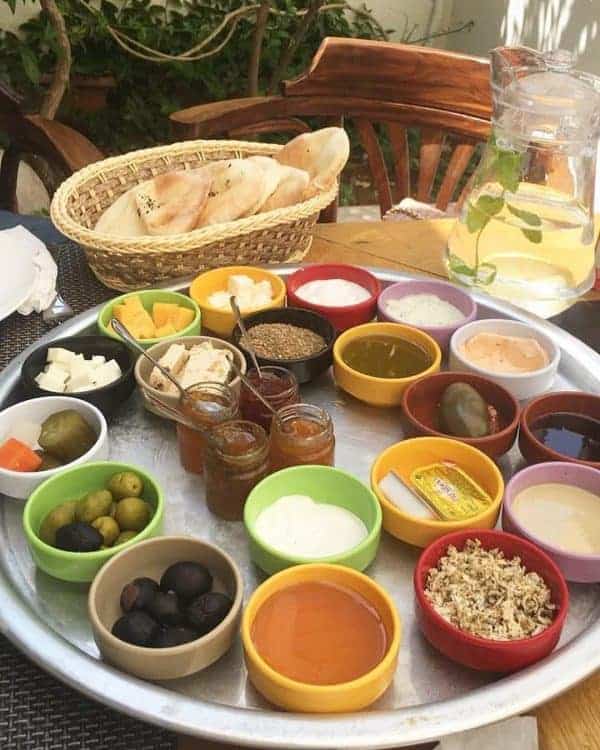 Jordan is a food lover's paradise and as a massive foodie myself, the Jordanian cuisine was certainly one of the highlights of my trip. Arguably the most famous local dish is Mansaf – a traditional lamb dish served in fermented yogurt (genuinely nicer than it sounds!).
Mansaf is typically served with rice or bulgur so if you're looking to experiment with the local cuisine, this is definitely a good starting point. Al Quds restaurant on King Al Hussein street is frequently referred to as the best in town. For falafel, check out 'Hashem falafel' Amman's best falafel joint.
Wandering around the markets and the streets of downtown Amman (Al Balad) serves up plenty of opportunities to try out Jordanian street food which can be bought for a few dollars. If you prefer a more "hands-on" approach, then you can consider taking an Arabic cooking class. Beit Sitti comes highly recommended for learning to cook Jordanian style.
#9 Uncover The Mystery of Qasr al-Abad
Located just west of Amman's city limits, Qasr al-Abad is the ruins of a Hellenistic palace from around 200 BC. Little is known about the palace and there are many speculative stories about its purpose and who actually built it which I find incredibly fascinating.
The neighboring burial caves of Iraq al Amir feature several carvings of lions and other predators in the rock face but no-one knows entirely who made them or what their meaning is.
#10 Explore The Cave of Seven Sleepers
Similar to Qasr-al Abad, there is a lot of mystery surrounding the cave of the seven sleepers which for me personally makes a place all the more fascinating! The legend has that seven Christian boys were persecuted by a Roman Emperor and fled here where they slept for over 300 years.
The cave is like something straight out of Tomb Raider and consists of a series of sealed tombs with peepholes through which you can see a spooky collection of human bones, though no-one is entirely sure about the history of this site. The ruins of several ancient mosques surround the cave.
#11 Explore the Amman Culture Scene in Jaman Al Weibdeh
Jabal Al Weibdeh is the quiet, eloquent hub of "intellectual Amman" whose book store cum artisan coffee houses are frequented by local young professionals and entrepreneurs. For the perfect place to relax and unwind with a book and a slice of cake, head to Al-Shariah street.
This neighbourhood is a little more "westernised" as compared to the more traditional parts of downtown Amman. Many expats live and hang out in this area, and it's not uncommon to see women who are not covered wandering its streets.
From trendy coffee shops to upscale eateries, there are plenty of hip, contemporary options for hanging out in Jabal Al Weibdeh. For a spot of brunch or a freshly brewed coffee, head over to Rumi. For some of the best Arabic food in the city, consider dining at Abu Mahjoob.
#12 Watch a Movie at an Outdoor Theatre
Any outdoor movie theatre experience that you have had is likely trumped by the outdoor theatres in Amman. Here, you can watch the latest releases, (in addition to more independent creations) on the stone steps of an old amphitheater, with the citadel and downtown Amman as your backdrop. Just imagine how magical that experience is, as the city of Amman is illuminated by twinkling lights.
The Royal Film Commission screens movies from the world over for showings here. The unique thing is that the experience is relatively interactive. At the end of the movie, it is not uncommon for locals and the Film Commission to engage in discussions and debates about the themes and symbolism of the movie.
#13 Sample the Most Famous Shawarma in the City
If there was a quintessential fast food snack of the Middle East, shawarma would be it. Delicious shawarma wraps are the perfect choice for a quick bite, even among those who generally consider themselves as being fussy eaters.
Originating from the Turkish kebab, shawarma consists of sumptuous marinated meat that is slowly cooked on a skewer, before being added to a pitta with the addition of salad and salsa.
One of the best local places to eat shawarma is at Reem. Reem is a teeny tiny cafe that serves beautifully marinated shawarmas for just $1. There is almost always a line outside. If you want to dine like the locals, this is the place to venture to.
#14 Marvel at the Abu Darwish Mosque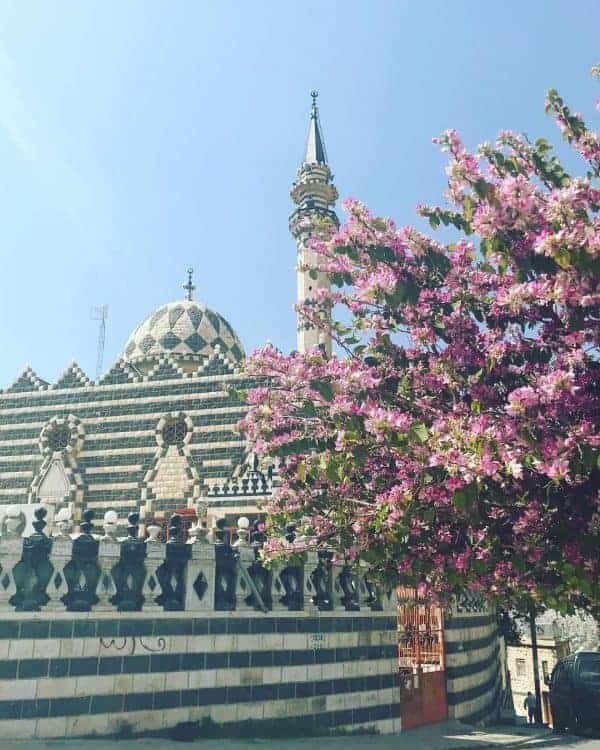 There are seven small hills that exist within the city limits of Amman. On top of one of these hills is the Abu Darwish Mosque – perhaps one of the most beautiful mosques in the city. The mosque was built in 1961, so it isn't really all that old, however, its unique black and white "checkerboard" design is what makes it special.
From the top of the Amman Citadel, you can see Abu Darwish mosque in the distance. Unfortunately, non-Muslims are not allowed inside, however, it is still very much worth taking a short stroll up to this stunning structure in order to admire its architecture and its courtyards from the outside.
#15 Relax in a Traditional Hammam
There are few better ways to relax at the end of a long day's sightseeing in Amman than at a traditional hammam. A hammam is a Middle Eastern bath, a little like a sauna.
Typically, a hammam will see the visitors sit in a circular room as steam is gradually increased into the atmosphere. Hammams are gender segregated, so fellow female travellers don't need to worry about feeling uncomfortable.
In addition to the steam room, hammams offer treatment packages such as full body scrubs (sounds questionable, but very worth a try in order to get baby soft skin!), massages and facials. Al Pasha is a great choice in Amman.
#16 Explore the Oldest Residence in the Country
One of the more unusual things to do in Amman is to venture inside the oldest residence in the country – The Duke's Diwan. Just a few minutes away from the noisy, hectic souks of crowded downtown Amman, this place transports you back to the 1920s. Everything here is seemingly frozen in time – from the furnishings to the vintage radios, and the old paintings hanging on the walls.
The residence was built in 1924 by Abdul Rahman Madi and has passed hands through several notable families through the years. Its name "Duke's Diwan" is in relation to the Arabic for the living room "diwan".
#17 Indulge Your Sweet Tooth with Homemade Knafeh
If you have travelled anywhere in the Middle East previously, you may be familiar with knafeh. This sweet treat is beloved throughout the region, particularly in Jordan and Palestine. Knafeh consists of a hot cheese pastry that is soaked in a sweet, sickly syrup and sprinkled with sugar or pistachio nuts. For one of the best places to eat knafeh in Amman, head to Habibah Sweets.
Habibah Sweets is extremely popular among locals. The servers may even allow you to sample some baklava and some other yummy desserts while you're there.
#18 Take a Trip to the Dead Sea or Petra  
Hopefully you will have enough time in the Hashemite Kingdom to explore the country thoroughly; however, if you are short on time in Jordan, and using Amman as a base, there are several notable destinations that can be reached within a couple of hours – including Petra and the Dead Sea.
#19 Explore Art Galleries and Exhibitions
The Jordan Times national newspaper proclaimed Amman as being Jordan's centre for culture and arts and the city's Jordan National Gallery of Fine Arts showcases the very best of contemporary Middle Eastern artwork.
For a completely unique artistic experience, head to Darat-al-Funun. Here, in the crumbling remnants of an old Byzantine church, the works of contemporary Arab artists from across the Middle East are on display. Another more "local" gallery that is well worth checking out is the Nabad Art Gallery, in the old Jabal Amman district.
#20 Check Out Amman by Night
Any mention of the Middle East is accompanied by the assumption that it is difficult or illegal to drink alcohol. While Jordan is a Muslim country, there are places in the city that come alive when the sun goes down – mostly catering to international tourists and expats.
Copas Central is a nice bar that is popular among expats and which boasts a 2-for-1 happy hour menu on its cocktails weekday evenings. For a glamorous evening and incredible views over the city, the Ghoroub Lounge at the top of the Landmark Hotel is a clear choice.
For more alternative entertainment options, those who don't drink can enjoy visiting one of the many shisha lounges that are scattered throughout the city – a wonderful way to see how locals unwind at the end of the week. There are also a few live music joints in Amman, including the Jafra Restaurant & Cafe which showcases the very best local bands.
Where to Stay in Amman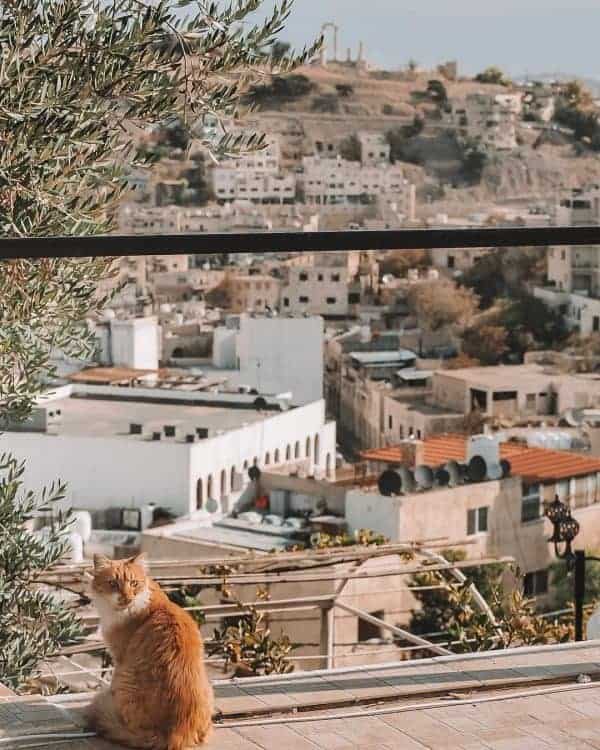 Many accommodation options are scattered throughout downtown Amman. To be honest, there is not really any such thing as a "sketchy" Amman neighbourhood. That said, I would recommend looking for a hotel or Airbnb in Jabal Al Weibdeh. Since this neighbourhood is relatively peaceful, central, and popular among western expats, it makes for a great introduction to Jordan for first-timers.
Getting Around Amman
On Foot
As is to be expected with being the capital of Jordan, Amman is a large, sprawling city. With that said though, while Amman may not seem the most pedestrian-friendly place, a lot of the main things to do in Amman are centralised within the downtown district and its surroundings and so, a lot of Amman city exploration can be done on foot. Besides, what better way to stumble across random street art or hidden cafes than by covering a lot of ground and exploring on foot?
By Cab/Shared Taxi
Public transport wise, cabs are the best way to get around Amman. Taxis are relatively cheap, and a journey from one part of the city to another should set you back no more than 1-3 JD. That said, you should be vigilant as it is not uncommon for local cab drivers to try and charge tourists much more.
Make sure that your driver turns the meter on,  or be prepared to haggle if agreeing on a price beforehand. Uber is widely used in Amman, and often takes a lot of stress out of the process.
The landscape of Amman is comprised of seven jebels (hills). In terms of getting around, this often means having to walk up steep hills to get from one landmark to another. Fortunately, you will see shared taxis situated at the bottom of a lot of these hills. A journey in a shared cab costs just 1 JD.
Safety in Amman and Jordan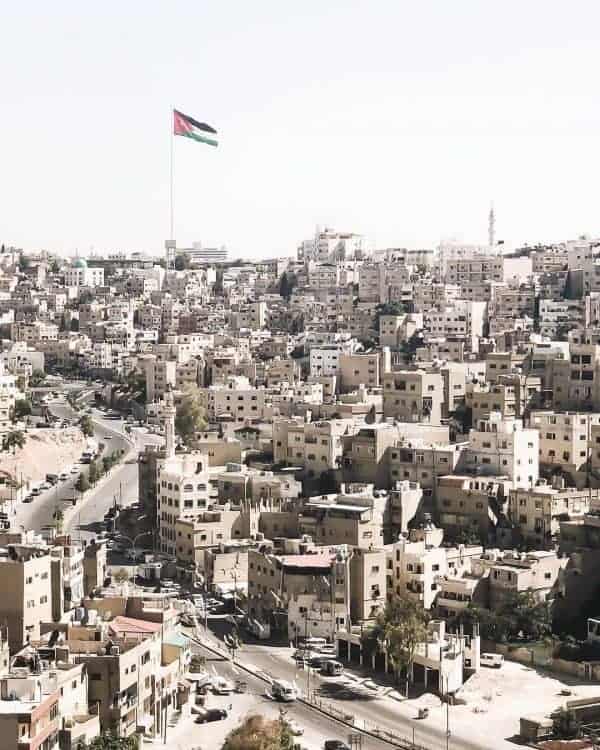 It's unfortunate that Jordan and the Middle East, in general, has become almost synonymous with the idea of danger. I travelled to Jordan as a solo female and during my several weeks in the country, I felt incredibly safe.  It should also be noted that Jordan consistently tops the world's global crime index as being the safest country in the Middle East region.
Jordanians are friendly, hospitable people and crime rates are very low. The most danger that you are likely to encounter in Jordan is perhaps an over-zealous salesman negotiating a higher price on a scarf! Many international expats call Amman home – something which should be a positive checkpoint in your mind, in terms of how progressive and open-minded the locals are.
When travelling to Amman, as with travelling anywhere, you should always exert basic common sense. Dress modestly, don't walk alone at night and ensure that you have comprehensive travel insurance coverage. With basic precautions, I am sure that you will have a wonderful time! Remember to always check your government's travel advice prior to your departure.
When to Travel to Amman  
Spring (March to May)
Temperature wise, spring is the perfect time to travel to Amman. Daytime temperatures are between 25-30 degrees Celsius and conditions are optimal for hiking and trekking without getting too hot. During the evenings and night, it can get chilly so it is worth packing a cardigan or two.
Summer (June to September)
Amman has a hot, desert climate and is generally very warm for the majority of the year. The summers can be scorching, however, I travelled to Amman in July and still managed okay. Between the months of June and September, temperatures are often in the mid-thirties (degrees Celsius) during the day.
The benefit of travelling to Amman in the off-season is the lack of crowds (though admittedly Amman is still relatively off-the-beaten-path anyway). Additionally, hotels and travel packages are slightly cheaper during this time.
Autumn (October to November)
Autumn in Amman shares similar conditions to Spring and is equally considered as being one of the best times to travel. Temperatures are hot, yet bearable during the day and a little chillier in the evenings.
Winter (December to February)
Winters in Amman can be cold, but fortunately, they don't last very long. During the daytime, travellers can expect temperatures in Amman of around 10-15 degrees Celsius. Snow is not completely unheard of but is still a pretty rare occurrence in Amman. If you are visiting Amman with the sole intent of exploring the city and its historical and cultural sites, the cooler weather should have no impact on your trip.   
Whether you visit Amman for a few days as part of a wider Jordan itinerary, or you prefer to take a more relaxed pace, you'll certainly find plenty to occupy your time. I think that I could happily spend a week here just enjoying the different foods, checking out local art exhibitions, and hanging out at the various coffee shops on Shariah Street.
Have you been to Amman? Do you have any questions about things to do in Amman or regarding Jordan travel in general? Feel free to drop me an email or reach out via the comments below!
Disclaimer: This article on things to do in Amman may contain affiliate links. This means that I may earn a small % of commission for any purchases made through links on here. This comes at no extra cost to you and helps me keep up with the costs of this site.
Pin it For Later!
---