If you are visiting Greece this summer and are looking to party, dance at the hottest beach clubs, and check out some international DJ sets, you won't be short of options. There are hundreds of islands in Greece and each one has its own unique vibe when it comes to nightlife.
Places like Zante, Mykonos, and Malia in Crete are probably the first places that pop into your mind when you think of the best Greek party islands. But they definitely aren't the only places to consider. 
There are a lot of other Greek party islands that are underrated and fly somewhat under the radar. If you want to go somewhere where you can meet and hang out with actual Greek locals rather than a bunch of people from your hometown, you might want to consider heading to a different Greek island from the main few.
This article has been written by a British Travel Writer based in Athens. It will run through the most popular Greek party islands and some lesser-known gems.
Then, we'll look at how much things cost, the best party areas, and the best bars.
Best Greek Party Islands to Visit in 2023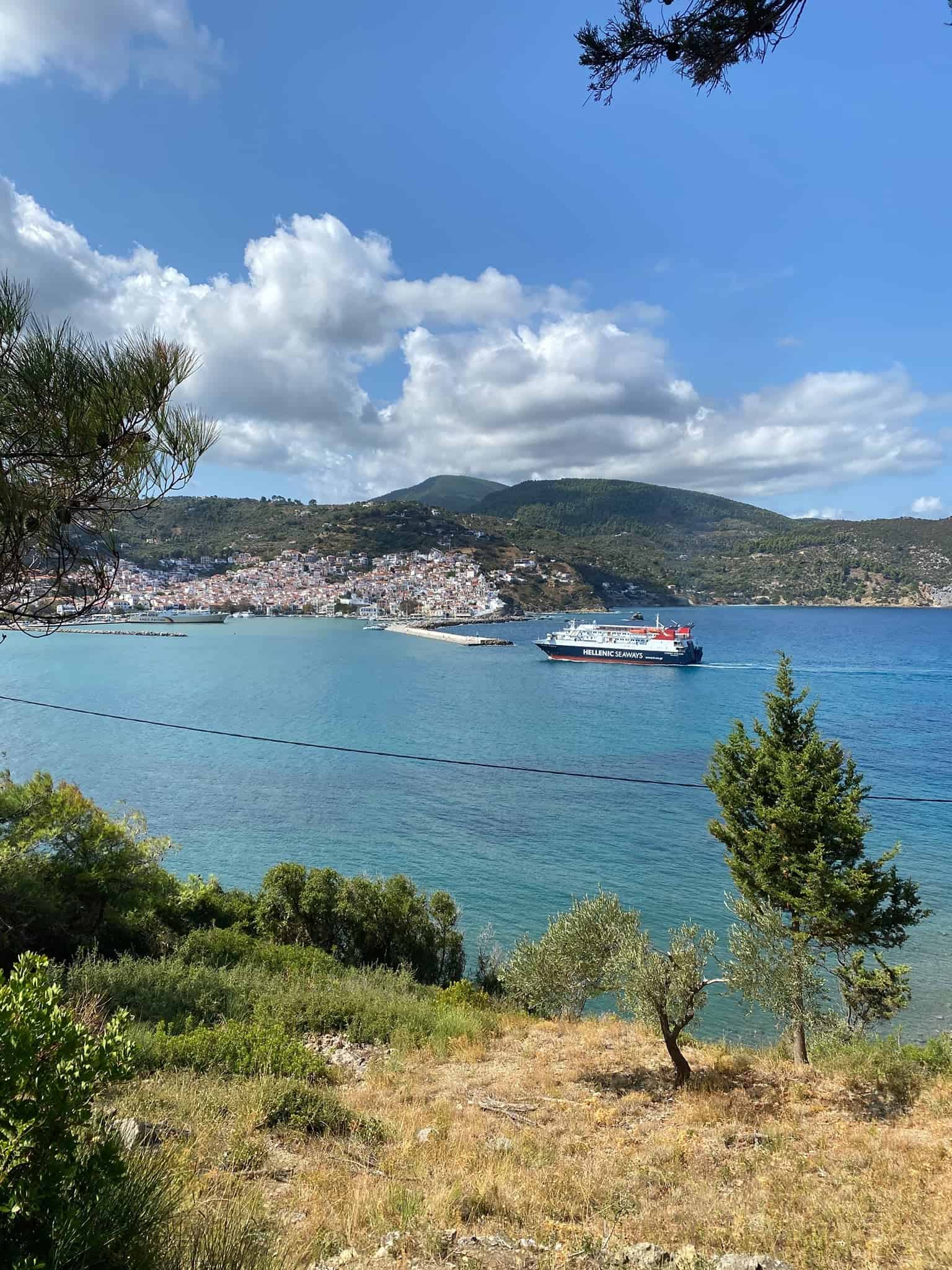 There are Greek party islands that offer something for everyone. That is, whether you want to go to all-night raves or you prefer something a little more understated. (e.g. glam cocktail bars in converted colonial mansions and beautiful exclusive beach clubs by the coast). 
Santorini
Santorini is one of the most sought-after travel destinations in Greece (and all of Europe!) It needs no introduction.
The gorgeous Cyclades island is best known for its volcanic landscape and caldera views, and for boasting some of the best sunsets in the world. It is arguably more of a romantic island for couples than a raucous party destination. 
But since Santorini attracts all types of ages and travellers, it definitely isn't short of pubs, clubs, and beach parties either. Some of the best beach clubs are located along the black beach close to Perivolos and Perissa. 
Chilli, Seaside by Notos, Theros Wave Bar, and JOJO are local favourites worth adding to your list. If you want to spend an evening drinking delicious Greek mastiha-infused cocktails prepared by local mixologists while watching the sunset, some of the most elegant bars can be found in Fira and Oia.
Kira Thira Jazz Bar, Mylos, Tango, and Palia Kameni Cocktail bar are the best places to see and be seen on a Friday or Saturday night. For clubs, head to Koo Club, Mamounia, or Two Brothers. 
Mykonos island
If you were to choose the best Greek party islands for an exclusive, glamorous nightlife experience, Mykonos would be one of them. This is one of the best places to party during the Greek summer months. 
Mykonos is so glamorous that it consistently sees an influx of international celebrities, models, and footballers every year. It is one of the most expensive Greek party islands, especially if you are traveling in July or August. 
That being said, if you are trying to travel to Greece on a budget, it is possible to experience Mykonos without selling a kidney. Consider traveling during the off-season, stick to more laidback bars and reserve everything in advance as much as possible.
Head to Tropicana for one of the best all-night beach parties in Mykonos. Parties kick off here from as early as 4 pm every day and continue until the next morning.
Here, you can dance the night away beneath bamboo huts and sip strong cocktails served up in hollowed-out coconuts. If you dance on the top of the bar, you will be rewarded with free drinks and shots!
Little Venice is one of the most unique spots in town. The old pastel-coloured stilted Fisherman's houses here have been converted into bars and restaurants.

Centuries ago, this was a popular hangout spot for pirates! Scarpa is a chic spot to party amongst a well-heeled crowd in a gorgeous venue overlooking the sea. 
Skiathos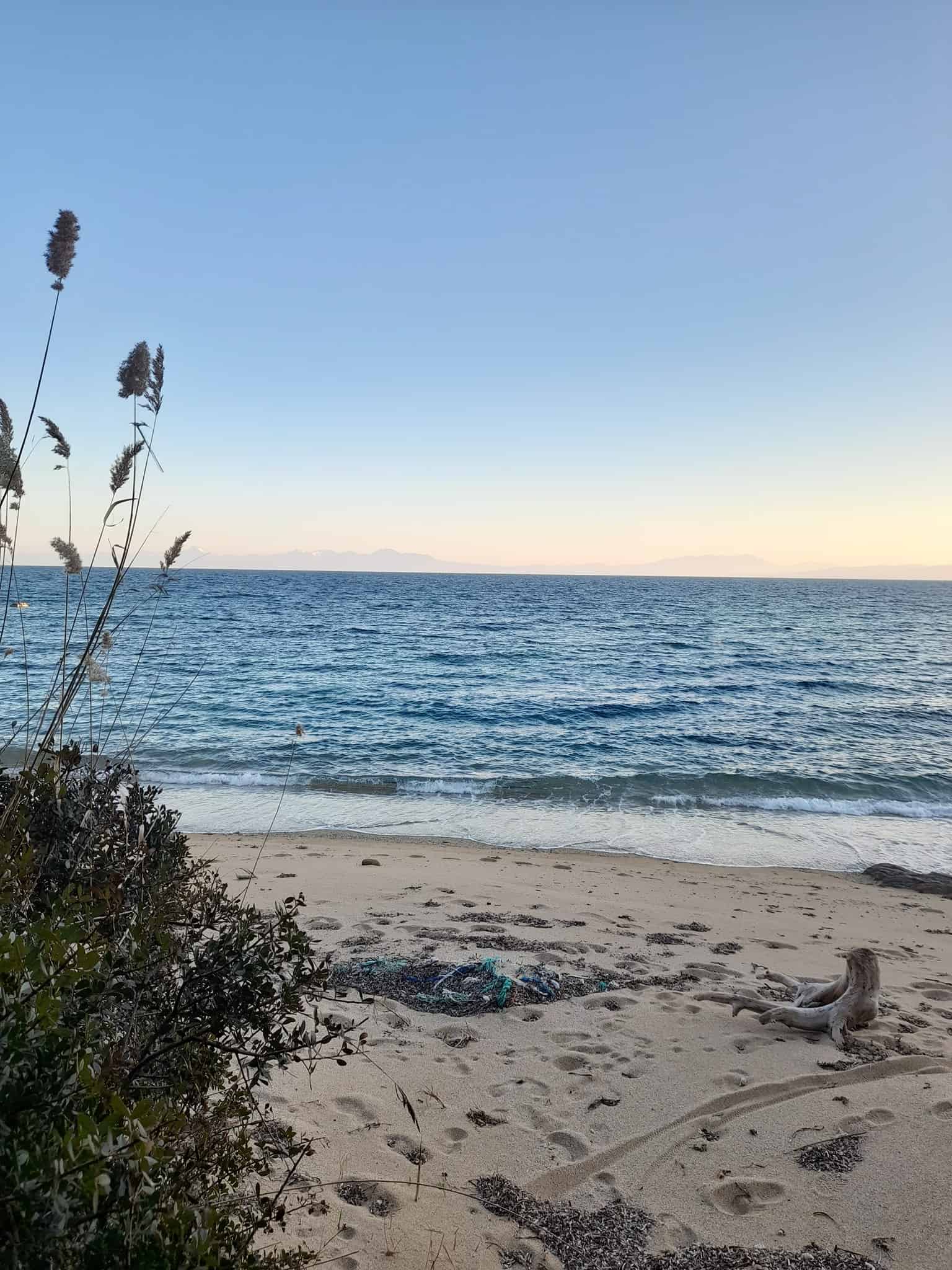 Skiathos island is the most popular island in the Northern Sporades archipelago. For good reason too.
60 paradisiacal beaches run around the circumference of Skiathos. This is a relative amount because the island is only around 7 miles long and 4 miles wide! 
Skiathos town is the island's main town and a great place to base yourself. One of the most popular spots in Skiathos town is the Blind Dog, a little bar owned by a British couple that almost always plays host to live musicians. 
Papadiamantis street is one of the main promenades in Skiathos town and it's lined with a wide range of bars, restaurants, and fast food spots. You should also look out for Apotheke club which can be found on nearby Politechniou street.
This club housed inside a converted warehouse is a local favourite place to spend a Saturday night. Troulos, too, has a good selection of bars.
Skiathos is so popular among international tourists that it is often referred to as ¨the boomerang island¨. So many people visit Skiathos year after year because they fall so deeply in love with it (and become boomerangers!) 
Even if you choose not to rent a car in Greece, you can take the Skiathos bus that runs in a circuit around all of the major towns and beaches on the island. 
Skopelos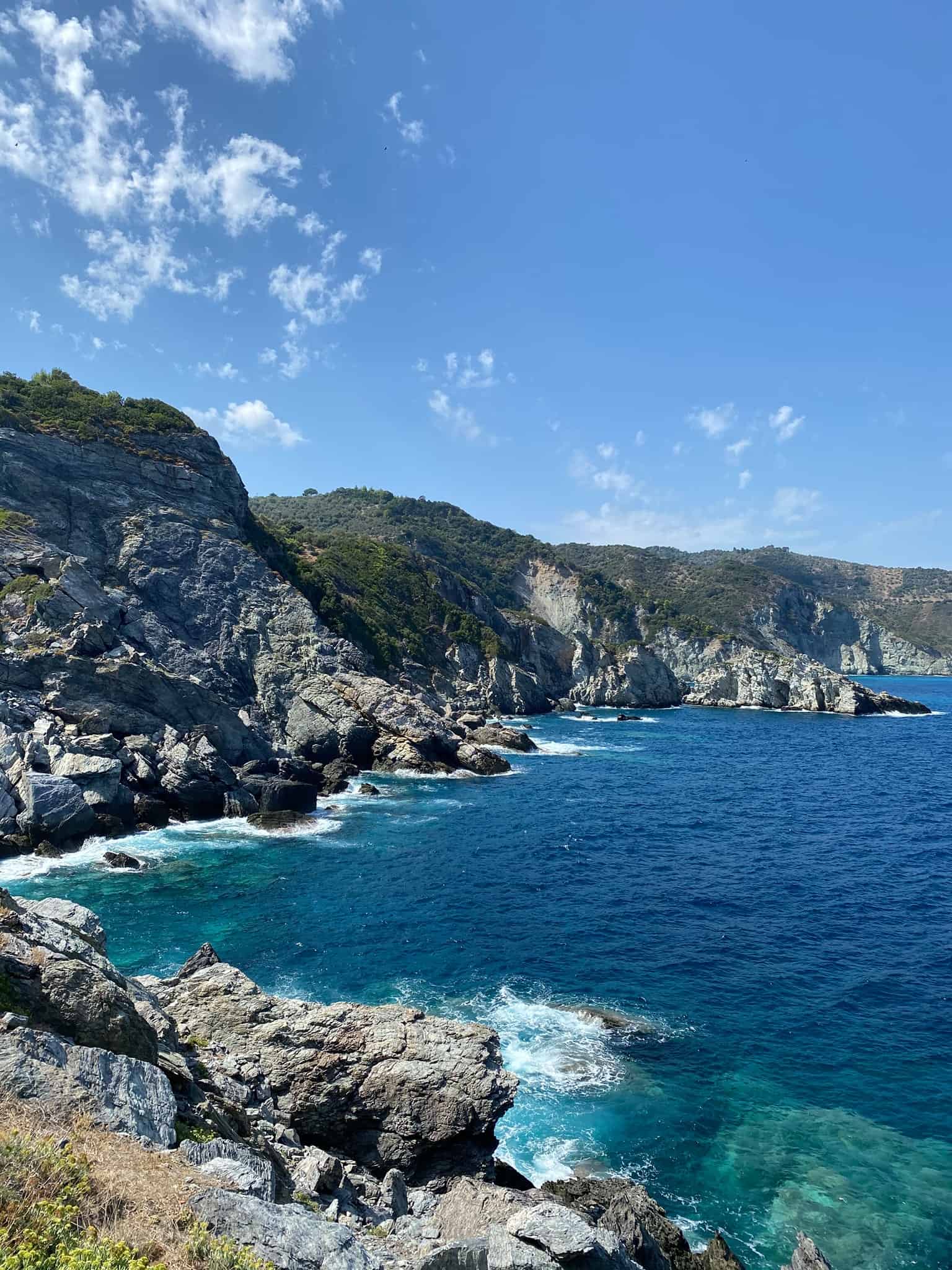 Skopelos is one of the more lowkey and underrated of the islands on this list but it is a place to consider nonetheless. It takes just over an hour to get from Skiathos to Skopelos.
Despite the island gaining international recognition as the place where the first Mamma Mia movie was filmed, Skopelos has continued to fly largely under the radar. It has its dedicated fans, like most Greek islands.
However, Skopelos gets nowhere near as crowded as its neighbour Skiathos. Coming here gives you more of an opportunity to get off the beaten path and party with Greeks.
In Skopelos town, there are a few great bars to add to your radar. Mercurius cocktail bar is home to some of the best expert mixologists in town.

From the terrace, you have excellent views across the port and the sea. This is a great place to come and watch the sunset.

Cultural events and art exhibits are often hosted here. The expert in-house mixologists will rustle up any cocktail blend you like – whether you are looking for something bespoke created specifically for your palate or you want a classic tipple like an old-fashioned or tequila sunrise.
Screwdriver cocktail bar is another nice choice. The bar is so small that it feels like you are sitting in someone's living room. At weekends, patrons spill out onto the nearby cobbled streets.
Nightlife in Skopelos is mostly about all-night beach parties. There are several gorgeous beaches here and many of them host live DJs from across the globe during the summer season.
Check the schedule to see what is going on at the various Skopelos beaches during your trip. There is almost always something happening at the beautiful beaches of Kastani, Milia, and Glysteri every weekend in the summer.
Zakynthos (Zante)
Zakynthos is well known for being one of the wildest party islands in Greece. It is also one of the most beautiful places in the Ionian islands and even if raucous all-night parties and raves are not your thing, there are plenty of options for escaping the chaos.
Laganas club street is the main nightlife destination here and it caters to a younger crowd. For crazy foam and paint parties, you want to head to the south of the island. 
Besides Laganas, Argasi, Tsilivi, Alykes, and Kalamaki are filled with nightclubs, vibrant strips, and the opportunity to party every night of the week. 
The little village of Bochali is a beautiful spot. There are several more upscale, exclusive bars, restaurants, and clubs here where you can admire sea views and the natural beauty of the island as you have a cocktail or two.
Nearby, Vassilikos is not far from Zakynthos town. It is one of the quieter spots on the island and a nice place to get away from it all for a romantic evening stroll along the beach followed by a cocktail or two.
There are a few bars and restaurants here. However, Vassilikos is pretty peaceful and remains largely under the radar for now.
Corfu (Kerkyra)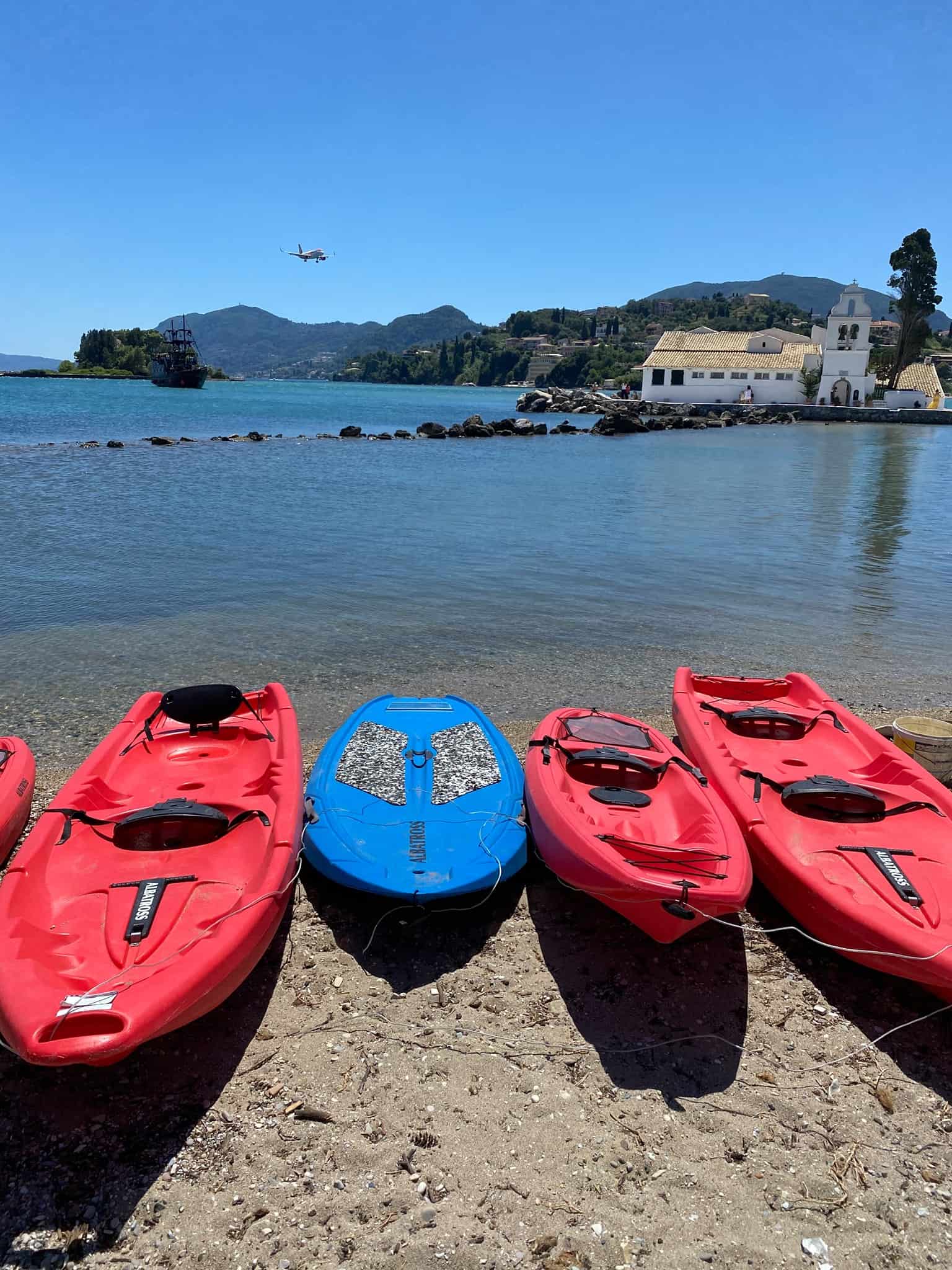 Corfu is one of the best Greek party islands and it is home to the second-busiest airport in Greece. The airport has approximately 800,000 international tourist arrivals each year.
Corfu old town is the island's capital. It is a gorgeous Venetian settlement that often feels more reminiscent of Naples, Italy than it does of Greece. Indeed, the Venetians ruled over Corfu for centuries.

They built three defensive hilltop fortresses around Corfu's old town to defend against the Ottomans. Their sun-bleached remnants still stand today, watching over the city protectively. 
They offer some of the best panoramas and sunset spots on the island. Corfu town is one of 18 UNESCO-protected world heritage sites in Greece.
There are lots of incredible traditional tavernas here where you can sample Corfiot delicacies that cannot be found elsewhere in Greece. Countless pubs and cocktail bars are scattered around the city.
In particular, head to Liston square and the Esplanade. For clubs and beach parties on the island, spend a few nights in the coastal areas of Ipsos, Paleokastritsa, Glyfada, and Dasia.
Crete
The bustling resort towns of Malia and Hersonissos are considered the wildest party spots in Crete. They tend to attract a young, international crowd, many of whom are British university students looking to let loose over the summer.
Meanwhile, Heraklion, Rethymno, and Chania offer something a little more sophisticated. There are enough great bars in Heraklion to keep you occupied for weeks.
The best part? Most tourists only briefly pass through Heraklion when they are visiting Knossos. Otherwise, they tend to stick to the more resort-like parts of Crete.

As a result, hanging out in the bars and clubs of Heraklion gives you a more local experience and the chance to party with Greeks, rather than people from your hometown! Think Tank (Andreou Kritis 7) is a gorgeous day-to-night bar.
By day, sip an iced Freddo Cappuccino or a strong Greek coffee among locals. By night, you can sample a vast array of exquisite wines sourced from across Greece from an extensive wine list.

Think Tank is set inside a gorgeous, renovated old neoclassical building. Nearby, you have Pagopoieion (Ice Factory).
This is another quirky day-to-night bar. Cultural events, poetry readings, art and wine nights, and other live performances are often hosted here during the evenings.
Kos
Kos is one of the most popular spots in the Dodecanese islands. It is one of the best Greek party islands and its reputation proceeds it.

However, there are also a lot of cultural and historical sites not to be missed in Kos, too. Be sure to check out the Asklepieion, the Castle of the Knights, and Hippocrates Plane Tree. 
There are a lot of wild nightlife venues and clubs scattered across two main party strips in Kos town. The Wild Bull Club (Ploutarxou blesa 2) is always one of the most popular spots in the town.
It is usually packed to the brim with partygoers by midnight and is far more crowded than anywhere else in town. The bar opens at 7 am and the party keeps on going until 6 am the next day.
There is a huge dancefloor complete with light shows, and backing of EDM/House music. This is a budget-friendly, unpretentious spot for those in search of wild nightlife.
If you prefer to party in a more scenic setting, head out to Mylos beach bar. The bar can be found just 1.5km north of Kos town, in the gorgeous beachfront area of Lambi.
A taxi here won't break the bank and your hotel/accommodation can organise it for you. There are great deals on beers, cocktails, and other Greek alcohol at happy hour.
On certain nights, Greek DJs host parties here and the party continues until 4 or 5 am. The setting is absolutely beautiful too. Not only are you right on the shore, but you can see the quintessentially Greek image of little windmills perched on top of hilltops in the background.
Ios island
Ios is a little island in the Cyclades archipelago. It is often overshadowed by its neighbours Santorini and Mykonos. However, it is just as worthy of your time if you are seeking to find one of the best Greek party islands.
Despite being well-known for its nightlife, the island of Ios has certainly not been ruined by party-goers or over-gentrified. This, in part because there is no international airport on the island. Getting to Ios requires a little more effort. 
Far Out Beach Club is the place to go on Ios if you are looking for live music and an all-night beach party. You can also find accommodation here for every budget which is great as it means that you can head home from the party in the early morning hours and roll right into bed. 
The Bank Nightclub is a fun place to go. It is cheap and cheerful and plays 80s classics all night long.
Slammer, Coo bar, Flames, and Soho are other fun spots to add to your Ios bucket list. 
Paros island 
Paros is a great island to visit if you are planning on island hopping in Greece. This is the third most popular island in the Cyclades after Santorini and Mykonos.
Paros is quickly gaining a reputation for being one of the best Greek party islands but it is so much more than that. Be sure to visit the quaint villages of Naoussa, Lefkes, and Parikia to experience traditional island life.
Similarly, don't miss the church of 100 doors (Panagia Ekatontapiliani). This is one of the most important churches in all of Greece.
When it comes to Paros nightlife, the options are endless. It is pleasant to take an evening stroll along Parikia, right on the waterfront.
Classy cocktail bars are abundant here. Many also host live musicians and host everything from pianists and international Jazz musicians to Greek bouzouki music. 
Naoussa is another great nightlife spot in Paros where you can hop from one excellent bar to another. Agosta bar is a beautiful cocktail bar situated right on the waterfront.
Nearby, Linardo is a picture-perfect tiny bar set inside a little whitewashed Cycladic house. When it comes to Naoussa clubs, Akanthus is the best in town.
Paxos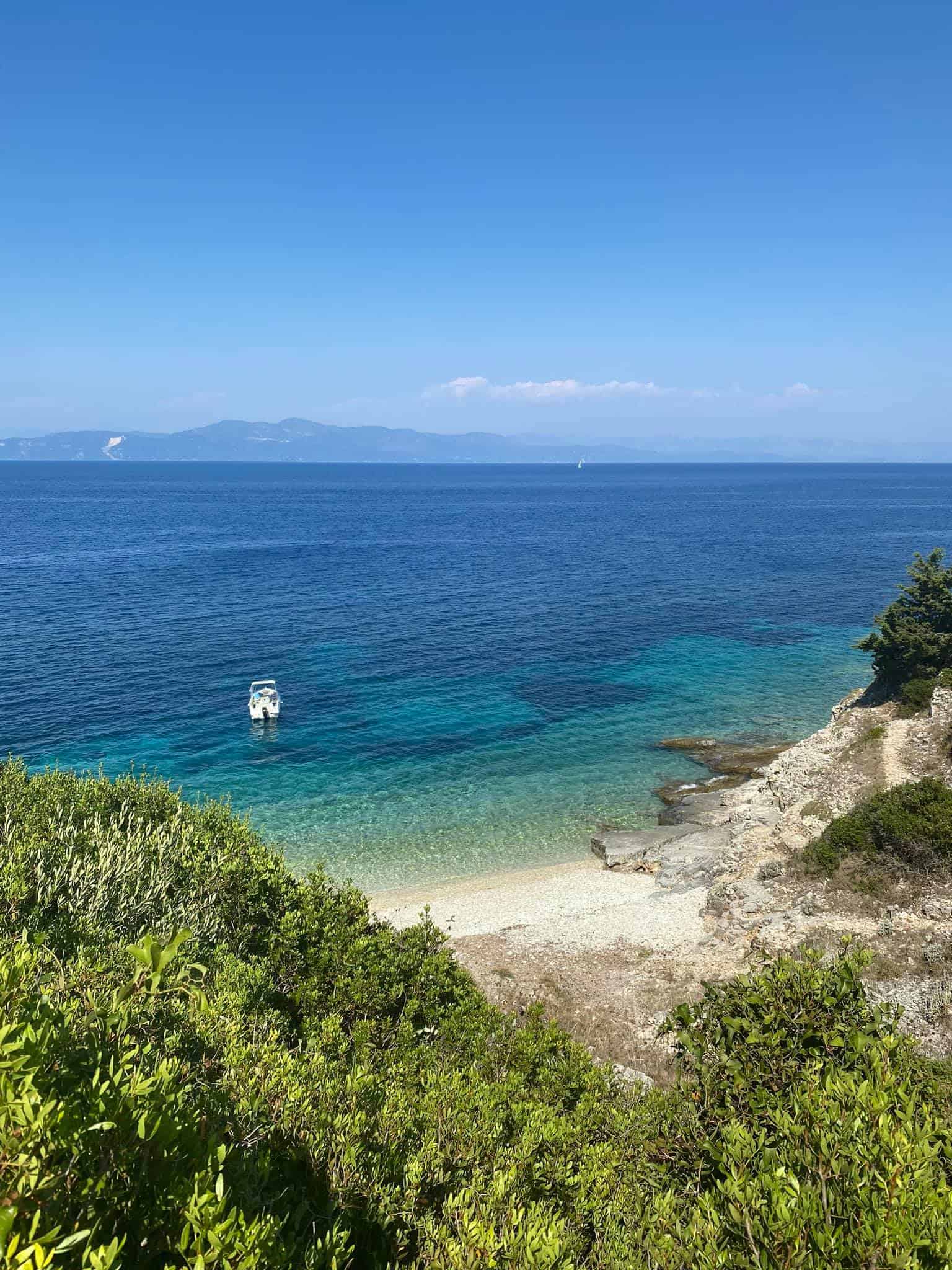 Paxos is likely far from the first place that springs to mind when you think of the best Greek islands for nightlife. However, depending on what you are looking for, Paxos might be the perfect destination for you.
This is one of the most upscale and least commercial of all of the Greek islands. It is characterised by its secluded beaches and bays, and its aquamarine waters that are reminiscent of the Caribbean.
Gaios is the main port town on Paxos island. The coffee shops and tavernas here are great for whiling away a lazy afternoon spent people-watching.

Paxos is one of the most exclusive Greek islands. This is so much so, that it is a favorite travel destination among A-list celebrities such as Morgan Freeman who has often been spotted meandering around the cafes of Longos.
Even so, there is not an air of pretension about Paxos. It exudes the same Mediterranean hospitality as you would expect to find on any other gorgeous Ionian island.
Paxos villages and their bars
Head to the far end of the island to hang out at the Mongonissi beach bar. Here, a vast array of cocktails and beverages are served all day and night in a breathtaking natural setting.

This is a great place to rent a boat too so that you can sail out to some of the hidden beaches on the island that are not accessible by foot. You don't need any experience to rent a boat and a safety description will be provided.
If you don't feel confident driving the boat by yourself, you can also hire a skipper for a small additional fee. (Obviously, you should do your sailing and beach-hopping before you start drinking!)
In Longos village (also known as Loggos and Logos), there are several friendly, casual bars to check out. Roxi Bar, Le Rocher, and Bouloukos are all local favourites. 
Lakka is the third Paxos village and the northernmost one on the island. FANIS is a gorgeous restaurant and bar right on the seafront. For after-dinner drinks, head to Harbour lights or Seriani Cafe bar.
Rhodes
Rhodes is one of the largest Greek islands. It sits in the heart of the Dodecanese Greek island group and its old town is a UNESCO-protected world heritage site.
The old town is one of the best examples of medieval architecture in Europe. The settlement is an interesting blend of old meets new.

Since so many civilizations have invaded and conquered Rhodes over the centuries, each has left its mark on the old town. The Venetians ruled here for centuries.
One of the most notable structures that they left behind is the Palace of the Grand Master. The Ottomans conquered the area in the 15th century and left ornately-designed mosques, hammams, and bathhouses in their wake.
From a nightlife perspective, Rhodes's old town has a little something for everyone. Orfanidou street is the place for wild partying. There are over 40 bars and pubs on this street alone!
You will also find a lot of bars and cocktail lounges around Hippocrates Square and on Menekleous street. Elsewhere on the island, Faliraki is the best-known spot for wild nightlife. However, this may not be to everyone's taste and mostly suits a younger crowd.
Lindos is home to the infamous Lindos Acropolis and is just as spectacular during the night as it is during the day. The illuminated Acropolis and the beautiful narrow alleys are home to some of the best nightlife options on the island
Best Greek Party Islands FAQs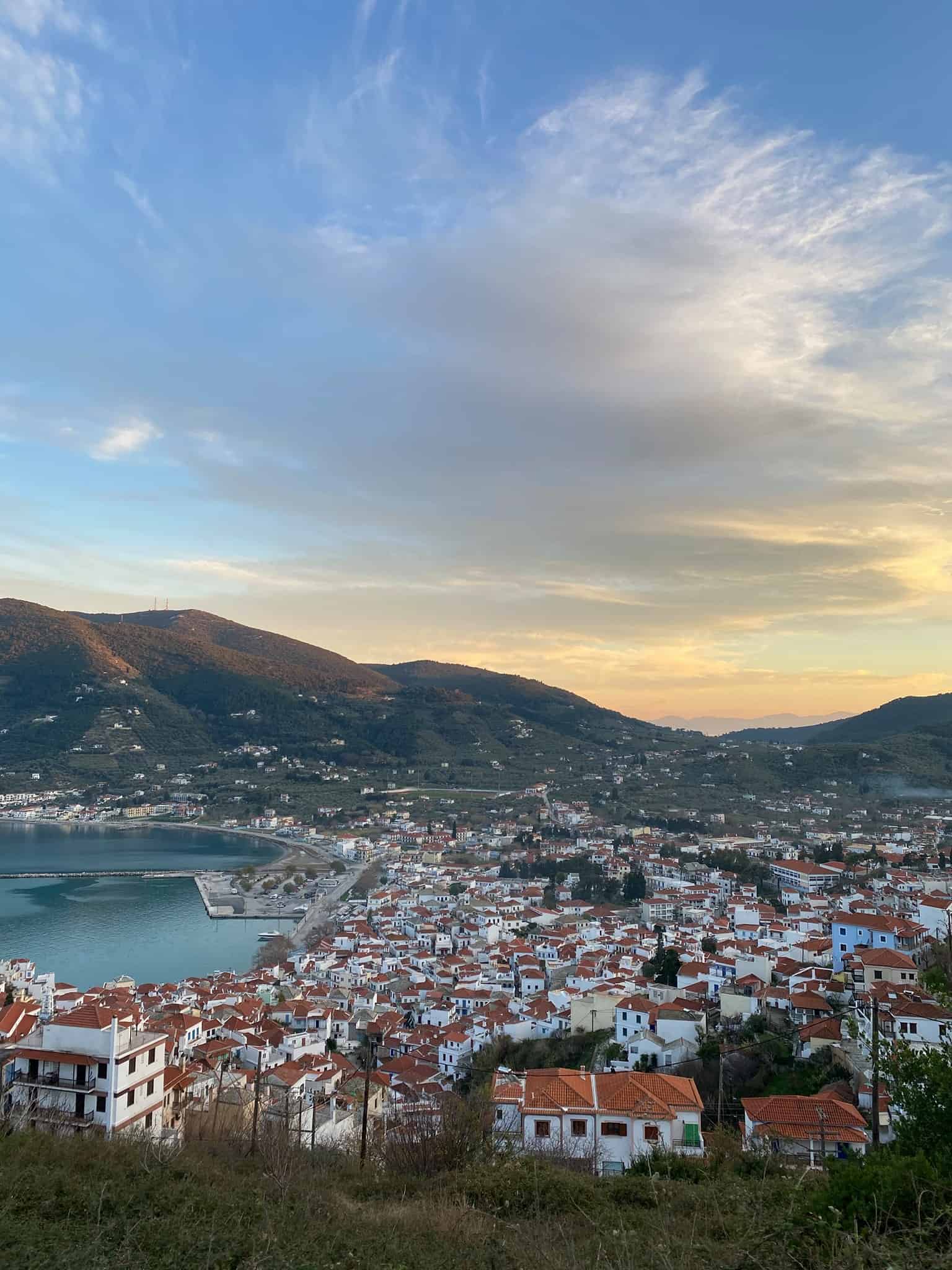 Do you have any further questions or queries about the best Greek party islands to visit in 2023? The answers to some frequently asked questions on the topic are detailed below.
Hopefully, you will find the information that you're looking for there. If not please do not hesitate to reach out to me.
Which Greek island has the best nightlife?
Choosing the Greek island with the best nightlife is subjective.  Mykonos is widely considered to be not only one of the best party Islands in Greece but one of the best party islands in the world period. 
Here, you will find beach clubs that play house to DJs from across the globe, and all manner of clubs and bars to suit every taste. However, Mykonos is also known for being quite upscale and glamorous.
It isn't the cheapest place to spend your holiday but fortunately, there are alternative Greek party Islands if you have a tighter budget for your Greece trip. Laganas in Zante or Malia in Crete are great choices if you are 18-25 and looking for something wild.
If you are of an older crowd and you are looking for live music venues or places where you can socialise with people aged 40-50+, check out Skiathos town, Rhodes, Corfu, or other parts of Zante. Practically every Greek island has at least some decent bars and places to go for cocktails.
You just probably want to avoid really quiet islands like Kea, Alonissos, and Ikaria if you want to be somewhere where it's lively at night.
Which Greek island is known for partying?
Mykonos, Zante, Ios, Crete, Corfu, and the island of Paros are best known for partying. 
Which has better nightlife? Santorini or Mykonos?
Santorini and Mykonos both offer several excellent bars and clubs but Mykonos is the undisputed party capital of Greece. The popular party destination boasts some of the best clubs in the country, and some of the world's best DJs regularly perform here.
Is Santorini a party place?
Santorini does offer plenty by way of nightlife but it is perhaps best known for being a romantic getaway or honeymoon destination rather than a place that is all about partying.
Final thoughts on the best Greek party islands
Have you visited many of the top Greek party islands on this list? Which ones were your favourites? 
Do keep in mind that travel to most of Greece is largely seasonal. The high season runs from May until September (extending to early October in the southernmost parts of the country. This is the best time to visit if you want to meet lots of people and experience the best of the vibrant nightlife.
You might also be interested in reading about the best Greek islands for couples or the best Greek islands for hiking. Safe travels in Greece!
Geia sou! Xo
---