The Israel-Jordan border is crossed by thousands of tourists every year. This is one of just a few Middle Eastern overland borders that you can cross by land.
Crossing land borders may sound intimidating. However, the process is much more straightforward than you may imagine.
This article has been written by a British Travel Writer that has crossed various borders several times. It will run through the process for crossing each of the Israel-Jordan land borders, and any rules and considerations that you need to keep in mind. 
Israel Jordan Border Crossing Guide for 2023
Israel and Jordan make a great travel pairing. You can fly into Tel Aviv, see the gorgeous Bahai gardens in Haifa, explore Jerusalem, and relax at a resort by the Dead Sea before crossing into Jordan, falling in love with Amman, and taking a trip to the UNESCO world heritage site of Petra. 
The two countries don't have the most amicable relations but they have an open border, at least, and they ensure it is safe for all who use it. Jordan and Egypt are the only countries you can enter overland from Israel.
There are three main crossing points where you can get from Israel to Jordan (and vice versa). Not all land borders are created equal, however and some points are easier to cross than others. 
The specific process varies between crossing points. Things are also subject to change at short notice so it is a good idea to double-check the current situation prior to making the journey to any land border. 
This article is updated periodically and was last updated in March 2023. As of 2023, the land borders between Jordan and Israel are open once again after a period of extended closure during the pandemic.
What is the best border to use to get from Israel to Jordan? (And vice versa?)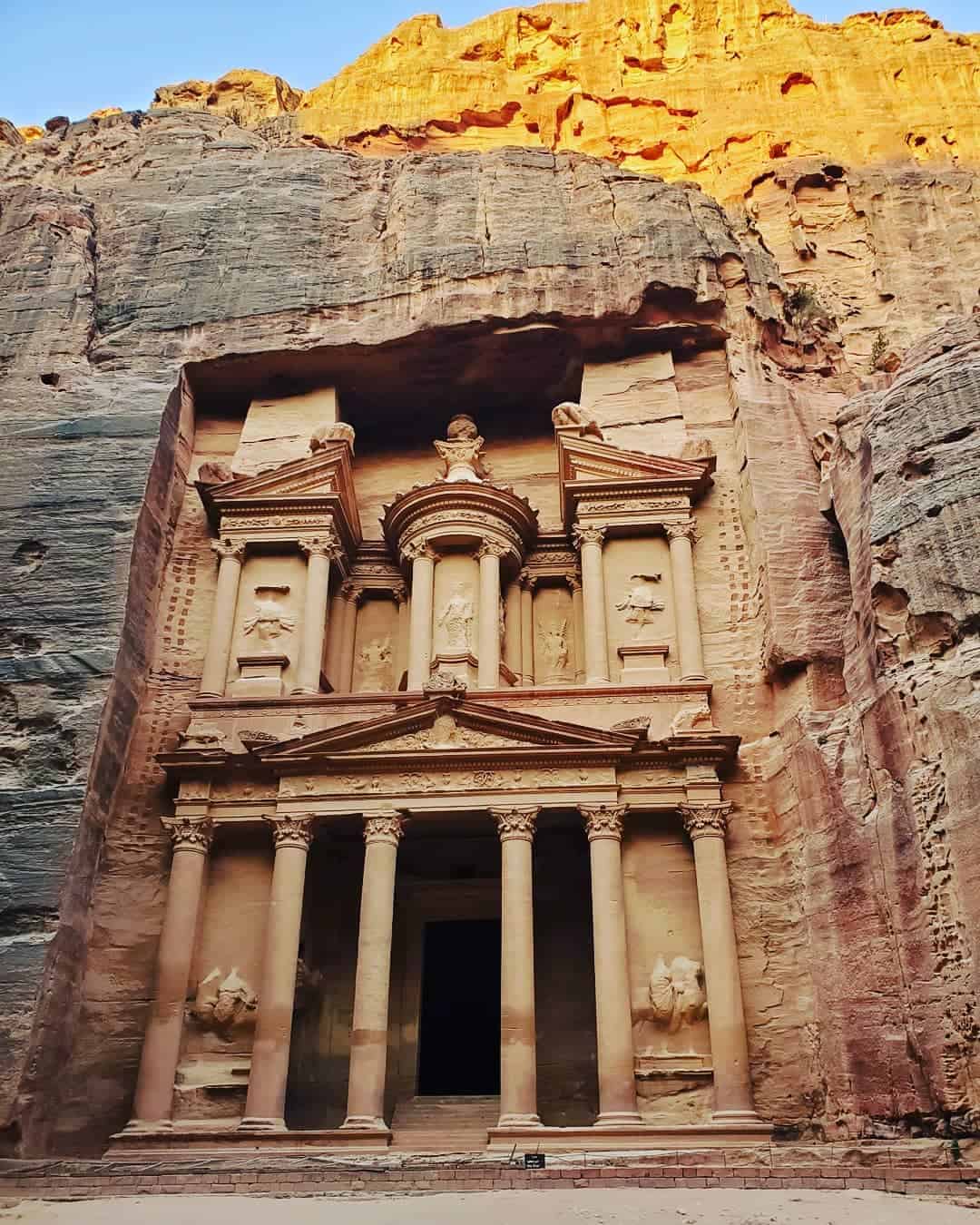 With several border crossing options to choose from, which Israel-Jordan border crossing is the best one to use? There are three main border crossings, as detailed below. 
Beit She'an/Sheikh Hussein


Allenby Bridge/King Hussein Bridge


Eilat/Aqaba
The Beit She'an/Sheikh Hussein border is the best to use in most cases. It is the closest to Tel Aviv and Jerusalem and offers a Jordan visa on arrival.
The Eilat/Aqaba border also offers a visa on arrival but is only really convenient if you are hanging out at one of the Red Sea resorts near Eilat. The Allenby Bridge/King Hussein Bridge can be convenient for getting from Jordan to Israel but if you go in the opposite direction, you can't get a Jordan visa on arrival.
It's a little overwhelming right? Let's look at the exact process you need to follow at each of the border crossings. 
For each border crossing, you will find info below on how to cross the border from Jordan into Israel and from Israel into Jordan.
The 3 Israel-Jordan Land Borders and How to Cross Them (From Israel to Jordan)
A step-by-step guide for each of the Israel-Jordan land borders is provided here. To reiterate, the Beit She'an/Sheikh Hussein Crossing is arguably the easiest to cross.
This is also referred to as the "Jordan River crossing". Follow the instructions below if you plan on using this Israel-Jordan border crossing.
The Beit She'An/Sheikh Hussein Border Crossing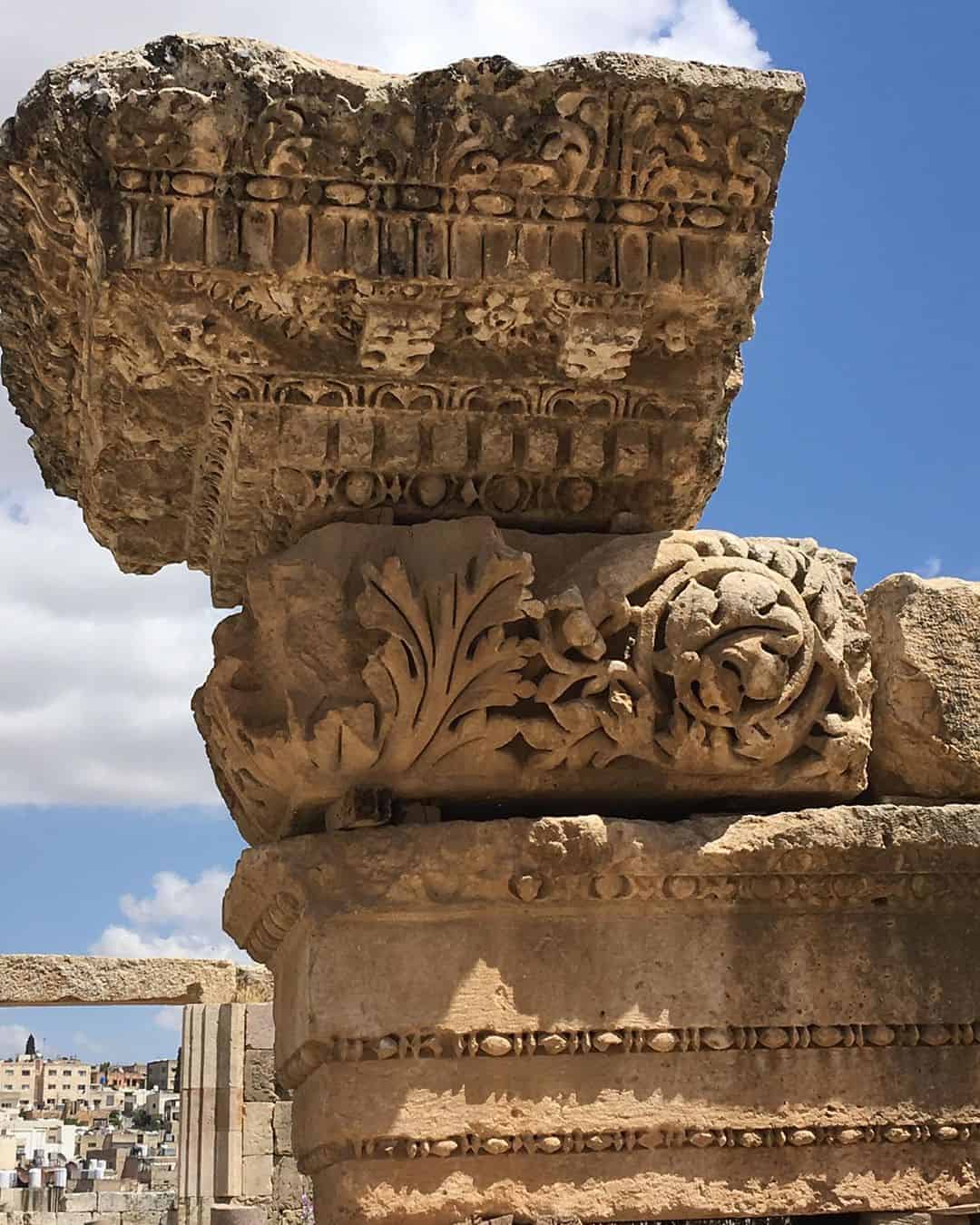 Take an Egged bus from Tel Aviv or Jerusalem. The #16 local bus drops you close to the border crossing. You then need to take a cab for the last 5 miles


Arrive at the Israeli immigration side of the border


Pay the 105 shekel departure tax and walk through the turnstile on the left. Israeli Immigration Officers will check your passport


Important: Ask the Immigration Officer to stamp your blue entry paper instead of your passport. This way you can avoid the dreaded Israeli passport stamp


Walk across to the Jordan side of the border and pay the 40 Jordanian dinar visa fee


Travel on to your destination in Jordan. A cab from Sheikh Hussein crossing to Amman costs around 20-25JD. Be prepared to haggle on the price. 

The Allenby Bridge/King Hussein Border Crossing
You cannot get a Jordanian visa on arrival at the Beit She'An crossing. You need to have acquired a Jordanian visa in advance. Alternatively, you should be in possession of a multiple-entry Jordanian visa if you want to cross here.
There is a Jordanian embassy in Ramallah. If you are travelling in Israel and then you decide that you want to visit Jordan, you can apply for a visa here. However, you must make an appointment in advance.
The process for crossing the Israel-Jordan border at the Allenby Bridge/King Hussein crossing is as follows:
Take a yellow shared cab from Damascus Gate in Jerusalem to Allenby bridge border crossing


Pay the Israeli exit fee (slightly more expensive here at 170 shekels)


Show your passport to the Israeli Immigration Officers and then walk into Jordan


Present your visa and passport to the Jordanian Border Guards and go through the necessary security checks


Travel onwards in Jordan. Cabs from here to Amman are around 20-25JD
The Eilat/Aqaba Border Crossing
The Eilat/Aqaba border crossing may be the easiest choice for you if your last point of call in Israel is the sunny resort town of Eilat. This crossing is often referred to as the "Wadi Araba" crossing.
Take bus #30 to the Eilat Yitzhak Rabin Border Terminal bus station


Walk 1500m to the Eilat border crossing


Pay the 105 shekel Israeli departure tax and cross the border into Jordan


Pay the 40JD visa fee and go through the security checks in Jordan


Take a cab to Aqaba (10JD) or a bus onwards to your next destination
Whispers of a Free Jordanian Visa at Eilat
Several sources report that you can get a free ASEZA-sponsored visa at the Eilat/Aqaba border. This is supposedly free for tourists that intend to stay in Jordan for a minimum of two nights and a maximum of two weeks.
However, this seems to be something of a grey area. Various different things have been reported.
Some travellers have received visas with no problem. However, others have reported that they did have to pay the 40JD visa fee as usual.
Meanwhile, other travellers have advised that they were charged a 60JD exit tax when departing Jordan after travelling on this visa. 
The 3 Israel-Jordan Land Borders and How to Cross Them
(From Jordan to Israel)
The border crossing process is slightly different if you are travelling from Jordan to Israel. This section discusses how to cross the three different Israel-Jordan borders in reverse.
I'm sure you're on the edge of your seat with this riveting reading, eh? Arguably, the King Hussein crossing is the easiest when going in this direction.
Jordan to Israel:
King Hussein/Allenby Bridge Crossing
The King Hussein crossing point is the closest border crossing to Amman. It is easy to get to Jerusalem from here.
The process for crossing from Jordan to Israel at King Hussein is as follows:
Take the JETT bus from Amman to the King Hussein bridge (8JD). A taxi should cost around 20-25JD.


Present your passport to the Jordanian border control staff. A departure tax of 10JD is due if you have been in Jordan for more than 2 days.


Take the shuttle across to the Israeli side of the border. Tickets are 7.5 JD per person and 1.5 JD per bag.


Be prepared for questioning and queues at the Israeli side of the border. Sometimes the lines move slowly here.


Take a yellow shared airport taxi from Allenby Bridge to Damascus Gate in Jerusalem (45 shekels). You can then take the light rail from Jerusalem if you are travelling onwards to Tel Aviv.

Border Opening Times
There is conflicting information online about the times that this border is open. The information on the Jordanian tourist website is not frequently updated.
Officially, the border ought to be open daily from 8.00 am until 8.30 pm daily, with the exception of Fridays and Saturdays. On Fridays and Saturdays, the border crossing closes at 2.30 pm due to religious celebrations.
Jordan to Israel:
Sheikh Hussein/Beit She'an Crossing
The Sheikh Hussein/Beit She'an crossing can be a convenient place for crossing from Jordan to Israel. Particularly so if you are ending your Jordan itinerary in Jerash. 
The process for getting from Jordan to Israel via Sheikh Hussein is as follows:
Take a bus or cab from Jerash to the Sheikh Hussein border crossing


Pay the 10 JD departure tax if you have been in Jordan for 2 days or more


Pass through Jordanian and Israeli immigration


Take the egged bus from the Beit She'an crossing to Tel Aviv or take a shared cab with other travellers
Jordan to Israel:
Aqaba to Eilat Crossing
The Aqaba to Eilat border crossing (Wadi Araba crossing) is not the most convenient option. However, it is worth considering if you end your Jordan trip at the Dead Sea or Aqaba. 
There is, unfortunately, no public transport that runs between Aqaba and the Aqaba border so you need to take a cab. You should be prepared to haggle on the price.
You can also ask your hotel to organise the transfer for you. The process for using the Aqaba to Eilat border is detailed below.
Take a cab from Eilat to the Eilat border


Pass through Jordanian immigration and security checks and pay the 10JD departure fee.


Cross the border into Israel and go through any necessary questioning and security checks.


Take Egged bus #30 from the Wadi Araba border to the resort town of Eilat.


Take a bus onwards to Tel Aviv or Jerusalem as required
Things to Know Before Crossing the Israel-Jordan Border
There are a few things to keep in mind before you attempt to cross the Israel-Jordan border in either direction. Firstly, check your government travel advice to ensure that you are eligible for a visa on arrival.
Secondly, make sure that you have all the necessary documentation with you. Triple-check Israel – Jordan border opening times to ensure a smooth crossing. 
Check your Israel visa requirements
Many nationalities are entitled to a "visa upon arrival" when travelling to Israel. This includes British, American, and Australian citizens.
However, this is not the case with everyone. Make sure that you check your local government travel advice before you travel. 
Some visas may be single entry which can be an issue if you plan on visiting Israel, crossing land border crossings to Jordan, and then travelling back to Israel.
Clarify whether you can get a Jordanian visa on arrival
Most nationalities can get a visa on arrival for travelling to Jordan. However, you should check your government travel advice, or speak to your local Jordanian embassy before travelling. 
If you do need a visa, ensure that you have the proper entry documentation with you when transiting through airports and land borders.
Reconsider crossing the border into Jordan with an Israeli vehicle 
Israel and Jordan allow travel between each other's countries. However, there is some anti-Israeli sentiment among some Jordanians.
You may want to think twice before driving across the border with Israeli license plates. You are not really putting yourself in serious danger by roadtripping between the two countries but you could definitely find people throwing things at your car.
That's not what you want in a rental! Fortunately, reputable international rental firms like Avis can be found on each side of all border crossings.
Review your transit options at each side of the border 
You should consider in advance how you plan on getting to and from the cities on either side of the border. Jordan has limited public transport options.
This is even the case with buses to popular tourist destinations such as Petra. As such, you might want to consider participating in an organised tour that takes you to places like Petra, Jerash, and the Crusader castles.
This two-day tour takes you to Jerash and Petra from Tel Aviv. Similarly, this three day Petra and Wadi Rum tour departs from Jerusalem.
You can always find cab drivers waiting at the border crossings. However, you should prepare to haggle on the prices.
Many cab drivers will seriously inflate their prices with the assumption that international tourists have no idea what the going rates should be. If you decide to hire a private driver for your trip, you can organise for them to collect you from the border.
Be prepared for questions at the border
When you arrive in Israel, the Israeli authorities may ask a number of questions about your previous travels. This is a relatively standard process and is nothing to be overly concerned about.
The security procedures are there for everybody's safety. 
If you have stamps in your passport from previous travels in the Middle East, you may be asked what you were doing in each country. This is particularly the case if you have been to places that have less than amicable relations with Israel.
For example, Iran, Lebanon, Saudi Arabia, etc. 
Double and triple-check the border crossing times 
The Israel – Jordan border crossing is generally always open. However, it is prudent to double-check the opening times before you make your way to the border. The schedule may differ on certain Jewish holidays like Yom Kippur.
Crossing the Borders Alone
I travelled to Jordan as a solo female and had nothing but positive experiences. Crossing Middle Eastern borders alone may sound intimidating.
However, solo travellers are a more common sight here than you may realise. Solo female travel in Israel is also very safe.
You won't be hassled or met with suspicion for travelling by yourself.
Changing Currency at the Border
Do not change currency at the Jordan – Israel border crossings if you can help it. This is just like exchanging currency at an airport or a hotel and you will not get a competitive rate.
If you find yourself with no local currency whatsoever, just change a small amount to get you by. You can change the bulk of your cash when you arrive in your next city. 
Borderless bank accounts are great ways to avoid fees when you travel. You can easily withdraw cash from ATMs in Tel Aviv, Amman, and Jerusalem.
Try to avoid the Israel passport stamp
An Israel passport stamp can be a problem for onward travels in the Middle East. Certain countries, including Lebanon, Iran, and Iraq, do not allow you to enter if you have an Israel stamp on your passport.
Israeli Border Officers now issue a blue slip of paper that acts as an entry stamp instead of physically stamping your passport. You will not be given an exit stamp when you leave.
However, if your passport gets stamped at either side of the Israel – Jordan border, it acts as evidence that you have been to Israel.
This is even the case if the Jordanian Officers stamp your passport. You should ask the Immigration Officers on both sides of the border crossing not to stamp your passport.
Ask this before handing over your passport. They are not obligated to comply. However, they generally do.
Be mindful of what information you trust 
Official sources of information provided by the Israeli and Jordanian authorities are often outdated and not always up to date. It is better to consult other travellers or blogs. This page is updated periodically.
Final thoughts on crossing the Israel-Jordan border
Do you have any additional questions or concerns about crossing the Israel – Jordan border? Please don't hesitate to reach out to me if you need anything.
I will do my best to get back to you ASAP. You might also enjoy reading this suggested Israel itinerary or this post on visiting Israel on a budget.
Safe travels, Melissa xo 
---