Looking for coworking spaces in Athens? The Greek capital has blossomed into a Digital Nomad hotspot in recent years.
Fortunately, with that, has come a plethora of coworking spaces that have opened up around the city. Athens, generally, is a great place to be if you run a small business or you work remotely.
Meetup events geared towards Digital Nomads and various ex-pat Facebook groups also make it very easy to find like-minded people to cowork with. The low cost of living in Greece paired with the country's proximity to desirable travel destinations across Europe, the Middle East, and the Mediterranean means that you can easily have an excellent quality of life here. 
Coworking spaces aside, there are countless excellent coffee shops that you can work from while you enjoy a strong Greek coffee or a Greek cappuccino. Going out for coffee is essentially the national sport of Greece and so, you can easily sit in a coffee shop here for hours without being disturbed.  
Coworking Spaces in Athens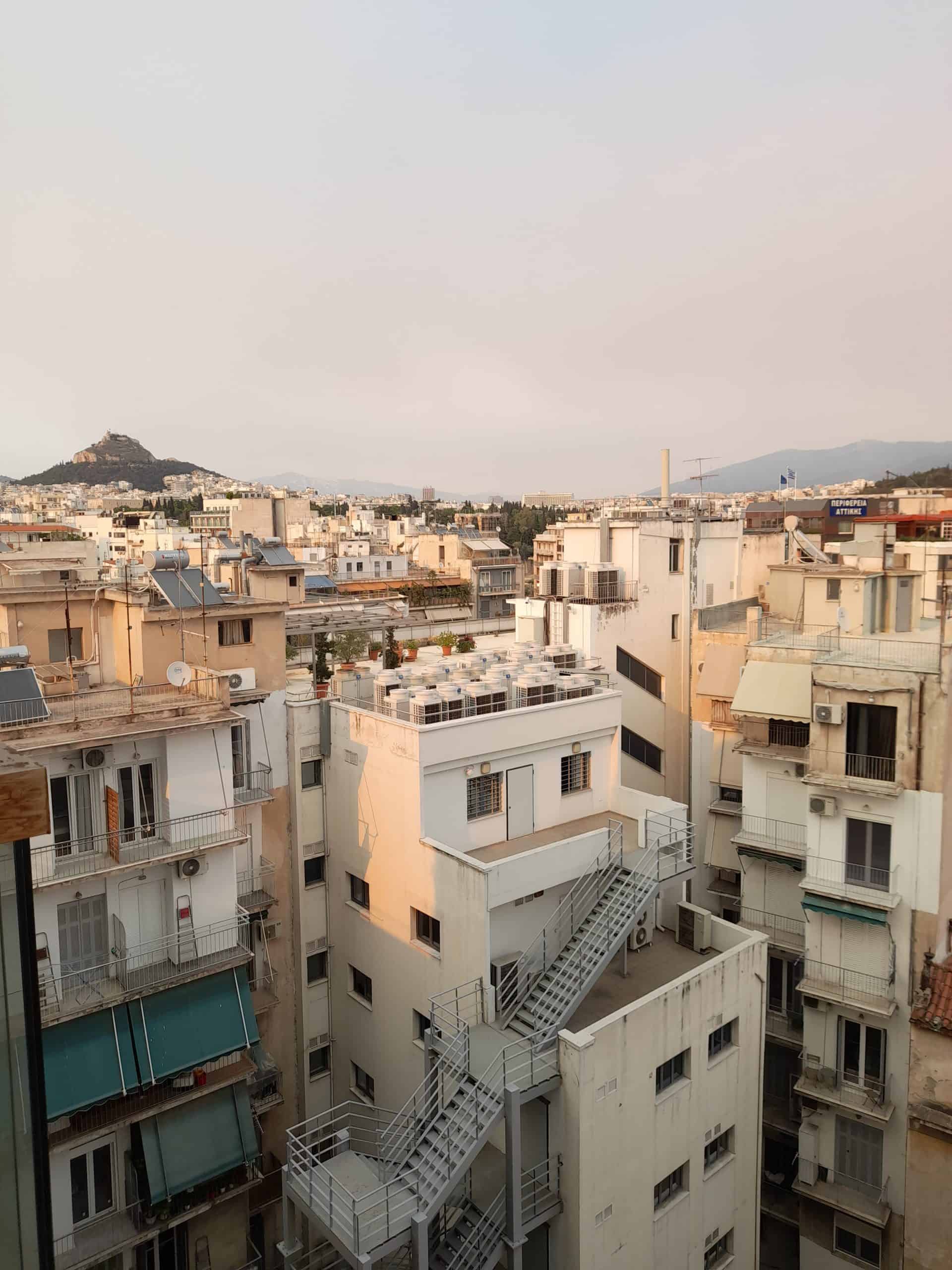 There are numerous coworking spaces in Athens. So, you will easily be able to find a convenient spot close to your neighbourhood.
A selection of the best Athens coworking spaces is detailed below. Most of these offer different packages depending on whether you want to stop by on Adhoc days, or for entire month periods. 
Some allow you to purchase a hotdesk spot and their membership comes with additional amenities. For instance, the use of landline telephones, use of meeting rooms, free coffees and snacks, etc.
Others also have larger spaces and private offices available for rent. This may be suitable if for instance, you run a small business and there are several of you or you will be hosting in-person meetings. 
Stone Soup, Omonia
Stone Soup (Char. Trikoupi 18) was one of the establishments at the forefront of the Athens coworking scene. It first opened its doors back in 2014 and has been the workplace of choice for a number of local and international remote workers ever since.
The 700 square meter office space has everything you need to have a productive workday. But there is also a real sense of community here. Indeed, Stone Soup encourages collaborations between entrepreneurs and freelancers across various disciplines. 
The Athens coworking space also regularly hosts social events for members and those considering joining. If you are currently searching for the perfect coworking spot, go along to one of these events. That way, you can speak to other attendees, and get a feel for what they like about Stone Soup. 
Full-time rates at Stone Soup start from €130 per month. However, there are also part-time and ad hoc packages available at a lower cost. 
Similarly, you will receive a discount if you decide to book several months at once. If you want to have a tour of the premises before committing, contact Stone Soup directly to do so.
The Cube, Athens
The Cube Athens is conveniently located in the very centre of Athens. It sits at 73 Aiolou Street. This is just a few minutes walk away from the central Athens neighbourhoods of Monastiraki, Syntagma, and Thissio. 
The site has a large capacity and indeed, it plays host to dozens of innovators from across the globe. The Cube Athens extends over seven floors in a recently-renovated building in Athens city centre.
If you check Meetup.com in Athens, you will note that various talks, presentations, and events are hosted here. For instance, networking events for those involved in marketing, network events for Journalists, etc. 
Sometimes, the Cube hosts people who are experts in their chosen field to give talks on their journeys and successes. These can be both informative and a good way to meet other people. So, the Cube is worth having on your radar for this reason alone, even if you decide to go with a different Athens coworking space.
Monthly membership rates at The Cube start from €170 per month. Substantial discounts apply if you sign up for three, six, and twelve-month periods. 
It is possible to organise a tour of The Cube before joining. Similarly, you can go along to power breakfasts and other events. Then, you can meet and brainstorm with other creatives and entrepreneurs without having to commit to going into an office every day.  
Stavros Niarchos Cultural Center
Stavros Niarchos Cultural Center (Leof. Andrea Siggrou 364) is not a coworking space exactly. However, it is one of the best-loved work environments of many who are based in the city. 
As the name suggests, the premises are a cultural centre that is made up of various different functions. There is a library on-site, along with a modern workspace, a coffee shop, a bookstore, and a gorgeous outdoor space perfect for walking and cycling. 
During the summer months, free live musical performances and events are hosted here. The view of Athens from the top floor is one of the best in the city.
The sleek contemporary building was designed by Italian Architect Renzo Piano. The project cost $ 861 million and was completed in 2016.
Head here early in the morning and pull up a chair at one of the desks on the ground floor. There are computers available to use here, but you also have plug sockets available if you are using a laptop.
Complimentary wifi exists throughout the premises. Come by early if you want to guarantee a seat as this is a popular choice for both remote workers and students.
Tzaferi 16
Tzaferi 16 Boutique Offices is a coworking space in Athens that has won awards in recognition of its coworking facilities. It is housed inside a former cosmetics factory and still retains many features that nod to its industrial past.
For instance, some of the rooms boast high ceilings and exposed brick walls, Industrial pipes, shafts, and fixtures are still present and give the atmosphere a certain creative je ne sais quoi that is decidedly different from any regular old cookie-cutter workspace. 
Tzaferi 16 also offers concierge service and boasts quirky recreational rooms where you can enjoy your lunch, chat with your fellow coworkers, or play snooker during your lunch break. Better still, enjoy unlimited free coffee prepared by a Barista! 
Impact Hub Athens
Impact Hub (Karaiskaki 28)  is a coworking space in Athens that offers both hot desk memberships and private offices. It can be found in the beating heart of eclectic Psyri. 
Here it is just a short walk from Gazi, Omonia, Thissio, and Athens' Monastiraki area. Impact Hub is housed within a converted neoclassical building and the decor is as inspiring as the members. 
Many well-known Athenian businesses across a variety of industries base themselves here. Notably, tour companies Alternative Athens and Beyond Athens, and various NGO and refugee aid charities call Impact Hub their professional home. 
The various coworking and meeting rooms at Impact Hub all follow different themes and quirky decor styles. There is a kitchen and a courtyard on-site for personal use/recreation, as well as a library and various meeting rooms. 
A variety of coworking packages are available, and Impact Hub offers a 20% discount during the Greek summer months of July and August. With that, it's worth noting however that the space is open daily between 10 am and 7 pm whereas other coworking spots in town are 24/7. 
Cowork.GR
Cowork.gr (Saronikou 33) is a 24/7 Athens coworking space in the southern suburb of Ilioupoli. While this is not central, it may be the most convenient choice for you if you are basing yourself in Agios Dimitrios, Dafni, Vyronas, or Ilioupoli. That way, you don't have to trek into the city each day.
Adjacent to the offices, there is also a storage facility that accommodates various local businesses. So, if the work that you do involves holding a small amount of stock or products, Cowork.Gr will offer you a safe space to store these, and the fees for doing so are very reasonable.
The private offices and coworking spaces here are modern, bright, and airy. Rooms contain plush furnishings and ergonomic chairs and everything has been recently renovated. 
Most rooms boast their own balconies with breathtaking views across the Saronic Gulf – the perfect background while working. A variety of packages are available depending on the type of space you want and the duration you want to use it for. Special introductory rates also apply.
Regus Athens
Regus Athens is part of a chain of international coworking spaces that can be found in literally thousands of locations across the world. There are three offices scattered throughout Athens.
Firstly, the Regus Athens city centre branch is situated beside Athens Ampelokipoi metro station – a short walk from Zografou and Kolonaki. Secondly, the Regus Kifissias Junction branch is close by, just by Goudi and Neo Filothei.
Finally. Regus Athens city centre south can be found in artsy Koukaki and boasts views over the Acropolis. A membership pass for using the Regus shared coworking spaces costs €130 per month.
Private offices start from €140 per month. If you don't want to commit and prefer working from home, you can also simply purchase day passes or book meeting rooms by the hour.
The fact that Regus is part of a branch doesn't make it any less personal. If you choose one of their offices in Athens, you will soon become a part of a tight-knit community.
However, the benefit of signing up to membership here is that if you do decide to then go and base yourself in say, Paris, Zurich, or Porto, Portugal, you can easily rock up to your new international office without having to take out another membership elsewhere. One fee covers multiple locations and the office spaces are open 24/7. 
Great Cafes to Work from in Athens
Coworking spaces are great but they can be expensive. This is particularly true if you plan on dividing your work schedule between working from home and working elsewhere, and you are not sure exactly how much use you are going to get out of a coworking membership. 
In that case, you may want to also consider working from Athenian coffee shops and cafes. The great thing about choosing to do this?
Going out for coffee is such a huge part of Greek culture that there is a coffee shop on virtually every corner. If you spend a few hours working from an Athens coffee shop, you won't be disturbed.  
Most places have excellent wifi suitable for uploading files, having Skype/Zoom calls, and editing websites. Better yet, when you order coffee at a Greek coffee shop, you are usually presented with complimentary water and snacks. 
You may consider spending half of your day working from home and the other half at a coffee shop. Just consider leaving a tip if you are there for extended periods!
Flamingo Athens
Flamingo Athens (Krisila and Effranoros) is a chic all-day bistro in Pagrati, Athens. By day, it operates as a coffee bar and serves an array of Mediterranean and Greek brunch dishes and light bites. By night, it transforms into a cocktail bar. 
The decor here mirrors the sophisticated crowd that hangs out at Flamingo. glass-paneled walls, sky-high ceilings, and Scandinavian-inspired furnishings.
The cafe is spread out across two floors and there is also al fresco sidewalk seating. It is seldom crowded during the day so it is not a problem to work here at leisure.
The Underdog
The Underdog Athens (Iraklidon 8) is a Thissio hotspot that has gained something of a cult following in recent years. Not only does this establishment roast its own coffee beans, but its baristas have also won awards in global barista competitions. 
There are many that will tell you that the best coffee in Athens can be found at The Underdog or its sister business, Rabbit Punch in Pagrati. The Underdog has something of an industrial vibe.
You can sit inside or out in the courtyard. Whenever you stop by, you are likely to see plenty of fellow remote workers doing the same.
If you get hungry, you can choose from something on the Underdog's extensive lunch and brunch menu. You can order everything from American pancakes to a contemporary twist on the typical Greek salad.
Parting Words
Do you have any additional questions about coworking space in Athens or about moving to Greece in general? I've been here since 2017.
I'm happy to assist with any questions you have. Feel free to drop me a comment below.
Geia sou! Melissa xo
Disclaimer: High Heels and a Backpack is NOT affiliated with any of the businesses mentioned here.
---