Solo female travel in Israel may seem like an unusual choice. This is not the most common travel destination for independent female adventurers.
The country was considered relatively off the beaten path until recently. It was mostly people of Israeli and Jewish descent that traveled here on birthright tours which is a shame. Israel has so much to offer.
So is Israel safe for solo female travelers? What can you expect when adventuring through the narrow streets of old Jerusalem, and the seafront promenades of trendy Tel Aviv?
This guide exists to answer all of your burning questions and help you plan for your trip. It is comprehensive so feel free to use the table of contents to navigate to the various sections.
Falling in Love with Israel
I spent over a month traveling through Israel. This experience has been one of my favorite travel adventures so far. That is saying something considering the fact that I have been to 51 countries!
Israel has a little something for everyone. The country is a fabulous mixture of ancient tradition meets contemporary living. Here, glittering modern cities sit against a backdrop of rugged desert terrain, dramatic canyons, and rolling green hills.
This little country is steeped in history and religion, but regardless of your beliefs and affiliations, you will find something to love about Israel.
Is Israel Safe for Solo Female Travel?
Is solo female travel in Israel safe? Generally speaking, yes.
Israel is often in the media for all of the wrong reasons. When you are constantly hearing negative things about a country, it can lead you to believe that it is not safe. Life in Israel is just like everywhere else 99% of the time.
Israelis are friendly, welcoming, and English is widely spoken – particularly among younger generations. There are few places in the world where you can plonk yourself down in a coffee shop and be met with chatty locals that are eager to tell you about their country.
But Israeli is one of them. Solo female travelers in Israel are becoming an increasingly common sight, particularly in Tel Aviv.
You can walk around here without drawing attention to yourself and without being catcalled or harassed. There is an emerging backpacker scene in Israel.
It is very easy to meet other travelers in Israel, particularly if you stay in hostels or participate in free walking tours around the various cities. Organized day tours are a good way to meet fellow adventurers too.
Use the same common sense in Israel as you would at home. You could argue that nowhere in the world is completely safe for women alone. There are good and bad people everywhere so plan accordingly and be mindful of your surroundings.
Is Israel Safe for First Time Solo Female Travelers?
Solo female travel in Israel is arguably best reserved for travelers who have already done a few trips independently. This is for a few reasons.
While travel to Israel is becoming more popular, it does not have the same well-established backpacker trail as say, Southeast Asia. The country's tourism infrastructure is still developing and it can be tricky to get to towns and villages without a car.
Israel is safe most of the time. But you need to be aware of what is going on around you at all times. This heightened level of vigilance might be a bit stressful on a first-time solo adventure.
If your heart is set on solo female travel in Israel, consider taking yourself on a "practice" solo trip first. Do a solo weekend break somewhere in your home country. Get used to being in your own company, planning the logistics of getting from A to B, and trusting your intuition before you jet off to Mexico for several weeks.
Middle East Politics and Safety
Israel is safe most of the time. It is important to be aware of the country's relationships with its neighbors and to read about the latest political developments when you travel.
The country shares its borders with Lebanon, Syria, Jordan, and Egypt. Lebanon and Syria do not recognize the state of Israel.
Only the borders with Jordan and Egypt are open for travel. Israel is in a perpetual state of conflict with Hamas.
This organization is based in the Gaza Strip. They came into power by offering Palestinians liberation but are recognized as a terrorist group.
Conflicts have occurred as recently as January 2022. Rockets were fired at Israel from the West Bank in Summer 2021 and January 2002.
While this all sounds absolutely terrifying, Israel has an excellent defense system known as "the Iron Dome" which intercepts and shoots down rockets. Buildings are blast-proof and a siren will sound out through the streets if there is any threat.
Keep an eye on the media and the situation in Israel prior to your trip. The UK and USA government travel advice pages are good sources of information and they are frequently updated.
Shaking Off the Media's Negative Portrayal of Israel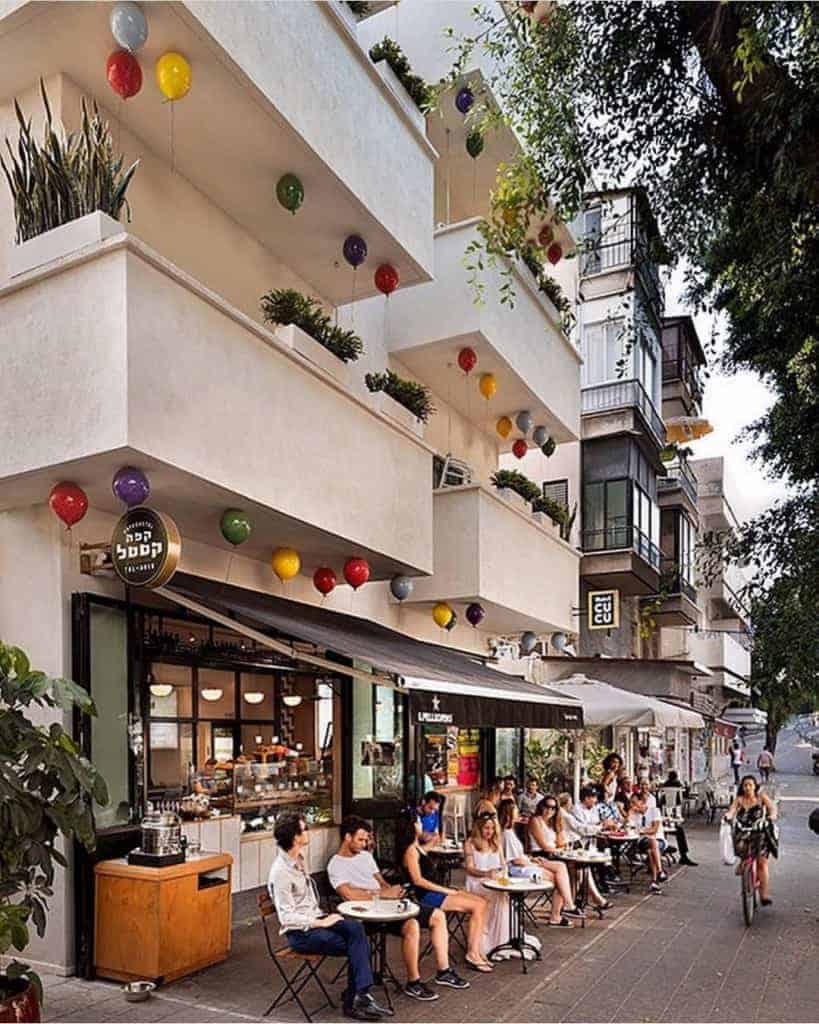 Yes, Israel is safe. Why does the media always make Israel seem out of bounds?
Sensationalism. It's a sad reality that shocking news stories sell, whereas heartwarming tales do not.
When you arrive in Israel, and you haggle your way through the fragrant stalls of Mahane Yehuda Market or watch a beautiful sunrise from Masada, you will realize just how wrong the general perception of Israel is.
Tours and Excursions in Israel
If you are not quite sure that you want to travel to Israel completely alone, there are plenty of excellent tours and excursions that you can do. These take the stress out of organizing your trip by yourself and are a great way to meet like-minded travelers that will be friends for life.
You can opt to do tours that extend over several days or if you want the best of both worlds, you could travel to Israel alone and then take day trips out from Tel Aviv or Jerusalem. Get your Guide is a great website that details dozens of local tour providers.
Some of the best day tours in Israel that you may want to consider are detailed below.
What Should I Wear in Israel?
Israel is generally a relatively liberal country and so the dress in Israel follows suit. You can pretty much dress as you please in the major cities.
Shorts, tank tops, dresses, and swimsuits are all completely acceptable and you will note that local women dress the same. If you visit certain religious sites and city districts though, you should prepare to dress more conservatively.
That means you should wear full-length trousers and a long-sleeved shirt that does not show any collar or cleavage. In some places, you may be asked to cover your hair, particularly if you plan on entering mosques or synagogues.
Always carry a light scarf in your backpack just in case. The old town of Jerusalem is a very religious area divided into sections for different religions (Muslim quarter, Jewish, quarter, etc).
Purchase a cheap head and neck scarf like this one before you travel. Alternatively, you will find beautiful scarves and pashminas around the vibrant markets of Israel.
It is a good idea to always dress conservatively here. That way you are both respectful and you do not draw attention to yourself.
Solo Female Travel in Israel Packing List
What to take to Israel depends somewhat on the time of year that you are going to be traveling. It is relatively hot here all year round, although the temperatures often dip in the evenings during Autumn and Winter.
Check the weather conditions prior to your departure and plan accordingly. A suggested Israel packing list for women is detailed below. This is suitable for travel to Israel during the spring, summer, and autumn months but you should pack additional layers if you are visiting in winter.
4-5 tshirts


3-4 shirts or shorts


3-4 casual summer dresses


1 pashmina/scarf for covering hair when needed


1 cardigan/light jacket for cool evenings/ferocious aircon


2 swimming costumes (1 to use while the other is drying)


beach cover up


2 evening outfits


Flipflops to wear in your hotel/Airbnb


Comfortable walking shoes for city exploration


Wedges/sandals


Heels or evening shoes


Wide brimmed hat


Sunglasses


2 pairs of jeans or comfortable trousers


Handbag for evening use


Sleepwear


Underwear x 7


Makeup and toiletries
Highlights of Solo Female Travel in Israel
Learning about local culture and tradition with a Shabbat dinner


Discovering hidden backstreets of Tel Aviv and Jerusalem on a walking tour


Bobbing along like a cork in the Dead Sea


Hiking to Masada and Ein Gedi to witness a majestic sunrise


Searching for Banksy graffiti in the West Bank
Where to Travel in Israel as a Solo Female Traveler
Israel is a relatively small country and it is easy to get around. If you are limited on time, you should at least make time for spending a few days in Tel Aviv and Jerusalem.
Tel Aviv
The glitzy modern city of Tel Aviv may well be one of the trendiest cities in the world. Tel Aviv may not have a lot to offer by way of historical and archaeological sites, but it oozes personality and character at every turn.
Each of Tel Aviv's various neighborhoods has its own distinct personality. For dining and nightlife, head to Rothschild's Boulevard.
This palm-tree-lined boulevard is filled with chic bars and wonderful restaurant options from around the globe. Head to Florentin to admire the awesome street art, and then venture over to Neve Tzedek for trendy brunch cafes and boutique shopping.
The Hatikva, Neve Shanan, and Shapira neighborhoods of Tel Aviv are best avoided, particularly at night. There is no real reason for tourists to venture here anyway, but just be mindful of where you wander.
Jerusalem
Jerusalem and its walled old city are a highlight of any trip to Israel. The city is of the utmost importance to Jews, Muslims, and Christians alike.
You could easily spend an entire week in Jerusalem exploring its winding passageways, its bustling marketplaces, and its quaint tearooms. Some of the most important religious and historical attractions in Israel can be found here – including the wailing wall, the temple mount, the mount of olives, and the city of David.
If you want to venture down the tunnels of the western wall, you must book your tickets six months in advance. This might seem a little much but the experience is well worth it.
There are so many important historical and religious sites packed within the walls of Old City Jerusalem. It is well worth paying to do a Holy City walking tour while you are here.
That way, you gain more context and information about what you are seeing. There are many interesting neighborhoods in Jerusalem, some well off the beaten path and overlooked by most tourists. Yemin Mosche, Nachlaot, and Nachalat Shiva are all well worth adding to your radar.
Haifa
The picturesque city of Haifa awaits just one hour north of Tel Aviv. Set on the slopes of Mount Carmel, Haifa is renowned for its Baha'i Gardens.
Next to the beautifully manicured Baha'i gardens, you can also find the Haifa German Colony. This is an area that was founded in the 1860s by German Templars and is now filled with dozens of trendy shops, cafes, and restaurants.
It takes around 90 minutes to reach Haifa from Tel Aviv. One day here is really all you need.
The West Bank
The West Bank is one of the "occupied Palestinian territories". It is relatively easy to travel to Palestine, and you can take a bus to Bethlehem from Jerusalem.
Bethlehem is a popular day trip destination among tourists who wish to see the place where Jesus was born. There are also some interesting Banksy graffiti pieces around the separation wall.
Hebron, Nablus, and Ramallah are all interesting places to stop in the West Bank. You can travel independently via bus, or you can opt to hire a local Palestinian tour guide.
The Dead Sea
The Dead Sea is one of the world's most peculiar natural phenomenons. The water here is so salty that it causes you to effortlessly float like a cork once you enter. This is the lowest point on earth, and the mud that is found beneath the water is rumored to have healing and beauty properties.
There are several points where you can access the Dead Sea. Ein Gedi beach and the Ein Bokek resort beach can be easily reached on a day trip from Jerusalem.
Nazareth
The old city of Nazareth is home to one of the largest Arab populations in Israel. Nazareth is a city of great biblical importance.
It is said that the Basilica of the Annunciation here is where Gabriel told Mary that she would have a child. Of course, Nazareth is also where Jesus supposedly grew up.
Modern-day Nazareth has developed and expanded into a city that is brimming with sophistication, culture, and an emerging culinary scene. Wandering through the narrow cobbled alleyways of Nazareth old town, bypassing the crumbling remnants of Ottoman-era mansions, and quaint Arabic tea rooms make Nazareth well deserved of at least one day of your Israel trip.
Masada
Masada is a popular day trip from Jerusalem. Here, you will find an ancient fortress that is perched on the top of a flat plateau in the middle of the desert.
The sunrise at Masada is one of the most beautiful in the entire Middle East. Many local tour companies offer excursions like this one that combines a trip to Masada with the Dead Sea, and the nearby waterfall of Ein Gedi.
Solo Female Travel in Israel FAQs and Tips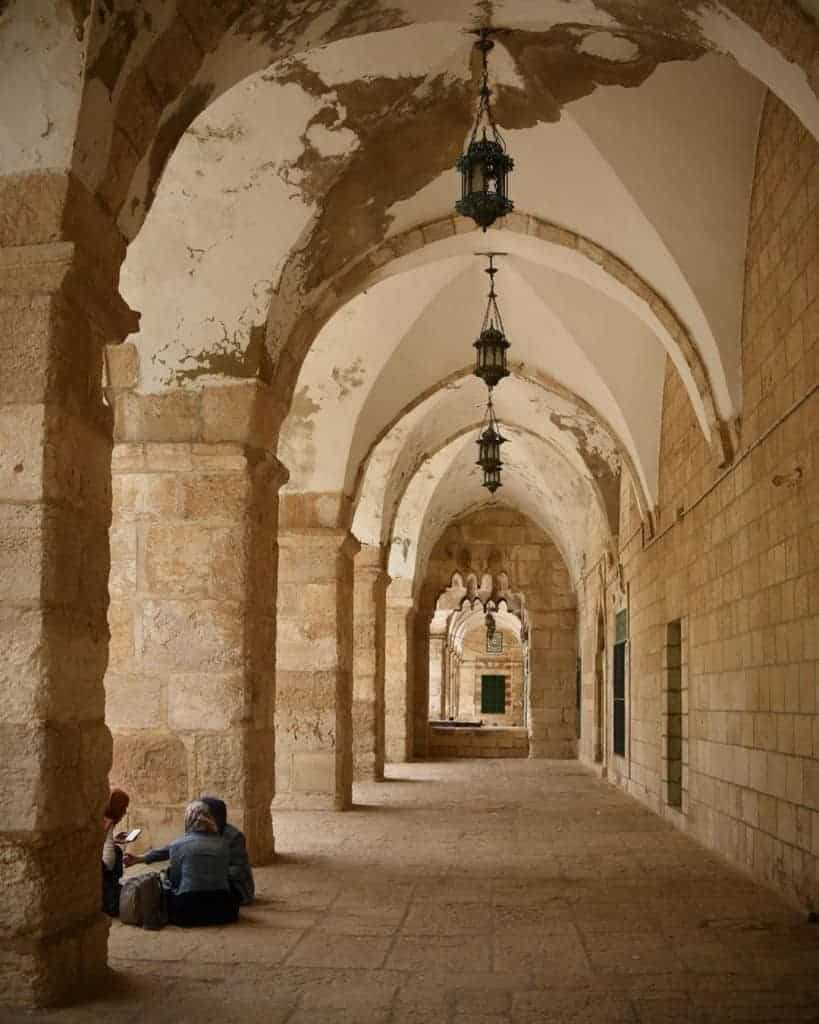 An assortment of questions that may be buzzing around your brain as you plan your solo female travel to Israel are answered below.
Is Israel a sexist country?
During my time in Israel, I had no problems with Israeli men. Although it is located in the center of the Middle East, Israel is a nation that is considerably more liberal than its neighbors.
For starters, you can clear any images or assumptions that Israeli women are timid, meek, or oppressed straight out of your mind. Women here are strong and empowered.
They have to serve in the Israeli army and are treated with every bit of respect. Israel definitely isn't a patriarchal Middle Eastern nation.
Will I encounter any problems with Israeli men?
Israeli men may try and approach you or strike up a conversation – just like men anywhere! Men in Israel are known for being macho and confident and they are often forward and flirty.
However, it is impossible to generalize an entire nation of men. If someone approaches you and you are not interested or feel uncomfortable, just tell them that.
Do I need travel insurance?
You should ensure that you have comprehensive travel insurance before you travel anywhere. This includes Israel. Most vacations are trouble-free, but you should always have the worst-case scenario in mind.
Should you be unfortunate enough to fall ill or suffer an accident, medical treatment in Israel is excellent but expensive. Try to find an insurance policy that covers you for at least $1million worth of medical coverage.
Good, comprehensive policies also include things such as cancellation, item loss, and repatriation. Make sure that you read the small print and understand exactly what is covered.
Some travel insurance policies do not include adventure sports, and many even regard things like hiking as adventure sports. World Nomads is a great provider to consider. Their policies are well catered to backpackers and adventure travelers.
Are Israeli border controls strict?
Security procedures at Tel Aviv Ben Gurion Airport are strict and you should not be alarmed if you are questioned upon exit or arrival. This is the same at the land border crossings between Israel and Jordan and Israel and Egypt, too.
You should allow at least one extra hour for security checks upon arrival in Israel, and before boarding your plane on departure from the country. You may be asked questions about your reasons for traveling in Israel, and your previous trips.
This is particularly true if you have spent a lot of time traveling in the Middle East. You may be asked your purpose of traveling to each country.
Don't be alarmed or intimidated. This is a standard process and exists to keep everyone safe.
Israel no longer stamps passports on arrival or exit. Instead, you are handed a blue slip of paper which acts as a substitute stamp.
Having an Israeli passport stamp in your passport would prohibit you from entering certain countries in the past. However, it is no longer a cause for concern.
You must keep this blue slip of paper with you at all times. Sometimes, you may find that hotels ask for this when you check-in rather than your passport.
If you cross into the West Bank, keep your passport and blue paper with you. When you depart Israel, you will be given a pink exit paper.
What are the crime rates like?
According to the Global Crime Index, Israel is safer than a lot of western countries. This includes the USA and the UK.
You should be careful on the light rail network and in the old city of Jerusalem as petty theft does happen from time to time. You should use the same common sense when traveling in Israel as you would when traveling anywhere.
This means always keeping your eye on your personal belongings, not walking alone at night, and having comprehensive travel insurance. Consider purchasing theft-proof backpacks and luggage to keep your things safe.
These are slightly more expensive than a regular backpack but they come with numerous additional safety features. For instance, they have a TSA-approved mesh locking system, and they are both waterproof and slash-proof.
Be careful in East Jerusalem
Jerusalem is a highlight of any trip to Israel. That said, the city is tenser than the majority of the country.
Both Israelis and Palestinians regard Jerusalem as their capital. East Jerusalem is a predominantly Palestinian neighborhood and clashes between Israelis and Palestinians happen here occasionally. Don't walk around the Mount of Olives at night.
I was on my way back from the Mount of Olives in the early afternoon and a Palestinian teenager blocked my way on the path with his bike. He reached over and grabbed my crotch, and I had to fight him off.
That was the only time anything bad happened to me in Israel. However, I have heard of other female travelers experiencing the same in that part of East Jerusalem. Just be aware of this and be careful!
Is the army presence intimidating?
All Israelis have to serve two years in the army. Many of these individuals are stationed around towns and cities.
You will find a lot of Israeli military officials standing close to notable tourist sites and at busy transit points such as bus/train stations. It can be alarming to be faced with soldiers holding machine guns but remember that they are there for your safety.
The atmosphere never feels tense, even with their presence. Sometimes, you may board a train and be selected for a random bag check, particularly when traveling between Tel Aviv and Ben Guiron Airport.
Is it easy to meet other travelers?
Israel may not be a "mainstream" tourism destination yet, but it does see its fair share of adventurers. There is a big Couchsurfing scene in Tel Aviv and Jerusalem. A great way to meet locals and travel buddies is to go along to the CS meetings.
There are also numerous hostels around the country that have fun, social atmospheres. One great choice is the Abraham branch of Hostels. You will find their hostels in Tel Aviv, Jerusalem, and Nazareth.
Abraham hostels are huge, and host events, tours, and parties virtually every day of the week. If staying in a dorm isn't your thing, you can also book a private room.
This is great if you are traveling in Israel on a budget too. Generally speaking, private rooms at hostels are cheaper than rooms at hotels.
Can I drink the water?
You can drink the water in Tel Aviv but you should be mindful in other parts of Israel. You will usually find fresh bottles of water waiting for you in hotel rooms.
Consider buying large, multi-liter bottles of mineral water and then filling up a reusable water bottle. Lifestraw bottles are great as they offer an extra level of filtration and keep cool throughout the day.
Share your itinerary with friends but not on social media
In an era where we share almost everything we are up to on Instagram, be very careful about your social media use when you travel alone. It's understandable that you want to share all the exciting things that you are up to but you should never post your real-time location.
Ideally, share all of your photos and stories in your drafts before you head on to the next city. This is not Israel-specific but is good practice wherever you go.
In particular, never reveal where you are staying or share photos and videos that make it easy to guess where you are. For instance, landmarks outside of your hotel, specific signage, etc.
By all means, share your itinerary with your friends and family but keep it off social media. You could write out a blanket Whatsapp message/email that you send to everyone. Alternatively, perhaps create a "view only" Google doc that you regularly update with your schedule.
Are there any customs I should be aware of?
Israel is a very religious country. Most of the population is either Jewish, Muslim, or Christian. Hasidic male Jews should not shake hands with women.
You should be mindful of this when you encounter people from various faiths around the country. Do not take this personally.
Learn to relax and enjoy your time
Thoughts and stereotypes of various countries are often far worse than the actual experience of traveling there. This is very true of Israel.
By all means, plan, research, and manage your trip carefully but relax and enjoy it too. Security in Israel is high for your safety.
Most trips here are trouble-free. Relax and enjoy the beautiful scenery, the fascinating history, and the hospitality of the friendly people.
Getting Around Israel as a Solo Female Traveler
Public transport in Israel is okay, but it does leave a lot to be desired when it comes to wanting to travel anywhere outside of the major towns and cities. Buses are relatively low cost and they connect the majority of the major towns and cities.
I stayed at the Abraham hostels in Tel Aviv, Jerusalem, and Nazareth and they have a great shuttle bus that runs between the cities a couple of times per day. If you decide to hire a car, feel assured that road conditions in Israel are pretty good, and the signs are all in English as well as Hebrew.
Consider free walking tours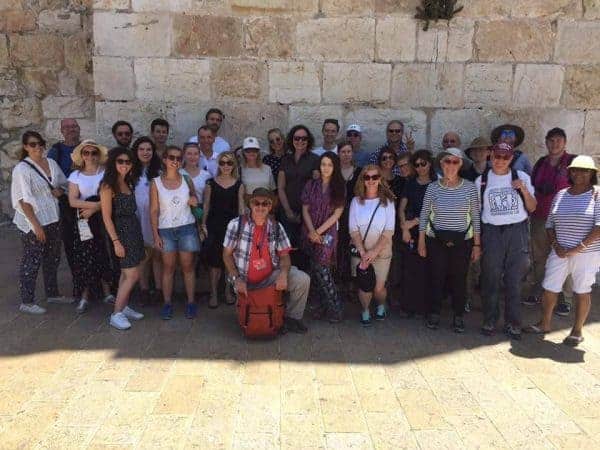 There are a number of free (tip-based) walking tours that operate in Tel Aviv, Jerusalem, and other large cities across Israel. These are great for allowing you to get your bearings in a new place, discover off-the-beaten-path neighborhoods, and meet other travelers.
Just do a simple Google search of "free walking tours in x" to see what is going on around you. Of course, there is an expectation that you leave a tip and your guide has dedicated their time to show the best of their country so tip accordingly.
Take Guided Tours of Less Accessible Areas
It is fairly easy to get around Israel independently. That said, there are some places which are a little remote or tricky to get to with public transport.
Places like Masada and the Dead Sea, for example, may be easier to visit on a guided tour.
Buses and Rail Services
"Egged" buses are the main public transport bus network in Israel. Services run regularly between the major Israeli towns and cities, in addition to more remote places and touristic sites such as the Dead Sea.
You can check the various routes and schedules here. Trains can also be a convenient way of getting from city to city in Israel.
It is worth noting that the rail network is not as comprehensive as the bus network. Trains run between Tel Aviv, Haifa, and Jerusalem. You can check the latest schedules and prices here.
Sheruts
Sheruts are shared taxis that operate within Israeli cities. These are basically little minivans that follow a set route across town.
They stop at various locations and leave when full. You could compare sheruts to Central Asian marshrutkas or Mexican peseros.
You can also take sheruts to and from various Israeli airports and border crossings. They are substantially cheaper than private taxis.
If you find yourself staying at a hotel in an off-the-beaten-path area of town, ask the Receptionist where the nearest sherut stop is. Sheruts are safe and help you save some money during your trip.
Hiring Cars
Renting a car in Israel is a great way to get around. This gives you a lot more freedom and flexibility than if you have to rely on public transport.
While driving in Israel may sound crazy or intimidating, the roads in Israel are pretty good and well signposted in both English and Hebrew. Car rentals in Israel start from as little as $15 a day.
The only thing to keep in mind is that you should not drive into the West Bank with Israeli license plates. If you wish to self-drive around Israel and the West Bank, you should try and find a car with Palestinian plates in East Jerusalem.
Solo Female Travel to Israel:
Conclusion
Do you have any questions about visiting Israel as a solo female traveler? Feel free to reach out to me via the comments below and I will get back to you as soon as I can.
Safe travels! Melissa xo
---