Solo female travel in Jordan is not the most common travel choice. However, it can be a very rewarding travel experience.
Is Jordan safe for women travelling alone? Yes!
That said, this is a country that requires a little more preparation and assertiveness than a lot of other destinations. Provided that you use common sense, plan your trip carefully, and are mindful of cultural differences, you are sure to have a wonderful time travelling alone in Jordan.
Solo Female Travel in Jordan
This guide aims to help you prepare for a trip to Jordan, based on my own experiences as a woman travelling alone in the country. It aims to cover all of the key questions that surround visiting the Hashemite Kingdom, including: 
What is the easiest (and cheapest) way to get around Jordan? 


Is Jordan safe for women travelling alone?


Am I going to attract a lot of male attention as a solo female traveller in Jordan?


What should women travelling alone in Jordan wear? 


What are the best sources of information for Jordan travel advice?

 
Where should I visit during my first trip to Jordan? 
This post is quite extensive. Feel free to use the table of contents in order to navigate to the most relevant sections. 
Falling in Love with Jordan
Jordan is one of the safest countries in the Middle East and the epitome of the concept of "Middle Eastern hospitality". Since the days of the camel caravans and the old Silk Road trade route, Jordan has been delighting all of those that enter her borders.
The history in this region is both fascinating and extensive. Throughout the millennia, various conquerors and civilisations have occupied Jordan.
Each of these has left its mark on the country. They have helped to shape the nation's cuisine, culture, and architecture into what you will find here today.
The Nabataeans, the Romans, the Crusaders, and more have at some point or another ruled over this land. Today, this means that you can explore impressive monuments crafted by various civilisations and religions.
There are few other places in the world where you will see such a mishmash of architectural styles. In Jordan, you will find the sunbleached ruins of sprawling Roman amphitheatres sitting beside the shimmering blue domes of gorgeous mosques, and crumbling Crusader Castles.
The first mention of Jordan conjures up images of arid desert-scapes, red sand dunes and visions of Lawrence of Arabia trekking through the desert on the back of a camel. But Jordan is so much more than that.
The landscapes of Jordan are diverse which may come as a surprise considering the small size of the country. The country is not just arid deserts. Encapsulated within its borders you will find nature reserves filled with wildflowers and spectacular wadis (desert oases).
The lowest point on earth can be found here at the Dead Sea. Some of the gorgeous beaches and coastlines around the Red Sea boast fine golden sands and clear turquoise waters that would rival the Caribbean.
Highlights of Solo Female Travel in Jordan
The highlights of solo female travel in Jordan are plentiful. Some of the activities that you may wish to consider during your trip are detailed here.
Conquering the challenging monastery hike at Petra


Bobbing along like a cork in the Dead Sea


Camping beneath the stars at Wadi Rum with Bedouins


Falling in love with the quirky nature of Amman, its souks, and tea rooms


Embarking on a hiking adventure in Dana Biosphere Nature Reserve


Indulging in some much-needed R&R and relaxing at a resort in the Red Sea.
Where to Travel as a Woman Travelling Alone in Jordan
For as long as I can remember, I had daydreamed about travelling to Jordan. I was in love with the idea of pitching up a tent beneath the stars at a Bedouin camp-site, of wandering around the lost city of Petra like the female Indiana Jones and of feasting on delicious Arabic food.
Sometimes, we live in so much anticipation of our travels that when they actually come around, they don't live up to our expectations. Solo female travel in Jordan was not like that at all.
Jordan exceeded my every expectation and then some. Places that you may wish to consider incorporating into your Jordan trip are detailed below.
Petra
The ancient Nabatean city of Petra is the reason that many people decide to travel to Jordan in the first place. The city was carved into sandstone cliffs in the 3rd century BC. 
Petra was an important city for camel caravan traders on the trade route from Damascus to Arabia. That is until Petra was invaded by the Romans. 
Petra was not re-discovered until Swiss Explorer Johann Ludwig Burckhardt stumbled across it in 1812. There are so many notable buildings and hiking trails here.
You should consider spending at least two days in Petra. If your trip coincides with a Monday, Wednesday or Thursday, you can experience "Petra by night". During this event, the ancient city is illuminated by thousands of candles.
Recommended Petra Day Tours & Trips
Amman
Amman is the capital of Jordan and arguably, one of the Middle East's best kept secrets. You would not expect to hear words like "artsy", "quirky", or "cultural melting pot" used to describe Amman but they sum it up perfectly.
Base yourself in Jabal Al Weibdeh, or Jabal Amman. These are colourful areas known for their eclectic markets and charming tea rooms. 
Spend a couple of days here if you can. Visit the Amman Citadel, with its Temple of Hercules, and the Umayyad Palace.
Don't miss the Roman Amphitheatre. This impressive structure once seated more than 6,000 spectators during Roman rule.
Recommended Amman Day Tours & Trips
Jerash
Jerash sits one hour north of Amman. The city is home to one of the largest and best-preserved Roman sites outside of Italy. 
You can spend a good few hours strolling along collonaded streets, past well-preserved temples and colosseums. There is even a huge hippodrome.
Romans once raced their chariots here to an audience of 15,000 spectators. Modern Jerash encompasses the ruins and it's believed that what is excavated here is only a small percentage of the total site.
Recommended Jerash Day Tours & Trips
Karak and the Crusader Castles
There are several Crusader castles set out in the deserts of Jordan. The largest of these is the 1142 Karak castle.
Karak has a fascinating history and has been the site of many battles over the centuries. The site is seldom crowded.
Wandering its empty stone walkways can have an almost spooky sensation. Qasr Kharana, Qasr Amra and Qasr Azraq are also worth adding to your itinerary.
The Dead Sea
The Dead Sea is a body of heavily salted, intensely blue water that sits between Jordan and Israel. At 431 metres below sea level, this is the lowest point on earth.
The sea here is so salty that when you get into it, you will float! Beware the sting though if you have any open cuts or you've recently shaved any body parts before stepping in!
Dead sea mud and minerals are world-famous for their apparent beautifying and healing properties. There are a lot of spas and luxurious resort hotels set here, making it the perfect spot for a little R&R. 
Is Jordan Safe for Women Travelling Alone?
Jordan is generally a very safe country. It is ranked time and again in the World Safety Index as being one of the safest countries in the region. 
It is just unfortunate that Jordan's neighbours have reputations that make people look at the map, gasp in horror, and conclude that it isn't safe. The people of Jordan are typically friendly, welcoming, and pleased to show International tourists the beauty of their country.
Stereotypes of the Middle East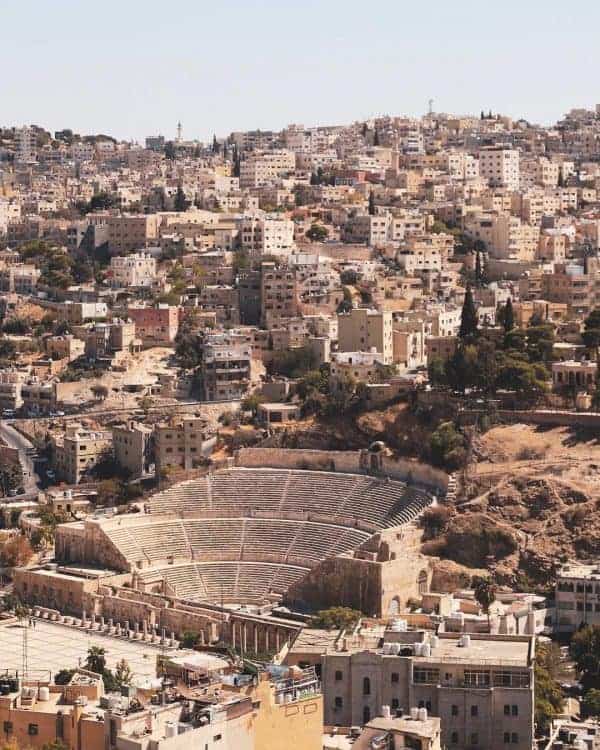 The mention of Jordan and the Middle East, in general, stirs certain stereotypes. It really is a shame because the situation on the ground is not necessarily reflective of what you see in the media.
Western publications and news channels in particular often provide a sensationalised view. Life here, like anywhere, is normal most of the time. However, nice stories are not what sell newspapers or obtain website clicks.
Is Jordan Safe for First Time Solo Female Travellers?
Generally speaking, travelling alone in Jordan is best reserved for travellers that have had some experience travelling alone. That is not to say that the country is unsafe by any means.
However, embarking on your first solo trip can be daunting. It is not that easy to meet other travellers when you are exploring Jordan as there is not an established trail as there is in say, Southeast Asia.
Most people in Jordan do speak English, even in lesser-known regions. Jordanians are friendly and generally willing to help you as much as they can.
But being alone in a remote part of Jordan when there are few travellers around and all of the signs around you are in Arabic may not be a situation you want to find yourself in during your first solo adventure. For that reason, it's a good idea to visit Jordan solo as an intermediate traveller.
What are the People like in Jordan?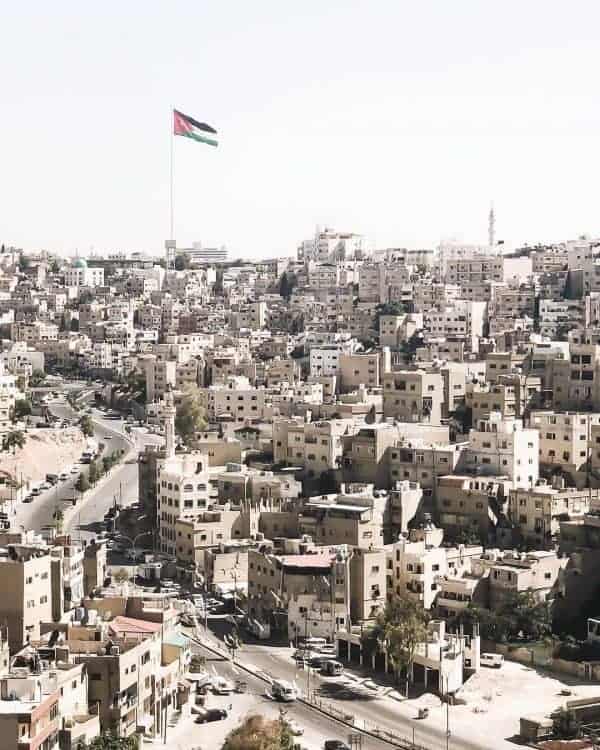 One thing that struck me most during my solo female travel in Jordan was just how friendly and welcoming the Jordanian people were. "You're welcome!" is kind of like a tagline that people say during your every encounter.
Sometimes this is said out of context which is actually pretty funny. But it's cute because the people are so well-intentioned!
Entering some guy's shop? "You're welcome!"
Inspect an item? He'll pop up behind you and tell you "You're welcome!"
Leave the shop? Yep, "You're welcome!
"You're welcome" aside, most of my experiences with people in Jordan were positive. I explored Amman and Petra by myself.
However, since Jordan is fairly difficult to get around since there is no public transport, I had a Guide and a Driver with me for a lot of my journey also. These guys both had such a great sense of humour and were one contributing factor to the adventure turning out so wonderfully.
Views of Women in Jordan
Jordan is still something of a patriarchal society that enforces traditional gender roles. The sight of women travelling alone in Jordan is becoming more common.
However, it's still quite a startling sight from a local's perspective. It is not usual in Jordanian culture for a woman to be wandering around alone so be prepared for plenty of stares and people approaching you to make small talk.
Unfortunately, as with many countries around the globe, a lot of Jordanians assume that western women are promiscuous. This is based on what they have seen depicted in western cinema so you are likely to experience some leeriness as a result.
In many areas of Jordanian society, men and women are separated. That means that when you travel away from the main tourist trail, you may be met with restaurants with separate dining areas for women, and segregated public transportation.
Going out to a bar or a coffee shop in Jordan is considered a "male thing to do". As such, it is not recommended that you visit these places alone.
The only exception would be coffee shops in Upper Jabal Amman. Here there are tons of super cute hipster coffee places that are popular among both the ex-pat crowd and young Jordanians.
What Should Solo Female Travellers in Jordan Wear?
Women travelling alone in Jordan should err on the side of conservative when it comes to their wardrobe. It can be overwhelming to try and work out what to wear in Jordan.
But the general rule in Jordan is covering up to your wrist, and down to your ankles.
In tourist sites like Petra, and Jerash, you have more leniency. There are so many tourists around these areas and the locals are more used to seeing people in shorts and shirts.
Jordan is still a relatively conservative Arab state and Jordanian women dress modestly to reflect that. Dressing appropriately is not only respectful, but it also works in your favour by helping you to reduce the amount of unwanted attention that you will attract.
All things considered though, just because you are travelling in the Middle East amid a conservative culture, that does not mean that you have to dress frumpy. Looking like a walking, talking sack of potatoes is optional.
You can easily cover up and still look attractive, and not feel too hot. You will note that Jordanian women, particularly in Amman, usually look very chic and sophisticated.
Consider buying some breathable cotton jumpsuits or long maxi summer dresses that run down to your feet. Wearing the local dress is not obligatory but you can pick up some very beautiful scarves, pashminas and abayas in Jordan.
Do You Have to Cover Your Hair?
You do not have to cover your hair or wear a hijab in Jordan. The only time you will be required to cover your hair will be when visiting a mosque.
You may want to consider carrying a scarf or pashmina in your bag while you are in Amman. That way, if you stumble across a beautiful mosque or Islamic structure, you are prepared to venture inside.
Headscarves come in handy for sun protection too! There are a lot of women selling beautiful scarves in Amman, Petra, and Jerash. You will also be supporting local women by purchasing a scarf in Jordan, rather than taking one from your home country.  
Getting Around Jordan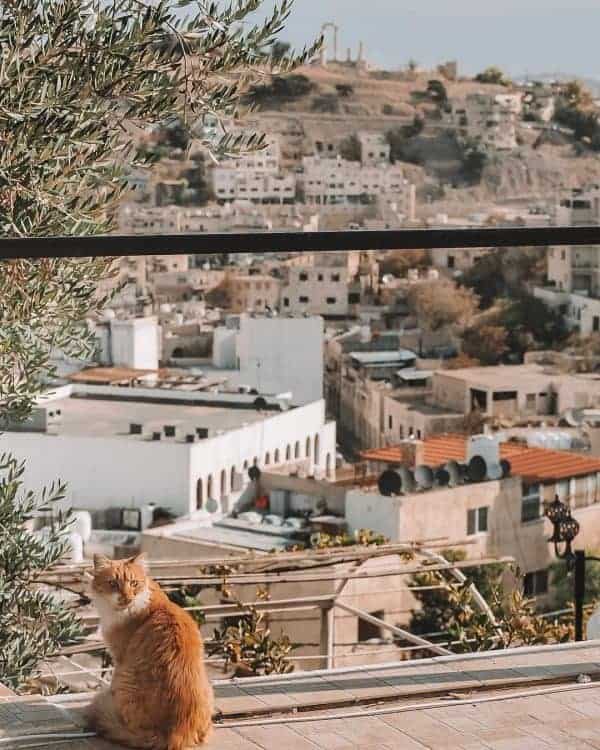 Unfortunately, Jordan is not an easy country to navigate as a solo female traveller. There are no trains, and buses run to an extremely limited schedule. 
Due to public transport limitations, one of the best ways to get around Jordan as a solo female traveller is to hire a driver. Alternatively, if you feel confident enough to do so, you can rent your own car.
The added headache is the fact that Jordan is quite expensive. The different options for exploring Jordan are discussed below.  
You may want to consider using Amman as a base. From there you can take day trips out to Jerash and the crusader castles, Petra, and the Dead Sea.
Hire Your Own Car 
Hiring a car is one of the best ways to explore Jordan independently. Roads in Jordan are modern and well-built.
It is not difficult to navigate your way around the country as Jordan is small. There are essentially two main roads that extend along the length of the country.
Namely, they are the Desert Highway and King's Highway. Road signs in Jordan are in English as well as Arabic. 
I didn't rent a car in Jordan, I hired my own Driver. I have since rented a car and driven independently across Oman. Knowing what I know now, I wouldn't hesitate to self-drive in Jordan. 
Renting a car in Jordan costs approximately 25-30JD per day. It is possible to collect your rental car upon arrival at Queen Alia International Airport.
Numerous reputable rental companies offer services from here – including Sixt, Budget, and Europcar. It is advisable to reserve your car online in advance to secure the best prices and ensure you are getting the vehicle you want.
Explore by Private Guide & Driver
Hiring a private car and driver is one of the most popular ways to get around Jordan. If you don't feel comfortable driving alone, or you cannot drive, this is a good choice.
The average price of hiring a Guide/Driver in Jordan is approximately 60-70 JOD per day. Note that that price is per car NOT per person.
Therefore if you happen to meet other travellers in Amman, you can split the costs. There are also several reputable tour companies that offer day trips to Petra like this one. 
You can make contact with a Jordanian Guide before travelling to Jordan. Ensure that your Tour Guide is someone reputable.
One way to check this is to see if they have a profile on the Jordan Tour Guide Association website. Check past reviews to see feedback that other travellers have left for your guide, particularly other women.
There are both male and female guides in Jordan. So, if you only feel comfortable travelling with another woman, rest assured you will not have difficulty finding one. 
My Guide was a hilarious Ammani guy named Nader Saleh. I usually prefer to travel with a female guide.
However, Nader was incredibly nice and hilariously funny. I think that my trip to Jordan would not have been the same without him.
I have no hesitation in recommending him to other women travelling to Jordan alone. You can consider
Arrange Transport Via Hotels 
If you book a hotel in Petra/Wadi Rum, it is possible to organise a transfer between Amman and Petra via your hotel. Rates are typically similar to those of private drivers (i.e. circa 70 JD per day), and you have the added assurance of knowing that this is the hotel's trusted driver.
Not all hotels offer this service. Check before making your reservation. This is something that you will find especially at the more luxurious properties such as the Petra Movenpick hotel. 
Take Buses
If you are on a budget, you can attempt to explore Jordan by bus. You should note that public buses in Jordan run on very limited schedules.
Jett buses are the main local provider. You will be able to get between Amman, Petra, and Jerash by bus.
From Petra to Aqaba you can also take a shared taxi. Reaching the crusader castles and the Dana nature reserve by bus is tricky. 
Notable bus routes to consider are:
Amman – Petra: The JETT bus from Amman to Petra leaves at 6.30am daily. The return bus is at 17.00pm, or you can opt to stay overnight in a hotel (recommended). The route between Amman and Petra takes four hours.


Amman – Jerash: There is no JETT bus from Amman to Jerash, however local buses make the journey at frequent intervals throughout the day. Jerash is only 30 miles away from Amman. Take a shared bus (sherut) from Amman North Bus Station for 1 JD.


Petra – Aqaba: There is no JETT bus that departs between Petra and Aqaba, however there is a sherut/shared cab. These are little mini vans that leave when full. Try to arrive early so as to secure your seat. Shared buses leave from Wadi Mousa at 6.30am and 8.00am daily. 
Book a Place on an Organised Tour 
I am a big advocate of travelling independently. Generally speaking, opting to plan and organise everything yourself turns out much cheaper than booking a place on a tour. That said, since Jordan is both expensive and tricky to get around, you may want to consider reserving a place on a guided tour. 
Guided tours can be a good way to meet other travellers. If you are on a budget and don't want to book an expensive tour for the duration of your trip, you can also organise shorter 2&3 day tours locally. 
Additional Pointers for Using Transport in Jordan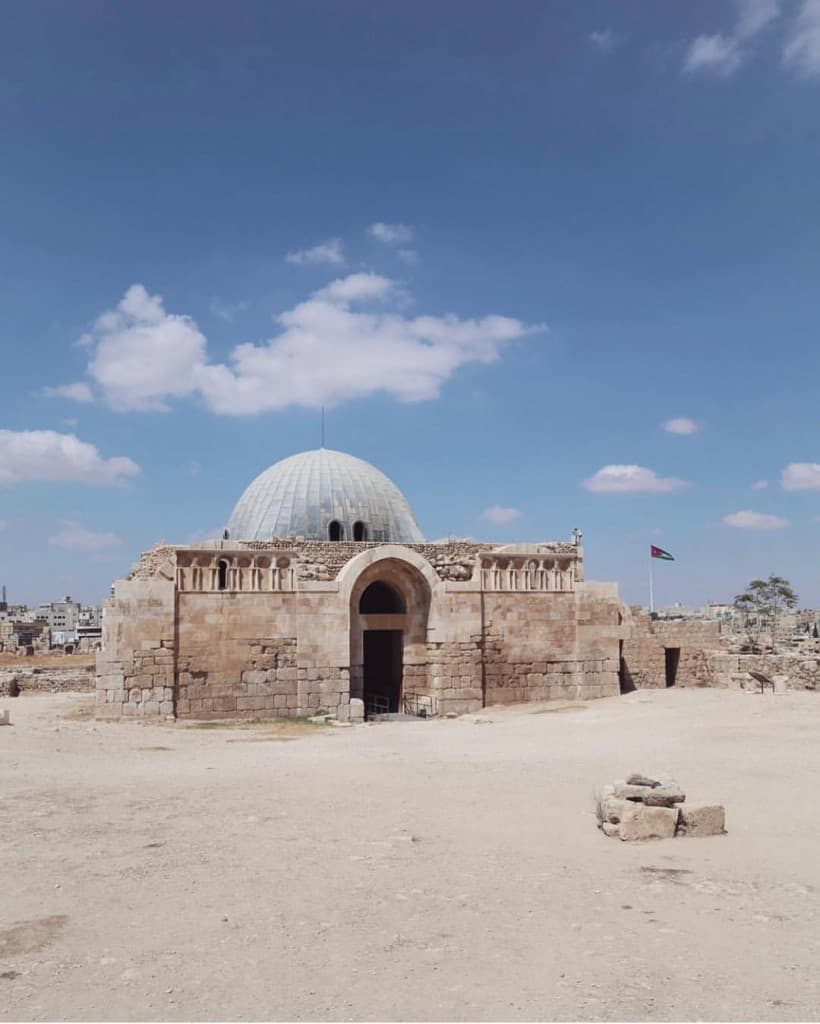 Some handy additional tips for taking public transport in Jordan are detailed below. 
If you are travelling by bus, try to sit next to another woman


If you travel by taxi or personal car, it is respectful for women to sit in the back, rather than next to the driver


In Amman, Uber is available which may make getting a cab easier than trying to haggle with a driver on the streets


Upon arrival in Jordan, you can either take a bus or a cab from Queen Alia Airport into Amman. A cab ride should cost you no more than 25JD but be prepared to haggle, as the driver will likely assume that you don't know the going rate
Safety Tips for Women Travelling Alone in Jordan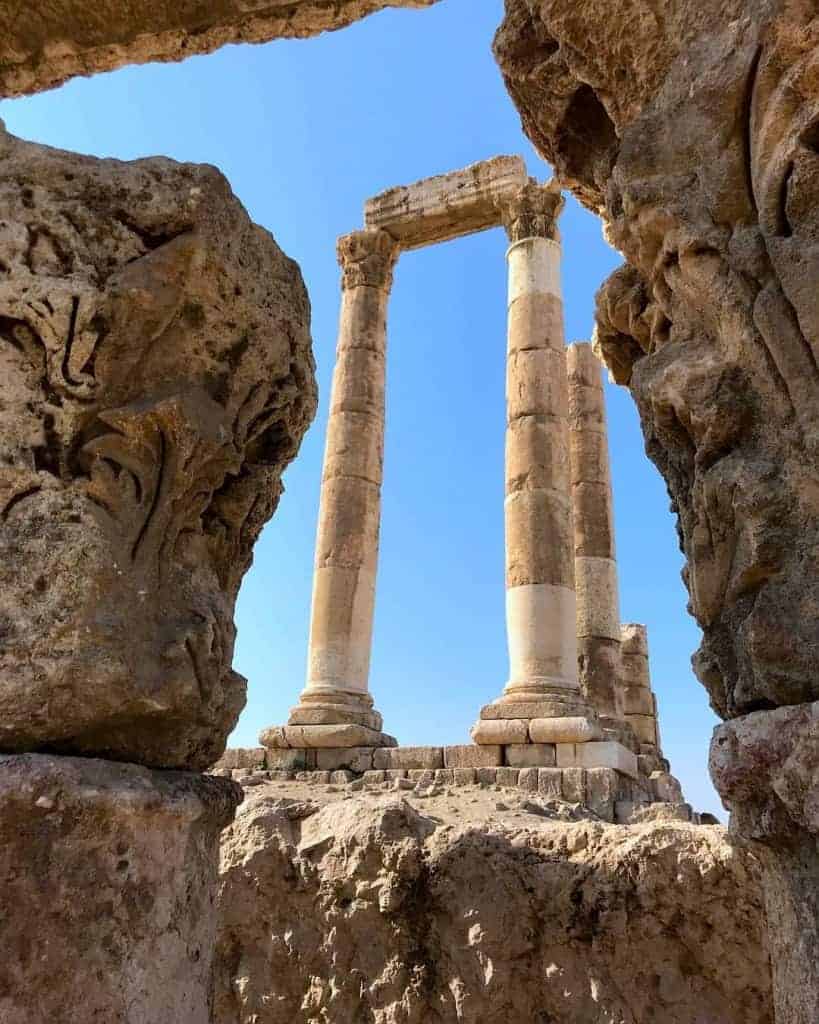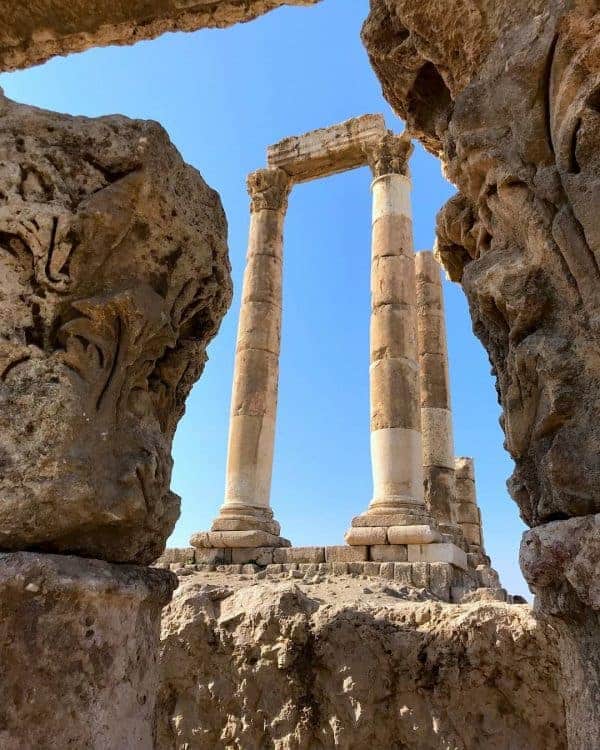 There are several things that you should consider when travelling in Jordan, so I would just like to summarise a few of these below. This isn't to scare you, but to inform you of precisely what you should be prepared for.
Research Before You Go
As with travelling anywhere, you should check your country's government travel advice, as well as the local media for any developments prior to your trip. The British Government Travel Advice is generally pretty good.
It covers various aspects that you need to consider before venturing to Jordan, along with a timeline of recent events. You can also check the US Government Travel Advice.
Get a Jordanian Sim Card 
Get yourself a Sim Card in Jordan to ensure that you are always connected during your trip. The main cell phone company in Jordan is Zain.
They sell Sim cards along with data/text/call bundles starting from just $10. You will find Zain kiosks at Jordanian airports (including AMM Queen Alia Amman), as well as in dedicated stores. 
Always Travel with Insurance 
It is prudent to ensure that you always have comprehensive travel insurance, wherever you decide to travel. That is no different for Jordan.
Should you have an accident overseas, emergency medical aid can be very expensive. As a rule of thumb, try and opt for a travel insurance package that offers at least $1 million in medical cover.
World Nomads is a great insurance provider to consider. Their policies come with additional extras that are worth having.
For instance, coverage for loss/theft/accidental damage of electrical items, repatriation and recovery. You can use the tool enclosed above to obtain a quote.
Don't Wander Too Far Off the Beaten Track at Tourist Sites
A lot of ruins and archaeological sites in Jordan are extremely vast and if you leave the main trails, there is virtually no one around. There are often groups of local and tourist men at places like Petra or Jerash and this can be a little uncomfortable.
Don't hesitate to contact the Tourist Police if you need them. You will find that there are Jordanian Tourist Police kiosks at many popular sites.
Learn to Ignore Male Attention
Solo female travellers in Jordan may receive a lot of male attention. Don't engage them at all.
Continue walking with a determined stride and act as though you haven't even noticed that they are there. There is a significant cultural difference between Western and Jordanian men.
Just give a firm "No". If you try to be friendly and polite while rejecting someone, it will not translate and they will assume that you are interested.
Know When to Seek Help
If someone continues to harass you, look to seek help or make people aware. Yelling "Imshi" ("go away" in Arabic) should deter them and attract the attention of others.
Failing that, enter a local store or business and try to make the owner's aware of what is happening (most Jordanians are super friendly and helpful). Tourist police kiosks are scattered around most major sites like Petra and Wadi Rum and helped me when a group of men were following me around Petra.
Male attention in Jordan can be intimidating. To put things in perspective though, you should note that reports of rape and assault are very rare. Most of the harassment is just verbal and harmless (but annoying) flirtation.
"My Husband is at the Hotel with a Migraine"
It's perfectly fine to invent a backstory if you feel it necessary to do so and sometimes it's better to have people think that you are not completely alone in the country. Never let the people that latch onto you know that you are on Jordan completely alone.
Similarly, be mindful of your social media activity. By all means, update friends and family at home on your plans.
But don't share your location tags in real-time, particularly if you have public social media accounts. You should especially take care not to share cafes you frequent, hotels you stay at, and the small villages/remote trails you are planning.
Never Put a Price on Your Safety
It is easy to look at things as an unnecessary waste of money when travelling. However, you can never put a price on your safety.
This means that if you feel uncomfortable and decide to pay to get a taxi home, or you pay a little more to stay in a hotel in a nicer area, you should not feel guilty about it. You cannot put a price on feeling safe and secure.
Make Note of Useful Addresses and Contacts
Always carry the details of where you are staying with you. Try and take a business card from your hotel so that it shows the hotel's name and contact details in both English and Arabic.
This is helpful if you get lost and need to take a cab. You should also make a note of where your country's embassy is in Amman.
Write their address and contact number down just in case. The number for Emergency Services in Jordan is 911. 
Don't Go Out With Wet Hair 
If you wash your hair at your hotel, always make sure that you dry it thoroughly before heading outside. If you go outside with wet hair in Jordan, it is said to be advertising sexual availability, or as being a sign that you just had sex!
This may attract additional unwanted stares and attention. Yes, it's peculiar but it's a cultural difference to be aware of!
Take Feminine Products With You 
Tampons and contraception are difficult to find in Jordan. Most of the supermarkets and pharmacies here will only sell sanitary towels.
Ensure that you have packed enough feminine care products to last you for the duration of your time in the country. You may also want to consider period panties or reusable menstrual cups if you are travelling long term.
Crossing Borders into Neighbouring Countries 
Jordan shares borders with Syria, and Israel. At this time, it is only possible to cross the border between Jordan and Israel. 
A bus runs from Amman to Beirut (Lebanon). However, it runs via Syria and so, this is not a feasible option for most travellers.
Israel and Jordan make a nice travel pairing. Although the two countries don't have the best relationship, they are amicable with each other at least.
Although it sounds intimidating, crossing the border between Jordan and Israel is fairly straightforward. You will not encounter any additional problems or suspicion as a solo woman. 
Consider Buying the Jordan Pass 
If you are staying in Jordan for more than 3 nights/4days, consider purchasing the Jordan Pass before departing on your journey. The pass includes your Jordanian visa fee and entrance to the majority of notable sites in the country (including Petra).
You should take the same precautions when travelling alone in Jordan as you would anywhere else in the world. Use common sense.
For instance, don't walk alone at night in Amman, don't have expensive camera equipment on display, and be cautious of being overly friendly to strangers. For more generalised advice on solo female travel, I have written this dedicated guide. 
Accommodation in Jordan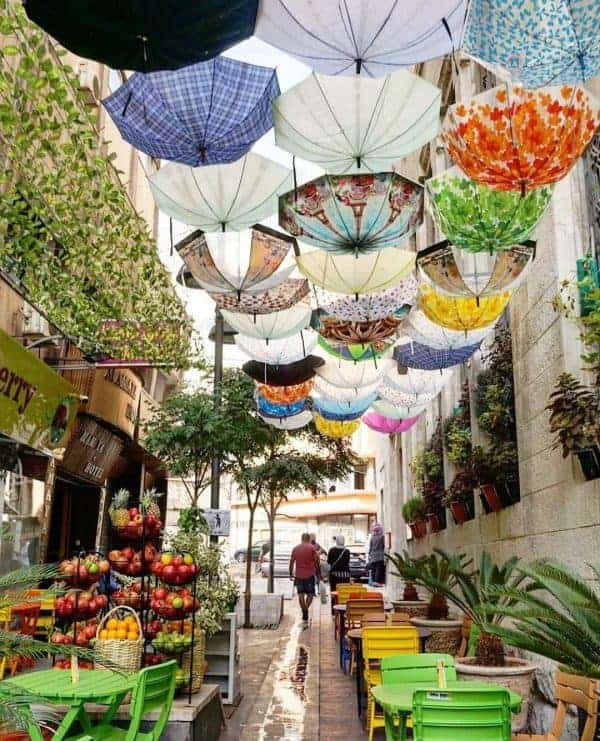 There is a range of accommodation options available in Jordan. It's advisable to err towards booking mid-range or luxury hotel rooms.
Budget hotels here have a reputation for being somewhat "shady". Since you cannot put a price on safety, you should not hesitate to pay a little extra. 
Check reviews on websites such as Booking so you can see what experiences other female travellers have had with the hotels recently. Double-check the location of the property and make sure you're not booking a hotel that is way out in the sticks.  
Meeting Other Travellers in Jordan
Couchsurfing and Meetup are great platforms for meeting fellow travellers all over the world. Both apps are completely free to use.
Amman is home to a lot of ex-pats, as well as friendly Jordanian locals. So, it is not difficult to find people to explore the city or grab dinner with. 
Contrary to popular belief, you don't have to stay at a stranger's house to use Couchsurfing. You can go along to meetings and events in Amman where you are sure to make new friends, or you can use the hangouts feature to find travellers that are around you. 
There is a group of locals and travellers that meet every Thursday at the Kaffeine Cafe in Amman. Always check the reviews of the people that you are meeting, and always meet in a public place! 
Final Thoughts
The 2023 guide on Solo Female Travel in Jordan offers indispensable insights for the solo traveler exploring Jordan as a woman. Packed with female solo travel tips, it navigates through the cultural nuances, safety precautions, and immersive experiences. 
It equips travelers with essential tips for solo exploration, ensuring a fulfilling and secure journey. Jordan's allure for those seeking to travel solo is encapsulated within, making it an indispensable resource for adventurous women venturing through this mesmerizing country.
If you still have any outstanding questions or concerns about solo female travel in Jordan, feel free to reach out to me via the comments box below. I will do my best to get back to you ASAP.
Safe travels! Melissa xo 
Pin It For Later!

---