Renting a car in Oman is the best way to get around this beautiful Arabian nation. Oman boasts countless incredible natural wonders, majestic desert scapes, and fascinating abandoned towns and fortresses.
The only downside to travelling in Oman? Presently, public transport links to and from notable sites are virtually nonexistent.
Tourism infrastructure is not yet very well developed in Oman. So, if you want to explore the country independently then you really need to hire a car.
Why Rent a Car in Oman?
The highlight of travelling in Oman is not the cities and towns, but nature. Envisage secluded desert wadis with crystal clear water perfect for swimming, and pristine beaches with jagged coastlines that extend as far as the eye can see.
Sure there are popular natural wonders that you can reach on a tour or a day trip. For instance, Bimmah Sinkhole, Wadi Shab, and Wadi Bani Khaled.
However, it's not the same as having the total freedom and flexibility of driving around independently. When you rent a car in Oman, you can stop whenever you find a beautiful stretch of beach, or stumble across off-the-beaten-path hiking trails.
The other beauty of Oman is the possibility to free camp anywhere. If you rent an SUV, load it up with food supplies, and buy an inflatable mattress or a sleeping bag, you can opt to camp beneath the stars in the most breathtaking settings.
This is a great option to have if you are trying to travel to Oman on a budget. Oman boasts so much rugged beauty that it's not uncommon for you to have many incredible camping spots virtually all to yourself.
In case you are wondering, Oman is a very safe country. I felt safe travelling alone in Oman even as a solo female traveller.
Requirements for Renting a Car in Oman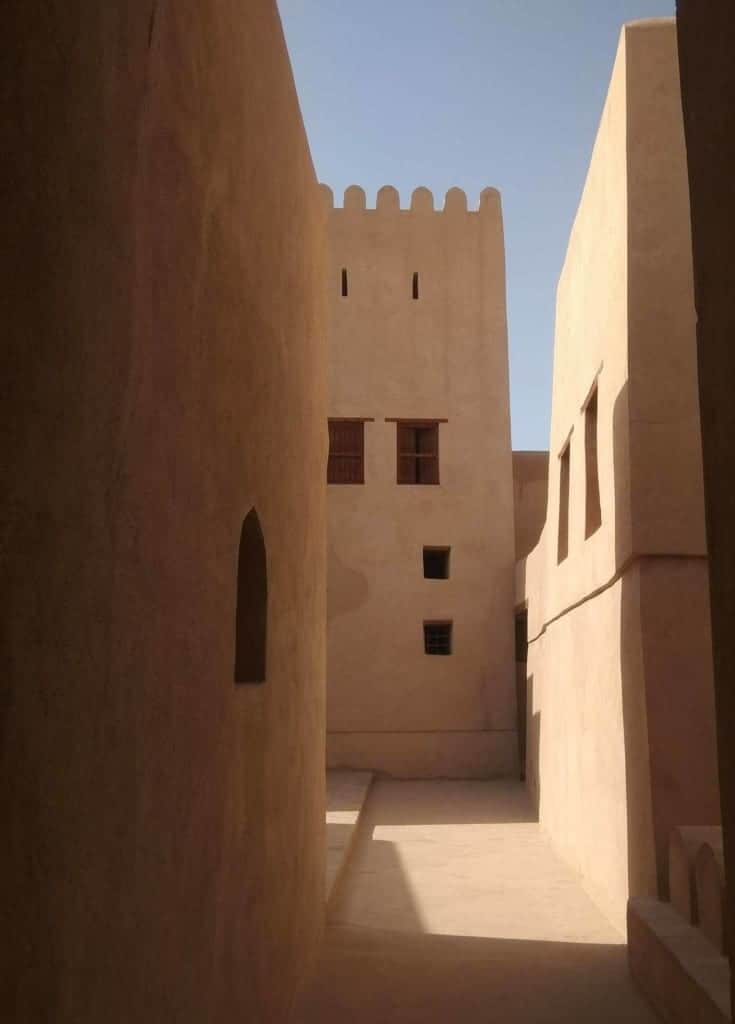 You must have an international driving license in order to rent a car in Oman, You will also need to present an additional form of identification such as your passport.
The minimum age for renting a car in Oman is 21. However, this varies from one company to another.
Some rental companies set their minimum age as 25. You must have had your license for at least one year before being permitted to drive in Oman.
The maximum age also varies from company to company. However, you can usually assume 70-75 as the cut-off.
Omani car rental companies do not always check that you have an International Driving License. However, should you get stopped by the police and not be able to present your license, you could find yourself in a lot of trouble.
Make sure that you have one! Fines and criminal penalties in Oman are very strict.
Road Rules for Driving in Oman
In some ways, driving in Oman is similar to driving in most of Europe and the world. Here, driving is on the right-hand side of the road.
Many of the road rules and expectations for driving in Oman are the same as anywhere else. For instance, when renting a car in Oman, you must wear a seatbelt, adhere to speed limits, not drive under the influence, etc.
That said, the fines and implications of not adhering to the rules are much more strict in Oman. Consequently, you really need to be sure to follow the road rules.
Road conditions in Oman are generally very good. Even in rural areas, you will find clean, modern roads that are well signposted in English as well as Arabic.
Safety Considerations for Renting a Car in Oman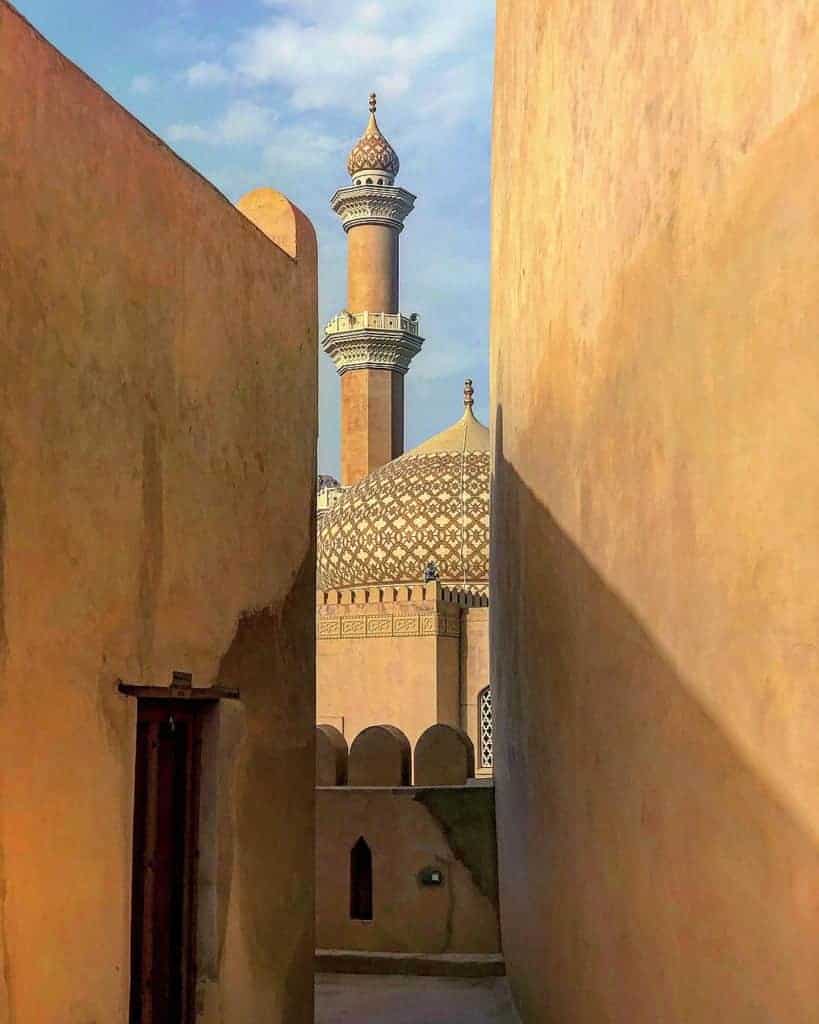 Some basic pointers and considerations to think about when driving in Oman are outlined below. It is worth keeping these things in mind.
Driving is done on the right and overtaking takes place on the left


Speed limits are clearly indicated and enforced by radars and cameras


Speed bumps exist on a lot of roads and freeways and are often not sign-posted


In Oman, you can be arrested for being aggressive or abusive. Do not argue, shout or gesture with other drivers


There is zero tolerance for driving while inebriated


You are legally required to wear a seatbelt


It is illegal to use your phone while driving


Beware of stray animals on the road – rogue camels, random goats, etc


The speed limits are 120km/h on motorways, 90km/h on open roads, and between 40km/h and 80km/h in cities/urban places


The traffic in Muscat and Mutrah can get bad, especially at rush hour and on weekends. Plan plenty of time to get around and be patient
Driving Your Omani Car Across Borders
Oman shares borders with the United Arab Emirates, Yemen, and Saudi Arabia. Opting to do a road trip into a neighbouring country may sound appealing.
You should thoroughly read the terms of your rental agreement before doing so. Typically, your rental company will not cover your insurance if you cross borders.
If you want to cross the border from Oman to Dubai or vice versa, some of the larger rental companies allow this. Travelling to Yemen and Saudi Arabia with your Omani rental car is usually prohibited.
GPS Navigation and Getting Around Oman
Many travellers become quite dependent on using GPS when driving in foreign countries. It's almost an expectation to have the option of renting one or having one already fitted in the rental car.
In Oman, GPS is not really a thing, and some of the maps are not properly updated. It is advisable to pick up an Omani sim card with a data package when you arrive.
That way, you can stay connected and make use of the mobile map/tracking apps while you are driving around. You should also consider downloading an offline map like Maps Me.
Oman Car Rental Options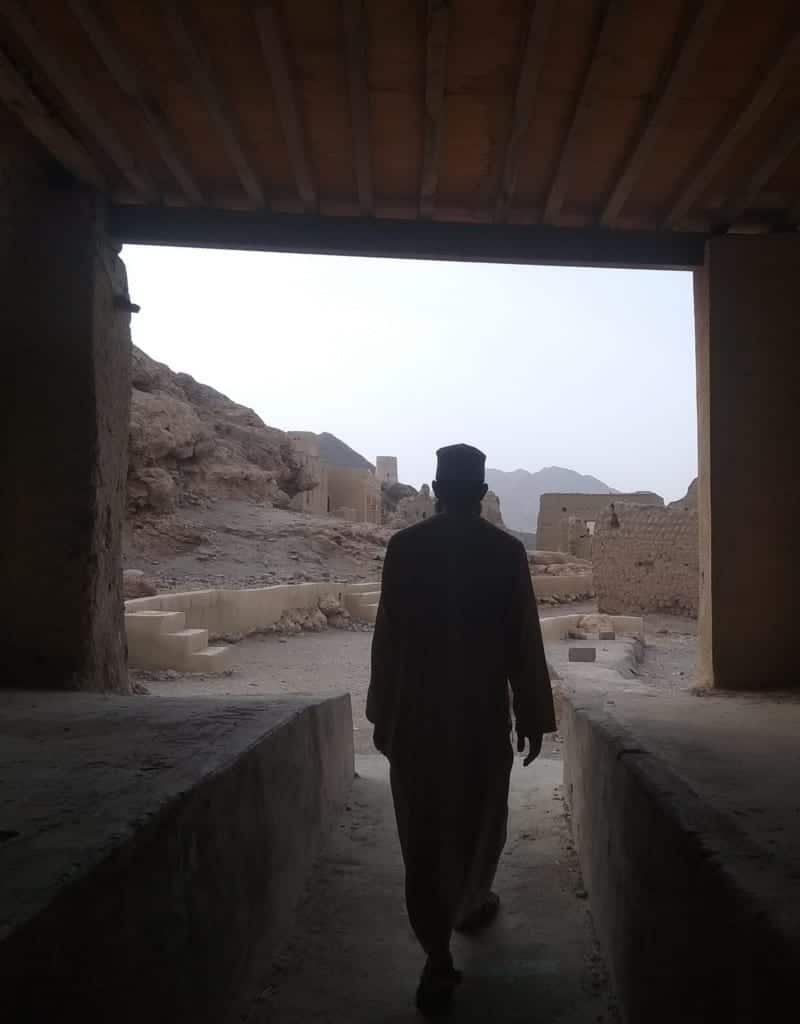 When renting a car in Oman, you have a few different options available. The best choice for you largely depends on your Oman itinerary and the activities that you plan on doing while in the country.
Some people will tell you that you absolutely must have a 4×4 for travelling here. However, that is simply not the case.
An economy/compact car will be fine for most travellers. This is particularly true if you plan on sticking to the main cities like Muscat, Nizwa, Sur, and Salalah, and are only visiting a few natural sites along the way,
If you plan on offroading and visiting sites such as Jebel Akhdar, you will need a larger vehicle such as a 4×4. As you can imagine, there can be large cost variances between the different vehicle types.
Economy/Compact Car
You can rent an economy-style car for $30-$40 a day in Oman. To get around Muscat and visit places like Sur, the Bimmah Sinkhole, the Turtle Reserve, etc, this is okay.
Many travellers do opt to be more economical and rent this type of car for their Oman adventures. The only thing that you have to be mindful of is the fact that you cannot access places like Jebel Shams and Jebel Akhdar without a 4×4.
It is both dangerous and police checkpoints also block the way. So even if you tried to access these places in a saloon car, you would be turned back.
To reach these sites you could consider parking your car in nearby Birkat al Mouz. Then, you can either hitchhike or get a cab/private driver specifically just for your day at Jebel Shams/Jebel Akhdar. You can obtain a no-obligation quote for this here.
Midsize 4 x 4
There is a lot of variance in the prices of mid-sized 4×4 rentals in Oman. This is presumably due to the various engine sizes.
Shop around to view the various options offered by different providers. The majority of midsize 4x4s available to rent in Oman are automatic, not manual. Discover Cars has a wide variety.
Large 4 x 4
Large 4x4s are obviously the most expensive vehicle type that you can rent in Oman. You can expect to pay upwards of $70 per day if you rent this type of car.
That said, it is well worth it. This is especially the case if there are a few of you and you can split the costs, or if you plan on doing a lot of off-roading and camping.
Toyota Land Cruisers are a common vehicle to rent. However, other large 4×4 models are also available.
When to Organise Your Omani Rental Car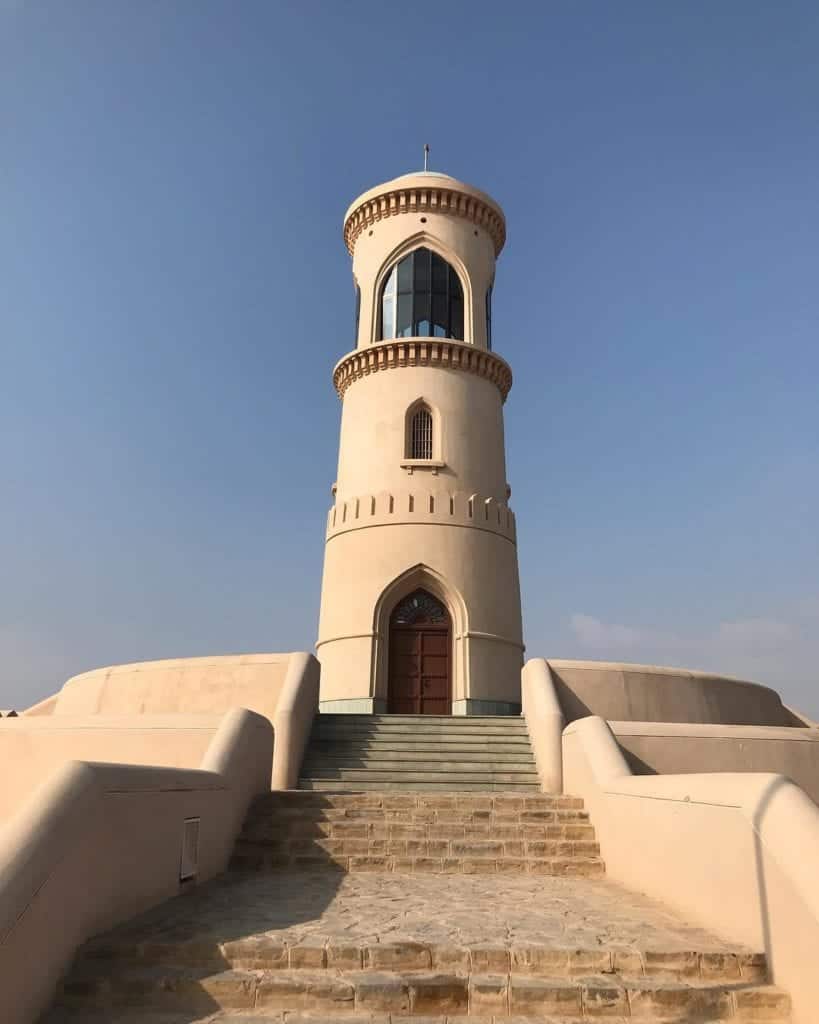 You should try to organise your Oman rental car in advance of your trip. If you wait until you arrive in the country, you will be met with both limited availability and substantially higher prices.
The peak season for travelling in Oman falls between October and March. If you plan on visiting during this period, it is advisable to secure your vehicle a few months in advance.
Where to Find a Cheap Rental Car in Oman
It is worth obtaining and comparing a few quotes before choosing a car rental Muscat company. This is true of renting a car anywhere.
Use comparison websites to browse various options. Discover Cars is a good choice as it presents a selection of reputable options in your selected city based on your travel dates.
You can then toggle the filters to select your desired vehicle type and specifications, any additional extras, etc. It is a good idea to also purchase your car insurance when you reserve your rental. That way, you know that everything is organised well in advance of your trip.
Offroading in Oman
Offroading, if done safely, can be one of the highlights of an Oman adventure. Envisage navigating your 4×4 through the winding passageways of the Hajar Mountains, hugging precipitous canyons, and speeding past beautiful desert wadis.
Some places in Oman require a 4×4 and an element of off-road driving to be reached. This includes Jebel Shams, Jebel Akhdar, and Snake Canyon.
Some of these places have police checkpoints and you will not be permitted to enter without a four-wheel drive. Even if the entrances are not manned by police though, err on the side of caution and safety and get a 4×4.
These measures are in place for your safety, not just to be awkward. There are obviously a few other things to consider before offroading.
The desert heat in Oman can be hot and intense. Make sure that you always pack more than enough water and snacks.
If you decide to drive to the Wahiba Sands desert, you may need to deflate your tires. Check the manufacturer's guide to see what you will need to deflate them to (usually 18 PPI).
Don't forget to inflate them again once you're out of the desert. There is a real risk of getting lost while offroading in the Wahiba Sands if you are not with a local guide.
Be very careful if you are considering venturing into this region alone. If you can, try and hire a local guide for any off-roading experience.
Parking in Oman
Finding places to park in Oman is generally pretty easy. That includes Muscat, Muttrah, and other Omani cities.
Driving in Oman does not mean having to contend with various metered zones like in other countries. The only thing to be mindful of is that it is prohibited to park in public buildings in Oman.
Collecting and Returning Your Oman Car Rental
Arguably the most convenient place to pick up your rental car is at Muscat International Airport when you arrive in Oman. Double-check with your car rental Muscat to see if there are any conditions that you need to fulfill when you return the car.
For instance, some companies may request that you return the vehicle with a full tank of gas, etc. You may wish to read the small print of each rental company's policy before committing to a specific company.
When you pick up your rental car, always do a thorough inspection before driving off. Take photos of both the interior and exterior of the vehicle and if you notice any issues, raise them with your rental company.
This acts as photo evidence of the condition the car was in when you collected it. Most phones and cameras time stamp their photos so that you can also show precisely when the photo was taken.
Scams are not common in Oman. However, this is good practice whenever you rent a car, just to cover your own back.
Do the same when you return the car so that you have proof of the condition you took it back in. Then, if your rental company raises any concerns when you return the car, you can clearly demonstrate how you left it.
One Way Rentals
An important thing to keep in mind when renting a car in Oman is that one-way rentals can work out more expensive. In other words, if you pick up your rental car in Muscat and plan to drive across the country to Salalah, it is more expensive to drop the car in Salalah than to return it to Muscat.
Double-check this before making your booking. Sometimes, the cost variation is quite significant so it makes sense to plan your itinerary in such a way that you travel in a loop and drop your car off in the same place you picked it up.
Things Keep in Mind When Renting a Car in Oman
Ensure that you have the necessary rental insurance coverage, as travel insurance will not cover your vehicle for theft, accidents, etc


Opt to purchase full coverage insurance for your own peace of mind


You can request to hire luggage racks, car seats, and other extras from your rental company but be sure to organise this in advance


Children under 4 must travel in a car seat and you can take your own if you prefer


There are numerous toll roads in Oman. Ask your rental company for an automatic toll reader and the total amount will be charged automatically to be paid when you return the vehicle


Flash floods are relatively common so check the weather reports and be careful about where you drive after a storm
Parting Words
Have any further questions about renting a car in Oman or Oman travel in general? Feel free to reach out to me via email or through the comments below and I will do my best to get back to you as soon as I can.
Safe travels! Melissa xo
---