The Banksy pieces in Palestine may rank high on your to-do list if you ever find yourself in Bethlehem. This guide provides information on each of the various pieces and how to find them.
It is updated periodically as paintings are removed or new ones appear. It was last updated in June 2021.
Banksy's Palestine
Despite being British myself and growing up hearing his mysterious name, the only place I have actually had the opportunity to see the elusive British artist Banksy's graffiti up close in real life was all the way out in Palestine's West Bank of all places.
Some of Banksy's most notable and thought-provoking pieces are here. That includes the legendary masked thug throwing flowers, and the somber image of a girl frisking a soldier.
Banksy has made his stance in support of the Palestinian people and their struggles quite clear. He even opened an art hotel in Bethlehem.
Banksy's "walled-off hotel" opened a few years ago and is situated right behind the 25ft separation wall. Profits from the hotel go towards assisting the locals.
Travelling to the West Bank is a worthwhile travel experience. Admiring the street art and the Banksy graffiti in Bethlehem, the nearby refugee camps and the 25-foot separation wall that stands between Israel and Palestine is a valuable insight into Palestinian life.
Is this to make light of the hardships and struggles felt by people in this part of the world? Of course not.
However, the murals and artwork pieces that you see on the walls here can be considered a form of peaceful, political expression. You can really see and feel the emotions and pain expressed in some of these pieces. So, you really ought to take the time to admire them while you are in Bethlehem.  
Getting to the separation wall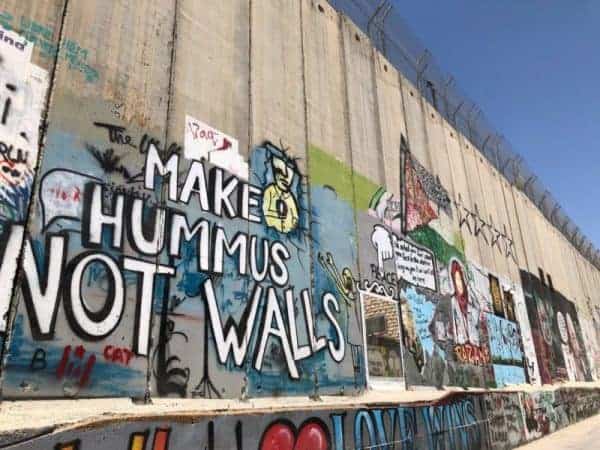 It's easy to get to Bethlehem and the separation wall from Jerusalem. You don't need to hire a local guide or do a tour in order to see the city's street art.
Furthermore, this part of the West Bank sees a lot of tourists so it's perfectly safe. Even if you dont plan on exploring Palestine on a wider scale, you can take a day trip to Bethlehem.
There are several buses that run into Bethlehem from Damascus gate in Jerusalem. A one-way ride costs only costs 7 shekels.
Crossing the border is an easy process for international tourists. You should get off the bus straight after the checkpoint.
This puts you in the best place for starting a self-guided Banksy Palestine street art tour. Otherwise, you could stay on the bus until it reaches its final stop in the centre of Bethlehem.
It is easy to know when you are arriving at the checkpoint. You can take the number 21,321 or 324 Arab buses.
When the bus stops, you will see the "Walled off hotel" to your right. You can follow the wall to check out the various art pieces.
Some of the pieces created by locals are spectacular and several storeys high. Then, go on an artsy treasure hunt for Banksy paintings all on foot.
Banksy Graffiti in the West Bank
Stop off at the Walled-Off Hotel
Banksy's relatively newly opened walled off hotel has made waves in putting Palestine's West Bank on the radars of open-minded international travellers. Its tagline is that it boasts the "worst view in the world".
The rooms here offer up the chance to stay and sleep within a work of art. Each of the rooms have unique, individual designs.
Their walls and furnishings have been lovingly created by some of the best artists in the world. Banksy, Dominique Petrin, and Sami Musa have all created thought-provoking murals.
Some of the rooms and suites here are quite pricey. However, hostel-style "barracks" are also an option for budget travellers and whichever room you choose is certainly worth it for the experience.
If you're not a guest of the hotel, you can still check out the bar and lounge. Regular musical performances from local Palestinian Jazz musicians, art exhibits and contests are often hosted here.
Check out rates and events at the walled-off hotel here.
Angels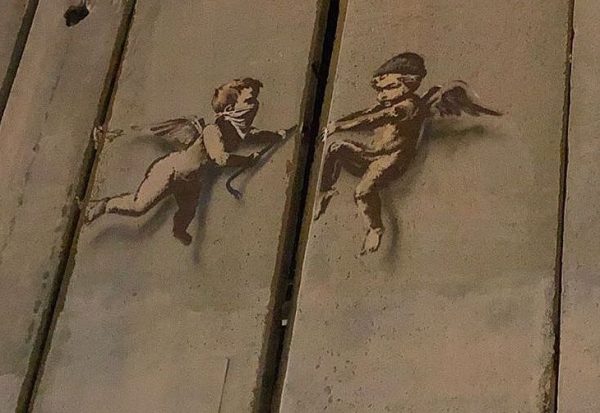 Angels is the first Banksy Palestine piece you are likely to stumble across. It is also the newest addition.
The image depicts Two angels fighting over a crowbar. It is easy to find.
From the walled-off hotel, turn and face the imposing wall behind you. Among all of the colourful paintings and stenciling that has been done by hotel guests, you will find the fighting cherubs.
Girl frisking a soldier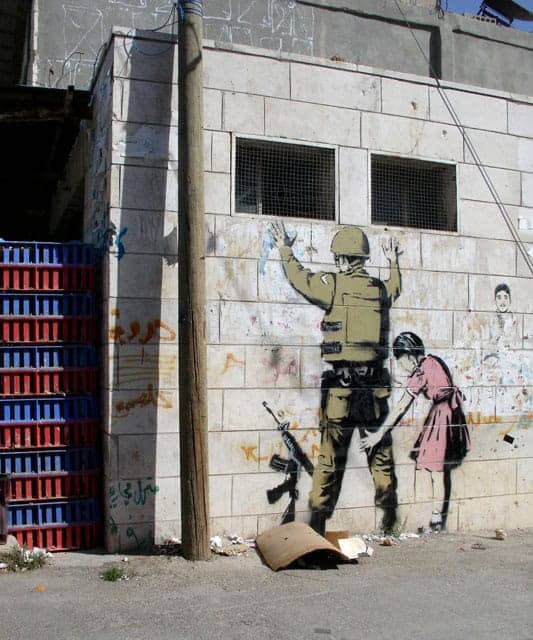 From the walled-off hotel, continue down the main road that leads away from the separation wall. The Girl Frisking a Soldier graffiti is tricky to find.
A shrewd local business owner has built a wall around it and now charges people for admission. To find the piece, you can use the coordinates 31°42'57.8″N+35°12'05.7″E in your Google Maps.
You will basically see a touristic looking shop with a little shed type outhouse building adjoined to it. Unfortunately, when I was in Bethlehem the store was closed.
Despite walking back and forth for a while and asking some locals, I realised that the piece was inside the store and the owner was nowhere to be found.
It's kind of unfortunate that this has been claimed as someone's own personal Banksy. From what I understand from other travellers, the proprietor charges people to look at the piece.
The Armored Dove
Leave the site of the girl frisking the soldier and the stomping ground of the sneaky shop owner. Then, continue down the same main road leading away from the separation wall.
When you arrive at the junction for Manger Road, you will see the beautiful painting of a White Dove visible from afar. It is splashed along the walls of the Palestinian Heritage Centre. For your reference, the map coordinates of this place are  31°43'02.1″N+35°12'08.8″E.
The Angel Scattering Hearts &
The Masked Thug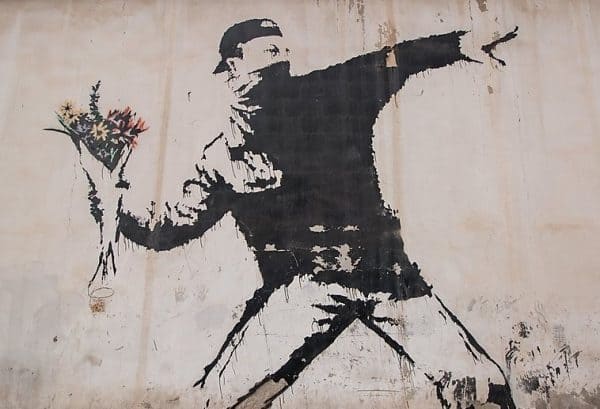 The "Angel Scattering Hearts" is a piece that is under debate as to whether it is a genuine Banksy graffiti or not. It is situated in close proximity to the "Masked Thug".
The latter is probably one of Banksy's most famous works and my personal favourite. You have probably seen it on numerous postcards, t-shirts, and Banksy discussions and never realised it was in Palestine.
The Masked Thug throwing flowers is phenomenal. No matter how many times you've seen this photographed or splashed over websites and magazines, it doesn't compare to seeing it in real life.
The piece extends over several stories and has been painted on the side of a gas station. The gas station owner was really excited and proud to have been chosen for this Banksy West Bank piece.
To get to both of these spots, you need to walk along Manger Stree. Walk past the old town until you approach the Ararat hotel.
The angel awaits at  31°42'16.9″N+35°12'52.5″E. From there, follow Beit Sahour westwards. You can use the coordinates 31°42'15.1″N 35°13'41.9″E to find the masked thug.
Angel Dropping Hearts Update: Unfortunately, the Angel Dropping Hearts is no more. There was always some debate as to whether or not this was a true Banksy piece. As of summer 2019, this has been painted over.
Peace on Earth
The "Peace on Earth" painting which adds "terms and conditions apply" is one of Banksy's most recent pieces in the area (along with Angel's Fighting). It seems that the anonymous mystery man is in Palestine quite frequently for his Walled Off hotel and so new works are popping up again.
From the masked thug, backtrack and walk back towards Manger square. "Peace on Earth" cannot be missed and is located opposite the milk grotto.
Peace on Earth Update: According to a reader, in August 2019, a fight broke out over the painting. It was painted on a door that has now been removed from its hinges and is being held inside the Armenian Chapel of Kings in the Church of the Nativity.
It is not possible to enter this church. I will update this Banksy Palestine article if this changes.
Other street art along the separation wall
It's really exciting to have the opportunity to actually see world-famous Banksy Palestine pieces up close and personal. One benefit of venturing to off the beaten path Palestine is that you will find that you have the paintings entirely to yourself.
That said, the works of local Palestinian artists are equally worthy of your time. Not to mention, they do a great job of expressing the struggles faced by locals.
In order to see the best local street art, continue walking along next to the separation wall from the walled-off hotel. Murals show a desire for a peaceful unification between Israel and Palestine and boast hopeful slogans such as "Make hummus, not walls!".
Look out for the huge controversial mural of Leila Khaled. She was a prominent national figure in Palestinian activism.
Is it ethical to visit Banksy street srt in Palestine?
Palestine remains an off-the-beaten-path travel destination. However, as more and more tourists travel to the West Bank to visit Jesus' birthplace and admire Banksy street art, it raises the question: Is this ethical?
Many locals are unhappy with the presence of Banksy pieces. Some argue that as affluent western tourists wander around the separation wall snapping photos of graffiti, it makes light of the struggles that Palestinians face.
The "walled off hotel" owned by the elusive artist himself, jokes about boasting the "worst view in the world". That may be considered offensive to those that actually do have to wake up to that view every day.
The profits raised from Banksy's hotel go towards aiding Palestinians. Whatever your specific view is, the construction of the site was well-intentioned.
By all means, explore the Banksy and political Palestinian graffiti that sits at the Israel-Palestine border. At the same time, be sure to take the time to explore more of the city and to appreciate Palestinian food and culture. 
West Bank Travel FAQs
Palestine is not exactly your typical tourist destination. I was really touched by my time here though and despite wandering around as a solo woman sweating and frantically trying to find Banksy Palestine pieces, the locals were really kind and friendly.
Try to spend a little longer in the West Bank if you are able to do so. To answer any questions you may have and for a little Palestinian travel inspiration, I have written this comprehensive Travel Guide to Palestine's West Bank.
Is it Safe?
Travelling in the West Bank requires more assertiveness than travelling to a lot of places. The region is not unsafe in terms of hostility towards tourists.
However, there is always a small chance of getting caught up in a clash between Israeli and Palestinian forces. Unfortunately, the most common place that this occurs is at the separation wall.
Check your government travel advice and the local news consistently throughout your trip and prior to embarking on this spray-painted journey. If you see signs of a gathering, or local businesses start pulling down their shutters, head into a restaurant or hotel and wait.
Finding the Graffiti
Unfortunately, street art tourism isn't really a thing in the West Bank. Everyone can point you to the spot where Jesus was born. However, nobody can tell you where the Armored Dove is or the Girl Frisking a Soldier.
When I asked people, they just looked at me blankly, and they already thought I was strange as it was for wandering there alone with a huge pink selfie stick! I recommend writing the coordinates from this guide down just in case.
You can also hire a local cab driver to show you around. There are many of them congregated around the separation wall.
By all means, negotiate with them on the price. This is a nice way to support the locals.
Getting a Guide
It is understandable if you prefer to explore Bethlehem and its meaningful street art scene with the help of a guide. Consider hiring a local Palestinian Guide, rather than an Israeli Guide.
This aids local tourism. The Visit Palestine site shows the profiles of plenty of guides with excellent reputations that you can hire. Female travellers can feel assured that they can find female guides if that's what they prefer.
Other Banksy Work in Palestine
Once upon a time, there were more Banksy pieces in Palestine than those that are contained within this list. Unfortunately, they were destroyed or painted over. The ones summarised in this article are all that remain.
Parting Words
Have any questions about Banksy West Bank pieces or travelling in the West Bank in general? Feel free to reach out to me in the comments below or drop me an email!
Safe travels! Melissa xo
---