When you envisage travel to Palestine, what images does your mind conjure up? More than likely it is not lush green landscapes of rolling hills that extend as far as the eye can see, magnificently preserved ruins and cities that date back thousands of years. However, all of that is the reality of travelling in Palestine. Palestinian people are some of the most welcoming and kind hearted people you could find anywhere in the world. They will invite you in for tea and to rest your weary feet after navigating your way through labyrinth-like souks and marketplaces and do their very best to show you the highlights of their country when you are travelling to Palestine.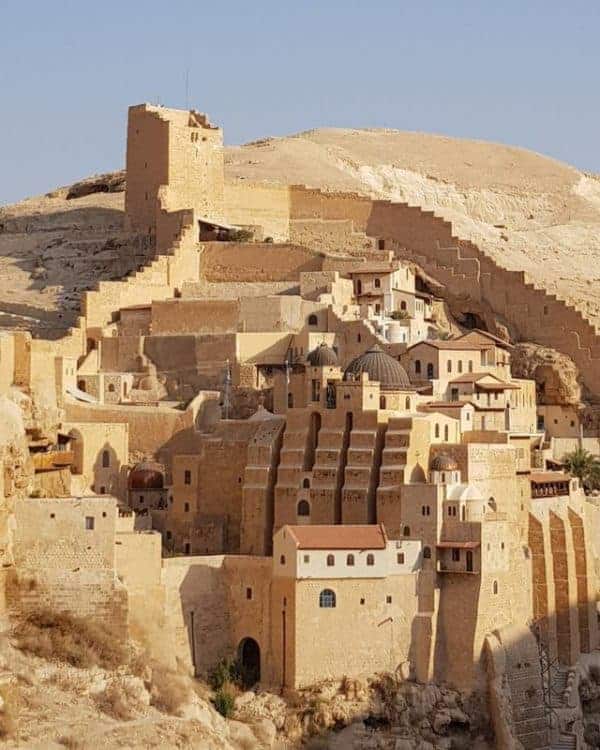 Travelling in Palestine is about as off the beaten path as it gets, and Palestine is a rewarding destination for every intrepid adventurer -whether their specific interests when travelling surround hiking, history or cultural exploration. To help you plan your travel to Palestine, or at least plant some seeds of inspiration in your mind, I have composed this extensive Palestine Travel Guide which should assist you in planning your adventure, in addition to a cultural Palestine itinerary that will help you make the most of your time in the West Bank.
What to Know Before Travelling to Palestine
I know that there are a lot of politics in this part of the world, however this Palestine travel guide is written from a travel perspective only, and in order to give you the opportunity to experience Palestinian hospitality and culture for yourself, free from the media depictions of this part of the globe.
Gaza Strip and the West Bank
Palestine is divided into two sections which are separated by Israel controlled land in the centre. These sections are Gaza and the West Bank. Travel is permitted in the West Bank and this is a generally safe and rewarding travel experience. Gaza is under the control of the Hamas and travel to this region is not permitted unless you are a local volunteer or media representative. Attempts to enter the Gaza area would result in deportation and potentially jail.
Visa Requirements for Travel to Palestine
You do not need a visa to travel to Palestine, the "occupied Palestinian Territories" are classified as being part of Israel so you do not need anything further to access the West Bank though it is likely that Israeli soldiers will check your passport when crossing the wall. You should carry your blue Israeli travel card with you at all times (will be provided to you upon arrival in Israel)
Travel to Palestine with an Israel Stamp
Palestine is not one of the nations which you cannot access if you have an Israeli stamp in your passport. The reason for this being: you actually have to arrive in Israel as a means of travelling to Palestine anyway. Palestine do not control their own borders so when you are crossing into the West Bank, it will be Israeli forces who check your documents.
Crossing the Border into Palestine from Israel
Palestine does not have an international airport and as such, the only way of accessing the West Bank is overland from Israel. There are frequent buses that run across the border from Jerusalem or drop you at the separation wall. This process is very straightforward. Israeli Officers will ask to see your passport and your blue Israeli entrance slip (do not lose this!) and send you on your way.
By Bus
From Damascus gate in Jerusalem, you can take the Arab Bus 21, 321 or 324. All of these go straight into Bethlehem and cost just 7 shekels each way. You can either hop off the bus in Bethlehem (a short walk from Manger square and the church of the nativity) or at the wall crossing. (close to the Banksy hotel and the separation wall graffiti).
By Cab
Taxis run from Jerusalem to Bethlehem (you can find many of the drivers by the Jaffa and Damascus gates) but will charge you upwards of 50 shekels. Personally, I wouldn't feel any nervousness about taking the bus.
What Language is Spoken in Palestine?
The official language of Palestine is Arabic, although I found English to be very widely spoken. Palestinians are very well educated and generally have a good conversational level of English – even when you venture outside of Bethlehem to places like Jenin and Nablus. As with travelling anywhere, it is polite to try and learn at least a handful of phrases of Arabic before travelling to Palestine.
Currency in Palestine
The Israeli shekel is used in Palestine and exchange offices are widely available. You can find ATMs in the majority of the larger cities though many stores and restaurants are cash-only and so it is prudent to ensure you carry a sufficient amount.
Palestine and Religion
The majority of Palestinians are Muslims, with Sunni Islam being the specific line of Islam that they follow. There is also a large Christian population in Bethlehem with approximately 40% of the city's population being Arab Christians. Because the West Bank is such a religious place, you should dress conservatively when travelling in Palestine. The cities of Jenin, Hebron and Nablus are more traditional and less accustomed to seeing tourists. Though Ramallah is quite up and coming, and Bethlehem somewhat touristic, you should aim to dress respectfully at all times.
How Safe is Travelling to Palestine?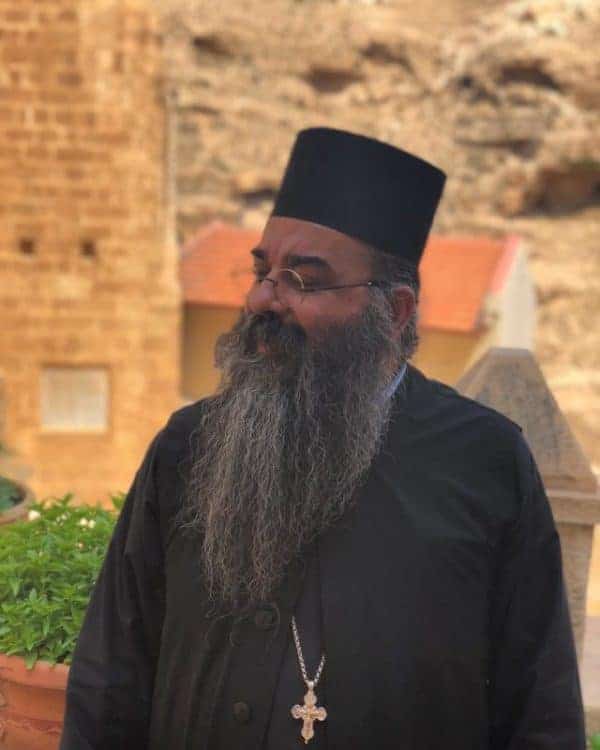 I travelled to Palestine alone as a solo female and I actually felt more comfortable in Palestine than I did in some parts of Israel. When you hear about clashes and problems in Palestine, the majority of those relate to the Gaza strip – a completely separate piece of land to the West Bank. It is important to bear that in mind to keep things in perspective.
Clashes happen between Palestinians and Israelis from time to time in areas close to the border and the separation wall and so you should monitor this situation before you travel and remain aware of your surroundings at all times. If you start to see signs of a protest or gathering, try to remove yourself from the situation and if you are in Bethlehem, take a cab to the border.
As with travelling anywhere, you should ensure that you have comprehensive travel insurance when you travel to Palestine – ideally a policy that contains a good level of medical coverage, and cover for hiking and adventure activities.
Travelling to Palestine as a Solo Female
It is important to note that travel to Palestine as a solo female is different to travelling to Palestine in general. Palestinians are very hospitable and friendly. Since Palestinians are not accustomed to seeing a lot of international tourists, I was frequently being invited into homes for cups of tea and dinner, and when I entered restaurants, my money was refused.
With that said, I would recommend that if you are a solo female travelling independently in Palestine, it is better to exercise caution when visiting remote places (for example, the Mar Saba Greek Orthodox monastery or desert wadis). Incidents of assault are rare, however there have been some cases of crimes against females from Bedouins and so I would recommend hiring a Palestinian guide for hiking and accessing more off the beaten track places.
Hiring a Guide for Travel to Palestine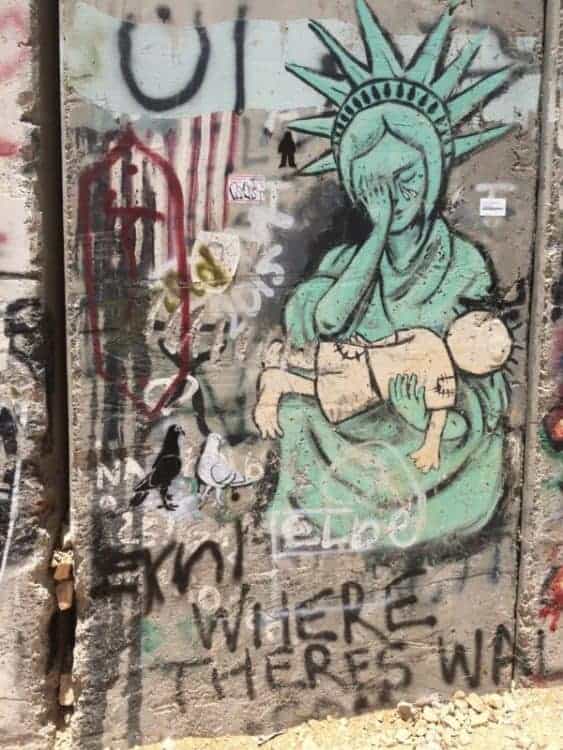 I travelled to Palestine independently, though it's understandable that you may want a guide that can give you more local insight and help you feel more comfortable when venturing into more remote areas.
There are plenty of reputable Palestinian tour guides who can tailor make a fabulous personalised trip for you in Bethlehem and beyond at an affordable rate. Palestinians are excited to show you their country and your guide can propose a schedule that fits your interests perfectly. You can expect to pay around 150 shekels for a day's guiding. Many tour guides have their own transportation and are able to also act as your driver if you wish to visit some of the more "off the beaten track" cities.
You can take an organised tour through an Israeli travel company to see the major sites, or you can use a local Palestinian guide. It's all about personal preference but I would ask you to consider supporting the Palestinians and their economy by hiring a local guide. You can head over to the visit Palestine website for information and contact details of authorised guides. I also know a few friendly locals who offer such services so if you require any assistance, don't hesitate to drop me a comment at the foot of this article or email me for help.
When to Travel to Palestine
Owing to its location in the heart of the Middle East, Palestine has a warm and sunny climate all year around. I travelled to Palestine in July which I would not recommend. The summer months between June and September get incredibly hot with temperatures often exceeding 40 degrees Celsius and making hiking or outdoor activities painful. There are many cultural and religious festivals that take place in Palestine throughout the year which can be the icing on the cake of your West Bank itinerary.
How Much Does Travel to Palestine Cost?
Travel to Palestine can certainly be done on a modest budget and the prices here are significantly lower than in neighbouring Israel. Airbnb accommodation and hotel rooms in Palestine can be found for around $20-$30 a night, shared cabs between cities in the West Bank cost no more than around $5-7 and meals can be enjoyed for just a few dollars. If you are on a very strict backpacking budget, you can consider couchsurfing and hitchhiking as a means to get around though this was something I did not feel comfortable with as a solo female.
Travel to Palestine:
Helping Out at NGOs
If you are interested to travel to Palestine, likely you are also interested in learning about helping out local charitable causes. There are many local organisations, institutes and NGOs located throughout Palestine. I would recommend reaching out to these charities directly to establish precisely how you can help them.
The people in Palestine are very happy to see international people helping out and working alongside them. Some notable NGOs that may be of interest are the International Women's Peace Service (Human Rights Volunteers), and  Project Hope (Creating artistic, educational, and recreational programs to empower Palestinian youths and children who have grown up around violence to build a brighter future).
There are also many NGOs that allow you to help out in the agricultural field (i.e. helping families pick seasonal fruits), the medical field (if qualified), and general Human Rights. For additional advice and recommended NGOs, I suggest contacting the Palestinian tourism board here.
If your schedule does not permit enough time to help out when you travel to Palestine, consider doing a local homestay instead of staying at hotels. This way, your money is certainly going towards a good cause.
 Travel to Palestine:
Getting Around Palestine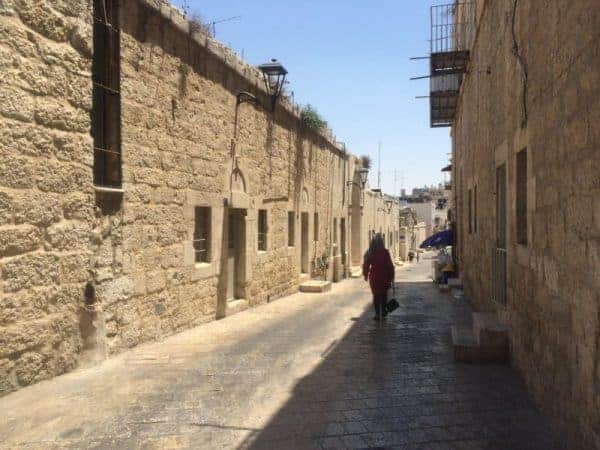 It is relatively easy to get around Palestine – owing to the fact that the West Bank area is relatively small and compact. Considering that the roads are often used by Israeli guards and settlers, they are in very good condition.
Driving in Palestine
You can rent a car and self-drive around Palestine, but it should be noted that if you have recently been travelling in Israel, you are not allowed to take an Israeli vehicle into the West Bank. Some rental companies in East Jerusalem enable you to rent a car to drive across the border yourself, however you do not want to be travelling in Palestine with an Israeli licence plate…    
Getting Around by Bus
Shared taxis and buses run between most major cities and points of interest in the West Bank. Public transport in Palestine is cheap and efficient with prices rarely costing over $6-7.
Travel to Palestine:
What to Wear in Palestine
Palestine is a relatively conservative, religious nation where locals lead traditional lives. You may see the occasional western tourist wearing shorts in Bethlehem, but I would encourage you to always err on the side of conservative and respectful when it comes to your wardrobe particularly as a female traveller. This has the additional benefit of not drawing additional attention to yourself when you travel to Palestine.
As a rule of thumb, men and women should ensure that their shoulders and knees are covered at all times. A light cotton shirt and loose-fitting trousers are fine. It is not necessary for women to cover their hair, though you will be required to do so if you visit mosques and other important sites so it is best to always carry a scarf in your backpack just in case.
Wifi and Internet Access in Palestine
Most hotels and accommodations in Palestine have high speed wifi, though if you are stopping by cafes and restaurants, you will not find wifi readily available. Palestinian sim cards are available but they do not offer 3G or 4G and so your best option is to buy a sim card in Israel which will work just fine in the West Bank. A sim card with a month's worth of data and calling allowance should not cost you more than $25.
A 10 Day Cultural Palestine Itinerary
Now that you have mentally checked off all of the necessary considerations for travel to Palestine, this two week Palestine itinerary will take you around this beautiful country's cultural, historical and natural highlights.
Of course, it is possible to spend much much longer than just a few weeks in Palestine and still feel as though you haven't checked everything across your Palestine travel list. However, this Palestine itinerary is a nice first introduction.
Days One and Two:
Bethlehem
With convenient transport links from Jerusalem, Bethlehem makes the logical starting point for this Palestine itinerary.
Visit the Separation Wall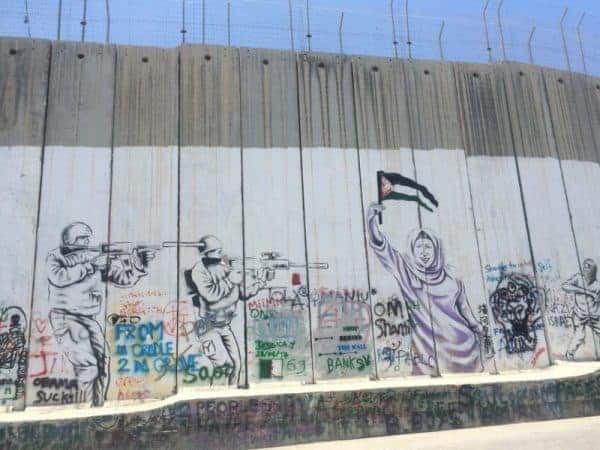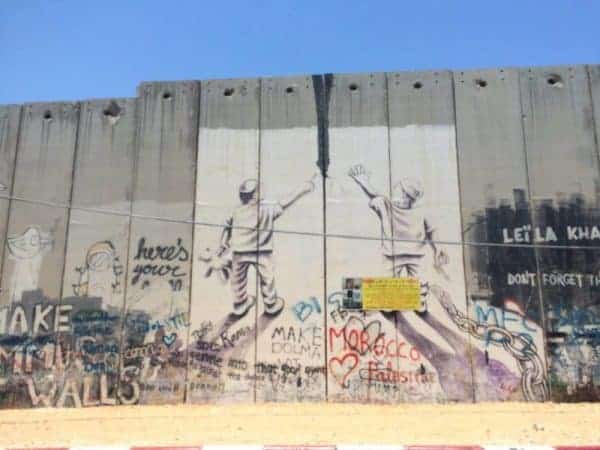 Surrounding and encapsulating Palestine, the separation wall is a 400 mile, 25 feet tall wall that separates Israel and Palestine. The wall is the subject of much controversy since its construction has led to the separation of many villages and neighbours.
Arguably it seems a little morbid to consider the wall as a stopping point on your Palestine travel itinerary but it is important to gain a perspective into the living conditions of those confined within it and the ugly cage they have to wake up to every day. The lengths of the separation wall are covered with graffiti praying for a peaceful resolution with Israel and the chance for Palestinians to return to the homes they once had on the opposite side.
Search for Banksy Graffiti
Some of elusive artist Banksy's most popular pieces are situated in Bethlehem close to the separation wall – including the masked thug, the white dove, and the legendary Palestinian girl frisking an Israeli soldier. There is also a Banksy hotel directly facing the wall boasting "the worst views in the world". Proceeds from the hotel go directly to supporting the local Palestinian people.
Visit Important Spots From the Bible
Some of the most important sites in Christianity are located in Bethlehem – owing to the reason as to why more than a million international visitors are travelling to Palestine with each passing year. Wake up early and head to the Church of the Nativity to see the precise spot where Jesus is said to have been born. Watch on as devout religious pilgrims line up patiently to bless their items on the spot.
The Nativity Church in itself is quite a spectacular sight to behold – its interiors are incredibly ornate and beautiful, and the building is actually divided into different sections (Greek Orthodox, Armenian Apostolic and Catholic)  so that followers of different religions have space to pay their respects.
If you have a strong interest in religious history or you are Christian, you may also be interested to see David's Well, Shepherd's Field and the Pools of Solomon which are all locations of important events in the bible and are situated on the outskirts of Bethlehem. They are tricky to get to without a car however, so you either need to drive to them independently or hire a guide for the day to access them.
Witness Local Life in Bethlehem
With the exception of Fridays, there are excellent daily local markets in the small residential areas that surround the main centre of Bethlehem where people come together to buy and sell fruits, vegetables, spices and other local produce. These neighbourhoods are filled with beautiful Ottoman architecture and have more of a "small village" feeling to them than that which you would expect to see in the centre of a major city.
Try Authentic Palestinian Cuisine
One of the most famous restaurants in Bethlehem is called "Afteem" and is owned by a wonderful Christian family who moved to Bethlehem from Jaffa after the war in 1948. They have a very sad story, and it isn't my place to share it here but I certainly recommend a visit to sample their excellent food and hospitality.
Another thing to note is that it is possible to organise a home-cooked meal in the house of a Palestinian family (Breakfast, lunch or dinner as you prefer). Many visitors to Palestine are not aware of this, but locals are very happy to invite visitors into their homes and tell them about our food, culture, and lives. One very popular one is the house of the "Hosh family". Many travellers that visit Palestine and experiment with local cuisine speak highly of the Hosh family and they believe that the food they eat at this home is among the best in the country!
Visit the Palestinian Refugee Camps
There are a number of refugee camps situated in and around Bethlehem and the wider West Bank. They are an important thing to see when travelling to Palestine as they provide a lot of context with regards to the situation in the region today, and the disagreements with Israel.
After leaving their homes in the area now labelled as "Israel", many Palestinians were housed in cramped, uncomfortable temporary homes and shacks in the West Bank (aka the Palestinian refugee camps you can see today). The Palestinians were told that they could return to their homes within a matter of weeks, however now, more than six decades later they have still been unable to do so. Many people inhabiting the camps still have the original keys that used to open their homes.
"Aida" refugee camp is the most popular camp to visit however it has also become relatively touristic. Dheisheh refugee camp is another that is worth visiting. The people here are happy to see travellers and share their stories, but keep in mind the sensitivity of their issues when speaking to locals and especially when taking photographs (always ask permission beforehand).
The people living in the refugee camps are very poor and petty crime is common. I would advise you that you are better to visit refugee camps accompanied by a local or a guide.
Palestine Itinerary Day Three: Mar Saba Monastery
In the heart of the Judean desert, perched on the edge of a cliff face, the Mar Saba monastery is an impressive ancient Greek Orthodox monastery situated some 15km away from Bethlehem. Built in the fifth century by St. Sabas, a Turkish monk, the impressive site hails from a time when it was customary to leave civilisation behind and to relocate to a reclusive existence in the desert to be with God. Once home to over 300 monks, the Mar Saba monastery still remains in operation today, albeit on a somewhat smaller scale.
Unfortunately, fellow female travellers are prohibited from entering the monastery complex, though there is a "women's tower" built specifically to allow women to view the cloisters from above. The winding desert roads leading to the Mar Saba monastery also offer several great vantage points for marveling at the impressive structure and taking photos.
Palestine Itinerary Days Four and Five: Hebron
The West Bank is not exactly the most conventional travel destination as it is, however Hebron provides travellers with a more unique perspective of life in Palestine than relatively tourist-friendly Bethlehem. When travelling to the West Bank, you will note that Hebron is the region's most troubled city.
Here, bullet proof glass surrounds everything – from apartment windows, to religious sites, providing a reflection of precisely how troubled this place is. Hebron is a controversial city because it is the only location within the West Bank where Israeli settlements are actually situated within the city, in close proximity to Palestinians, as opposed to in the West Bank countryside. Conflicts and clashes between the two sides are common.
Hebron is divided into two quarters – a Palestinian side, and an Israeli side. The two districts are seperated by the heavily guarded Al Shuhada street. Now a ghost town, the street has been closed since 1994 when an Israeli settler went on a rampage and killed a group of Palestinian Arabs – prompting riots and fights between the two groups and leading to the IDF's decision to close the street.
Things to Do in Hebron
Visit the "H1" Arab Quarter
"Hebron" ironically translates to "the city of friendship". Once upon a time, Jews and Arabs lived alongside each other peacefully now but very few remnants of that remain. The Palestinian quarter of Hebron was once home to vibrant marketplaces and busy restaurants but a rather quiet and depressing shell of the former city remains.
Locals occupy the souks buying their fruits and vegetables but as you look up, the top of the market is covered by a mesh wiring – apparently put in place to stop Israeli settlers from throwing their trash down onto the Palestinian side, however it feels like a cage, a lesser version of the separation wall.
Speaking with locals here is heartbreaking, as you hear tales of locals massacred by Israeli settlers and IDF forces, however keep in mind that no story has only one side.
Visit the "H2" Israeli Quarter
The Israeli side of Hebron is comprised of several "settlements" each surrounded by protective razor wire and armed Israeli forces standing watch from guard towers. Since Israel assumed control of the West Bank in 1967, more and more Israeli Jews have started relocating here. Their argument for this? Since Hebron is home to the Tomb of the Patriarchs, the place where one of their saviors, Abraham is buried,  why wouldn't they want to be close to such a site of religious importance?
The Israeli settlers are not without their share of heartbreaking tales of death and violence either. It's important to speak to people on both side's of the fencing to understand how the situation is for each side.
The Tomb of the Patriarchs
The Tomb of the Patriarchs, Abraham's final resting place is a place of significance in both Islamic and Jewish faith. Arguably this is Hebron's most notable attraction and this is the only building in the world that has been effectively chopped in half to accommodate two religions. The tomb serves as both a mosque and a synagogue, with bullet proof glass separating and protecting the two sides.
Getting from Bethlehem to Hebron
It is easy to get to Hebron from Bethlehem. Simply board the Hebron bound bus that departs from the Bethlehem bus station that is situated by Hebron road. A ticket costs 9 shekels ($2.50).
Hebron Safety
As with travel to Palestine in general, as long as you keep updated with current events, exert basic common sense and stay aware of your surroundings, you should not experience issues with travelling to Hebron.
Hebron feels a little more tense than some of the other cities in the West Bank, but conflicts and clashes never target tourists. It is an important place to go to gain an understanding of the situation in the West Bank directly from the mouths of both sides of the argument. Violence and conflicts here come in waves – from raids and riots to stone throwing and petty acts of crime. It's understandable that stories of such occurrences keep a lot of tourists away. Only you can determine if you are comfortable visiting Hebron when travelling to Palestine.
Palestine Itinerary Days Six and Seven:
Ramallah
Palestine Itinerary Days Eight to Ten:
Nablus
Take a Bus to Qualqilya
Palestine Itinerary Days Eleven to Thirteen:
Jericho
Saint George Koziba monastery
Hiking at Wadi Qelt
Hisham's Place
Monast
Palestine Itinerary Day Fourteen:
Depart to Jerusalem
Travel to Palestine:
What to Eat in Palestine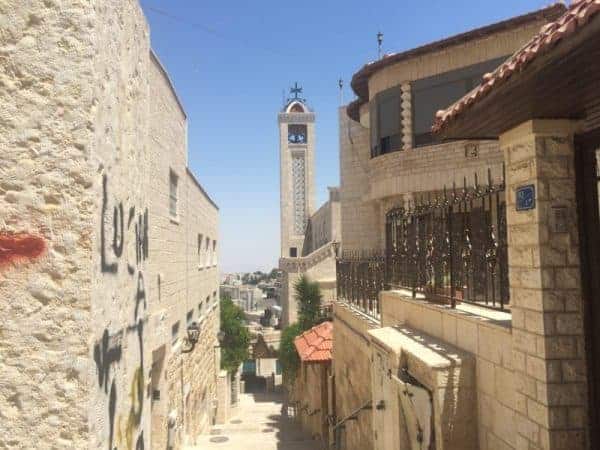 There are many, many delicious foods that you can sample in Palestine but in terms of the most popular and locally adored dishes, you should be certain to try out the below.
Maqluba
A stew-like dish that includes meat, rice, and fried vegetables which are placed in a pot which will then be flipped upside down when served. Maqluba literally translates as "upside-down".
Mansaf
A traditional Arabic dish made of lamb cooked in a sauce made from fermented dried yoghurt and served with rice or bulgur. (This is actually the national dish of Jordan but can also be found in Palestine)
Falafel (or Felafel)
A deep-fried ball, doughnut or patty made from ground chickpeas, fava beans, or both.
Shawarma (also spelled Shawurma or Shawerma)
A Levantine meat dish where lamb, chicken, turkey, beef, veal, or mixed meats are placed on a spit and may be grilled for as long as a day.
Fattoush
A Levantine bread salad made from toasted or fried pieces of Arabic flat bread combined with mixed greens and other vegetables such as radishes, and tomatoes. This is Savoury, bur quite a popular breakfast choice when travelling to Palestine.
Msakhan
Incredibly filling and flavourful, Msakhan is a popular lunchtime choice and is comprised of roast chicken placed on bread and topped with fried onions and chestnuts.
Hummus
I expect that you have tried or at least heard of this already, but it is a very important staple at the Palestinian dinner table and we will eat it with most of our meals. It is a Levantine dip made from cooked, mashed chickpeas or other beans, blended with tahini, olive oil, lemon juice, salt and garlic.
Palestinian Desserts to Try
Fellow sweettooths can feel rest assured that desserts are a large part of Palestinian food culture. In particular, the locals love pastries so when you travel to Palestine, you should be certain to check out:
Kanafah (also spelled Kunafeh/Kunafah)
This is the speciality dessert of Palestine. It is a Middle Eastern cheese pastry soaked in sweet, sugar-based syrup. I recommend that you try this if you are looking for something truly 'local'.
Baklaua (as the Turkish Baklava)
Baklaua is a rich, sweet dessert pastry made of layers of filo filled with chopped nuts and sweetened and held together with syrup or honey. This is popular all across the Middle East, with many countries offering their own national twist on the dish.
Basbousa
Basbousa is a traditional Middle Eastern sweet cake that is made from cooked semolina soaked in syrup. Sometimes we cook this with coconut too or we may use a syrup that contains orange extract or rose flower water.
Qatayef
Qatayef is an Arabic dessert commonly eaten during Ramadan. It is said that Qatayef is of Fatimid origin.
It can feel as though Palestine is an area which we rarely hear anything positive about. Indeed, most of the times we receive media coverage on it seems to be when there is a report of the latest clash between Israel and Palestine, however this is a culturally rich country filled with kind hearted people who are eager to welcome tourists to their land. Do not take everything you see in Western media as an accurate representation, go to Palestine and discover it for yourself.
Have any questions or concerns about travel to Palestine or travelling in Palestine as a solo female? Feel free to reach out to me below.
---