Marrakech Food Tour: Navigating the labyrinth of narrow alleyways and bustling souks of old town Marrakech, Morocco's "Red city" should be high on any avid traveller's bucket list. Quaint, seemingly nondescript pathways twist and turn and open out into large plazas showcasing elaborate architecture, quirky tea rooms, and fascinating spectacles of local life. Foodies travel to Morocco having heard stories of sumptuous tajines and exotic Arabic flavours and can't wait to put these infamous dishes to the taste test.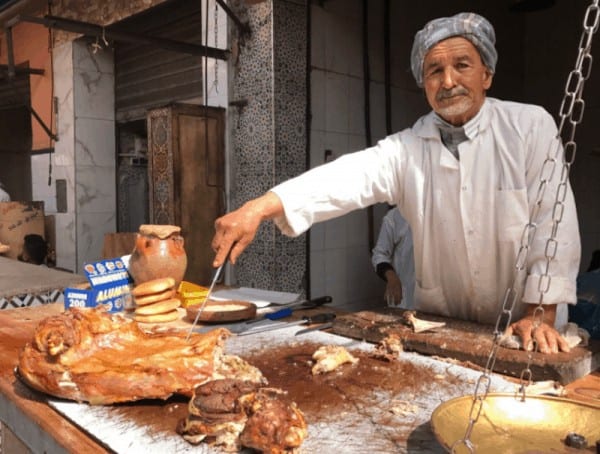 On arrival in Marrakech however, travellers may feel something of an anticlimax as they discover that high quality, authentic Moroccan food can be somewhat difficult to find and here's why: Moroccan people do not eat out often since they know that they can eat sumptuous dishes at home lovingly prepared by their family. As a result, they do not see a need to go out to a restaurant and have to pay inflated prices for that which they can easily get their hands on without the markup.  
When I first arrived in Marrakech, I was a little disappointed. Since the city is such a major tourist destination, at first it felt a little inauthentic and I missed the cultural capital of Fes. After a few days however, and after speaking with locals, I realised that I simply wasn't looking in the right places. There are plenty of excellent dishes to try in Morocco, you just have to know where to find them.
A Self Guided Marrakech Food Tour
There are of course plenty of companies that organise food tours in Marrakech which can take you to several much loved and authentic places and if you want to support the local tourism economy, by all means you could opt for one of these Marrakech food tours. However, if you are like me and prefer to just wander around independently then this self guided tour can help you uncover the city's best loved foodie secrets without the expense and restriction of a tour. 
Have Breakfast at Cafe Glacier L'Opera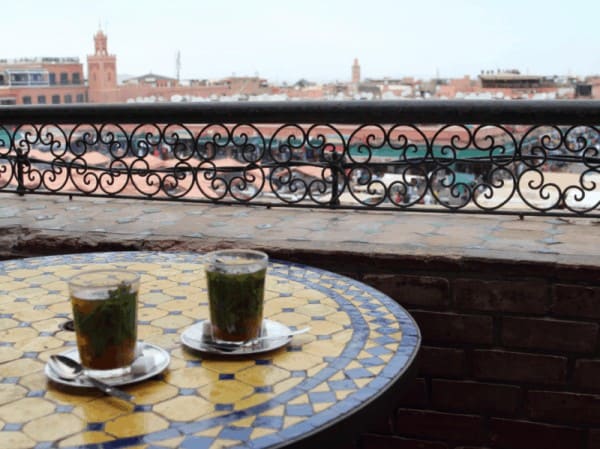 Cafe Glacier is a breakfast place that is frequented by locals as much as it is by tourists. This is a great opportunity to experience a traditional Moroccan breakfast which is something of a feast! Typically, this consists of Baghrir (Moroccan semolina pancakes), Khobz (bread), Ambu (Moroccan dip made from almonds, argan oil and honey), fresh goat's cheese, olives, fried eggs, squeezed orange juice and of course, Moroccan mint tea. As you enjoy your meal, you can watch street vendors setting up their stalls for the day at the Jemaa el Fna below.
Address: Cafe Glacier L'Opera, Avenue Mohamed VI, Hivernage
Experiment with Olives at Souk Ableuh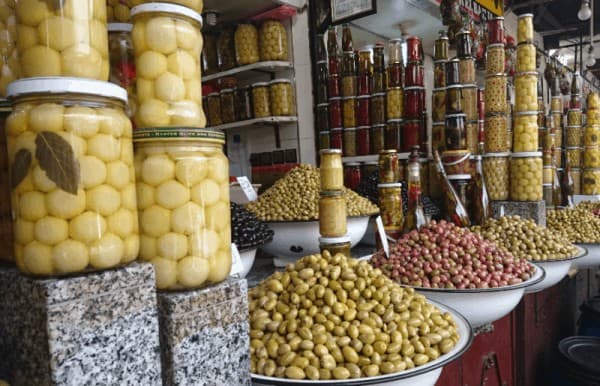 Head northwards now past the Jemaa El Fna sqa and into the intimidating labyrinth of Marrakech's souks. There is a small lane opposite Rue des Banques and to the left of the Terrasses de l'Alhambra restaurant that leads to Souk Ableuh – Morocco's olive souk. Here, stall after stall is packed with beautiful coloured olives available in hundreds of different variations all seasoned and spiced with weird and wonderful flavours.
I'm not usually partial to olives. I ate one by mistake once on a date because I thought it was a grape in  my salad (easy mistake to make right?) and wretched, much to my date's horror… however I decided to give olives another chance and I did enjoy a couple of the seasoned options at the stalls here (maybe the seasoning was just so strong it disguised the olive taste completely!)
Stock Up On Spices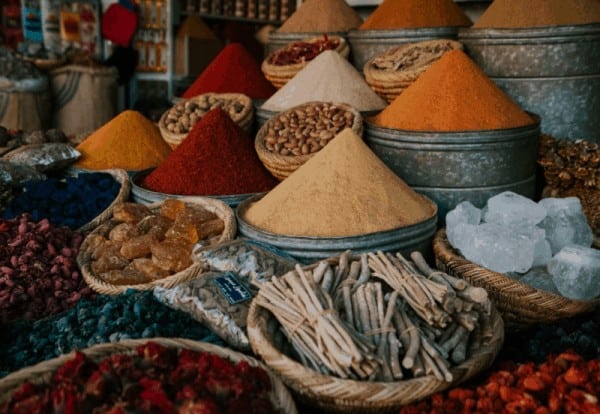 Marrakech's Rahba Kedima was once a slave market. However today it operates as a spice and medicinal souk There are rumours of black magic and witchcraft taking place in this area and some of the storefronts have a creepy and mysterious feel with snakeskins hanging by the entrances which certainly make that seem plausible! For the best spices in Marrakech however, this is the place to come. The Marrakech specialty blend is Ras el Hanout – a fragrant mix of cumin, coriander, cinnamon, ginger and other flavours. As with buying anything in this part of the world, be prepared to haggle.
Related article: 10 steps to haggling like a pro.   
Stop By a Bakery
As you wander through the souks on this Marrakech food tour, you will see numerous communal 'bakeries' comprised of large, open clay ovens. Many years ago, people did not have an oven in their own homes so they would bring all of their dough here for the resident baker to cook. Nowadays, though people do cook their own bread (or "khobz" as it is known locally), there is still a demand for the expertise of these bakers.
Wander Down Mechoui Alley
A stroll down Marrakech's Mechoui alley is as much a fascinating sightseeing experience as it is a foodie one!
Mechoui is actually only one of the options (though my personal favourite) that is on sale at the aptly named Mechoui Alley. All of the stalls here sell three dishes: mechoui (slowly roasted lamb served with salt and cumin), tanjia (seasoned lamb, preserved lemon and spices) and sheep's head (for the more adventurous foodie).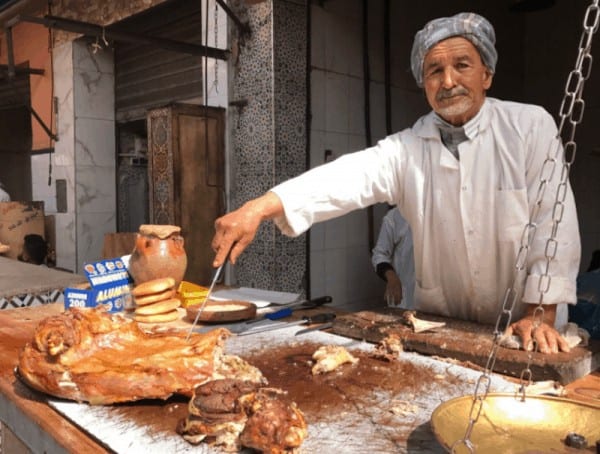 The sheep's heads and the mechoui are cooked in underground clay pits inside some of the shops. If you have a peep down the holes in the restaurants, there are usually about a dozen whole sheep cooking away in there at any one time (!) Apparently some of the holes can hold up to forty sheep! I personally have a phobia of any food item that still looks like the animal did when it was alive so I didn't try the sheep's head. However the mechoui and the tanjia were delicious and the meat was just so tender it falls apart in your mouth!
A lot of the stalls here have been here for several generations and have been passed down to family members. They all have a pretty good reputation so you can browse the area and visit whichever takes your fancy.
Satisfy Your Sweet Tooth With Moroccan Donuts
Svenj, Moroccan donuts are a local delicay and their taste and texture reminds me a little of New Orleans style beignets. There is a small store at 275 Rue de la Kasbah where a local baker prepares svenj of excellent quality. This is a bit of a walk from Mechoui alley but allows you time to digest your food and burn those calories!
End the Night at the Djemma El Fna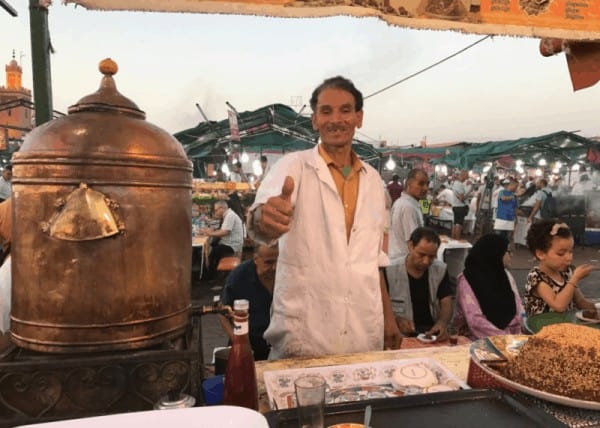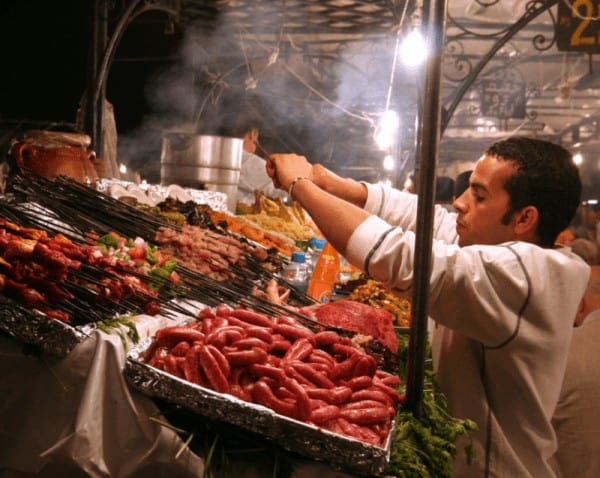 Every day, countless vendors set up their stalls at the Djemma El Fna. By night, the market really comes alive with snake charmers, fortune tellers and musicians. The area is a little touristy but this is the pulsing heart of the city and experimenting with the various street foods of this bustling main square is definitely an experience you need to have while in Morocco so what better place to end our Marrakech food tour?
Get Refreshed 
Quench your thirst with a glass of freshly squeezed orange juice from one of the many stalls selling the beverage, each claiming to be better quality and value than the last.
"Stall number seven, it takes you to heaven!" (I genuinely heard some guy shout that!)
Hot Dog with a Twist
If you're still a little peckish, try a hot dog with a twist at the Hassan No.31 stall. Simply make your way through the crowds, past the overzealous salesmen and follow the mouthwatering scent of meat being grilled over an open fire. The stall serves the most perfect grilled mini sausages served with bread and tomato sauce.
Snail Soup
If you're feeling brave and have room for another local delicacy after all the dishes you've scoffed on this Marrakech food tour, you can round up the evening with a digestive – escargot, aka snails in broth. Moroccans believe that this aids digestion and the broth is served with licorice, cloves and green tea at Hassan No. 3
High Heels & a Backpack Conclusion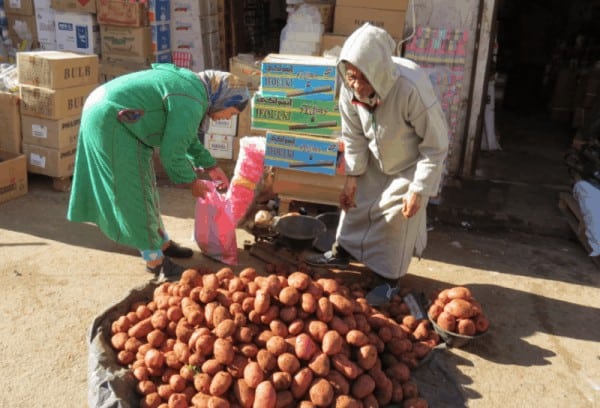 At first glance, food in Marrakech can seem as though it is simply tajines and couscous but it has far more to offer. Like with many heavily touristic places, a lot of the restaurants that surround the Jemaa El Fna are not of the highest quality, and you would never see locals in them so as much as it is fun to wander the stalls of the Jemaa and experiment with street foods, I'd recommend venturing away from this centre a little when it comes to having dinner.
Have any questions about this Marrakech food tour or Morocco travel in general? Let me know in the comments below!
Related Articles
Considering a Marrakech food tour as part of a wider Morocco trip? Take a look at these related articles!
A Perfect Two Week Morocco Itinerary – A cross country Morocco itinerary that showcases the best of the country's highlights
Exploring Morocco's Cultural Capital: Things to do in Fes – My personal favourite city in Morocco!
10 Foods To Try in Morocco – BBC Good Food's recommendations
Solo Female Travel in the Middle East – Is safe?
Find Deals on Hotels in Marrakech!




Marrakech Food Tour: Pin it For Later!
---