Taking a cooking class in Bologna is a great alternative way to experience the city. Doing so allows you to really scratch beneath the surface of Italy's food culture, and meet locals as you do.
Italian Cuisine
Italy is globally renowned for its excellent cuisine. As a matter of fact, the food here is so excellent that it has been awarded UNESCO-protected status.
Pizza and pasta may be the most famous Italian dishes that spring to mind. But Italian cuisine goes far beyond that. Different regions of Italy have their own regional delicacies.
For instance, gnocchi alla Sorrentina (potato dumplings in tomato sauce) is a delicacy of the Campania region. Meanwhile, Carciofi Alla giudìa is a popular Jewish dish from Rome that simply comprises deep-fried artichokes.
Foodie Delicacies from Bologna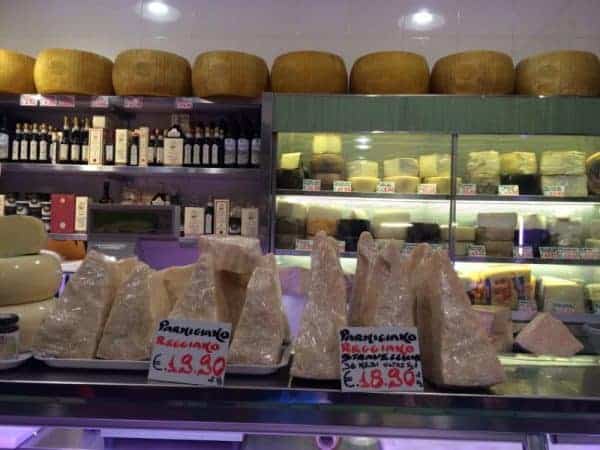 There is arguably no such thing as bad Italian food. But in a sea of excellent recipes, there are still those that stand out from the crowd.
Bologna sits within the Emilia-Romagna region of Italy. This is often referred to as having the 'best' food in Italy.
Even people from other regions will begrudgingly agree that ok, yes, their food is better. Bologna's excellent food scene is so well known that many Italians affectionately call the city "La Grassa" – "the fat one".
Ragu, Parma ham, Parmigiano Reggiano cheese, balsamic vinegar, and tortellini are among the magnificent dishes that originated from this part of Italy. Immersing yourself in the Bolognese food culture is one of the best things to do in Bologna.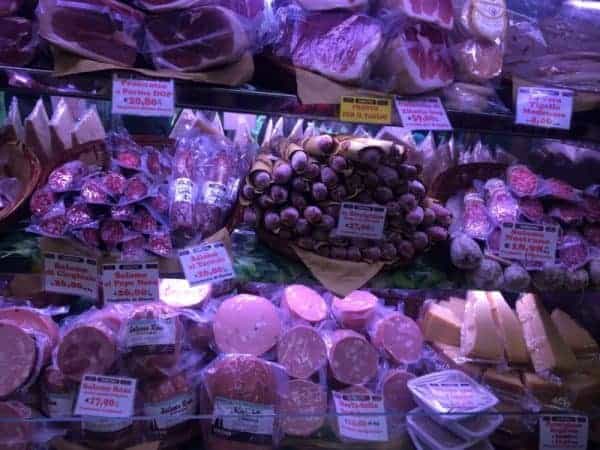 Finding Bologna Cooking Classes
You will not be short of options when searching for a Bologna cooking class. There are many tour companies and local businesses that have chosen to capitalise on Emilia Romagna's foodie heritage.
Bologna cooking classes tend to fall into one of two categories. You can opt to cook in the home of an Italian local, or a formal restaurant/cooking school environment.
This all comes down to personal preference. However, opting to take a Bologna cooking class in the home of a local allows you to learn real, traditional recipes.
This way you are learning recipes from a true Bologna resident that have been passed down from their mother's mothers, and so on. I opted to take a Bologna cooking class with Taste of Italy. A number of reputable Bologna cooking classes are detailed below for your consideration.
Bologna Cooking Classes with Taste of Italy
I organised my Bologna cooking classes through a local company called Taste of Italy. The owner, Maribel, has been featured in various prestigious publications including the New York Times. I knew I was in good hands.
We met bright and early in the morning in Bologna's old town and started the day with a tour of the marketplace. Maribel took me to her favourite food stores in the area.
We meandered through the narrow streets of the Mercato di Mezzo (Market in the Middle) as we made our way towards Mercato Delle Erbe (Market of the Herbs). It was here where we would buy the various ingredients used in our recipes.
Many quaint, traditional delicatessens and food stores line the cobbled streets of Old Bologna. From shops selling the best Italian cheeses, and sweet local patisseries to butchers selling the best cuts of meat and mortadella.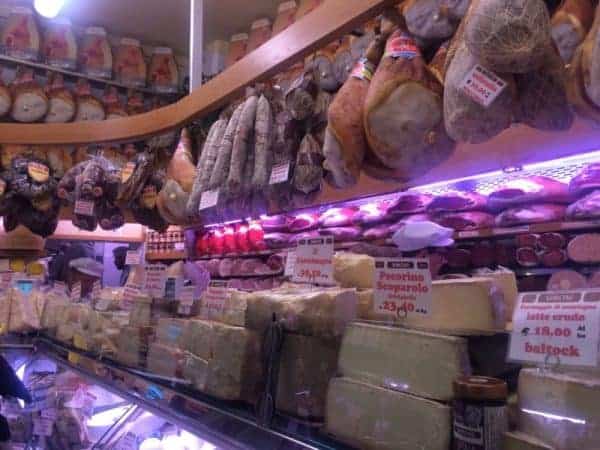 Sourcing Fresh Ingredients in Bologna
Many Italian recipes are very seasonal. Locals produce recipes at home and in their restaurants depending on which fruits and vegetables are in season at that time. Things like zucchini, zucchini flowers, and artichokes are particularly popular in the spring.
We sourced fresh organic ingredients from local markets before starting our Bologna cooking class. This is one thing that makes Italian cuisine so wonderful.
Not only is everything hand-made, but the ingredients are extremely fresh. The most explicit care is taken at every stage through the supply chain to ensure that only the very best food winds up on your plate.
There is also a beautiful sense of community in Italy. The market stalls and food shops have been passed down from generation to generation.
Elderly father and son pairings joked with customers as they selected their artichokes, and the locals choose to shop here rather than the supermarkets to keep these local businesses alive.
Bologna Cooking Class
Various Bologna cooking classes offer different experiences and recipes. Some involve cooking a variety of different courses and dishes, whereas others only focus on one.
Similarly, some Bologna cooking classes may have a rigid set menu. Others may be more flexible and willing to teach you whichever recipes interest you the most.
You may also wish to check whether your lesson will be private (i.e. just you and the teacher), or whether it will be an experience that is shared with other tourists. Private classes are typically slightly more expensive.
At my Taste of Italy Bologna cooking class, I made an appetiser, two pasta dishes, and a dessert. The menu was as per the below:
Appetizer: Zucchini flowers stuffed with ricotta, parmesan, and nutmeg


Pasta dish 1: Handmade tortellini stuffed with spinach and ricotta


Pasta dish 2: Handmade tagliatelle with asparagus, shallots and, pancetta


Dessert: Panna cotta with raspberry coulee
Making Handmade Pasta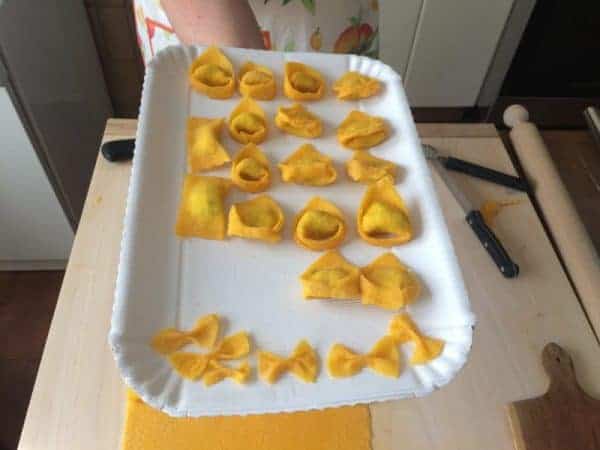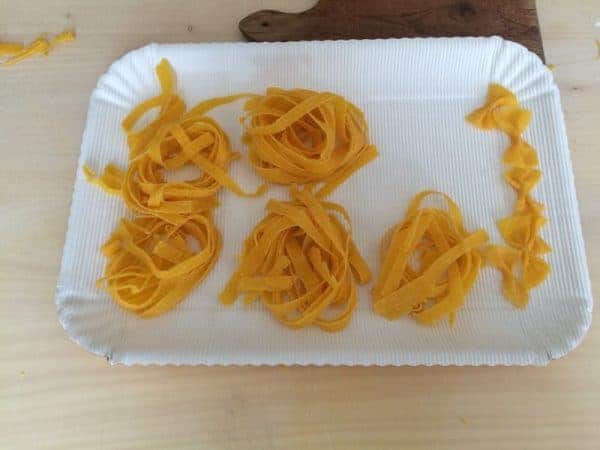 Making Italian egg pasta from scratch is a challenging, yet rewarding feat. Don't be surprised if you find blisters on your hands after hours of rolling out the dough!
Italian egg pasta is made using Italian 00 flour, and room temperature eggs. The process was time-consuming, but fresh handmade pasta tastes remarkably better than any that is bought in a store.
The tortelloni was filled with the same filling as that of the zucchini flowers – ricotta and parmesan cheese, and a hint of nutmeg. Once cooked, we made a lovely sage and butter sauce to serve them with.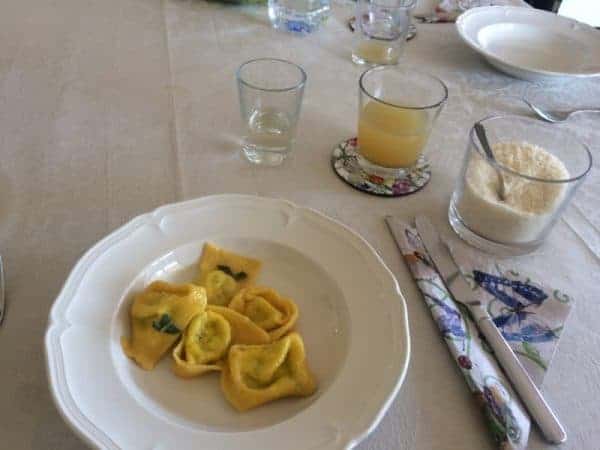 Bologna Cooking Class Conclusion
The great thing about cooking with a local like my class through Taste of Italy is that it's your own private lesson. It's not like a cooking school environment where you have to worry about keeping up the pace with everyone else.
It also gives you the opportunity to ask questions, and have the support that you need from your teacher. Opting to do a Bologna cooking class early in your trip is a great way to get your bearings in the city too.
Your teacher can advise you on the best places to grab coffee, shop, and have dinner. They are a great source of local information.
After our lesson, Maribel sent me a PDF of the recipes that we had created. Of course, the best part of cooking is obviously the eating – this isn't about laboring under false pretenses!
We sat and enjoyed each course in Maribel's dining room which was a pleasure. She has lived and taught the art of Italian cooking all over the World yet is so humble and down to Earth. It really was a lovely experience that will always be a highlight of my time spent in Italy.
Parting Words
Have you taken a Bologna cooking class? How did you find it?
Please don't hesitate to reach out to me if you need any assistance planning a trip to Italy. I will try and get back to you ASAP.
Safe travels! Melissa xo
---