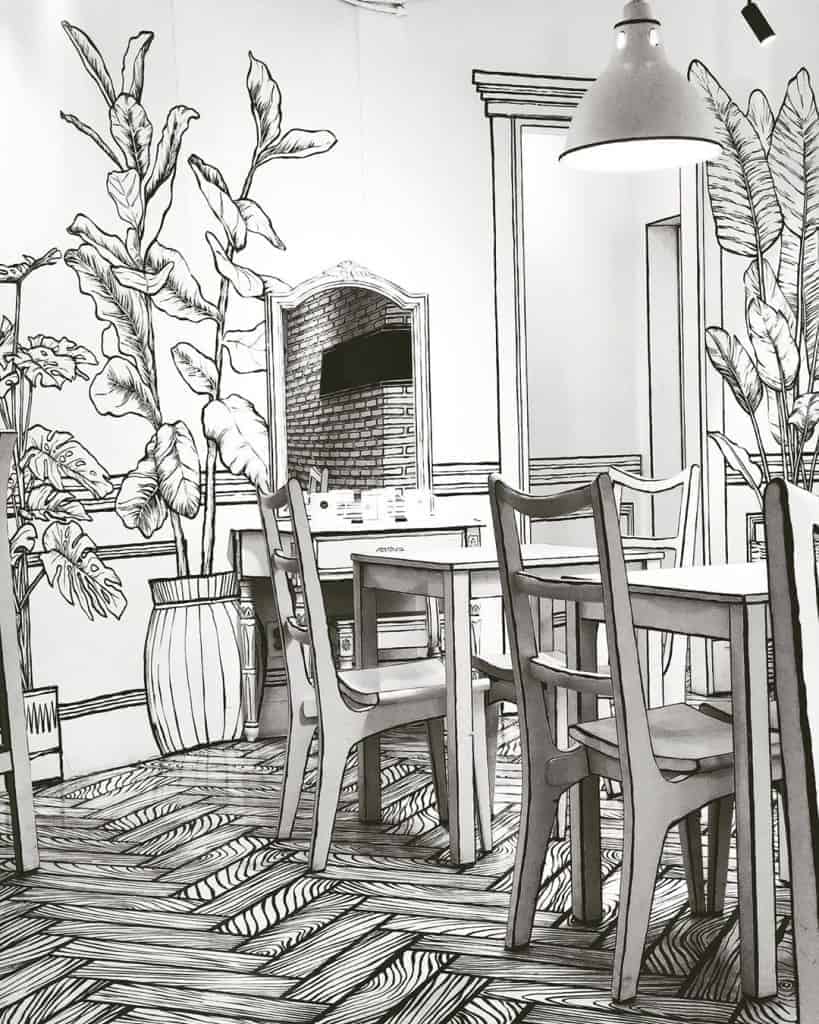 Coffee shops in Seoul can be found occupying virtually every street corner. For coffee lovers, the Korean capital is a caffeinated paradise. The special thing about the scene in Seoul though is how unique and quirky everything is.
Forget your drab chain establishments and your bog-standard Starbucks lounges, coffee shops in Seoul tend to follow themes which range from the artsy and inspiring, to the eccentric and downright insane.
Want to sip a neon pink latte in Hello Kitty's house? You got it! Want to feel like you've stepped into the wacky world of a cartoon comic book? You've got that too.
The Best Coffee Shops in Seoul at a Glance
Seoul coffee places were "instagrammable" before being "instagrammable" was even a thing. Some of the best places to hang out, from the sophisticated to the zany, are listed below.
Step into a monochrome cartoon world at Yeonnam-dong 239-20
Discover a coffee shop hidden behind a vending machine at Zapangi
Enjoy pink coffees and cakes with Hello Kitty at her house in Hongdae
Drink art masterpieces at the C. Through Cafe
Wander into a Barbie dream world at the StyleNanda Pink Pool Cafe
Indulge in a month's worth of calories at Old Ferry Donut
Unleash your inner hipster at the renovated rice mill that is Daerim Warehouse
Take a journey back in time at the antiquated Coffee Hanyakbang
Admire independent art exhibits and strong coffee blends at Take-Out Drawing
Relax in a tranquil green oasis in the heart of the concrete jungle at Vers Garden
Revel in the chic, sophisticated ambiance of Avec El
Visit Hell Cafe: A Micro-Brewery home to some of Korea's best baristas
Sip cappuccinos and beautifully decorated cupcakes at the pastel-coloured Ban Bossy
Find a charming Seoul coffee shop off-the-beaten-path at MAgnstudio, Konkuk
Yeonnam-dong 239-20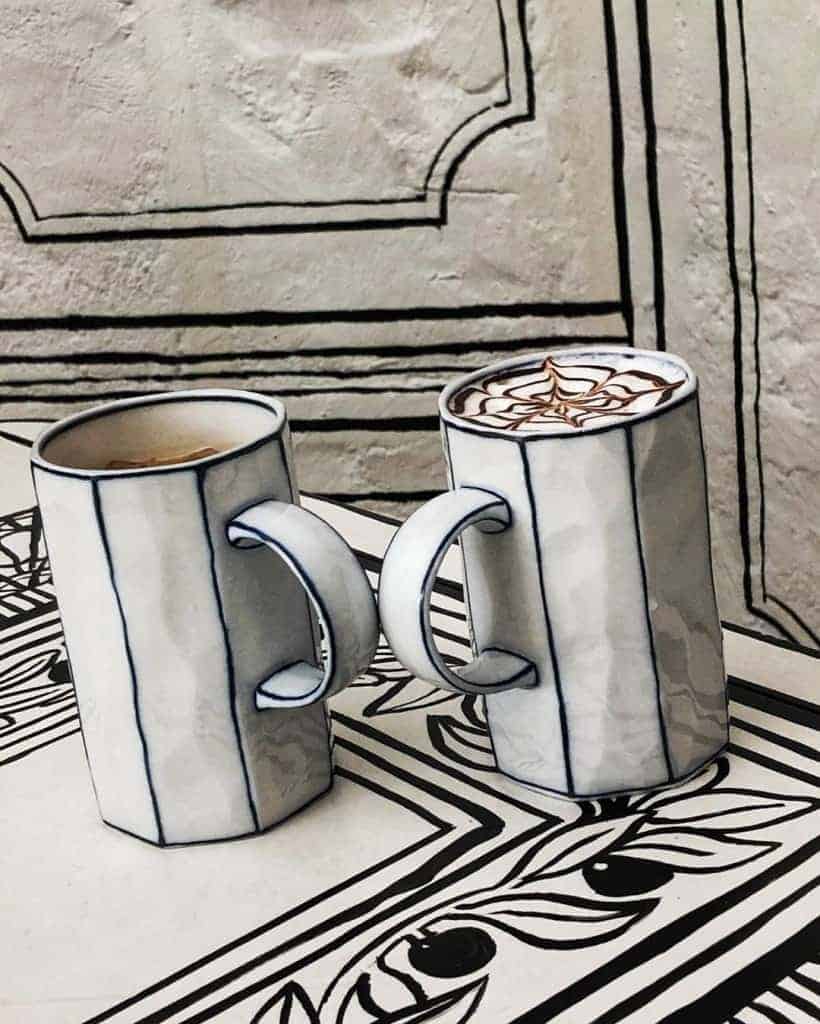 Where: 239-20 Yeonnam-dong, Mapo-Gu, Seoul
While good coffee is paramount to establishing a good roastery, so too is the design and ambiance of the place. One of the newest additions on the Seoul coffee shop scene is Yeonnam-dong 239-20.
Yeonnam-dong's monochrome interiors are designed to create an optical illusion and to make visitors feel as though they have stepped inside a comic book world.
Not only are the walls, ceilings, and furnishings all in monochrome, even the cutlery and the mugs are designed to look like flatline drawings! As far as instagrammable cafes go, this place is about as unique as it gets.
Zapangi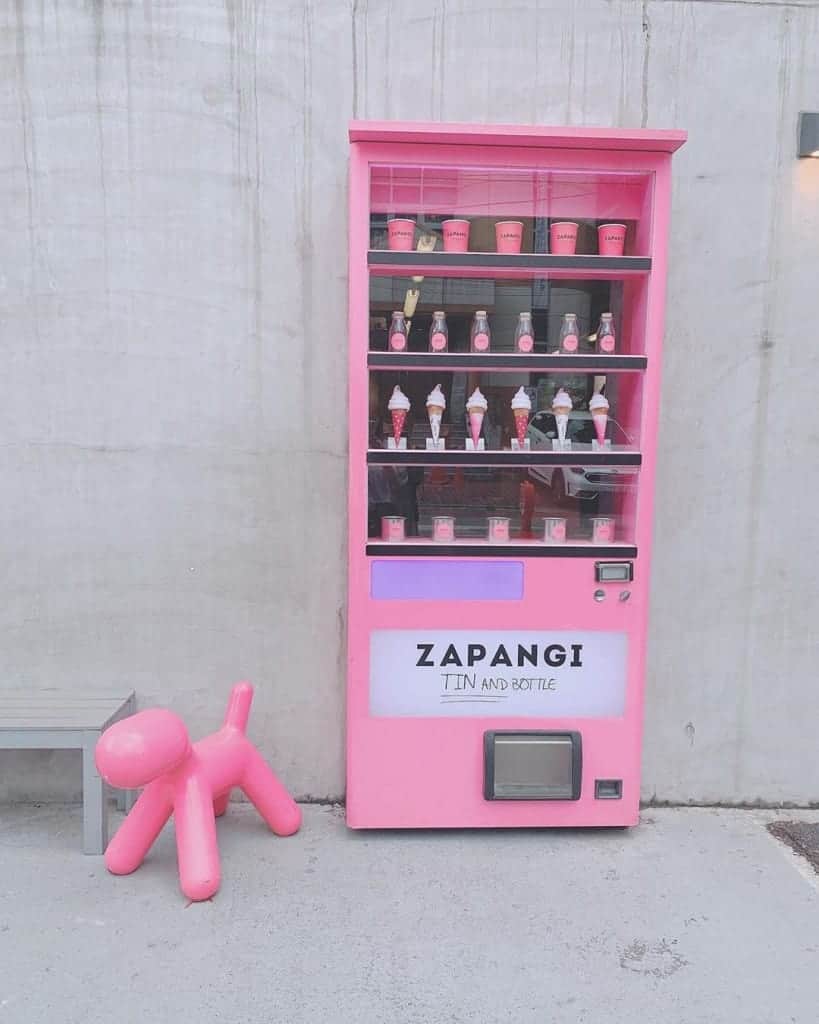 Where: 400-2 Mangwon-dong, Mapo-gu, Seoul
Zapangi is a pretty in pink coffee shop that has quickly captured the hearts of Seoulites. Zapangi translates to "vending machine" which is a fitting name as the coffee shop is hidden away behind a neon pink vending machine that slides to one side to reveal a charming urban space.
The exterior of Zapangi is often crowded with people who line up to get that perfect shot of themselves bursting out from behind the vending machine. Novelty factor aside, the interior of Zapangi is a nice place to relax and people watch.
Zapangi boasts a tagline of "bottles and tins" which reflects the presentation of its sweet treats and beverages. Indulgent chocolate and red velvet cakes are served in tins, and iced coffees and juices served in milk bottle style glasses. There are also some delightfully quirky desserts, such as the bright pink mermaid cupcakes which look as though a mermaid is diving inside.
It should be noted that Zapangi gets very busy. It's more of a, come for the experience, snap a few photos, drink your coffee quickly and leave kind of place, as opposed to somewhere where you can comfortably sit for hours with a good book. That said, it's well worth stopping by as part of a wider exploration of Seoul's up and coming Mangwon-Dong neighbourhood.
The C. Through Cafe
Where: Yongsan-gu, Itaewon 2(i)-dong, Noksapyeong-daero 40na-gil, 37, Seoul
Coffee art is not exactly something new. However Lee Kang Bin, the founder of the C. Through Cafe in Seoul takes coffee decoration to another level entirely. The exterior of this spot looks relatively non-descript, but venture inside, order up an espresso shot with cream, and watch Bin work his magic.
The C. Through Cafe menu has just a few options of cream art designs available and they are priced depending on the complexity of the design. The menu changes with the season, but you can expect everything from Studio Ghibli and Pokemon characters, to miniature interpretations of classic art pieces.
Artistic espresso aside, the C. Through Cafe also offers an array of other unique beverages that are quite unlike anything you will find anywhere else. Consider ordering up a scotchno – a sweet, warm frothy drink that sees butterscotch candies infused into coffee.
If you have a sweet tooth and you're not watching your waistline, go for the caramelting – a caramel coffee topped with a flame-toasted caramel choux bun.
Hello Kitty Coffee House
Where: 28 Myeongdong 4-gil, Myeong-dong, Jung-gu, Seoul
The Hello Kitty Coffee House is nestled between Myeong-dong and Hongik University. As the name suggests, ducking into this place for a latte or a cappuccino feels just like you have gone for coffee at Hello Kitty's house.
Most things on the menu are adorned with the faces of Hello Kitty characters – including the coffees, cakes, pancakes, and savoury dishes. That said, a visit here is more about aesthetics than flavour.
Enjoy your coffee on Hello Kitty's bright pink sofa, or at her bright pink dining table by the fireplace. When you're suitably stuffed, take yourself on a tour around her house – you can climb up the stairs and nosy around her various rooms and bedroom.
StyleNanda Pink Pool Cafe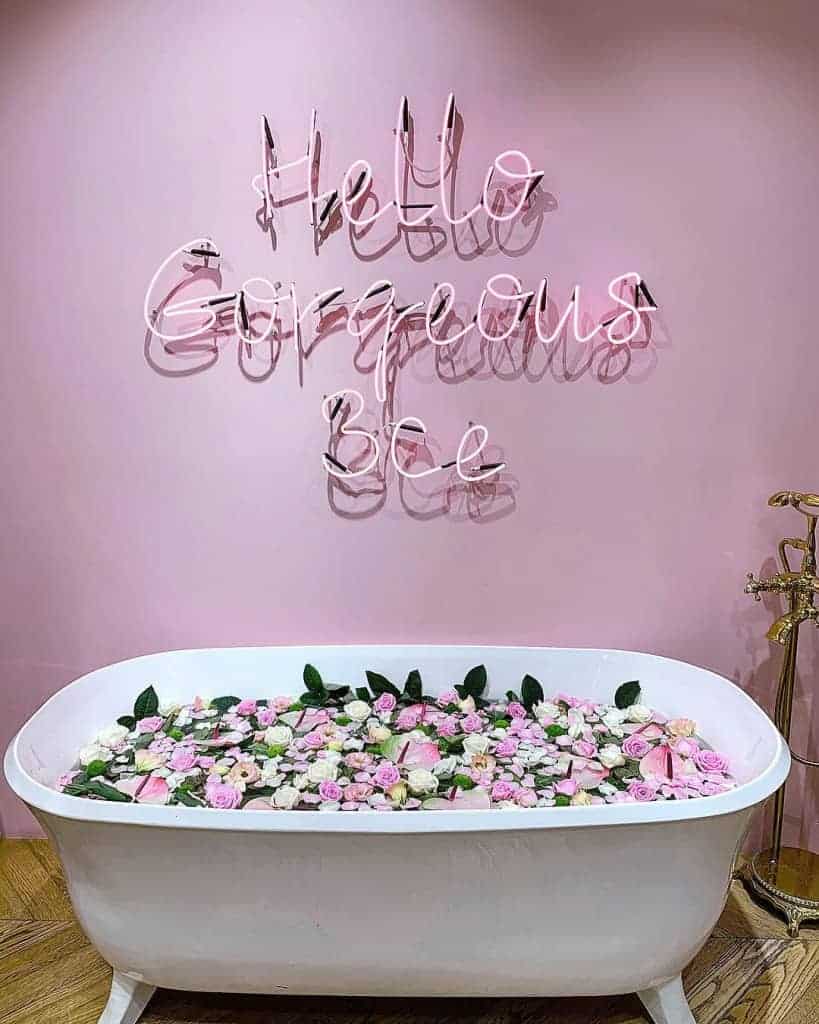 Where: Stylenanda Pink Pool Cafe 핑크풀카페 – Myeongdong, 66-2, Chungmuro 2-ga, Jung-gu, Seoul
The StyleNanda Pink Pool Cafe is a vision in pink. StyleNanda is actually an apparel and cosmetics store, and the chic fashion brand is one of the most well regarded in Korea. At the Pink Pool Cafe, visitors can indulge in a little retail therapy and stock up on K-beauty products, before relaxing with a latte in the cafe section of the store.
The photogenic cafe is divided into two sections – you can either lounge on one of the bright pink recliners by the indoor pool, or ascend to the rooftop to enjoy fabulous views over Myeongdong as you sip your coffee.
Decorated in pastel pinks and blues, StyleNanda has a charming, playful atmosphere. The Pink Pool Cafe serves everything from traditional coffees, to detox juices, teas and smoothies. If you want to go for something unusual, order up a Cotton Candy Coffee – a coffee served with an eccentrically decorated, giant puff of cotton candy.
Old Ferry Donut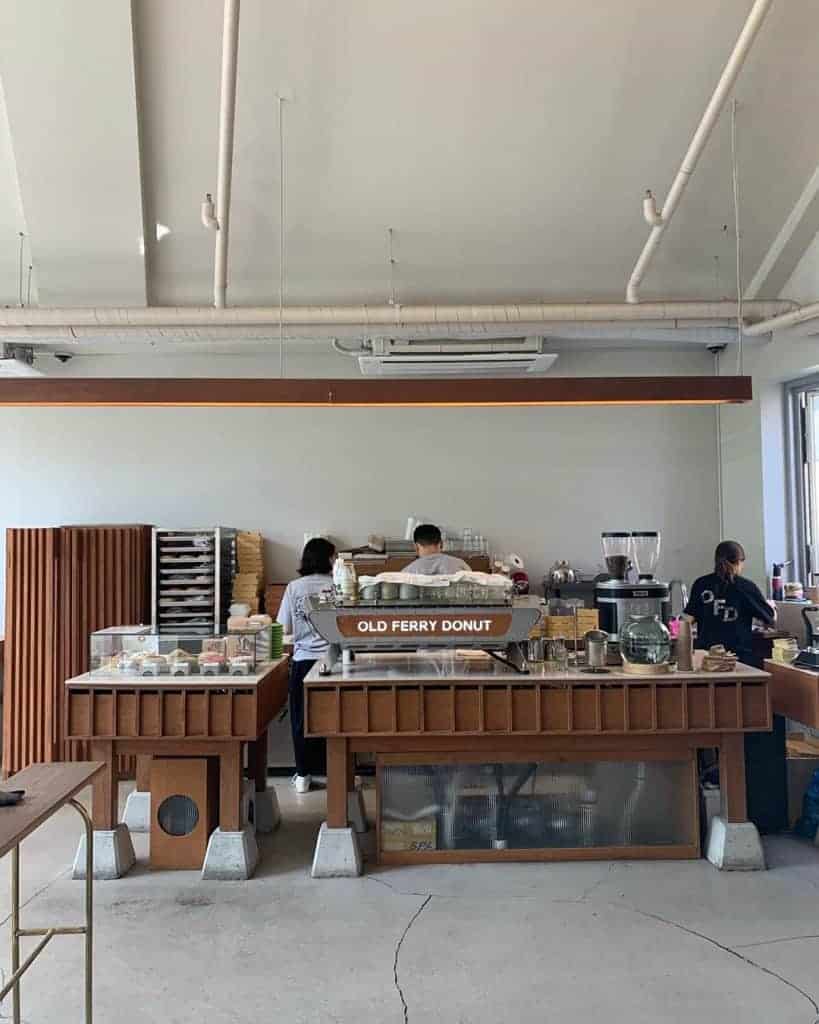 Where: 10-206 Hannam-dong, Yongsan-gu, Seoul
Old Ferry Donut (formerly Ferry Roasters) is a favourite Seoul dessert spot among locals and expats alike. The coffee shop is tucked away down a peaceful residential street away from the hustle and bustle of downtown Itaewon. If you didn't know that it were here, you probably wouldn't find the place.
The speciality of Old Ferry Donut is of course, delightfully sinful sticky donuts. There is quite an extensive range on offer, including donuts that present a wacky blend of ingredients (e.g. basil with chocolate) yet somehow just work.. For 10,000 won ($10), you can order a sample box of mini donuts in a variety of flavours.
The signature beverage at Old Ferry is the Donut Latte – an iced latte topped with a mini donut that is almost too cute to consume. There is also the Coconut Vienna – a refreshing coconut iced coffee with a coconut whip floating atop it. If you want to find a cute coffee shop to sit and hangout, there are nicer places than old ferry, but of course, its USP is its donut creations which are otherwise quite hard to find in Seoul.
Daelim Changgo Warehouse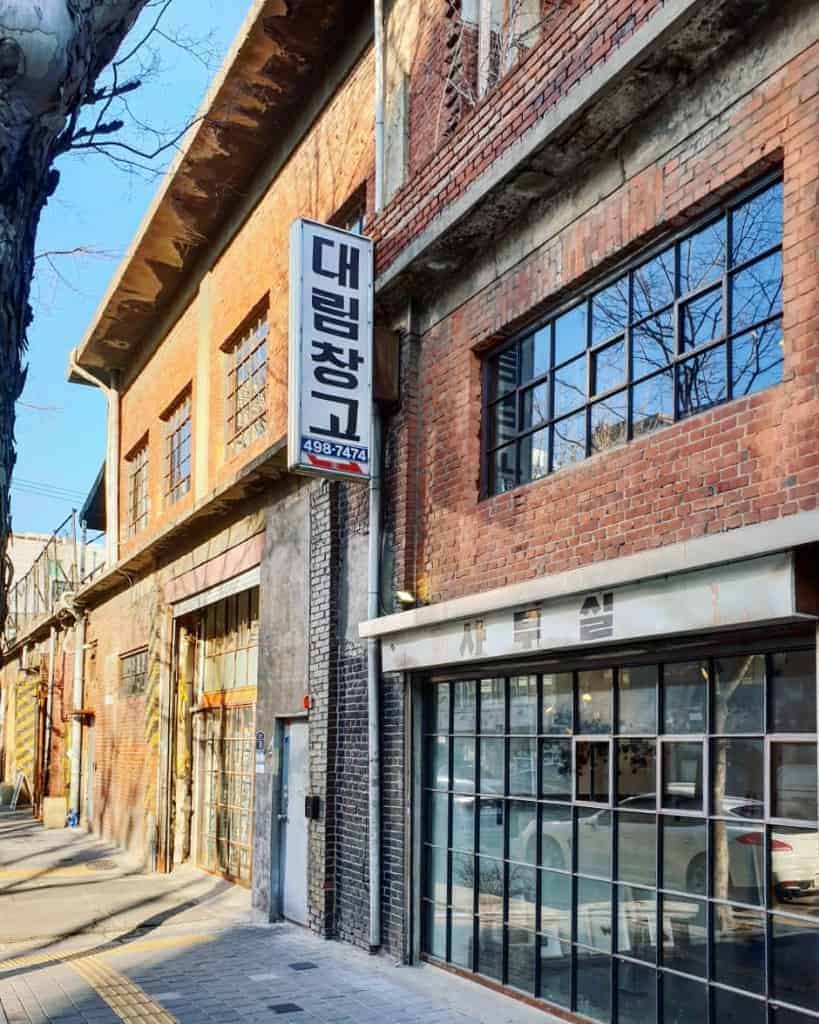 Where: 78, Seongsui-ro, Seongdong-gu, Seoul
Daelim Changgo is a delightfully raw, gritty, and artistic coffee shop cum art gallery. Changgo in Korean means warehouse, which is a fitting name as the coffee shop sits in the renovated industrial premises of a former warehouse.
Seongdong-gu is not an area of Seoul that was historically known for its coffee shops,bars and restaurants, though it is quickly emerging as one of the hippest places in the city. This was formerly a very industrial area that was filled with warehouses, mills and shoe factories. Daelim Changgo itself is a former rice mill.
The gritty design does well to embrace and retain the former character of the industrial building – metal pipes and fittings still protrude from the walls and ceilings, and the exposed burgundy brickwork still stands. Daelim Changgo has a certain je ne sais quoi that you just cannot find in your local Starbucks branch.
The entirety of the premises at Daelim Changgo are an art gallery. Contemporary installations from local designers occupy practically every corner of the former warehouse; they are mounted on walls, suspended from ceilings, situated between tables, etc. Daelim Changgo is without hesitation one of the best places to work and feel inspired, or to sit for hours with a coffee and a good book while soaking in the atmosphere.
Coffee Hanyakbang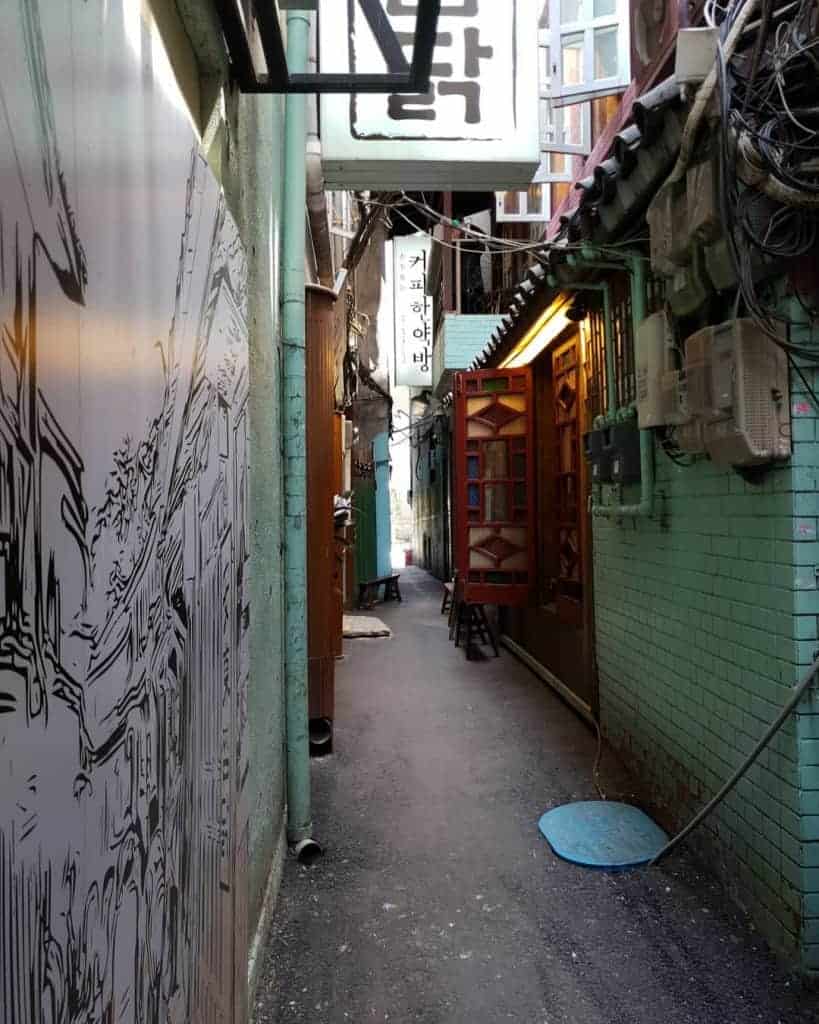 Where: 16-6 Samil-daero 12-gil, Myeong-dong, Jung-gu, Seoul
Ducking down the narrow, unsuspecting alleyway that lies adjacent to Seoul's Euljiro 3-ga metro station rewards you with an enchanting hidden coffee shop that takes patrons on a journey back in time. The mysterious Coffee Hanyakbang is brimming with personality, antiques, and pieces of Korean cultural heritage.
Hanyakbang is Korean for "medicine room" and indeed, the place's decor with its antique furnishings and worn facades is reminiscent of an old apothecary from centuries ago.
If you are looking for a good strong coffee blend then Hanyakbang is certainly one of the best places to visit. The coffee shops even roasts its own beans manually, guaranteeing maximum flavour and freshness. Patrons can choose from a selection of hand drip and traditional coffees.
Take-Out Drawing
Where: 244 Noksapyeong-daero, Itaewon 2(i)-dong, Yongsan-gu, Seoul
Noksapyeong, and Take Out Drawing awaits just away from the main crowded streets of Itaewon in downtown Seoul. This two-storied coffee shop and art space is located within an old industrial facility. Its industrial atmosphere of tall ceilings, modern light installations, and concrete walls somehow add to the artistic charm of the place.
The premises of Take-Out Drawing are filled with the creations of various local designers. The food and drinks menu is also influenced by their art and creativity. Take-Out Drawing's "signature" beverage is Paul's Meringue Factory – A silky smooth espresso served in a cute artsy cup and topped with a sweet meringue cookie.
Other eccentric beverages are available here, including the storming ant, and the iceberg macchiato. (The names give a hint as to their appearance, but order one and see!). Pair off your drink with an organic sweet treat such as a matcha roll or a green tea cake.  The spacious premises make Take Out Drawing one of the best coffee shops in Seoul for spending several hours.
Vers Garden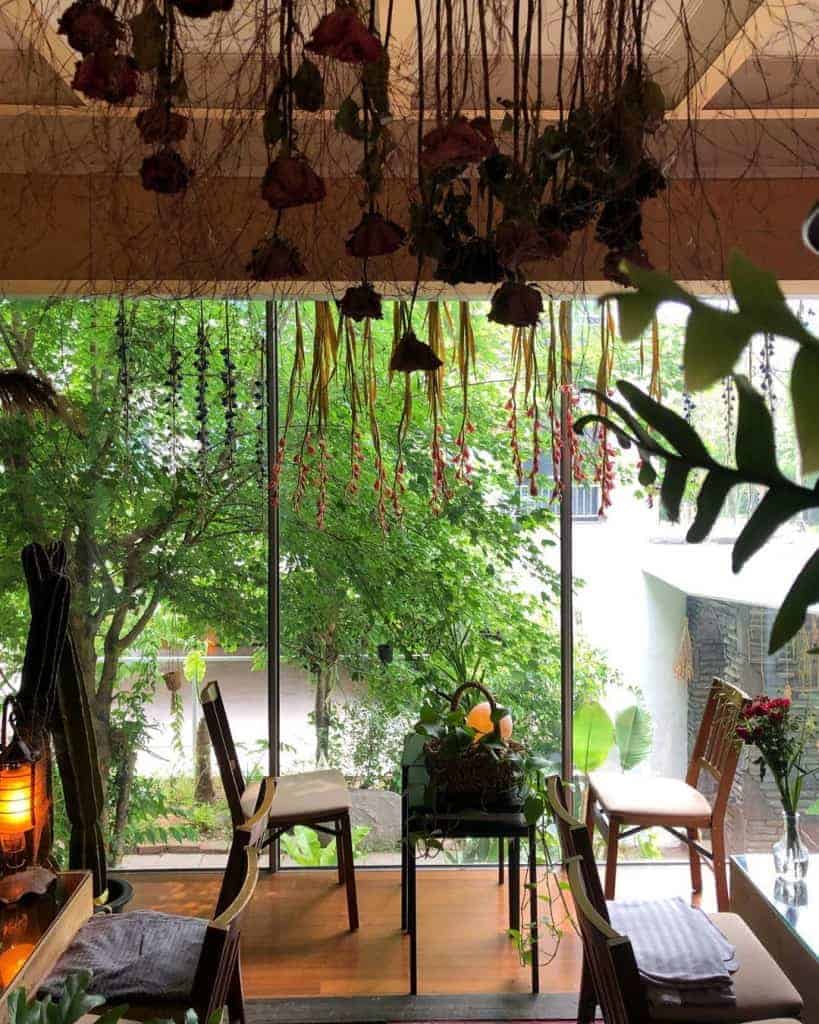 Where: 44 Seongmisan-ro 23-gil, Yeonnam-dong, Mapo-gu, Seoul
Vers Garden is a tranquil little oasis in the heart of downtown Seoul. Here, surrounded by beautiful vines, fragrant flowers, and dozens of potted plants that hang from the ceilings and windows, it is easy to forget that you are in the midst of one of the largest cities in the world.
This Seoul coffee shop has a delightfully peaceful, green atmosphere. Though the place often gets busy around lunch time, this is somewhere that you can sit for hours without being disturbed. In addition to the diverse coffee and drinks menu, Vers also serves brunches and sweet treats.
The Best Coffee Shops in Seoul:
A Few Things to Know
Is coffee etiquette a thing? Probably not. In any case, I wanted to summarise a few things to be mindful of when visiting coffee shops in Seoul.
Always buy a drink – I often see people ducking into a coffee shop to take photos and then leaving without buying anything. Support local businesses by at least buying a coffee!

Sweet tooth – Coffee in South Korea is often made very, very sweet. It is also weaker than your average coffee, unless you go to one of the places I have outlined which is specifically known for its brewing skills and good beans (e.g. Hell Cafe)

The average price of a coffee in Seoul is between 5,500 and 7,500 won ($5.5-$7.5 USD). Yep that's pricier than average, but coffee in Seoul is quite expensive. You can expect the same at Starbucks and chain places too. 
Have any questions about coffee shops in Seoul or visiting Seoul in general? I used to live here and would be happy to answer any queries you may have.
Alternatively, if you have other suggestions of great places to grab a cuppa joe, feel free to drop them in the comment box below. Safe travels! Melissa xo
---