Situated in the eastern part of Seoul, Dongdaemun is one of the liveliest neighbourhoods in the Korean capital and an area which you absolutely must explore while in town.
As you pull into Dongdaemun station, you are greeted by Zaha Hadid's design plaza (DDP): one of the most dramatic pieces of contemporary architecture in Seoul. Iconic structures aside, the main draw of venturing here is the shopping.
From serpentine markets that sell colourful silk fabrics and traditional street foods to glittering high-rise malls, Dongdaemun offers a little something for every style and budget. This is undoubtedly one of the best places for shopping in Seoul. Better yet, the vast majority of the stores and malls here are open until 5 am every day of the week!
If your Seoul itinerary and your wallet dictate more browsing and window shopping than it does splurging and retail therapy, it's still worth spending an afternoon in Dongdaemun. The DDP hosts ever-changing exhibits and art shows from both Korean and international designers while neighboring Seongsu-dong is one of the trendiest up-and-coming parts of town, perfect for an evening tipple or two.
Shopping in Dongdaemun: Where to Go
Shopping in Dongdaemun essentially falls into two categories – the cheap and cheerful, and the ultra-chic and luxurious. The markets of Dongdaemun fall into the former category and mostly sell fabrics and clothing as wholesale. The latter can be found in various malls and department stores.
It can be fairly overwhelming trying to decide which shops and malls to venture into first since this area is so vast. There are more than 30,000 stores crammed together in a space of just 10 blocks! To help you better decide, a selection of the best places to shop in Dongdaemun are summarised below.
Dongdaemun Market
Dongdaemun market is one of the largest markets in Seoul and is open 24 hours a day. Hundreds of vendors come together here to sell every product imaginable – from electrical appliances and homewares to wholesale rolls of fabric and low-cost clothing.
The market is renowned for the various food stalls that set up shop along its food alley (Mukja Golmok) at night and serve a diverse range of Korean delicacies – from tteokbokki to jeon.
Hello APM (헬로에이피엠)
The malls of Dongdaemun are divided into those that focus on wholesale, and those that cater to individual shoppers. Hello APM falls into the latter category. The mall is situated between Migliore and Good Morning City.
Both casual and higher-end clothing can be found throughout the stores within Hello APM. While the mall sells clothing for both men and women, there are typically more options available for ladies, and women's items tend to be better valued.
LOTTE FITIN(롯데피트인)
The LOTTE FITIN mall is perhaps the Dongdaemun mall with the most impressive exterior. The contemporary structure catches the eye of most who pass by, and by nightfall, the building is beautifully illuminated in shades of pastel pink and lilac.
Shoppers that are enticed inside the mall will not be disappointed. The complex is predominantly comprised of mid-range, boutique, and upscale stores. It also has a more "organised" feel to it than some of the other malls which boast hundreds of tiny stores crammed together.
Migliore Mall (밀리오레)
The Migliore Fashion Mall caters to both wholesale and individual shoppers. The stores here focus on a younger crowd and most people that you will see at Migliore are teens or students in their early twenties. That said, Migliore is well worth checking out regardless of your age. Many independent boutique stores can be found here making Migliore the perfect spot for picking up a unique, one-of-a-kind piece that no-one else has.
Label brands also have outlets at Migliore and items can be purchased out of season at a significant discount. On average, the mall is around 40% cheaper than the majority of shopping complexes in Seoul. To provide some reference for the prices to expect, note that you can easily find dresses, shirts, shorts, and skirts for less than 12,000 KRW each ($12).
Good Morning City (굿모닝 시티)
Good Morning City is a sprawling shopping complex that extends over 23 floors. The mall was one of the first to be constructed in the area and sells a diverse range of products – from clothing, accessories, and cosmetics – to homewares and electrical appliances.
Most clothing stores at Good Morning City are tailored towards young Korean women and sell very feminine, cutesy styles. The mall doubles up as an entertainment complex. Visitors can opt to soak their cares away at the mall's in-house jimjilbang, or to enjoy a movie marathon at the Megabox Dongdaemun.
Hyundai City Outlet(현대 시티 아울렛)
Hyundai City Outlet is your standard McArthurGlen style designer outlet mall. This is a great place to shop for last season's designer brand products at incredibly discounted prices.
DOOTA (두타)
Historically, DOOTA was a wholesale mall but in recent years, it has started transitioning to becoming a more upscale individual shopping experience.
At first glance, DOOTA can feel a little pricier than the other malls that surround it. The main reason behind that tough is that the majority of the DOOTA stores are branded and focus on current trends in Korea.
Typically, the textures and the qualities of products here are much better. Venture up to the floors between two and six to see a showcase of the hottest new K-trends. Expect prices of $50 and up per item.
Pyeonghwa Fashion Town
Reasons for visiting Pyeonghwa Fashion Town are more symbolic than anything else, but the market is worth adding to your radar while in the neighbourhood.
Pyeonghwa has been in operation for more than 50 years now. The market first opened at the end of the Korean war when North Korean refugees flocked to the area to make clothing from American army uniforms. The name comes from "Pyounghwa" which means peace.
Pyeonghwa Fashion Town was the very first retail operation of any kind to exist in Dongdaemun and was the stepping stone for the neighbourhood becoming the sprawling mass of 30,000 stores that it is today. The market borders the Cheonggyecheon stream and focuses on affordable wholesale sales of clothing, underwear, and accessories.
Maxtyle (맥스타일)
For more variety and options while shopping in Dongdaemun, venture inside Maxtyle mall. This is another shopping complex that focuses on both wholesale and individual shopping. The mall was created after the old "Deokun" and "Heungin" markets that originally stood here were renovated. Expect to find casual attire, as well as trendy, low-cost fashion items.
Local's Tips for Shopping in Dongdaemun
Customs for shopping in South Korea may be different to what you are used to elsewhere. A few things to consider when shopping in Dongdaemun are detailed below.
Shop Around
Many of the malls and stores here sell items that are the same or similar. The only difference is the price tags. It is worth visiting a few different malls before committing to purchases, especially if you are buying a higher ticket item or something from a designer outlet. The variation in price from one place to another can be substantial.
Don't Be Afraid to Haggle
It is perfectly acceptable to negotiate with the vendors at some of the malls and stores in Dongdaemun – especially those owned by independent designers, or those who typically sell in bulk.
One Size Fits All
Korean sizes tend to run smaller than their western counterparts. It is not uncommon for clothes and shoes to be sold in one size only.
Trying Things On
Many clothes shops in Korea do not allow you to try things on. This happens regardless of whether you are wearing makeup or not. It's nothing personal, as it's the same for Koreans, it's just frustrating when something is expensive and you can't see for sure if it is going to fit or not.
Other Things to do in the Area
Shopping in Dongdaemun may be the main draw of the neighbourhood but that is definitely not all there is to do here.
The Dongdaemun Design Plaza (DDP)
Be sure to explore the various annexes and exhibits of the Dongdaemun Design Plaza (DDP). The structure resembling an alien spaceship is the work of globally acclaimed architect Zaha Hadid and took over four years to complete. The DDP has quickly become one of the most iconic contemporary buildings in Seoul. Despite being a sprawling expanse of concrete and steel, the DDP manages to look effortlessly chic and elegant.
The outer shell of the futuristic DDP is comprised of 45,000 shimmering panels in all shapes and sizes. It is possible to ascend to the rooftop from which point you can enjoy incredible panoramas over Dongdaemun. Inside, the building is made up of seven floors which boast an array of art installations, exhibitions, and artisanal markets.
View the Exhibits at the Dongdaemun History Museum
For a glimpse of what Dongdaemun was like before the glitz, the glamour, and the hi-rise malls, visit the Dongdaemun History Museum. The museum contains thousands of architects that were recovered from the area when new developments were being built. Notable exhibits include the excavated ruins of the Seoul fortress walls and artifacts from the Joseon dynasty.
Enjoy Brunch with a Side of Artwork in Trendy Seongdong-gu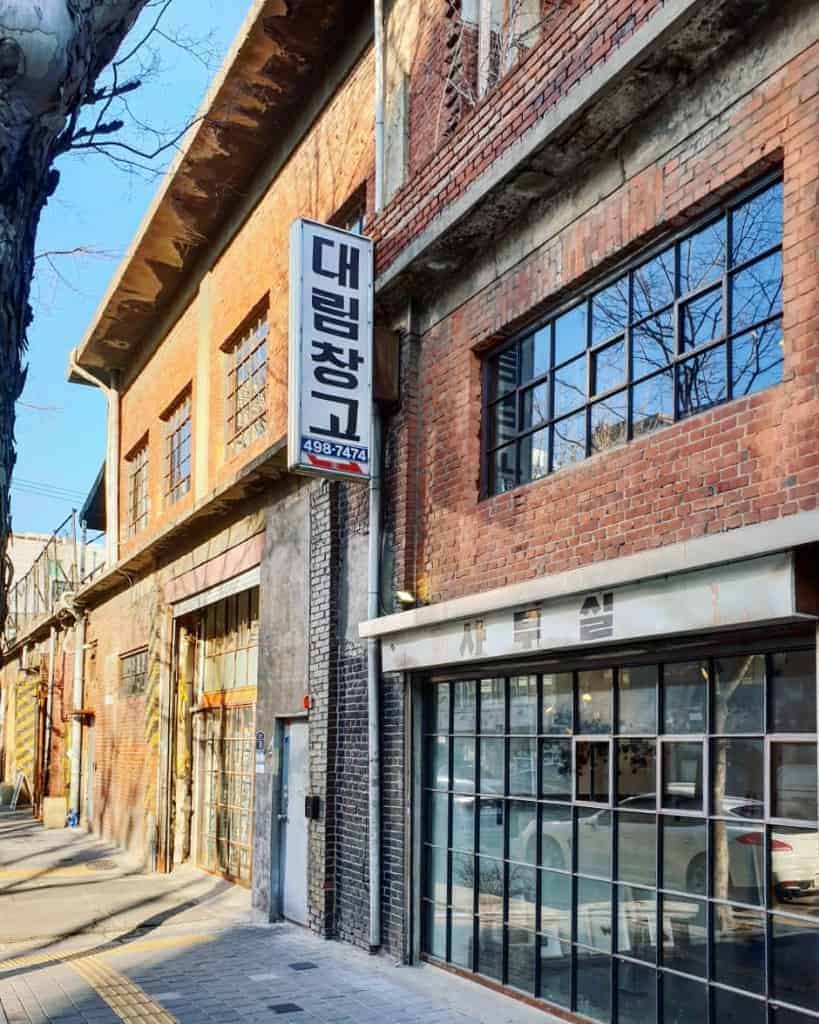 Seongdong-gu is a former industrial area that borders Dongdaemun. Historically, this area was known for its numerous shoe factories and distribution warehouses. It is only recently that a new lease of life has been injected into Seongdong-gu and the neighbourhood has emerged as Seoul's latest hipster hangout.
Many of the old warehouses and factories are now being converted into trendy bars, coffee shops, and exhibition spaces. At the same time, the new businesses embrace and retain the former character of the building's original purposes. High ceilings, exposed bricks, and visible metalwork and pipes add a gritty charm to the hangout spots here.
For coffee or a spot of brunch/dinner that is more western style, head to the beloved Seongdong-gu institutions of The Onion or Daelim Changgo Warehouse.
Enjoy a Cappuccino in the Beautiful Piola Cafe
Seoul is the King of beautiful and innovative coffee shops. One lovely lesser-known spot in Dongdaemun is Piola – a flower shop and cafe all in one. Piola is filled with plants and flower baskets that hang from the ceiling and decorate window sills.
Enjoy sipping a sweet foamy latte, or tucking into a rainbow coloured cake as you enjoy the scent of fresh patchouli and flowers.
Explore Naksan Park and the Seoul Fortress Walls
Dongdaemun may look like a concrete jungle but tucked away behind its glitzy malls and promenades it hides beautiful parklands and hiking trails. Head towards Dongdaemun gate and enter the park that sits behind it (Naksan).
Various walking trails twist and turn through the greenery here. Opt to take the Naksan Mountain Trail route which leads you along the ancient Seoul Fortress walls. Keep an eye out for the many ancient inscriptions which have been carved into the walls. Depending upon which time of day you find yourself here, the walls can be a great place to watch the sunrise or sunset over Seoul.
Stroll Along the Cheonggyecheon
The Cheonggyecheon is a manmade stream that runs through Seoul and eventually merges into the Han River. Despite running through one of the busiest cities in Asia, the Cheonggyecheon exudes an air of peace and tranquility, perhaps owing to the fact that it runs 4.5 metres below street level.
Strolling along the Cheonggyecheon is a pleasant way to while away an afternoon. Various art installations, murals, and flowers can be found along each section. During certain times of the year, lanterns and illuminations decorate the length of the stream.
Hunt for Literary Treasures at the Second Hand Book Street
If you head to Pyeonghwa Market and venture downstairs to the very first floor you will find a second-hand book street. The stalls here are filled with a vast range of literary products in countless different languages. English books can be very expensive at the main stores in Seoul and so this is a nice alternative place to pick them up.
Soak Your Cares Away in a Local Jimjilbang
Sweating it out in a sauna, soaking in a herb-infused bath or taking a massage are all perfect ways to unwind after a long day of shopping or exploring. Fortunately, there are a few jimjilbangs in the area if you want to tie in your visit to Dongdaemun with a Korean bathhouse experience.
The Haevichi (Havitz) Spa World Jimjilbang is a brand new modern facility situated on the 12th floor of the Cerestar building, right behind the Migliore mall. The jimjilbang has a few different baths and saunas, but the reason d'etre for coming here over the other nearby spas is the incredible views from the main jimjilbang room.
From up here, you can look out across the fabric market, the Cheonggyecheon, and the mountains that encompass Seoul. That's all pretty good value considering it is less than 15,000 KRW to visit for eight hours.
Where to Eat in Dongdaemun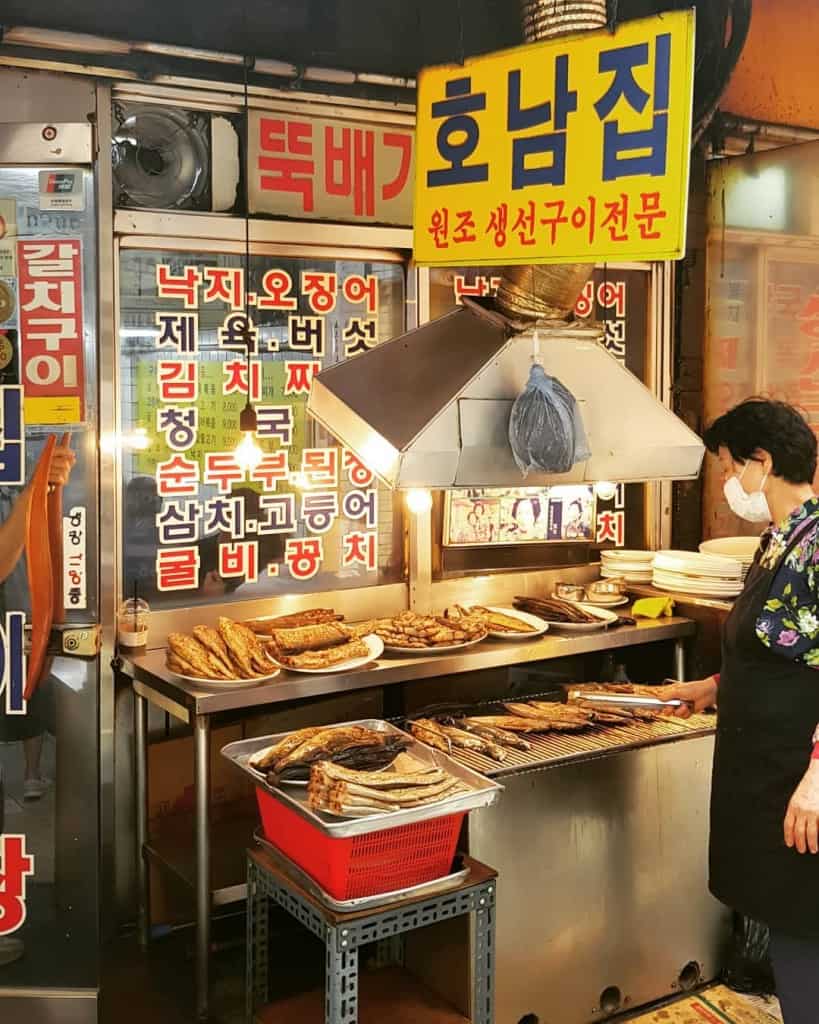 Part of the charm of visiting Dongdaemun is to be found in dining beneath the yellow canvases of the street food pojangmacha tents. That said, there are times where you want something more substantial than a little cone of tteokbokki. Fortunately, there are plenty of great dining options to choose from in the area.
Sample Dakhanmari at Jinokhwa Halmae Wonjo Dakhanmari
The Meokja Golmok food street that runs beside Dongdaemun Market serves a range of traditional Korean dishes and street food delicacies. Best of all though, this area is renowned for its whole chicken (dakhanmari) restaurants.
If you are going to try a local delicacy, you want to be sure that you are trying it at the best place so duck inside the Jinokhwa Halmae Wonjo Dakhanmari restaurant – the first dakhanmari spot on Meokja Golmok, and the obvious choice for your first try.
Dakhanmari consists of a whole chicken served in a broth with gochujang, garlic, vinegar and soy sauce. A selection of banchan (side dishes) are served in accompaniment. Order a portion of rice or noodles to eat with the broth.
Try North Korean Cuisine at Pyeongando Jokbaljip
Pyeongando Jokbaljip is a North Korean restaurant in the heart of Dongdaemun. While sampling North Korean food is a fascinating insight into the culture of the hermit country, foodies should be warned that Pyeongando Jokbaljip is reserved for those with more adventurous palettes.
The restaurant specialises in serving marinated pig's feet. This spot has such an excellent reputation that it is not uncommon to see a line that snakes out of the door and down the street – even in the middle of winter!
The pig's trotters here are marinated for 24 hours in a blend of garlic and herbs. The end result is meat that is tender, chewy and buttery. The meat falls right off the bone and is delicious when wrapped in a lettuce leaf with some garlic and gochujang.
Take a Walk Out to Gwangjang Market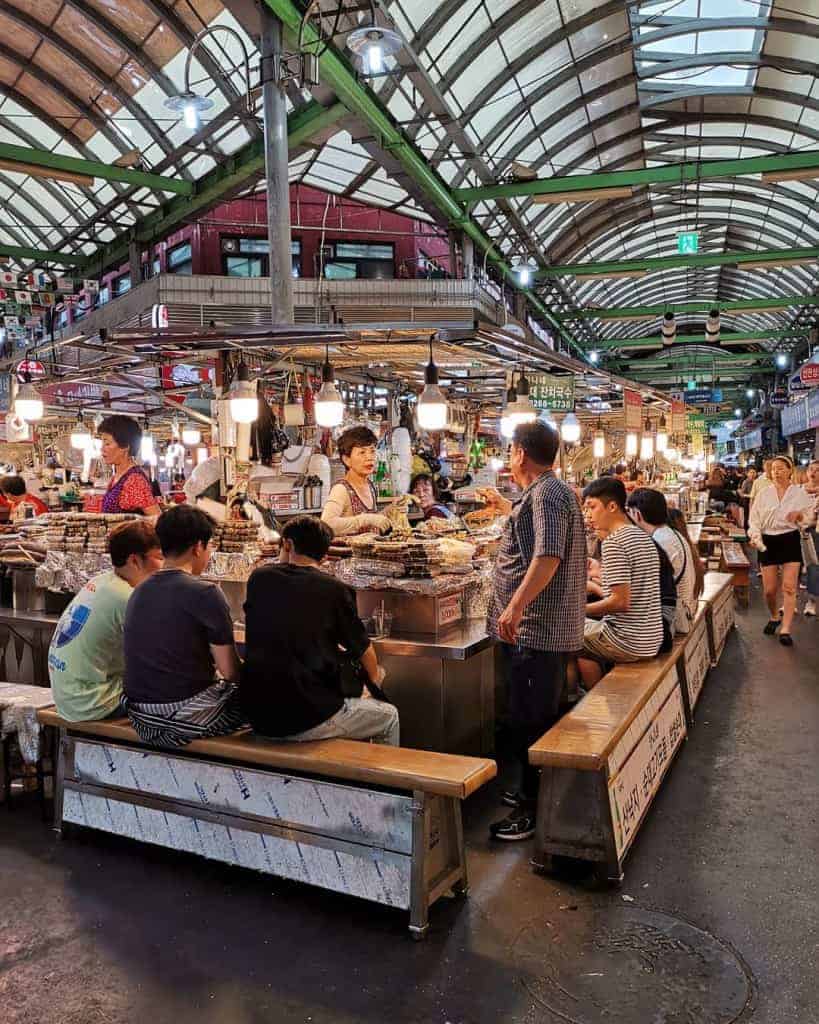 Gwangjang Market is just a short walk or subway ride away (one metro stop) and is worth stopping by while you are in the area. Gwangjang is the oldest market in Seoul and is divided into two sections: food and fabrics.
For a cultured lunch on a budget, pull up a stool beneath one of Gwangjang's pojangmacha tents and order up a steaming hot hotteok, or some freshly prepared seafood, before washing it all down with an ice cold cup of Soju.
Eat Grilled Fish at Honamjib (호남집)
If you haven't noticed by now, different restaurants and streets in Seoul tend to focus on a specific culinary specialty. Adjacent to the Dongdaemun market, you can find the grilled fish street (동대문생선구이골목).
As the name suggests, this is the place to come to sample grilled fish dishes prepared with the latest catches. Honamjib (호남집) is a local favourite, but all of the spots here prepare food of excellent quality.
Tuck into Spicy Pork at Keunzip Bossam (큰집 보쌈)
Pork is a beloved ingredient in Korean cuisine and a delicacy to be found in Dongdaemun is Bossam (보쌈). This dish is comprised of belly pork that is cut into thin slices and boiled in a medley of herbs and spices. Typically, this is eaten by picking up the marinated pork belly and wrapping it in a lettuce leaf with some of the vegetable banchan or gochujang (red pepper) paste.
It is customary to order noodles, rice, or soup to eat in the accompaniment of bossam. Kimchi jjigae is a popular choice for locals.
Where to Stay
Dongdaemun is a great place to base yourself during your trip to Seoul. This is not only due to the markets and attractions of Dongdaemun itself, but also as a result of the neighbourhood's central location and proximity to important Seoul sites such as the Joseon Palaces, Insadong neighbourhood, and the Bukchon Hanok Village.
Mid Range Hotels in Dongdaemun
Hotel The Designers DDP
Hotel The Designers is a charming contemporary boutique hotel that offers luxury in central Seoul at an affordable price. This is the perfect choice for those looking for a break from the classic "cookie cutter" style of hotels that are 50 shades of beige.
From the outside, the structure looks as futuristic and innovative as the nearby DDP. Inside, the various rooms are each decorated in a different, unique style depending on the specific designer that designed that room. Rooms start from $50 per night.
Check here for the latest room rates and availability.
Makers Hotel
The trendy Makers Hotel is situated in Jongno-Gu – less than one mile away from central Dongdaemun. Every angle of the property exudes charm and personality – from the exposed brick walls to the chic contemporary furnishings. Rooms are modern and spacious and start from $50 per night.
Check here for the latest room rates and availability.
Dongdaemun Luxury Hotel Pick
The Shilla Seoul
The Shilla Seoul is one of the best choices for enjoying absolute luxury in the Korean capital. The hotel awaits behind the ancient walls of the Seoul fortress and offers incredible views over the city. Despite being the first luxury hotel to open in Seoul, the recently renovated establishment is filled with modern furnishings and amenities.
Check here for the latest room rates and availability.
Have any questions about this Dongdaemun travel guide, solo female travel in Korea, or Korea travel in general? I lived in this beautiful city for several years and would be happy to assist with any questions you may have. Simply pop me a comment below and I will get back to you ASAP. Safe travels. Annyeonghaseyo! Melissa xo
Disclaimer: This Dongdaemun guide may contain affiliate links. This means that if you choose to make a purchase through some of the links on this page, I may obtain a small amount of commission which is charged at no additional cost to you. This aids me in keeping up with the costs of managing High Heels and a Backpack. Thanks for understanding 🙂

---