Gwangjang Market is one of the best spots in Seoul for sampling street food. I met up with a Korean friend for coffee in Samcheongdong yesterday, and she suggested that we grab a snack at Seoul's Gwangjang Market which was nearby.
If you follow my blog and my adventures in Korea, you will know that I am a huge foodie and have a particular affection for discovering street foods so of course I agreed immediately, and we hopped in a cab to Gwangjang.
A Little History of Seoul's Gwangjang Market
From Ansan to Jeonju, and all the way down to to Busan, I've visited a bunch of food markets in Korea, so I'll admit that at first I wondered what could be so different about this one; however Gwangjang Market definitely didn't disappoint. This is the oldest food market in Seoul, still going strong since it first opened all the way back in 1905.
The stalls at Gwangjang offer a lot of traditional Korean delicacies and the nice thing about this market is, although it is busy, a lot of the stalls are set up like little outdoor restaurants so you don't have to awkwardly stand around eating your food whilst you are getting shoved left, right and centre like in most food markets.
At Gwangjang, instead, you can take a seat by the food station, watch your meal being prepared and cooked before you, then sit and wash it down with a nice glass of 소주 soju. There's a seemingly infinite number of food options available at Gwangjang Market, but here are some of the highlights.
Gwangjang Market Seoul:
Traditional Delicacies to Try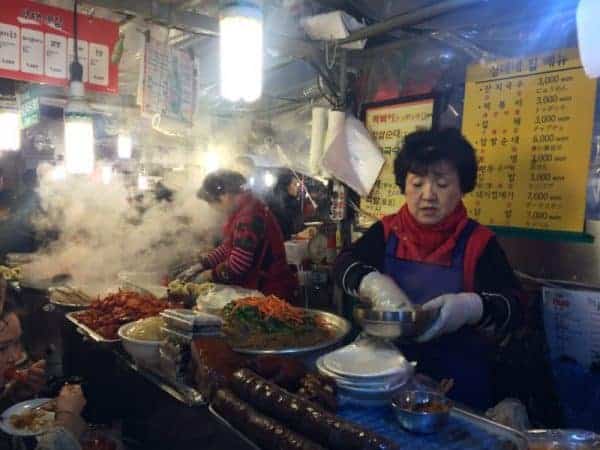 Mayak Kimbap
You can find kimbap all over South Korea. This is essentially the somewhat healthier Korean alternative to the sandwich, or tacos. The popular street food snack is comprised of a medley of rice and pickled vegetables that are wrapped in seaweed and served in neat little packages.
You can find kimbap at a lot of different street food stalls, as well is in the fridges of convenience markets. Pick some fresh, hand rolled kimbap wraps up at Gwangjang market and enjoy it as a snack later while exploring Seoul. This is suitable for vegetarians, thought you should note that the seaweed adds a very fishy taste.
"Mayak" in Korean means narcotic (!) Rest assured there are no drugs to be found in this delicacy. It is purely used on account of how addictive these scrummy snacks are!
Bindaetteok
A lot of the Vendors were selling Bindaetteok or "mung bean pancake" which I think is perhaps my new favorite snack! Made with an egg, mung beans, cabbage kimchi and sesame oil, it was super tasty.
The server also gave me a little pot of raw onions fermented in soy sauce and vinegar which made a delicious accompaniment. The pancake was popular hundreds of years ago, and was literally known as "poor person's pancake" as the poor ate these, and the rich ate meat. For 4,000 Won (around £2.50), you really can't go wrong!
Kalguksu
Kalguksu is a yummy Korean knife-cut noodle soup. Some of the kalguksu vendors at Gwangjang have received international media attention for their sumptuous dishes and have a dedicated following of local patrons. Kalguksu is not spicy, so it's a perfect dish for those who have a low tolerance for hot foods.
Many of the Gwangjang vendors follow family recipes that they inherited from their mothers and grandmothers. There are several variations of the dish, with some people adding clams into it to make Bajirak Kalguksu (바지락 칼국수), or others using the addition of chicken to create delicious Dak Kalguksu (닭 칼국수). If you are lucky, you may be able to catch the vendors making the noodles by hand – depending on the time of your visit.
Sannakji (Live Octopus)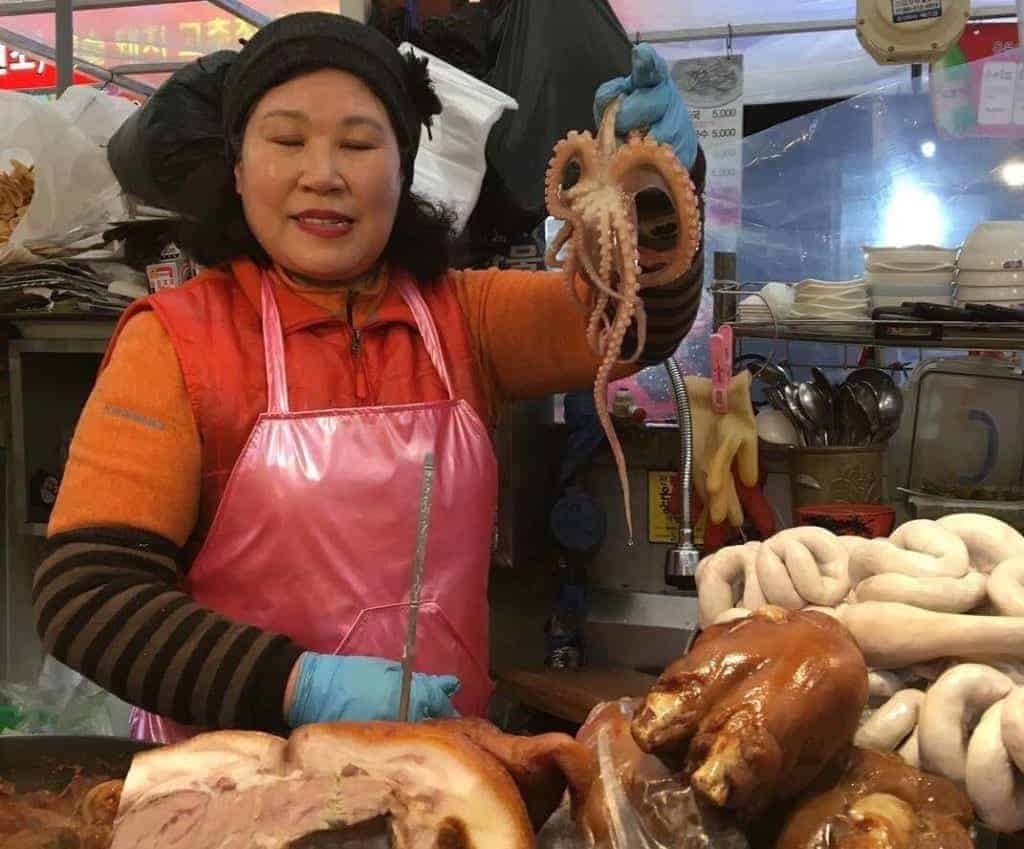 Live octopus, or "Sannakji" is another delicacy here in South Korea, present at many of the stalls at Gwangjang Market. You can either eat a whole live baby octopus, or a small octopus that has been cut into pieces whilst alive (the tentacles are usually still squirming on the plate). The octopus is seasoned with sesame and sesame oil. What do you think?
Yukhoe (Marinated raw beef)
One more Gwangjang market specialty that is reserved for adventurous eaters is Yukhoe. This is raw beef that has been marinated with a blend of Korean flavours – commonly pine nuts, sesame oil, and soy sauce.
In some ways, yukhoe is the Far Eastern version of the western steak tartare. The marinade makes for a rich flavour, but understandably this dish is not for everyone as it is raw beef!
Mandu (Korean Dumplings)
"Mandu" are Korean dumplings and one of my favorite dishes in Korea. You can find mandu with various different fillings – they usually include ground beef, pork or shrimp. I highly recommend the galbi (Korean marinated beef) mandu – yum! On a separate note, isn't she the cutest little street vendor you ever did see? Just look at that giggly little face!
Sweet Red Bean Pastries
Chances are, if you've spent any amount of time in Korea, you've stumbled across red bean snacks already as they are an extremely popular dessert available at many roadside carts, particularly the Bungeoppang form (bitesize pastries in fish shapes).
There's a Bungeoppang vendor that regularly sets up shop outside my apartment building and when I hear he's there, I literally sprint to retrieve my red bean snacks. The sweet bread at Gwangjang market is a little larger, and the dough is filled with red bean paste (adzuki bean) and fried. Expect to pay between 1,000 to 2,000 Won for one of these (between 50p and £1)
The Sea Penis
Here is something that I don't ever think I'll be brave enough to try. Affectionately nicknamed as "the sea penis", the "urechis unicinctus" marine worm's resemblance to male genitalia is uncanny. Just look at the length and girth on some of these!
The Vendor prepares these by cutting off the bottom of the sea penis, and scraping out its innards so you are essentially just eating the outer skin. The creature is then still alive (how?!) and you can dip it into an array of sauces before eating it live and raw.
Soondae – Korean Blood Sausage
Stuffed into an intestinal casing, Soondae is made by mixing pork blood with noodles, glutinous rice, and a mixture of soybean paste, chili, and spices. The iron taste of blood was quite prominent, and the texture of the sausage reminded me a little of Japanese "mochi", a kind of chewy and gelatinous cake. It definitely wasn't for me, but maybe if you're a fan of black pudding, or you're a traveling vampire it could be your cup of tea.
Tteokbokki
Tteokbokki is perhaps my absolute favourite Korean street food delicacy. It is by no means exclusive to Gwangjang market – you can find this snack practically everywhere! Tteokbokki is comprised of thick, chewy rice cakes that are served in a spicy tomato sauce. In any case, it's incredibly flavourful so I highly recommend that you try it.
For first timers, tteokbokki can seem pretty spicy so come armed with water and be warned! After I lived in Korea for a while I never really noticed it… probably because I'd already burned all of my taste buds off with spicy food at that point!
Hotteok
Bindaetteok, and hotteok, and jeon – oh my! The lively Gwangjang market vendors sell all of the key types of Korean pancakes. Hotteok (호떡) is the sweet version of Korean pancakes, and a lovely dessert to help round-up your Gwangjang eating extravaganza!
Different vendors make their hotteok in different ways. In some ways, these are comparable to the thick, fluffy American-style pancakes – loaded with sticky sweet maple syrup, brown sugar, cinnamon, nuts, and other goodies.
Of course, this is just a small selection of some of the foods on offer at Gwangjang market. You can also find many Korean favorites here like jeon (Korean pancakes) , fresh seafood dishes and Korean fried chicken.
Other Scenes at Gwangjang Market
Besides the market vendors that sell fresh dishes, there are also a few stores that sit at the edges of the market selling Korean condiments and dry food stuffs. Here you can pick up all of your favourite Korean candies, as well as precious sauces like spicy gochujang. (Every time I go back to the Far East, I pick up tons of gochujang paste to keep in my suitcase – don't judge! #Internationalcondimentsmuggler)
Foodie highlights aside, Gwangjang is a popular spot for shopping in Seoul – especially among locals, and especially when it comes to shopping for fabrics and wholesale products like Dongdaemun.
The second floor of the market is home to many fabric vendors selling textiles and soft furnishings which was unfortunately closed during my visit due to Seollal (lunar New Year).
Getting to the Market
Gwangjang Market Address: 88 Changgyeonggung-ro, Jongno-gu, Seoul
To get to Gwangjang Market, take subway line 1 to Jongno 5-ga station and leave at exit 7. The market's central Seoul location makes it a perfect spot for tying in with a trip to nearby Insadong, Samcheondong, or Seoul's traditional Bukchon Hanok village.
The opening hours for the market vary depending on the specific stalls and vendors.The general opening time is between 8:30 am – 6 pm every day of the week. However, some places remain open until the evenings, and less vendors set up shop on Sundays. This market is fairly huge though – there is not just one vendor selling each type of delicacy!
Have you ever been to Gwangjang Market? What are your favorite places to try street food in Seoul?
By the way, if you have any questions about travelling to Seoul, feel free to drop me a comment below. I lived here for two years and would be happy to assist you with any queries that you may have. I have also compiled this comprehensive Korea travel guide for your reference. Safe travels! Annyeong! Melissa xo
Note: This article on Gwangjang Market was originally published on 27th January 2017, and was last updated on the 27th September 2019.
---