Turkish food is a highlight of travelling to Turkey. Indulging in the local delicacies when you travel is just as important as seeing the Hagia Sophia, or embarking on a Bosphorus cruise.
Falling in Love with Turkish Cuisine
Turkish cuisine is renowned for its sumptuous marinated meats, spiced teas, and sweet sticky dessert pastries. The country's food culture has deep roots in Turkey's Ottoman history.
Indeed, most of the recipes that are served and beloved in Turkish cuisine (Türk mutfağı) today were concocted during the Ottoman period. Turkish food dishes follow the same traditional recipes that have been used for hundreds of years.
The Ottoman Turks also ruled over Greece for centuries. Consequently, there are many similarities between Turkish and Greek food today.
The doner kebab may well be the first thing that springs to mind when you think of Turkish cuisine. However Turkish food goes far beyond kebabs and grilled meats.
Traditional Turkish cuisine incorporates a mouth-watering blend of seasoned meats, fresh vegetables, indulgent mezes, and fresh juices. Many travellers are surprised by precisely how diverse the national cuisine is.
You could easily spend an entire month in Turkey and never eat the same Turkish food twice! Similarly, although Turkish cuisine may be synonymous with meat, vegetarians, vegans, and those with dietary requirements can be rest assured that they will find dishes they can enjoy.
46 Mouthwatering Turkish Food Dishes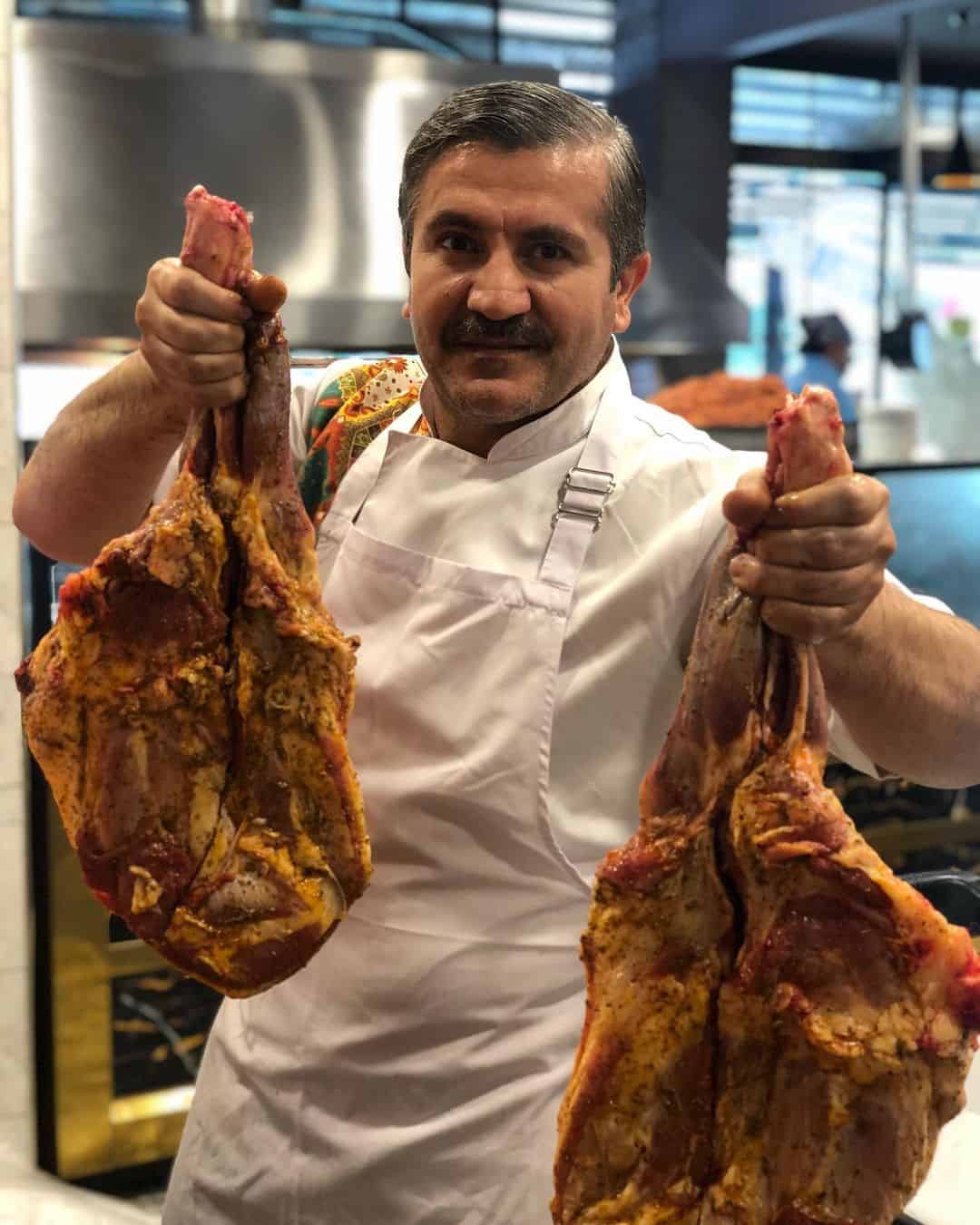 This list of the best traditional Turkish dishes you should try during your upcoming trip to Turkey will help you navigate your way through unfamiliar menus. There is something for everyone here – hardcore adventurous foodies, meat lovers, or those who have a fussier palette.
Turkish Food for Meat Lovers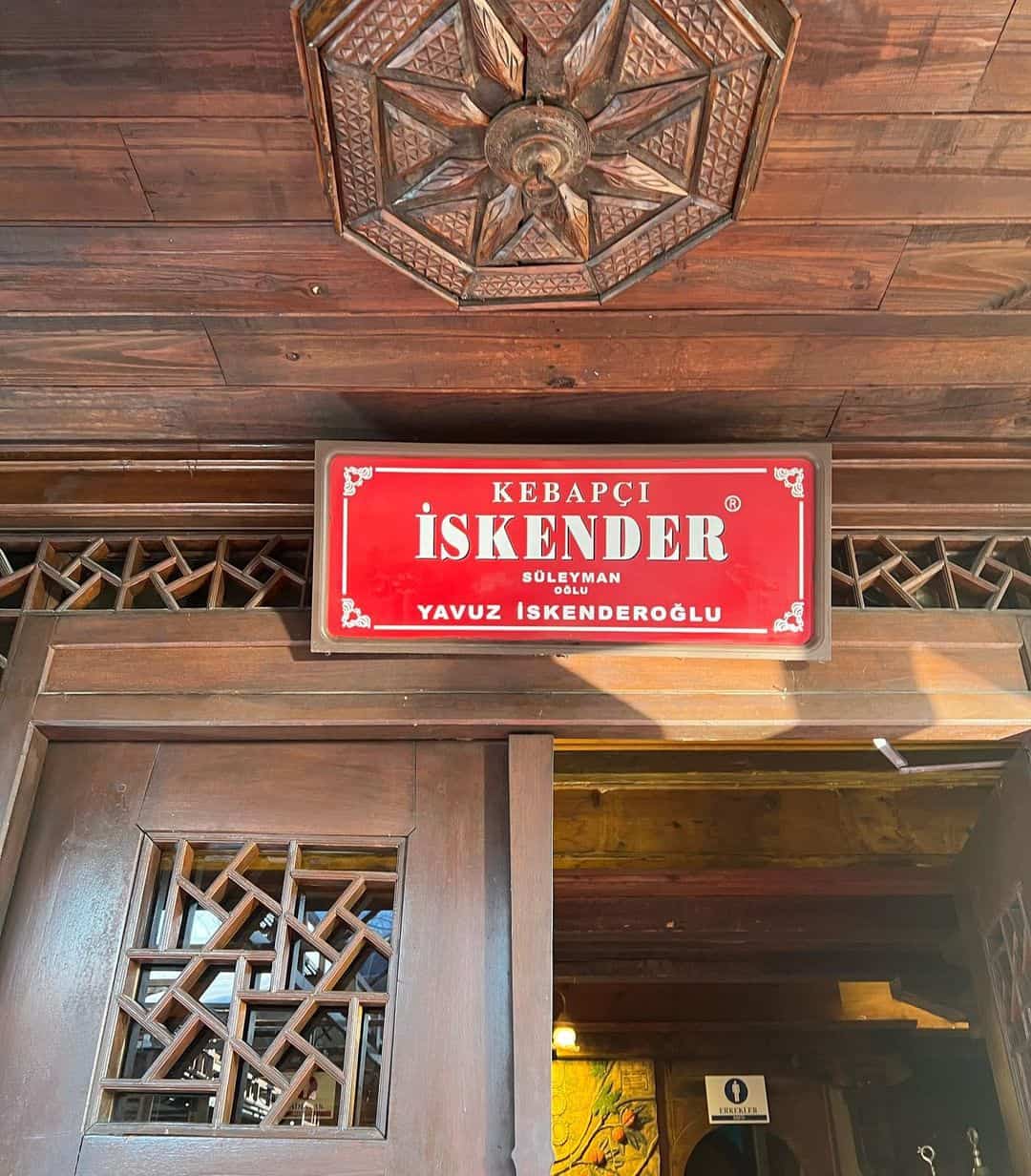 The Turkish diet consists of a lot of red meat. However, all of the meat dishes that you will find in Turkey use cuts of the highest quality.
Lamb, beef, and chicken are cooked slowly over open fires or grills until they become so tender and juicy that they fall apart in your mouth. There is no such thing as a greasy, oily, or fatty Turkish meat dish.
Doner Kebab
There are numerous variations of kebabs available in Turkey. A "kebab" may be something that we associate with being unhealthy and greasy in the West. However, in Turkey, the quality of the meat used to create kebabs is usually pretty good.
Doner kebab meat is marinated and then cooked on a vertical rotisserie. Meat is then "shaved" into a pitta.
You can select the toppings that you want to add to this. Typically your pitta will be stacked with onions, salads, spices, and delicious garlic yoghurt.
Sis Kebab
While in Turkey, seize the opportunity to sample the world-famous sis kebabs in the place where the concept was born. Sis kebabs can be found practically everywhere in Turkey. However, it is impossible to get bored of them!
Cubes of beef or lamb are beautifully marinated and added to a skewer. Next, the meat is cooked over hot charcoals.
This type of "shashlik" dish is very popular in Southern Europe, the Middle East, and the Caucuses. Sis kebabs are typically served with salad, yoghurt, and spicy tomato sauce.
Yogurtlu Kebab
A yoğurtlu kebab is made from sumptuous kofte kebabs that are prepared with beef or lamb. The kebabs are then served on a bed of pitta bread before the dish is topped with fresh yoghurt, tomato sauce, and herbs.
You can often order "half" or "full" portions of yoğurtlu kebabs at Turkish restaurants. A "half" portion usually consists of 3-4 köfte kebabs while a "full" consists of 7-8.
Iskender Kebab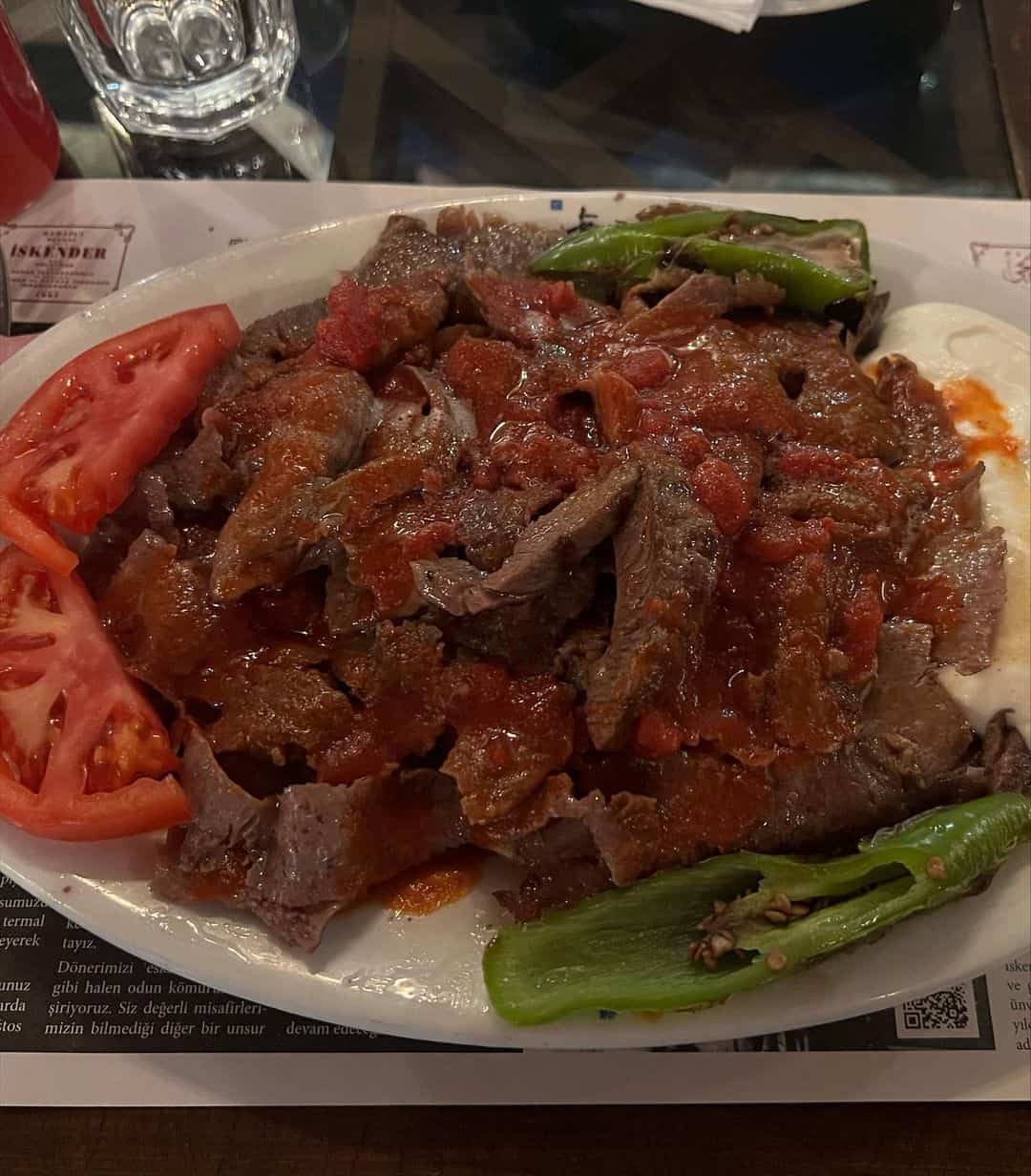 The Iskender kebab is a popular Turkish food that shares some similarities with the yoğurtlu kebab It was named after its inventor Iskender Efendi (Master Alexander).
Iskender was a prominent figure in the 19th-century Ottoman Empire. His namesake kebab is served over rice and then topped with a spicy tomato sauce.
Hünkar Beğendi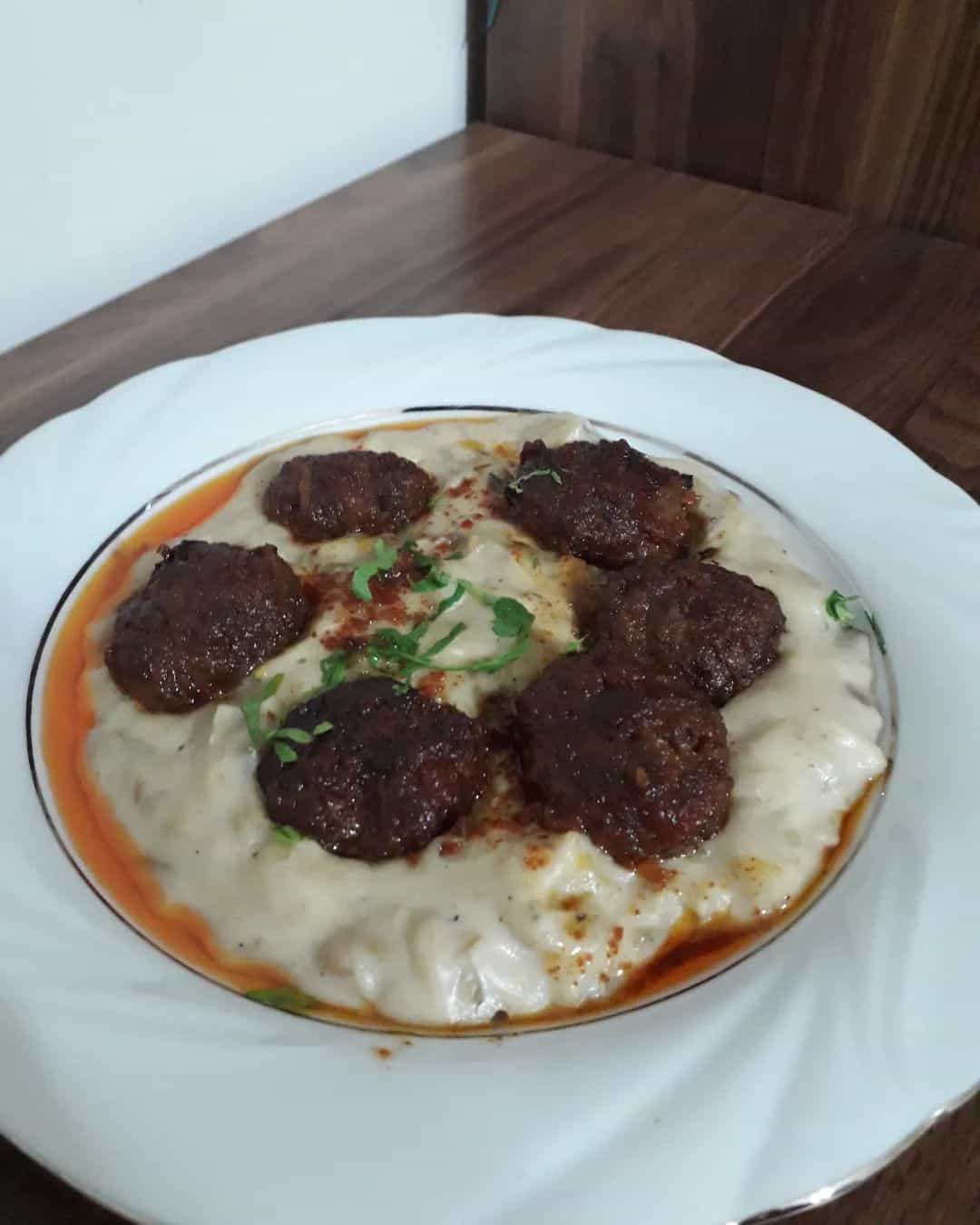 Hünkar Beğendi is a wonderful Turkish dish for meat lovers. Soft, marinated chunks of lamb are served on top of a bed of pureed eggplant, butter, and melted cheese.
This dish is often nicknamed "Sultan's delight". This is because it was a Royal favourite during the Ottoman Empire.
Manti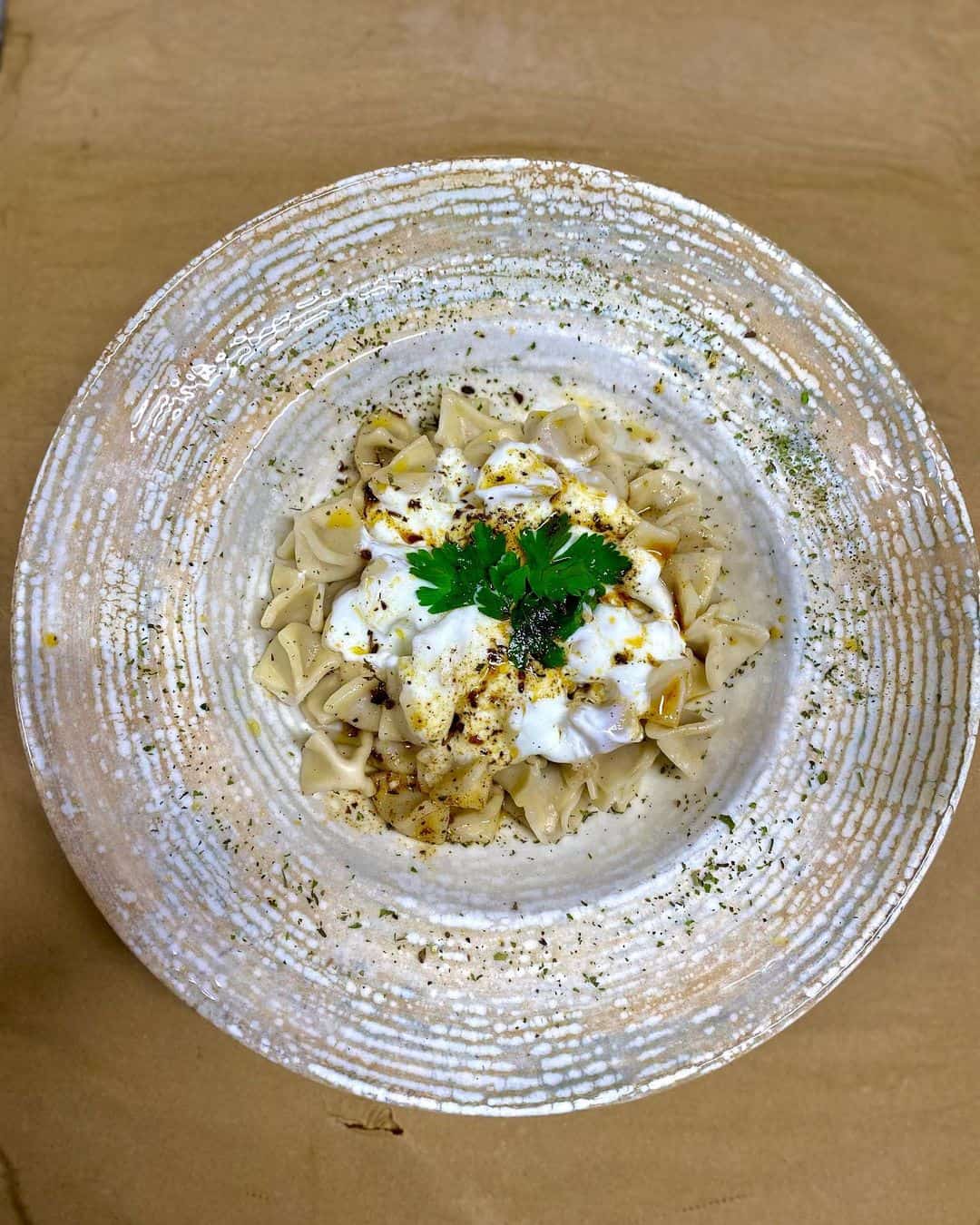 Manti bears a similar resemblance to Italian ravioli. However, it is completely different when it comes down to taste and texture.
These little meat-based dumplings are made with either beef or lamb. They can be boiled or fried and are then served with yoghurt and a range of spices.
Kuzu Tandir
Kuzu Tandir is a roasted lamb dish. The meat is slow-cooked over many hours.
This results in a delicious lamb dish that is so tender that it falls apart in your mouth. In some ways, it is reminiscent of Moroccan mechoui.
The name "tandir" comes from the name of the oven that was used to cook the lamb centuries ago. The lamb was cooked underground, just like Moroccan mechoui is today.
Today, the "traditional" way to cook the dish in Turkey is to hang the lamb up over hot coals. In Istanbul, you can find many speciality restaurants serving this Turkish delicacy.
Kofte
Kofte is a common addition to Turkish meze platters. It can be considered a staple part of the local diet. The dish consists of balls or patties of ground beef or lamb and can be served in a variety of ways.
You can find kofte meatballs in delicious casseroles (Izmir kofte). Alternatively, you can eat them totally raw, or have them coated in egg and then fried (kadin budu).
The variations of kofte available have different levels of spice and different ingredient blends. They come in all sorts of shapes and sizes.
Tantuni
Tantuni is the regional dish of Mersin – a coastal city east of Antalya and west of Adana. On virtually every Mersin street, you will see street vendors selling this meat dish from their pushcarts.
The dish is made by sauteeing thin slices of beef or lamb with sunflower oil, onions, tomatoes and herbs. It is usually served with lavash bread known as 'dürüm'.
Despite being native to Mersin, tantuni can be found nationwide. You can order a hearty portion for a few euros. Squeeze a little lemon over the meat for added flavour.
Turkish Street Foods
Turkish street food is both flavourful and filling. You will find street vendors setting up shop in every Turkish town and city. This is a good way to grab a light, affordable meal on the go.
Lahmacun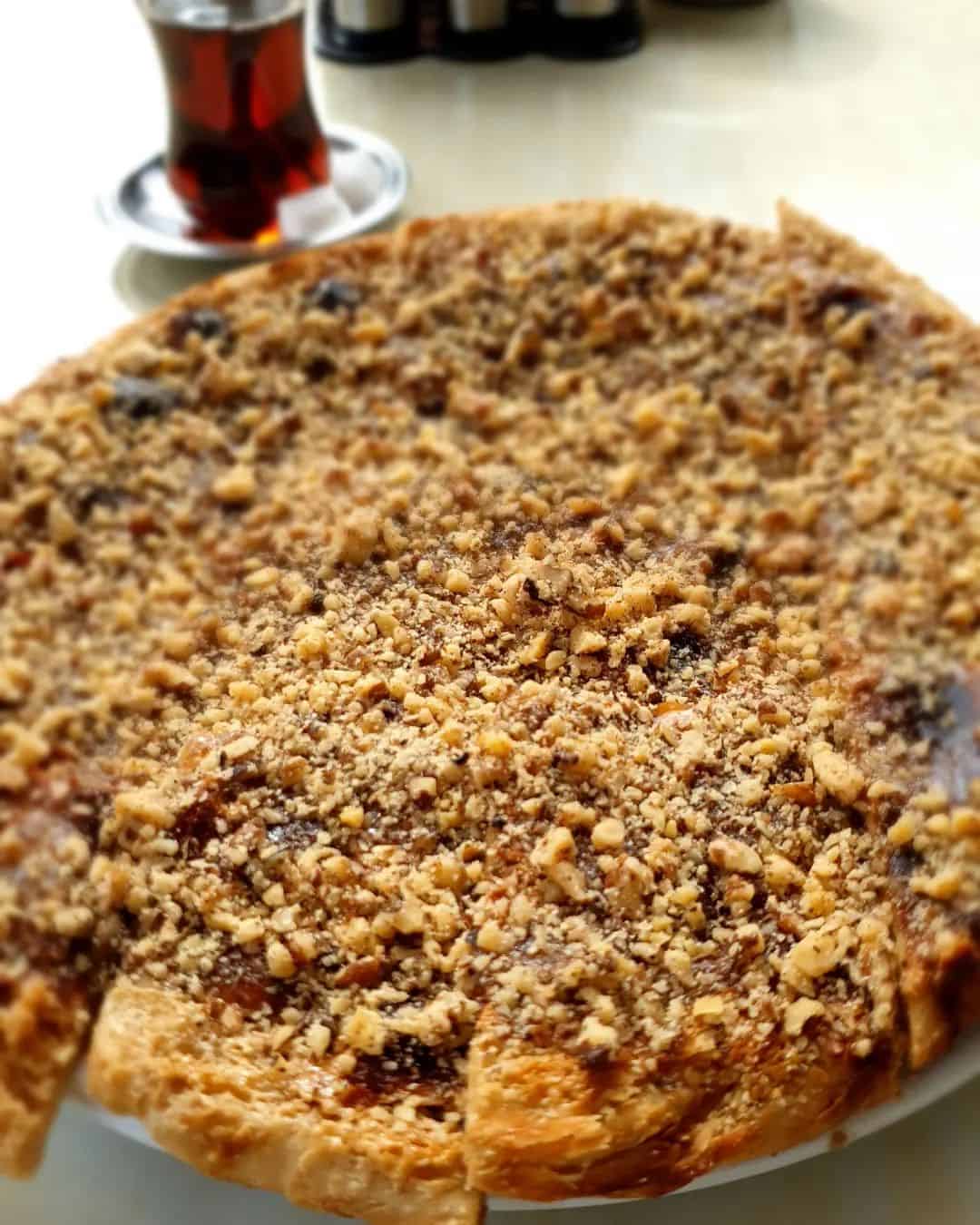 Lahmacun is a popular Turkish street food dish that is widely available across the country. This is a crispy flatbread.
It is usually topped with minced meat, salad, and lemon juice. However, different variations of lahmacun are available.
If you're having a busy day sightseeing and you want to grab a quick yet delicious snack, lahmacun is a great option. Most bakeries and takeout spots serve lahmacun.
Islak Burgers
Islak burgers are "wet hamburgers". Rest assured, these are much more appetizing than they sound!
There is a notable difference between islak burgers and regular burgers. Islak burgers are soaked in a rich, garlicky tomato sauce.
The entirety of the burger and the bread bun is drenched in sauce. The burgers are then stored in a little steam cabinet.
Islak burgers are teeny tiny. They cost just $1 each.
They are one Turkish food that you definitely have to take the time to try! You can only find Islak burgers in Taksim in Istanbul. Furthermore, there are only three establishments that make them!
Dürüm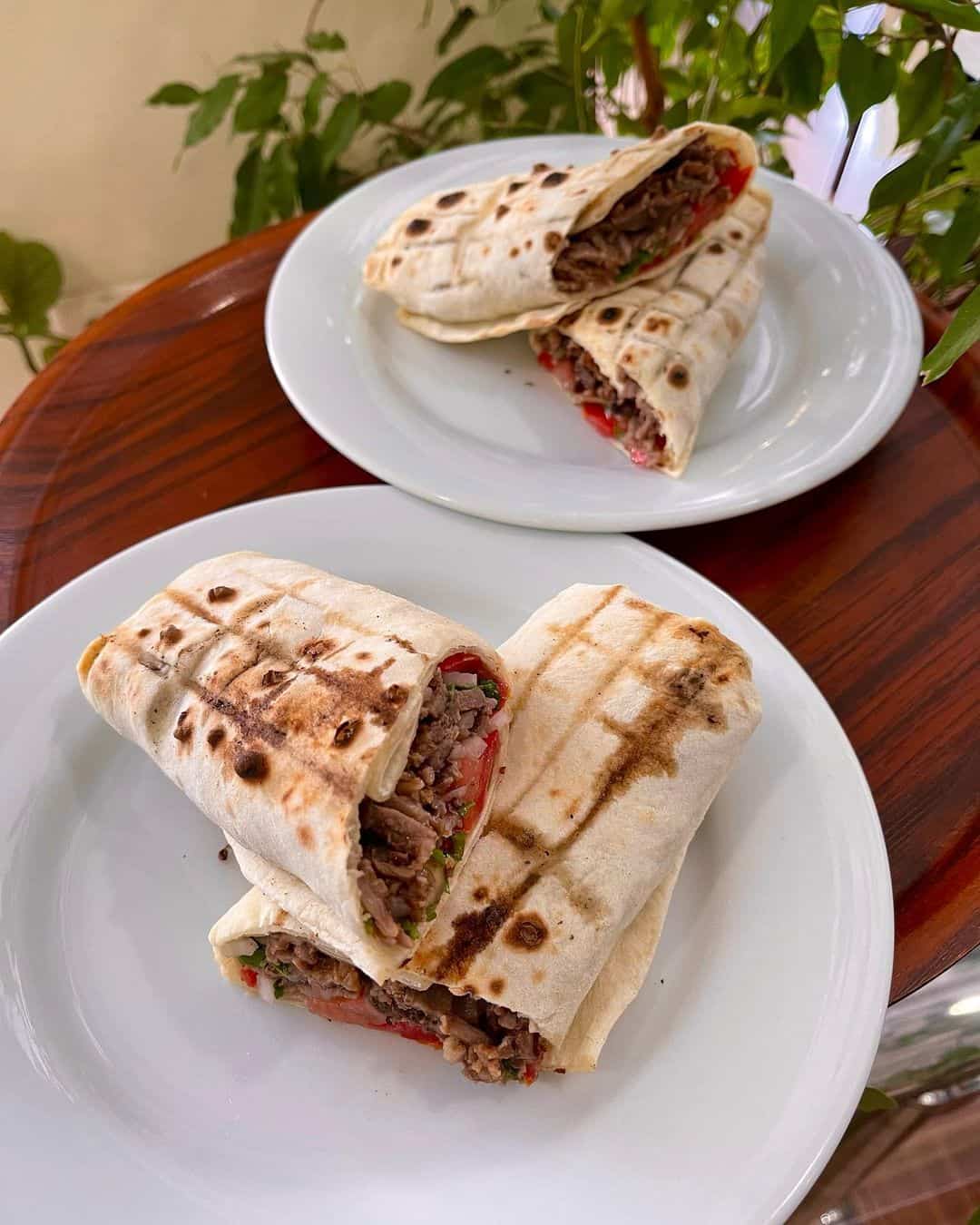 Dürüm is a Turkish cuisine alternative to the Mexican burrito or the Greek gyro. It is made by wrapping doner meat in lavas flatbread.
This is typically chicken, lamb, or beef that has been slow-cooked. The wrap is then stuffed with a selection of vegetables and condiments.
Balik Ekmek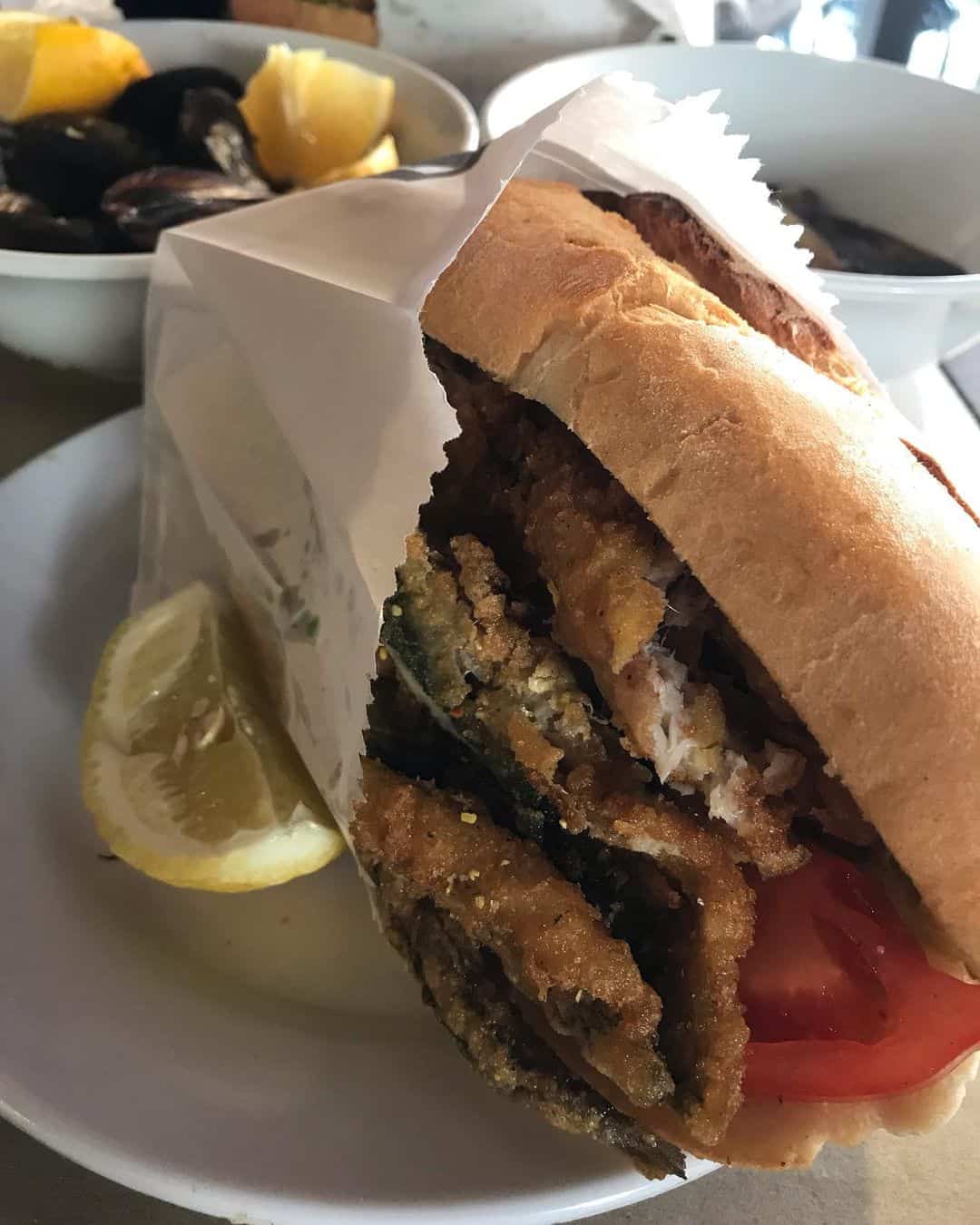 If you find yourself wandering along the seafront promenades of Ortakoy during your Istanbul itinerary, be sure to look out for the street food vendors serving up hot steamy plates of balik ekmek.
Balik ekmek is a grilled fish sandwich. It is prepared using the day's latest catches.
Pide
Pide is the Turkish answer to pizza. This is a boat-shaped flatbread that can be stuffed with a variety of toppings.
Sucuk (spicy Turkish sausage), melted cheese, spinach, and fresh vegetables are popular pide toppings. You can find pide at many takeaway establishments around Istanbul.
Kokoreç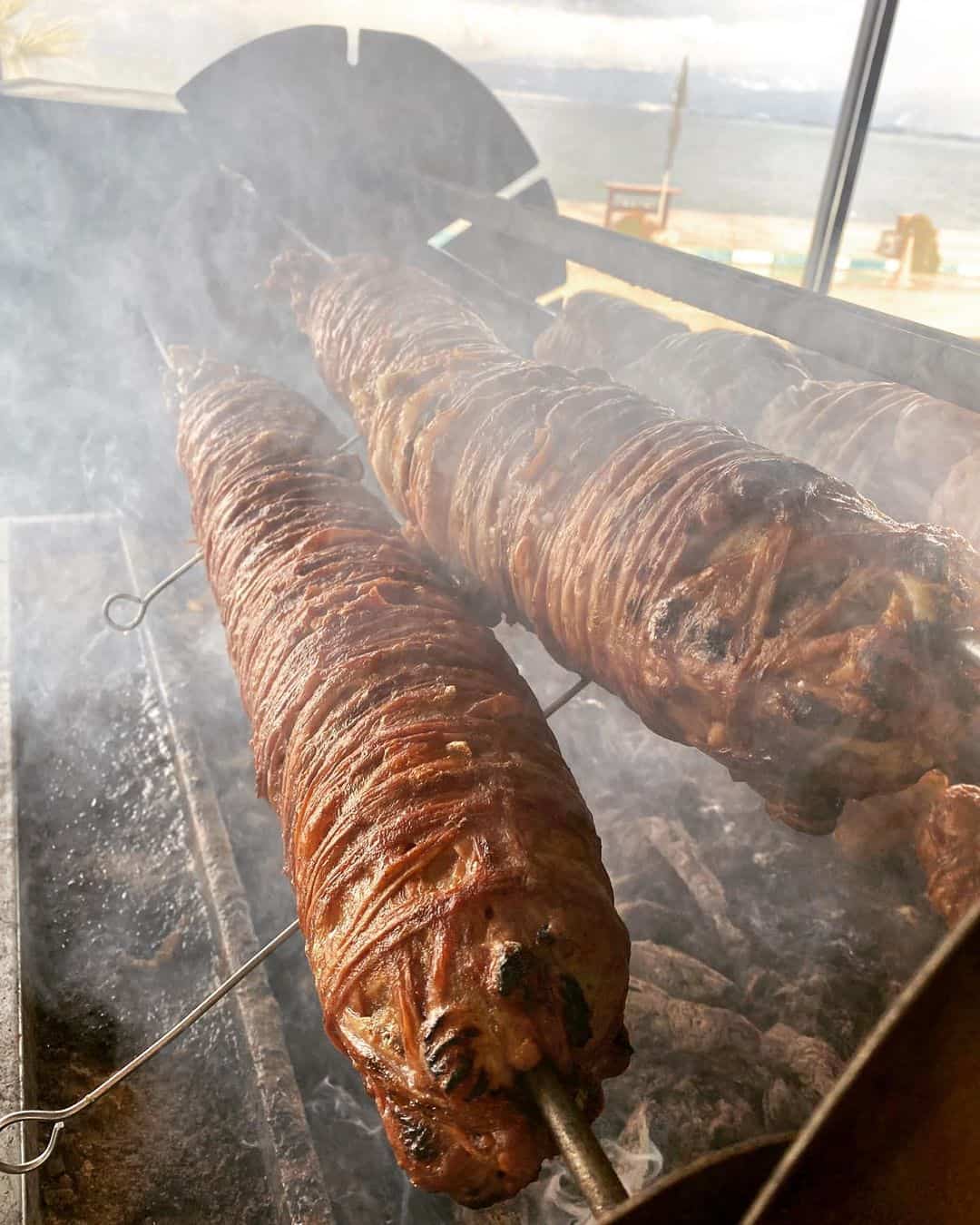 Kokoreç is a flavourful dish you may feel a little wary to experiment with at first, particularly if you don't consider yourself an adventurous eater. However once you have experienced the mouthwatering taste and texture of this marinated meat dish, you will no doubt be happy you tried it.
Kokoreç can be made with either lamb or goat intestines. The meat is then wrapped around seasoned offal.
Kokoreç is a Turkish "street food". You will find street vendors serving this dish everywhere from Antalya to Konya.
This dish comes in a couple of forms. You can enjoy Kokoreç as part of a sandwich, or as just a plateful of meat
Kumpir
Kumpir sounds exotic and all, but the reality is that kumpir is just a baked potato!
However, who doesn't love a good old-fashioned baked potato? You can find several street food vendors across Istanbul and other large Turkish cities that serve up delicious hot Kumpir.
These stalls are especially popular in trendy Ortakoy. If you want a filling and affordable dinner on the go, kumpir is a good option.
Fillings for Turkish baked potatoes are very similar to those enjoyed in the west. You can pile your potato high with Russian salads, coleslaw, melted butter, and generous mounds of cheese.
Turkish Cuisine for Vegetarians
Vegans and vegetarians will not be struggling to find things to eat in Turkey. You will find many meat-substitute dishes on a lot of Turkish menus.
For instance, you can often find spicy vegetarian versions of Turkish meatballs and kebabs that are made with bulgur wheat instead of meat.
Vegetarian travellers will not be restricted to only being able to order salad and soup in Turkey.
This remains the case even if you eat out frequently. You can use the "Happy Cow" app and website to search for vegetarian and vegan-friendly eateries around Turkey.
İmam Bayıldı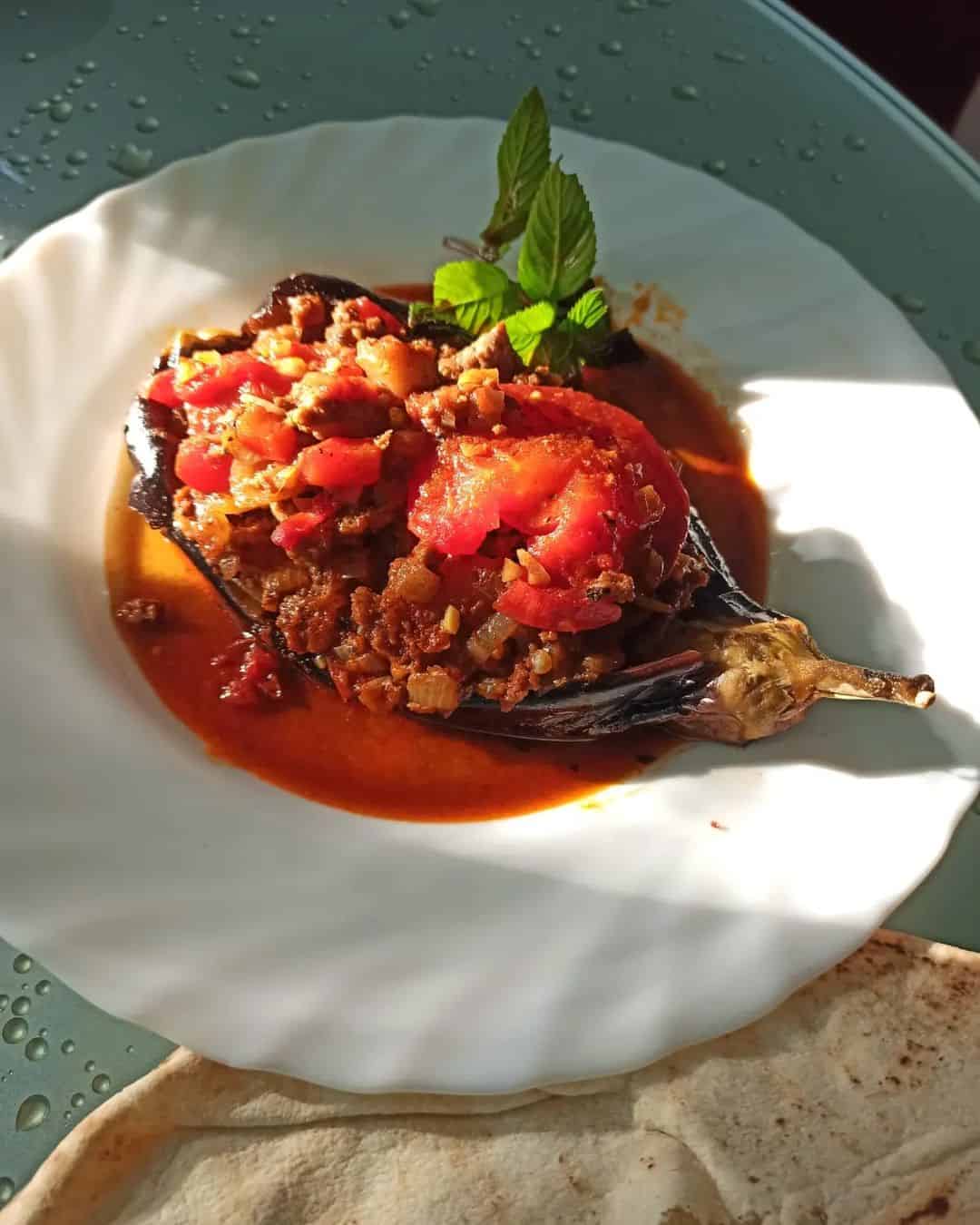 Imam bayildi is a lovely home-cooked Turkish dish. It shares some similarities to dolmas.
The literal translation of "imam bayildi" is quite comically, "the Imam fainted". In other words, this dish is so delicious that it could cause someone to pass out! It is made by stuffing eggplants with garlic, onions, and tomatoes.
Imam Bayildi is perhaps not the best choice for fresh breath. However, it is definitely a nice vegetarian option that is bursting with flavour!
Mercimek Koftesi
Mercimek koftesi is the vegetarian version of kofte meatballs. The little balls are stuffed with chickpeas, vegetables, and bulgur wheat instead of meat.
Şakşuka
Turkish Şakşuka is a popular tomato-based vegetarian meze dish. It is not to be confused with the shakshuka breakfast egg dish!
This Turkish food makes a frequent appearance on meze/lunch menus and is best enjoyed as a side dish among other small plates. Fresh vegetables are cooked in olive oil and flavoured with garlic and herbs.
Tomatoes, aubergines, onions, eggplant, potatoes, and peppers are sauteed. Many restaurants place their own unique spin on the dish. Şakşuka is usually prepared cold, and small, complementary portions of it are often served alongside Turkish raki.
Lentil Soup (Mercimek Corbasi)
Simple yet delicious, Turkish lentil soup, or "Mercimek Corbasi" is a blended puree of lentils and spices. This puree is then garnished with cilantro and a squeezed lemon slice for added zing and flavour.
This dish is satisfying and filling while remaining inexpensive. It is typically served with hot pitas on the side.
You will note that it is widely available at most restaurants across the country. Lentil soup is arguably the most popular Turkish starter dish.
Turkish Cuisine:
Small Plates and Mezes
Meze dishes are a huge part of Turkish food culture. A "meze" consists of lots of small plates.
This is comparable to Spanish tapas. Mezes are a great way to sample lots of different Turkish foods without having to commit to large portions.
Kahvalti
Forget about the boring "continental breakfast" that most travel destinations offer, the kahvalti is far more unique and tasty. Turkish breakfast is served meze-style. You will be presented with a selection of different bowls and plates.
Arguably hotels in small villages and off the beaten path Turkish travel destinations serve some of the best kahvalti. However, rest but assured most accommodations around the country serve fabulous breakfasts.
Sliced cucumbers, peeled tomatoes, olives, and cheeses make a regular appearance in kahvalti. Instead of spreading butter or jam on your bread, opt for a typical kaymak (clotted cream) and honey.
Menemen
Menemen is a popular Turkish breakfast. Scrambled eggs are cooked in sauteed vegetables before being served with warm bread. Yum!
Tarhana Çorbası
Tarhana Çorbası (Tarhana soup) is one of the most popular soups that are enjoyed in Turkey today. You may occasionally find it detailed on menus as a starter/appetiser.
However, it is most commonly enjoyed at home. Tarhana is a dried pulse that is made from a fermented mixture of grain and yoghurt or fermented milk.
It is typically then flavoured with mint, fresh herbs, and fresh vegetables, and simmered in a meat broth. This is a particularly hearty dish during winters in Turkey.
Haydari
Haydari is a yoghurt dip that makes the perfect accompaniment to any Turkish food. The dip is somewhat similar to Greek tzatziki.
It is made by combining fresh yoghurt, cucumber, garlic, and herbs. It is delicious whether smothered on warm bread or meat dishes.
Meze Platters
Mezes are among the most popular Turkish foods. A meze selection typically consists of hummus, yoghurts, and perhaps an assortment of other such dips.
Warm fresh bread is served with kofte (meatballs), dolmas (rice stuffed vine leaves), and eggplant salad among other tasty local favourites. This concept is great as it allows you to try a little of everything.
Turkish Rice (Pilav)
Turkish rice is called pilav. Pilav is a major staple of Turkish cuisine and is often served as a side dish alongside meats and mains.
Turkish rice is far more flavourful and special than your standard boiled white rice. It is cooked in butter and salt, making it extra soft and flavourful.

As you explore Turkey, you will no doubt encounter variations of pilav. Some restaurants add chopped mushrooms (Mantarli pilav), while others add chickpeas (Nohutlu pilavı).
Dolma
Dolma is a popular dish in Turkey, Greece, and various parts of the Middle East and the Balkans. This dish is comprised of vine leaves that are stuffed with meat, vegetables, rice, and spices.
The vegetarian version is usually topped with a flavourful garlic yoghurt sauce. Meanwhile, the meat version is known as "Etli Yaprak Sarma".
Dolmas can be eaten on their own as a light lunch. It also makes a common appearance as a part of meze platters.
Kuru Fasulye
Kuru Fasulye is a hearty Turkish white bean stew. It is often prepared at home, particularly as the weather turns colder.
Different parts of Turkey are famous for different dishes. The Süleymaniye area of Beyazıt in Istanbul is particularly famous for kuru fasulye and is a great place to sample this while exploring Turkey's largest city.
Prof. Sıddık Sami Onar Caddesi is the place to head. Istanbulites often joke that this is 'that kuru fasulye street'.
Variations of the dish exist. The stew is typically vegetarian-friendly. However, sometimes meat (often lamb) is added so check with the server before ordering.
To make kuru fasulye, onions, tomato puree, tomatoes, and bell peppers are sauteed and then boiled together with the beans in a sumptuous tomatoey sauce. This is real Turkish comfort food.
Turkish Food Pastries
Turkish pastries are a popular savoury breakfast choice or on-the-go snack. They can be eaten alone, or taken home and then heated up to enjoy alongside yoghurt and salad.
Borek
Borek is a stuffed pastry that is essentially Turkey's answer to the pie. This hearty delicacy can be found at the majority of bakeries around the country.
You will also find dedicated borek shops where the quality is notably better. Borek pastries are typically filled with meat, cheese, potato, or spinach,
The pastry also comes in several variations, for example, su borek (also known as 'water' borek) is a very soft, wet pastry. Meanwhile, sigara borek ("cigarette" pie) comes in the form of a long, thin puff pastry.
Borek pastries are available across the Balkans and are very similar in taste and appearance. You can find them in Croatia, Serbia, North Macedonia, Montenegro, etc. Greek pastries are also very similar.
Katmer
Katmer is a special type of borek pastry that originated in the cultural city of Antep. This city is rumoured to grow the best pistachios in the world.
If you try Katmer, you have a chance to try them without having to trek out to Antep. The delightful pastry is topped with finely chopped pistachios from this region.
Acma
Acma is a soft Turkish pastry that is often regarded as being the "Turkish bagel". However, there are both sweet and savoury versions of Acma available.
Sweet acma is somewhat similar in flavour and texture to a croissant. It is flaky, buttery, and delicious.
Most bakeries around Turkey sell acma. They make for a great breakfast or a light snack on the go.
Simit
Simit is a popular Turkish food to enjoy in the mornings. This is a circular piece of bread topped with sesame seeds.
Simit could be regarded as the Turkish answer to the American pretzel. It is also very similar to the Greek street food "koulouri".
Turkish Beverages
Tea and coffee culture is huge in Turkey. It is not unusual to see locals sitting outside of Istanbul tearooms for hours as they smoke shisha and enjoy a pot of tea among friends.
However, there are many other beverages that are unique to this part of the world. Turkey is a predominantly Muslim country, however, alcohol is both produced and enjoyed by some here. Notably, Turkish "raki" and local beers like Efes.
Salep
Nothing is more cosy and comforting after a long day of sightseeing than a steamy cup of salep. This is especially the case if you are travelling to Turkey during the winter.
Salep is a rich, milky, cinnamon-tasting drink. Its flavour is somewhat comparable to Indian chai. However, salep is made from orchids.
Orchids are boiled, dried, and ground into flour. Next, cinnamon is added.
Salep is not only delicious: the beverage is known for its health benefits. Specifically, salep is said to aid respiratory and gastrointestinal problems.
Fresh Fruit Juices
Street vendors selling fresh fruit juices can be found all over Turkey. A lot of the fruit is incredibly fresh, high-quality, and locally sourced.
You can find all of your favorite smoothie and fruit juice blends in Turkey. However, if you are looking for something completely unique, consider ordering a glass of "Tursu Suyu".

Tursu Suyu is an acquired taste but it is incredibly healthy. The juice is made by blending pickles with vegetables.
Turkish Teas and Coffees
Tea is a huge part of Turkish culture. In fact, more tea is consumed in Turkey than in any other country. Sitting in a quaint Turkish tearoom and people-watching is a nice way to pass the time.
However, complimentary tea is also commonly handed to you as you browse stores and markets. Traditional Turkish tea is black and flavourful. It is usually enjoyed with a few dollops of sugar.
Flavoured teas are also very popular here, one of the most common is the Turkish apple tea. Don't let the bright green colour put you off!
On the contrary, Turkish coffee is very strong and thick in texture. It is the same as Arabic coffee and is served in a tiny dish.
Turkish coffee has a bitter, acquired taste that you may either love or loathe. At the end of your drink, it is customary for locals to read their fortunes from the coffee smudges at the bottom of the cup.
Turkish Cuisine:
Desserts in Turkey
You may have unknowingly sampled many Turkish desserts in the past. This is especially the case if you have spent any time travelling through the Middle East, Central Asia or Southern Europe.
Many Turkish desserts date back to the Ottoman Era or Ancient Arabia. The founders introduced these sweet treats to all of the countries that they conquered or occupied. As such, many Turkish desserts are comparable to Greek desserts, Middle Eastern desserts, etc.
Halva
Halva is a crumbly dessert that is popular across Southern Europe and the Middle East. It is commonly made with sesame or nut flour.
There are hundreds of variations of halva. If you take a stroll through the Grand Bazaar of Istanbul, one of the many vendors will offer you a piece to try.
Tulumba
Tulumba is a sweet, deep-fried dough dessert that dates back to the Ottoman Empire. Today, it can still be enjoyed in Turkey and in various other Balkan nations that were once occupied by the Ottomans.
The texture and appearance of tulumba could be compared to Mexican churros. The dough is fried until crispy and then dipped in sweet, sticky syrup.
Kunefe
Delightfully sweet, sticky, and sinful, kunefe is a popular dessert across the Middle East and in Turkey. Turkish dessert menus will often present a selection of kunefe and baklava treats.
This flavourful dessert is made from cheese. It is then topped with shredded pastry and scatterings of pistachio nuts.
Kayısı Tatlısı
If you find yourself wanting to sample a Turkish dessert delicacy that is a little different, step inside a local patisserie and ask for a Kayısı Tatlısı. Kayısı Tatlısı is quite simply. fresh apricots stuffed with cream.
Lokum – Turkish Delight
Don't be fooled by the imitation versions of Turkish Delight that you find in your home country. Even if you don't typically like Turkish Delight, you will find yourself pleasantly surprised when you visit Turkey for the first time and try the authentic versions.
Turkish Delight ( "Lokum") comes in hundreds of different flavours. Chopped pistachio and fragrant rose are two of the most popular versions. Little bowls of Turkish delight are often served as a complimentary side order when you order a Turkish tea or coffee.
Lokma Fritters
The precise origins of lokma fritters are unknown. However, it is believed that the original concept for this dish was developed in Arabia. The name likely stems from the Arabic word "luqma" which means "mouthful".
These sweet, sugary treats are prepared with flour, sugar, yeast and salt. The concoction is then deep-fried before being drizzled in syrup and honey.
Lokma is a popular dessert in Turkey, the Middle East, and Greece. In Greece, they are known as "loukoumades".
Muhallebi
Muhallebi is a Turkish rice pudding. This delightfully smooth, creamy dessert peers out from behind glass counters in many Turkish bakeries and restaurants.
The original version of muhallebi was made with pieces of shredded chicken. There are still many restaurants across Turkey that still follow the original recipe. However, today, many people prefer a sweet milk version or versions of muhallebi that are made with fruit coulee and cinnamon.
Muhallebi is believed to have been created in Persia (Iran). You can also find this dessert in Greece and parts of the Middle East.
Baklava
Baklava is arguably the most popular dessert in Turkey. This is a sticky, sweet filo pastry that consists of several pastry layers, filled with chopped nuts and held neatly in place together with syrup or honey.
Since the dish is so popular, you are certainly sure to have the opportunity to try it during your trip. Most restaurants and tearooms serve baklava.
Fırın Sütlaç
Fırın Sütlaç is an alternative version of Turkish rice pudding. This light and creamy dessert is made from rice blended with milk, cinnamon, and sugar. It is found in a lot of bakeries and restaurants and can be enjoyed either hot or cold.
Kazan Dibi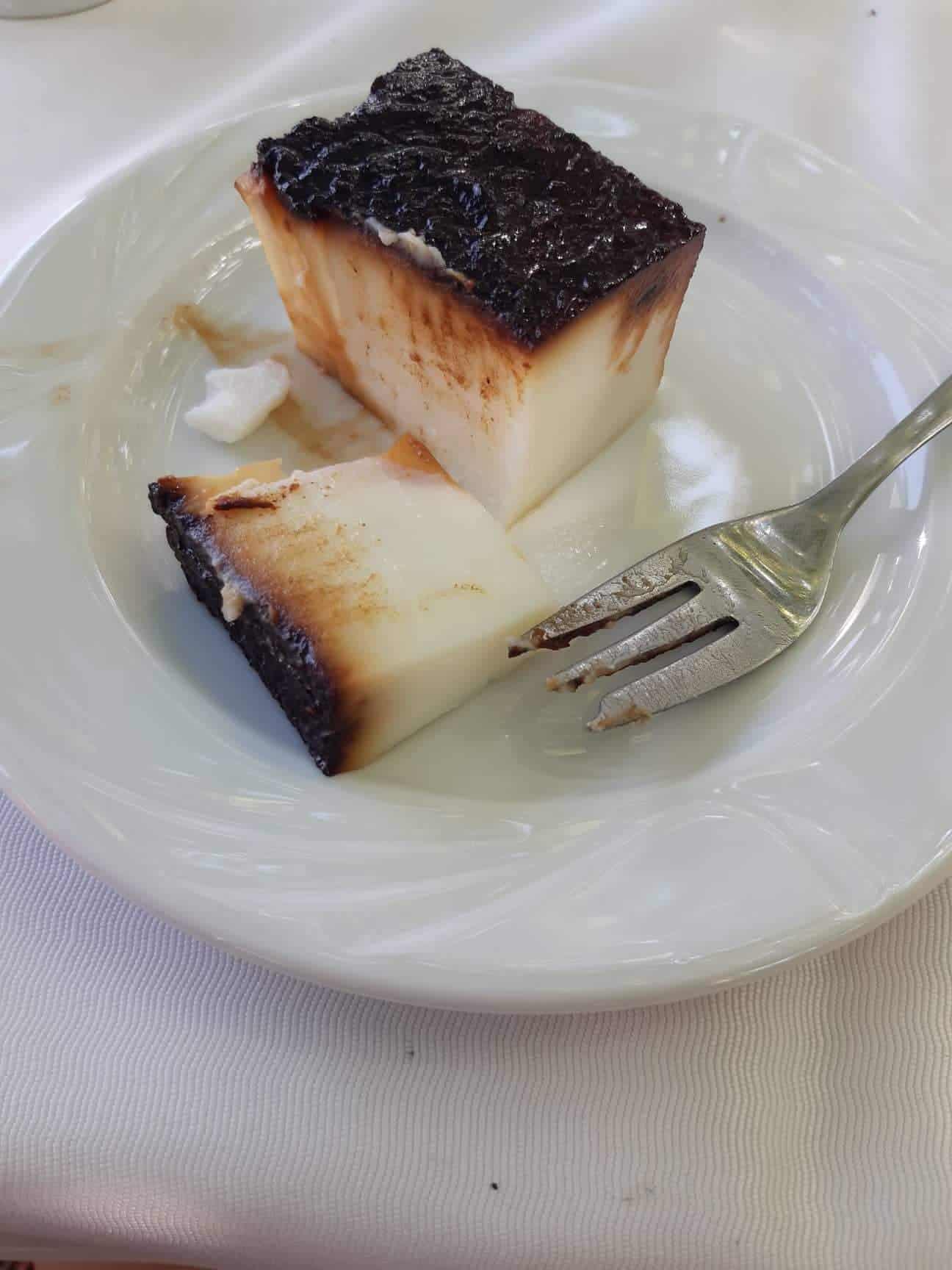 Kazan Dibi is a wonderful Ottoman Turkish dessert that is in some ways like the Turkish answer to Panna Cotta. The dessert also has a pretty funny story behind its invention as it was created completely by mistake!
Several centuries ago, an Ottoman Sultan asked his Chef to invent a new dessert. The chef tried making a concoction of cream and sugar but all of the ingredients burned and stuck to the bottom of the pan. The Sultan loved the burnt mess and thus, Kazan Dibi was born!
Gullac
Gullac is the unofficial dessert of Ramadan in Turkey. If you find yourself exploring Turkey during this holy month, then you will find gullac in plentiful supply.
It commonly makes an appearance on seasonal restaurant menus and is sold in local bakeries.Gullac dates back to the Ottoman era.
It is a soft dessert that is made with milk, pastry, and sweet pomegranate. Sometimes, different bakeries and regions put their own spin on the dessert.
FAQs About Turkish Food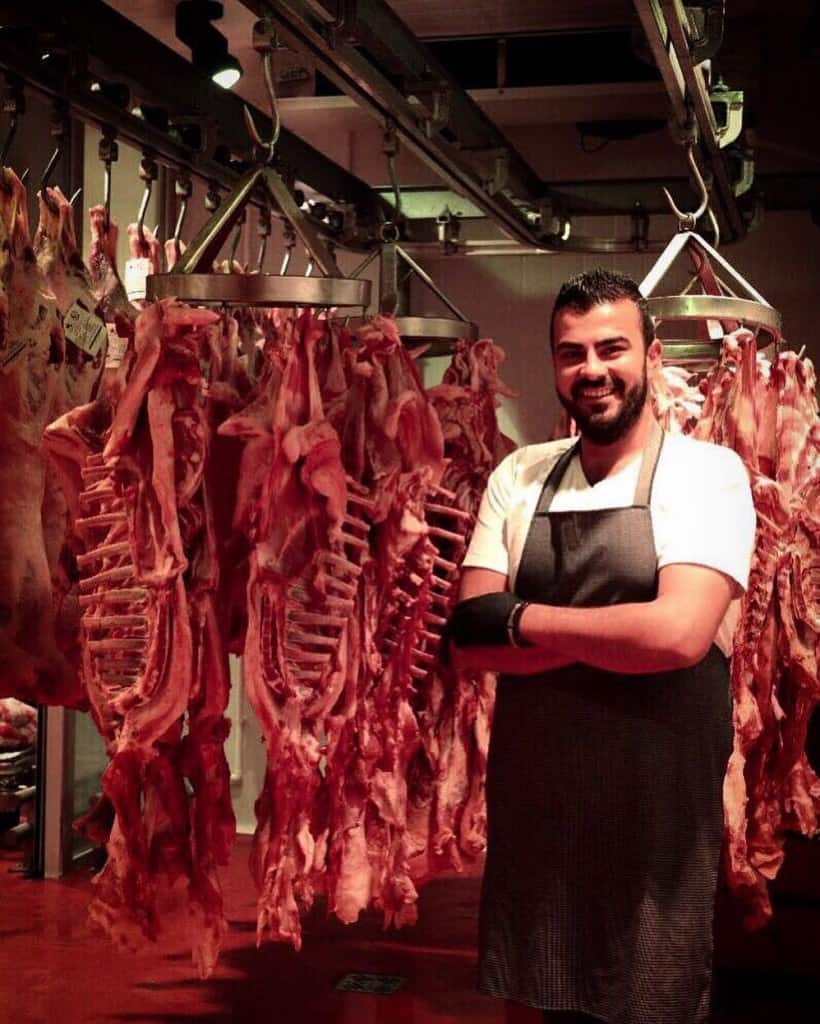 Turkish food is rich, diverse and varied. The above list gives you an insight into the types of Turkish dishes that you can expect to find during your travels through Turkey but it is by no means exhaustive.
Where are the best places to try Turkish food?
Wherever you travel in Turkey, ask your accommodation host or hotel receptionist to advise you of the best restaurants in that area and the delicacies which are native to that region. This will help to ensure that you eat the very best, most authentic Turkish cuisine, rather than falling into tourist traps.
Is Turkish Food Expensive?
Turkish food is very affordable. You can easily get a dinner in Turkey consisting of a main, a drink, and a starter/soup for less than $5.
The only exception to this perhaps is if you are eating in resorts and tourist areas such as Istanbul's Sultanahmet district. Here, prices can be heavily inflated. Try to dine out in local areas where you can.
Is Turkish Delight Vegetarian and Vegan Friendly?
You may assume that turkish delight is made with gelatin but that is incorrect. The vast majority of "lokum" (Turkish delight) is made with cornstarch.
Consequently, it is both vegetarian and vegan friendly. There are many speciality candy/Turkish delight stores around the country, particularly in Istanbul. If you have any concerns, ask the friendly server to confirm that their product is vegetarian/vegan.
Is Turkish Food Halal?
The vast majority of Turkey's population (above 98%) are Muslim. As a result, all restaurants here must obtain halal certification.
Is Turkish Food Healthy?
Turkish food is generally very healthy. Most dishes are prepared with excellent quality cuts of meat, lots of vegetables, and olive oil.
Dishes served in Turkish restaurants are also very seasonal. In other words, menus change according to what fruits and vegetables are in season. As such, you know that you are eating the freshest produce of the highest quality.
Turkish Food: Final Thoughts
Have any further questions about Turkish cuisine, or what other food from Turkey you should try? Feel free to reach out to me via the comments below.
The food from Turkey is perhaps some of the best in the world! Safe Travels, Melissa xo
---