Taking a kimchi making class in Seoul is a wonderful cultural experience while visiting the Korean capital. Afterall, the local cuisine is a huge part of a country's culture. What could be more quintessentially Korean than kimchi? This is one of the best things to do in Seoul for foodie travellers.
Kimchi is perhaps the most popular Korean banchan (side dish) and it is served with almost everything. Koreans are so majorly into their kimchi that I've even known of Korean friends preparing some to take with them when they travel overseas!
A Little Kimchi History
If you know anything about Korean food, you will probably know that kimchi (fermented, pickled vegetables) is a major part of the cuisine. There are over 180 different types of kimchi and serving a meal without it is almost sacrilege.
I know it sounds stinky, trust me I get your apprehension. When I first came to Korea in 2015, I warily picked up a slither of it with my chopsticks, bought it up to my eye for closer inspection and twirled it around as though I had made a fascinating new discovery.
To my surprise, I actually really enjoyed kimchi and now I get a sad twinge of excitement every time I go to a restaurant and discover a new type of kimchi.
Naturally, when my friend suggested a place where we could try taking a kimchi making class in Seoul I was pretty excited. With that, we tottered off to Myeongdong to visit The Seoul Kimchi Academy.
Taking a Kimchi Making Class in Seoul:
My Experience
We made two types of kimchi – a radish kimchi, and the Chinese cabbage kimchi that you often see served at Korean restaurants. The kimchi was actually surprisingly straightforward to make and I've replicated the recipe myself since.
I feel I'm on my way to becoming an honorary Korean now…. I have bags of kimchi fermenting in my kitchen and bowls of cabbage soaking in salt ready for the next batch on the floor by my dining table…. It's not very sexy if I start dating someone though is it?
"Whooops! Watch your head dear – don't hit your head on the fermented cabbage bags"
"Ahh! Mind you don't trip over the bowls of salty cabbage Babe, I need those for making kimchi!"
Preparing the Kimchi
At my Kimchi making class in Seoul, I quickly realised just how easy it is to make this delicacy. You only need a few ingredients, most of which you probably have somewhere in your kitchen cupboards anyway.
The only thing to keep in mind is that if you are trying to replicate the dish outside of Asia, it may be difficult to get hold of the large Chinese cabbage.
A Brief Intro to the Kimchi Making Process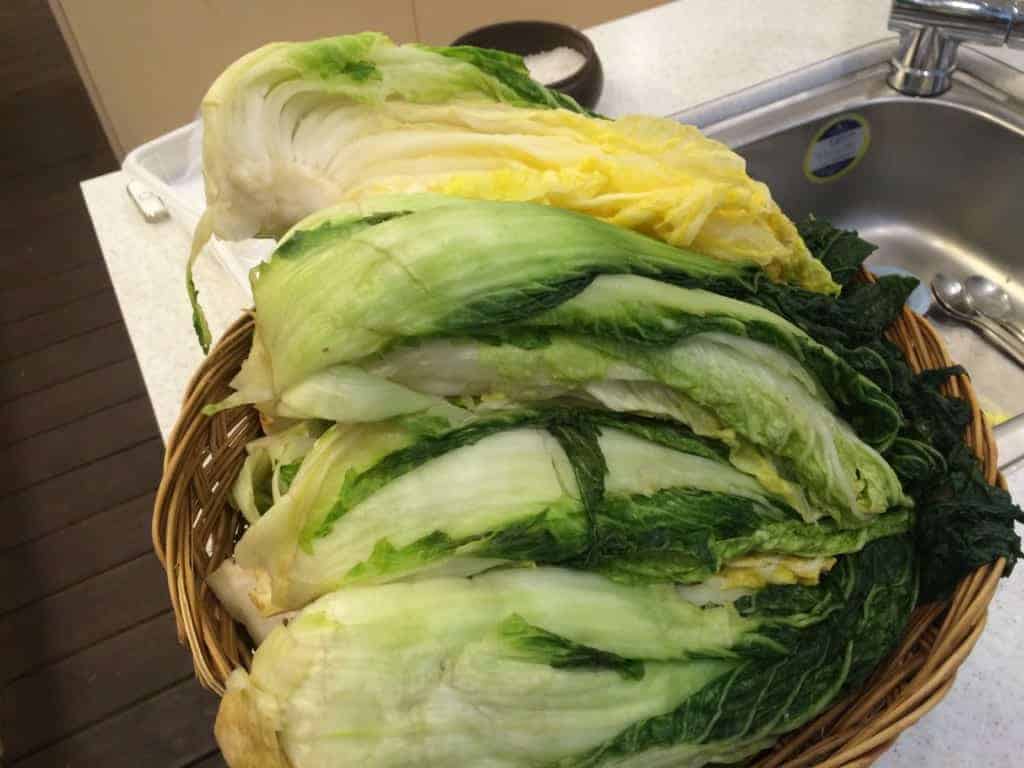 Our cooking teacher made the class fun and interactive. She showed us step-by-step how to make both cabbage and radish kimchi.
To make the cabbage kimchi, we first made a spicy, flavourful paste. This was comprised of ground garlic, ginger, chopped shallots, Korean chili flakes, and miso sauce (Korean fish sauce).
We then prepared spring onions, mix the paste together by hand, and slathered it generously between the different layers of the cabbage. The cabbage was sealed air tight in a bag, and taken home to be stored in a cool, dark place.
After preparing the kimchi, it needs approximately three days to ferment. On the third day, you can open the bag and enjoy the kimchi as a side dish to your favourite food, or just wolf it down by itself as a healthy snack.
In some ways, it's a little creepy to have an ever-expanding back of kimchi fermenting away in your cupboards, but the end result is worth it! The kimchi mixture was so flavourful and delicious that I could have just eaten it as it was, but after having time to ferment, it became even more yummy!
Taking a Kimchi Making Class in Seoul: My Experience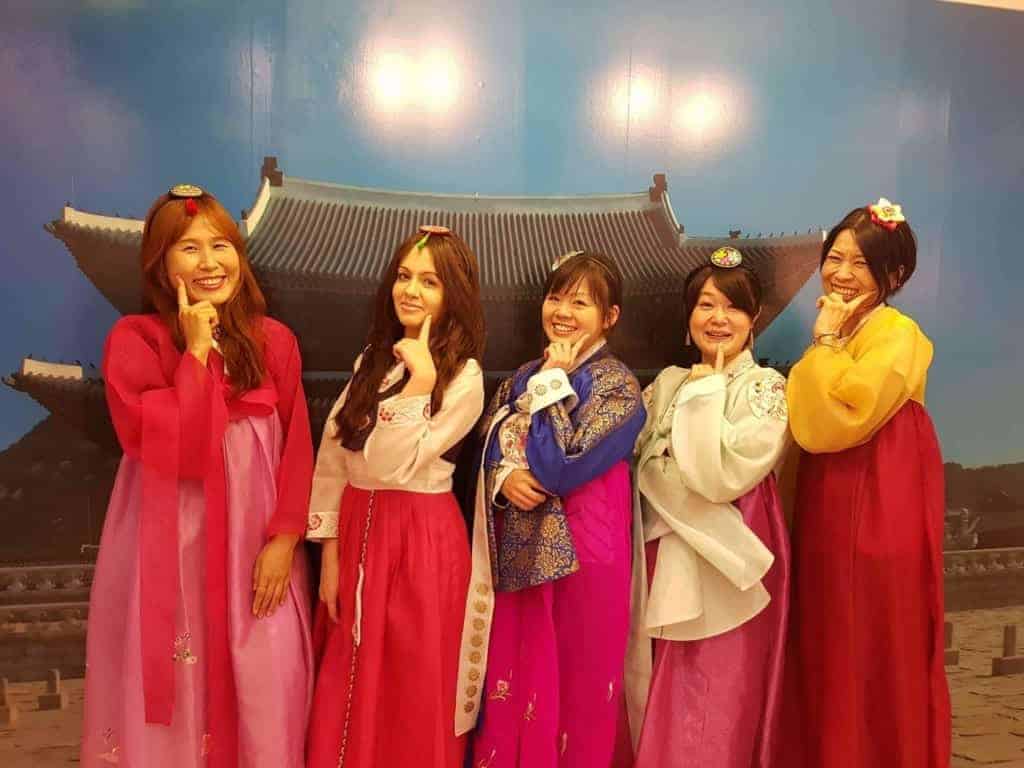 All jokes aside, the class was a really fun experience. At 35,000 Won for one hour I would say that it is a little expensive for what you are getting, but we had so much fun, met some lovely people, and the lady that runs the academy is so sweet. I'm definitely pleased that I went along and got to have this experience.
There is also a costume staging area in the room adjacent to the cooking class kitchen. Interestingly, we were encouraged to try on different traditional hanboks (Korean noble dress), and take some photos before starting our lesson. All part of the fun!
Seoul Kimchi Academy Information
If you wish to take a kimchi making class in Seoul and are interested in doing so at the Seoul kimchi academy, I have provided their details below.
Address: 47 Myeongdong 8ga-gil, Chungmuro 2(i)-ga, Jung-gu, Seoul, South Korea
Opening Times: Hourly courses between 10:00 am and 19:00 pm.
Admission: 35,000 KRW for kimchi class, 45,000 KRW for kimchi and tteokbokki class
Contact Information: [email protected], 02-318-7051 (Seoul)
Additional Thoughts
Kimchi aside, there are a number of other cooking classes in Seoul which you may be interested to try. At these places, you can learn how to prepare other traditional Korean dishes such as bulgogi (the beloved marinated Korean meat), or various soups and stews.
I haven't visited these places personally, however several additional Seoul cooking classes with excellent reputations are the O'ngo Food Communications class, and K Cooking Class Seoul. Each of these places are recommended and approved by the Korean tourism board.
Have any further questions about taking a kimchi making class in Seoul, or planning a Seoul itinerary in general? I lived here for two years and I know the city very well. I am more than happy to assist you with any concerns or queries that you may have. Feel free to drop me a comment below and I'll get back to you ASAP. Safe travels! Annyeong! Melissa xo
Note: High Heels and a Backpack is in no way affiliated with the Seoul Kimchi Academy. I paid for this experience myself, and all opinions shared here are completely my own. I did not receive any discount, and the school did not realise that I was a Travel Blogger in attendance.
This article on taking a kimchi making class in Seoul was originally written in August 2016. It was last updated on the 1st October 2019.
---