Tucking into indulgent local cuisine at Skopelos restaurants is as much of a highlight of your time on the blue-green island as the seeing of the sights. A plethora of exquisite dining options is scattered across the island.
From Skopelos town to Glossa, you will not be short of options for places to enjoy lunch, brunch, and dinner. While there is arguably no such thing as a bad place to eat in Skopelos, not all Skopelos restaurants are created equal.
Wherever you travel, there are always those establishments that stand out from the crowd. This article discusses some of the most beloved island eateries – favoured by Skopelitis and tourists alike.
Uncovering Skopeliti Cuisine and Delicacies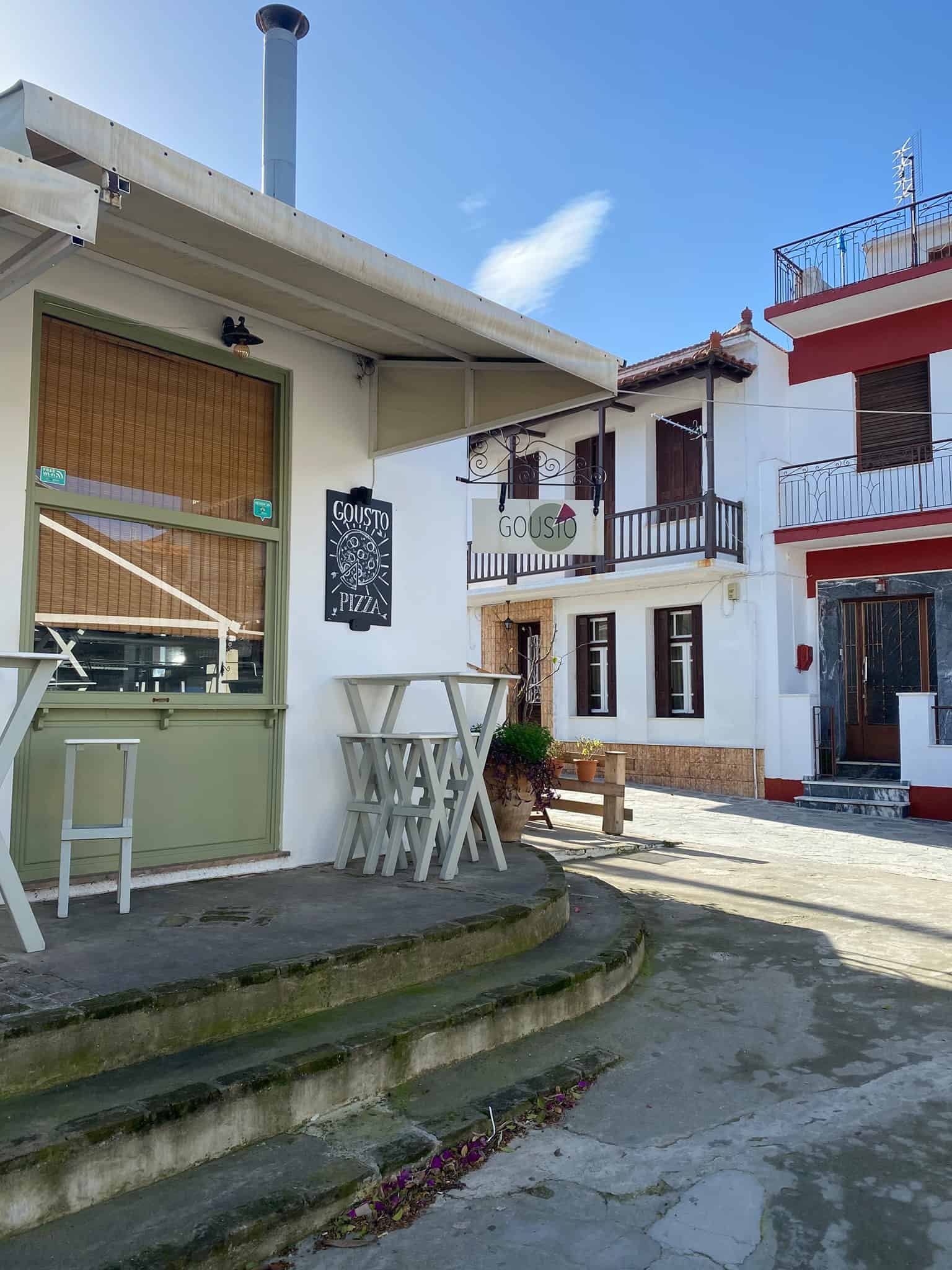 Many of the dishes that grace the menu of Skopelos restaurants are not specifically native to the island but can be found across Greece. Homely Hellenic delicacies such as moussaka, stifado, giouvetsi, and pastitsio are often served up in quaint Skopelos tavernas and eateries.
The island's location in the heart of the Aegean means that Skopelos is a gourmand's paradise when it comes to seafood dishes. A diverse array of dishes are served in the fish tavernas of Agnontas, Panormos, and Skopelos town using the day's latest catches.
Think mouthwatering plates such as roast scorpion fish served with eggplant, lobster pasta, or fresh squid. Seafood aside, there are other "must try" treats on the island.
Skopelos plums, spoon sweets, pine honey, and dried plums are local specialties. They can be purchased in many of the charming delicatessens around the port area (look out for Ambrosia and Mediteraneo Deli). They are also sometimes served up with traditional dishes to place a contemporary/unique spin on centuries-old recipes.
A particularly famous treat of Skopelos island is the Skopelos cheese pie – an island take on Greece's beloved Tiropita. Virtually every bakery, patisserie, and coffee shop serve this. Arguably few places do a better Skopelos pie than Michalis pies in the heart of the old town.
Best Restaurants in Skopelos Town Area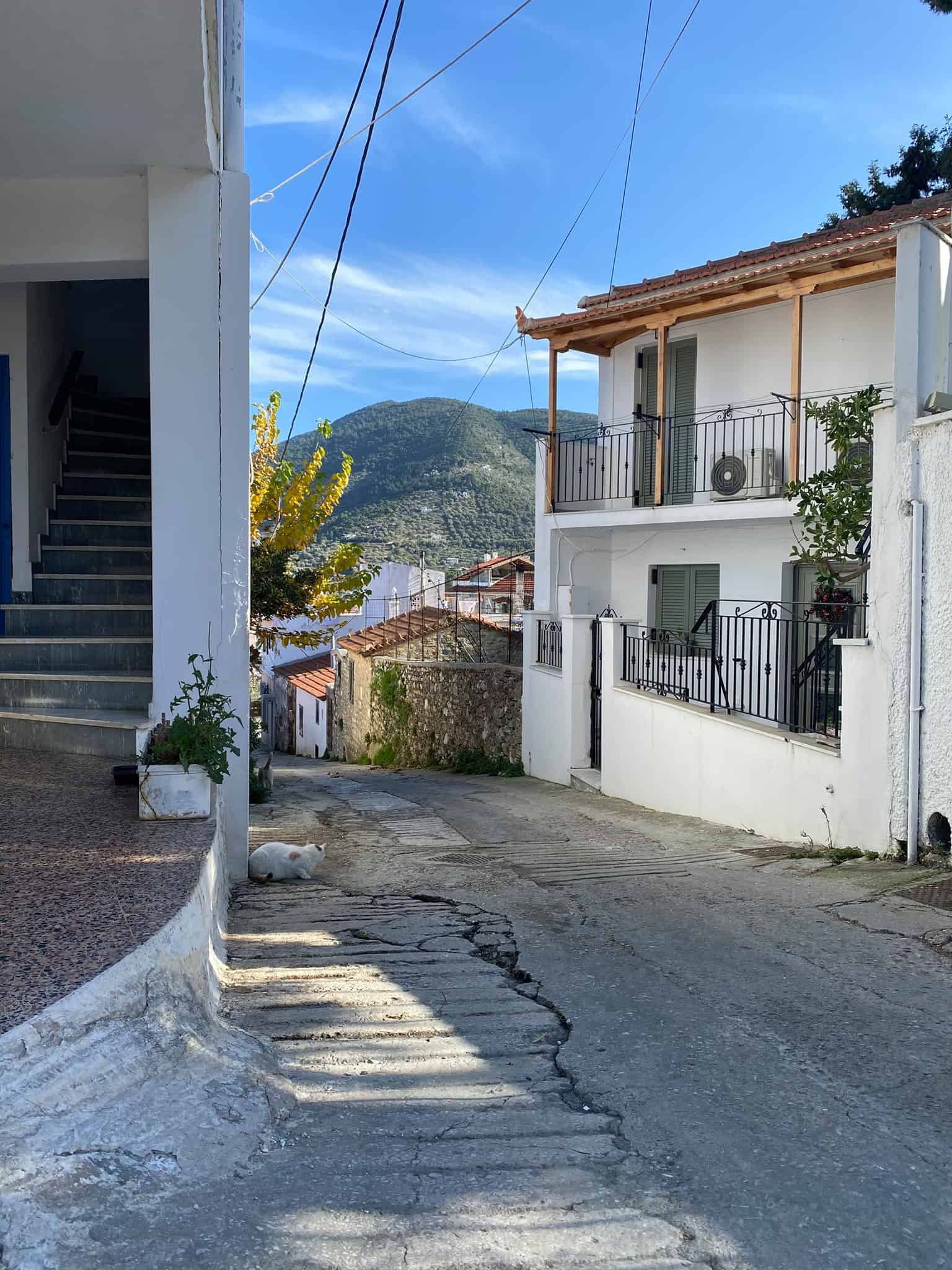 The seafront promenade of Skopelos town runs from Palouki mountains on the left to the Kastro and the Panagitsa of Pyrgos on your right. This entire stretch is packed full of eateries – one after another.
It should be noted that a lot of the establishments that are directly in front of you when you disembark from the ferry serve up international cuisine and are more "touristic". For instance, they serve omelets, English breakfasts, and carbonara pasta rather than Mediterranean favourites. You have to keep an eye out for the below if you want to experience the very best of Skopeliti dining.
Crossing the road and passing the pharmacy that faces the port, you will find yourself in Platanos Square. This is the aptly named central square of the town is surrounded by grillhouse restaurants and is a great place to go if you want to tuck into mouth watering marinated meats cooked to perfection.
Ta Kimata
Ta Kimata restaurant is operated by the Grypiotis brothers and sits right beneath the shadow of the Venetian castle by Skopelos port. The restaurant holds the title of being the very first taverna to operate on the island – it first opened its doors more than 124 years ago!
The family-owned eatery has been passed down through the generations and the owners pride themselves on the quality of their recipes and ingredients. Fish are sourced fresh in local water and fruits and vegetables are farmed organically on the family's own land.
Local recipes are cooked using traditional methods at the Ta Kimata kitchen. Dining here is an interesting experience for tourists as you can watch your food being prepared and made in the restaurant's open kitchen.
Muses Art Restaurant
If you want to treat yourself to something extra special during your time in Skopelos, head to Muses. Year after year, this seafront restaurant is recognised as being one of the very best on the island.
For one thing, the settings and the views here are unparalleled. Quintessentially Greek blue and white tables are located right on the seafront promenade beside Skopelos town beach. What could be more romantic than eating by candlelight to the sound of the sea gently lapping against the shore, and with the view of the Chora illuminated by hundreds of twinkling lights?
The dishes served at Muses are traditional Greek recipes with a contemporary twist. Better yet, the restaurant's in-house Sommelier can advise you on the perfect wine options to bring out the flavours of your food. It is advisable to reserve a table here if you are visiting during the summer. You can simply drop by earlier that day and ask one of the friendly waiters to hold one for you at a particular time.
Ampeliki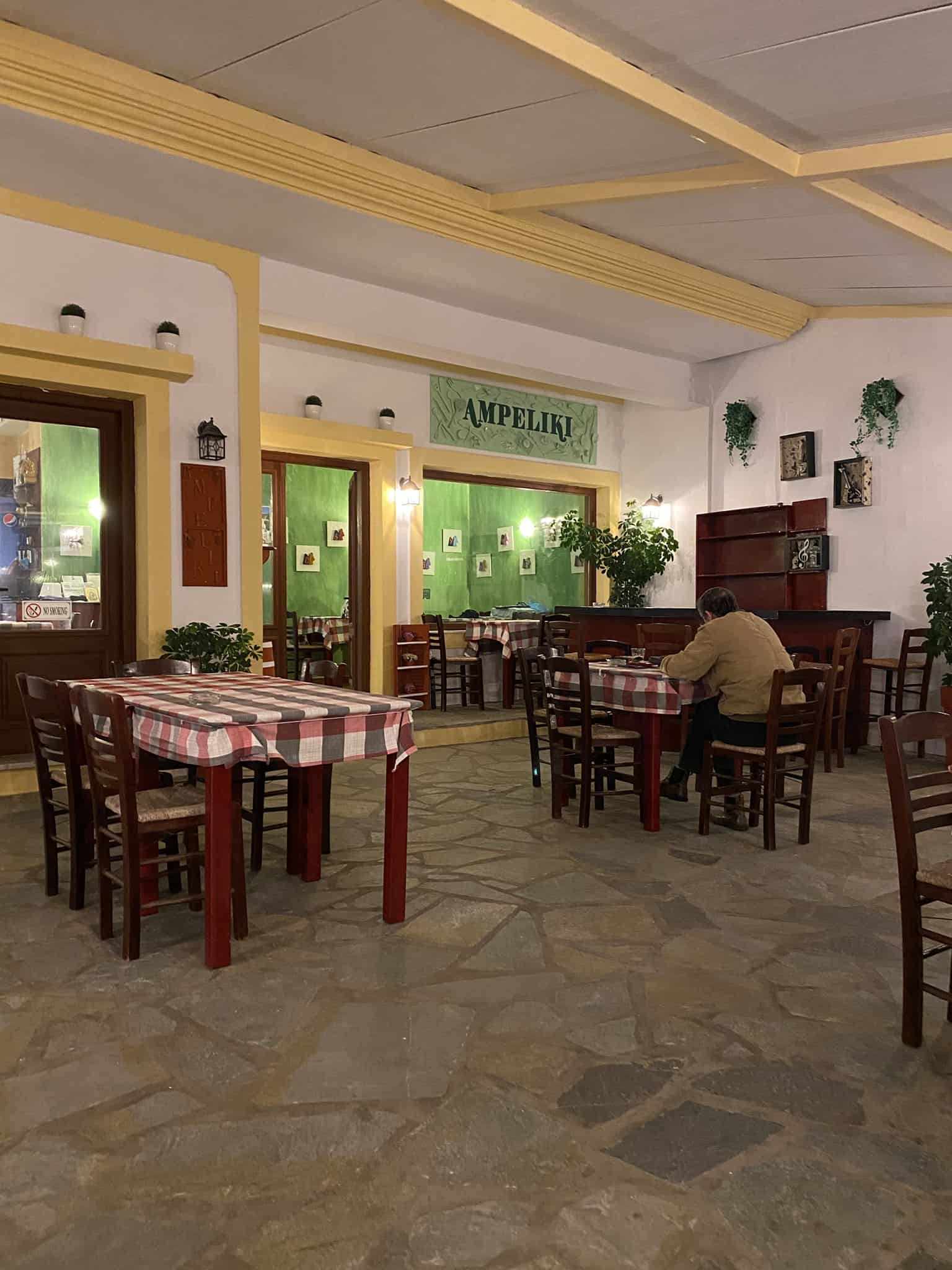 Ampeliki is a laid back tsipouradiko style eatery on the seafront in Skopelos town. Owner Kostas and his wife are the perfect embodiment of Greek hospitality.
The menu changes regularly with the seasons and features a number of homemade classic Greek dishes just like yiayia used to make. The chefs are always happy to discuss what you want to eat with you and if it isn't on the menu, they may well just rustle it up especially for you!
Ampeliki is situated a little out of the centre of town, on the road towards Palouki. It is a local favourite, filled with Skopelitis all year round.
Anna's Restaurant
Anna's Restaurant is a charming, homely place set in a picturesque garden in the heart of the old town. The warm atmosphere and service here is reminiscent of having dinner at a friend's house rather than a restaurant.
The menu boasts an interesting array of fusion dishes – Greek favourites infused with Turkish and Armenian twists. Owner Anna Aivazoglou and staff can then recommend the perfect, locally-sourced Greek wine to bring out the flavours of your dish. Live musical performances are often hosted here during the summer – the perfect accompaniment to your meal.
Stou Dimitraki (Στου Δημητράκη)
Stou Dimitraki is a meze restaurant and grillhouse. It is the go-to eating place of choice for a lot of islanders who will head here with their friends for lunch and dinner.
Meze dishes are essentially the Greek answer to tapas. You can order several small plates at Stou Dimitraki as a way to sample several different traditional Greek foods at once.
All of the nation's favourite dishes can be found here. Appetisers such as Smyrna meatballs, fava bean puree, lemon potatoes, and homemade fries grace the menu.
Old Greek folk music plays over loudspeakers as you dine. Stou Dimitraki is always filled with locals sipping ouzo and playing backgammon. It's a quintessentially Greek hangout spot if there ever was one.
Restaurant Rodi (ρόδι)
Restaurant Rodi is a local favourite, tucked away down one of the cobbled streets of Skopelos old town. Rodi (ρόδι) is Greek for pomegranate.
It's a fitting name for an establishment set in a gorgeous courtyard laden with pomegranate trees. Rodi's owner Levtheris and his mother came to the island from Thessaloniki. His mum is considered as being one of the very best chefs in town.
The menu offers a wide selection of different Greek and Mediterranean favourites. Particularly special are the Greek charcuterie boards and cheese selections, the stuffed zucchini flowers, and the Skopeliti classic lamb with plums.
Platanos Taverna
Platanos Taverna is the namesake eatery of Skopelos' Platanos Square. It's hard to miss its blue and white chairs beneath the leaves of the sycamore tree.
During the summer months, this is one of the busiest spots in town and for good reason: the food here is excellent and the portions are generous. All of your favourite taverna classics can be found on the menu at Platanos – from beef stifado to a steaming pot of moussaka. All dishes are served with the restaurant's homemade pita bread, served warm and fresh from the oven.
Molos Taverna
Charming Molos Taverna sits at the far right end of the seafront promenade in Skopelos town. It awaits beneath the shadow of the old Venetian castle.
Molos is a great place to stop by for dinner, drinks, or coffee in a picture-perfect setting. The eatery has been in business for more than 20 years. It is locally renowned for its casseroles, oven-baked dishes, and excellent dolmadakia (stuffed vine leaves), and louloudakia (stuffed cabbage leaves).
Molos is also a great place to sample true Skopeliti classics. For instance, entrecôte with Roquefort cheese and walnuts, slow-cooked pork with Skopelos plums and apricots, roast rabbit in plums and liquer, and various other dishes that you are unlikely to find elsewhere.
Magali
There are a couple of gyro/souvlaki places in Skopelos if you want to grab a quick bite to go. But as far as locals are concerned, there is only one gyro spot worth knowing about: Magali.
There is something special about the pitas here. They are marinated with a unique blend of spices and curry powder that makes them incomparable to gyros you are likely to have tried elsewhere in Greece.
Magali is a convenient place if you want to grab something quick and take it back to your hotel. However, it is also possible to "eat in" and have your meal at one of the outdoor tables in Platanos Square.
The menu is relatively broad and typical of this type of gyro/souvlaki spot. Skepasti, burgers, gyros, souvlaki sticks, and mixed grill platters are all available. So too are small side dishes like fries and salads.
Finikas Restaurant
Finikas has been a favourite on the Skopelos food scene since its owners first opened their doors in 1989. Their menu serves Greek and Mediterranean delicaies with a contemporary twist.
The specific dishes offered change regularly depending on the season and what ingredients are available. The mouthwatering oven-cooked lamb marinated in rosemary and garlic is a particular Finikas specialty.
Best Restaurants in West Coast Skopelos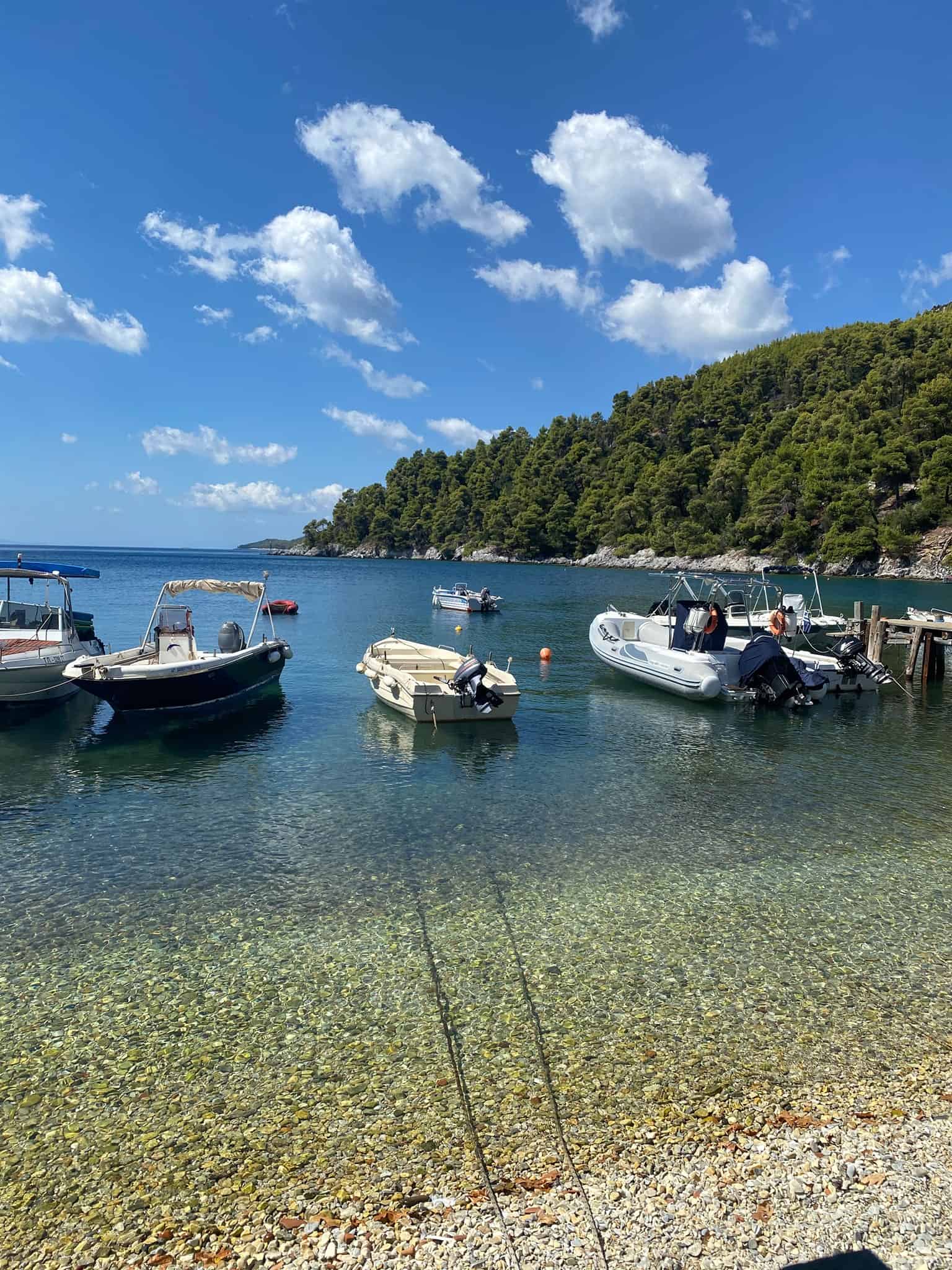 Some of the best eateries on the island are found in some of the smaller villages and hamlets on Skopelos' west coast. This is particularly true when it comes to fish tavernas. Islanders themselves will travel miles across the island to eat at the seafood restaurants close to Stafylos and Agnontas.
Korali Restaurant
Korali restaurant is one of the most respected seafood restaurants on the island. Owners Maria and Dimitris are Skopeliti born and bred, having spent more than 40 years of their lives in quaint Agnontas.
They attribute some of their success to the close relationships that they have built with the local fishermen. They get first dibs on the day's latest catches and then tailor their daily menu and specials accordingly.
It does not get fresher than this. Korali's lobster pasta is a particular favourite. As is Maria's flavourful fish soup. Patrons can select the specific crustaceans and fish that they want to have for dinner from the alfresco aquariums.
Mouria Fish Taverna
Mouria Fish Taverna is another excellent seafood specialty eatery in sleepy Agnontas. Here, you can tuck into fresh squid, or baked cod as you watch the sunset over the Aegean, and the waves gently alpping against little Agnontas beach.
The menu here has a wide range of appetisers and meze platters – providing you with a great opportunity to try a little of everything. The diverse selection of dishes available also has options that cater to those that do not eat seafood.
Terpsis Restaurant, Stafylos
Terpsis can be found just off the main road that connects the Chora with Stafylos. Like Ta Kimata, Terpsis is one of the oldest restaurants on the island. This little place has been open since the 1960s.
Many typical Greek dishes are featured on the menu. So too are a number of the family's "secret" recipes.
If you'd like to sample an "only in Skopelos" dish, consider ordering "grandma's stuffed chicken" from the menu. This Terpsis specialty has to be ordered a day in advance of dining at the restaurant so that yiayia has plenty of time to prepare and marinate the meat.
The sumptuous dish is created by stuffing a plump, tender chicken with walnuts, plums, chicken livers, and herbs. Terpsis may not have a sea view, however the ambiance of dining outside in their gorgeous courtyard is just as enjoyable.
Meatlovers will be pleased to see the amount of BBQ and smoked meat dishes on the menu. Kokoretsi, kontosouvli, and various other spit-roasted meats are cooked in the garden right in front of you before being served piping hot.
Agnanti Restaurant, Glossa
Ask any Skopeliti what the very best restaurant on the island is and many will answer "Agnanti". This chic spot is tucked away down an unsuspecting side street in central Glossa.
Agnanti is one of the more upscale of the island's restaurants. The dishes offered on the menu here are traditional Greek favourites with an innovative international twist.
Agnanti's owners strongly embrace the farm to table concept and indeed, many of the fruits, vegetables, and herbs used in their cooking are homegrown. The tender braised veal served with a side of pasta is to die for. So too is the slow-cooked pork shoulder marinated for hours in a sea of Mediterranean spices.
Parting Words
Do you have any further questions about the best restaurants in Skopelos, or planning a trip to Greece in general? Please don't hesitate to reach out.
I have been living in Greece since early 2017 and based myself in Skopelos for eight months in 2020/21. Safe travels! Melissa xo
---