There are plenty of incredible things to do in Busan. You could easily spend a month here and still feel as though you have barely scratched the surface.
This is South Korea's second city, home to a population of just under 3.5 million people. Busan also boasts the largest port in the country.
There are a plethora of Busan attractions to suit every travel style. Korea's coastal beauty is home to majestic, jagged mountain ranges, miles upon miles of pristine sandy white coastlines, natural hot springs, and serene Buddhist temples. Busan is visually stunning.
Busan is a city of contrasts. One moment you are strolling along tree-lined promenades enjoying the ambiance of chic, upscale eateries and tented bars.
Next, you are negotiating with vendors at traditional Korean street food markets. Or you may find yourself wandering through the stalls of Busan's famed fish markets as locals wolf down san-nakji, live octopus drenched in soy sauce.
Busan is best enjoyed as part of a wider South Korea itinerary. However, it also makes the perfect spot for an alternative weekend break in Asia.
About this Busan Guide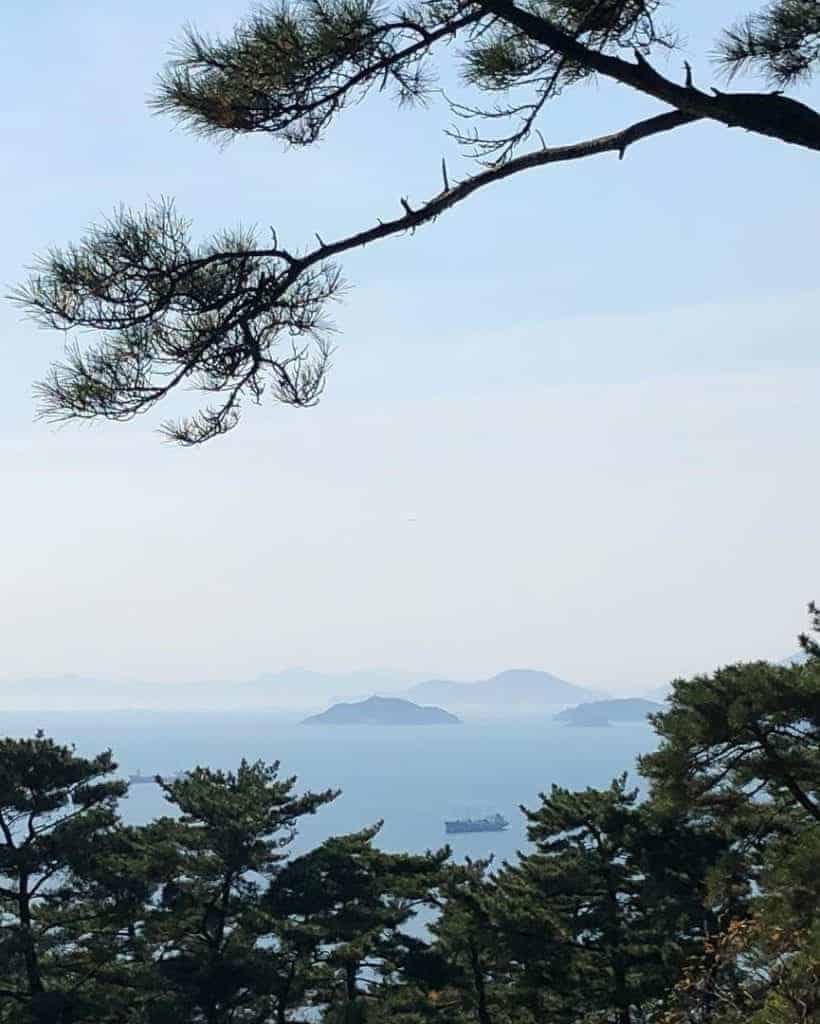 There are countless things to do in Busan. There simply isn't time to do them all in just a couple of days.
This guide has been divided into various sections. Busan attractions are divided into various categories. Feel free to use the table of contents above to navigate to the relevant sections.
The Best Things to do in Busan for Foodies
Different regions of Korea each have their own specific regional delicacies. Busan is no different in that regard.
Popular dishes in Busan range from hearty stews and marinated meats to dishes that are reserved for those with only the most adventurous palettes. If you fall into the latter category, you should add local delicacies such as chicken's feet, pig's trotters, and live octopus to your Busan radar.
Tasting authentic Busan delicacies should be high on your list of things to do in Busan. So too, should uncovering off the beaten path eateries that are loved by locals.
Sure, you can find some typical Busan foods in Seoul. However, they are best tried in their home region.
Sample Korean Street Food at Haeundae Market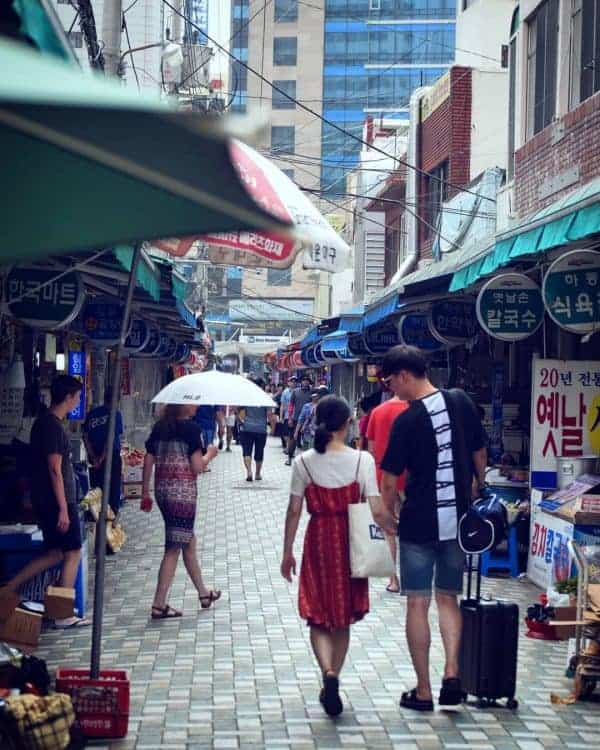 Korean street food is a huge part of Korean food culture. You will find street vendors setting up their carts on virtually every street corner across the country.
While there are plenty of excellent street food markets across Busan, the Haeundae market is one of the best places to experiment with street food delicacies.
Pull up a stool beneath a pojangmacha tent, and order a cup of tteokbokki. Tteokbokki are chewy rice cakes served in a deliciously spicy gochujang paste.
Alternatively, buy yourself a bindaetteok. This a savory pancake cooked with mung beans and onions.
Wash it all down with a cold cup of soju. For dessert, it's red bean pastries.
Sampling Korean street food is one of the best foodie things to do in Busan. Best of all, the delicacies will not set you back more than $1-$2 each.
Try Pig Trotters at Jokbal Alley
If you have an adventurous palette, be sure to sample one of Busan's famous delicacies – pig's trotters. This dish is known locally as jokbal.
The meat is seasoned and then boiled for 3 hours. Garlic, ginger, soy sauce, rice wine, and leeks are added to the meat for flavour.
Busan Jokbal is a narrow alleyway in central Busan. Its ramshackle buildings play host to restaurants specialising in this delicacy.
Jokbal apparently offers anti-aging properties. Consuming it is said to prevent wrinkles.
However, most Koreans enjoy this dish on account of how the meat melts in the mouth. It is tender and flavourful. If you don't think too much about what it is/how it looks, Jokbal is actually quite pleasant.
Eat Dwaeji Gukbap – the Famous Soup of Busan
Be sure to sample Dwaeji Gukbap. This is arguably Busan's most famous dish. The dish is a stew that consists of pork and vegetables seasoned with soy sauce, miso, and sesame.
Dwaeji Gukbap gets its unique and special taste as a consequence of the way the dish is made. Pork bones are boiled for many hours until they form a broth. Rest assured, this is much tastier and more palatable than it sounds!
For the best Dwaeji Gukbap in Busan, head to Twin Pork Soup Restaurant (35-1 UN pyeonghwa-ro, Nam-gu, Busan), or Wonjo Halmae Gukbap (33 Gunam-ro 21beon-gil, Haeundae-gu). Both can be found right in the heart of the city centre.
Eat a Sweet Busan Pancake for Dessert
When browsing through Busan's various street food markets, don't miss grabbing a bite of Ssiat Hotteok. This is a Busan interpretation of the typical Korean Hotteok (pancake).
Ssiat Hotteok is widely available. It is a sweet pancake prepared with seeds.
Take a Korean Cooking Class
What better souvenir is there to take back from your trip to Busan, than a newfound knowledge of how to make Korean food? You will be sure to impress your friends and family at dinner parties when you rustle up some ttukbaegi bulgogi, rather than some bland pasta.
There are several cooking schools in Busan that offer cooking classes. The other nice thing is that before you start with the actual cooking, you are taken to Busan's Bupyeong and Jagalchi Markets.
Here, you will source all of your own fresh ingredients. Click here to find out more about doing a small-group Korean cooking class in Busan.
Visit Quaint Korean Tea Rooms
There are few better ways to unwind at the end of a long day of sightseeing, than by ordering up a cup of omija tea, and a plate of yakgwa Korean sweets. Tea is a big part of Korean culture, and the tea blends that you can expect to find here are very different from those in the west.
Types of Korean Tea
Korean tea tends to be divided into four different categories. Namely, these are grain-based tea, fruit tea, medicinal/herbal tea, and green tea.
Some of the fruit teas are very thick and syrupy. Korean jujube tea is particularly tasty.
Where to Have Tea in Busan
Options of places for trying Korean tea in Busan are plentiful. Tea rooms range from the cute and traditional, to the grandiose and elegant.
For the former, head to Nae Go Hyeong Jun Tong Chat Jib (내고향 전통찻집) in Seomyeon. This is a traditional Korean tearoom, unchanged by time. It is popular among Korean ajummas and ajoshis (older citizens).
You can find Nae Go Hyeong Jun Tong Chat Jib at 8-4 Seomyeonmunhwa-ro, Busanjin-gu. Da Hae Jeong (다해정) and Café Ogada (오가다) are also good choices.
Hang Out in One of Busan's Quirky Coffee Shops
Coffee shop culture is huge in Korea. All over the country, you will find dozens of quirky coffee shops with themes that range from cutesy and traditional, to the downright wacky and eccentric.
Seoul, in particular, is known for its eclectic coffee shops. However, Busan is catching up.
Brown Hands Design Cafe (16 Jungang-daero 209beon-gil, Choryang-dong, Dong-gu) is a great spot close to Busan station. It is housed within the premises of an old hospital and still retains many of the building's original features.
This spot serves artisanal coffee in a chic setting. Think exposed brick walls paired with contemporary modern furnishings,
Alternatively, Waveon Coffee (286 Haemaji-ro, Jangan-eup, Gijang-gun) and Doco City Farmhouse Coffee (17 Jungang-daero 666beon-gil, Bujeon 2(i)-dong, Busanjin-gu) are good choices. Coffees aside, a highlight of stopping by here is the milk teas infused with fruit that is served on the menu.
Eat Your Way Down Seomyeon Food Alley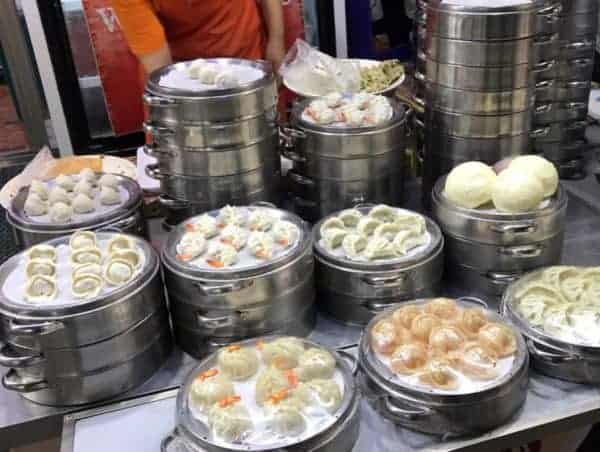 Seomyeon Food Alley is one of the best places to venture to in Busan if you want to try the local foods. A seemingly infinite number of restaurants sit side-by-side here. You will be spoiled for the choice of what to have for lunch!
The specialty dish of Seomyeon is cold noodles (냉면 ). Unfortunately, some of the restaurants here are tourist traps.
Consequently, you should be mindful of places that don't display their prices. One great spot to check out is 서면 개금밀면 (39 Seomyeon-ro 68beon-gil, Busanjin-gu).
There's also a great local market at the entrance selling weird and wonderful local delicacies. You will find seasoned snails, insects, and Bondaegi (boiled silkworm pupae) in a plentiful supply.
Try Bingsu at a Cute Cafe
Bingsu is a scrummy Korean dessert that is made from shaved ice and condensed milk. Korean restaurants usually specialise in selling only one type of food.
As such, if you want to try bingsu, you will have to go to a specific bingsu spot. The pud is available in lots of variations.
You can have bingsu with fruit, with chocolate sauce, with rice cakes, etc. Usually, you can only find bingsu in humongous two-person serving sizes.
So, you need to share it or eat your weight in shaved ice. I'm not judging, I've done the latter many times!
For bingsu in Busan, try DALA 100% chocolate. This is a bright pink dessert place that sells chocolate bingsu.
The best is their "dinosaur egg" bingsu. This consists of chocolate shaved ice, decorated with small chocolate dinosaurs, and enclosed inside a chocolate dinosaur egg. Wowza!
DALA can be found at 18 Jeonpo-daero 209beon-gil, Jeonpo 1(il)-dong, Busanjin-gu.
For something less calorific, try the strawberry bingsu at Sulbing. There are several Sulbing branches scattered around the city.
The Best Outdoorsy Things to do in Busan
The mention of a large Korean city probably conjures up images of towering hi-rises and a bustling megalopolis. The reality is that Busan is filled with pockets of nature.
It boasts everything from idyllic coastlines to mountains and hiking trails. Some of the best things to do in Busan are free, and simply involve getting back to nature.
Take a Relaxing Stroll Down Dalmaji-Gil Road
Dalmaji-Gil Road is a pleasant seafront walk that runs close to Busan's Haeundae district. The route leads through forests filled with pine trees, and Camellia flowers.
Here you are treated to breathtaking views over the azure ocean as you trek. This walk is especially pleasant during the cherry blossom season in the spring. During this time, the trees are filled with fragrant, delicate pink flowers.
Dalmaji-Gil is often likened to Paris' Montmartre district on account of its charming ambiance. A plethora of eclectic coffee bars line the walkway and offer a nice place to stop and revel in the views.
Enjoy Scenic Coastal Hikes at Taejongdae Park
Taejongdae is a beautiful stretch of coastline in Yeongdo, Busan. It is famed for its rocky beaches.
Dozens of beautiful hiking trails lead travelers through the park. They weave through the gorgeous scenery here, past Buddhist temples, and peaceful woodlands.
As you progress along the various trails, you can enjoy incredible views across the sea from the craggy clifftops. Local legend has it that it isn't just locals that enjoy the scenery here, but gods and goddesses too.
It is said that these beings sit and relax on Sinseon rock, just by the lighthouse, as they look out to the sea. One of the best things to do in Busan is to simply pack a picnic, and come hang out here for the day.
For breathtaking panoramas, ascend the wooden steps to the lighthouse. The clifftop viewing platform here is situated 200m above the water and is the perfect spot for taking photos.
The hiking options at Taejongdae are not too challenging. However, if you are short on time, you can opt to take the Danubi train.
This railroad runs through the area and stops off at the main Busan attractions. A ticket is just KRW 3,000 per person.
The train runs at 20-minute intervals on weekdays, and it takes 20–25 minutes to complete a loop. Concessions are available for children and the elderly.
Dip Your Toes into the Sands of Songjeong Beach
Songjeong beach is one of the best beaches in Busan. Songjeong sits close to Hongdae. However, it is significantly less crowded.
If you are looking for a tranquil place to enjoy the summer sun, this is the perfect spot. Songjeong is also popular with surfers, on account of the favorable wind conditions.
Relax at Dadaepo Beach
Dadaepo beach is a nice alternative place to relax and hang out in Busan. The beach is made up of mudflats, rather than sand. It is a popular spot for locals to bring picnics.
Dadaeopo is not serviced and the area is not lined with bars and restaurants. As such, the area has a more rugged, natural vibe.
Conquer Geunjongsan Mountain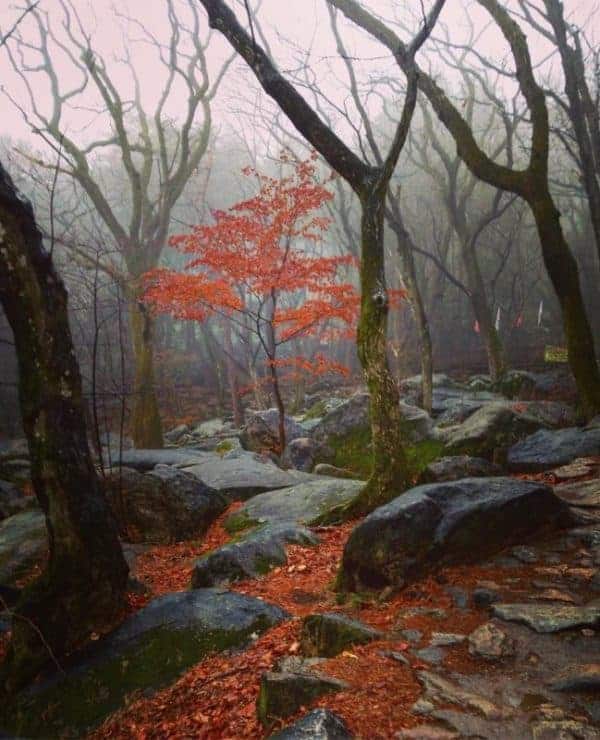 Geumjeongsan Mountain offers one of the most rewarding hiking experiences in all of South Korea. This is one of the best things to do in Busan for those with a little more time to spare in the area.
The foothills of the mountain are home to dense woodlands, jagged rock formations, hidden Buddhist temples, and natural hot springs. A trip to Geumjeongsan can be combined with a visit to the Beomeosa temple.
The temple acts as a starting point for the trail that ascends up towards the mountain peak. The hike is not too challenging.
If you make it to the top, you are rewarded with sweeping vistas of Busan and the sea of Japan in the distance. Hiking Geumjeongsan is possible for hikers of all ages and abilities. Just be sure to go at your own pace.
Another noteworthy attraction in the area is the crumbling remnants of the Geumjeongsanseong Fortress. This was built as a defense mechanism against the Japanese. You can make a short detour to the fortress as you ascend the mountain.
Ride the Scenic Geumjeongsan Cable Car
If you don't want to hike to the top of Geumjeongsan mountain, you can still reach the fortress at the mountain peak. Instead of walking, opt to take a scenic cable car journey instead.
Stroll Along Oryukdo Skywalk at Igidae Park
If you're looking for "off the beaten track" things to do in Busan then you've got that at Igidae park. This is a beautiful 5 KM coastal walk. It takes you past Gwangan Bridge, Haeundae Beach, Baeksan, and Jangsan Mountain.

The trail s a great way to cover a lot of ground in Busan. Not to mention, you will burn off all that Korean bingsu and bulgogi while you're at it!

The southernmost part of Igidae park is a nice spot. From here you can look out at the five islands of Oryukdo.
You can take a ferry across to Oryukdo if your schedule permits. Alternatively, the "sky bridge" offers free entry.
This is a glass-bottom walkway where you can stroll out to the middle of the sea. Arguably it is not for the faint-hearted.
You can tie in a visit to Haedong Yonggungsa Temple and Igidae park in one day. The two attractions are in very close proximity to each other. Stopping by both places will probably take you around half a day.
Trek Along the Songdo Cloud Trails
An alternative walkway to enjoy in Busan is the Songdo Cloud Trail. This 365m curved trail leads over Songdo beach. It enables you to admire some of the most unique landscapes in southern South Korea.
Revel in the views as you gaze across to Geokbukseom. This is a small uninhabited rock island whose name translates to mean "Turtle Island".
You will also find a quaint little lighthouse here. Some areas along the trail are made of transparent glass. If you are not afraid of heights, you can look down at the sea waves as they crash beneath you.
Relax at Haeundae Beach
The 1.5km stretch of sandy coastline at Haeundae beach is considered to be one of Korea's most popular and beautiful beaches. Haeundae is a nice place to relax and hang out. It is beloved by locals and tourists alike.
The boardwalk that lines Haeundae is filled with plenty of trendy coffee shops and dining options. There is an excellent market close to Haeundae station that sells an array of classic and affordable Korean street food eats. The Busan Aquarium is also nearby.
When night falls, Haeundae is one of the most happening spots in town. Dust off your singing skills and head o a noraebang (karaoke singing room).
Watch the Sunset at Gwangalli Beach
Gwangalli is another Busan beach that is well worth visiting. It is locally adored for its incredible views of the Gwangandaegyo bridge.
Come here at sunset for the best ambiance. The view is almost ethereal. At this time, the sky behind Gwangandaegyo is illuminated with gorgeous red and orange hues.
By nightfall, the Gwangandaegyo bridge is illuminated with thousands of twinkling lights in all colours of the rainbow. It is nice to walk by in the evenings when many local street performers and musicians take to the nearby beach.
Watch the Sunrise at the Cheongsapo Observatory
The Cheongsapo Observatory is the latest skywalk to be opened in Busan. This transparent walkway leads you out into the sea and provides a perfect spot for watching the sunrise or sunset.
The walkway sits between Mipo and Songjeong. It is easily accessible via bus and public transport.
Spend a Day at Dongbaekseom Island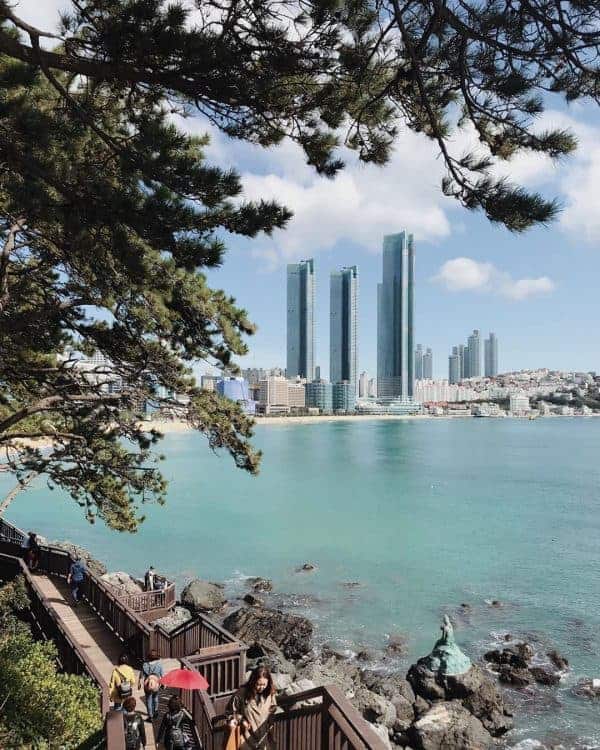 Dongbaek Island is a place of scenic beauty that floats just off the shores of Busan. The island is connected to the mainland via a bridge at Haeundae beach, making it very accessible.
You could easily spend an entire day at Dongbaek island. Here you can follow numerous walking trails that twist and turn through the island's natural landscapes. Look out for the mermaid statue that sits on a craggy rock in the middle of the sea.
Cultural Things to do in Busan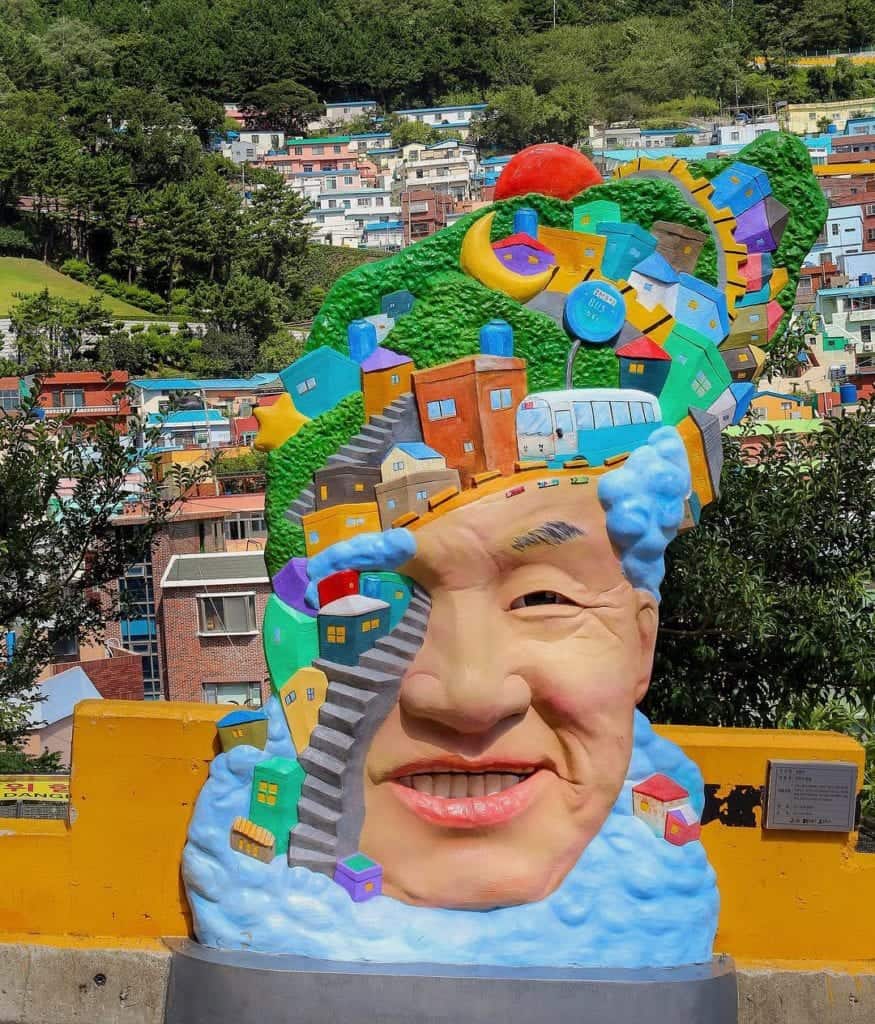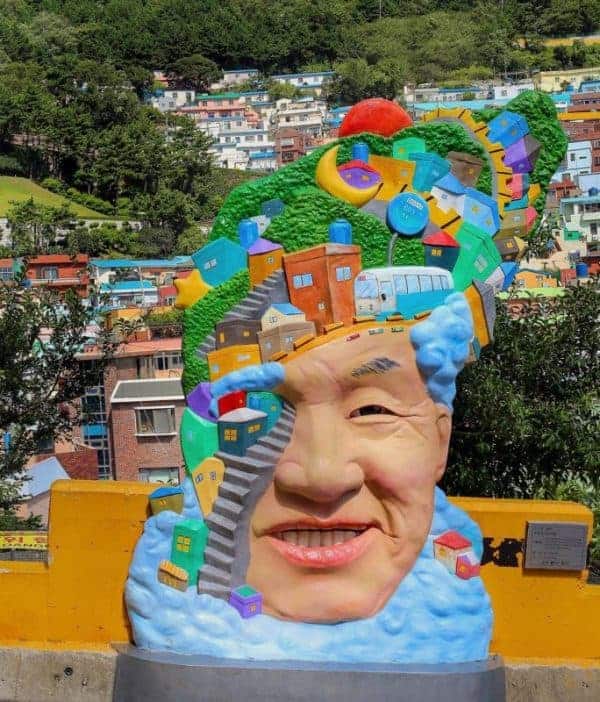 Busan is bursting at the seams with culture. The city has everything from temples perched precariously at the edges of cliffs, to artistic villages laden with street art. Busan's cultural highlights are discussed here.
Visit Gamcheon Cultural Village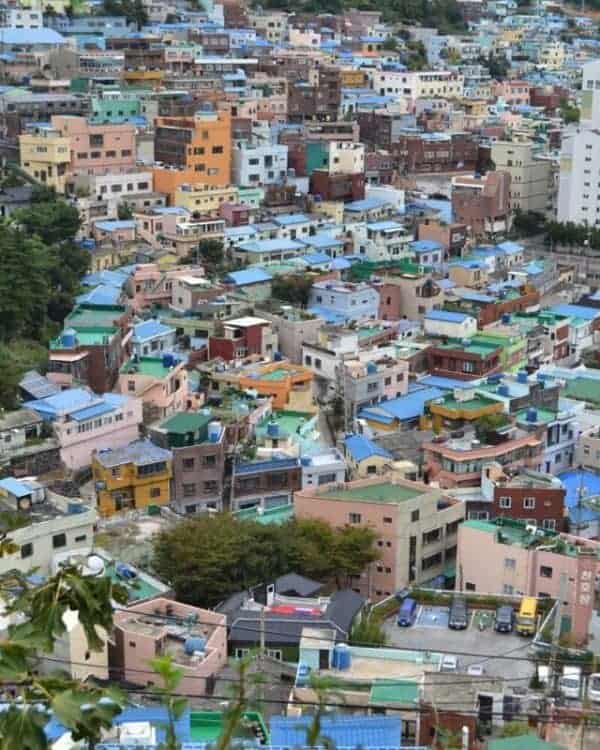 Gamcheon Cultural Village is one of the most unique things to do in Busan. It is also one of the most popular Busan attractions.
This district was once a slum, home to refugees of the Korean war. Its higgledy-piggledy houses cascade down the hilltops like lego bricks.
In 2009, the Korean culture and tourism board started a beautification project in Gamcheon. A grant was provided and the area was "cleaned up".
Today, Gamcheon is known for its colourful homes, mural artwork, and eccentric coffee shops. The area is free to enter.
You can obtain a Gamcheon map for 2000 KRW ($2). This doubles as a scavenger hunt. As you traverse around the town, you can collect cute postcards and stamps to 'cross off' seeing the most notable pieces of artwork.
Take a Walking Tour with a local
Opting to take a Busan walking tour with a local is a good way to get your bearings in the city. It is a good idea to take such a tour early on in your trip so that you are armed with plenty of suggestions on places to visit during the rest of your time in Busan.
A walking tour can help you discover places that you may not have otherwise found independently. Better yet, exploring Busan with a local means that you have a city expert on hand to ask for recommendations on the best places to eat, drink, and hang out in town.
A selection of reputable Busan tours is detailed below for your consideration. You can opt to do private tours.
Alternatively, the small group tours are a great way to meet other travelers. This is particularly true if you are traveling to Korea alone.
Marvel at the Seokbulsa Cliff Carvings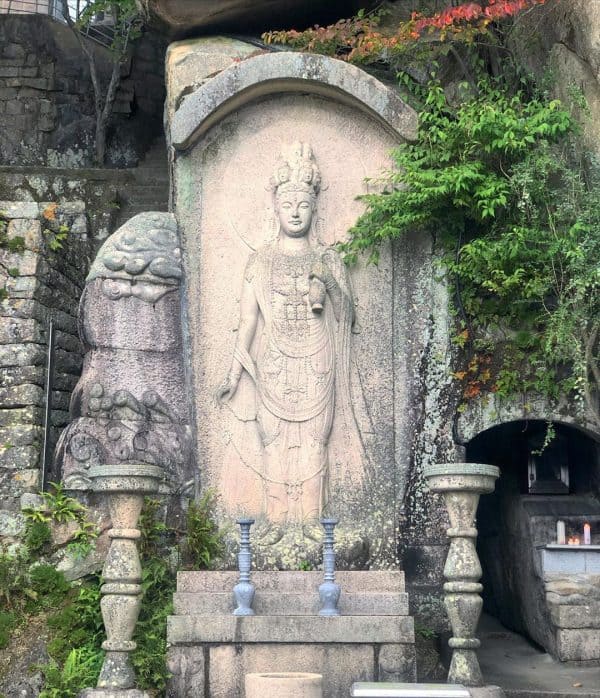 Seokbulsa is one of the lesser-known temples in Busan. It is also one of the most majestic. This is a Buddhist hermitage that has been built upon Mount Geumjeongsan.
The highlight of visiting Seokbulsa is its phenomenal carvings. These majestic creations have been carved into the face of the limestone cliff that overlooks the mountains here. They are over 40 feet tall!
Seokbulsa dates back to the 1930s. This makes it relatively "modern" as far as most Korean temples go. It is a little awkward to get to.
However, this has its perks, as the site is never crowded. Sometimes you may have it entirely to yourself!
Try Homemade Makgeolli at Sanseong Village
Sanseong is a traditional village that sits at the foot of Mount Gongsanseong. The village is stunning. It is encompassed by dense forests and woodlands and made up of noble hanok houses.
One of the main draws of visiting the village is to try some of the local foodie delicacies. Sanseong's homemade makgeolli has become somewhat famous in Busan.
The beverage is made using fresh spring water that is found in the area. If you are lucky, you may be able to catch locals making it.
Heuk yeomso (black goat) and yeomsi gogi (grilled goat) are delicacies in Sanseong. Both are enjoyed galbi style.
Rent a Hanbok and Sightsee Like a Joseon Royal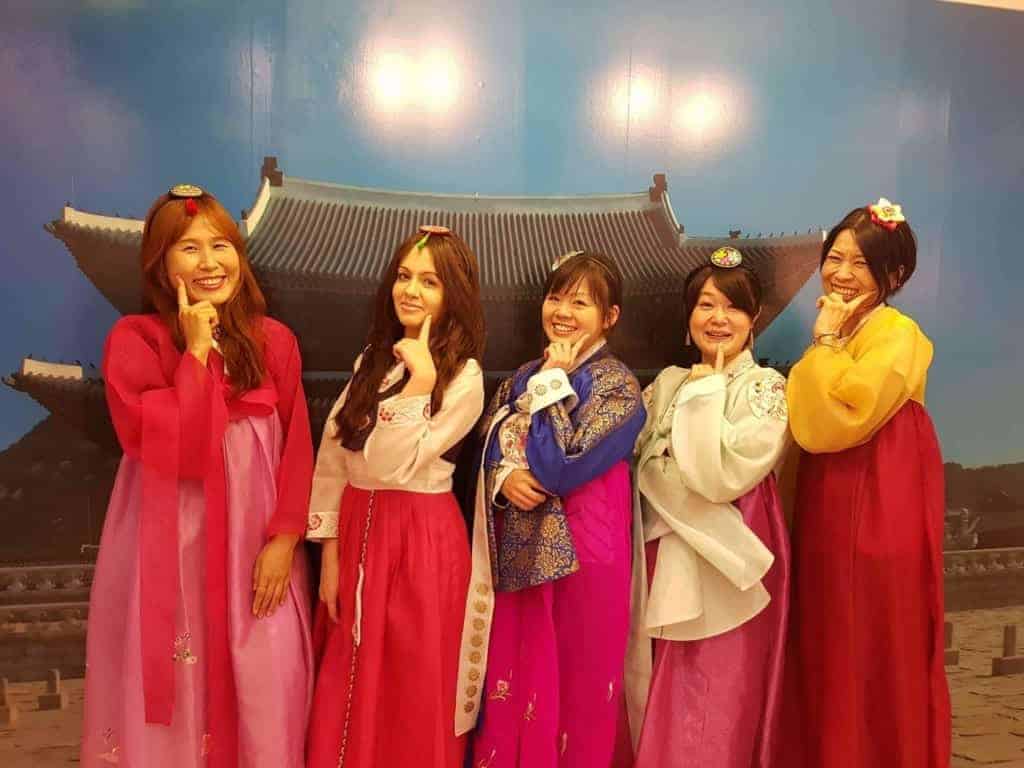 One way to see the highlights of Busan is to do so while donning a hanbok and dressing up like a Korean Royal from the Joseon dynasty. It's a little cheesy, sure. However, it's one way to get unique photos of your trip.
Rest assured you won't attract glares or weird looks. Hanbok rental stores are everywhere in Busan, and even Koreans like to dress up in this attire.
Visit a Japanese Style Temple
Daegaksa Temple is a Buddhist Temple with a very unique appearance. The temple was constructed during Japanese colonial rule.
As such, it does not follow the traditional style. Daegaksa is tucked away from view. It can be found down a side street just away from one of the main promenades in Nampo Dong.
Engage Your Inner Spiritualist at Haedong Yonggungsa Temple
On the Northern outskirts of Busan, you can find the Haedong Yonggungsa temple. This beautiful Buddhist temple is one of only a small handful of Korean temples that are built by the sea. The majority are nestled high in the mountains.
The original temple site here dates back to the 1300s. It is said that the great Buddhist teacher Naong had a vision in which he was told to build the site.
Haedong Yonggungsa has been destroyed and rebuilt several times over the centuries. Still, it remains to be one of Korea's most beautiful temples – both in terms of structure and setting.
Many unusual occurrences and miracles have supposedly occurred here over the years. It is said that if you pray to the giant statue of Buddha located outside the main pagoda, you will be freed of diseases.
Participate in a Korean Temple Stay
It is possible to participate in a Korean Temple Stay program at one of Busan's temples if you wish. This entails spending a day or two residing within the temple accommodation.
Various temple stay programs exist. You can either opt to spend your days meditating and relaxing alone amidst beautiful scenery or shadowing monks to gain valuable insight into how they live.
Listen to the Gentle Chanting of Monks at Beomeosa Temple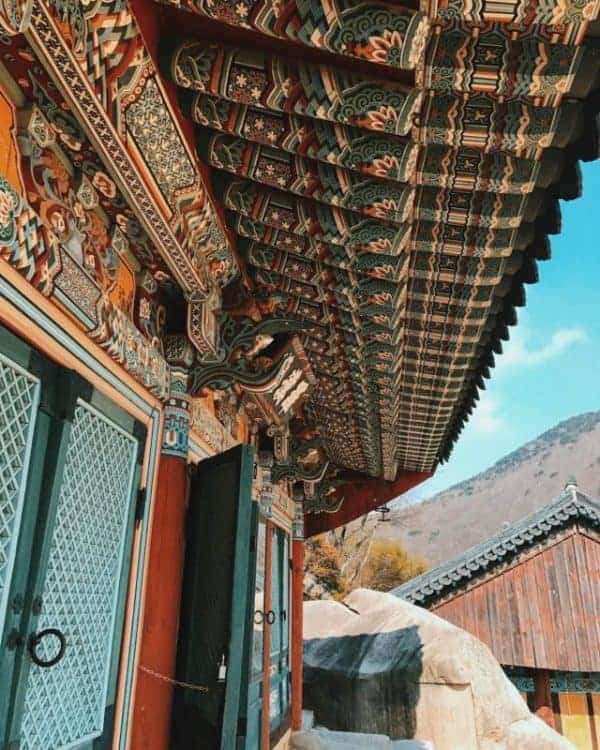 Visiting Beomeosa is one of the best things to do in Busan. The temple grounds are located in the scenic foothills of Geumjeongsan Mountain.
The area here feels a million miles from the hustle and bustle of downtown Busan. Beomeosa is surrounded by quiet woodlands and pleasant hiking trails.
Its history dates back over 1,500 years. This is one of the most important temples in all of Korea.
Check Out Busan's Walk of Fame at BIFF Square
BIFF Square is Busan's answer to Los Angeles' walk of fame. The starred pathway was built here in commemoration of all the film stars and celebrities that have participated in the Busan International Film Festival (BIFF) over the years.
Once upon a time, BIFF Square was nothing more than an area that housed a cinema. It was built after the Koreans gained their independence from the Japanese. Today, handprints and stars line the pathways, and the area is filled with lots of excellent shops and street food markets.
Visit Tongdosa – The Largest Temple in Korea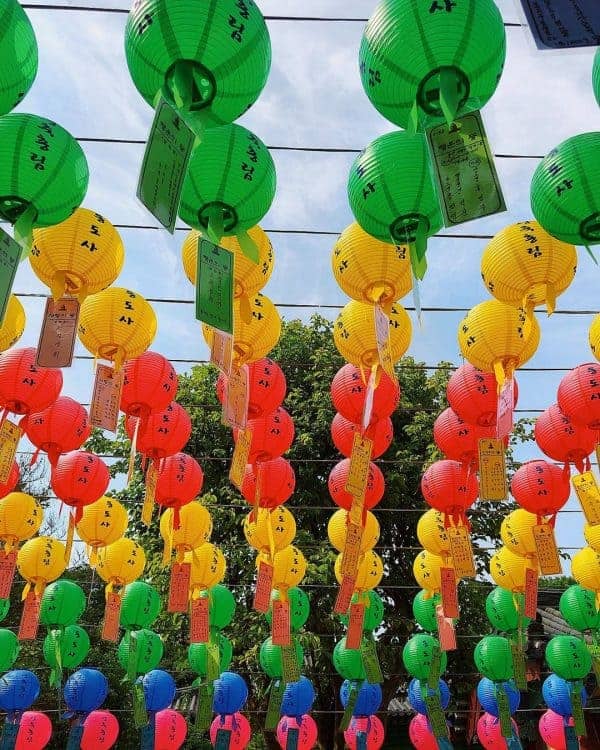 Tongdosa Temple is the largest temple in Korea. It dates back to 646 AD and sits on the southern part of Mount Chiseosan, close to Yongsan.
Tongdosa has an interesting story. It is known as "the temple without Buddha".
Most Korean Buddhist temples have dharma halls that house grand statues of Buddha. However, Tongdosa centres around an alter. Supposedly this held an "eternal flame" for more than 1,300 years.
Take a Day Trip to Gyeongju – The "Museum Without Walls"
Gyeongju is a historic city that is situated in the southwest Korea. It is often missed out from most people's Korean itineraries which is a shame.
Gyeongju is steeped in culture and history. The city was the capital of Korea during the Silla dynasty.
If you visit Gyeongju, you can wander through charming hanok villages, and marvel at towering statues of Buddha that are centuries of years old. It takes less than two hours to get from Busan to Gyeongju, making it a perfect day trip.
Markets and Shopping in Busan
Busan provides plenty of opportunities for shopping. Regardless of whether you want to shop for trendy Korean clothing, for street food snacks, or souvenirs, you will not be short of places to go.
Jagalchi Fish Market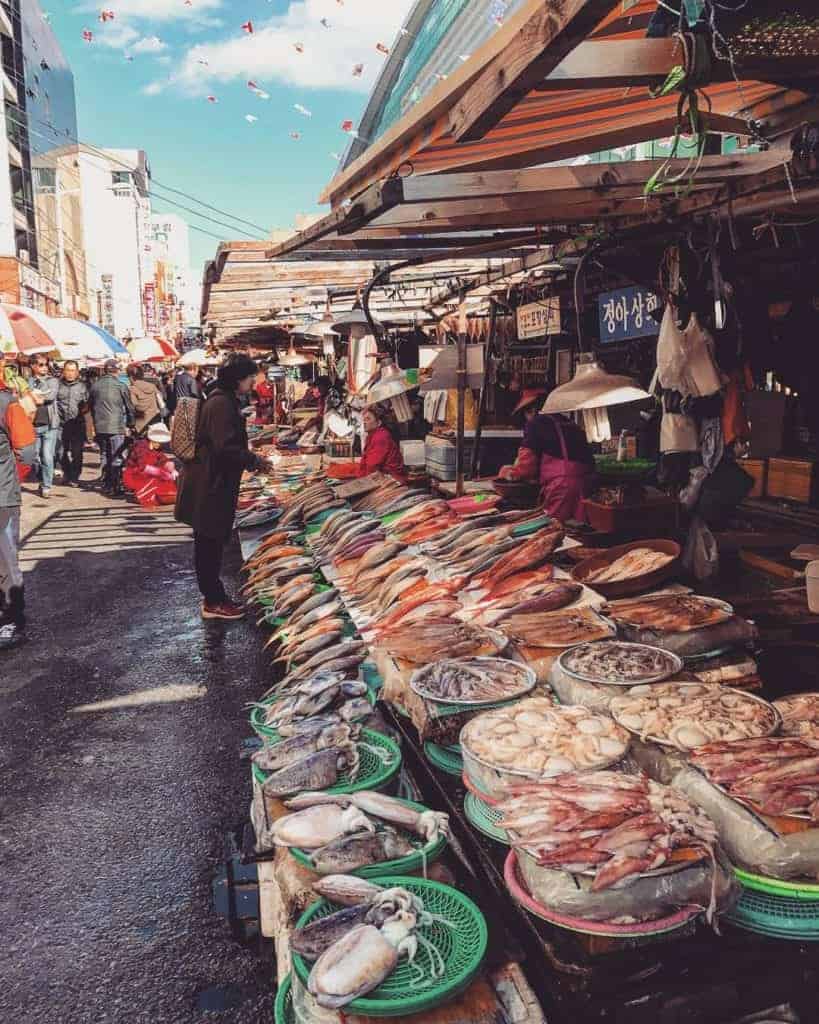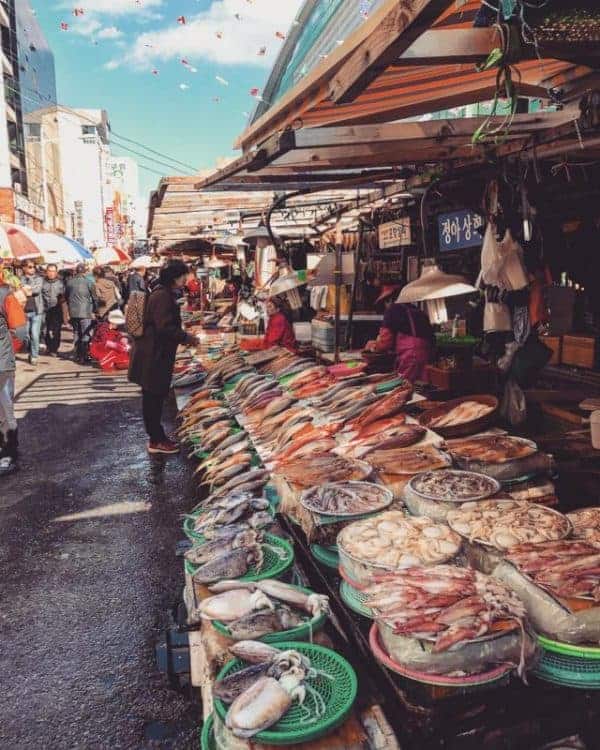 A word of warning: splashback potential! Leave your flip-flops at home today and make sure your feet are covered.
Busan's Jagalchi Fish Market is the largest of its kind in all of Korea. The seafood sold here is as fresh as it gets.

It is interesting to watch as fishermen bring in their latest catches and negotiate prices with local vendors. If you enjoy seafood, you can purchase fresh fish from one of the stalls at Jagalchi. Then, take them to one of the nearby tented restaurants to have them cooked for you.
A real local experience is to sit beneath a pojangmacha tent and dine among the Korean businessmen of Busan. When you're finished, wash it all down wth a glass of soju.
Have Fresh Seafood Cooked to Your Liking at Millak Market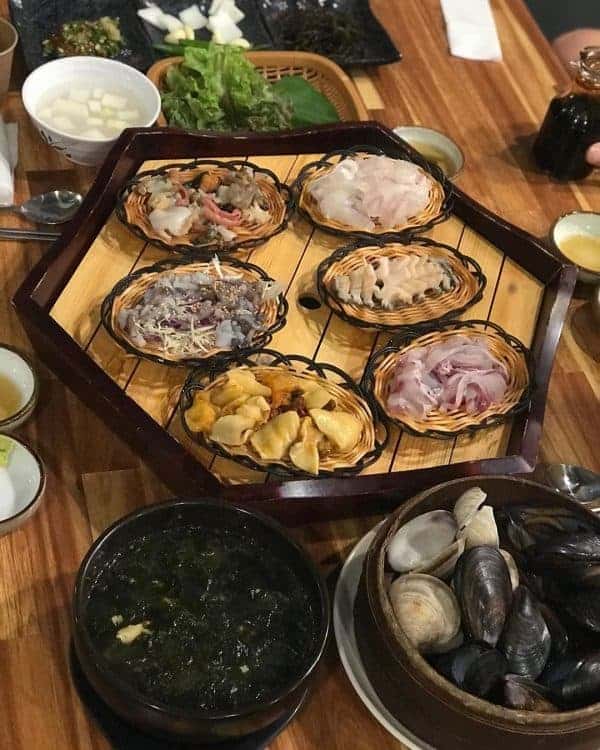 Millak Raw Fish Town is another well-regarded fish market in Busan. It is situated north of Gwangalli beach. This is one of the best Busan attractions to stop by if you are in the area – especially if you are a seafood aficionado.
The Millak fish market sits on the first floor of a 10 story shopping building. You can purchase fresh fish and seafood delicacies at the market. Then, have them cooked to your liking at one of the restaurants on the upper floors of the building.
Practice Haggling at Gukje Market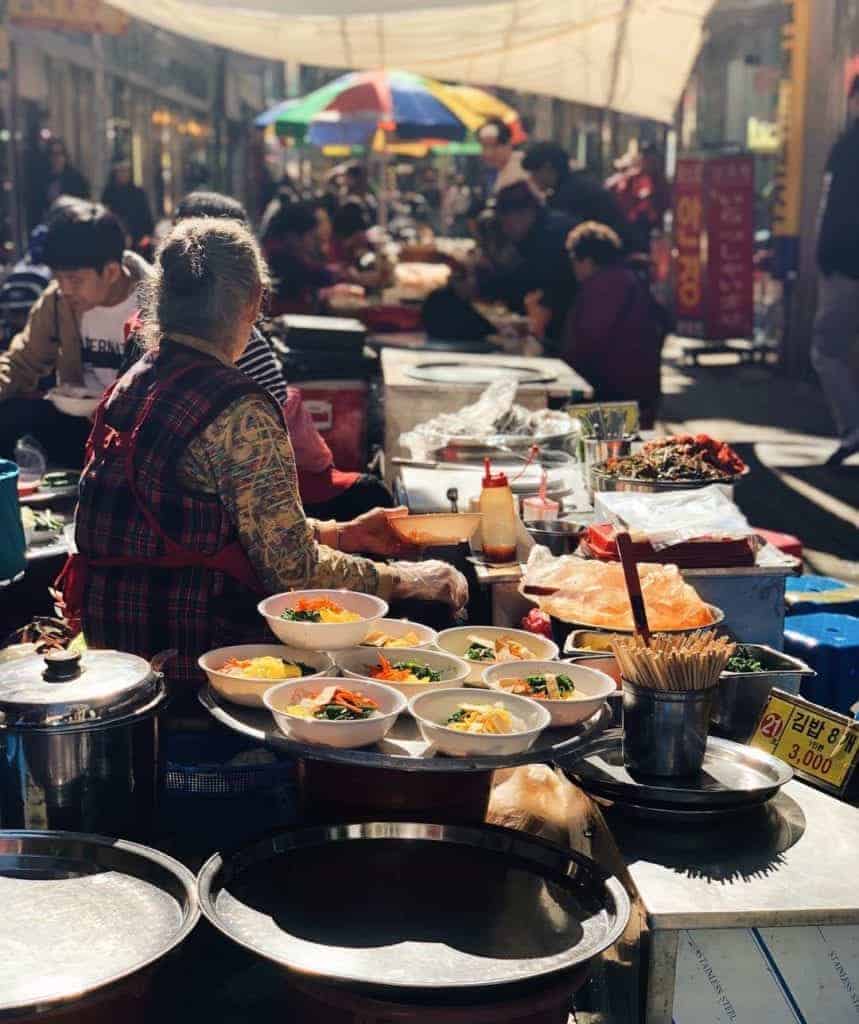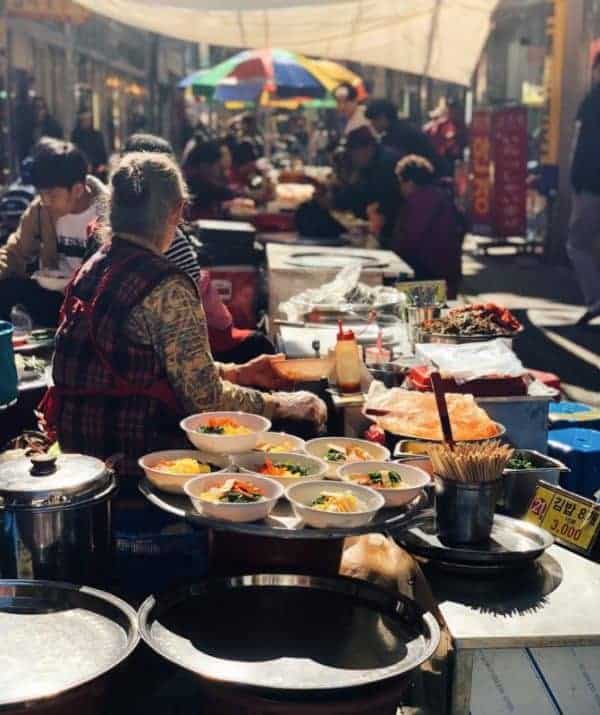 Traditional markets are a huge part of Korean culture. They are a popular place for locals to shop for clothing, fresh produce, and street food delicacies.
It should go without saying then that one of the best things to do in Busan is to enjoy the local markets. Gukje is one of the largest traditional markets in Korea.
It stocks virtually every item imaginable – from tteokbokki and other snacks, to electronics. Gukje means "international" and the market here was originally set up during the Korean war by foreign refugees residing in Busan.
Gukje market is just a short walk away from the markets of Kkangtong and Bupyeong. Both of these places are also worthy of a visit.
Try Something New at Gwangbokdong Food Street
You can never visit too many Korean street food markets! When you are in the area, stop by Gwangbok Dong Street Food Market. This is one of the most popular street food markets in Busan.
Most of the little dishes that you can find here will set you back no more than 1000-2000 KRW. Consequently, Gwangbok Dong is a great place for a budget dinner on the go!
Experience the World's Largest Shopping Complex
Busan's Shinsegae Centre sprawls over 14 floors. Furthermore, it actually possesses the title of being the largest shopping complex in the world! Those that have explored other cities in Korea will be familiar with the Shinsegae brand.
Essentially this is your typical upscale department store just on a much larger scale. Residents of certain countries can enjoy tax-free shopping inside Shinsegae. Shopaholics will welcome being able to find everything from perfumes and cosmetics, to clothing and accessories.
Stock up on K-Products in Nampo-dong
One of the best things to do in Busan shopping-wise is to venture to the Nampo-dong district. Not only can branches of international apparel stores, and favourite Korean cosmetic brands be found here, Nampo-dong is also home to hundreds of eccentric boutique stores.
One of a kind unique pieces can be picked up at the various shops here with stores catering to every budget. The main roads that lead through Nampo-dong are also filled with restaurants serving up cuisines from different parts of the globe.
If you've been travelling in Korea for a while and you want something a little different to Korean food, this is the place to venture to. The restaurants here serve up Italian food, western cuisine, Turkish food, and dishes from other parts of Asia.
Things to do in Busan:
Art Galleries and Museums
Art lovers will draw inspiration from the many creative hubs around Busan. The city is a mecca for street art and independent galleries.
Some of the most notable art, history, and culture museums in Busan are detailed below.
Check Out the Work of Local Street Photographers
The GoEun Museum of Photography is somewhere you will thoroughly enjoy if you appreciate street photography. This is widely regarded as being one of the most important photography museums in Korea. The featured artists depict scenes of local life and culture in their photos.
Visit the Museum of Contemporary Art
The Busan Museum of Contemporary Art (MOCA) showcases the works of various Korean and International artists. The premises are divided into both temporary and permanent exhibitions. Some of these are very unique and thought-provoking.
MOCA is open from 10 am until 6 pm from Tuesday – Sunday. Best of all, admission is completely free!
Discover the Works of Renowned and Up and Coming Korean Artists
The Busan Museum of Art is an art gallery and cultural exhibition space set within a three-story, futuristic building. The exhibitions here cover a variety of artistic expressions.
Everything from fine art paintings, to photography, and contemporary art pieces can be found here. The artists on display are predominantly Korean – both renowned and up-and-coming creators.
The idea behind the Busan Museum of Art was to introduce the world to the history, artistic presence, and cultural heritage of Busan.
Experience the Weird and Wonderful Exhibits of the Trickeye Museum
The Trickeye Museum is a great place to stop by for something wacky and completely different. The "museum" is comprised of different illusions and interactive paintings.
The main drawing point of visiting the Trickeye Museum is to take photos and "be at one" with the art. It's fun if you have a little extra time, and it lets you take some photos that are comedy gold.
Visit the Busan Aquarium
For rainy days, or if you have a little time to spare in Busan, you can consider stopping by the Busan Sea Life Aquarium. These large premises are home to more than 10,000 different species of fish, reptiles, and amphibians.
The aquarium also offers unique glass-bottom boat trips that sail into the nearby waters. The highlight of this? Not only do you see colourful shoals of fish, but also sharks, who reside in the seas beside Busan.
Get a History Lesson at the Busan Museum
There are a plethora of interesting museums in Busan. The city is far more than "just" a beach destination.
One museum that is worth checking out is the Busan Museum. The museum is spread across seven exhibition halls and three floors.
The exhibits display an array of artifacts that were recovered in the area. Most interesting of all is perhaps the various Buddhist statues and sculptures that were retrieved from ruined local temples.
The Maritime Museum
The Korean National Maritime Museum sits on Yeongdo island and contains more than 10,000 relics and artifacts. If you have a particular interest in ships or naval history, it's worth adding this museum to your agenda.
Exhibitions displayed at the Maritime museum provides an in-depth look at boats and Korean history. They discuss everything from early Joseon boats, to modern maritime ships, and what lies beneath the surface of our oceans.
Things to do in Busan:
Festivities and Events
Festivals and cultural events are a huge part of Korean culture. Even if you find yourself in the most random, off-the-beaten-path village in winter, you will still probably find something going on around you.
Busan is no different. The city plays host to a wide array of fun events that you can take part in all year round.
Attend a Korean Festival
The Korean calendar is jam-packed full of festivals. Regardless of when you decide to travel to Busan, it is inevitable that some kind of festival will be taking place in the city.
The Yongnam dance festival takes place every September/October and is an interesting place to go to watch traditional Korean dance performances. October also sees Busan's annual "Jagalchi Festival".
This is a celebration of the namesake seafood market. During Jagalchi festival, cooking competitions and parades are held across the city.
Participate in Buddha's Birthday Celebrations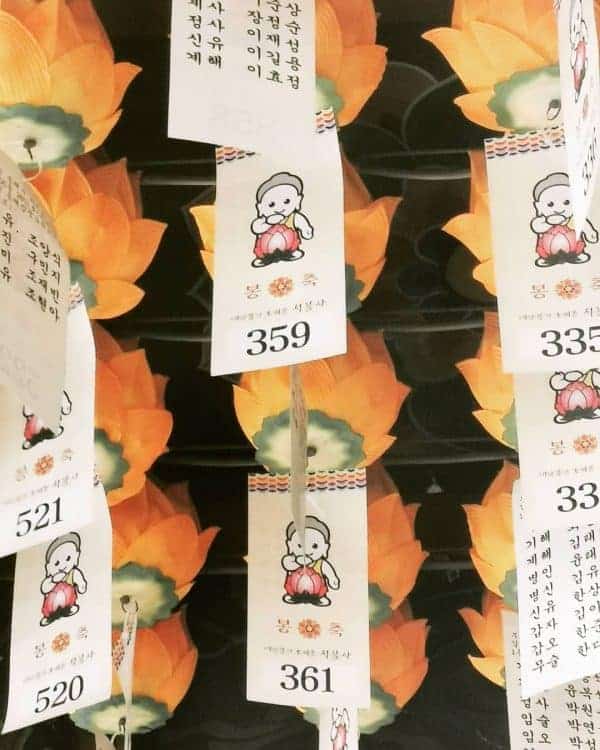 Buddha's Birthday is one of the largest celebrations on the Korean calendar. Korea is a predominantly Buddhist nation, and Buddha's birthday takes place every May. This day is also known locally as "Bucheonim osin nal".
The specific date at which the celebrations are held varies every year. However, if your trip to Busan does coincide with Buddha's birthday, you should try to attend the festivities.
In Seoul, parades and lantern festivals fill the streets to celebrate the life of Buddha. In Busan, many of the temples perform fascinating rituals.
Samgwangsa temple is a spot that is overlooked by most tourists to Busan. However, it is without a doubt, the best place to enjoy the Bucheonim osin nal celebrations.
Thousands of multicoloured lanterns decorate Samgwangsa during Buddha's birthday. The temple monks chant the 2,500-year-old Buddhist chant "om mani padme hun". You will never see something quite like this.
Enjoy Korean Music at a Live K-Pop Show
Music is a big part of the culture in a lot of countries. That is no different in Korea. Here, everybody goes crazy about K-Pop.
You either love it or you hate it. However, attending a KPop festival is a wonderful Korean travel experience.
Large cities like Seoul and Busan see regular concert performances from big-name Kpop stars. They also host a lot of free events where numerous Kpop stars come together to perform. To find out the shows that coincide with your travel dates, simply Google "Kpop Shows in Busan".
Nightlife & Socialising in Busan
The mantra "work hard, play harder" definitely rings true in South Korea. Busan is a night owl and has plenty of evening entertainment options to offer every taste.
Dust Off Your Karaoke Skills at a Noraebang.
There are few experiences that are as quintessentially Korean as flexing your singing skills (or lack thereof) at a Noraebang. While immersing yourself in Busan's colourful nightlife scene, consider stopping by a noraebang.
Noraebangs are private singing rooms which you and your friends can rent for the evening. Singing fun aside, many of these rooms are set inside towering hi-rises. They offer incredible views over downtown Busan and out to sea.
Try Busan-Made Craft Beers
In recent years, South Korea has played host to an emerging craft beer scene. One notable spot in Busan is the Galmegi Brewery.
Gamelgi is the first American craft brewery in the city. It opened its doors back in 2014. There are six locations of the branch across Busan where you can stop by to sample a tasting tray of different beers.
Galmeji are the pioneers of the Busan craft beer scene, but there are some other great spots in town too. The Wild Wave Brewing Co and Praha 993 are two other spots with great reputations.
Party Until the Early Hours at the Bars of Haeundae
Haeundae is to Busan, what Hongdae is to Seoul. This is Busan's party district, and it is home to a plethora of bars, clubs, and shows that offer a little something for every taste.
Club Kudeta and Club Babau are two Busan clubs that are popular among both locals and foreigners. Expect dance, house, and hip-hop music that goes on into the early hours of the morning.
For something a little more alternative and "rough around the edges", head to Thursday Party. This fun and casual spot is home to beer pong, classic rock music, and table football.
Make Friends with the Busan Couchsurfing Community
Koreans are super fun people to hang out with. It is often the people that you meet, and the friends that you make that make your trip special.
Busan has a large population of western ex-pats, along with fun-loving local Koreans that are eager to meet travellers from different countries. To make local friends, go along to one of the Busan Couchsurfing meetings. This is a great way to get to know some cool bars and hang out spots that most travellers don't know about,
If there are no events set up that coincide with the dates of your trip, you can also create your own. Alternatively, message individual Couchsurfers to see if they want to hang out!
Cruise Along the Coast With a Nighttime Boat Tour
From Haeundae beach, it is possible to hop on board a boat and take a nighttime cruise along the coastline. The buildings of downtown Busan look incredible at night when they are illuminated with dozens of twinkling lights.
A number of Busan boat tours are available. Some include exquisite dinners out at sea, and others even take place on a yacht!
Spas & Wellness Treatments in Busan
Koreans are very big on self-care. Spas, beauty treatments, and pampering are all a very big part of the culture. The great thing is, not only are spas and bathhouses in plentiful supply in Busan, but they are also very affordable!
Soak Your Cares Away at Heosimcheong Spa
Jimjilbangs are a huge part of Korean culture. These are traditional bathhouses that are a little like Turkish hammams.
At a Korean jimjilbang, you can soak your cares away in various heated baths. Some of these are infused with different herbs and treatments. You may as well experiment with the best of the best while in town.
Heosimcheong Spa is the biggest spa in Asia. The special thing about it is that its pools are filled with water from natural thermal springs that are rumored to have healing properties.
The spa pairs traditional jimjilbang treatments with modern relaxation therapies. Soak in the baths, get a Korean body scrub, and then treat yourself to a hot stone massage.
Getting to Busan from Seoul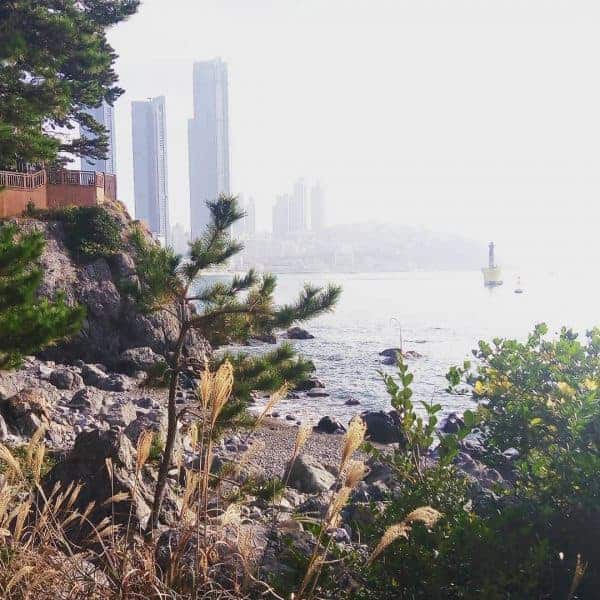 If you are not flying directly to Busan then rest assured, it is easy to reach Busan from Seoul. The journey can be made via train or by bus, depending on your budget and preference.
Reach Busan by Train
High-speed KTX trains travel between Seoul and Busan several times a day, and the journey takes just two and a half hours. Train tickets for the KTX can be purchased online or in person at Seoul station.
It is worth noting that it is not unheard of for Seoul-Busan train tickets to sell out. This is particularly true at weekends or on public holidays. Try and book your tickets a few days before travelling, where possible.
KTX trains are divided into First and Economy classes. From Seoul to Busan, it will cost you 60,000 KRW for an Economy ticket, or 83,000 KRW for a First Class ticket.
Foreigners travelling in Busan should take advantage of the KTX travel pass. This allows them to travel at a discount rate. Mugunghwa and ITX trains also operate from Seoul to Busan but the journey takes five hours.
Reach Busan by Bus
Travelling through Korea by bus is very cheap and convenient. It takes approximately four hours to reach Busan from Seoul. You can take the bus from Seoul Express Bus Terminal in Seocho-gu for just 30,000 KRW.
Getting Around Busan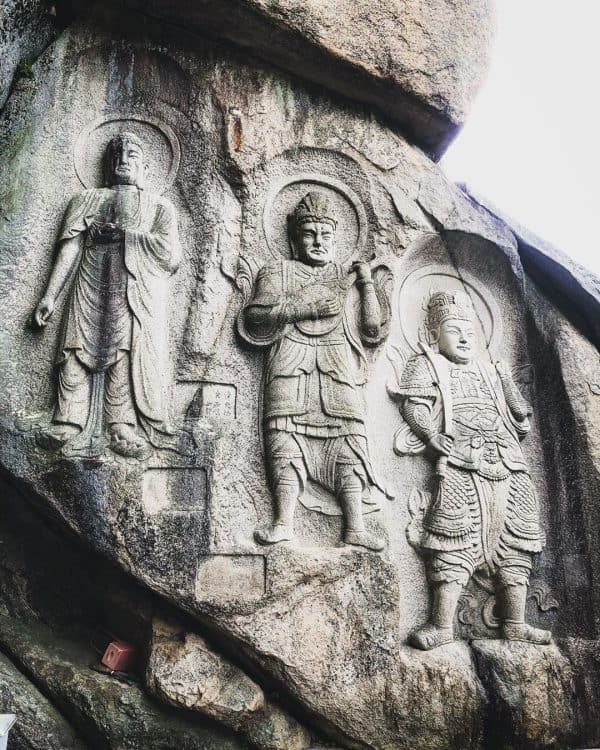 Getting around Busan is easy thanks to the city's reliable and extensive public transport network. The Busan metro stops at most major sites within the city limits.
Notable Busan attractions, temples, and national parks on the outskirts of Busan are serviced by buses.
Final Thoughts
Do you have any questions about additional things to do in Busan or about Korea travel in general? Drop me a line below!
I lived in South Korea for several years and visited Busan countless times. Safe travels!
Annyeong! Melissa xo
---