A temple stay in Korea is a great way to immerse yourself in Korean Buddhist culture. This is a unique experience that provides an insight into the Monastic way of life that historically speaking, has always seemed quite elusive, mysterious, and secretive.
Organising a Temple Stay in Korea
The Korean Templestay program is a cultural initiative that has been offered by the Cultural Corps of Korean Buddhism for several several years now. The program was launched in 2002, as something of a promotional idea around the time that Korea was hosting the 2002 Winter Olympics.
There are approximately 20,000 temples scattered throughout South Korea. This is an impressive amount considering the country's relatively compact size.
There are numerous Buddhist temples across the country that participate in this cultural program. Korean Buddhism is a 1700-year-old tradition and something that has largely shaped the culture of Korea today.
Whether you are religious or not, opting to embark on a Korean temple stay is a great way to learn more about this beautiful East Asian country. The program encourages participants to embrace their spirituality and find their "true selves".
Indeed the Korean temple stay schedules are a great opportunity for self discover and reflection. Various temples across the country offer various different programs.
Some Korean temples only permit one-day or weekend stays. During this time, you will get to shadow monks and learn what a typical "day in the life" is all about.
Meanwhile, other temples permit you to stay for several weeks, or even months at a time. The idea is to "rest your weary soul", assess your life's purpose, and come away feeling renewed. Seasonal programs are also occasionally hosted on specific Korean national and religious holidays.
My Temple Stay in Korea
"Oh it's so nice and refreshing to talk with you, I hadn't realised there were any female monks here"

"There aren't"

"Oh…"

Me, sucessfully putting my foot in my mouth since 1990!
When I heard about Korea's Templestay program I was instantly intrigued.
Buddhist temples are dotted everywhere across Asia.
A highlight of my adventures has been stumbling across an off the beaten track temple with a seemingly nondescript outer, to find that the inside is filled with countless elaborate precious metal statues of Buddha, the site encapsulated with the mesmerising scent of incense.
Monastic life always seems somewhat secretive. Many of the hilltop temples and monasteries we visit along our travels are home to live-in Monks.
However, very rarely will we bear witness to their activities. Having the opportunity to sit down and discuss their chosen way of life with them is basically unheard of.
A Korean Temple Stay at Beopjusa Temple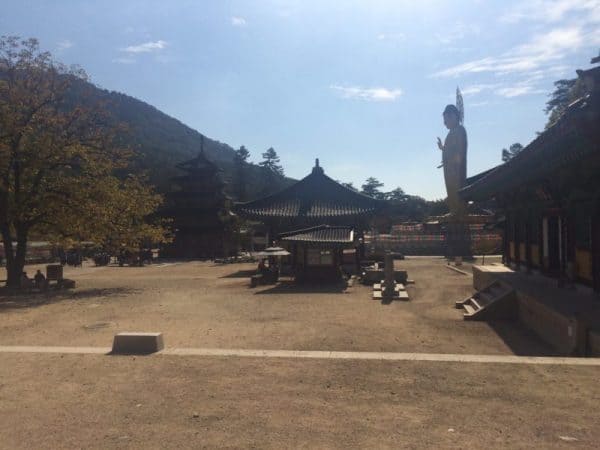 I opted to participate in a Korea Temple Stay at Beopjusa Temple. Their schedule allows you to live in the quarters of a Korean Buddhist temple and participate in the day-to-day activities of a Monk.
This includes the 3.30 am Morning Chants (Ouch!), 108 prostrations/bows (again, ouch!), meditation, tea ceremonies, and mealtimes.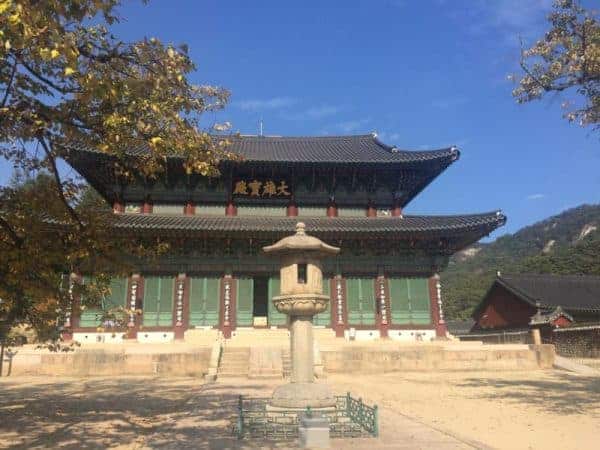 Actually, when I first booked the program I was so thrilled at the prospect of staying in a temple that I hadn't looked at the itinerary! I spent the evening before my departure envisaging the peaceful time I would have at the temple.
You know… Buddhism, Temple, Mountain View… It must just be a lot of sitting around drinking Green Tea and meditating. Right?
I assumed it would all be very zen. My what a shock I had when I realised I had to be up at 3 am each morning!
"You're very pretty," the program leader said when I first arrived at the temple. He was not saying that after he saw me at 3 am with hair like Medusa!
Kidding aside, the experience was one that will stay with me for life. As I stood in the temple courtyard as the sunset over Songinsan Mountain and watched the resident monks conduct their evening drumming, it felt almost magical. I thought about how privileged I was to have the opportunity to be a part of such an intimate Buddhist ritual.

You get the hang of the bowing too. I reckon those full prostrations have done wonders for my abs!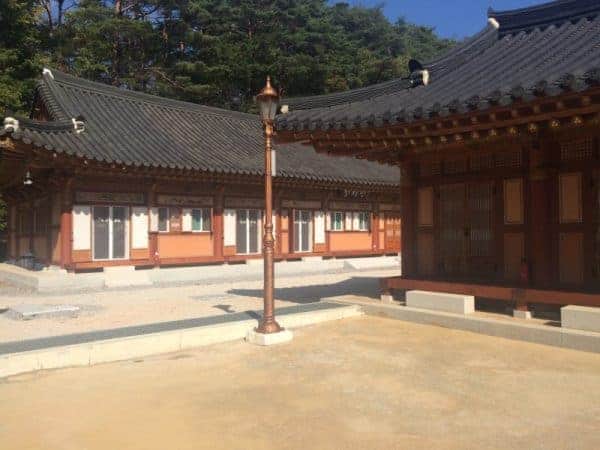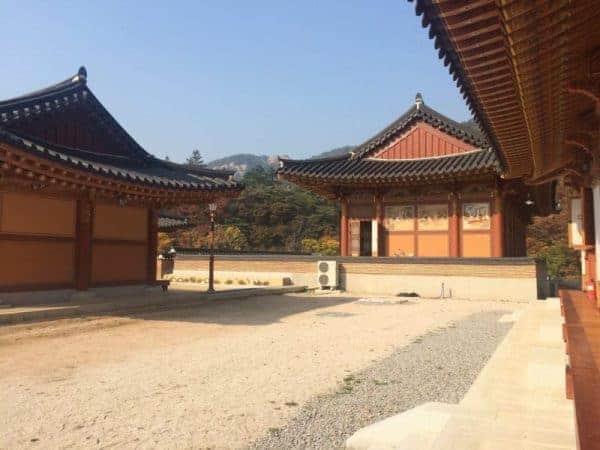 Why Choose Beopjusa Temple for a Temple Stay in Korea?
There are many temples dotted around South Korea that participate in the nationwide Temple Stay program. This includes temples in major cities such as Seoul and Busan.
As such, it's easy to schedule a temple stay in Korea into your trip, even if you are only in Korea for a Seoul city break or only have a limited amount of time to dedicate to your Korea itinerary.
I wanted to experience Korea away from the hustle and bustle of city life. Beopjusa, located in the rural setting of Songnisan National Park in Chungcheongbuk-do was the perfect opportunity to do so.
The beautiful lakes and hiking trails dotted around the temple grounds were an added bonus and a great opportunity for self-reflection. There are many Korean temples situated in remote and rural areas that offer this same opportunity if quiet and seclusion are what you are looking for too.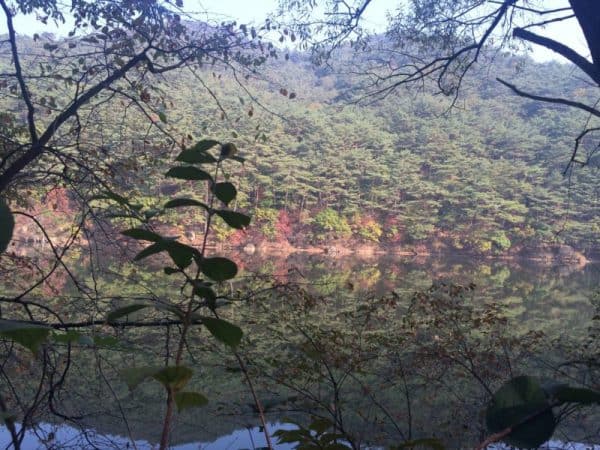 Templestay Activities
There are several activities that seem relatively 'uniform' and common across various temple stay in Korea programs. Tea ceremonies, discussions with monks, guided hikes, meditation, chanting, and drumming are among those.
Tea ceremonies


108 prostrations


Enjoying a Monastic meal


Morning and evening drumming


Chanting


Temple maintenance and care
Enjoying a Tea Ceremony with a Resident Monk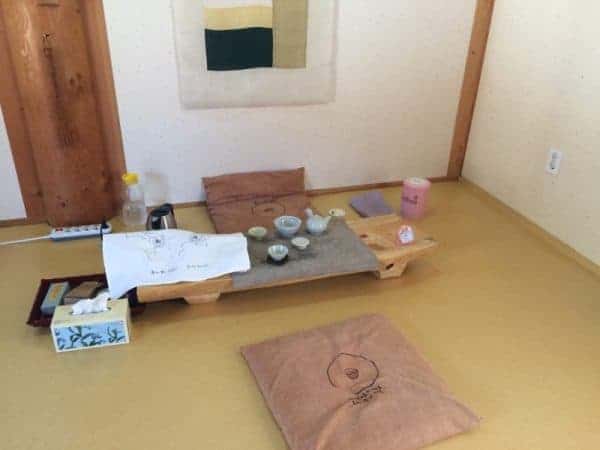 The Temple Stay program gives you the opportunity to have a one on one discussion with a Monk. Coming from completely different walks of life, with our lives headed in opposite paths, I had such great conversations with this person.
We bonded over our shared love of cups of tea, and a discussion of different types of tea! I knew being British would come in useful at some point in life! Having such a wonderful experience and interaction in a remote part of Korea that, up until a few weeks prior, I hadn't even heard of, was a reminder of precisely why I love to travel.
108 Prostrations
Korean Buddhist Monks typically start their days at 3 am by completing 108 prostrations. These are bows that are somewhat comparable to sun salutations.
The bows are completed by first bending your knees, raising your hands to your chest in a prayer position, lowering yourself to the floor (a mat is provided), touching your forehead to the floor, and then repeating. This is somewhat physically challenging – not the art of the bow itself, but the fact that the monks do so many (108 to be precise) in quick succession within just 20 minutes.
A Monastic Meal
Korean Buddhist Monks follow a vegan diet. No meat or animal products are permitted on the holy premises.
Mealtimes at Korean temples are charming, social affairs – much like dining in Korean culture in general. Bowls of rice were served in accompaniment of a large selection of 'banchan'.
"Banchan" are Korean side dishes. In some ways, they could be compared to Spanish tapas or Greek meze. It is the variety of lots of little plates of food that makes Korean mealtimes so great.
Korean Temple food is much more palatable than you may first imagine. In fact, some upscale and Michelin-starred restaurants in Seoul have won acclaim for serving contemporary spins on temple food to the masses!
Varieties of kimchi, fermented radishes, chestnut stew, crispy greens, marinated tofu, mushroom fritters are just a few examples of popular Korean temple food dishes. It is typical for all of the temple residents and volunteers to work together to prepare the food and then clean the kitchen afterwards.
Morning and Evening Drumming
Spiritual drumming is carried out by Temple Monks during the mornings and evenings at Korean temples. There are four special instruments that are used for this process.
Namely, they are the Dharma drum, the temple bell, the wooden fish and the cloud-shaped gong. The drums are played to save and honour animals, fish, winged creatures, and sentient beings.
Having the opportunity to watch this ceremony is almost magical. Being the only foreigner to witness the rythmnic drumming as the resident monks hang their heads in prayer is a special experience.
Korean Temple Etiquette
To be expected, there is a Temple etiquette to be followed during your stay and you will be shown a short video upon arrival detailing this. The key aspects can be broken down into the below:
Clothing is to be clean and conservative – You will be provided with Monastic wear upon arrival.


Closed, flat shoes should be worn with socks (inside and outside)


You should remain in silence throughout the temple site


During meal times, you should only speak when necessary


No meat, no snacks, no alcohol, or smoking on the Temple grounds


You should perform a half bow when greeting others within the grounds, and when entering/exiting a Dharma hall


You should always walk in a "Chasu" stance within the Temple grounds – in short, place your right hand atop your left and keep by your stomach

Conclusion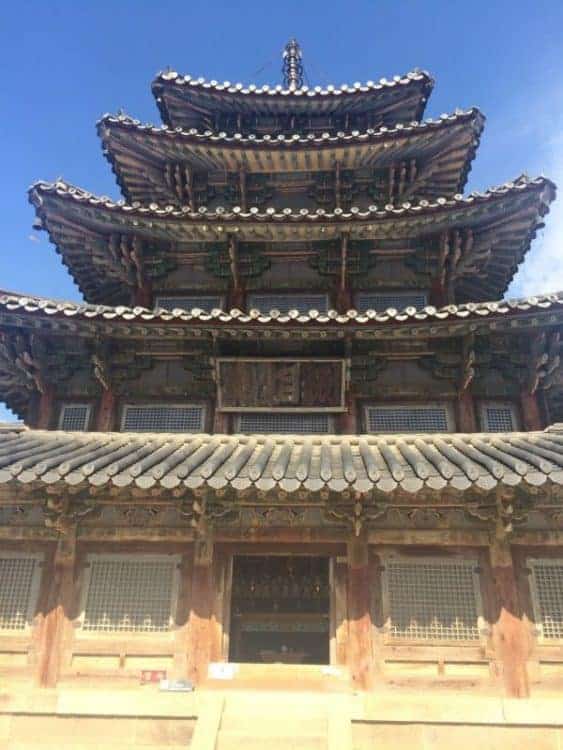 I really appreciated the time that the Monks and Buddhist Missionaries at the temple took to tell me about their backgrounds. They were very open about the personal journeys they went through, in order to get to the place they are at today working and living at Beopjusa Temple.
I'm not a religious person, my decision to participate in this program, was more one of intrigue and a desire to learn more about the principles of Buddhism, and what goes on "behind the scenes" of the many temples I have visited across the Asian continent. The program was accepting of all religions, and belief systems.
There was no pressure or expectation to come to any sort of conclusions or share any specific views. This is purely and simply, the temples and Buddhist monks of Korea laying their cards on the table and leaving you with the tools to form your own opinion.
Booking a Temple Stay in South Korea
Booking a temple stay in Korea is pretty straightforward. Many temples in Seoul, Busan, and other Korean cities participate in the program.
It is common for these temples to have plaques on site depicting their participation. As such, you can inquire within about making a reservation.
Generally, though, the best way to book a temple stay in Korea is via the Templestay website. The site allows you to search for temples by region and program type.
A one-night, two dayTemplestay program costs 70,000 KRW per night. This is approximately $58/£40 and includes meals.
Parting Words
Do you have any additional questions about organising a temple stay in Korea? Please don't hesitate to reach out to me via the comments below.
I lived in Korea teaching English and then working as an Asia Travel Correspondent. I am happy to assist with any questions and queries you may have.
Safe travels! Annyeonghaseyo! Melissa xo
Pin it For Later!
---