Reading quotes about Sicily is a nice way to get excited about an upcoming trip to the beautiful Southern Italian island, or to inspire you to go ahead and book a ticket. Sicily, at the crossroads of the Mediterranean, has seduced travellers for centuries with its cerulean waters, its dreamy landscapes, and its rich cultural heritage. 
Last year, I based myself in the gritty Eastern city of Catania for two months. In that time, I drove all over the island, exploring every coastal town, and every crumbling ruin.
I love reading quotes about Sicily to reminisce and drift into a nostalgic daydream. Some of the best Sicily quotes are included below to help you do the same. 
The quotes conjure up dreamy visions of wandering through fragrant lemon groves, driving along coastal roads, and tucking into sumptuous servings of pasta in crowded piazzas while the live musicians play old Dean Martin classics. Ah, Sicily. 
Quotes about the Enchanting Beauty of Sicily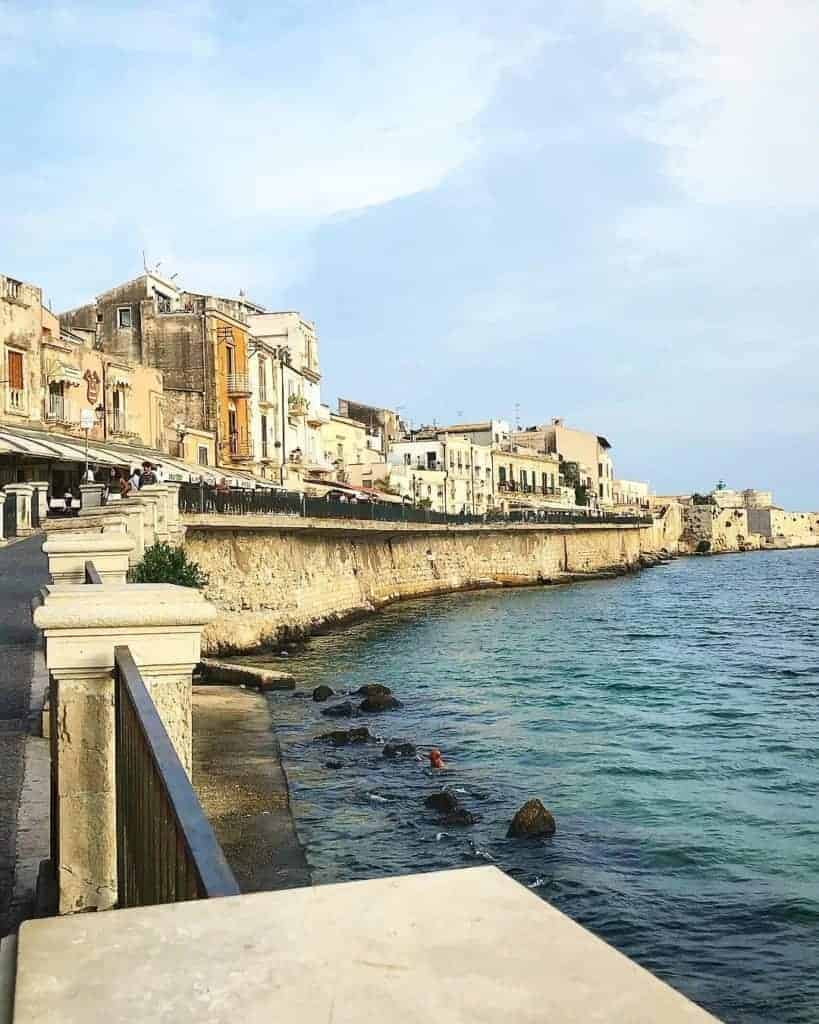 Since ancient times, tales of Sicily's beauty have spread far and wide. Centuries ago, the Romans and the Greeks were captivated by the island's charm and countless poets from Homer to Virgil have sung Sicily's praises. The following quotes about Sicily perfectly embody that. 
"Sicily is the pearl of this century… Since old times, travelers from the most faraway country… boast of its merits, praise its territory, rave about its extraordinary beauty, and highlight its strengths… because it brings together the best aspects from every other country."
Al-Idrisi, Arabian Geographer 
"…On the sixth day,
God accomplished His work
And, pleased with all the beauty
He had created,
He took the Earth in His hands,
And kissed it.
There, where He put His lips,
That's Sicily."
Renzo Barbera, Italian Businessman
The climate's delicate; the air most sweet.
Fertile the isle, the temple much surpassing
The common praise it bears."
William Shakespeare, Playwright
"Going to Sicily is better than going to the moon."
Gabriel Garcìa Màrquez, Spanish Writer
"I was enchanted… the limpidity of the sky, the restless splendor of the sun, the beauty of the countryside, a certain excitement of the fantasy…which brought to mind the time when in the fields one encountered the divine."
Jean Houel, French painter
"The purity of the outlines, the softness of everything, saggy of colors, the harmonious unity of the sky with the sea and the sea with the land … who saw them only once, he owns them for life."
Goethe, German poet
"To have seen Italy without having seen Sicily is not to have seen Italy at all, for Sicily is the clue to everything!" 
Goethe, German poet
"I do not envy God's paradise because I am so satisfied to live in Sicily".
Federico II, King of Sicily, Emperor of the Roman Empire 
"And anyone who has once known this land can never be quite free from the nostalgia for it."
D. H. Lawrence, Writer 
"Sicily is more beautiful than any woman" 
Truman Capote, Writer 
"The South of Italy and Sicily were a gift from the gods to the Greeks."
Salvatore Furnari, Historian
"The loveliest region of Italy: a stunning orgy of colors, scents, and lights…a great delight"
Sigmund Freud, Neurologist
"Palermo was lovely. The most beautifully situated town in the world – it dreams away its life in the Conca d'Oro, the exquisite valley that lies between two seas. The lemon groves and the orange gardens were entirely perfect."
Oscar Wilde, Writer 
"Syracuse is the greatest Greek city and the most beautiful of them all."
Cicero, Roman Orator
"Syracuse is the grandest of cities, a sojourn dear to the indomitable Ares."
Pindar, Greek Poet
"I don't have words to express how she has welcomed us: with fresh green mulberry trees, evergreen oleanders, lemon hedgerows, etcetera. In a public garden, there are broad beds of buttercups and anemones. The air is mild, warm and aromatic. The wind balmy."
Goethe, German poet 
"My memories of my childhood are wonderful memories. I feel that I was privileged because I grew up in a beautiful city. It is Catania" 
Luca Parmitano, Italian Astronaut 
Quotes about the Rich Culture of Sicily
Sicily is one of the most culturally diverse islands in the world. Afterall, Palermo is the most-conquered city on Earth. Over the years, various civilizations have invaded the island and taken over, thus leaving their everlasting mark. There are few other places where you can see Arabian mosques, Greek theatres, and Roman sculptures contained in a small neighbourhood of one city. 
"Sicilians build things like they will live forever and eat like they will die tomorrow"
Plato, Philosopher
"Sicily has suffered 13 foreign dominations from which she has taken both the best and the worst. The sequence of different cultures has made Sicily a fascinating place, quite unlike any other."
Andrea Camilleri, Writer
"But you don't come to Palermo to stay in minimalist hotels and eat avocado toast; you come to Palermo to be in Palermo, to drink espressos as dark and thick as crude oil, to eat tangles of toothsome spaghetti bathed in buttery sea urchins, to wander the streets at night, feeling perfectly charmed on one block, slightly concerned on the next. To get lost"
 Matt Goulding, Author  
"Sicily is a blessed land. First, because of its geographic position in the Mediterranean. Second, for its history and all the different peoples who have settled there: Arabs, Greeks, Normans, the Swedes. That has made us different from others. We exaggerate, we overdo. We love Greek tragedy. We cry, we fight, sometimes for nothing."
Marcello Giordani, Italian Operatic Tenor
"In Sicilia abbiamo tutto. Ci manca il resto"
(In Sicily we have everything. We are missing the rest) 
Pino Caruso, Italian Actor 
"Sicily is an island lying outside time, where past events endure in an external present, a beach on which the tides of successive civilizations have heaped in disorder their assorted treasure."
Vincent Cronin, The Golden Honeycomb
"Whatever may happen to the Sicilians, they comment on it with a joke."
Cicero, Roman orator
"Ho capito che la Sicilia è molto più complessa di quello che si può pensare: la paragonerei ad una cipolla dai molti strati."
(Italy is much more complex than you may think. It's like an onion with its many layers) 
Paco Ignacio Taibo II, Writer
Quotes about Sicilian Cuisine
Sicilian cuisine, with its prominent street food culture, proves that Italian food is far more than just pizza and pasta. Head into a quaint, family-run trattoria, order up a pasta alla Norma with a limoncello to wash it all down with and you will soon understand what all the fuss is about. 
"Food is more essential than clothes"
Sicilian proverb
"Everything is good fried, even the soles of shoes" 
Southern Italian proverb 
Have any other quotes about Sicily that you love? Alternatively, if you have any questions about travelling to this Mediterranean paradise and planning a Sicily itinerary of your own, don't hesitate to contact me. Buon viaggio! Melissa xo
---