Gamcheon Culture Village in Busan is a highlight of visiting South Korea´s second city. It is one of the city´s main tourist attractions and upon arrival here, it is easy to see why.
Gamcheon Culture Village
Gamcheon Culture Village is a residential district located in the hills of Busan. These brightly coloured houses look almost like blocks of lego stacked on top of each other. Their hilltop location has awarded them the affectionate nickname as being the ¨Macchu Picchu¨ of Korea.
There is a fascinating history behind Gamcheon Culture Village that goes well beyond this area simply being a colourfully decorated neighbourhood. Today, Gamcheon is often very crowded with tourists.
The quaint coffee shops and photogenic eateries here see a constant stream of customers. However, that hasn´t always been the case.
Gamcheon is one of Korea's few remaining "Dal Dongnae" or "Moon Villages". These were once regions that housed some of the country's poorest people.
The higgledly-piggledy homes here were constructed hurriedly, hence their somewhat ramshackle appearance. They were built with the intention of providing a home to refugees of the 1950´s Korean War.
Essentially, Gamcheon Culture Village, and other similar Dal Dongnae, were slums. When you think of Korea, you think of high-rises and busy city business districts. These 'slums' provide a very interesting contrast in architecture compared to what you see in the city´s central business district.
The Beautification of Gamcheon Culture Village
Gamcheon Culture Village was an unsightly shanty town for many years. It wasn't until 2009 when the area was improved.
The Korean Ministry of Culture, Sports, and Tourism took notice of Gamcheon and other similar Dal Dongnae slums. A beautification grant was awarded.
Then, the locals began to paint and decorate their areas. They painted alleys and stairways in vibrant colours, and drew beautiful frescoes on their houses and walls.
Soon, Gamcheon Culture Village became the adorable street-art village that it is today. Other similar Dal Dongnae villages can be found around South Korea, however, Gamcheon is the most well-known. Today, Gamcheon is one of Busan´s main attractions.
An Artistic Scavenger Hunt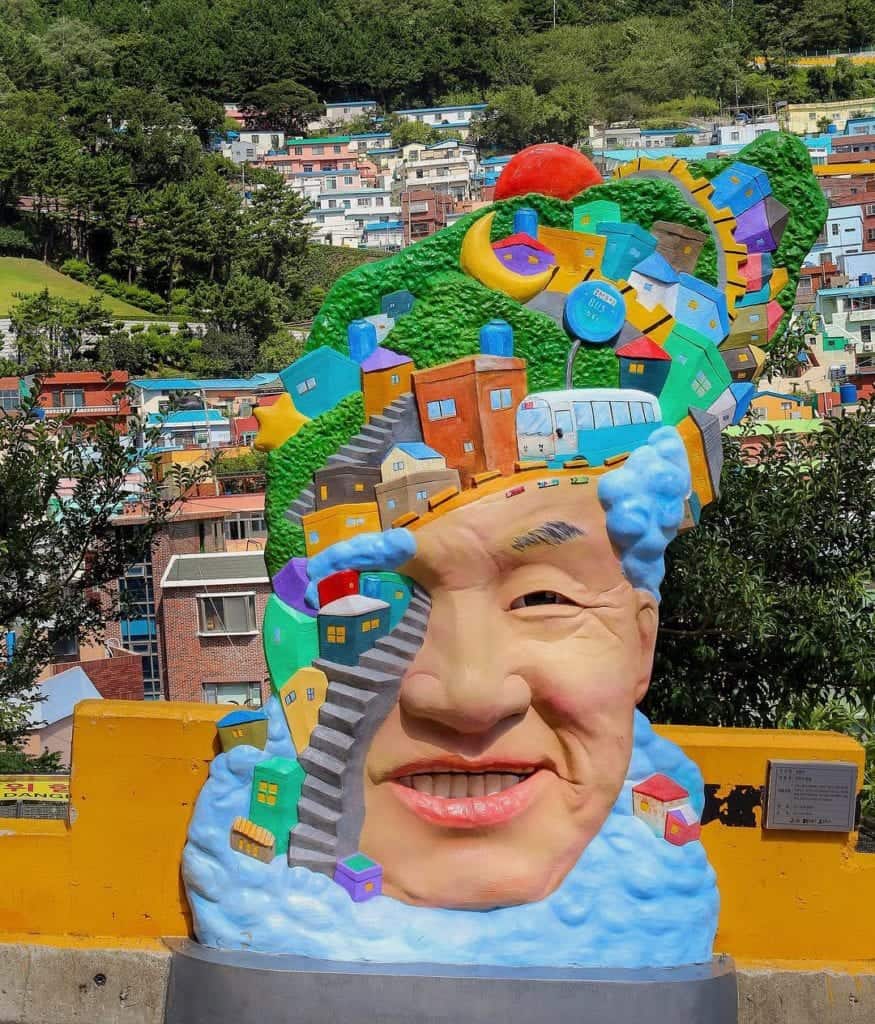 You can buy a map for 2000 KRW when you enter the Gamcheon Culture Village. Of course, you can also navigate using Naver Maps or similar.
However, the village map acts as both a navigator and part of a "scavenger hunt". Spending the day at Gamcheon Culture Village is a fun, interactive affair.
Follow the map to find the most ¨important¨ art pieces and exhibits. You will stumble across eccentric-shaped buildings that house art galleries. You can stamp your map and take a postcard from each one. So, your Gamcheon map becomes a wonderful souvenir.
Gamcheon Culture Village is rather expansive. It has a maze-like layout and is essentially a rabbit-warren of narrow streets and passageways.
It´s easy to find yourself more lost than Alice in the Queen of Hearts maze here. However fear not, you will find a tourist guide every few blocks along who will be able to point you back in the right direction.
Navigating the Gamcheon Site
It is possible to visit Gamcheon Culture Village independently or on part of an organised tour. A number of reputable Busan city tours include a visit here along with a trip to several important local temples such as the coastal shrine of Haedong Yonggungsa.
A Busan day tour can be great if you are short on time. However, if you really want to explore Gamcheon thoroughly, take the time to get lost in its narrow alleys, and have the pleasure of sitting in one of its quaint coffee shops with an iced coffee, independent exploration is preferable.
You should dedicate at least 2-3 hours to exploring the village. As you can imagine, the fact that the village has been built up on the hills, means a lot of going up and down steep streets and stairways.
There are a number of ways to enter the site. The main entrance is via the Gamcheon Culture Village Tourist Centre. It is here where you can purchase the map and obtain information on the various sights and exhibits.
You can obtain Gamcheon stamps at the below locations. These are also detailed on your map.
Gamcheon Loess Salt Company


Little Museum


House with Puppies


Asteroid B612 Souvenir Store


Message of Hope


House of Peace


Happy Power Station


Modern Man


House of Hope II


Haneul Maru


Gamnae Eoulteo


Ocean Photo Zone
Keep in mind that this list is not exhaustive. These are the ¨main¨ locations where you can obtain stamps, postcards, and see independent art exhibits.
However many locals have also contributed to the beauty of their village. Some have set up little displays in their windows and gardens of dolls having tea parties, etc.
Keep your eyes open at every turn and don´t be afraid to get lost. There are many ¨secret¨ locations here.
Famous Art Pieces in Gamcheon
A lot of the art pieces in Gamcheon are themed around Antoine de Saint-Exupéry´s book ¨The Little Prince¨. You will find paintings and sculptures of the beloved children´s book character as you make your way around.
Notably, there is a little statue of the prince and his fox friend on a wall on one of the Gamcheon hills. Sitting here beside the prince provides a perfect viewpoint over the town and wider Busan. There is often a queue to sit beside him and get the perfect photo.
Other notable art pieces in Gamcheon are detailed below. Some have been created by known Korean and international artists. Other charming pieces have been created by locals.
Jin Yeongseop – Swimming fish wall art


King Jongsun – Face of Gamcheon


Ahn Jaeguk – Balloon carrying songs of hope


Jeon Yeongjin – Sweet rest


Woo Jing – Gamcheon sound


Park Eunsaeng & Park Gyeongseok – House with stories


Ha Yeongju – Scenery of grapes


Na Inju – Gifts from the sky


Jeon Migyeong – Gamcheon Arirang
Tips for Visiting Gamcheon Culture Village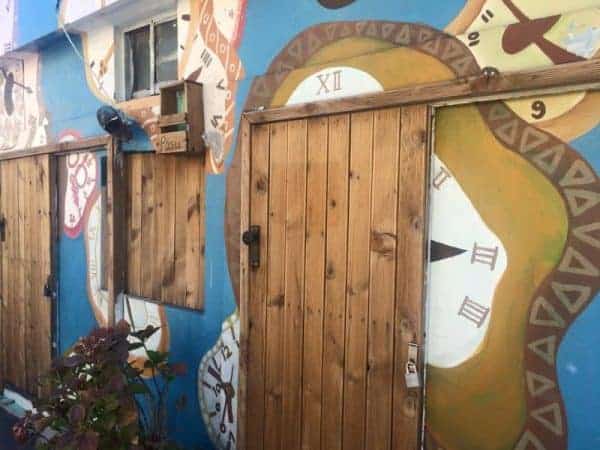 An estimated two million people visit Gamcheon culture village every year. The area is perpetually crowded.
Unfortunately, the effects of over tourism have had some negative impacts on the area. There are signs scattered throughout the streets in Korean and English asking visitors to be quiet and respect the locals.
Do be mindful of residents when you visit. Gamcheon culture village may be a unique-looking place but it is still a permanent home for hundreds of people. In some Korean art villages, locals have gotten so upset with noisy tourists that they have painted over some of the art pieces!
Visiting Gamcheon early in the morning enables you to escape the crowds. The tourist centre opens at 9 am. Similarly, try and opt to visit on a weekday, rather than a weekend.
Getting to Gamcheon Culture Village
Gamcheon Culture Village can be found in Busan, Korea´s second city. Busan can easily be reached by bus or KTX train.
The high-speed train enables you to travel the 325km from Seoul to Busan in less than 3.5 hours. You can use this pass in order to enjoy unlimited train travel throughout South Korea.
It is easy to get to Gamcheon Culture Village using the Busan metro. Simply take the Line 1 train to Toseong Station. Next, leave the station at exit 6.
Take a Right turn at the intersection. Then take either the number 2 or 2.2 bus from outside the hospital. Alternatively, you could take a cab from within Busan.
Food and Drink Options in Gamcheon Culture Village
There are several cute and quirky cafes in Gamcheon culture village. They mostly sell coffees and desserts.
These things are mainly designed for their aesthetics rather than taste. Grab some delicious Korean street food from the various vendors as you meander around.
All of your favourite street food eats can be found here. Tteokbokki, bungeo-ppang, kimchi jeon, etc.
Cafe Avante Garde is a wonderful place to stop by for coffee with a view. There are two Gamnae Cafe branches here. One is in Gamnae Eoulteo and another is under Haneulmaru. They are arguably the best coffee roasters in the area.
Other Things to do in Gamcheon
Gamcheon Culture Village is actually much more than ¨just¨ a pretty place filled with street art. Independent art galleries and boutique stores selling everything from clothing and jewelry, to handicrafts, have popped up in abundance in recent years.
One of the best things to do in Gamcheon is to browse the various stores here. Their handicrafts make perfect souvenirs from your time in Korea.
Visit the Grand Budapest Doll Hotel
Where: 134 Gamnae 2(i)-ro, Saha-gu
If you have time to spare, or you have a love for vintage porcelain dolls, the Grand Budapest Doll Hotel may be interesting to you. This eccentric, privately-owned museum first opened its doors in 2016.
It contains a vast collection of dolls from around the world. Entrance is 5,000 KRW per person. Once you have browsed the exhibits, you can admire the views of Gamcheon from the rooftop.
Have your fortune told by a Gachapon
Where: Gamnae 2(i)-ro
On Gamnae 2(i)-ro, you will see a line of mysterious-looking wooden machines filled with red balls. These are Gachapon machines and are used for predicting your fortune!
You can buy a token for 1,000 KRW ($0.80). Open the little ball and discover your fate! Note that the fortunes are written in Korean but you can always ask a friendly local to translate for you.
Revel in the views from Gamcheon´s hills
Gamcheon is a hilly place. There are some magnificent views to be enjoyed of the area, and wider Busan, from various points around the district.
One of the most popular view points is the Sky Maru Observatory. This is also a great place to send ¨snail mail¨ to your friends and family at home.
You can purchase beautiful, handmade 3D postcards of Gamcheon from here. Mail them to your friends and family around the world and they will receive them a year later. You can even send snail mail to your future self!
Virtually every twist and turn in Gamcheon opens out to another viewpoint and sweeping vistas of the city below. You will find them almost effortlessly.
Other Notable Art Villages in Korea
The Ihwa Mural Art Village in Seoul is another Dal Dongnae or ¨mural village¨ worth adding to your Korea itinerary. This area was once at risk of being demolished. Today, it is one of Seoul's best kept secrets.
Ihwa is much smaller than Gamcheon. As such, it is easier to navigate and feels somewhat more rewarding to explore.
Here, you take a turn to a seemingly dead-end street and spot an empty staircase decorated with a beautiful mural. Alternatively, you reach the end of a cul-de-sac and see sheds and outhouses dressed up as though they are post offices and businesses for tiny people, dolls sitting at an outside table in the sun enjoying their cups of tea.
It is worth coming up here if only for the great views of Seoul. This is particularly true if you don´t plan on climbing up Namsan Mountain.
It takes a fair few steps and an uphill walk (good for your calves!) to get here. Kick off your heels, don your comfiest shoes and take subway line 4 to Hyehwa station.
Ihwa is about 500M away from the subway station. You will note there are markers to guide the way. Hyehwa station area is also nice to explore if you have time. It is also one of the best places for shopping in Seoul.
Parting Words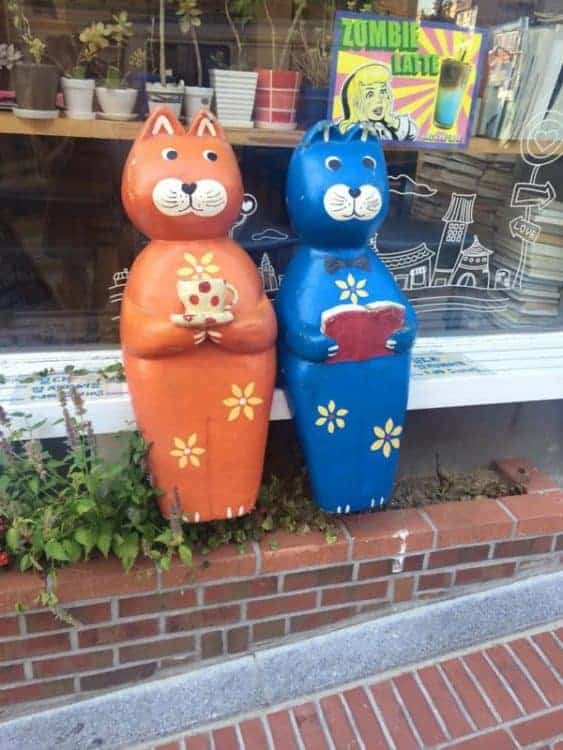 Do you have any additional questions about visiting Gamcheon or planning a Korea travel itinerary? I lived in South Korea for two years and got to know the country pretty well.
I am happy to assist with any questions or queries you may have. Simply drop me a comment below.
Safe travels! Melissa xo
---