The Ipoh street art scene is one of the main draws for visiting the charming antiquated city of Ipoh. The off-the-beaten-path city of Ipoh is situated in central Malaysia's Perak region.
It has escaped the eyes of most tourists. Here, beautiful murals and vibrantly coloured graffiti masterpieces can be found at every turn.
They transcend up walls and along the facades of storefronts. You will see entire alleyways and narrow passageways covered in artwork.
If you visit Ipoh, you can easily dedicate an entire day to embarking on an artsy treasure hunt and searching for Ipoh wall art. Better still, the entire city centre and all of the notable Ipoh street art pieces can be discovered on foot.
Ipoh Vs. Penang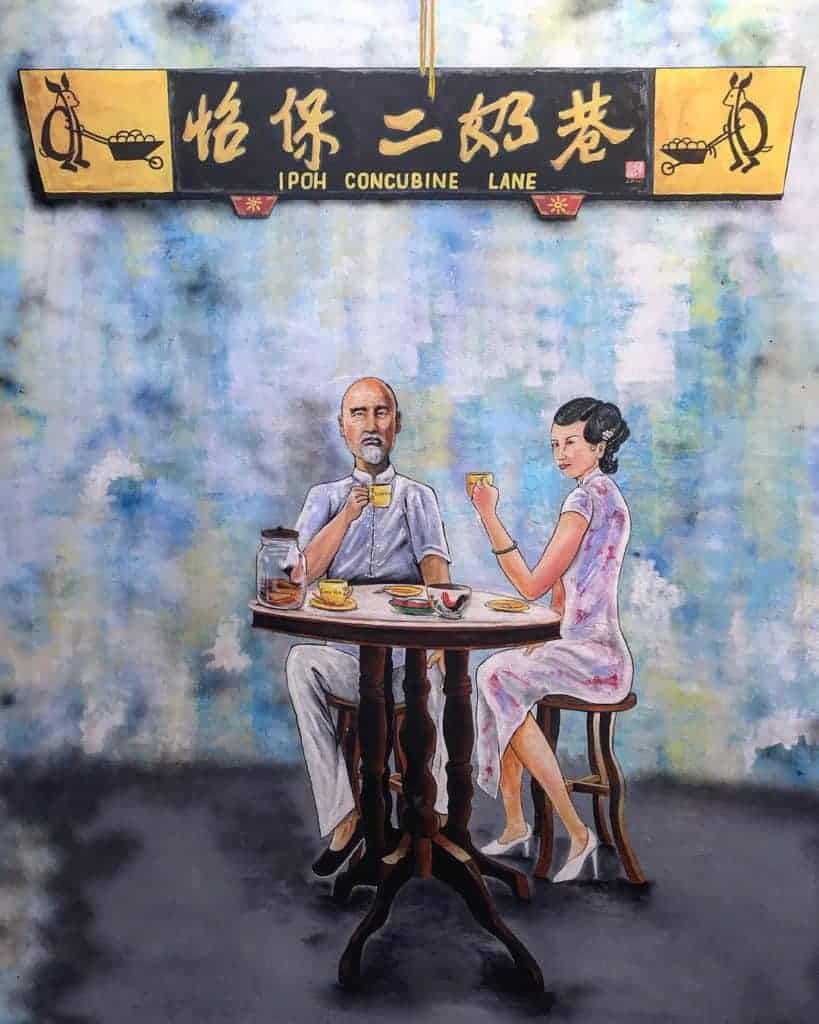 Historically, Penang's Georgetown has been renowned as being the "street art centre" of Malaysia, however, quirky Ipoh is starting to compete for the title.
The Lithuanian artist Ernest Zacharevic is credited with many of Penang's street art murals. It is also Zacharevic that has painted many of the pieces in Ipoh.
The beauty of travelling to Ipoh is that it has not yet been discovered by the tourist masses. In Penang, you may have to queue up to admire and get a photo in front of the various street art pieces.
However, in Ipoh, you often have them entirely to yourself. This makes for a far more pleasant travel experience as Ipoh hasn't soared to "Instagram fame" just yet.
A Little History of Ipoh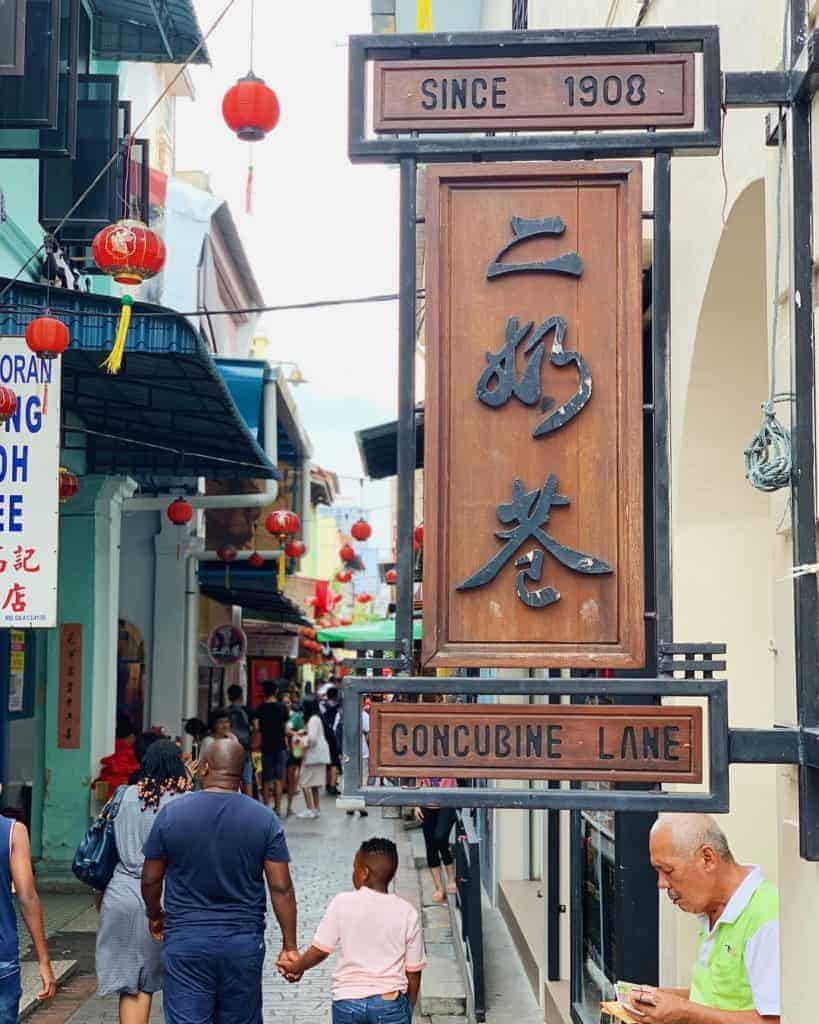 Ipoh is Malaysia's second-largest city. It is located in the heart of the country's Perak region, just two hours north of Kuala Lumpur.
Despite its size, there is a charming small-town ambiance about Ipoh. The ramshackle kedai kopi stores, the narrow concubine lanes, and the colourful Colonial architecture makes Ipoh appear like something out of a storybook.
Travel Bible Lonely Planet identified Ipoh as one of the best weekend getaway destinations in Asia. When you arrive, you will learn that it's not difficult to see why. However Ipoh still only sees a fraction of the tourists that frequent Penang, Langkawi, and the nearby Cameron Highlands.
Ipoh Street Art Trail:
The Works of Ernest Zacharevic
2004 saw the Lithuanian artist Ernest Zacharevic add a touch of colour to the streets of Ipoh. He made the entire city his canvas and decorated its walls and alleyways with some of his best work.
His work is special because not only is it beautiful, it depicts important scenes and realities of the local culture. The icing on the cake of Zacharevic's pieces is that his work is often interactive.
For example, the Ipoh street art piece "Trishaw" depicts an elderly Malay man loading up cargo onto the back of a trishaw (three-wheeled Asian bicycle). A real antiquated bicycle is adjoined to the painting so that you can sit alongside him.
All of this is a photographer's dream! The Ernest Zacharevic Ipoh street art pieces that you can expect to find as you make your way around the city are summarised below:
Old Uncle drinking coffee at the Old Town White Coffee store


Trishaw interactive piece


Kopi Break – Bags of iced coffee


Evolution – A depiction of Ipoh's tin mining history


Paper plane


Hummingbird
There was previously another Zacharevic Ipoh wall art piece of a little girl standing on a stool and reaching up towards a birdcage. You may find it referenced on a number of Ipoh street art guides online.
However, unfortunately, it has been permanently removed, and the owner of the building had it painted over. This is quite sad but it certainly outlines the transient nature of street art.
Ipoh Street Art Tour:
Finding Zacharevic's Pieces
The ITIC (Ipoh Tourist Information Centre) in Ipoh's old town has recently drawn up helpful little maps that outline the locations of all of the major Ipoh street art pieces. So, you can embark on a self-guided Ipoh street art tour around the city.
It should be noted that while the map and its self-tour focus on Ernest Zacharevic pieces, there is plenty more Ipoh street art to uncover. You could dedicate an entire day to discovering Ipoh street art if you are willing and interested to do so.
The area that surrounds the ITIC is charming and is filled with eclectic coffee shops and craft stores. Start your day early with breakfast or a white coffee in one of the cute spots here.
Then, pick up the street art Ipoh map from the ITIC and embark on your journey! For reference, the details and locations of each of Zacharevic's pieces can be found below.
Old Uncle Drinking Coffee
The Malaysian white coffee craze started right here in the town of Ipoh. Old town white coffee branches may be scattered throughout the country but the very first store where the concept was initially envisaged is situated here.
The mural of an old uncle drinking white coffee sprawls along the side of the Old Town White Coffee branch that is located at 3, Jalan Tun Sambanthan. It's a classic depiction of Malaysian culture and heritage.
Where: Ipoh Old Town White Coffee (Parking lot wall), Jalan Tun Sambanthan, Ipoh Old Town
Google Map Coordinates: 4.597871, 101.076147
Trishaw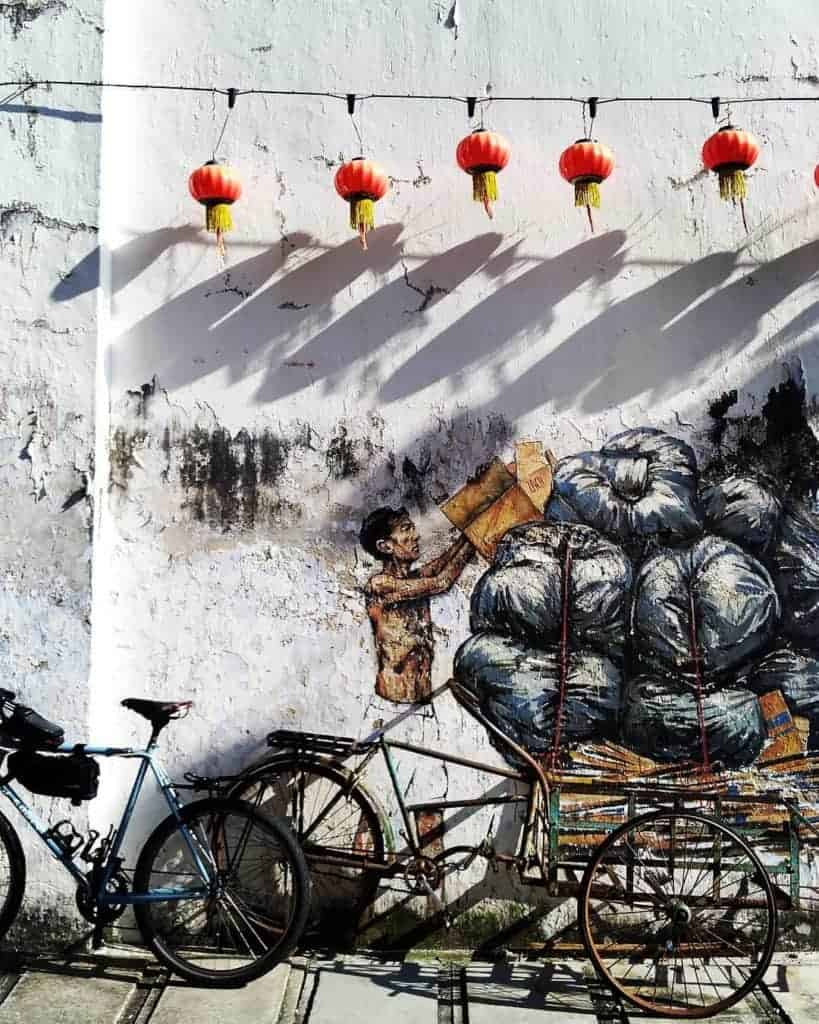 The Trishaw street art piece awaits in the heart of Ipoh old town. The scenery around the piece is as impressive as the painting itself. Here, narrow passageways twist and turn past ramshackle buildings and overcrowded local eateries.
The image depicts an old uncle loading bags of trash into the back of his cart. The beauty of this piece is just how interactive it is and the fact that you can sit/pose on the little trishaw in front of the painting.
Where: 47 Market Lane, Ipoh Old Town
Google Map Coordinates: 4.595315, 101.078503
Paper Plane
From the old uncle piece, you can continue walking down Jalan Tun Sambanthan. Next, you will reach the Paper Plane artwork.
It is situated high up on the wall of an old building at number 35 and cannot be missed. The image depicts two children taking flight in a larger-than-life paper plane.
Where: 35 Jalan Tun Sambanthan
Google Map Coordinates: 4.597747, 101.076840
Kopi Break
Coffee (or "kopi") culture is huge in Malaysia. It is not just drinking white coffee in old-fashioned kopitiams that is a locally adored pastime.
Malay coffee culture is also about sipping cappuccinos and watching the world go by in eclectic coffee shops. Alternatively, you can take a coffee to go as an accompaniment to your morning stroll.
When you order coffee to go in Malaysia, it is typically served in a small bag, tied together with a string, with a straw poking out of it. 10 points for originality, but 0 for environmental friendliness!
This obscure piece lines the wall of a parking lot and depicts the Malaysian coffee bag tradition.
Where: 73, Jalan Bandar Timah
Google Map Coordinates: 4.597264, 101.078724
Hummingbird
The Hummingbird piece by Ernest Zacharevic is an adorable light yellow bird that has been painted onto a light blue backdrop. Some of the paint is, unfortunately, starting to crumble and fade.
In some ways that add to the charm and character of the piece. According to the locals, there was once a tree next to the hummingbird, but it was chopped down to make way for the construction of the car park.
The Hummingbird and the Kopi Break pieces are actually situated at opposite ends of the same parking lot in Ipoh Old Town. The addresses that I have referenced in this article are just different for specific location and accuracy when using Google maps!
Where: 37, Jalan Panglima, Ipoh
Google Map Coordinates: 4.596693, 101.078500
Evolution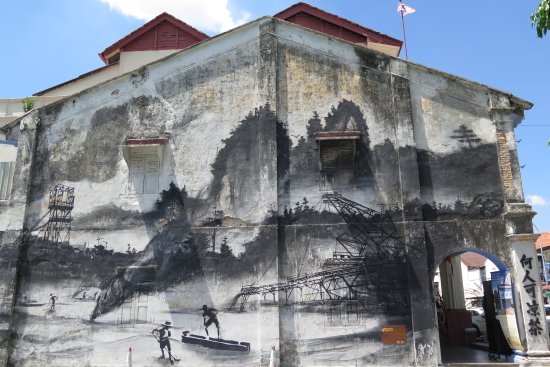 Zacharevic's "Evolution" mural possesses a somewhat different style to many of his other Ipoh pieces. The image depicts Ipoh's history as a prominent tin mining town.
Where: Jalan Bijeh Timah
Google Map Coordinates: 4.596356, 101.079127
Ipoh Street Art:
Additional Ipoh Street Art to Observe
You could say that the murals painted by Zacharevic in Ipoh have started something of an artistic revolution in the city. Now, you cannot walk far without being met with vibrant splashes of paint, and stunning depictions of Malay life.
There is definitely a joy to be found in just wandering the streets of Ipoh, allowing yourself to get lost, and stumbling across the various pieces. But to navigate the Ipoh street art scene more easily, some of the other notable places to check out are detailed below.
Ipoh Mural Alley
In addition to searching high and low for Zacharevic's Ipoh street art, the Ipoh mural alley is another location that is very worthy of your time.
The mural alley is situated in Ipoh's new town. As the name suggests, every square inch of the alley is covered from top to bottom in vibrant paintings.
The Ipoh mural alley project was started by a local school teacher Eric Lai. After being inspired by Zacharevic, Lai's objective was to showcase the best of Malaysia's multicultural heritage in a playful way.
The artwork has been contributed here by locals of all ages and backgrounds. Quite frankly there are far too many images to be able to photograph and include them all here!
Where: The Ipoh Mural Alley runs between Jalan Masjid and Jalan Sultan Iskandar in new town Ipoh.
Ipoh Street Art on the Concubine Lanes
The Concubine and Market lanes of Ipoh are the most popular places for tourists. Some of the most stunning artwork can be found here.
Many follow on from Zacharevic's style and boast a 3D, interactive design. Alternatively, many reflect on what life is like in Malaysia.
Popular images include a beautiful interactive piece of a couple eating noodles. There is a small plastic stool in front of the painting so that you can sit and join them. There is also a similar 3D piece featuring three old uncles sipping tankards of beer.
Where: Jalan Panglima, Ipoh Old Town
The Wisme Chye Hin Indoor Murals
The Ipoh street art scene has expanded rapidly in recent years, and today, street art is not only found in alleyways and on the facades of buildings. It is also found inside galleries and exhibitions.
The Wisme Chye Hin exhibit is the largest indoor art exhibition in Ipoh. It showcases the works of local Chinese Artist Chin Choon Yau.
The charming exhibit depicts scenes of everyday life in Ipoh in the 1920s-1960s. The brightly coloured murals here show what traditional stores and markets looked like in Ipoh during this era.
Where: 19, Jalan Sultan Idris Shah
The Reality of the Ipoh Street Art Scene
Ernest Zacharevic's street art pieces date back to 2004. Many of the "inspired" designs were started shortly after.
Though impressive, the unfortunate thing about much of the Ipoh street art is the lack of efforts taken to preserve them. Who knows how much longer they will be around.
Due to weather, time, and wear, many of the Ipoh street art pieces are starting to crumble and fade. In some ways, this adds to their aesthetics, but perhaps in a few years from now, the pieces will be shadows of what they once were.
Discovering Ipoh Beyond the Street Art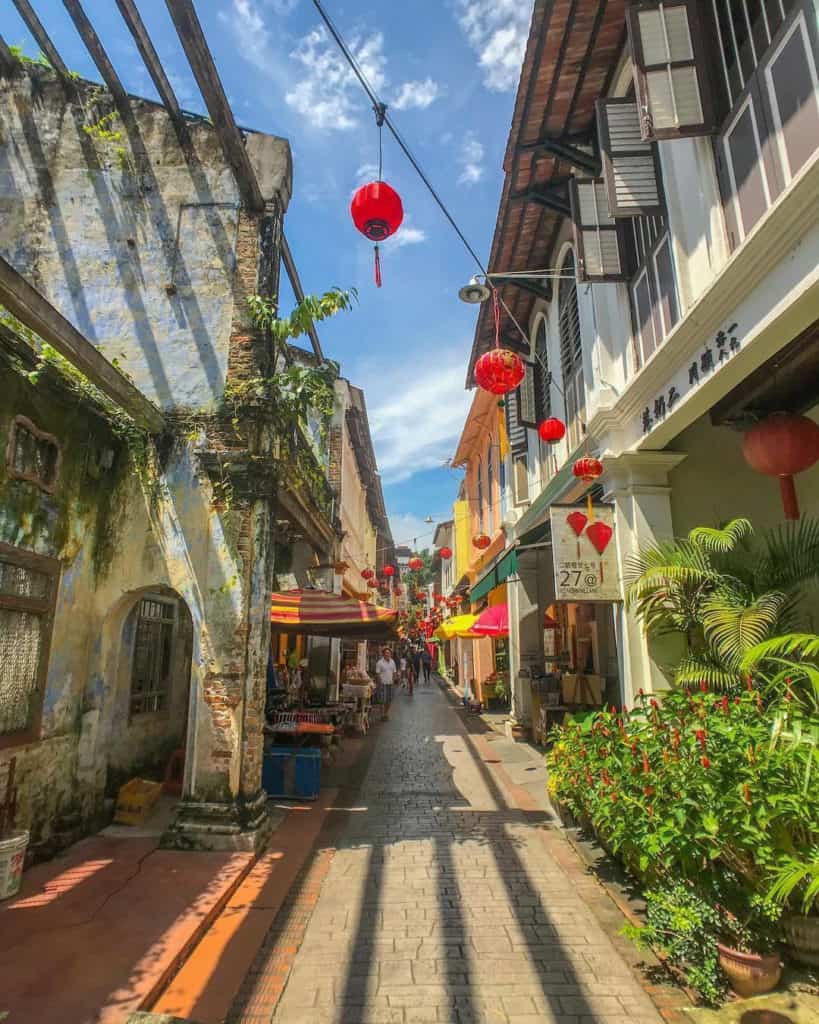 For those who know about Ipoh's existence, the sheer mention of the city has become somewhat synonymous with the Ipoh street art scene. While the street art is lovely, and discovering it is a great way to spend a laid-back afternoon, it is not all that Ipoh has to offer.
Sample the Local Delicacies
Ipoh is now challenging Penang for the title of being Malaysia's most artistic city. But it is also a worthy contender for the gauntlet of being the country's foodie capital.
Plenty of the world-famous and much-loved Malay delicacies originated in Ipoh. This includes nasi ganja (addictive "marijuana" rice), and Ipoh white coffee.
Exploring the kedai kopi stores and local eateries is as much of an Ipoh highlight as the Ipoh street art trail. Head to Yong Suan in Ipoh for the best nasi ganja in town.
Visit Kellie's Castle
Kellie's Castle is an eerily abandoned manor close to Batu Gajah. The affluent Scottish businessman William Kellie commissioned the construction of a grand family home in the 18th century. However, when he and all of his workers mysteriously died, it fell into abandon.
Spend an Afternoon at Gua Tempurung
Gua Tempurung can be reached on a day trip from Ipoh. This giant cave site is one of the largest in Malaysia, and the caverns inside the cave showcase fascinating rock formations.
Window Shop on Concubine Lane
Local folklore has it that the Concubine lanes of Ipoh are the streets where the British and Chinese military officers would keep their mistresses in the early 20th century. Today, the streets are filled with quirky clothing boutiques, kitschy coffee shops, and gaming arcades.
Venture Out to the Sam Poh Tong Temple
The Sam Poh Tong temple that sits 5km outside of Ipoh is rumored to be the largest cave temple in Malaysia. It is even larger than Batu Caves.
Buddhist monks and nuns still inhabit the temple complex, and dozens of grand Buddha statues are scattered throughout the various caverns. Many Ipoh taxi drivers will offer you a day tour and bring you here.
Getting Around Ipoh
It is very easy to get around Ipoh on foot. The city is relatively small and compact. If you enter the coordinates of each of the street art pieces into your Google Map, you can easily walk from one to another.
If you are frequenting traversing back and forth between the old and new parts of town, however, it is worth knowing what transport options are available to you.
Grab Taxis
"Grab" is the Southeast Asian answer to Uber, and the app is the most popular way to get around in Malaysia. Ordering a taxi via Grab is much better than hailing one on the street as you can be sure of the price before you get in.
A cab between the old and new part of town costs less than $1 each way. The great thing about "Grab" is that you amass credit that can be redeemed against future journeys.
Ipoh Buses
The Perak hop-on, hop-off bus is a recent introduction by the Perak tourism board. It operates on a limited weekend schedule, but it is worth knowing if your trip to Ipoh coincides with a weekend.
The buses run from 8.30 am until 9.30 pm on Saturdays and Sundays. The route runs from Terminal Meru to Ipoh Old Town and from New Town to Gopeng and Batu Gajah.
Medan Kidd is the main bus station in Ipoh, though it sits a little outside of town. From here, you are able to take buses to various towns, cities, caves, and temples around the Perak region of Malaysia.
Where to Stay in Ipoh
There are hotel and accommodation options in Ipoh to suit every budget and travel style. Backpackers can secure a bed here for as little as $5.
If you prefer a little more comfort and luxury, you will not be disappointed with the range of boutique hotels available. A few highly-rated hotels in Ipoh are detailed below for your consideration.
De Cafe & Rest House
The Ipoh De Cafe and Rest House is a capsule-style hostel situated in the beating heart of Ipoh's old town. Its location places you just a short walk away from all of the city's main attractions and street art pieces.
Capsules have shutters for privacy, in addition to private lights and plug sockets. All rooms come with wardrobes, and clean, modern bathrooms. The adjacent coffee house serves up wonderful breakfasts and brunches in an industrial-chic ambiance.

Capsule beds at the De Cafe & Rest House start from just $7 a night. Click here for the latest availability and bed rates.
M Boutique Hotel
Ipoh's M Boutique hotel offers a luxury hotel stay without the luxury price tag. This stylish hotel awaits just a short walk from the centre of town. Guest rooms are eclectic and modern, with contemporary furnishings and bold, geometric patterns.
Rooms at the M Boutique hotel start from $28 per night. Browse the latest rates and availability here.
Ipoh Bali Hotel
If you are seeking something a little different for your stay in Ipoh, the Ipoh Bali hotel offers a slice of tropical luxury. The property has been decorated in traditional Balinese style.
Rooms are spacious and tastefully designed, and each comes with its own private terrace or balcony. Guests can enjoy a la carte and continental breakfast options every morning at the Ipoh Bali hotel lobby.
Indulgent and affordable treatment packages are available at the on-site spa and wellness centre. They are a perfect way to relax after a long day hunting for Ipoh street art.
Rooms start from $55 per night. You can browse the latest room rates and availability here.
Getting to Ipoh
It is easy to get to Ipoh from both Kuala Lumpur and Penang. From Kuala Lumpur, you can reach Ipoh in just two hours.
Trains and buses both run to Ipoh frequently throughout the day. If you prefer to take the former though, it is advisable to book your ticket in advance as the seats often sell out.
By Train
Trains depart hourly from KL Sentral to Ipoh, Perak. The journey takes approximately two and a half hours.
The good thing about taking the train from Kuala Lumpur to Ipoh is that the Ipoh train station is centrally located in the old town district. From here, it is just a short walk to Ipoh's main attractions such as the Concubine lanes, and the Zacharevic Ipoh wall art.

By Bus
It takes a little longer to get to Ipoh by bus from Kuala Lumpur (circa three hours). However, this is still a comfortable and convenient alternative, particularly if travelling during a holiday when the trains are fully booked.
Buses depart at regular intervals from the Kuala Lumpur Terminal Bersepadu Selatan bus station. It should be noted that the Ipoh bus station (Terminal Amanjaya) is situated slightly outside the city limits.
A Grab taxi will get you to your central hotel/hostel for less than 10 ringgit ($2.50).
Parting Words
Ipoh and the wider Perak region also boast a lot of history and culture. I have written extensively about the various Ipoh attractions in this Ipoh Travel Guide.
Crumbling "haunted" ruins, quirky coffee shops, breathtaking temples, and majestic limestone caves are just a few of the attractions that make Ipoh such a wonderful place to visit during your Malaysia itinerary.
Have any questions about the Ipoh street art trail or Malaysia travel in general? Feel free to reach out to me by email or via the comment box below!
Safe travels! Melissa xo
---