Lake Como is, without a shadow of a doubt, one of the most stunning travel destinations in Italy. It is also one that is most synonymous with luxury, and the jet-set lifestyle.
Lake Como is renowned for its links with Hollywood superstars like George Clooney and Richard Branson who own property on its banks. The gorgeous lakeside towns here are postcard-perfect.
Their neoclassical villas, palaces and boutique hotels exude opulence at every turn. This is the place to see and be seen in Northern Italy.
That being said, a visit to Lake Como does not have to break the bank. This gorgeous destination has something to suit every budget and travel style. This Lake Como travel guide will help you to plan it.
Mesmerising Lake Como
Lake Como is one of several jaw-dropping natural lakes in Northern Italy. The lake here is of glacial origin.
It dates back to the last Ice Age – some 10,000 years ago. Regardless of how many times you have seen the lake photographed on social media, on postcards, and in travel literature, arriving here and seeing it first hand never fails to take your breath away.
Little known facts about Lake Como: This is Europes deepest lake and the third largest on the continent! People have lived in this region for thousands of years.
However, it wasn't until Romans occupied these lands, and Como came under the rule of Julius Ceasar in 49BC, that Como started to establish itself as a wealthy, glamorous region. The Romans built the Via Regina. This is still one of the major roads leading to the lake to this day.
Getting to Lake Como
The first stage of getting to Lake Como is getting to Milan. Milan boasts three international airports: Malpensa, Linate, and Bergamo.
Malpensa is the larger of the three and services more international and long-haul flight routes. Meanwhile, Bergamo and Linate serve more low-cost carriers such as Ryanair.
Once you are in Italy, is easy to get to Lake Como by public transport, particularly if you are travelling in from nearby Milan. It is easy to visit Lake Como independently, yet Como day tours can take some of the stress out of travel planning.
Visit Lake Como by Train
It is easy to get to Lake Como from Milan. From Milano Centrale, take the metro two stops to Garibaldi station.
Then, take the intercity train bound for Como S.Giovanni. Como is the last stop.
The train takes about an hour and five minutes, and the ride will cost you €4.80. You can purchase tickets online via Trenitalia's website or at the ticket office at Garibaldi station.
You are usually fine to purchase tickets on your intended day of travel. But if you are travelling during the peak summer months, it is prudent to buy them a day or so in advance.
Lake Como Day Trips
If your schedule permits, there is enough to do in Lake Como to warrant spending 2-3 days of your Italy itinerary here. However, a Lake Como day trip may be your preference if you are short on time.
Numerous Italian tour companies offer excursions to Lake Como. A few reputable suggestions are detailed below.
Renting a Car in Italy
Renting a car in Italy is not as daunting as it may seem. It also gives you more freedom and flexibility to visit the smaller villages in the Como area without having to rely on buses.
Reputable rental companies such as Hertz, and Europcar offer rentals in Milan. You need a driving license and an international driving permit to be able to rent a vehicle in Italy.
Lake Como:
A Suggested Two Day Itinerary
Two or three days in Como is ample time to scratch beneath the surface of the area and visit some of the most picturesque villages in Lombardy. This Lake Como itinerary commences in Como town.
Day One: Como Town, Brunate & Bellagio
Enjoy your prima colazione (breakfast) at your hotel with a strong cappuccino before starting your day early. If you are able to arrive at the lake by 8 am, you will be able to avoid the crowds.
This is when Como is at its most magical. The sun has just come up, and there are few people on the banks of the lake, bar a few local fishermen and locals trying to get in their morning jog before work.
Arriving early means that you can enjoy the lake in peace and get some fantastic photos. It is pleasant to take a morning stroll around the Como town section of the lake – admiring the grand architecture, and the gorgeous wildflowers that bloom along the water as you go.
Start your walk at the impressive 18th century Villa Olmo and head towards Como town centre. Como's namesake town is one of the largest in the area. However, it is no less charming than its smaller neighbours.
Explore Como Town
Como town is chic and sophisticated. Its ample coffee shops and restaurants are perpetually filled with attractive, well-dressed Italians, whatever time od day you stop by.
One of the highlights of visiting Como town is simply found in meandering through its labyrinth-like network of cobbled streets and alleyways. Many upscale boutiques and clothing stores can be found here. They showcase the designs of both revered and independent Italian designers.
Admire the architecture in the Piazza del Duomo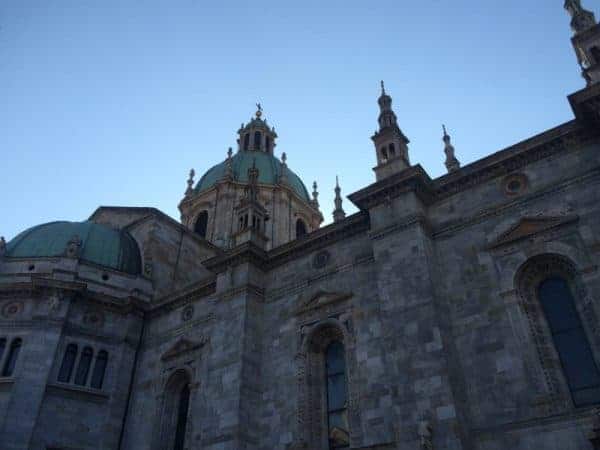 The central square of Como town is the Piazza del Duomo. It is filled with beautiful medieval buildings.
Look out for the town hall, the Torre del Commune tower, and the Duomo. "Duomo" is Italian for cathedral and indeed, Como's "Duomo" is impressive.
Construction on the Como Duomo started in 1396 and took over 400 years to complete! As such, the structure that stands today is a mishmash of architectural types.
Gothic, Renaissance and Baroque influences are present here. The interior of the cathedral is every bit as impressive as the exterior. Inside, you will find vibrantly coloured frescoes, ornate sculptures, and intricately designed stained glass windows.
Ride the Funicolare to Brunate
The village of Brunate is a quaint hilltop settlement that sits 700 meters above sea level. For centuries, this has been a popular summer and weekend getaway destination for noble families from Como town and Milan.
You can reach Bruante via a short journey on the funicular railway ("funicolare" in Italian). The views from the top are among the best in this region.
This little settlement is often referred to as "the balcony of the Alps". Once you arrive here, you will learn that it is not hard to see why.
As you exit the little funicular railway, you are greeted with incredible panoramas. You can see out across the Alps and the Po valley, an ancient Roman castrum, and the waters of Lake Como, sparkling down below.
Explore Brunate
Brunate is a great starting point for many scenic walks. The historic centre is charming and deserving of an hour or so's exploration in itself.
The little village is essentially a rabbit warren of narrow streets and hidden passageways that open out into spectacular piazzas and courtyards. Corte degli Ebrei and Corte del Castello are nice places to stop for coffee while you revel in the views.
Several historic churches can be found here. The beauty of travelling in Italy is that their doors are typically left unlocked and you can venture inside anywhere you please.
The church of Sant'Andrea Apostolo XIV Century, patron of Brunate is the main church of the village. Several interesting frescoes and icons can be found inside.
Equally interesting are the many Art Nouveau-style villas that noble families built here centuries ago. Most notably, Villa Pirotta, Villa Calderini, and Villa Duca.
Take a short hike to the Volta lighthouse
There is a pleasant 30-minute hiking trail that runs from Brunate Centro Storico to the Volta Lighthouse. From here, you can enjoy even better views and see all the way out to nearby Switzerland!
The lighthouse was built in honour of Alessandro Volta. He was the Italian developer who discovered the first electrical cell.
Visit Bellagio
The final stop on day one of this Lake Como itinerary is Bellagio. This village, known as "the pearl of Lake Como" is arguably the most popular in the region.
However, that is for good reason. Regardless of how busy Bellagio gets during the summer months, nothing detracts from its charm.
Lovely Bellagio, with its cobbled lanes, pastel-coloured houses, and elegant buildings looks like something straight out of a fairytale. The town is divided into two halves: there is the lower part that sits by the lake and the upper section.
You can get to Bellagio by bus or ferry. The bus is cheaper and runs more frequently from Como station. However the ferry across the lake is obviously the more scenic choice.
Day Two: Bellagio Area & Varenna
Bellagio can be explored in a matter of hours. However the wider Bellagio region is home to a number of interesting attractions that are often overlooked.
Spend the morning in the Bellagio area. Then, venture onwards to Varenna.
Pescallo Fishing Village
Pescallo fishing village is tucked away behind a steep hill in Bellagio village. Few people know of its existence or take the time to visit. This makes it a perfect place to escape the crowds.
Pescallo was established some time around the 13th century. In its heyday, it was one of three Larian villages that were able to offer the largest amount of fish at Como market.
It takes approximately 15 minutes to walk to Pescallo from Bellagio. The route is pleasant – taking you along old steps and staircases. Alternatively, you can take the small train that operates in the area.
Pass through the medieval squares, looking out for the quaint church of SS. Biagio and Andrea. Admire the colourful little houses laden with ivy before stopping for coffee by the water.
Visit the Giardini di Villa Melzi
Villa Melzi and Villa Serbelloni are two grand 18th-century villas in Bellagio that were constructed by local noble families. Both boast spectacular Italianate gardens.
Villa Melzi was the summer home of Francesco Melzi d'Eril. He was the count of Lodi and Vice president of the First Italian Republic.
A section of the villa, a small chapel, and the villa gardens are open to the public. The Giardini di Villa Melzi was designed by Giocondo Albertolli in 1808 and borders the river.
The garden is expansive and covers several beautiful miles. Melzi was friends with Napoleon, and was able to get hold of numerous Ancient Roman and Egyptian statues to use around his gardens.
Explore Charming Varenna
Varenna is a picturesque traditional village on the Eastern shore of Lake Como. The easiest way to get from Bellagio to Varenna is by ferry. That is regardless of whether you have a vehicle or are relying on local transport.
Arriving in Varenna feels like venturing back in time. The main draw of coming here is simply to enjoy the slower pace of life.
Parting Words
Do you have any additional questions about visiting Lake Como or about planning a trip to Italy? I lived in Naples for several years while teaching English.
Please dont hesitate to drop me a comment below if you need anything. I will get back to you ASAP.
Safe travels! Andiamo! Melissa xo
---