Establishing the best places to visit in Italy is a tricky business. After all, the entire country is a Mediterranean paradise. With beautiful coastlines filled with pastel-coloured towns, beaches bordered by translucent azure waters, and quaint medieval villages, Italy has something for every type of traveller.
It is no surprise that 58.3 million people travel to Italy on vacation every single year. What is a surprise though, is that the vast majority of those travellers all stick to the same places. While beloved Italian cities like Rome and Venice are absolutely every bit as wonderful as you have heard, they are not the only places deserving of your time.
23 of The Best Places to Visit in Italy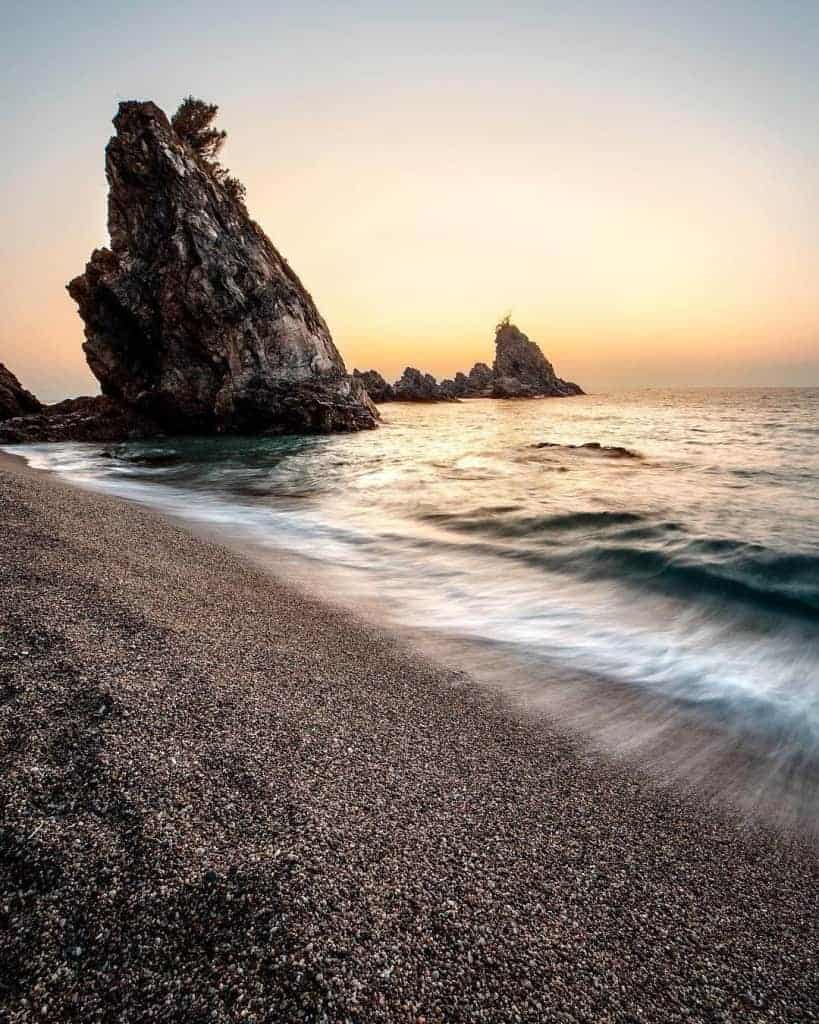 A collection of the best places to visit in Italy are detailed below. These breathtaking spots are worth adding to your radar as you plan your Italian adventure.
The places listed range from well-known spots that everyone needs to visit once in their lifetime, to off-the-beaten-path hidden gems.
Naples
Naples is altogether grittier, and a little more rough around the edges than most Italian cities. At the same time, it is teeming with personality and Southern Italian charm. The people in Naples and Campania may well be some of the friendliest in all of Italy. Navigating the labyrinth-like network of narrow Neapolitan cobbled alleyways, and dodging the occasional speeding Vespa is a highlight of any Italy itinerary.
There are plenty of things to do in Naples to warrant spending a long weekend in the city. Napoli is the birthplace of pizza so obviously you have to indulge in this delicacy while in town. Treat yourself to a slice of pizza portafoglio (folded pizza) at L'Antica Pizzeria Port'alba – one of the oldest pizzerias in the world. Embark on a hike up to Mount Vesuvius, or the ancient fortress of Castel Sant'Elmo.
When the sun goes down, enjoy an aperitivo in one of the chic cocktail bars of Piazza Bellini while overlooking the ruins of the ancient Greek city of Neapolis. It's unfortunate that the city is often perceived as being dangerous, but I lived in Naples for a year with zero problems. For the most part, Naples is a safe travel destination.
Bologna
Bologna is the capital of Italy's Emilia Romagna region. There is plenty to do in Bologna, but the city remains relatively off the beaten path for most travellers to Italy.
Locally, Bologna is often referred to as "La Grassa" – the fat one, on account of the city's unique and diverse gastronomy. Italian food is incredible in general, but a lot of the nation's much-loved delicacies, like tortelloni, parmesan cheese, and tagliatelle originated here in Bologna.
Foodie travellers will love the opportunity to take a cooking class in Bologna, and to learn how to recreate Italian recipes just like nonna used to make. To sample the cured meats, cheeses, and condiments that are so popular here in Bologna, head to Salumeria Simoni and order up a charcuterie board and wine pairing.
In Bologna's old town, be sure to browse the interesting stores that make up the Quadrilatero district. Navigate the city's porticoed streets, sip espresso with locals at Piazza Maggiore, and admire the city's most iconic landmark – the crooked towers of Torri degli Asinelli e Garisenda. Those who are not afraid of enclosed spaces can ascend the 498 steps to the top of the Asinelli Tower to enjoy a bird's eye view of lovely Bologna.
Asolo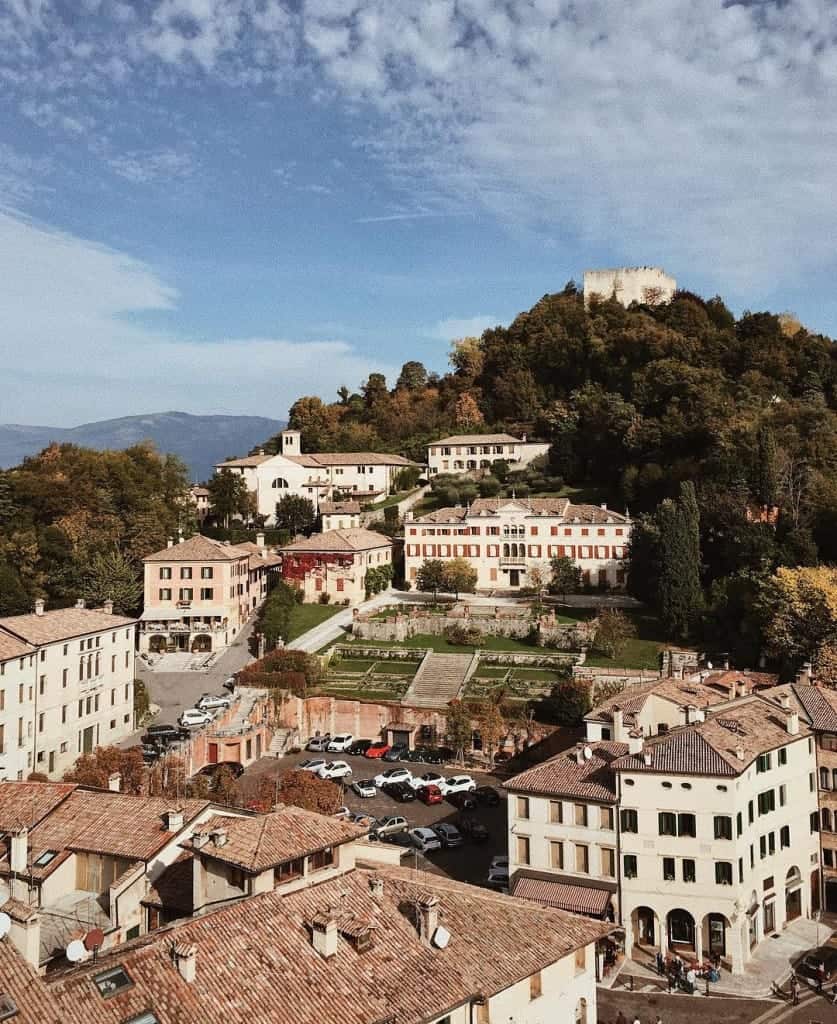 The picturesque little village of Asolo is tucked away in the mountains of Northern Italy's Venezia region. Surrounded by vineyards, olive groves, and stone farmhouses, Asolo has been stealing the hearts of writers, artists, and creatives for centuries.
Asolo is affectionately nicknamed as being "the city of a hundred horizons" on account of the incredible views that you can experience from its hilltops. Many people believe Asolo to be one of the most beautiful villages in all of Italy.
Though the village is small, Asolo makes a rewarding day trip from Venice. Be sure to browse the handicrafts and food products that are sold at the artisanal stores here. If you are lucky, you may see the locals participating in some traditional village games.
Rome
As the saying goes, "all roads lead to Rome", and everyone should experience the Italian capital at least once in their lives. While admittedly Rome is often overcrowded with tourists, the city offers ample opportunities to travel off the beaten track.
Focus one day of your Rome itinerary on visiting the main historical attractions – The Colosseum, the Vatican, and the Spanish steps will not fail to take your breath away regardless of how many times you've seen them in the media and the movies.
One of the most charming things about Rome is its diverse neighbourhoods (Quartieri) that each have their own character and style. Wander the streets of Quadraro and Pigneto to admire quirky graffiti, order an aperitivo in trendy Ostiense, and enjoy an evening drink or two in Monti – Rome's former red-light district that today boasts a funky, bohemian vibe.
Something that you will quickly notice about Rome is the fact that despite the tens of thousands of visitors who pass through here every week, the vast majority of them do a simple circuit of the main attractions during their trip. Head a little off the beaten path in Rome, away from the Colosseum and the central plazas and you will see the crowds disappear.
Procida Island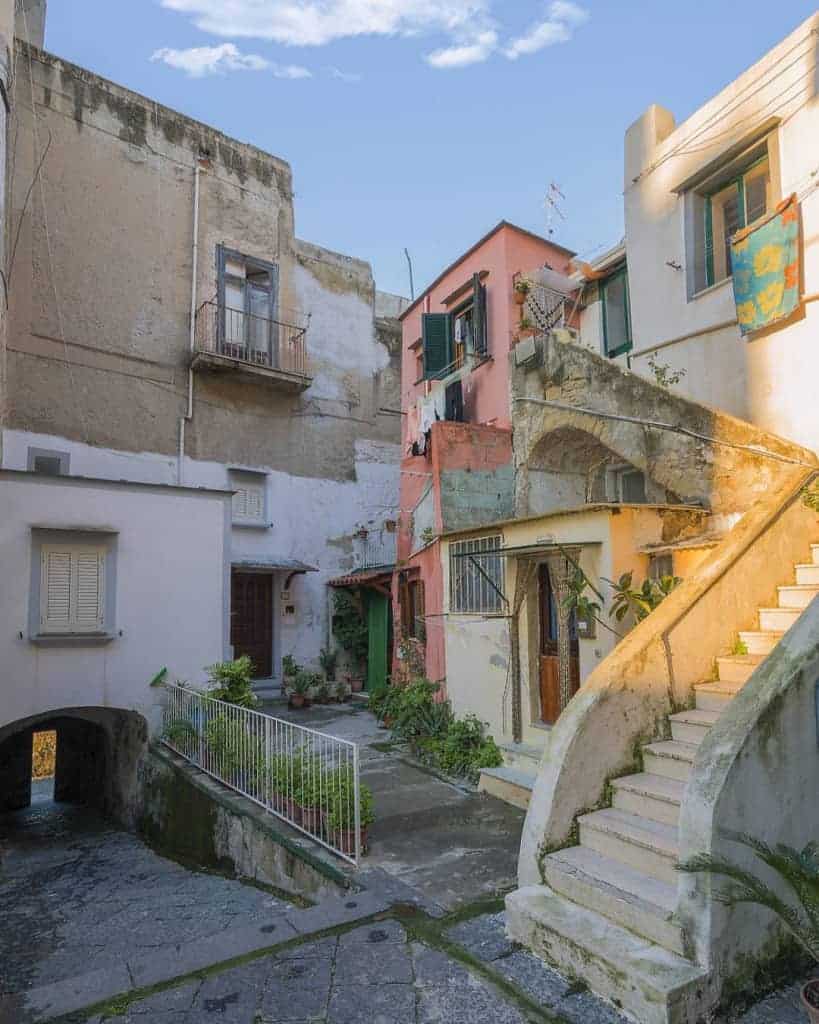 Procida is one of three islands that float off the Amalfi Coast. While many people dream of travelling to Capri, Procida is not so well known among international tourists. It is here where many Italians spend their summer months in order to escape the heat and humidity of the cities and to relax away from the tourists that consume places like the Amalfi Coast.
The island's Centro Storico is filled with ramshackle pastel-coloured houses and traditional patisseries, salmueris that are so quintessentially Italian. Stop for lunch in Corricalla Bay, where the trattorias concoct sumptuous seafood dishes prepared with the latest catches.
Follow the path that leads up towards the ancient walled city of Terra Murata) and marvel at the views of the old town below. In particular, look out for the domed roof of the Santa Maria Delle Grazi church.
Those who like a little R&R on their travels will be pleased to learn that Procida is home to many secluded beaches. In particular, look out for Spiaggia del Postino – a hidden beach set against a dramatic backdrop of jagged cliffs.
Lecce
Lecce is a baroque city located in the Puglia region of the Italian south. Every twist and turn along the cobbled streets here greets you with extravagant and impressive baroque architecture. It is for that reason that Lecce is often referred to as being "the Florence of the South". 
The Puglian city has soared in popularity as a tourist destination in recent years. If you plan on embarking on a wider Puglia trip, Lecce needs to make an appearance.
Treviso
Treviso is a delightful Italian city that neighbours Venice. Most tourists bypass Treviso, but, like Venice, it is a city connected by a network of pretty canals.
Treviso's cobbled streets and frescoed churches are a delight to explore. Piazza dei signori is the main square in Treviso – identifiable by its fortified and battle-ready Palazzo dei Trecento. Countless cafes and elegant stores occupy the streets that branch off from the main piazza. In Treviso, you can enjoy a more authentic Italian experience away from the tourist hordes.
Capri
Capri has been a beloved travel destination among the jet-set for hundreds of years. Even Roman emperors built their holiday homes here! With its rugged landscapes and elegant cobbled streets, Capri effortlessly oozes elegance and sophistication.
Despite the well-heeled crowd that Capri attracts, a vacation here does not have to be overly expensive. The island is essentially divided into two halves – Capri and Ana Capri, with the latter being more affordable.
Visit the magnificent Villa San Michele – the renovated former home of Emperor Tiberius. For incredible views over the island, take the flying chair (yes, flying chair!) up to the top of Monte Solaro. You can spend a weekend in Capri or enjoy the island on a day trip from Naples. When the sunsets, join the glitterati in the upscale eateries of Via le Botteghe.
Alberobello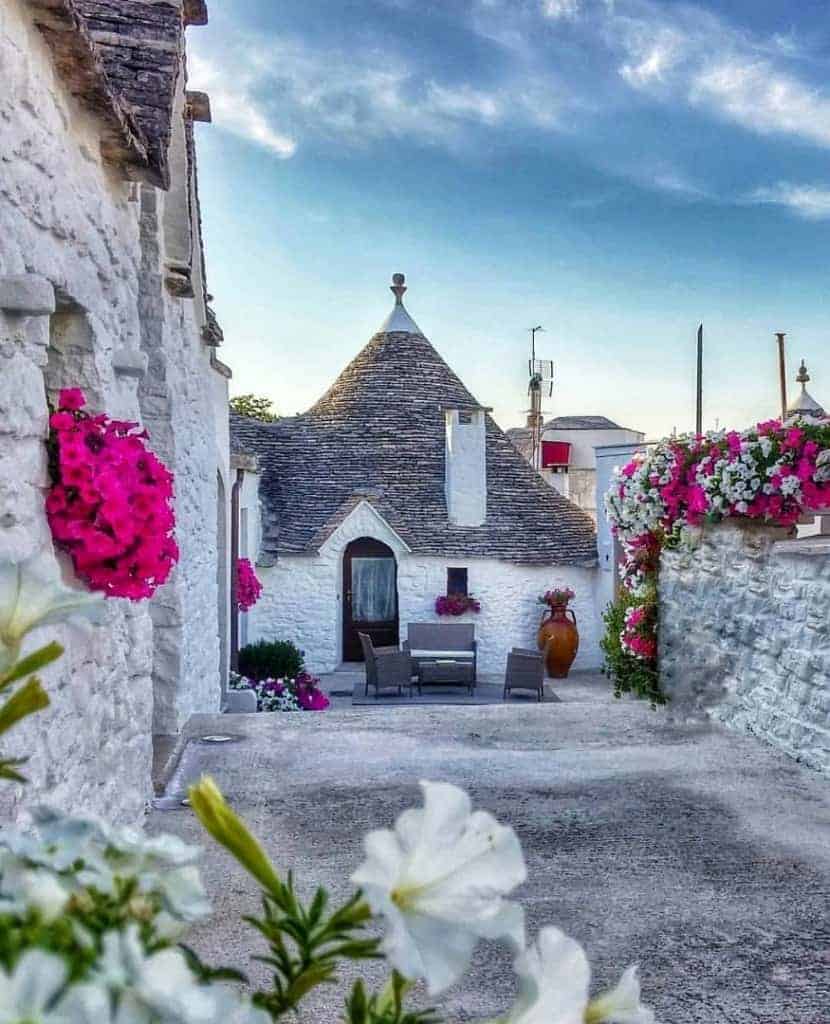 Even if you haven't expressly heard about Alberobello, it's likely that you have seen it photographed in various travel magazines. The town is nestled in the heart of Southern Italy's Puglia region and is renowned for its trulli – uniquely designed little whitewashed houses that look like conch shells.
It is possible to stay in one of the charming trulli houses during your time in Alberobello, as many of them have been converted into delightful hotels and guesthouses. The entire town is UNESCO protected.
While there is not an awful lot to do in Alberobello by way of tourist sites, it's a nice place to base yourself for a day or two as part of a wider Puglia itinerary, in order to explore the winding streets of trulli neighbourhoods, and to enjoy la dolce far niente – the slower pace of life that is so typically Italian.
Bergamo
Most people have only heard of Bergamo because it is close to Milan's budget airport Milan Bergamo. While the city is often overlooked in favour of its larger neighbours, Bergamo has plenty to offer.
The city of Bergamo is a magnificent juxtaposition of ancient traditions meeting modern living. Bergamo is essentially divided into two halves: Allo is the hilltop old town, and basso is the new district that sits at the foot of the hill.
The walled old town, with its antiquated main piazza, captivates many of those who visit. Bergamo is a city where centuries-old trattorias sit beside new hipster cafes that serve avocado toast. It's certainly one of the more off the beaten path places to visit in Italy, but it's sure to win your heart.
Lake Como
Elegant Lake Como is surrounded by some of the most dramatic scenery in Northern Italy. Set against a backdrop of the Alps, the lake can be reached via train from Milano in just over an hour.
This exclusive area has long been a beloved favourite among the rich and famous. The likes of Richard Branson, the Clooneys, and the Versaces all own villas here. Every corner of the lake offers a picture-perfect sight – the rolling hills, fragrant flowers that grow by the riverside, the pastel colored houses neatly stacked among the hilltops.
Visiting Lake Como in the Spring and Autumn shoulder seasons enables you to escape the tourists. If you get up early enough for a walk around its banks, you can have the lake almost entirely to yourself bar the occasional Italian fishermen. Be sure to take the time to explore Como town itself, and to ride the funicular to the little hilltop town of Brunate.
Milan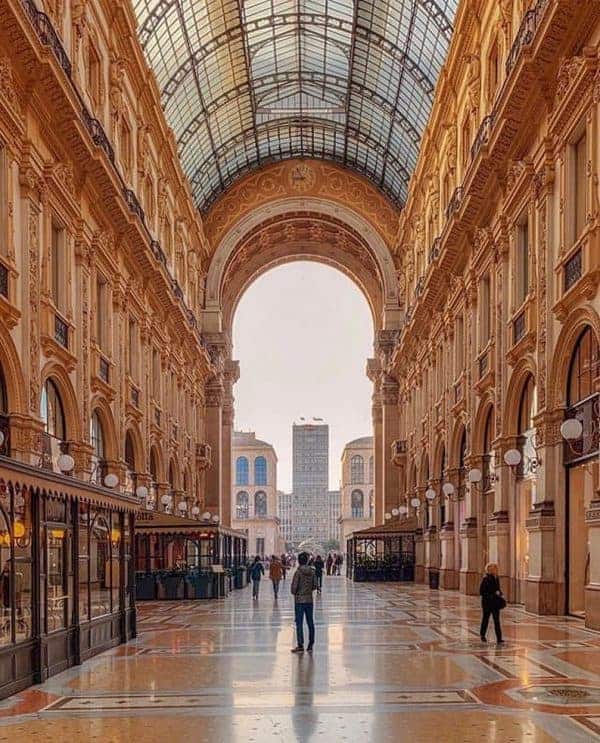 Milano is the epitome of Italian style and glamour. The city is essentially the business and fashion hub of Italy. Many Italians tend to either love or hate Milan, but you should take the time to experience it for yourself. Milano hides many cultural gems among its tree-lined streets.
Your first stop in Milan should be the piazza Duomo. Order an espresso and a cornetto (a croissant) in one of the crowded coffee bars that overlook the cathedral, before ducking into the Galleria Vittorio Emanuele II – an extravagant 19th-century shopping complex that is believed to be one of the most beautiful malls in the world.
For the ultimate Milan experience, treat yourself to a night at the Opera, and watch a show at La Scala. I took my Mum to Milan and got us tickets to see "Lucia di Lammermoor". Tickets start from around 45 euro per person. While the performance is in Italian, it's still very emotive and moving, and a cultural experience you will never forget.
Pompeii & Ercolano
History buffs should not miss Pompeii and Ercolano from their Italy itineraries. These ancient civilisations are the crumbling remnants of the cities that were destroyed by the eruption of Vesuvius in 79AD.
The vastness of Pompeii is overwhelming and the city is fairly well preserved considering the events that took place here. Stroll down the long stone boulevards, past the empty shells of old houses as you tread in the footsteps of the ancient Romans.
Envisage the lives of the locals who once walked the same streets of a more bustling, prosperous Pompeii, or consider the panic that would have taken place on that same road in 79AD.
Nearby Ercolano is a more compact, yet better-preserved city that was also destroyed by the 79AD Vesuvius eruption. A lot of the artifacts and mosaics that have been recovered from the two sites are now on display in the Naples archaeological museum.
Tuscany
Beautiful Tuscany is one of Italy's most important wine regions. Florence is the capital of this area, and despite the sprawling size of the city, it possesses something of a small-town feel.
For centuries, Florence has been known for being a creative hub and has attracted artists, writers, and poets from across the globe. This was the birthplace of the Renaissance art movement.
Visit Michelangelo's David, marvel at the sculptures that stand proudly at Piazza Signoria, and wander the cobbled streets that run along the Arno River. If you are interested in exploring the Tuscan wine region, there are plenty of well-known wineries in this area that offer excellent tours and tastings.
Modena
Modena is a compact little city in Italy's Emilia Romagna region. It is also the birthplace of Enzo Ferrari and Italian supercars, as well as the former home of Pavarotti.
The porticoed Piazza Grande symbolises the centre of Modena, and many excellent trattorias are situated here. If you are brave and interested in trying a Modenese delicacy, order yourself a plate of zampone – stuffed pig's feet.
On certain days of the week, Piazza Grande hosts a wonderful flea market where you can purchase everything from valuable antiques to old books and knick-knacks. If you are interested, you can participate in a tour of Pavarotti's mansion, or of the Ferrari museum. Modena is also the home of DOP balsamic vinegar. Duck inside Enoteca Ducale, just off the main square, to sample an array of local blends.
Amalfi Coast
The Amalfi Coast is a stunning 50km stretch of coastline that runs along the Tyrrhenian Sea. The area is comprised of beautiful pastel-coloured fishing villages, fragrant lemon groves, and sheer cliffs. This is one of the most popular places to visit in Italy, but if you travel out of season, you are able to escape the tourists.
The villages of Positano, Amalfi, and Ravello should not be missed. You can also consider taking on the aptly named "path of the gods" hike – a 6.5km trail that runs between the small villages of Bomerano and Nocelle. Completing the hike means ascending more than 1,500 steps into the cliffs. However, for your efforts you are rewarded with incredible views over the coastal villages, and out to the island of Capri.
This Amalfi Coast Guide provides you with detailed advice on planning and budgeting for your Amalfi itinerary.
Catania, Sicily
Catania is the somewhat gritty city that sits on the east coast of the island of Sicily. The city makes a great jump-off point for those who want to hike Mount Etna or explore the beautiful nearby town of Taormina.
Catania can look a little unwelcoming at first. Its neighbourhoods are comprised of dimly-lit narrow alleyways that are laden with graffiti. In some ways, Catania is reminiscent of Naples. However, the intimidating-looking streets open out to reveal lively piazzas, authentic Sicilian eateries, and punky bars.
Dine at Via Santa Filomena – a narrow passageway that most tourists walk straight past, yet which is filled with some of the best restaurants and bars in town. La Pescheria is Catania's resident fish market and an interesting place to see scenes of local life. For an escape to a less hectic coastal village, take a day trip out to nearby Aci Reale and Aci Trezza.
Pisa
Pisa is home to Italy's infamous leaning tower and is, of course, the place you need to travel to in order to obtain that obligatory "look at me pushing this building over with my superhuman strength" photos.
Pisa can be enjoyed on a day trip from Florence, however, aside from its infamous leaning tower, the city does boast other interesting attractions. The Camposanto Monumentale di Pisa is a magnificent cloistered cemetery with gorgeous frescoes which you should certainly look out for, while the city's duomo (the Cattedrale di Pisa) has a stunning marble facade.
Interestingly, the "leaning tower of Pisa" isn't the only structure that tilts to the side here. The city's clay soil has caused tilting on other buildings – including the church of San Michele Degli Scalzi, and the church of San Nicola. In other words, Pisa offers tons of opportunities for your "watch me push this building over" photos.
Sorrento
Lovely Sorrento sits perched atop a craggy cliff face in Southern Italy. For many travellers, Sorrento is the grand finale of an adventure down the Amalfi Coast from Naples.
Try the beloved local dish gnocchi alla Sorrentina as you sit al-fresco style outside one of the restaurants by Piazza Tasso. Descend down towards Marina Grande to see the local fishermen in action, preparing their nets for their latest catches.
Lago di Braies, the Dolomites
Lago di Braies is a stunning lake that is nestled in the snow-capped Dolomite Mountains in Northern Italy. This is perhaps one of the most beautiful lakes in all of Italy, and it shimmers beneath the sun in magnificent shades of turquoise.
Visitors can embark on hikes around the lake, or rent a little rowing boat so as to sail out across it and marvel at the grand works of mother nature. Lago di Braies makes a nice day's excursion while you are travelling through the wider Dolomites region. It is also a lovely spot to stay and relax a little longer by renting a log cabin amidst the rugged mountain wilderness.

Syracuse & Ortigia Island, Sicily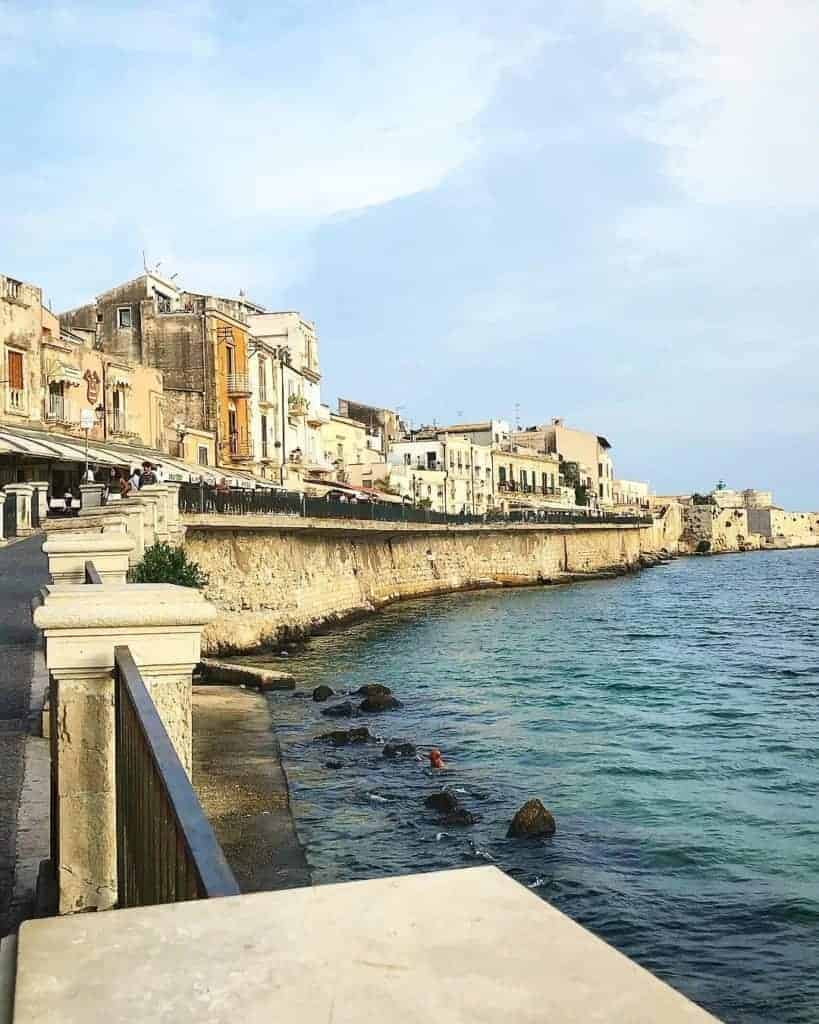 Syracuse's Ortigia Island is to Sicily what Capri is to Southern Italy – an area of effortless sophistication and timeless elegance. The stores, bars, and restaurants at Ortigia are generally very upscale.
As you step inside a dining spot for the evening, you are often met with live musical performers who play renditions of Dean Martin, Frank Sinatra, and the rat pack. As you walk along the seafront, stylish storefront facades showcase the fine works of Independent Italian designers and local artists and sculptors.
Ortigia is one of the best places to visit in Italy for those looking for a sophisticated weekend getaway.
Orvieto
Orvieto is a small city in Italy's Umbria region and a perfect place to visit on a day's excursion from Rome. The city sits on top of a steep hill and is only accessible via an elevator that helps you to ascend from the train station at the foot of the hill.
Cobbled streets, gothic architecture, and medieval structures can be found every which way in Orvieto – the city's glittering golden-hued duomo is quite a sight to behold. All of Orvieto's beauty can be enjoyed at a leisurely pace – with nowhere near as many tourists as you would see in Rome or Venice.
Palermo, Sicily
Palermo is the capital of Sicily and a city that presents an interesting mishmash of different cultures and architectural influences. This city has been captured and invaded more times than any other place in the world. As such, you can see Arabesque architecture and ornate mosques that sit beside grand cathedrals, and baroque architecture.
For more inspiration, you may also be interested in reading these timeless quotes about Italy so that you can picture yourself in sunnier climes, enjoying a glass of limoncello in a cobbled piazza somewhere.
Have any further questions about the best places to visit in Italy, or drafting out an Italy itinerary? I lived in Naples and had the opportunity to explore Italy pretty extensively during that time. I'd be happy to help out as best as I can. Feel free to drop me a comment below. Safe travels. Andiamo! Melissa xo
Note: High Heels and a Backpack is in no way affiliated with any of the businesses mentioned in this post on the best places to visit in Italy.
---