Is it safe to travel to Turkey? Typically, yes.
However, it is unfortunate that the country has a reputation for being somewhat dangerous. Military coups, political unrest, and terror attacks in recent years have had a negative impact on Turkey's reputation.
These events have left many people apprehensive about travelling to Turkey. The number of international visitors has been in decline for several years.
But life here is just like anywhere else in the world 99% of the time. Millions of people visit Turkey every year. Most visits are trouble-free, and Turkish people are among the most welcoming in the world. 
Is it Safe to Travel to Turkey in 2021?
The media often makes various destinations seem less accessible and more dangerous than they actually are. Why?
Sensationalism. Shocking tales and scandals sell more newspapers. Heartwarming stories do not.
Chances are though, your plane will touch down in Turkey and you will forget what you were even worried about. You will wonder why you ever even asked "is it safe to travel to Turkey?".
2.5 million British people travelled to Turkey in 2019. Most visits were trouble-free.  
There are some additional safety considerations that you should keep in mind when organising your trip to Turkey. But this is true of many travel destinations
Travel to Turkey During the Pandemic
Is it safe to holiday in Turkey at the moment? The global pandemic has brought unprecedented circumstances into global tourism.
Now, more than ever, it is important to check your government's travel advice before travelling anywhere. Turkey included.
You can find the British FCO advice for travelling to Turkey here. The US travel advisory for Turkey can be found here.
Turkey has handled the pandemic well – imposing mask-wearing and strict lockdowns as necessary. However there is unfortunately no escaping the global pandemic, and things can change at a moment's notice.
Check the entry requirements for Turkey before you depart. These are subject to change without notice.
Similarly, ensure that you are aware of your own country's requirements for those travelling back from Turkey. For instance, will you need to isolate on your return? Are there any tests required?
Parts of Turkey to Avoid
Turkey, on the whole, is safe. However, there are some off-the-beaten-path parts of Turkey that should be avoided. 
You should avoid the provinces of  Diyarbakir, Tunceli, and Hakkari. The UK foreign office also currently advises against travel to Sirnak, Kilis, and Hatay. 
There are some pretty interesting cultural and historical sites in Eastern Turkey. For instance, the offbeat Mount Nemrut. However, this area runs close to the Syrian border. 
You should be extremely cautious if you are travelling in Eastern Turkey. This region has a distinctly different, more conservative culture to most of the country.
If this area interests you, you need to assess whether it is really worth it. If you do decide to travel here, do so with a local guide.
There is a risk of kidnapping in Southeastern Turkey. You may be mistaken for a Journalist. Tension in this region heightened after the 9th October 2019 when Erdogan ordered airstrikes on Northern Syria, resulting in almost 100 fatalities, and displacement of 300,000 people.
Turkey's proximity to Syria
The fact that Turkey shares a border with Syria is of concern for some people. But that needs to be put into perspective.
Turkey is a vast, sprawling country that straddles two continents: Europe and Asia. It shares borders with Greece, Bulgaria, Armenia, Syria, Iraq and Iran.
ISIS and Kurdish militant activity in Syria sounds worrying. But when you look at the vast expanse that is Turkey, you see precisely how great the geographical distance is between Syria and tourist destinations like Istanbul, Cappadocia, and the Turkish Riviera. Turkey is huge.
You should also remember that Turkish authorities consider safety paramount. This is not just the safety of tourists, but of Turkish nationals too.
Many safety initiatives have been implemented in recent years in order to ensure the well-being of the public. For instance, driving across Turkey means being subject to passing through several police checkpoints.
Popular sites are now protected by police, and accessing transportation hubs requires passing through airport style security before entering. This additional security presence is reassuring, rather than intimidating.
It is not in place because Turkey is unsafe. Rather, it is seen as necessary when you consider that globally, we are living in an age of terror.
People are welcoming and friendly
When you travel to Turkey, be it independently, with a partner, or a group of friends, you find that you are seldom ever alone. People go out of their way to strike up a conversation.
This never feels intrusive. Rather, simply that most Turks are kind, warm-hearted people that have a genuine interest in the backgrounds and lives of people that visit.
From chaotic Istanbul to remote mountain villages like Arksaray, or conservative towns like Konya, you will experience wonderful Turkish hospitality. Prepare to be welcomed like family, offered free cups of steaming hot salep, or approached by people wanting to practice their English. 
Tourism is a rapidly growing industry in Turkey. Those working in hotels, rental places, etc, always make themselves available to help. Similarly, you may find that you only have to so much as look lost for someone to materialise and offer you directions.
Do I Need Travel Insurance to Visit Turkey?
It is prudent to buy travel insurance prior to embarking on your Turkey travel itinerary. The same is true of travelling anywhere.
You never know what may happen and it is better to be prepared. Try to purchase an insurance package that offers at least $1million worth of medical coverage.
Be informed about precisely what your travel insurance covers. Many standard policies do not cover certain activities such as hiking or sports. Similarly, you may wish to pay extra to ensure that you are covered for things like theft or loss of items.
Be sure to write down your policy number and details. Save the documents on your phone. 
If you require medical treatment in Turkey, your insurance reference number is the first thing that you are going to be asked for. Keep in mind that many Turkish medical facilities expect payment in cash.
Solo Female Travel in Turkey
Solo female travel in Turkey may sound daunting, but it is a wonderful experience. You should keep in mind that seeing a woman travelling alone here is not common and you may receive more attention than you would like.
Not all of this is negative. Oftentimes it is just inquisitive glances.
However Turkish men are typically more forward than their western counterparts. Be firm and blunt if someone approaches you and you are not interested.
Liberal dress is okay in Istanbul but Turkey is generally quite conservative


Istanbul tourist police can be found between the Hagia Sophia and the Basilica Cistern


Cover your shoulders and legs in religious sites and conservative areas


Carry a scarf or a pashmina in your backpack so you can use it as a cover-up


Don't walk alone at night and be mindful of over-friendly strangers


Opt to stay in female-only dorms or pay extra for mid range accommodation
Parting Words
Is it safe to travel to Turkey? Yes!
But if you have any additional questions or queries, please don't hesitate to reach out to me via the comment box below. I have travelled to Turkey five times and I am a solo female traveller.
Safe travels! Melissa xo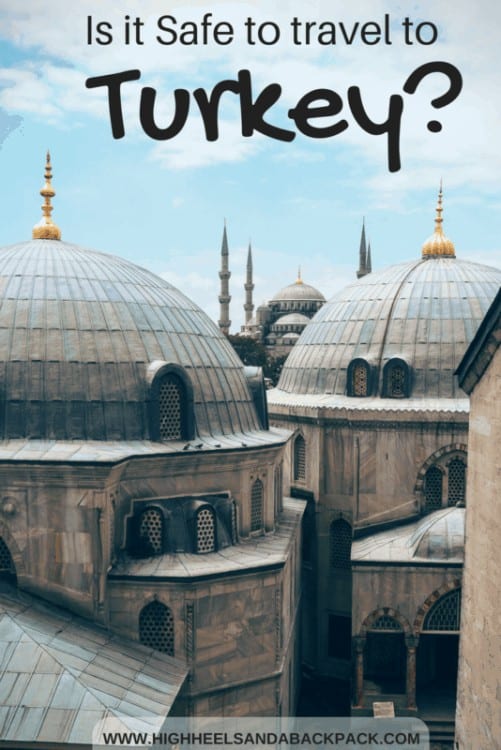 ---