Is it Safe to Travel to Turkey in 2018? Sitting outside an Artisan's cafe, among the winding streets of Izmir's bazaar, I sip Kücük cay while speaking with a local couple – she a Ceramic Artist, him a Painter, about literature and art. I'm travelling solo but I've noticed that I cannot be alone for too long in Turkey before someone initiates a conversation with me. However they are seldom intrusive, concerning or possess an ulterior motive behind them. The Turks are warm hearted people with an interest in the backgrounds and cultures of all those who visit. Likely this was one of the reasons as to why Turkey was historically always a popular holiday destination for Brits, Europeans, and other culture vultures.
Unfortunately, the military coup, and a sequence of terrorist attacks in major Turkish cities have left many people apprehensive about traveling here, thus seeing the number of international visitors to Turkey decline substantially over the past two years.
My Solo Experience in Turkey
I spent January of 2018 traveling solo in Turkey. From the chaotic buzz of Istanbul to the remote mountain villages of Aksaray, all the way across to the quiet, conservative city of Konya and everywhere in-between, people welcomed me in like family, stopped me in the streets for a hot cup of salep or approached me wanting to practice their English. Navigating through the country alone, establishing what to see and where to go was made incredibly easy as a result of the eagerness of everyone I encountered to provide assistance – be that those working in tourism, local business owners or locals that stopped to lend a hand in the street when they saw me looking confused.
Related article: Solo female travel in Turkey
Is it Safe to Travel to Turkey in 2018?
After I arrived in Turkey, I began to wonder precisely what it was that I had been so nervous about prior to departing. I explored the country as a solo female, covering ground predominantly by bus and public transport and had the most wonderful time. It's sad that the media portrayal of Turkey makes people so wary. The truth is that life in Turkey goes on as normal, much like anywhere else in the world, 99% of the time.  
As you are probably aware, the heightened risk and fear of a terror attack is a global concern, the reaches of terrorist activity not confined within Turkey's borders.
Admittedly, 2017 was not the best year for Turkey – a year that saw the counter suffer bombings in major airports, an Istanbul nightclub, and numerous other cities. However terrorists are just as likely to carry out attacks in other major cities across the globe – as they have done in London, Barcelona, Paris, and numerous other locations in recent years – but you seldom ever hear people warning you off travelling to Barcelona do you?
It appears to be Turkey's proximity to Syria and reported ISIS/ Kurdish militant activity that raises alarm bells but it's important to put these things in perspective. The geographical size of Turkey is huge, and so too are the distances between where terrorist activity is rumored to be occurring close to the Syrian border, and the typical way of life.
Of course, the Turks don't want these attacks affecting their people and those who visit, as much as any of us do not want them in our own countries. Mitigation projects are underway, as are efforts to ensure the safety of the public.
Driving across Turkey means being subject to passing through several police checkpoints. Popular sites are now protected by police, and accessing transportation hubs requires passing through airport style security before entering. There is of course, some element of a thread but 99% of the time, Turkey just sees regular people going about their regular way of life – much like anywhere else.
As always, you should check your governments travel advice and any political developments prior to travelling to Turkey. Government travel advice can appear strongly worded but this should not be a deterrent. By all means, do your research and remain vigilant but do not let fear deter you from taking the trip of a lifetime. Statistically speaking, you are still more likely to die getting crushed by furniture (what a way to go, eh?) or struck by lightning than you are in a terrorist attack. When you look at it that way, your fears seem a little unwarranted don't they?
Related article: My most ridiculous encounters with Turkish Men 
Get Great Deals on Hotels in Turkey
Pin it For Later!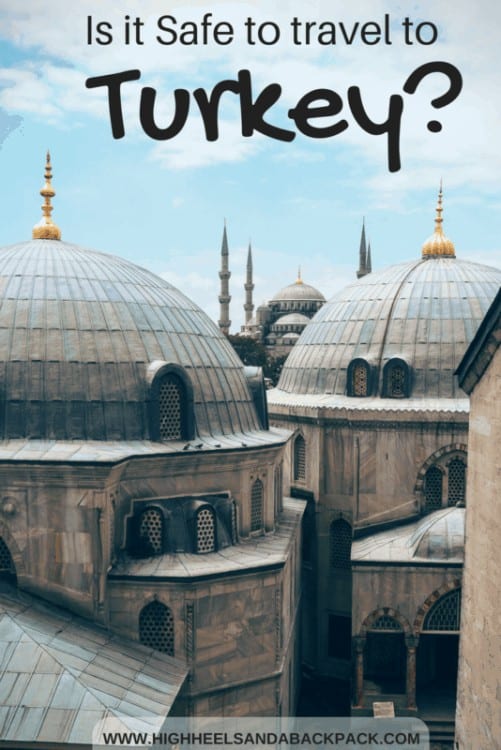 ---