Having the chance to live on a Greek island is a dream for many. Indeed, the concept has been glamorised in tons of movies over the years. (Mamma Mia and Shirley Valentine, anyone?)
Jetting off to Greece and falling in love with an attractive local is the stuff of fairytales.What could be more perfect than waking up in the morning to the sound of the sea waves crashing against the shore, and navigating your way through narrow cobbled streets, past Cycladic houses, as you make your way to the local kafenion for a steaming cup of Ellinikos Kafes?
What is it Like to Live on a Greek Island?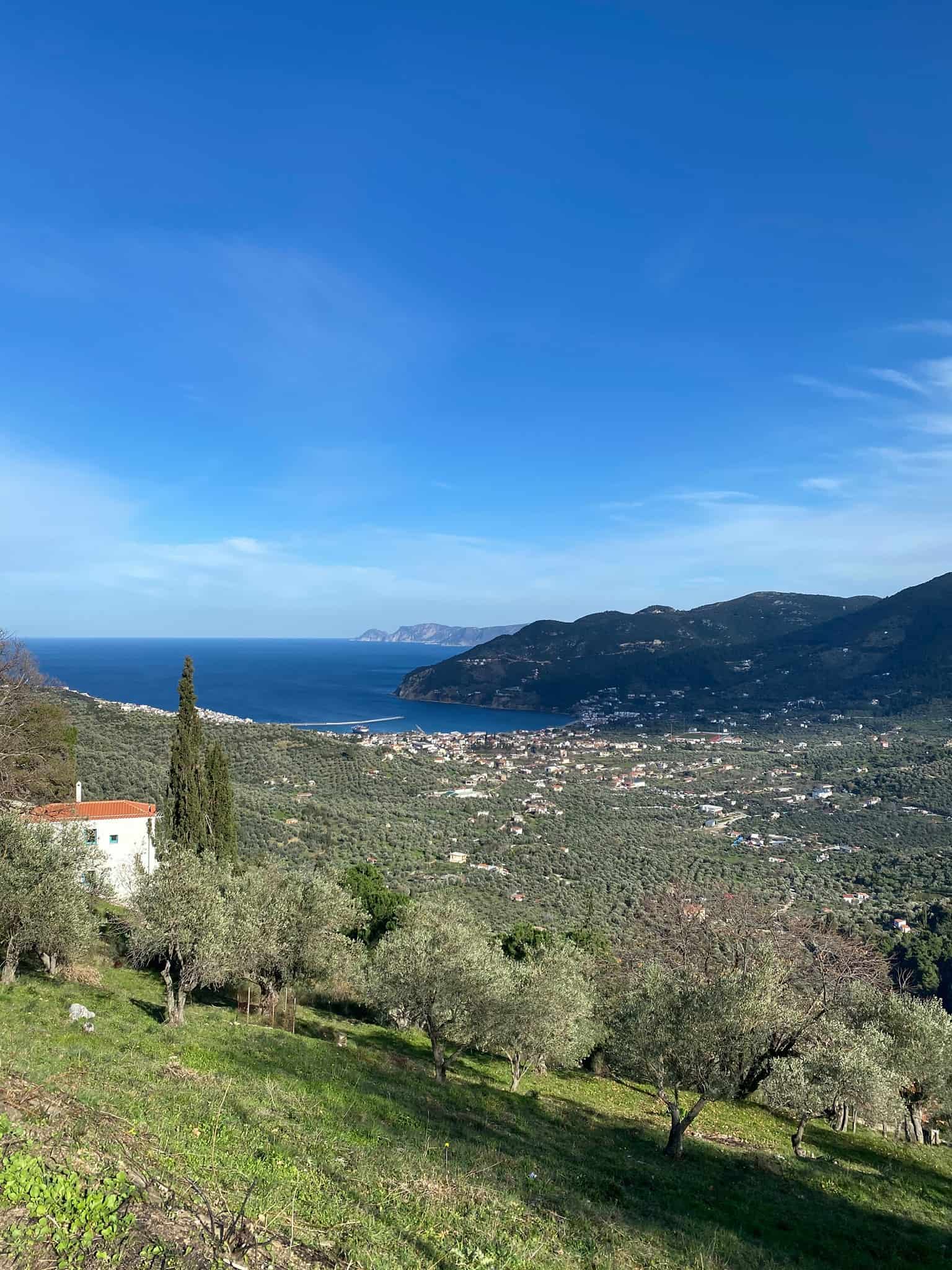 The reality of going to live on a Greek island may differ from the fantasy. The summer months are a stark contrast to the winter.
Many people visit islands like Skopelos, Alonissos, Santorini, etc, during July and August and fall in love with the Greek lifestyle. Days are spent lazing on the beaches followed by nights at lively tavernas sipping ouzo and listening to bouzouki music.
To live on a Greek island is the perfect embodiment of the laid-back Mediterranean lifestyle, surely? However with the end of September and the end of the peak tourist season, many local businesses and restaurants board up their windows and close for the winter.
Many of the friendly waiters, bartenders, and hotel staff that you encounter during your Greek island hopping trip just work seasonal jobs over the summer. October rolls around and they all board the ferries back to the mainland and head back to their hometowns of Athens, Larissa, Thessaloniki, etc.
Indeed, many seasonal Greek workers work long, exhausting hours during the summer. Think shifts of ten or more hours, six or seven days a week. In the winter, they often have to head home to the prospect of struggling to find work for the remainder of the year.
You See the "Real" Island Vibe When the Tourists Leave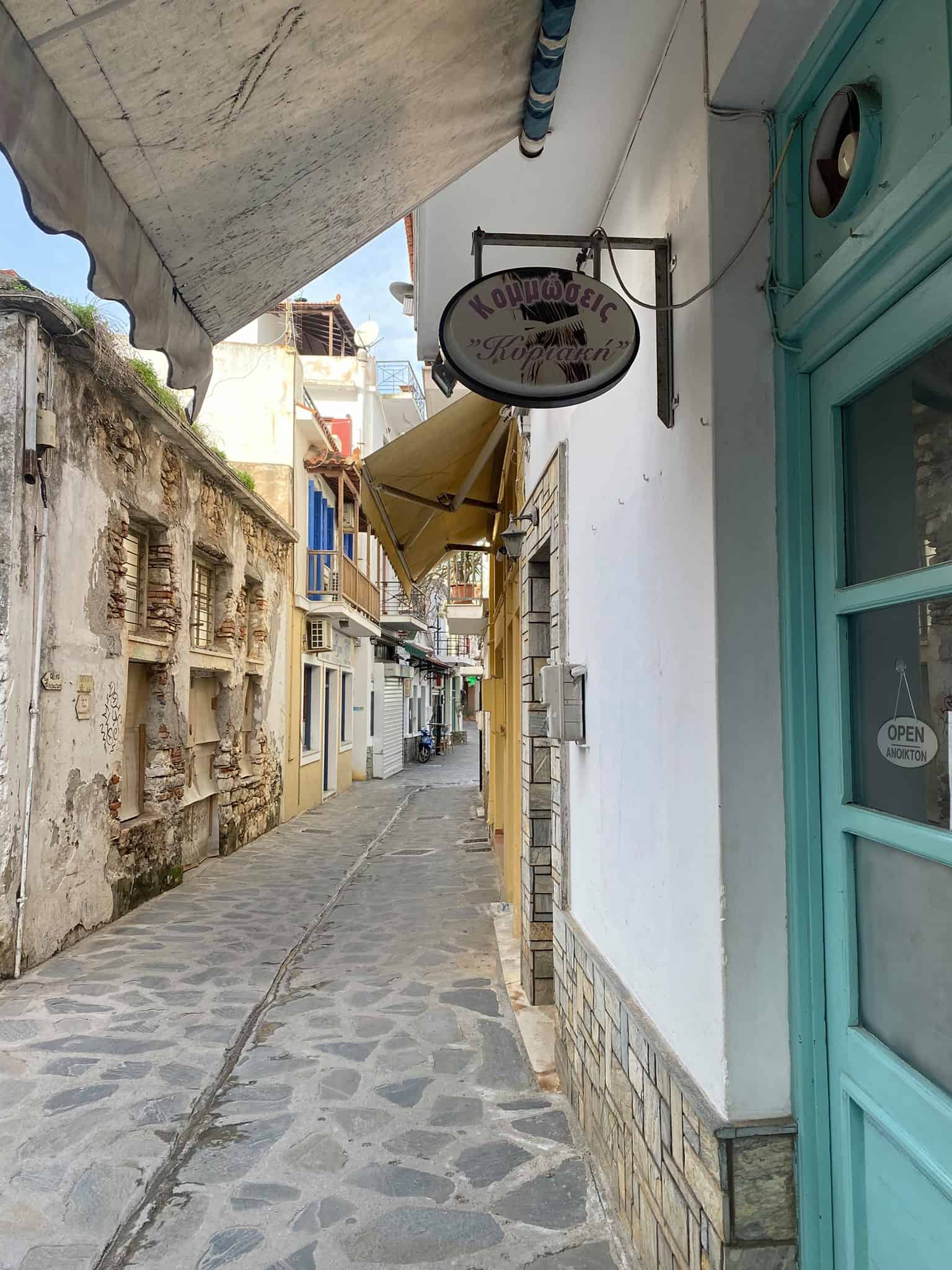 When you live on a Greek island, you get to witness the change of atmosphere as the seasons change. When the last few tourists board their boats at the end of September, it is almost like a switch has been flipped and the islands transform instantly overnight.
The beach bars and gazebos outside of al fresco restaurants are quickly disassembled and the once-crowded streets of the island choras become ghost towns. At first, it can feel like something of a culture shock.
Without the existence of crowds of tourists, you start to see the same few people meandering about their business every day; at least on a small island. You establish your own routine and you encounter the same people again and again.
You see the same delivery guy whizzing through the town, iced coffees perched precariously on the front of his motorcycle. There's the cheerful man in the newspaper kiosk, the old lady that you bump into in the bakery queue each morning.
Most people greet you with a "Kalimera" as they get to remember your face. You will find that in time, almost effortlessly, you will get to know and meet all of the people in your new island and they will get to know you too. As time goes by, you start getting to know your fellow islanders and making acquaintances just by going about your day.
Prepare for Quirks of Island Life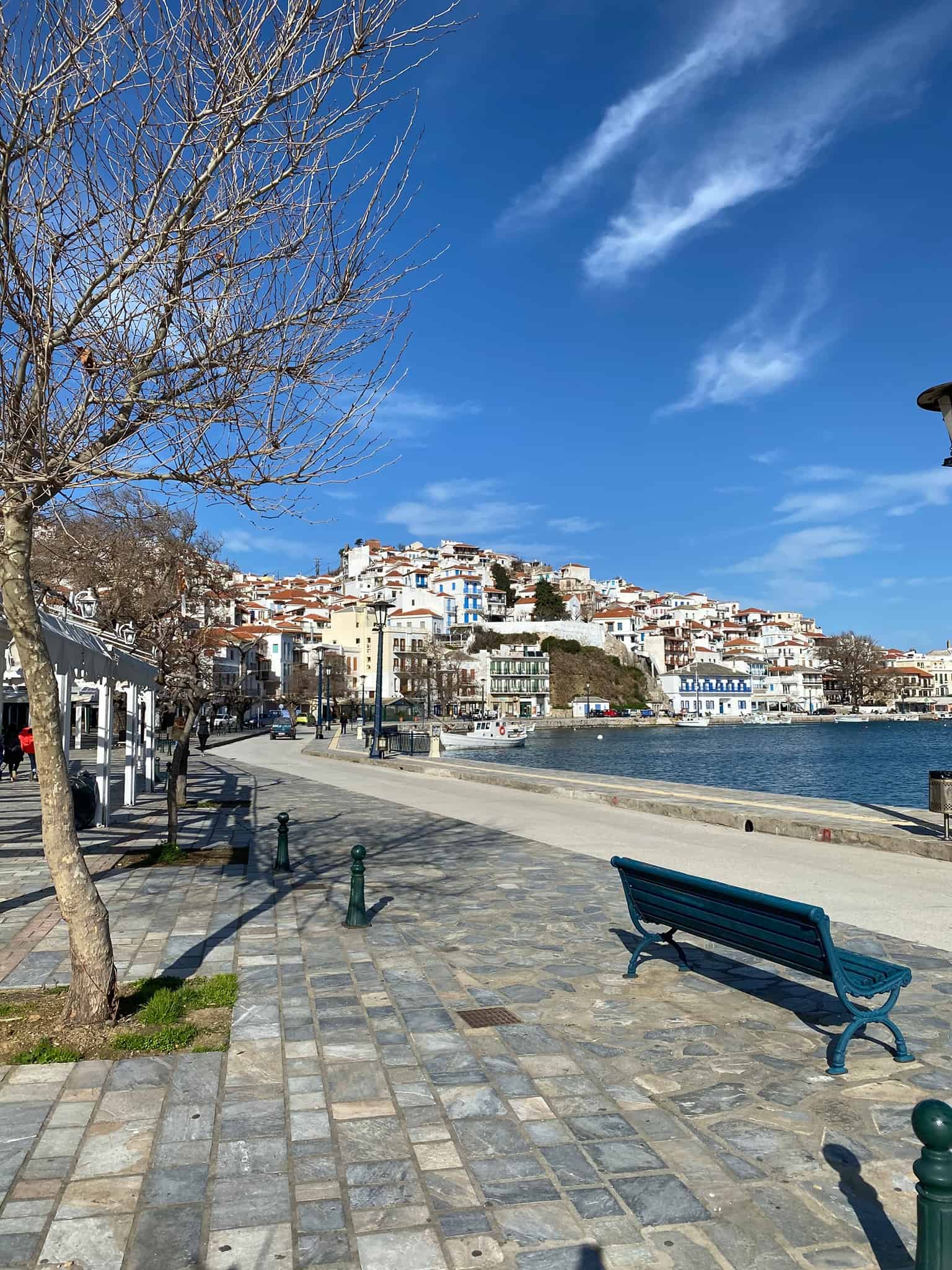 There are various quirks that come with living on a Greek island. They can be irritants at first, but in time, you become accustomed to them. They eventually become adorable little eccentricities that are all part and parcel of being here.
Many islands face issues with their electricity supplies. The Sporades islands see as much as 100 hours of downtime per year.
A strong storm or some heavy rain can see the entire island have a blackout. Sometimes these last minutes, sometimes hours. On occasion, your entire electricity is cutting off and then coming back again over a period of several days.
As such, it is always prudent to have some battery-powered blackout lights, plenty of candles, and perhaps some solar power chargers/power banks for your devices. Scheduled maintenance on the lines also takes place at regular intervals. This is usually communicated in advance, but typically only in Greek. 
Living on a Greek island means that everything around you happens on "island time". If you ever thought that bureaucratic procedures and getting things done in Athens was stressful, try doing them on a remote Greek island! Again, in time, this comes to become something that you accept and possibly even find charming!
Deserted Places All to Yourself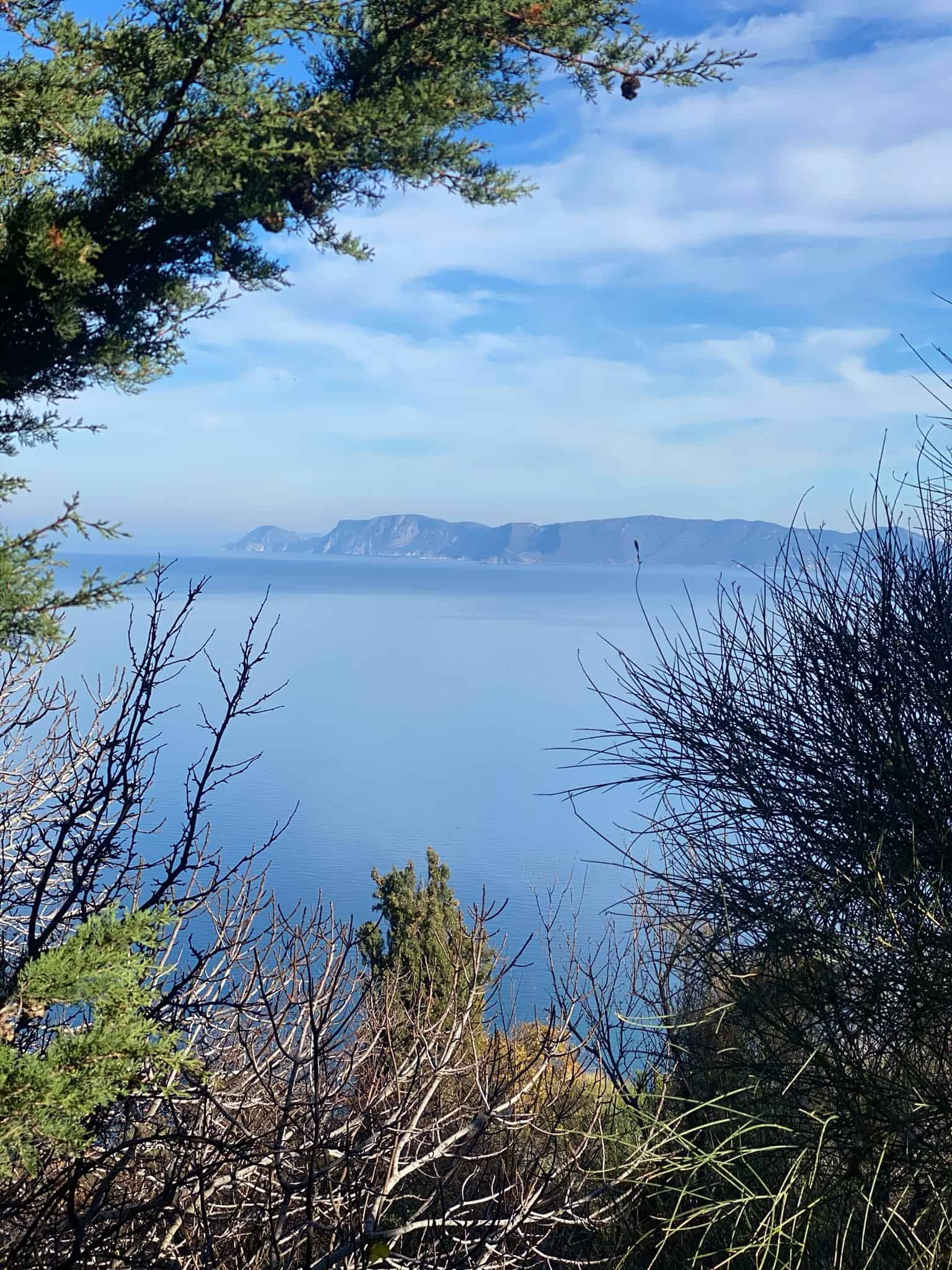 It is not usually warm enough to go swimming in the Greek islands during the winter. However that said, you often see a few brave souls braving the Arctic temperatures and wading out into the sea!
Fortunately, the temperatures in Greece all round are typically milder than the majority of Europe. Even during January and February, there are occasional "Indian summer" type days where freak warm temperatures occur and everyone heads down to the beach.
Regardless, once the tourism season ends, the locals reclaim their islands. The same beaches that you see stacked up with sunbeds and umbrellas during the summer months become desert island paradises from October onwards.
Even when it's not warm enough to swim, it's pleasant to pack a flask, lay down a picnic blanket and have gorgeous stretches of coastline all to yourself. Windy days wandering along the shore are just as pleasant.
Many Greek islands are just as renowned for their nature and hiking trails as they are for their beaches, nightlife, and culture. During the off-season in Skopelos you can drive or walk for hours across the island and not see a soul.
However it never feels creepy. It has you feeling something like Pocahontas as you have this incredibly lush expanse of pine forests, and rolling green hills completely to yourself.
Not to mention, without the pollutants, cars, and congestion of a busy city, the air here feels much more fresh and clean. At night, the skies are illuminated by hundreds of twinkling stars that can be seen clearly without the smog that hovers over cities.
You are an Outsider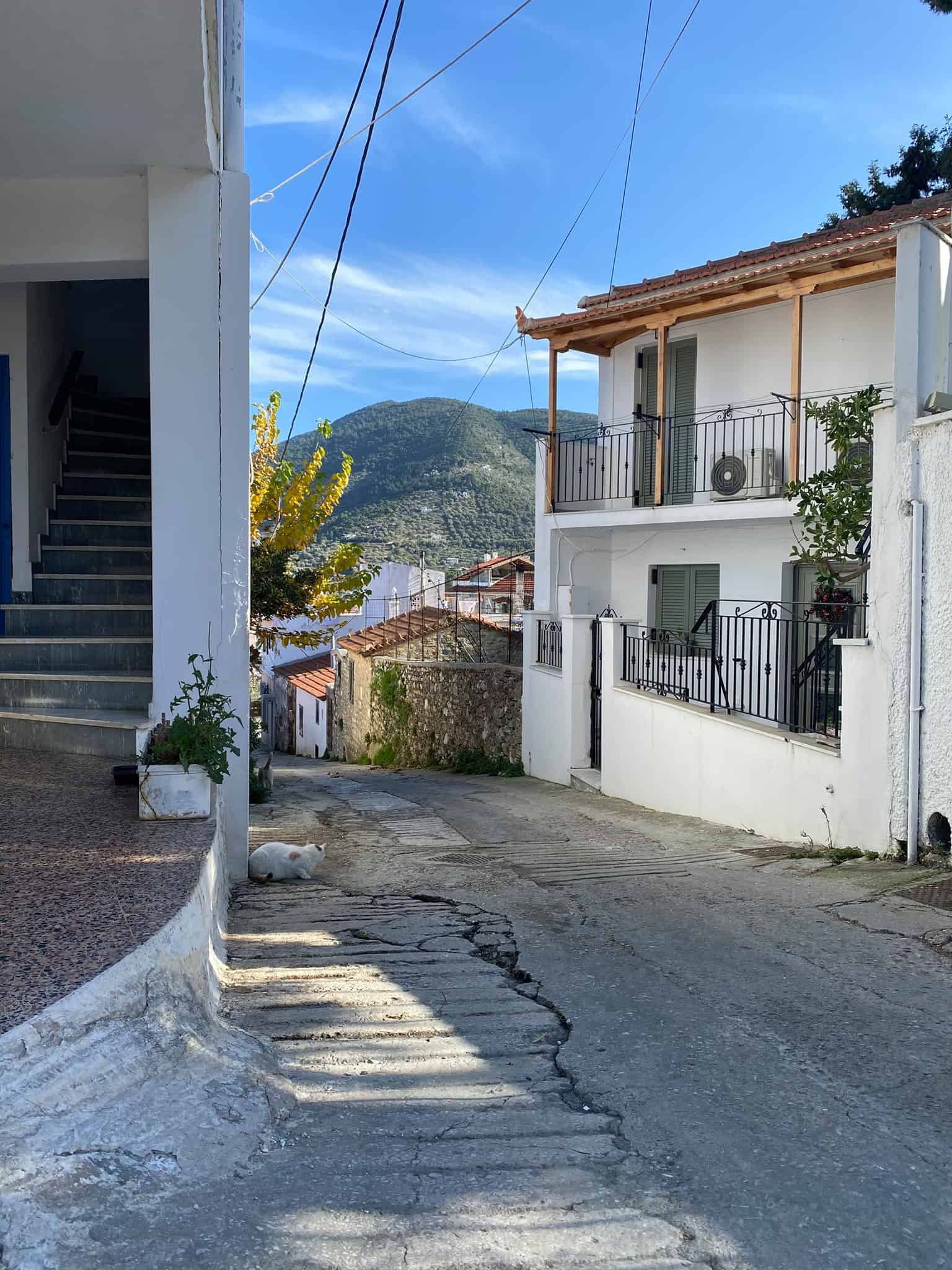 A tricky part of going to live on a Greek island is being viewed as an outsider. In small communities, everyone knows everyone.
The arrival of a new person or family becomes a hot topic of conversation. In such environments, people tend to look after their own. This can make for some level of awkwardness should you find yourself in a situation where you have a problem with someone or there's a local that you don't get along with.
If you are not Greek, it will be difficult to overcome being seen as an "outsider", regardless of how long you spend on the island. You will need to give it time, try to learn the language, and show that you embrace the local life and culture.
Learning Greek Becomes More Necessary and Easier
English is widely spoken across Greece – even in the more remote areas. This is particularly the case in places that see a lot of tourism.
However, if you want to develop deeper relationships with the locals, and make friends with your fellow islanders, you really need to make the effort to learn more than just basic Greek words and phrases. Learning Greek definitely isn't easy.
It takes daily practice and a long term investment to get to a conversational level. Fortunately, Greeks are friendly and very appreciative that their language can be tricky to master.
There is a reason that "it's all Greek to me" is such a popular phrase – the local language is hard! Even if you speak Greek like a caveman: "I want eat lunch. You want eat lunch? You me, we go eat lunch!" Your efforts do not go unnoticed and locals appreciate your attempts to learn.
You may even find that learning Greek becomes much easier when you live on a Greek island. In Athens, most people have such a good level of English that when you order a coffee or some food in Greek, they reply in English. This means that you don't get as much practice.
Language learning is always easier when you are forced to use it! Decoding the Greek alphabet and learning to read Greek is not as difficult as it first appears. In time, you will find that you remember what each of the letters mean, simply by remembering seeing them on food labels, road signs, etc.
Gossip Spreads Like Wildfire
"Strong minds discuss ideas, average minds discuss events, weak minds discuss people" – Socrates. One frustration of living in a small Greek island community is gossip. One Skopeliti man actually joked that it was the island's winter sport!
Not all gossip is ill-intentioned. However it can often feel as though you have no privacy because news gets around the islands so fast.
A lot of gossip is like Chinese whispers – the story becomes so distorted from the truth by the time it has passed around the island. You may find out fascinating information that you never even knew about yourself!
For instance, you may introduce yourself to someone at a local coffee shop for the first time, only to discover that they've heard plenty about you already! They may ask you peculiar questions based on things they have heard about you, where you're from, your heritage, etc, and none of it is true!
Prepare Yourself for the Winter Seasons
While it is true that the winter months on certain Greek islands sees them essentially close down, this may not be as isolating or unpleasant as you may expect. It all depends on you, and what type of lifestyle that you prefer.
Boats may not run anywhere near as regularly as they do in the summer. However, they still run several times a week at least – supplies and food have to get to the islands afterall.
Getting "stuck" somewhere is something of a possibility on very rainy days, or on the rare occasions that it snows. Yet still, the bad weather seldom lasts for more than a day or so. A little advanced planning based on the weather forecasts allows you to plan your excursions off the island around the adverse conditions.
A lot of Greeks spend only half the year on the islands, and half the year elsewhere. There are fewer people to socialise with, and some islands may only have one or two coffee shops and restaurants open.
If you are accustomed to a wild social life, this may not be for you. However, if you are more of an introvert, and you are happy to spend time focusing on your various hobbies and interests, or out walking and exploring, it may suit you down to a tee. Before you know it, the chaotic summer season has rolled around again.
Expat Populations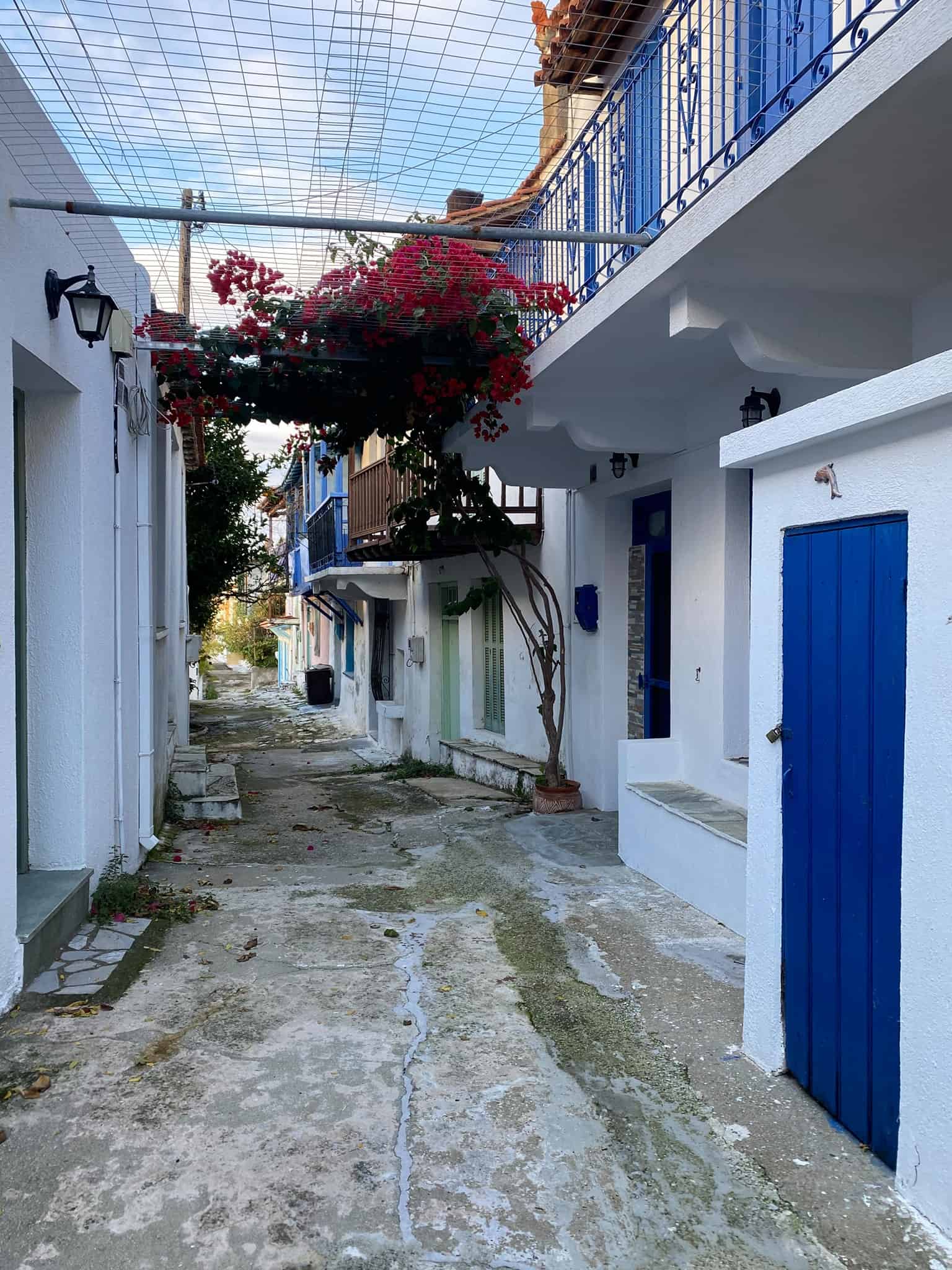 Different Greek islands have different expat populations. Of course, it's great if you befriend a mixture of locals and expats, but still it's always appreciated to know people that you can converse with fluently in your native language, or who are in the same boat as you are with certain situations.
It is worth paying a visit to the Greek island that interests you before committing to moving there. That way you can get a feel for the environment, the expat scene, and the type of social things there are to do on the island.
Some larger islands like Crete and Corfu are abundant with people of all ages, backgrounds and nationalities. Everyone from retirees to young remote workers are likely to find like minded people.
However, other islands, like Skopelos, see mostly an older population of retired expats aged 50 and above. Young people and "Digital Nomads" may find it isolating moving to some islands.
Parting Words
Do you have any additional questions about going to live on a Greek island or living in Greece generally? I moved here in 2017 and spent 3.5 years living in Athens. I moved to Skopelos town for eight months in September 2020.
Feel free to reach out to me if you need anything. I am happy to answer any questions and will get back to you as soon as I can.
Geia sou! Safe travels xo
---