Living on a Greek island is a dream for many people. Millions of people travel to the gorgeous Mediterranean country every summer and a lot of them love their trip so much that they start to envisage what life could be like if they lived there permanently.
Imagine a life where you wake up to the sound of the sea every morning, spend weekends at the beach, and work from the local kafenion on your laptop as you sip a Greek freddo cappuccino. Sounds perfect, huh?
Relocating here is actually not that difficult if you are an EU citizen or of Greek descent. Even though Brexit quashed the dreams of many British people that hoped to relocate, Greece's new Digital Nomad visa program and their Golden Visa investment opportunities are an option. (Even if they do favor people that have a lot more income at their disposal).
But will the reality live up to the fantasy? Holidays are not necessarily representative of real life somewhere.
While it is easy to get carried away watching movies like Mamma Mia and Shirley Valentine and daydreaming about what your living on a Greek island could look like, remember that the grass is always greener on the other side. That includes beautiful Greece.
This article has been written by a British Travel Writer that has been based in Greece for close to 5 years. After 4 years in Athens, I relocated to Skopelos island for 7 months, before then moving to Skiathos.
This post aims to give you some food for thought to help you think critically about any decision to move to Greece.
Living on a Greek Island: What is it REALLY Like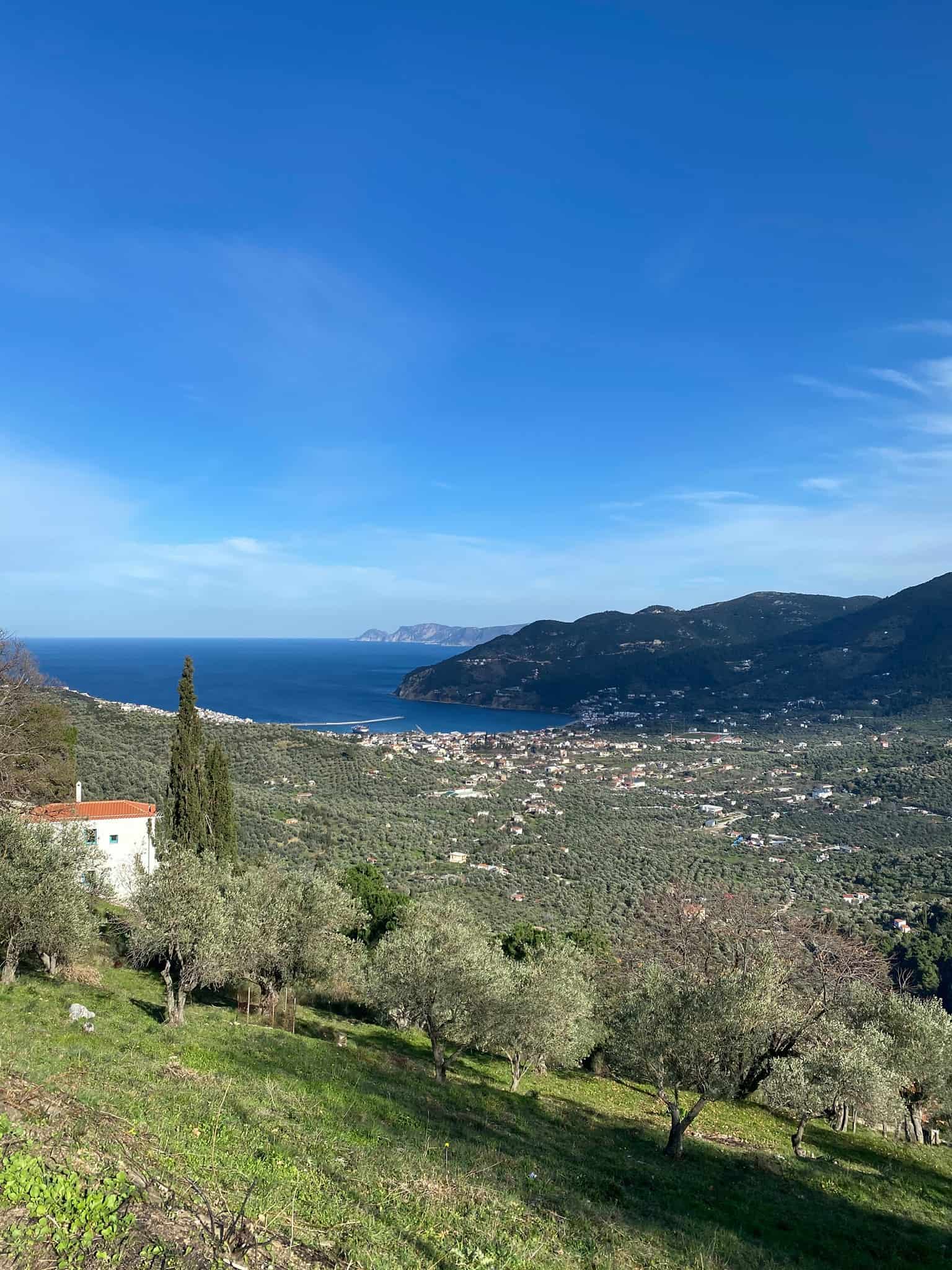 Like with so many things in life, the reality of living on a Greek island can be very different from your experience during your vacation. When you are on a Greek island hopping trip you are in your highest spirits.
You don't have any commitments any day besides lounging on a beach all day, eating at local tavernas, and going on tours and excursions to stunning places. As a tourist spending money, everyone is friendly to you.
But many Greek islands are drastically different from the summer months to the winter season. The tourist season operates from May to September every year. (Sometimes as late as early October in the Cyclades, Crete, and other more southern islands).
When September rolls around, there's a paradigm shift. Many local hotels and businesses shutter their hotels for the winter season and people start to leave the island in droves.

Many of the friendly Greeks you meet during your trip do not live on the islands year-round either. They work summer jobs in bars and restaurants and then return to Athens, Thessaloniki, or elsewhere on the mainland in the winter – sometimes with no promise of work.
At first, you might feel excited about the fact that the beaches are finally quiet. You have coastlines and trails to yourself when in the summer they are filled with tourists sitting elbow to elbow.
But it can start to feel isolating after a while. And this is something that definitely rings true on some islands more than others.
There are a lot of things you need to consider before setting the wheels in motion and planning to seriously relocate.
Base yourself on the island out of season first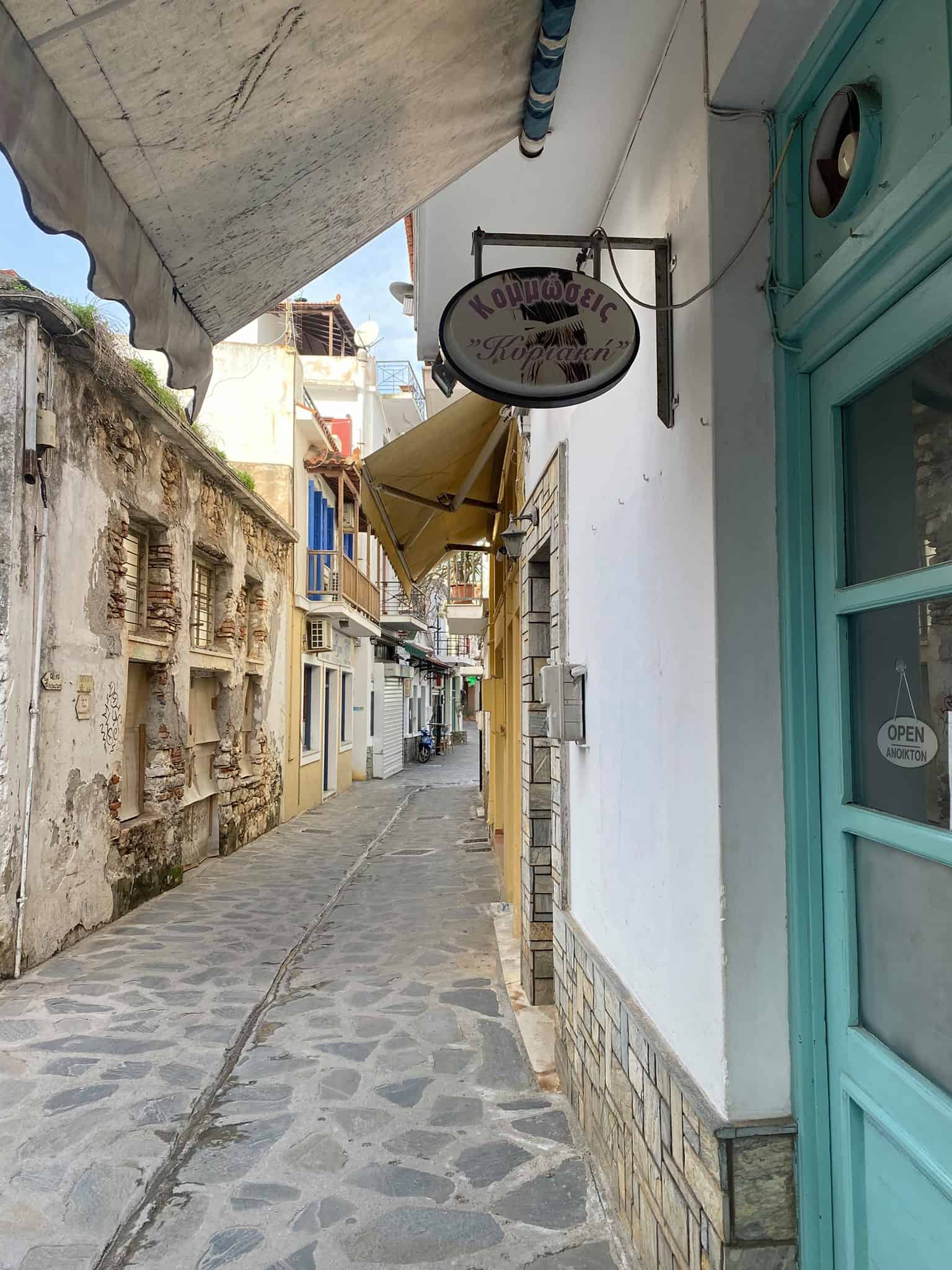 If you have an island or two in mind as places where you would like to live, base yourself there for a month or two out of season if you can. That way, you get a taster of how you will feel being there when you are doing your daily routine rather than fun vacation activities.
At the end of the day, life is life wherever you go. Do you still feel the same about the island when you are spending long days working on spreadsheets from your computer, doing the weekly grocery run, etc?
If you do, great! If there are things that you do not like about a certain island, you can easily reassess.
(Maybe you have moved there and have realised that there are not many people your age that you can connect with, you want a place with more nightlife, etc,)
The specific village/town of the island can make a huge difference too. You might vaguely know that you want to live in Corfu but you're not sure if you prefer the old town or a coastal village like Paleokastritsa.
Finding a trial rental for a few weeks/months out of season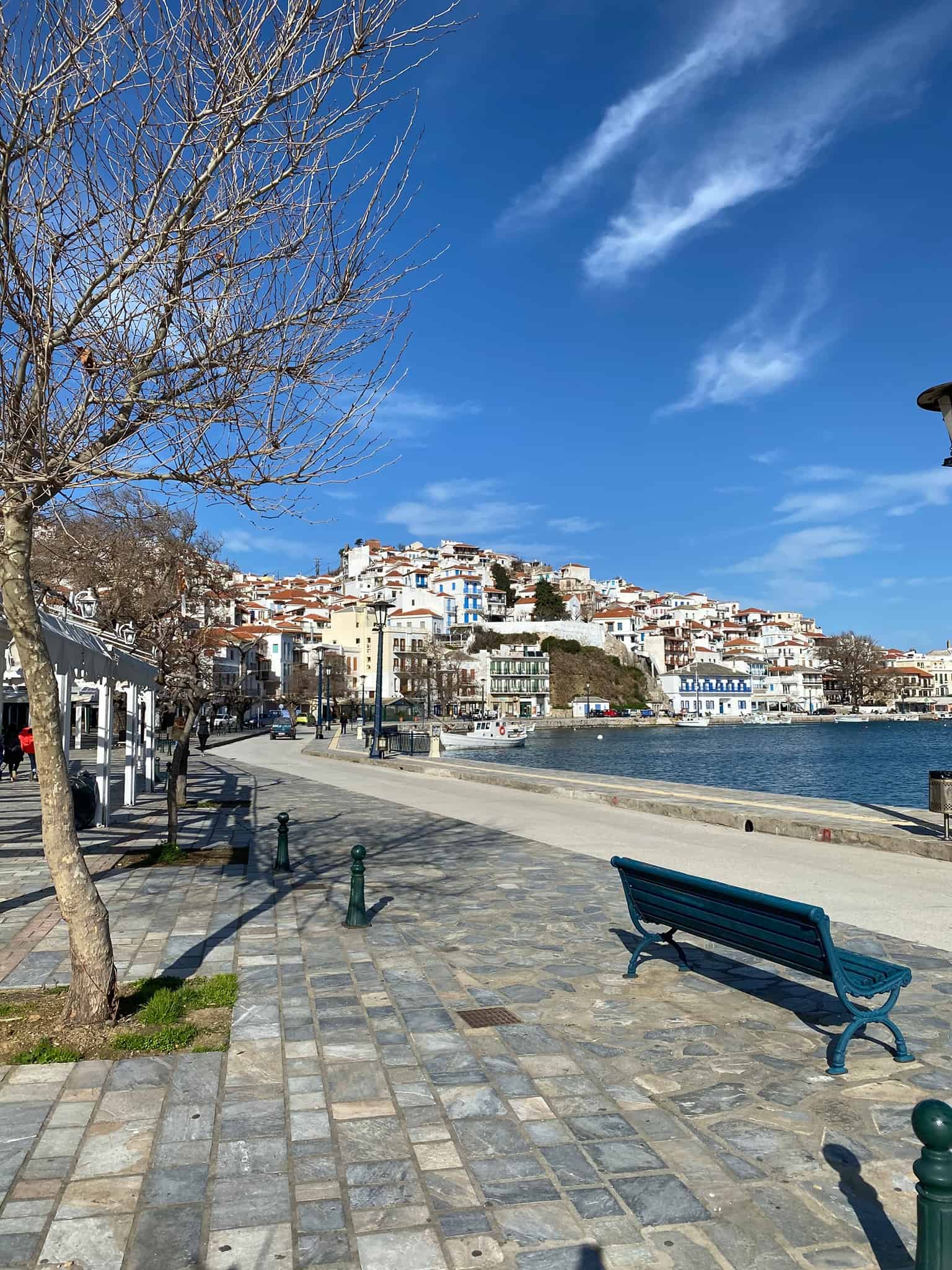 Renting somewhere for a month in each place can help you decide where you want to live. If you just buy a house, there's no going back.
Airbnb allows you to rent properties for as long as 28 days +. Most rentals offer weekly or monthly discounts for reservations that are a little longer.
Honestly, Airbnb is not that well-received in Greece. Especially in Athens, Thessaloniki, and other Greek cities, it is synonymous with driving up rental costs and pushing locals out of their neighborhoods.
This is an issue to a lesser extent on islands. But the other issue is that all the additional fees that Airbnb adds on can be exorbitant.
We are talking hundreds of euros extra for Airbnb service fees! Another good idea is to ask around in Greek travel Facebook groups to see if anyone will consider renting you a property.
There are some great deals to be had by renting people's villas and holiday homes out of season. Most of these properties are vacant from October onwards anyway so the owners will be happy to have someone in them.
Some independently owned hotels and guesthouses are also happy to rent out rooms longer term out of season. (If they're still open.)
Obviously, you need to use some common sense when searching and be careful about handing money over to people you meet on Facebook. But if you ask around and search, you can find some great places this way.
I have rented giant villas for €900 a month out of season doing this.
Facebook groups can be invaluable sources of information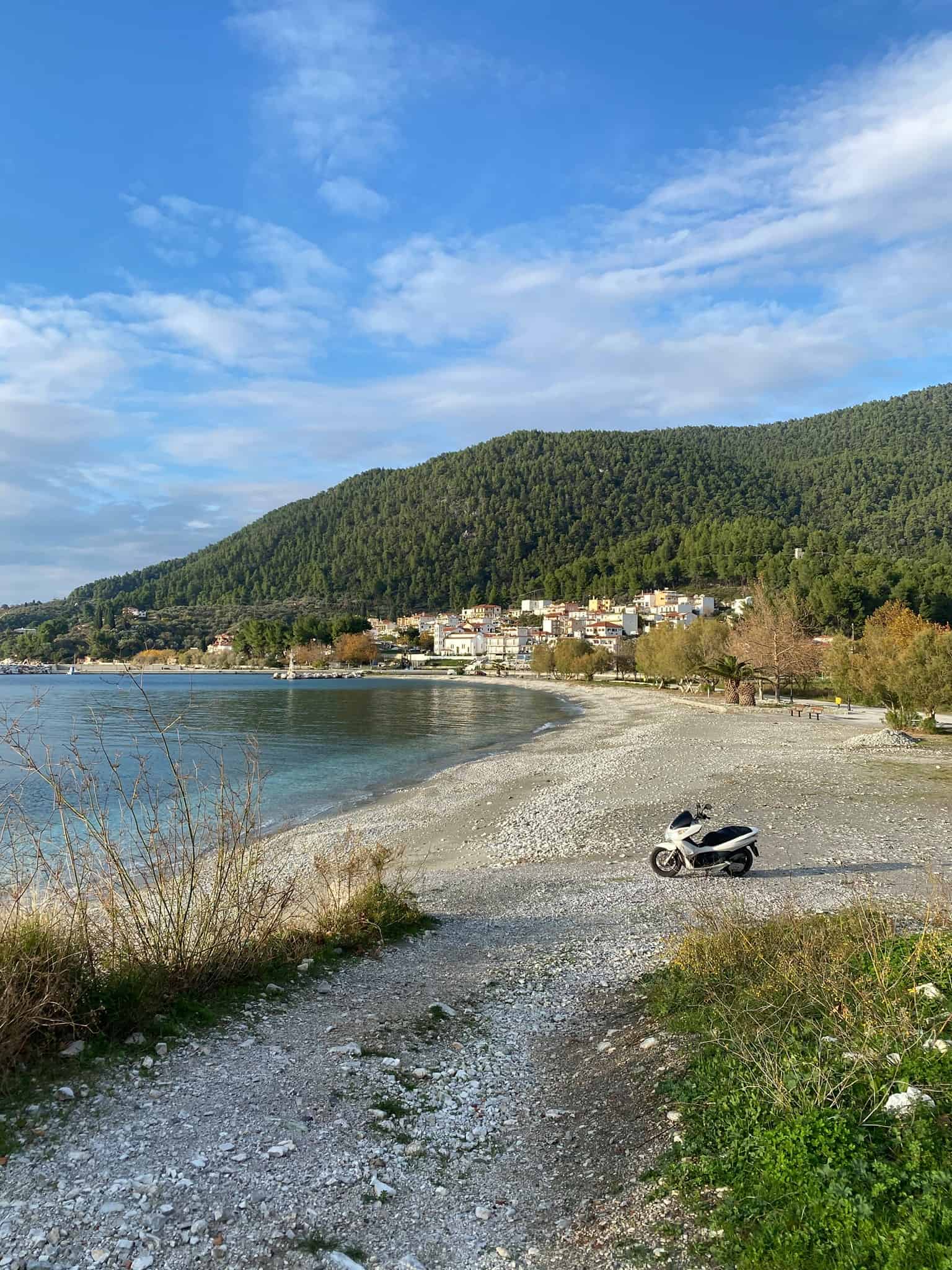 There are a lot of Facebook groups dedicated to living/travelling in Greece. You can start a search for "Expats in…" and the name of the island/town and you will probably find a ton of results.
These groups are great for asking any burning questions or concerns about relocating. They can also be a nice way to meet other expats.
You can just create a post with a photo introducing yourself and see who wants to go for coffee, go on a hike, etc. You might be surprised by how many responses you get and although it may sound peculiar, it is a good way to make friends.
Handy Greek Facebook groups
All Greek to Me – This is my own Facebook group for expats
and travelers in Greece

You see the "real" island when tourists leave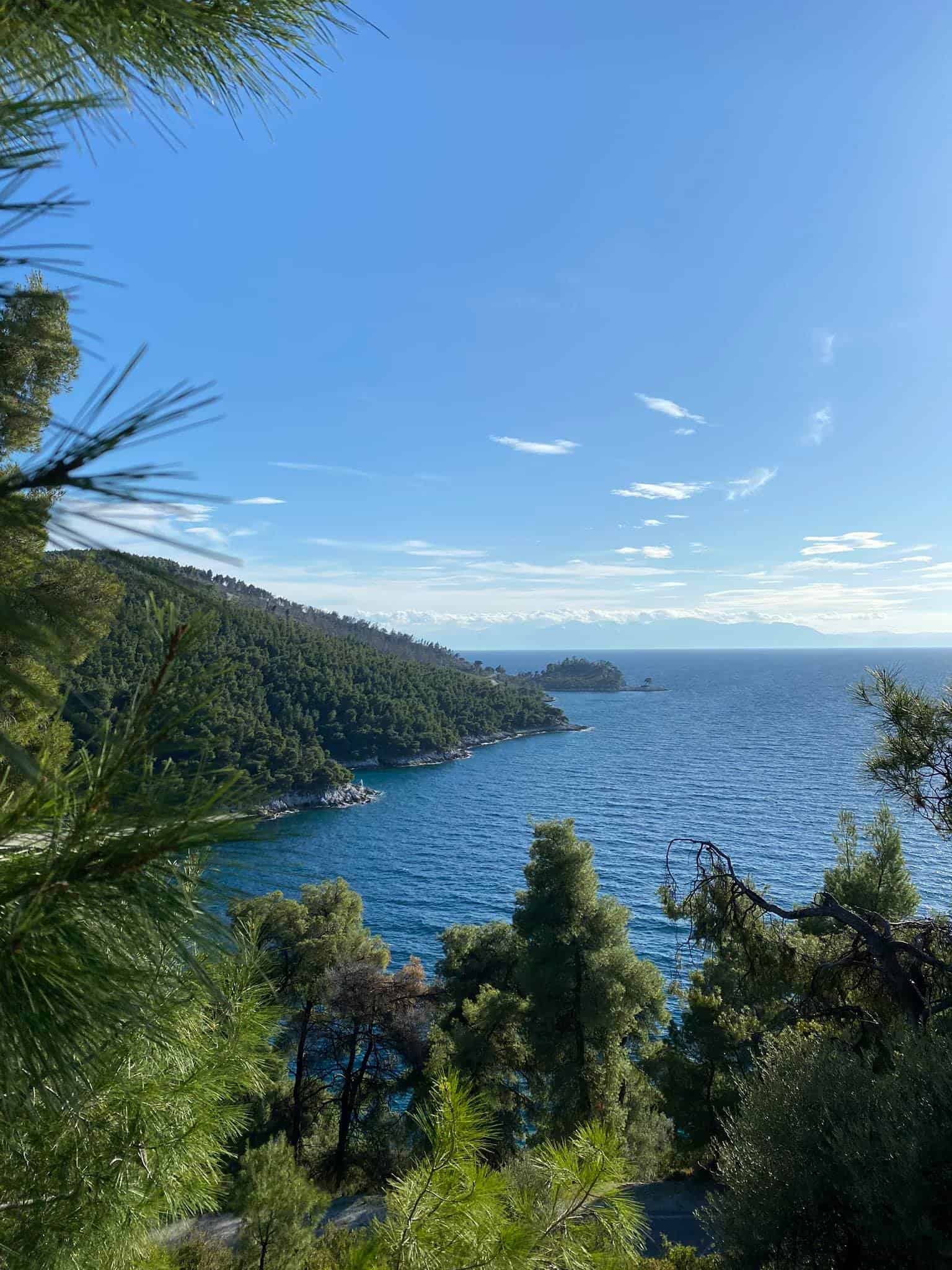 Without crowds of tourists, you start to see the same few people meandering about their business every day; at least on a small island. You establish your own routine and you encounter the same people again and again.
You see the same delivery guy whizzing through the town, iced coffees perched precariously on the front of his motorcycle. There's the cheerful man in the newspaper kiosk, the old lady that you bump into in the bakery queue each morning.
Most people greet you with a "Kalimera" as they get to remember your face. You will find that in time, almost effortlessly, you will get to know and meet all of the people on your new island and they will get to know you too.
As time goes by, you start getting to know your fellow islanders and making acquaintances just by going about your day. People in Greece are often friendlier than in some countries in western Europe and will strike up conversations with people they see out and about.
(It's not so much of a thing in the UK for instance).
Prepare for the quirks of island life
There are various quirks that come with living on a Greek island. They can be irritants at first, but in time, you become accustomed to them.
They eventually become adorable little eccentricities that are all part and parcel of being here. You learn to adapt accordingly
Many islands face issues with their electricity supplies. The Sporades islands see as much as 100 hours of downtime per year.
A strong storm or some heavy rain can see the entire island have a blackout. Sometimes these last minutes, sometimes hours.
On occasion, your entire electricity is cut off and then comes back again over a period of several days. (So you really do need to have some battery-powered blackout lights, plenty of candles, and perhaps some solar power chargers/power banks for your devices in some places.)
Some people that own their own homes in rural areas also opt to buy back up generators.
Scheduled maintenance on the lines also takes place at regular intervals. This is usually communicated in advance, but typically only in Greek.
So you should check in with your local friends and follow any local blogs/Facebook groups.
There's magic in having places all to yourself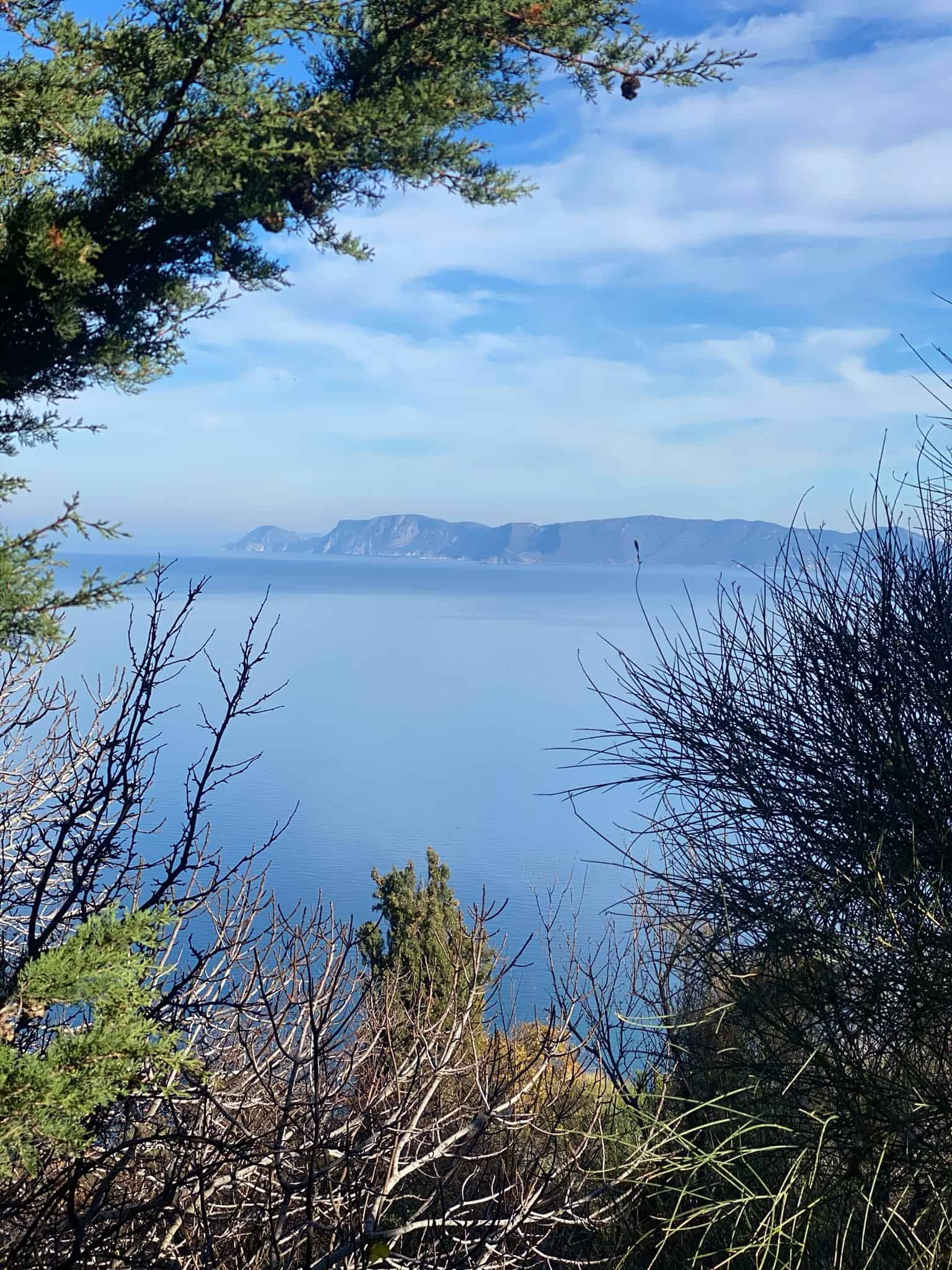 It is not usually warm enough to go swimming in the Greek islands during the winter. However that said, you often see a few brave souls braving the Arctic temperatures and wading out into the sea!
Fortunately, the temperatures in Greece all round are typically milder than in the majority of Europe. Even during January and February, there are occasional "Indian summer" type days where freak warm temperatures occur and everyone heads down to the beach.
Regardless, once the tourism season ends, the locals reclaim their islands. The same beaches that you see stacked up with sunbeds and umbrellas during the summer months become desert island paradises from October onwards.
Even when it's not warm enough to swim, it's pleasant to pack a flask, lay down a picnic blanket, and have gorgeous stretches of coastline all to yourself. Windy days wandering along the shore are just as pleasant.
Many Greek islands are just as renowned for their nature and hiking trails as they are for their beaches, nightlife, and culture. During the off-season in Skopelos, you can drive or walk for hours across the island and not see a soul.
I have hiked all over Skopelos on my own, often for 6-8 hours in a single stretch.
It never feels creepy either. It has you feeling something like Pocahontas as you have this incredibly lush expanse of pine forests, and rolling green hills completely to yourself.
Plus, without the pollutants, cars, and congestion of a busy city, the air here feels much fresher and cleaner. At night, the skies are illuminated by hundreds of twinkling stars that can be seen clearly without the smog that hovers over cities.
You can be an outsider in small communities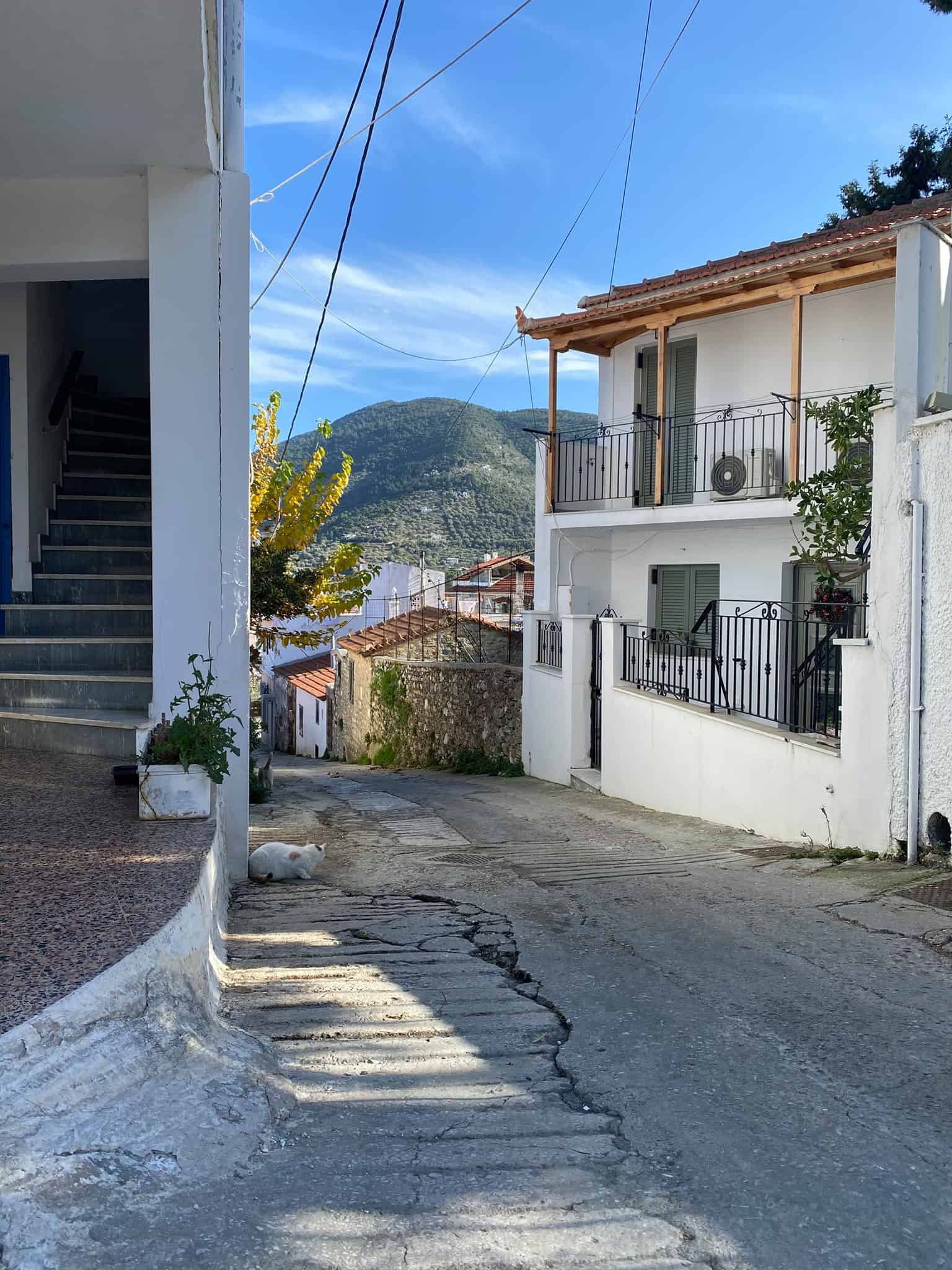 A tricky part of going to live on a Greek island is being viewed as an outsider. In small communities, everyone knows everyone.
The arrival of a new person or family becomes a hot topic of conversation. In such environments, people tend to look after their own.
This can make for some level of awkwardness should you find yourself in a situation where you have a problem with someone or there's a local that you don't get along with.
If you are not Greek, it will be difficult to overcome being seen as an "outsider", regardless of how long you spend on the island. You will need to give it time, try to learn the language, and show that you embrace the local life and culture.
The extent of this can differ dramatically from island to island which again, is why it's important to give somewhere a trial run. In Skopelos, even my Greek friends from Athens had difficulty feeling accepted into the local community.
One described it as being a "circle that never opens". In places that see more tourists and foreigners, like Corfu, Skiathos, and Zante, you may find it easier to be accepted.
It is also worth noting that some people in rural areas have a very different mindset than those in big cities. The patriarchy is strong, and some views of women, gender roles, and societal expectations can feel more old-fashioned.
Learning a little Greek will go a long way
English is widely spoken across Greece – even in the more remote areas. This is particularly the case in places that see a lot of tourism.
However, if you want to develop deeper relationships with the locals, and make friends with your fellow islanders, you really need to make the effort to learn more than just basic Greek words and phrases. Learning Greek definitely isn't easy.
It takes daily practice and long-term investment to get to a conversational level. Fortunately, Greeks are friendly and very appreciative that their language can be tricky to master.
There is a reason that "it's all Greek to me" is such a popular phrase. The local language is hard!
Even if you speak Greek like a caveman: "I want eat lunch. You want eat lunch? You me, we go eat lunch!"
Your efforts do not go unnoticed and locals appreciate your attempts to learn.
You may even find that learning Greek becomes much easier when you live on a Greek island. In Athens, most people have such a good level of English that when you order a coffee or some food in Greek, they reply in English.
This means that you don't get as much practice.
Language learning is always easier when you are forced to use it! Decoding the Greek alphabet and learning to read Greek is not as difficult as it first appears.
In time, you will find that you remember what each of the letters means, simply by seeing them on food labels, road signs, etc.
Gossip spreads like wildfire
"Strong minds discuss ideas, average minds discuss events, weak minds discuss people" – Socrates. One frustration of living in a small Greek island community is gossip.
One Skopeliti man actually joked that it was the island's winter sport!
Not all gossip is ill-intentioned. However, it can often feel as though you have no privacy because news gets around the islands so fast.
A lot of gossip is like Chinese whispers. The story becomes so distorted from the truth by the time it has passed around the island.
You may find out fascinating information that you never even knew about yourself!
You might introduce yourself to someone at a local coffee shop for the first time, only to discover that they've heard plenty about you already! They may ask you peculiar questions based on things they have heard about you, where you're from, your heritage, etc, and none of it is true!
Greek bureaucracy is not a joke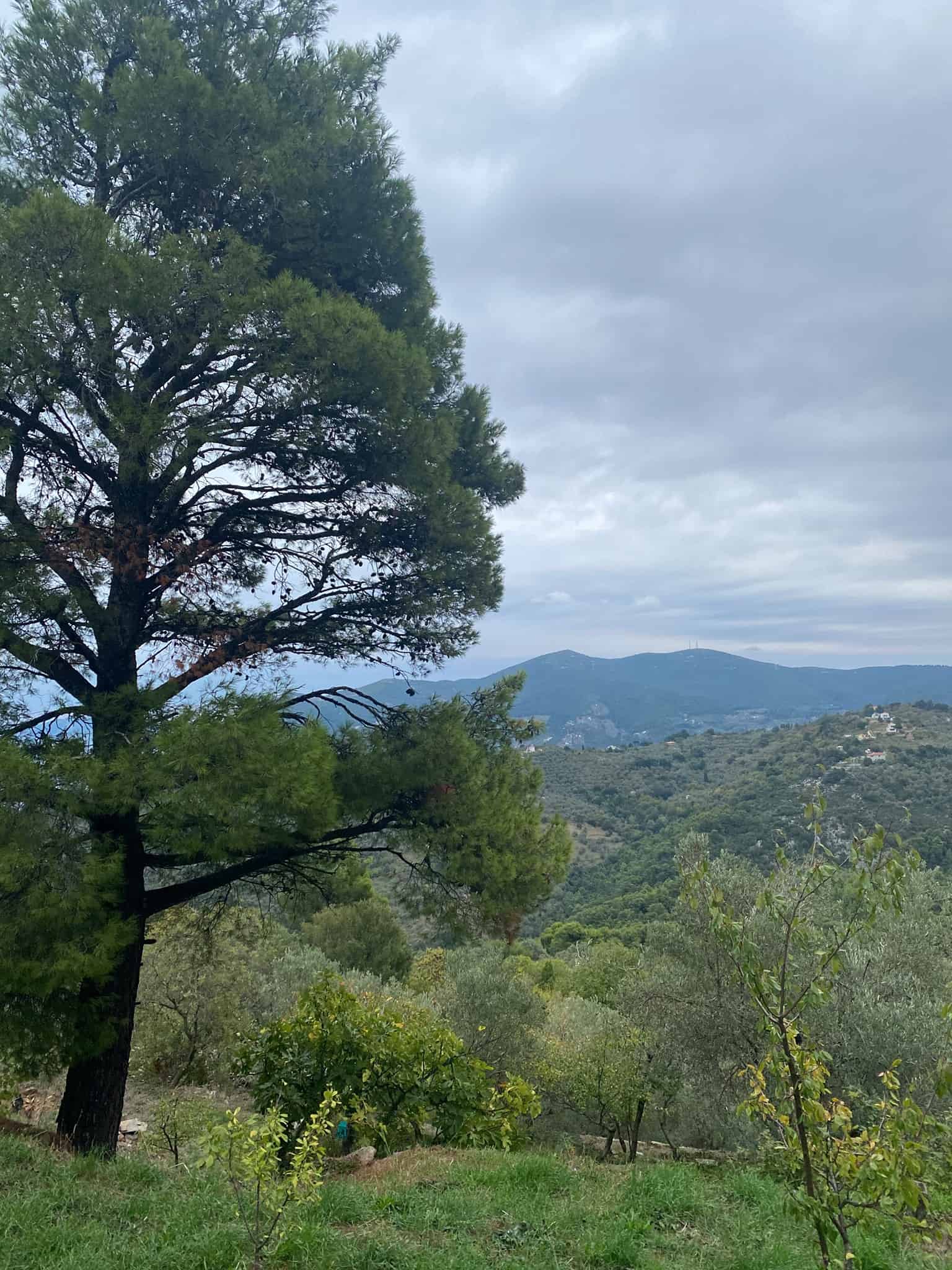 Greek bureaucracy is one of the biggest headaches of living in Greece. To complete the most simple task, there is often a ton of paperwork involved.
Honestly though, relocating and getting your visa in itself is not that bad, especially if you have a lawyer to help you navigate and buy property. It's the same with opening a Greek bank account. 
The process could definitely be streamlined and made easier but it could also be worse.
However, the longer you live in the country, the more likely you are to encounter chaotic (and infuriating!) bureaucratic practices. When I rescued stray cats that were dying at the side of the road. for example, I was told by the municipal vet that I had stolen them and that they were the property of the state.
I was told to get a letter from the mayor of Skopelos and have a local cat charity fill out a number of forms with me. These cats would have died without my intervention so what is that about?
Buying and selling vehicles, reporting crimes (if god forbid you should be a victim), and other tasks are made horrendous by all of the red tape. Things are fine most of the time but when something arises and you have to deal with the local bureaucracy, it can make you feel like you are banging your head against a wall trying to complete a simple task.
Living on a Greek island means that everything around you happens on "island time". If you ever thought that getting things done in Athens was stressful, try doing them on a remote Greek island!
Prepare yourself for the winter seasons
While it is true that the winter months on certain Greek islands see them essentially close down, this may not be as isolating or unpleasant as you may expect. It all depends on you, and what type of lifestyle you prefer.
Boats may not run anywhere near as regularly as they do in the summer. However, they still run several times a week at least, even to small islands.
Supplies and food have to get to the people there after all.
Getting "stuck" somewhere is something of a possibility on very rainy days, or on the rare occasions that it snows. Yet still, the bad weather seldom lasts for more than a day or so.
A little advanced planning based on weather forecasts allows you to plan your excursions off the island around adverse conditions.
A lot of Greeks spend only half the year on the islands and half the year elsewhere. There are fewer people to socialise with, and some islands may only have one or two coffee shops and restaurants open.
If you are accustomed to a wild social life, this may not be for you. However, if you are more of an introvert, and you are happy to spend time focusing on your various hobbies and interests, or out walking and exploring, it may suit you down to a tee.
Before you know it, the chaotic summer season has rolled around again. Do note that not all Greek islands have airports, and the only way to get to/from many islands is by ferry.
Winter in Greece is underrated, even on the islands. There are still lots of great walking trails that you can do and a walk along the beaches is refreshing even when it's cold.
Understand what the expat community is like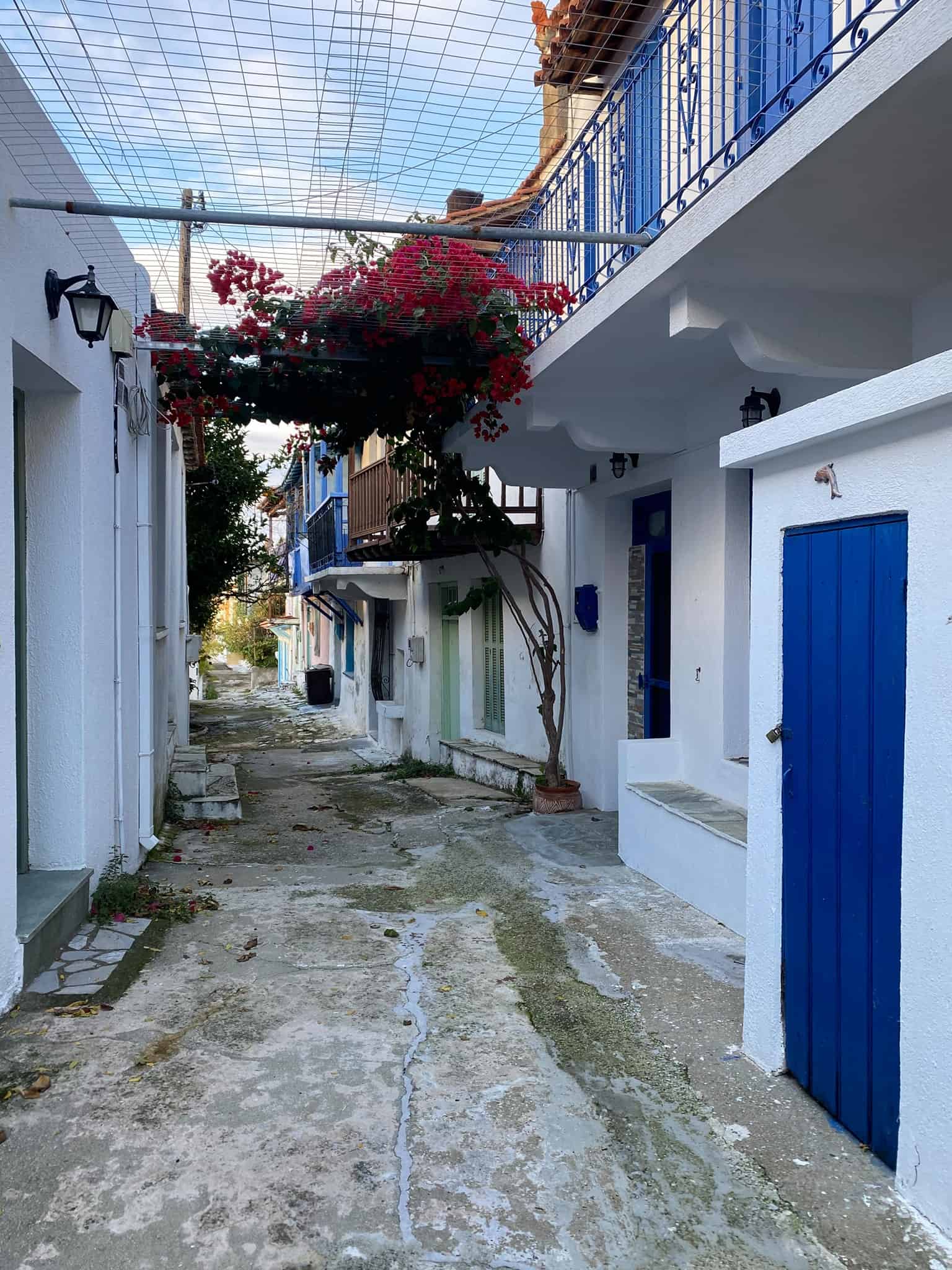 Obviously, you don't move abroad to only meet people from your own country. The best social circle is a mixture of Greek locals and people from your own country that can relate to the challenges of living overseas.
But making friends and having people to do things with is one of the most important and challenging parts of being an expat. Different islands seem to attract a different crowd.
Corfu, Crete, Skiathos, and Rhodes tend to attract a lot of expats of all ages and walks of life. Other islands are mostly popular among retirees and can be isolating if you are young or working remotely.
Moving to somewhere more remote like Alonissos or Kea, for instance, can be romantic in theory, but in practice, you might feel lonely. That's why the trial run is so important.
Without intending to be too negative, it is also important to note that some expat communities are supportive, whereas others can be quite toxic. Moving overseas is a challenge whoever you are.
But on Skopelos island, for instance, the expats consisted mostly of a group of older British women who referred to themselves as "the coven". (Like, a witch's coven).

They would spread vicious rumors about random expats on the island and act hostile towards newcomers to "their" island. Whatever your age, who has time for that drama?
On Skiathos, things were entirely different.
Be realistic about work opportunities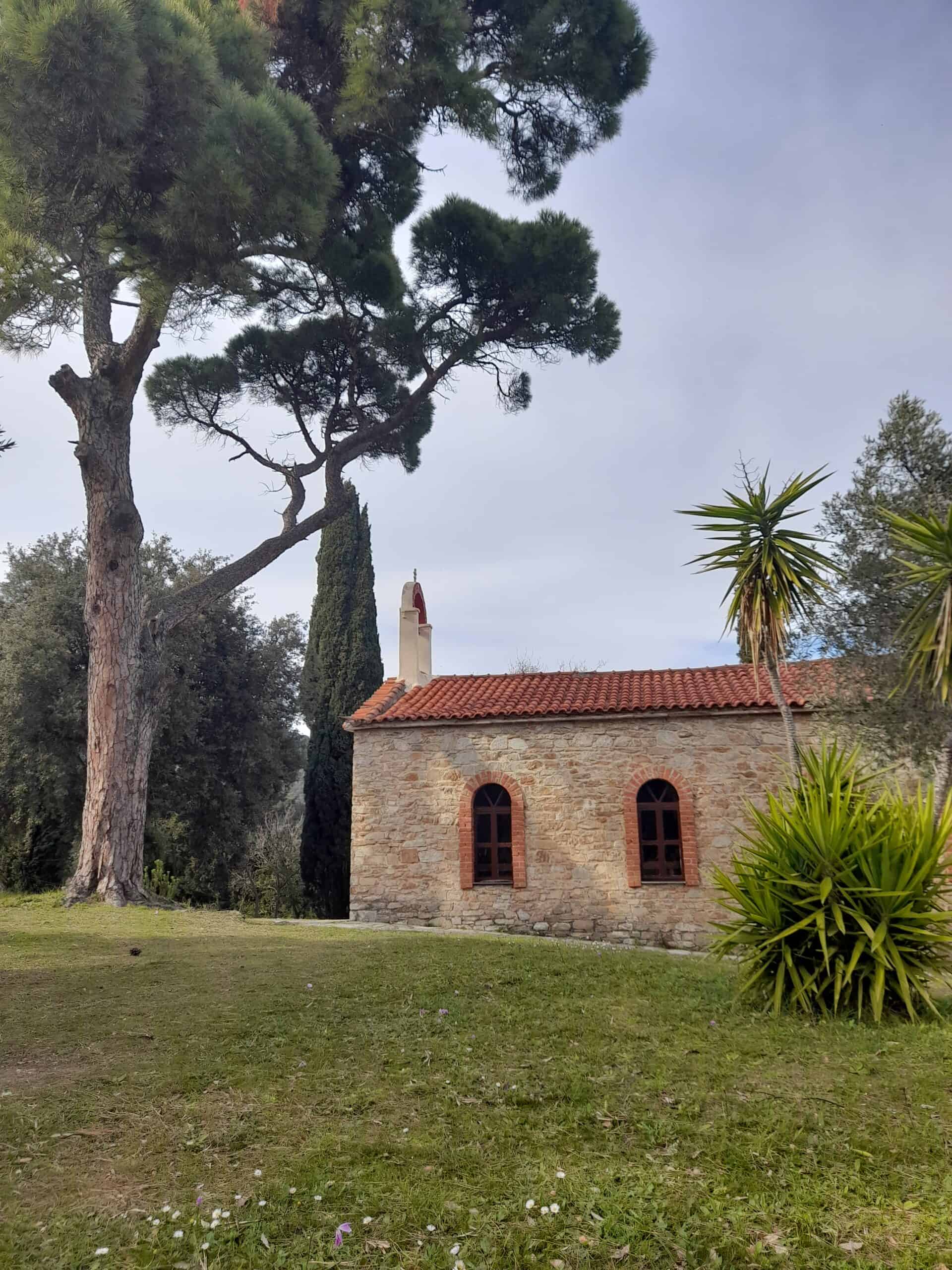 The ideal scenario, if you are considering living on a Greek island, is that you are either retired or you have work that you can do remotely. Many people have the romantic idea that they can rock up on an island and find work when they arrive but that often isn't realistic.
As mentioned, tourism to most islands is highly seasonal. Sure, you may be able to find work with a local tour company or promote clubs and parties somewhere like Zante in the summer.
But that isn't a sustainable long-term option and the pay can leave a lot to be desired. Depending on your visa restrictions, you may be able to open a local business or work to help market local tourism companies.
Many seasonal Greek workers that work in bars and restaurants work long, exhausting hours during the summer. Think shifts of ten or more hours, six or seven days a week.
In the winter, they often have to head home to the prospect of struggling to find work for the remainder of the year.
FAQs about Living on a Greek Island
Do you have any more questions about the realities of living on a Greek island? The answers to some frequently asked questions on the topic are detailed below.
Hopefully, you will find the info you are looking for there. If not, please don't hesitate to contact me!
Is it expensive to live on a Greek island?
The cost of living in Greece on the whole is estimated to be as much as 30% lower than in other European countries. You can find plenty of apartments and houses or rent them on many of the islands for very reasonable prices.
But the prices vary significantly depending on the specific island. For instance, Hydra, Spetses, and Paxos are upscale and not the cheapest places to live.
Skiathos, Zakynthos, Mykonos, and Santorini are such tourist favourites that demand has driven up property rental and purchase prices in recent years. Rhodes can be an affordable choice, as can some of the more remote islands.
Fuel and the prices of certain items can be higher on the island versus the mainland.
Are the Greek islands a good place to live?
You can enjoy an excellent quality of life on many of the Greek islands, particularly if you have disposable income or an above-average local salary. When you live here, you have countless gorgeous beaches, fascinating ruins, and travel opportunities right on your doorstep.
The local food is excellent, and it is easy to find fresh, delicious local fruits and veggies at a low cost. Greek islands are safe and family-friendly.
Is it cheap to live on a Greek island?
"Cheap" is subjective. However, the Greek islands are generally more affordable places to live than other parts of Europe.
Yet at the same time, they can be pricier than the mainland, especially if you live in an area that is popular with tourists. It pays to be open-minded about the specific island you want to relocate to as the cost of rentals, properties, and local entertainment/dining can differ significantly from one island to another.
Final thoughts on the realities of living on a Greek island
Do you have any additional questions about going to live on a Greek island or living in Greece generally? I moved here in 2017 and spent 3.5 years living in Athens.
I moved to Skopelos town for eight months in September 2020 before moving to Skiathos and back to the mainland. (I'm currently based between Athens, Greece, and Yucatan, Mexico).
Feel free to reach out to me if you need anything. You might also enjoy this post on the best Greek islands to live on.
I am happy to answer any questions and will get back to you as soon as I can.
Geia sou! Safe travels xo
---