If you are planning a summer trip to Greece you will likely be interested in discovering the best Greek Islands for beaches. After all, the opportunity to relax on the pristine jewels of white sand coastlines and swim in translucent blue waters beneath the Mediterranean sun is a major draw of travelling to Greece for a lot of people.
With literally thousands of Greek islands to choose from, it can be overwhelming to decide where to take your beach break. Places like Santorini, Mykonos, and Zakynthos are among the most popular Greek islands but they are not necessarily the best for beach holidays. 
This guide has been written by a British Travel Writer based in Greece (me!) I have been living here since 2017 and have travelled through the country extensively during that time.
I am not someone that has just briefly passed through the country once or twice. As such, I feel well poised to advise you on the best Greek islands for beaches.
And this guide we will look at the best Greek Islands for beaches based on places that have all the amenities that you need, as well as tranquil secluded spots and hidden coves for those looking for more peace and seclusion.
16 of the Best Greek Islands for Beaches to Visit in 2023
Skiathos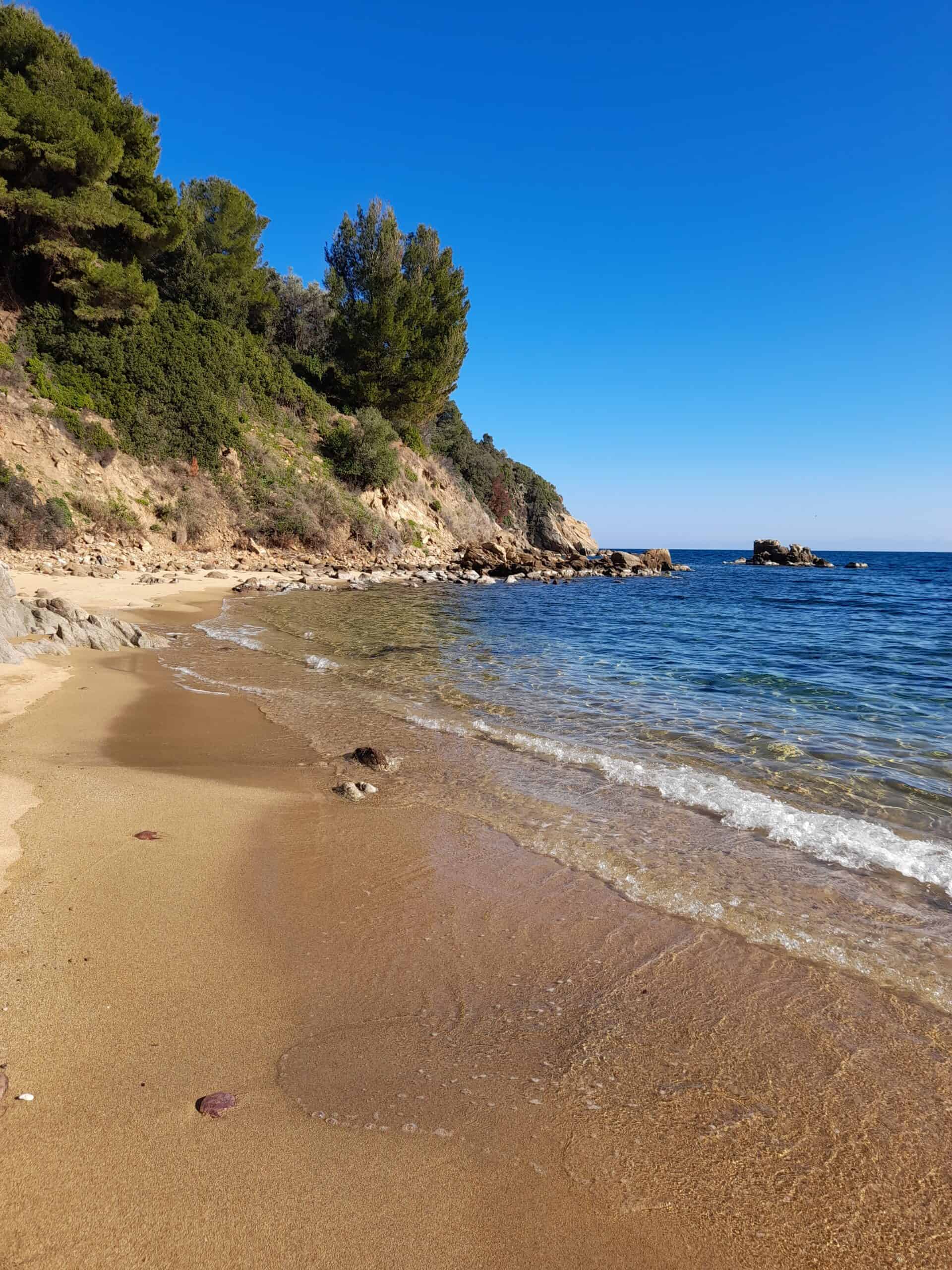 Skiathos is one of the most popular Greek islands in the Sporades archipelago in the Northeastern Aegean. Despite its small size (49.9 km²), Skiathos includes more than 60 gorgeous beaches in its grasp.
Some of the sandy beaches here are widely recognised as being some of the most beautiful in all of Greece. Koukounaries beach is a spot that wouldn't look out of place in the Caribbean.
It is known for its soft powdery white sand and cerulean waters backed by pine forests. Lalaria is an equally stunning stretch of coastline at the island's northeastern tip.
It is known for its unique rock formations and its distinctive smooth white pebbles that line the shores. Access to the beach is only possible via a boat trip from Skiathos port with a ride costing just upwards of €10.
Both spots can become crowded with tourists during the high season but are well worth visiting at least once so that you can take in the breathtaking natural scenery. If you are looking for a quieter spot away from the crowds, Diamandis and Katharina beaches will not disappoint.
Skopelos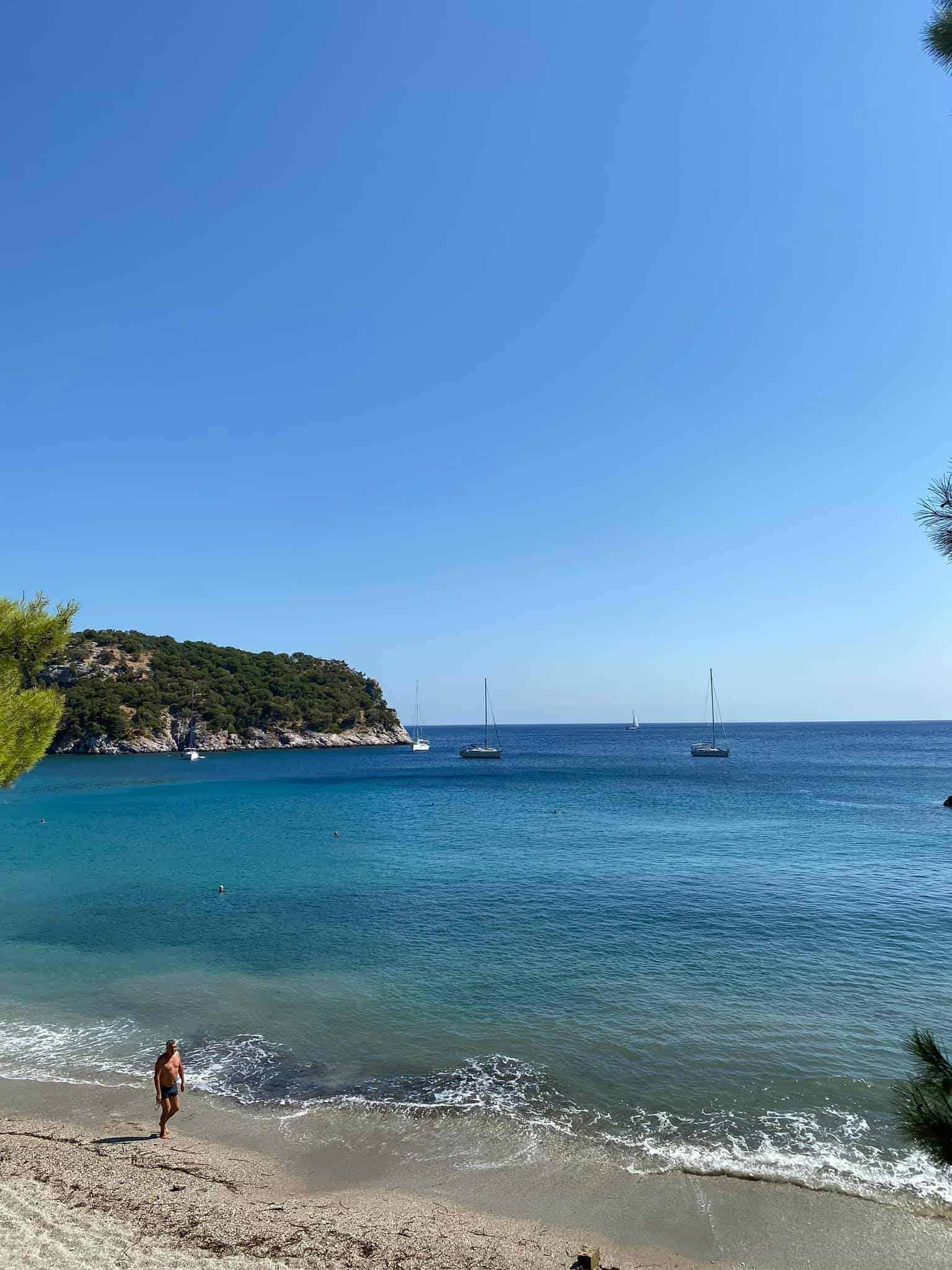 The idyllic island of Skopelos, famed as the filming location for the Hollywood movie "Mamma Mia" is the greenest island in the Mediterranean. It has, at least for now, managed to fly largely under the radar as a Greek tourism destination and is one of the last remaining sleepy island idylls.
Skopelos' coastlines offer more pebbled bays and rocky coves than golden sands but the natural beauty here is unparalleled. Cape Amarandos close to the little fishing village of Agnontas is an area of natural rock pools that are referred to by locals as "la piscina" on account of how perfectly clean and clear the water is for swimming and snorkeling.
Many of Skopelos' beaches are virgin paradises that are virtually untouched by human feet and are only accessible via a boat ride from Skopelos town port. Armenopetra, close to the underrated village of Neo Klima is a rugged, unserviced beach known for the dramatic rock formations that jut out from the waters of the sea here.
Milia and Kastani beaches are two of the best serviced spots on the island. They overlook the uninhabited island of Dassia and offer sunbed and umbrella rentals for reasonable prices, as well as sumptuous Greek food at the on-site beach clubs.
During the summer months, international DJs perform here on certain nights of the week.
Paxos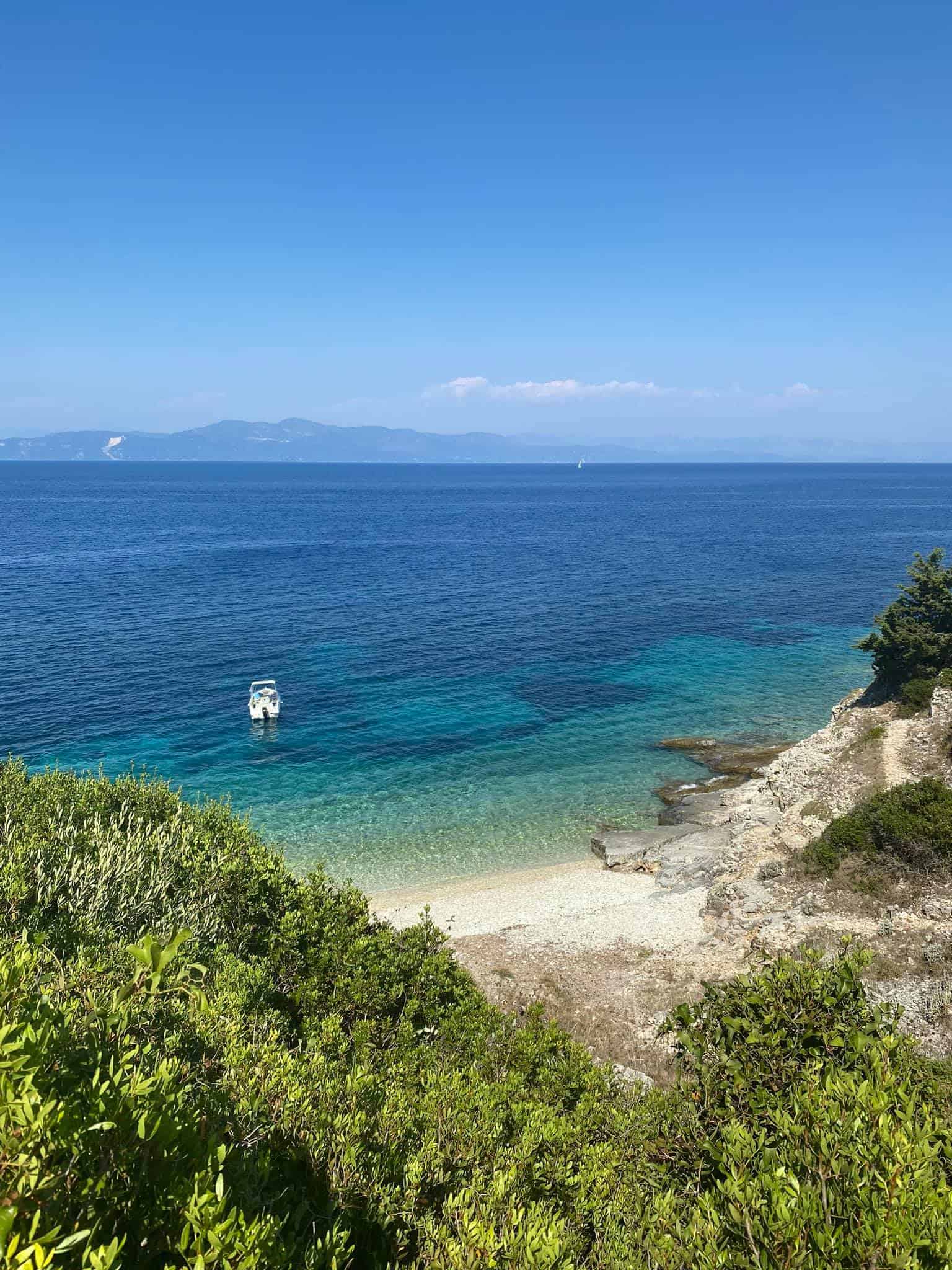 Paxos and Antipaxos (often known by their plural "Paxoi") are two of the most upscale and least commercial islands in Greece. They sit in the Ionian island group, off the west coast of mainland Greece, close to the popular island of Corfu.
Gaios is the island's capital. It provides convenient ferry links to Igoumenitsa, the popular Greek mainland seaside town of Parga and Kerkyra.
While Gaios centre is a labyrinth-like network of narrow cobbled streets and passageways that twist and turn to reveal charming cafes, tavernas, and artisanal stores, a short walk along the coast from here leads to some breathtaking beaches.
Gianas and Plakes are two of the most popular organised spots that sit a stone's throw away from the port. Heading a little further afield, the beaches of beaches of Piso Krioneri, Agios Giannakis, Valtos, and Lichnos are all more peaceful areas worth adding to your radar.
Alonissos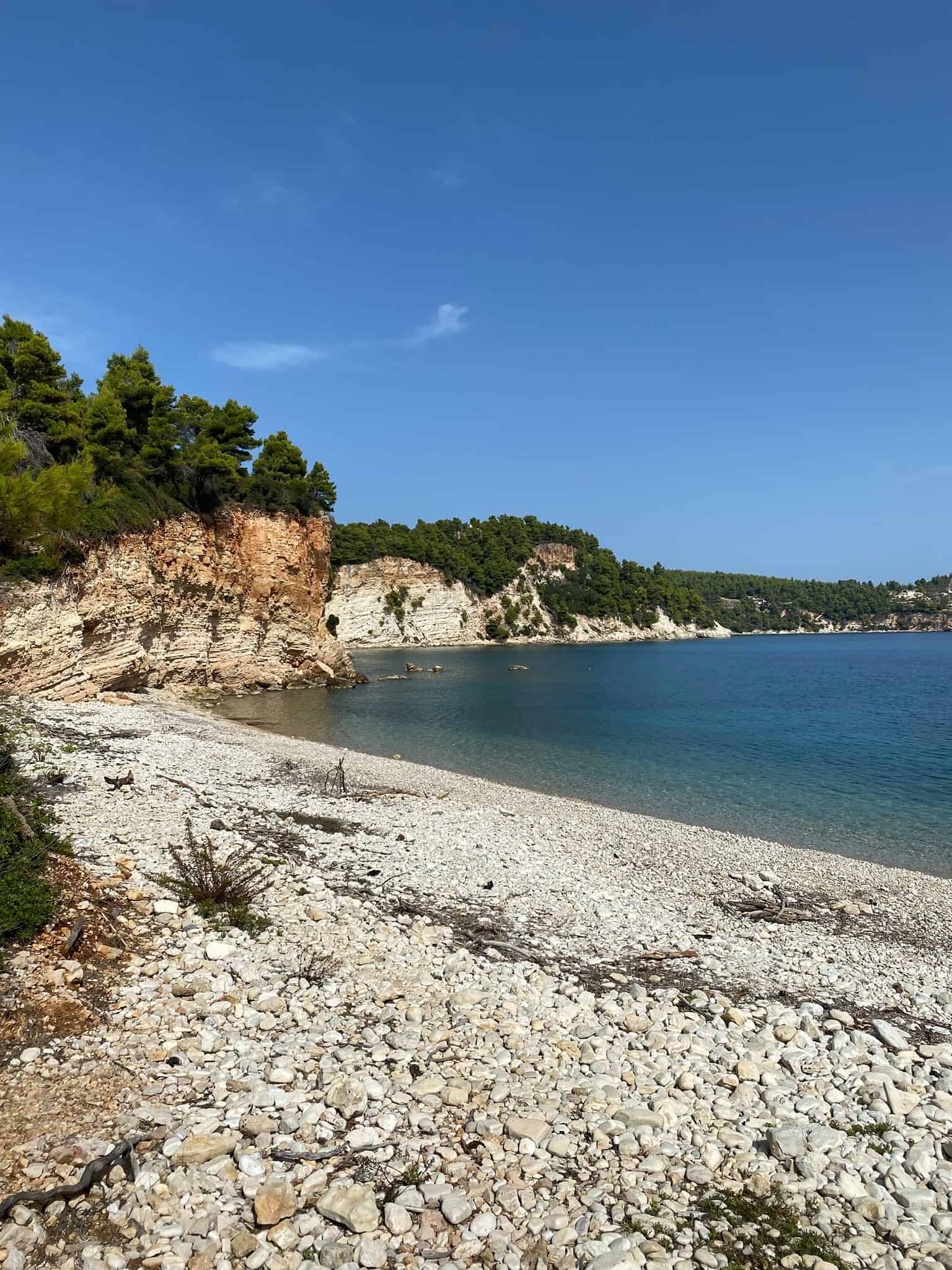 Paradisical Alonissos is the furthest of the Sporades islands from the mainland. On an international scale, few people have even heard of it.
It is one of those special places that Greeks have been keeping to themselves. Alonissos sits within the Alonissos marine park – Europe's largest marine protected area home to several endangered species including the adorable Mediterranean monk seal.
Public access is limited to certain areas but there are dozens of gorgeous beaches and uninhabited islets that you can take a boat to. The islet of Kyra Panagia is home to virgin beaches and a gorgeous, functioning monastery in the woodlands.
Nothing could be a greater adventure than hiring a boat and a skipper for the day in Patitiri, sailing across to Kyra Panagia, and then enjoying a cooked fish supper on board.
On Alonissos, proper, woodland trails lead you from Patitiri and Chora to Spartines, Millia, Tzortzi Gialos, and Leftos Gialos beaches. Millia has a beach club that operates from May to October, but you will never have to contend with crowds in little Alonissos.
Milos
Little Milos is one of the lesser-known islands in the Cyclades that is often overshadowed by its more popular neighbours Santorini and Mykonos. However, it is starting to attract attention in recent years, particularly for its ethereal-looking Sarakiniko beach.
Sarakiniko boasts landscapes that look other-worldly and lunar. The white volcanic rock here has been shaped into curves and waves by the wind and is unlike anything you will find anywhere else in Europe.
You can relax on the smooth rocks beneath the sun, or cliff jump into the clear turquoise waters below. There are more than 80 beaches scattered across Milos.
Tsigrado is the place to go if you want to avoid crowds – it is a secluded cove that can be accessed via a series of ropes and ladders. Firiplaka is a sandy beach with colourful rocks and blue waters, while Firoptomas is a pretty beach lined with quaint houses, traditional tavernas, and a little church.
Crete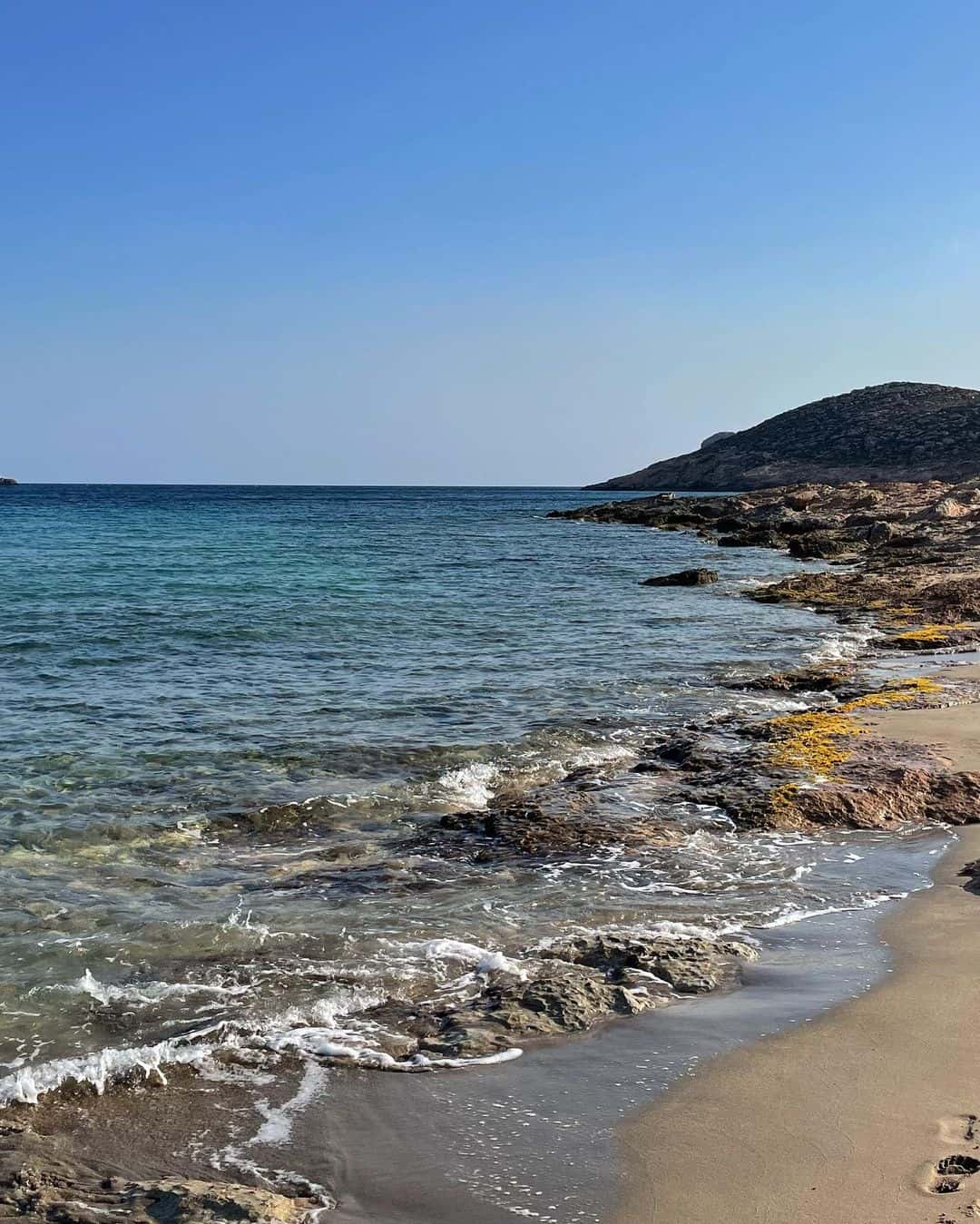 It's no secret that Crete is a very popular vacation destination. Try as you might, it's tricky to escape the crowds. But there are possibilities for those eager to do so.
Situated in the peaceful farming region of Xerokampos, the area's namesake beach makes for a pleasant spot to spend the day relaxing, swimming or snorkeling.
Xerokampos beach is one place where you can enjoy the coastline without being surrounded by hundreds of other tourists. Add to the seclusion the fact that the beach sits amid a backdrop of distant mountains, jagged cliffs, and rugged scenery and the appeal of the area is indisputable.
The beach offers free parking and has a number of amenities on site. For a few euros, beach-goers can rent sunbeds, towels, and snorkel equipment. There are also a couple of restaurants adjacent to the beach which are perfect for indulging in some Cretan delicacies
Triopetra is an off-the-beaten-track Cretan beach whose name means "three rock beach". The unique rock formations here are breathtaking and look like a giant has balanced piles of oddly shaped rocks on top of each other. Because Triopetra is quite far from the main tourist cities, it's not unusual to have the beach virtually all to yourself.
Lefkada Island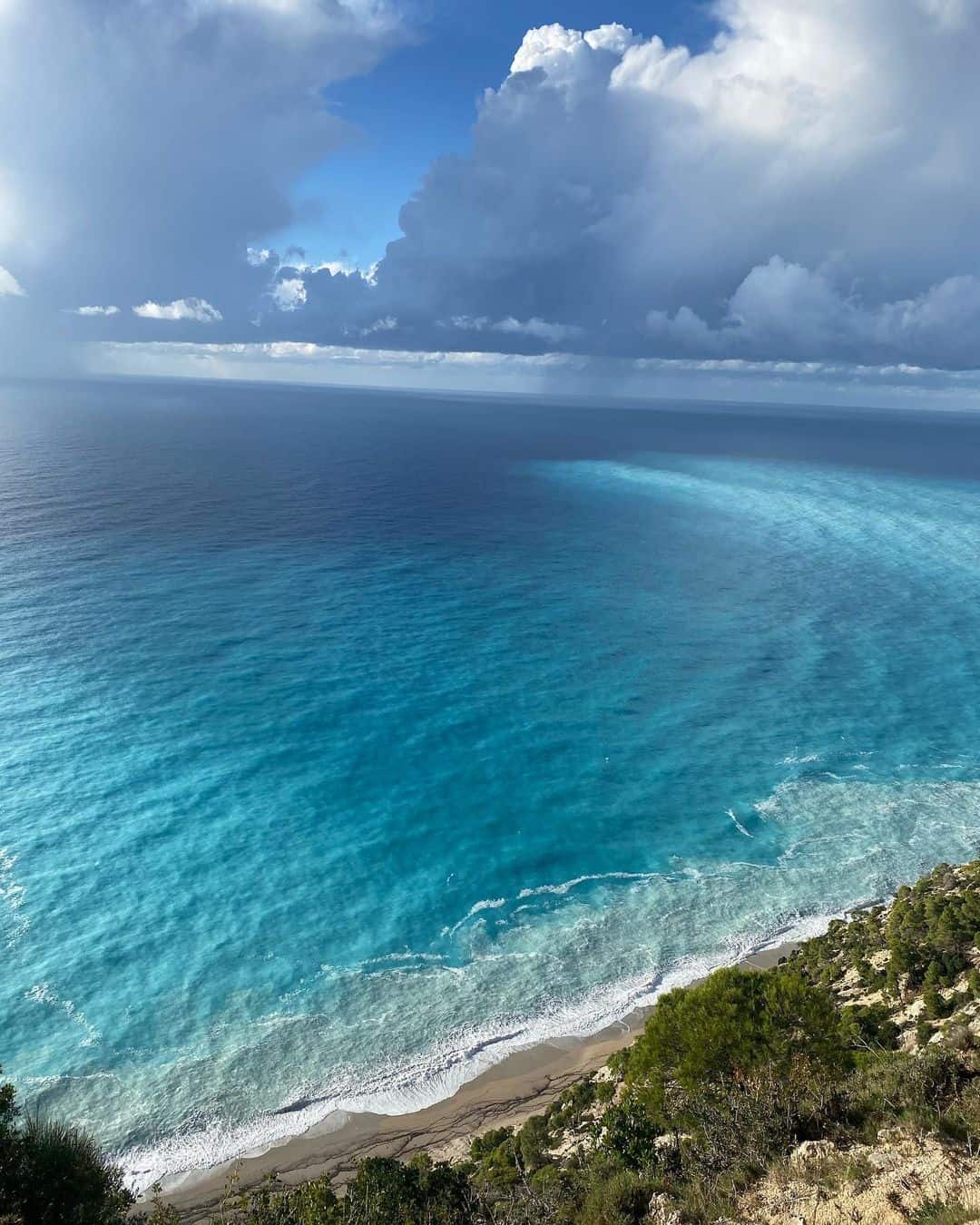 Lefkada is a perfect travel destination for beach lovers. The gorgeous Ionian island that connects to the western Greek mainland offers more than 20 stunning beaches.
Kathisma, Porto Katsiki, and Vassiliki are some of the best spots if you are looking for serviced beaches with all the amenities. You can rent sunbeds, umbrellas, and water sports equipment at each of these places for just a few euros.
Porto Katsiki is particularly beautiful; this stunning beach can be found at the foot of a steep cliff and boasts shiny white pebbles and cerulean waters. Meanwhile, the natural winds at Agios Ioannis beach make conditions perfect for surfing, kitesurfing, and windsurfing.

If you want to try your hand at any of these adventure sports, there are plenty of local tourism companies that offer lessons and equipment rentals. For more peace and quiet, Afteli is a charming little beach with a beach bar that serves ice cold beers and amazing pina coladas, while Mylos is a hidden spot that can only be reached by boat or an old donkey trail from Agios Nikitas village.
Zakynthos (Zante)
Zakynthos or Zante in the Ionian island group is one of the most popular summer travel destinations in Greece. It is known for its raucous nightlife and its gorgeous beaches but the reality is that Zante has something for everyone.
While the southern part of the island attracts party-goers and an all-inclusive resort crowd, the northern part of the island is altogether more rugged. Here you will find forested wilderness and traditional rural villages.
There are more than 20 beaches to choose from on Zante. But none more famous than Navagio beach or "Shipwreck beach". The beach sits on the island's northwest coast, in a little bay surrounded by towering white cliffs.
The remnants of an old Freightliner (the MV Panagiotis) lie at the centre of the beach as they have since a storm washed the boat ashore in 1980. In Autumn 2022, the beach was temporarily closed due to a landslide but is set to be reopened to tourists in summer 2023.
There are many lesser-known, peaceful spots you can check out during your time in Zakynthos too. Porto Limnionas boasts natural rock pools seemingly designed for swimming in.
The little taverna on the nearby rocks serves fresh seafood prepared with the day's latest catches. Banana and Agios Nikolaos beaches are popular choices from Laganas, while Kalamaki Beach is part of the National Marine Park of Zakynthos, and a place where endangered loggerhead turtles nest.
Naxos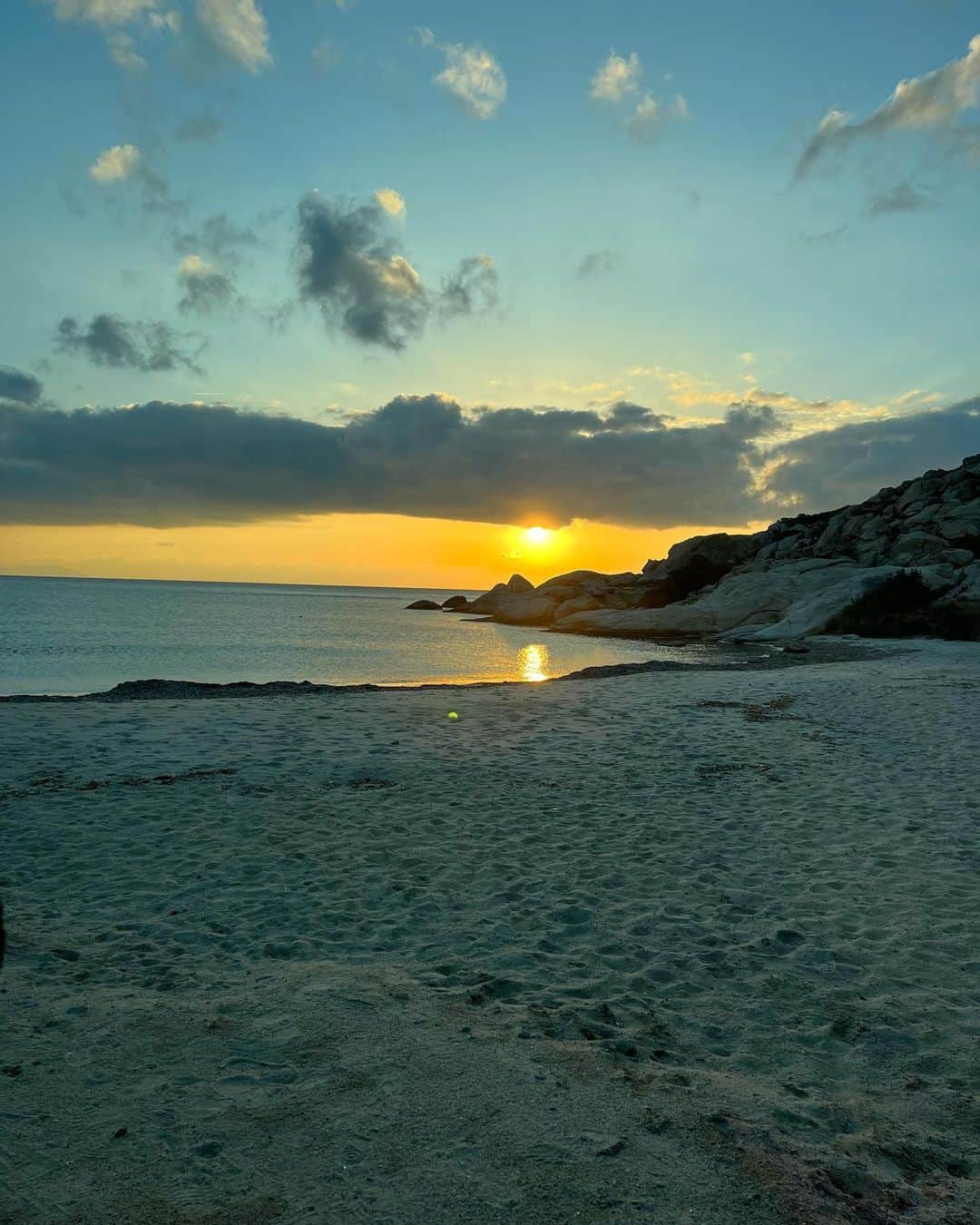 Naxos has started to appear on people's Greece travel radars in recent years and for good reason. The island is home to more than 16 gorgeous beaches, some of which are among the best sandy beaches in the country.
Agios Georgios, with its clear, shallow waters and windsurfing rentals/classes is the closest beach to the main town. However, it is the serviced beaches of Agia Anna, Agios Prokopios, and Plaka beach that steal the show.
If you prefer more secluded beaches, a short walk along the coast from Agios Georgios leads you to secret spots. Mikri Vigla is a lovely sandy beach with some hidden coves where you can enjoy a picnic or a lazy afternoon spent reading beneath the shade of the pine trees.
Psili Ammos is a remote golden sand beach that can only be reached by boat or by following a woodland hiking trail.
Kerkyra (Corfu)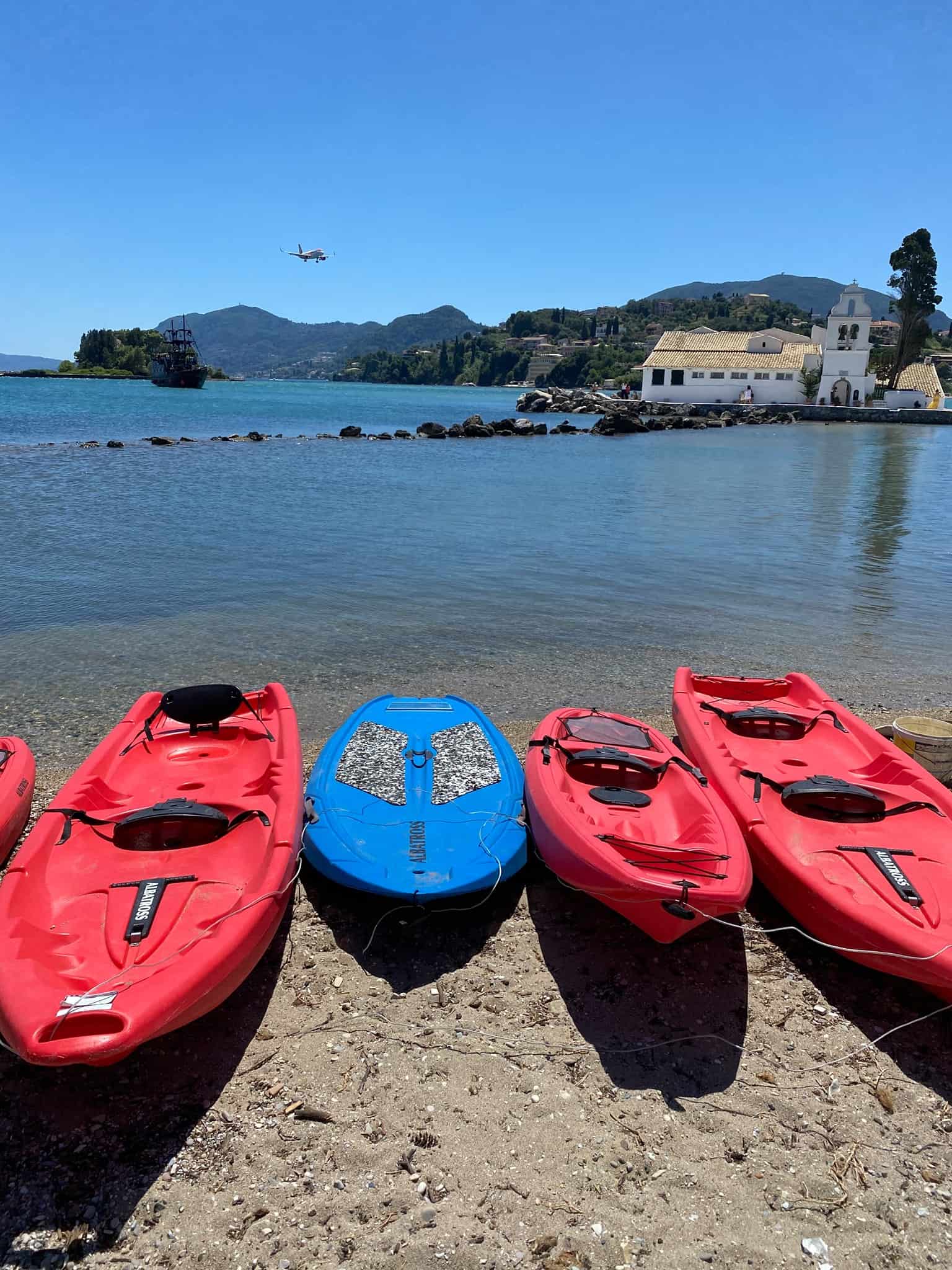 Kerkyra (Corfu) is one of the most popular and best Greek islands for beaches. UNESCO-protected Corfu old town makes a great base for your trip.
A short bus ride from the town takes you to Kanoni – a gorgeous coastal area filled with tavernas whose tables and chairs are set up right on the sand. From here, you can sail across to the uninhabited islet of Pontokinissi and catch some incredible photos as the planes come in to make a dramatic landing at the island's Ioannis Kapodistrias airport.
Heading to the other side of the island, you can enjoy the coastal areas in the charming little seaside town of Paleokastritsa. The namesake Paleokastritsa beach is the go-to spot for most tourists but heading a little further along the coast, Triada and Verderosa beaches are more tranquil. They are also phenomenal places to watch the sunrise and sunset if you get there early/late enough.
Kefalonia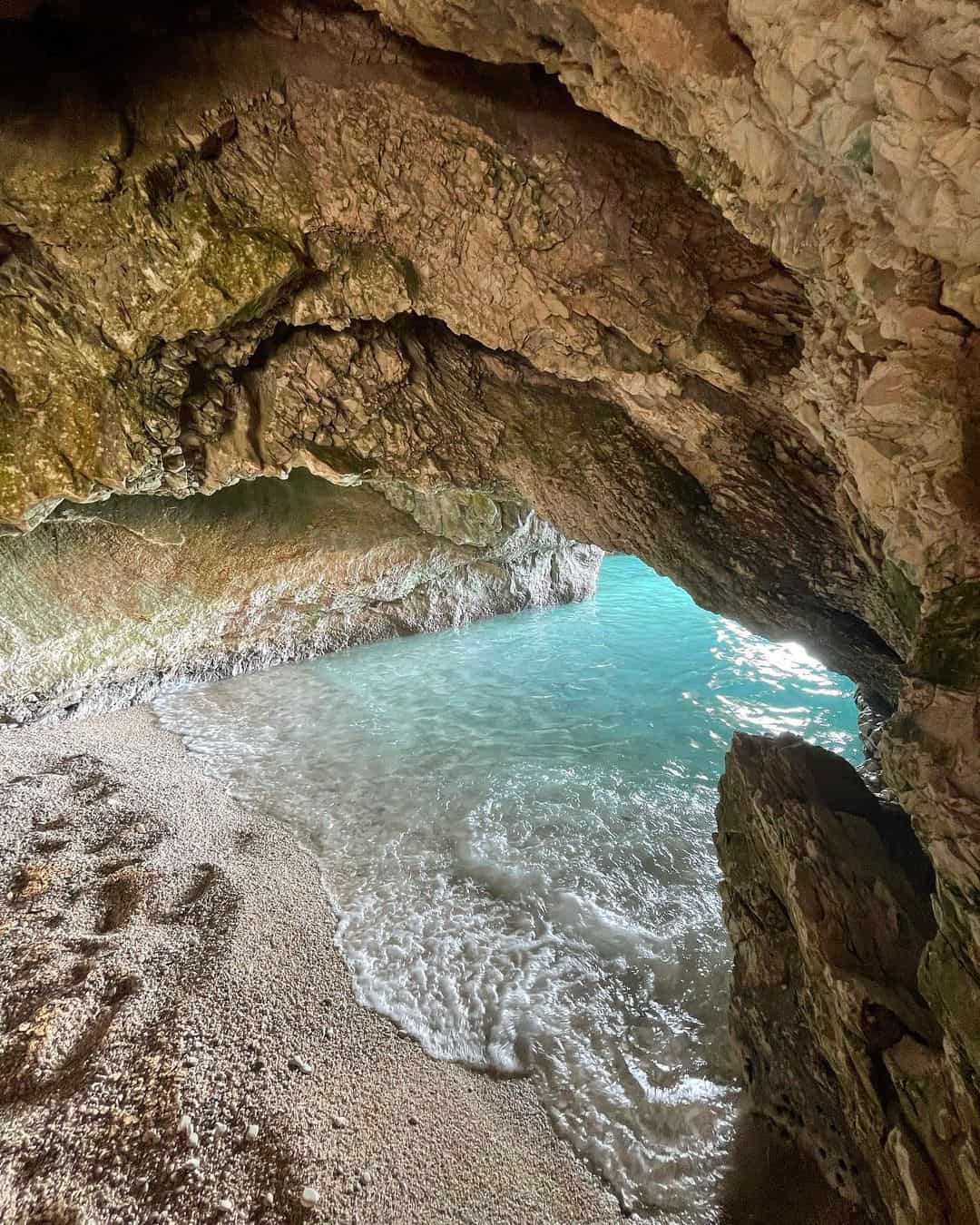 Kefalonia is one of the best of the Ionian islands when it comes to its beaches. There are more than 40 different Kefalonia beaches, each one seemingly more beautiful than the last.
Myrtos is the most famous stretch of coastline on the island and one of the most photographed beaches in the world. The white pebbled beach sits within a natural bay flanked by steep cliffs and verdant pine forests.
Myrtos beach has been awarded a blue-flag for its safety and cleanliness, as has the breathtaking beach of Antisamos near the little town of Sami. The beaches on the island's south coast offer golden sands, and serviced spots with all the amenities that are perfect for family vacations.
The north is home to upscale villages and virgin beaches accessible only by boat.
Rhodes
Rhodes ("Rodas") is the largest island in the Dodecanese. Its well-preserved Mediterranean old town is a treat for travellers, as is the spectacular Acropolis of Lindos and all of the golden sandy beaches that run along the southeast coast.
Faliraki is perhaps the most famous beach in the area and although it has gained something of a reputation as a raucous party destination, it is easy enough to avoid the partygoers if you are looking for something quieter. Close to lovely little Lindos, you will find St Pauls Bay, with its excellent selection of beach bars, and the equally charming Anthony Quinn Bay.
For lesser-known spots, add Mavros Kavos, Kopria, Glyfada, and Areta beaches to your Rhodes checklist.
Best Greek Islands for Beaches: FAQs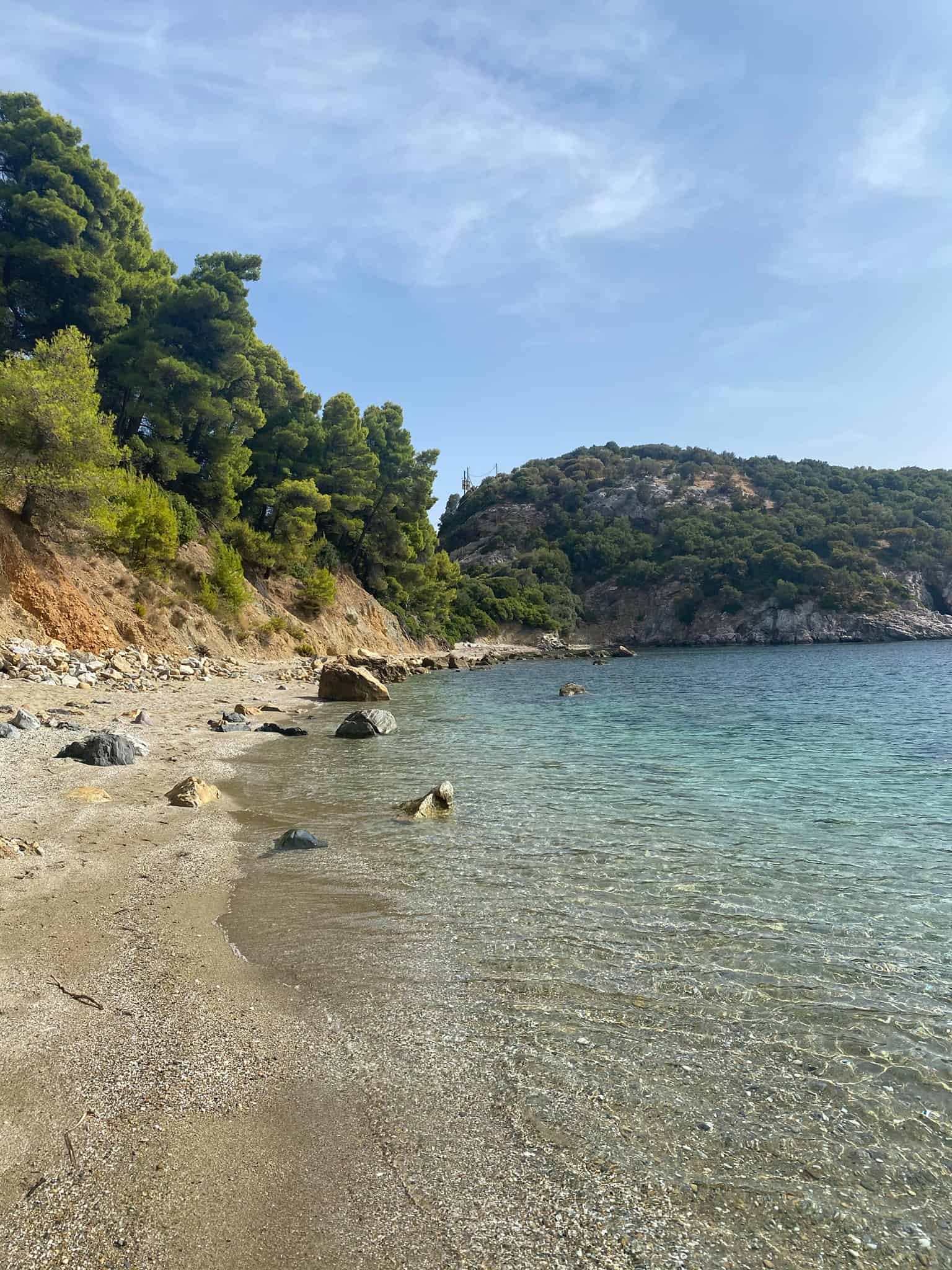 Do you have any further questions about finding the best Greek Islands for beaches or planning your trip to Greece in general? The answers to some frequently asked questions are detailed below.
Hopefully, you'll find the information that you are looking for there. If not, please do not hesitate to reach out to me.
Which Greek island has the best beaches?
With so many gorgeous places to choose from, it is tough to choose the absolute "best" Greek island for beaches. It's somewhat subjective but if you are looking for sandy beaches, you will love Naxos, Paxos, and Kefalonia.
For unique scenery and gorgeous nature, Skopelos, Alonissos, and Milos are underrated spots.
Which Greek island has the best white sand beaches?
Paxos and its sister island Antipaxos are two of the best spots in Greece for white sand beaches that are reminiscent of a tropical island paradise in the Caribbean. Think turquoise blue water and fine, powdery white sand backed by lush vegetation.
Which Greek island has the clearest water?
Diaporos island close to Halkidki is a local secret known as the "blue lagoon" because of its crystal-clear blue water. It's popular to rent a boat in Vourvourou and sail out here for the day to go snorkeling and swimming. Paxos, Antipaxos, and Kefalonia also have gorgeous waters.
Which Greek island has the warmest water?
Generally speaking, the further south you go in Greece, the warmer the water is. So, the southernmost Cyclades, and some of the Dodecanese islands in the southeast Aegean (Rhodes, Symi, and Kos) are the warmest year-round.
Final thoughts on the best Greek islands for beaches
There is really no such thing as a bad Greek island so wherever you end up choosing for your vacation – whether you plan on island-hopping or you just want to enjoy two weeks of R&R in one place, you won't be disappointed. You may also want to consider travelling outside of the peak season if avoiding crowds is important to you.
July and August are by and large the most popular times of year to visit Greece. Late May, June, and early September can also be busy. If you travel in early May or late September/early October, you can still enjoy sunny climes and amazing beach days yet avoid some of the chaos.
If you are visiting Athens as part of your Greece itinerary too, you might also enjoy reading this guide to the best beaches near Athens. I also run a Facebook group called "All Greek to Me" to help travellers and expats in Greece organise their trips.
Safe travels! Geia sou! Melissa xo
---