Looking for the best hotels in Athens Greece? As is to be expected in a city that is so historic and popular with tourists, there is an abundance of excellent hotel options in the Greek capital.

You will find accommodation to suit every budget, taste and travel style here. Better still, Greece, in general, is a much more affordable travel destination than many other European countries.

Your money goes further here. So, in Athens, you are able to indulge in a luxury stay without the luxury price tag.

Here, you can enjoy budget options for as little as €30-40 a night, stylish, upper/mid-range options for €80-90 a night, and absolute luxury stays for between €150 and €200 a night. Athens, in general, offers more bang for your buck.

You will find clean, comfortable, modern branches of well-known international hotel chains here such as the Hilton or the Hyatt. If you are looking for unique and quirky hotel options that differ from your classic cookie-cutter hotel rooms, you will find those in abundance here too.
14 of the Best Hotels in Athens Greece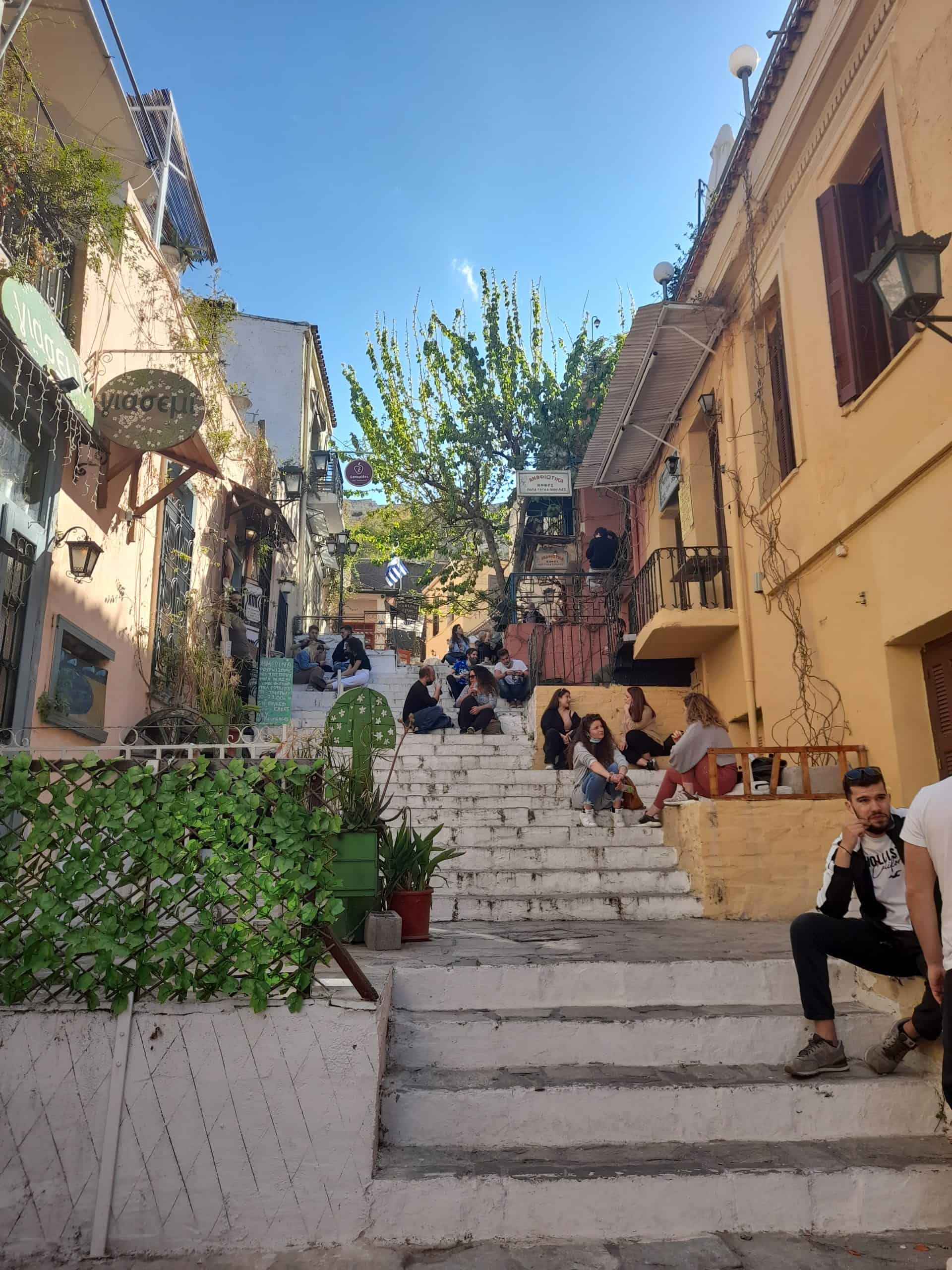 A selection of the best hotels in Athens Greece is shortlisted herein for your consideration. The majority of these properties are located in central Athenian neighbourhoods.
This is perfect as it means that not only do you have a plethora of Athens nightlife options and Athenian restaurants right on your doorstep. You are also just a short walk away from the city´s main attractions. (The Acropolis, the Ancient Agora, the Temple of Olympian Zeus, etc).
Coco-Mat Athens BC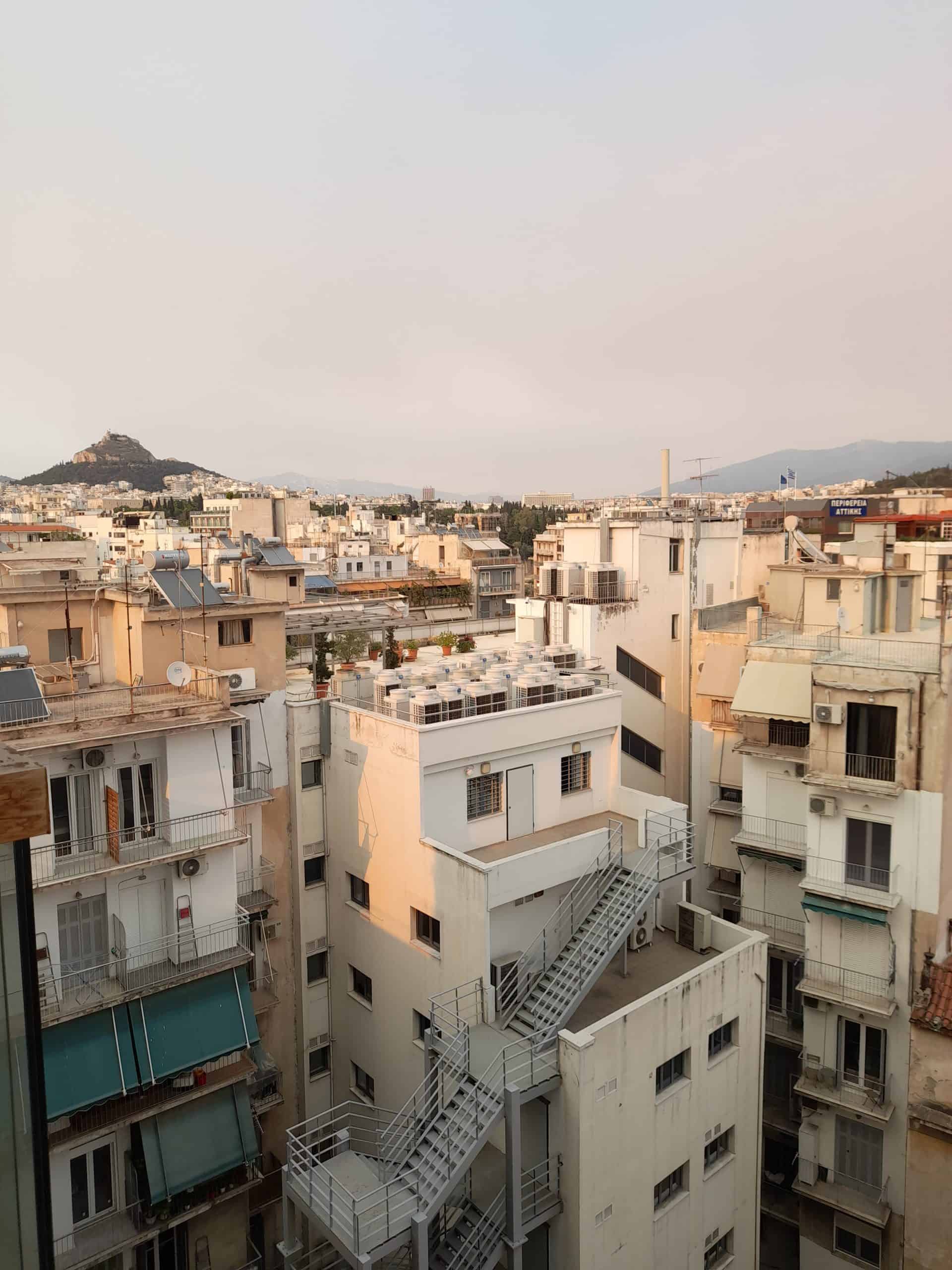 Where: Falirou 5, Athina 117 42
The Cocomat Athens BC hotel in quirky Koukaki is one of three luxurious Cocomat hotels in downtown Athens. The hotel is the brainchild of Paul Evmorfidis, a Greek businessman that owns the Cocomat luxury mattress brand.
Greek Cocomat mattresses are made of natural materials, stacked in multiple layers, and are designed to offer relaxing & comfortable sleep. This concept of comfort, luxury, and nature is the main focus at Cocomat hotels.
Rooms at the Cocomat BC have been decorated with a neutral colour palette using chic, sophisticated modern furnishings. All rooms are equipped with a minibar and complimentary luxury toiletries provided by the exquisite Greek brand Zealots of Nature.
Better still? Guests are provided with a little gift bag at check-in that contains an array of complimentary treats, including beers from local craft breweries, and soft drinks.
Particular highlights of this property are the Roman mosaic which can be seen beneath a glass platform on the mezzanine floor, and the rooftop bar and pool. A fabulous buffet-style breakfast is included in the cost of most rooms and suites and food is prepared using only the best local ingredients.
Koukaki, where Athens Cocomat BC is located, is one of the best areas in Central Athens. Think of it as Athens' answer to Greenwich Village with its plethora of eclectic coffee shops, independent art galleries, thrift shops, and boutiques owned by local Greek designers.
Rooms start from €130 per night including breakfast and prices vary depending on the season. Click here for the latest rates and availability.
The Foundry
Where: Sarri 40, Athina 105 53
The Foundry is one of the best hotels in Athens if you are looking for something completely unique. This building, which dates back to 1930, originally housed a font foundry and a publishing house.
Today, the industrial premises have been converted into luxury accommodation in the heart of Psyri. The rooms still retain many of their original features.
For instance, their exposed brick walls, pipes, fixtures and fittings, twelve-foot ceilings, and floor-to-ceiling windows. The renovated building injects a new lease of life into an old structure. However, it still retains the authentic history and grit of its former purpose.
The rooms offer a blend of plush modern furnishings and vintage touches that somehow just work. Contemporary kitchens sit beside old wood-burning stoves and vintage pianos, while geometric prints adorn the walls.
From the windows and courtyards, you have unparalleled views over downtown Athens. Arguably the highlight of a stay here is the rooftop terrace garden overlooking the Acropolis.
Indulge in a traditional Greek breakfast here complete with eggs made to order, Greek pastries, and a strong Greek coffee. Alternatively, stop by in the evening to enjoy cocktails infused with Greek mastiha.
Apartments start from €140 per night including breakfast. Click here for current rates and availability.
Hotel Semiramis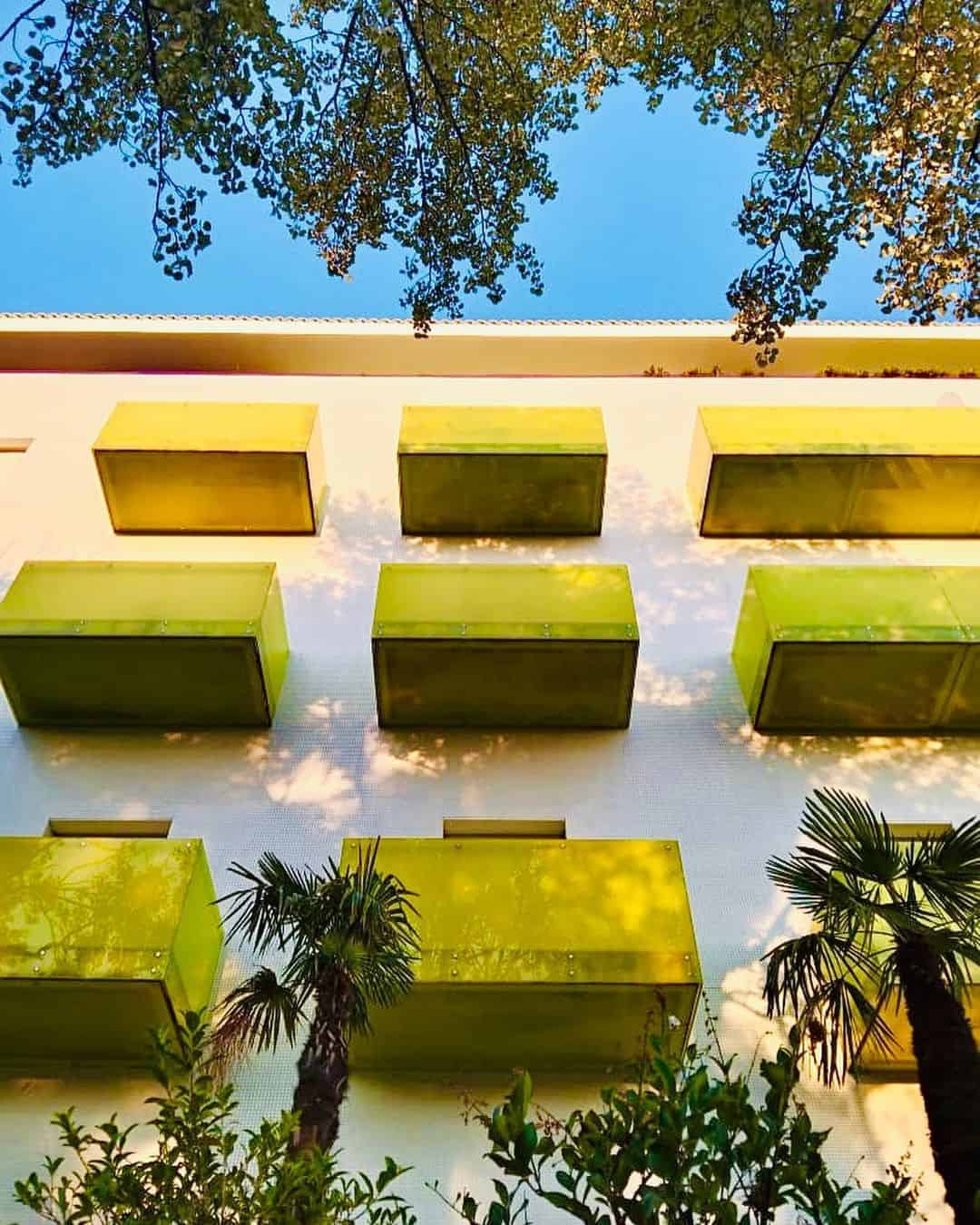 Where: Char. Trikoupi 48, Kifisia 145 62
The Hotel Semiramis is one of the best hotels in Athens if you are looking for something a little different. This ultra-luxurious property set in Athens' Kifissia district was designed by acclaimed Artist Dakis Joannou and Designer Karim Rashid.
The property's interior and exterior have been decorated in playful, bold shades of pink, white, neon yellow, and green. The pool is multicoloured and the sunbeds and cabanas are hot pink.
Entering the hotel lobby makes you feel as though you have stepped inside a contemporary art exhibit. Indeed, all of the communal spaces display ever-changing galleries of fine art pieces, while the rooms are decorated with trendy, futuristic furnishings.
Many of the little quirks and design features that you will find here are things that you have probably never encountered anywhere else in the world. For instance, a lot of the rooms boast bouncy rubber floors and light box art installations behind the bed.
The eccentric structure has been created with Rashid's signature curvaceous architecture. Kifissia, where the hotel is located, is approximately 14km north of downtown Athens and is overlooked from most people's Athens itineraries which is a shame.
Leafy, upscale Kifissia is to Athens what Beverly Hills is to Los Angeles. This is one of the best places for shopping in Athens.
The area is characterised by its grand restored mansions, scenic parks, and elegant tree-lined promenades that are filled with upscale eateries and designer boutique stores. It is easy to reach the area via metro from Omonia or by taking a Greek cab.
Prices at the Athens Hotel Semiramis start from €120 per night depending on the season. Browse current room rates and availability here.
Fresh Hotel
Where: 26 Sofokleous Str. 10552 Athens
Athens' Fresh Hotel is a stylish urban retreat that defies the conventions of what constitutes a "luxury" hotel. When it opened, it was a defining moment in Greek tourism. Fresh was one of the city's first design hotels and its construction took critics by storm.
The building itself stands out from the crowd. Fresh hotels' walls and balconies are decorated in pastel shades of pink, blue and yellow. This unique light and "fresh" colour theme continues throughout the premises.
Rooms have been recently renovated with plush modern furnishings and pops of colour designed to make a statement. When evening rolls around, head up to the chic rooftop bar that sits atop the premises.
Have the bartenders rustle you up a mastiha cocktail or a quintessentially Greek beverage as the sun sets behind the Parthenon. Room prices start from €90 per night. Current room rates and availability can be found here.
NEW Hotel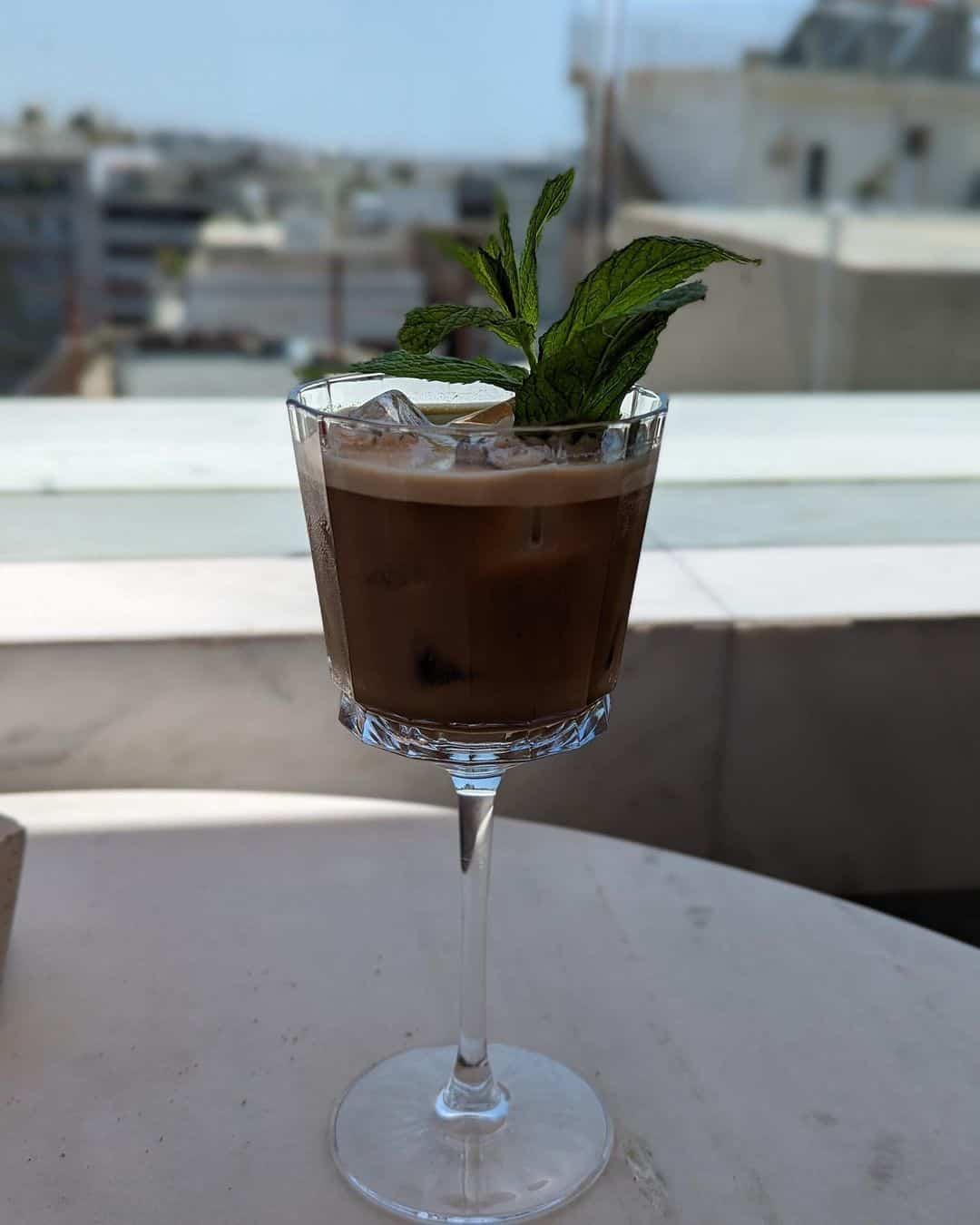 Where: Filellinon 16, Athina 105 5
NEW Hotel's location is a perfect base for your Athens itinerary. It is situated just across from the National Gardens, right in the heart of the action.
The hotel has been lovingly created by Brazilian Designers Humberto and Fernando Campana. Humberto and Campana have taken a unique approach to design by making use of castoffs and old, broken items.

These items have then been used to create furnishings for the hotel rooms, as well as for fixtures for the interiors. For instance, the 'favela' walls of the lobby have been crafted by using pieces of recycled furniture and old wood.
Regardless of how much you have travelled, it's likely that you have never seen a hotel design as unique as this. NEW Hotel Athens has a total of 79 rooms and suites, all of which are oozing with artistic flair.
Handmade furnishings, reclaimed woods, and edgy designs are prominent themes throughout the premises. It is clear to see that explicit detail has gone into every aspect of the hotel's creation.
Everything is flawless – from the communal hotel areas to its rooms and bathrooms. Two excellent restaurants are located on-site: the rooftop Art Lounge Bar, and the ground floor's New Taste restaurant. Both serve exquisite Mediterranean and Greek cuisine.
Don't miss the hotel's breakfast. The in-house bakery is managed by French chef Christophe Vasseur, and fresh croissants and bread are cooked daily.
Rooms start from €180. Browse the current availability and room rates here.
AthensWas Hotel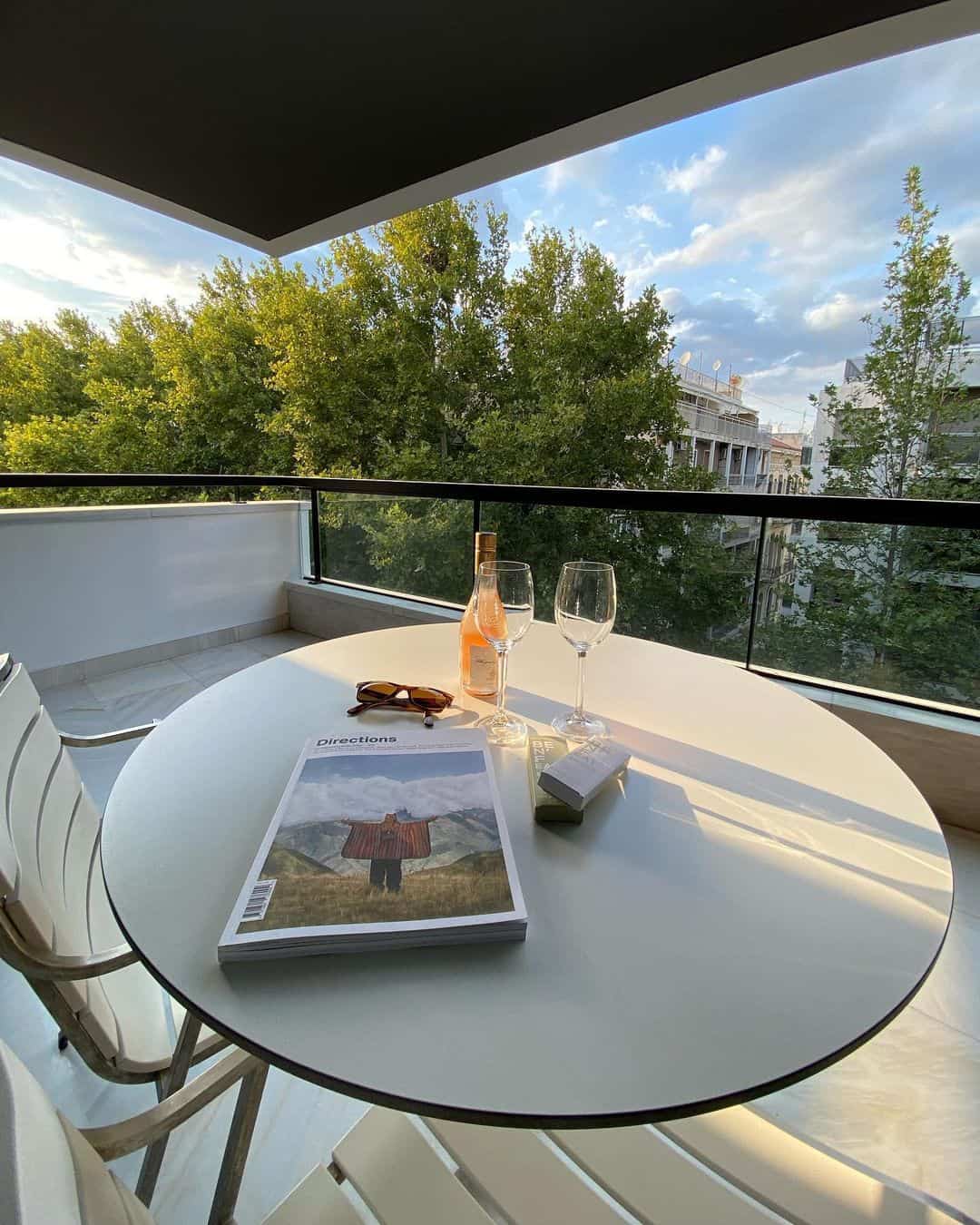 Where: Dionysiou Areopagitou 5, Athina 117 42
The AthensWAS hotel has quickly established a cult following since it first opened its doors in 2015. The luxurious premises boast a simple, yet elegant and modern design.
The hotel contains just 20 rooms and suites, making a stay here a nice intimate experience. Each room regardless of size boasts a veranda that overlooks the Acropolis and the ancient neighbourhood of Plaka.
Dionysiou Areopagitou street, where the hotel sits, is one of the liveliest pedestrian boulevards in the city. Following the cobbled street leads you past the Ancient Acropolis and towards Filoppapou Hill and Socrates prison.

Whatever time of day you wander along its length, you are likely to be greeted with an abundance of street vendors and entertainers. The little stalls sell everything from artisanal products and handicrafts that make perfect Greek souvenirs, to traditional Greek street food and warm, creamy salep drinks.
It is evident that the hotel's style has been inspired by the city that surrounds it, and the rich cultural heritage and history of Greece. The luxurious materials used in building the rooms and their furnishings have been sourced from locations around Greece.
Fine marble, walnut wood, and exquisite fabrics have been sourced everywhere from the Peloponnese to Northern Greece. Black and white monochrome shots of Athenian street photography and images from Athens museums are displayed throughout the halls and lounges.
Breakfast, lunch, and dinner can be enjoyed in the chic brasserie coffee bar by the lobby. Alternatively, head on up to the "Sense" rooftop bar which is believed to provide one of the best panoramas in all of Athens.
Rooms start from €200. Browse the current availability and room rates here.
Periscope Hotel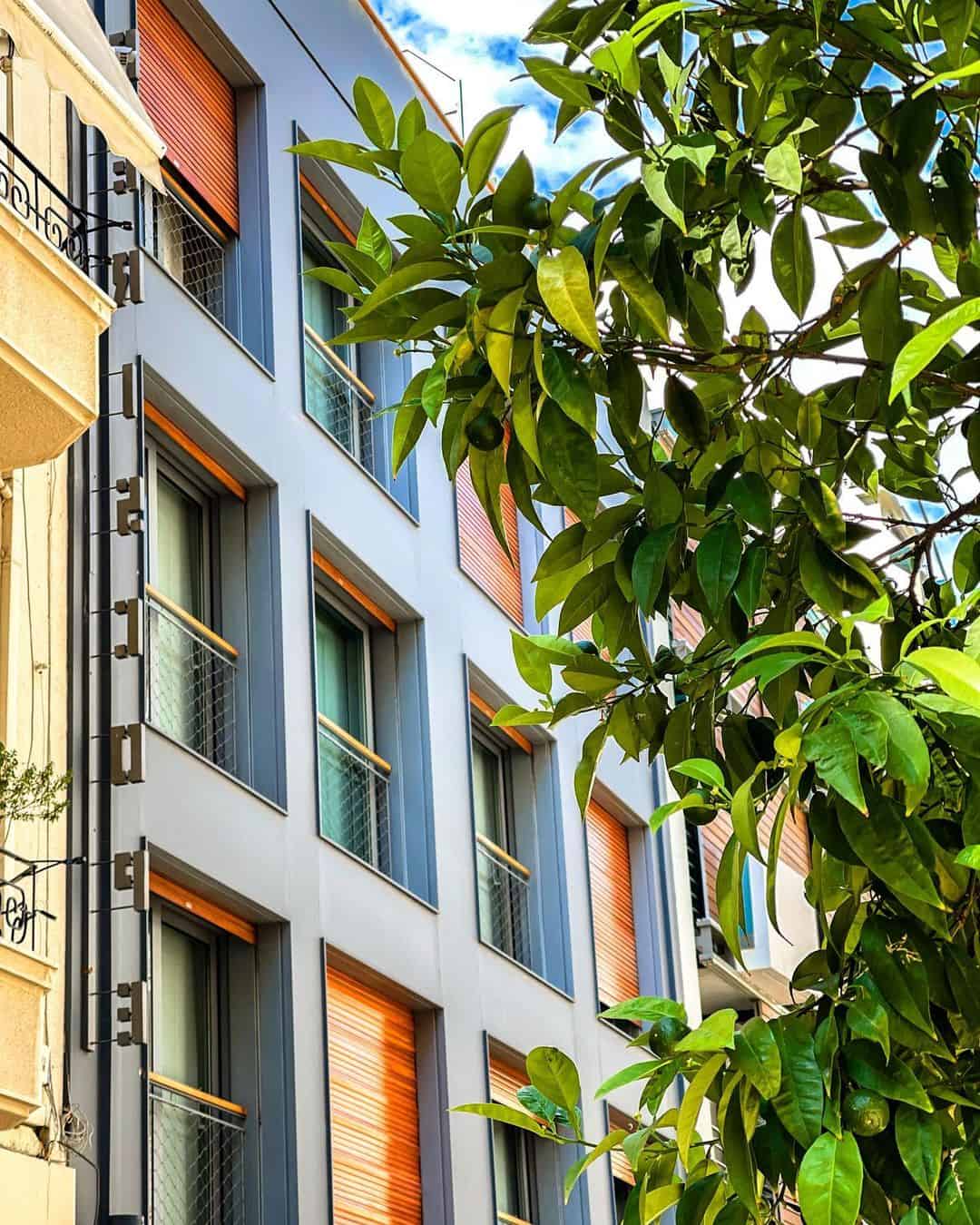 Where: Haritos 22, Kolonaki, Athens, Greece
The luxurious Periscope hotel is located in Athens' upscale Kolonaki district. Here, on the slopes of Lycabettus hill, you are surrounded by the most exclusive restaurants, bars, and boutique stores in Athens.
The hotel follows a simplistic, contemporary design. The rooms and shared spaces are decorated with sleek furnishings in delicate hues of blue and grey. Ceilings and walls display wonderful street photography that displays scenes of life in Athens.
Rooms and suites overlook the tree-lined promenades of elegant Kolonaki. Opt for the penthouse suite though, and you can enjoy a soak in your own private rooftop jacuzzi while gazing across to the Acropolis.
Prices start from 140 euros per night. Click here to check the current rates and availability.
Perianth Hotel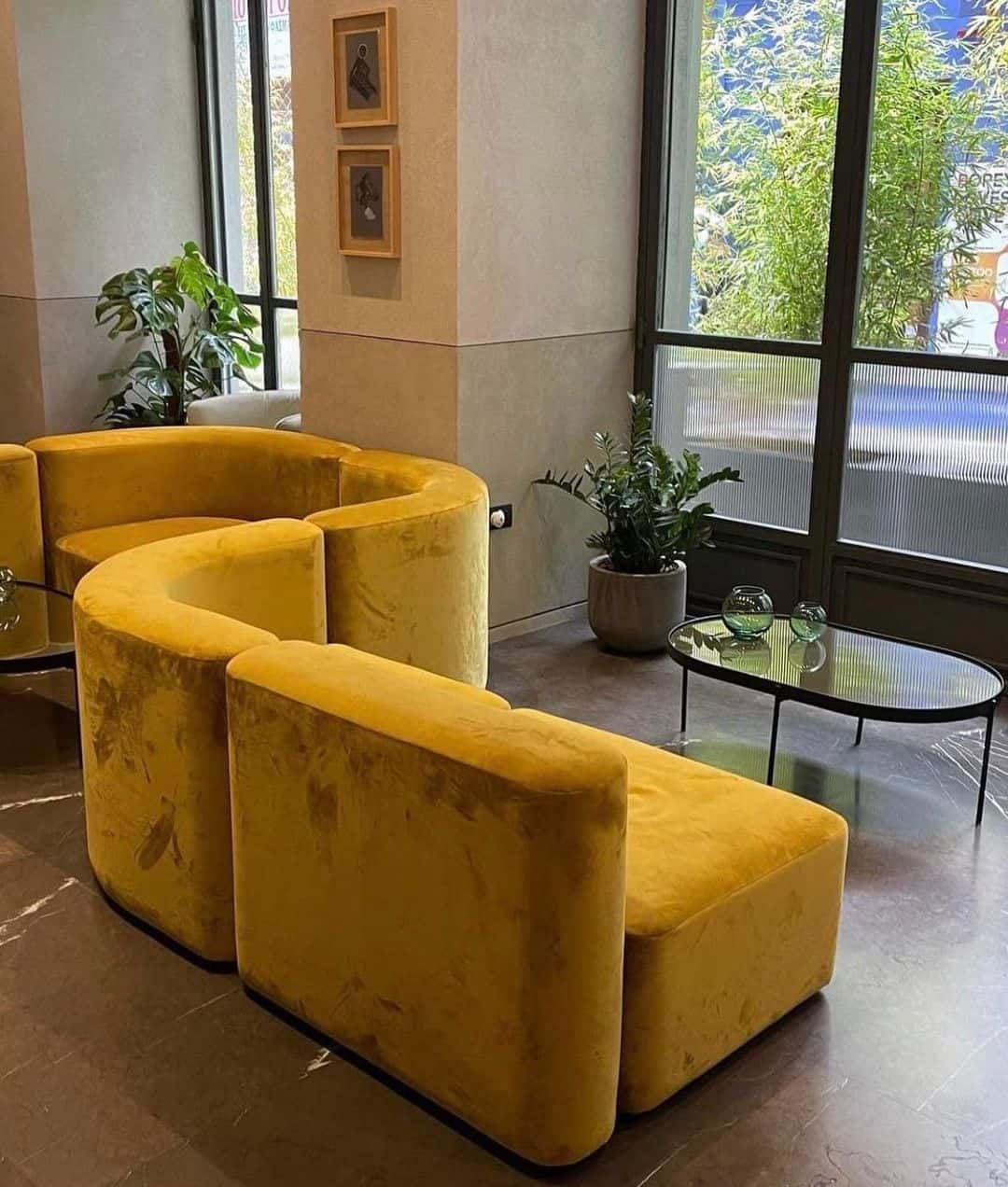 Where: 2, Limpona Street, Athina 105 60
The Agia Eirini square in Psiri is one of the trendiest places to see and be seen on a Friday or Saturday night out in Athens. It is here where you can find the boutique Perianth hotel.
The Perianth is a modern design hotel that combines simplistic elegance with contemporary art and modern furnishings. The interiors at the Perianth are ultra-sleek and modern.
Think terrazzo floors, chic black marble, abstract art installations, and curvaceous walls. At breakfast time, enjoy a freshly baked pastry and a strong espresso from the ground floor Il Baretto Italian cafe. As the sun sets, enjoy a nightcap with a view from the rooftop bar amidst an eclectic sea of street art and graffiti that decorates the surrounding buildings.
Rooms at the Perianth start from €160 per night. Browse room rates and availability here.
The Four Seasons, Astir Beach, Athens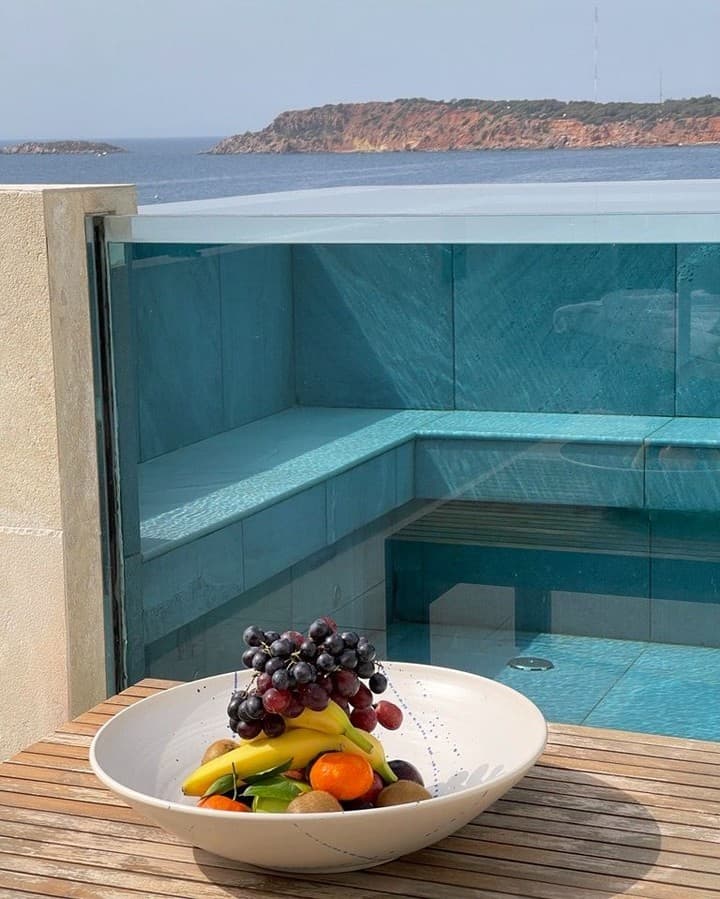 Where: Apollonos 40, Vouliagmeni 166 71
If you want to escape the chaos of downtown Athens, the Athenian Riviera, and its towns of Voula, Vouliagmeni and Glyfada are good places to base yourself during your trip. The Four Seasons Athens' location enables you to enjoy a beach holiday, a city break, and a glamorous getaway all in one.
This region attracts an elegant crowd and has captured the hearts of many notable figures over the centuries. The likes of Frank Sinatra, Sophia Loren, and Bridgette Bardot all vacationed in the Athens Riviera during the 1950s and helped the area gain a reputation as being Greece's very own Cote d´Azur.
Opting to stay here means that you are perched on the idyllic coastline overlooking cerulean waters. It doesn't get much better than enjoying canapes beneath your private cabana, outside of your private bungalow while looking out to views of the Saronic Gulf.
The rooms and bungalows have a signature Four Seasons look. Delicate pale shades of beige, sea blue, and grey decorate the bedrooms.
Meanwhile, the communal areas feature ornate chandeliers, marble floors, and plush furnishings. Every room has a sea view, and even the bathrooms boast glass-paneled walls so that you can look out across the water as you soak in the tub.
Check room rates and availability at the Four Seasons here. Rooms and bungalows start from €300 per night.
The Margi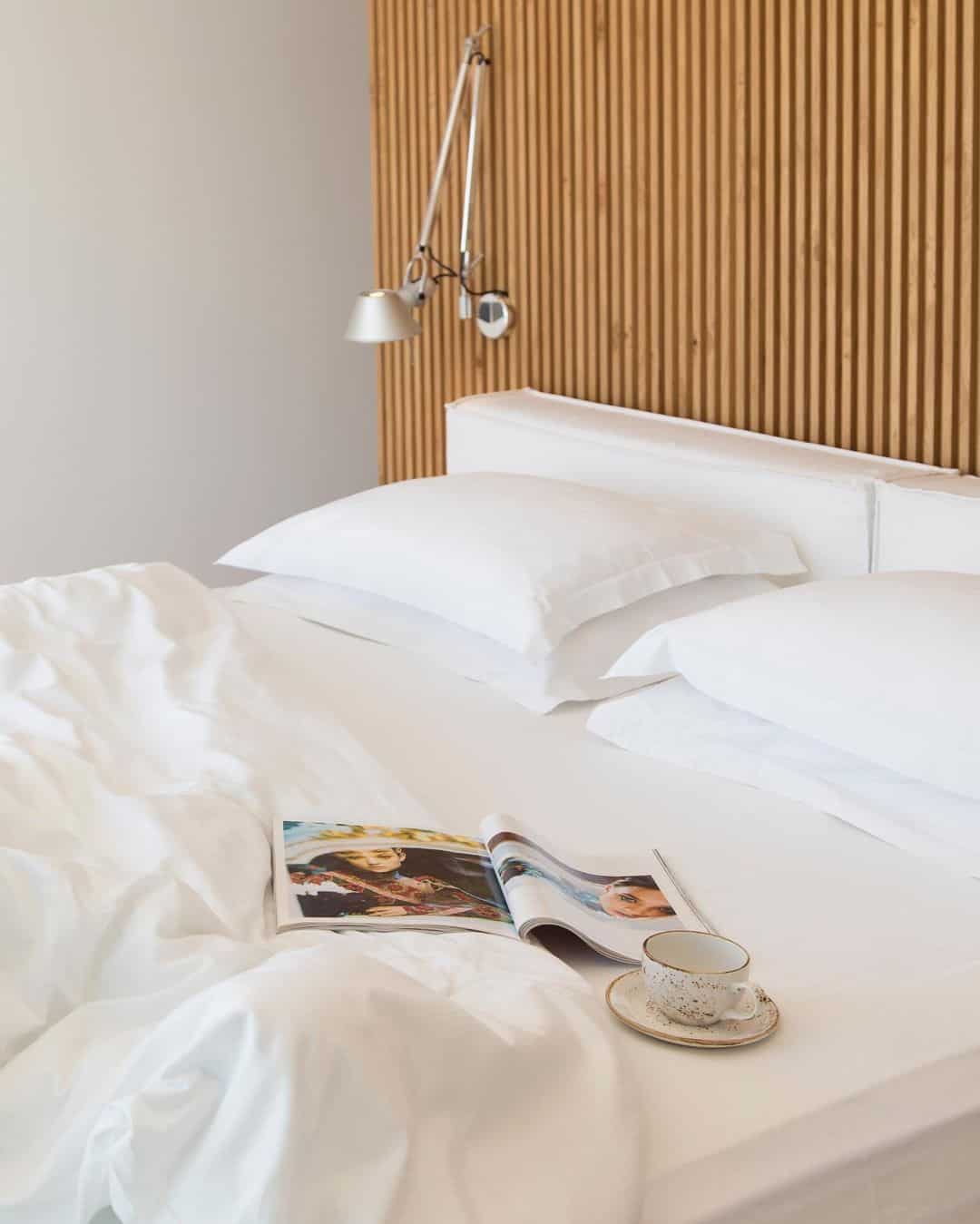 Where: Litous 11, Vouliagmeni 166 71
The Margi hotel, set in the glamorous beach town of Vouliagmeni, is not only regarded as being one of the best luxury hotels in Athens but as one of the best luxury hotels in the world! The property has won numerous awards and accolades and has been featured and recommended by various luxury travel publications.
The Margi exudes an air of effortless, old-fashioned elegance. It was renovated in recent years in conjunction with the hotel's co-owner: Greek Architect Giagkos Agiostratitis.
A colour palette of beige shades and light browns extends throughout both the private rooms and the communal areas of the hotel. All areas boast antique furnishings sourced throughout Greece, glittering chandeliers, and handwoven carpets.
All bathrooms are filled with a plentiful supply of fragrant toiletries from the Greek homeopathy brand Korres. Snuggly white slippers and fluffy bathrobes are also provided for your comfort.
At the Margi, you are treated like royalty from the moment you arrive until the moment you check out. Some of the best beach clubs and beaches near Athens are situated just a short walk or cab ride away.
Nothing beats spending a lazy afternoon by the Margi pool beneath your own private cabana. When dinnertime rolls around, treat yourself to a meal at the Malabar Restaurant.
The eatery serves traditional Mediterranean and Greek dishes prepared with a modern twist. Don't miss the pappardelle pasta with braised pork and "mizithra" cheese cream, or the stonebaked giouvetsi with lamb and "Graviera" cheese from Naxos.
Rooms at the Margi start from €200 a night. Click here for the latest rates and availability.
Azur Boutique Hotel
Where: 10, Dekelias & Danais Streets, 16671, Vouliagmeni
The Azur Boutique Hotel is a chic, modern hotel in the heart of Vouliagmeni. The gorgeous property, designed in shades of white and blue, is quintessentially and unapologetically Greek.
Its location places you just 200m away from Vouliagmeni and Okeanida beaches, their soft, powdery white sands, and their calm translucent blue waters. In a sea of luxury hotels in the Athenian Riviera, Azur Boutique stands out above the rest.
Why? On account of the private plunge pools that most rooms offer. There is no better way to relax after a day of sightseeing in Athens, than in your own private pool with a glass of locally sourced vino in hand.
Rooms at the Azur Boutique hotel start from €219 per night. Click here for the latest rates and availability.
King George Hotel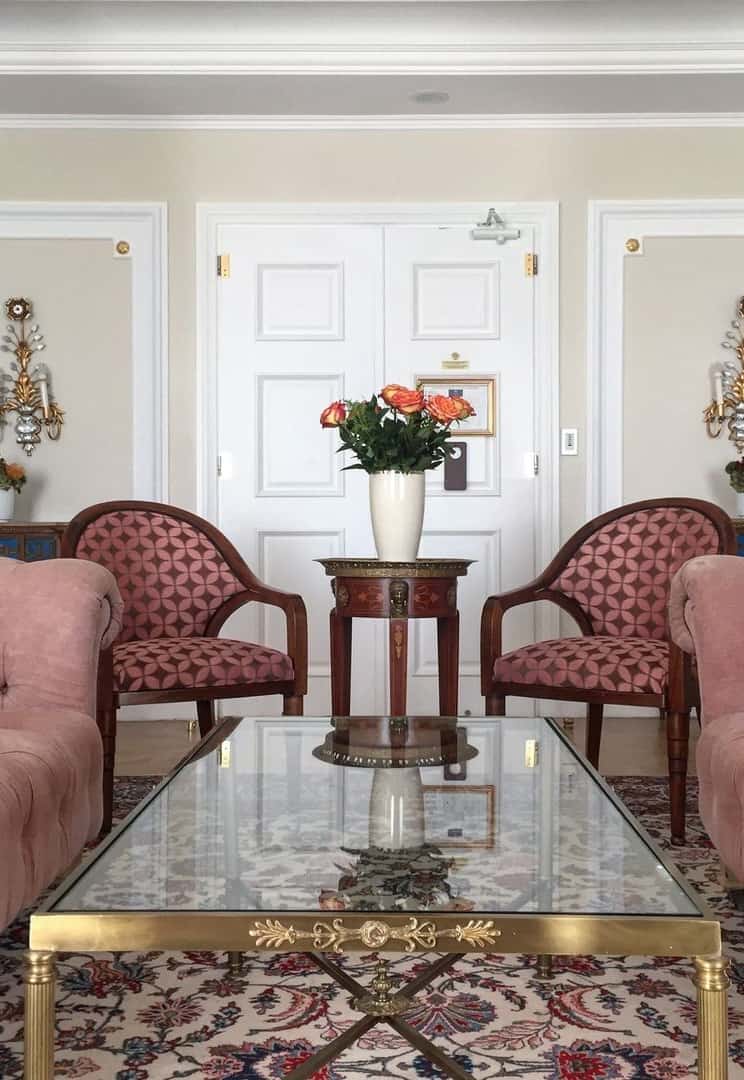 Where: 3 Vasileos Georgiou A, Syntagma Square Str, Athina 105 64
The centrally located King George Hotel dates back to the 1930s and possesses an air of timeless elegance and old-fashioned luxury. The structure is a former annex of the Royal Palace and the Prime Minister's residence. As such, it definitely provides accommodation fit for royalty.
Every corner of the King George Hotel exudes opulence. A stay here is more reminiscent of being in a palace or a chateau than a hotel.
The polished marble halls are decorated with Murano chandeliers, antique furnishings, inlaid marble, and elegant art pieces. Rooms too are fit for a King, boasting stenciled ceilings and plush comfortable furnishings.
King George Hotel sits in Athens' main Syntagma square. It does not get more central than this.
The most notable city sights (the Acropolis, Plaka, the Panathenaic stadium, Koukaki, etc) are accessible within just a few minutes of walking.
Rooms start at €300 per night. Browse the latest King George Hotel room rates and availability here.
Divani Caravel Hotel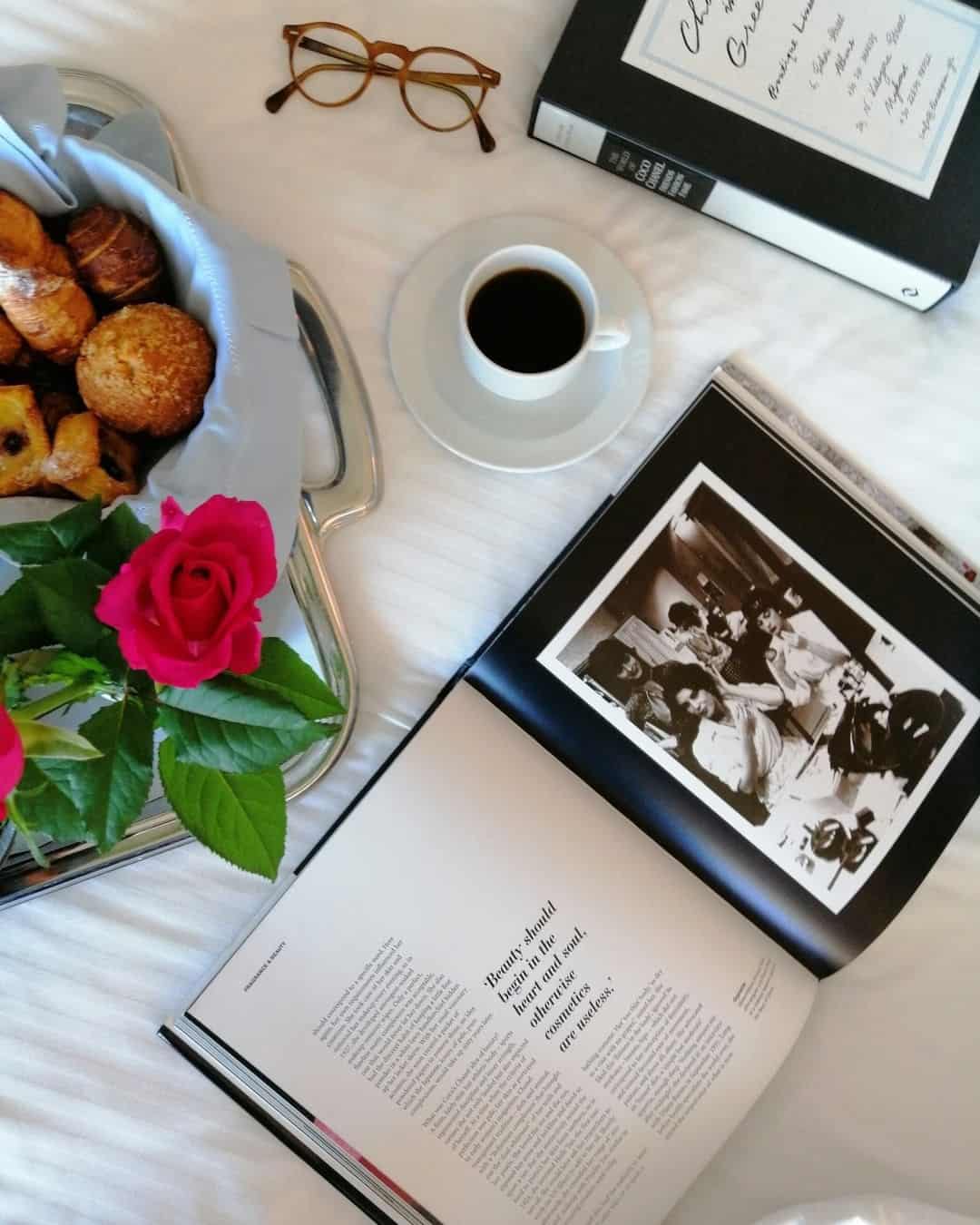 Where: Leof. Vasileos Alexandrou 2, Athina 161 21
The Divani Caravel is one of the best hotels in Athens for a luxury stay. It boasts opulent interiors and a stylish rooftop pool that overlooks the Acropolis.
The hotel's location also provides a little extra something for those who are eager to get off the beaten path in Athens and immerse themselves in the local culture while in Greece. Situated close to Athens' Evangelismos metro station, the Divani Caravel hotel is just ten minutes from the central attractions.
It is also perched on the edge of the artsy Pangrati neighbourhood, and close to numerous Michelin-starred restaurants in the nearby Hilton district. Staying here enables you to explore Athens like a local.
Rooms at the Divani Caravel are elegant with something of a colonial feel – think wooden floorings and rattan chairs. The Divani Caravel Athens offers rooms and suites that start from €130 per night. Browse the latest King George Hotel room rates and availability here.
St George Lycabettus
Where: Kleomenous 2, Athina 106 75
The St George Lycabettus Hotel has stood proud as one of the best luxury hotels in Athens for over half a century. The recently renovated property stands in the shadow of Mount Lycabettus in the upscale Athenian neighbourhood of Kolonaki.
The interiors and rooms of St George Lycabettus seamlessly combine timeless elegant furnishings with modern touches. Think pale marble floors and wooden furnishings paired with a light and airy colour palette, contemporary art pieces, and animal print fabrics.
The St George Lycabettus Hotel boasts an array of rooms and suites starting from €100 per night. Browse room rates and availability here.
Final Thoughts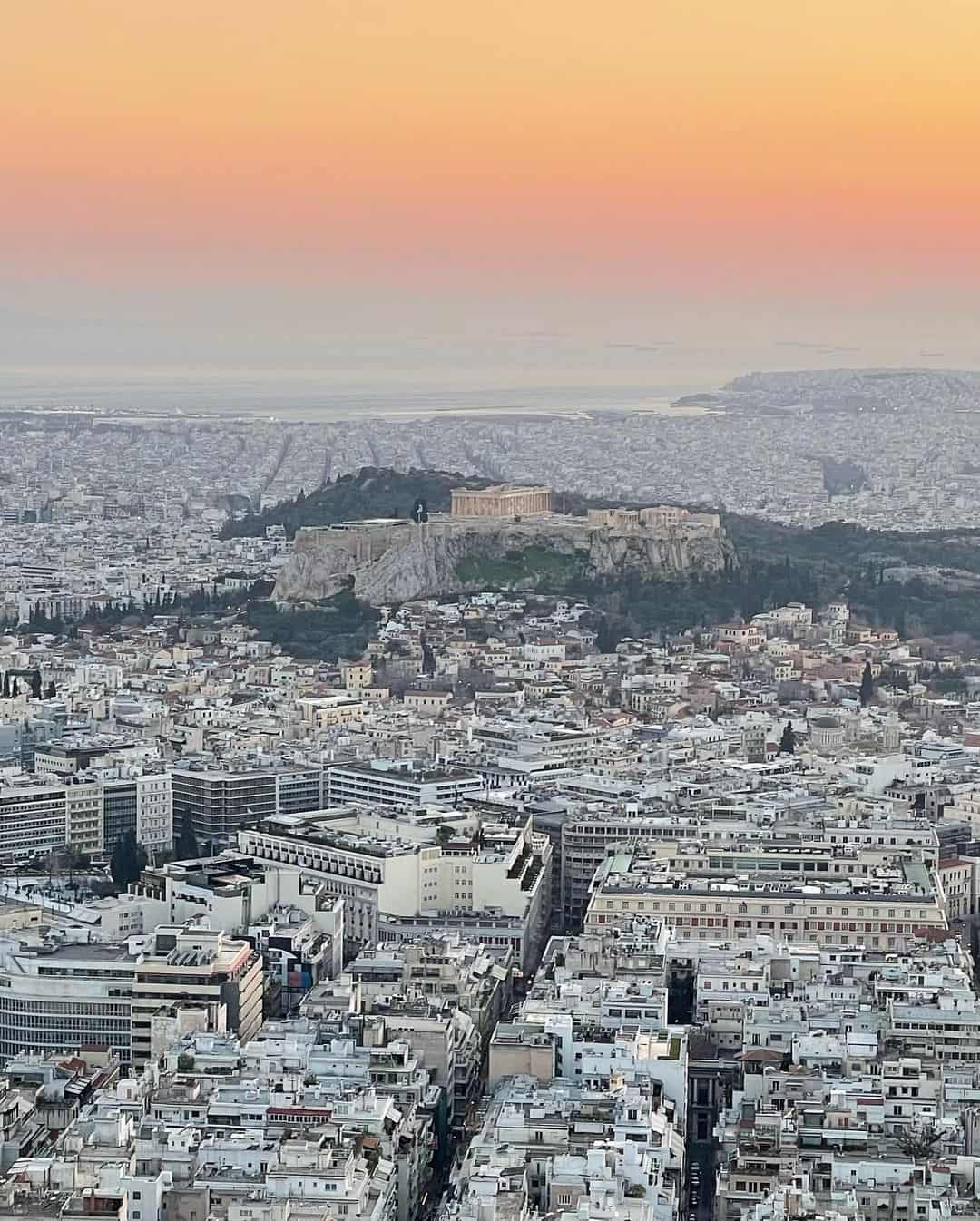 The room rates and availability for the best hotels in Athens listed here vary depending on the season. Rates can be as much as 50% higher during the peak months of July and August.
This is not the best time to travel to Greece, and so it is advisable to avoid travelling during this time if you can. If you visit Athens during the summer, you are also best advised to book everything in advance.
The best time to travel to Athens is during the shoulder seasons. For instance, March to early June, or September to late October.
Have any further questions about the best hotels in Athens, where to stay in Athens, or how to explore Athens in general? I have been living in Greece since 2017 and would be happy to answer any queries that you may have.
Feel free to drop me an email or a comment below. Geia sou! Melissa xo
---