This Vietnam itinerary is all you need to have a wonderful time in the vibrant South-east Asian nation. It is easy to fall in love with Vietnam. This is a country steeped in stunning natural beauty and offering a stark contrast of civilisations – from cosmopolitan mega-cities to hill tribes and wooden houses.
Vietnam has been a worldwide favourite stopping point on the South East Asia backpacking trail for several years now. Planning a cross-country Vietnam itinerary is an ultimate travel bucket-list experience for many.
The country also makes a wonderful stop on a wider South East Asia trip. You can start in beautiful Laos, pass through magical Thailand, and then end with Vietnam and Cambodia.
I travelled cross-country through Vietnam two years ago – starting in HCMC (Saigon) in the south, and heading northwards to Hanoi, ethereal Halong Bay and the lush greenery and rice paddies of Sapa. As with travelling anywhere, a longer Vietnam itinerary allows you more time to get off the beaten path in Vietnam and to enjoy the country at a more relaxed pace.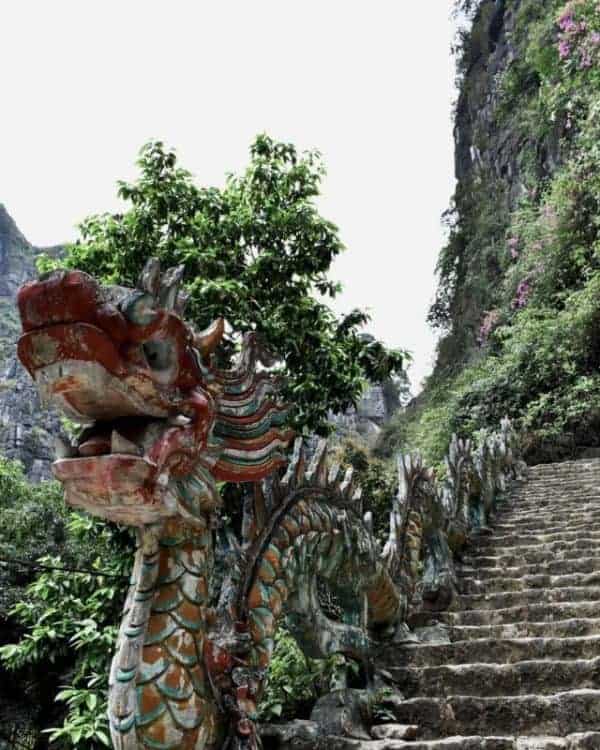 Given the size of the country, I would say that 3-4 weeks in Vietnam is the perfect amount of time. I realise that not everyone has that travel freedom and flexibility, however, and so this guide suggests a variety of Vietnam itineraries to suit every schedule, as well as useful tips for planning a trip to Vietnam.
When to Travel to Vietnam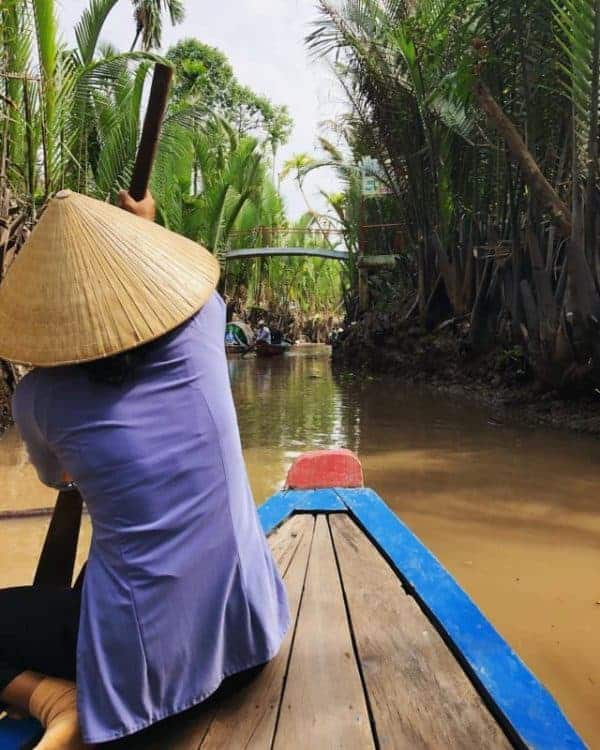 It should be noted that northern and southern Vietnam have slightly different climates to each other. Vietnam is over 600 miles in length and there is a significant amount of diversity between the different regions.
While choosing a suitable time to travel to Vietnam if you plan on visiting the whole country can be difficult, arguably the best time in general to visit Vietnam is in Spring (February to April) or Autumn (September and October).
During these periods, the weather in Vietnam is warm without becoming unbearably hot, and the daily rainfall is at its minimum. The summer months from June to August are incredibly humid in Vietnam with frequent heavy rainfall very likely.
Budget for Travelling in Vietnam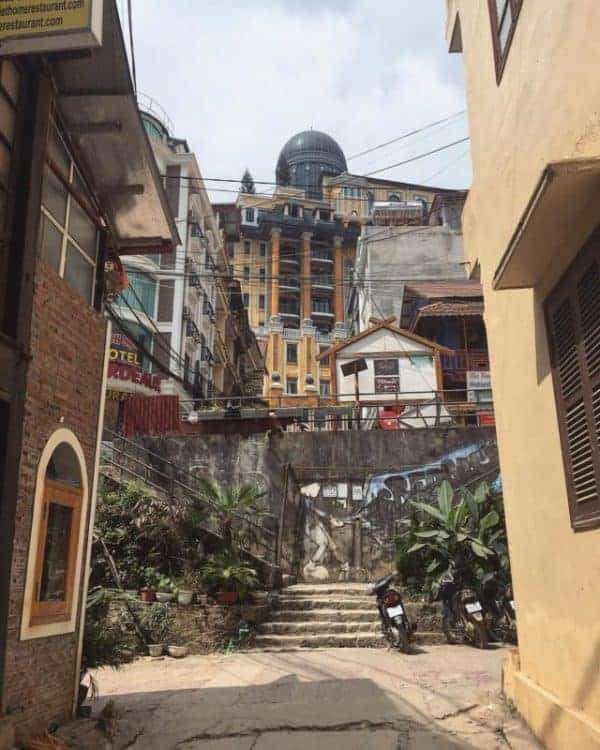 Vietnam is certainly a budget travel destination. It is possible to explore the entire country for an extended period of time without breaking the bank. The great news about travelling in Vietnam is that you do not need to be a budget backpacker in order to notice this.
If you are someone who would prefer a little more comfort and luxury as part of your Vietnam itinerary, mid-range hotels and spacious airbnb rentals are available for a much lower price in Vietnam as compared to when travelling in most countries.
The currency used in Vietnam is Dong. Check the latest exchange rates here.
Overall Vietnam Travel Budget
Budget travellers can allocate $20-$25 per day for travelling in Vietnam including accommodation, food and transportation. Of course, there are some additional "one off" expenses that you may incur throughout your trip that may bump this figure up on some days. (For example, if you decide to go on a Halong Bay tour, or if you hire a guide in Sapa).
Cost of Food and Drinks in Vietnam
Vietnamese food is incredible and a definite highlight of any Vietnam itinerary. Pho (beef noodle soup) is one of the most popular local dishes and can easily be found in the region of $1-1.50. A litre of water costs $0.60 and a beer or drink at restaurants costs around $1.
Expect to pay more if you visit a sit-down restaurant ($4-8). To be honest, the street food is so good in Vietnam that you can easily live off this during your entire trip. Vietnam is hygienic and it is normal to eat street food here so don't fear about that.
Cost of Accommodation in Vietnam
The quality of accommodation and value for money in Vietnam is incredible – even when compared to other Southeast Asian countries! I mostly stayed at mid-range guest houses and was able to secure rooms for between $20-$30 per night including breakfast. Hostel dorm rooms cost between $5-$10 a night and basic hotel rooms can be found for as cheap as $15.
Cost of Transport in Vietnam
Public transport in Vietnam is clean, efficient and cheap to use. Long distance buses will cost no more than around $10-20. (journeys of 8-15 hours), and long distance trains no more than $30-40.
Getting a Vietnam Visa
Vietnam visa requirements vary depending on your nationality. Check your government travel advice prior to your intended travel dates. Fellow British Citizens can travel visa free for up to 15 days in Vietnam until 2021. For stays of up to 30 days, it is possible to obtain a visa online.
Solo Travel in Vietnam
I travelled solo through Vietnam and I would generally say that Vietnam is a great place for solo travel. Since Vietnam lies on the well-trodden backpacker trail through Southeast Asia, travellers here are likely to run into other backpackers adventuring along the same route. This means that even if you are a relatively inexperienced or first-time solo traveller, you can feel rest assured that you will encounter other friendly faces along the way.

As with travelling anywhere, you should exert common sense when travelling alone in Vietnam. In some parts of the country, scams and petty crimes are common so you should always take care of your belongings. As a solo female traveller, I often felt that I received a lot of stares and unwanted attention from men, but never to the point where I feared for my safety.
Arguably my biggest annoyance in Vietnam was often feeling scammed or as though I had been charged a substantially higher price for something than I should have been. But experiencing the various beautiful places in Vietnam made up for any small negatives.
Getting Around Vietnam
Travel Vietnam by Train and Bus
It is easy to travel within and between the cities in your Vietnam itinerary by train and by bus. Vietnamese trains are the more expensive option of the two, but arguably worth it for the added comfort and space.
The "Reunification Express" is a train that runs between HCMC and Hanoi taking 30 hours in total. It is possible to rent sleeper cabins on these trains for long journeys and travelling Vietnam by rail is a pleasant way to admire the scenic countryside.
To save yourself stress and worry, always try and buy your train tickets a day or two in advance particularly on long distance journeys/sleeper trains. Review the Vietnam Railways website to check the latest up-to-date info.

Buses are an option for travelling in Vietnam, though rickety roads and chaotic driving can make long journeys unpleasant. This is perhaps an option for those budget travellers who are not overly worried about comfort.
Be sure to take care of your personal belongings while travelling by public transport in Vietnam. If you fall asleep with your iPhone on your knee, it will not be there when you wake up…
Taking Internal Flights in Vietnam
If you do not have the time and flexibility to travel the entire length of the country, another great option for travelling around Vietnam is to take internal flights. Perhaps you travel around the northernmost part of the country and then fly to the south or vice versa.
Internal Vietnamese flights are low cost and offer frequent connections. It is possible to fly from Hanoi to HCMC for just $50 or less. Most of the larger cities in Vietnam are well connected and travellers can take flights from Nha Trang, Da Nang, Phu Quoc, Da Lat, Hue, and a number of other places.
One important thing to note is that processes for catching internal flights in Vietnam is often altogether more chaotic and disorganised as compared to doing the same in more developed countries. Delays are common, and nobody queues properly. As such, you should always try and arrive at the airport a few hours in advance.
Renting Motorbikes in Vietnam
Renting motorbikes in Vietnam seems to be the trendy thing to do. You should be very cautious before going ahead with this. If you are not licensed to drive a motorcycle in your home country, you should not drive one in Vietnam.
The majority of insurance companies in Vietnam will not cover you for accidents and if an incident occurs that is your fault, the local government have strict penalties and fines in place. Not to mention, the roads here are already relatively crazy anyway.
Travelling Vietnam by Bicycle
If you have flexibility of schedule, travelling Vietnam by bicycle is a nice option. Whizzing past paddy fields and ramshackle villages filled with wooden huts is a quintessential Southeast Asian travel experience. There are several tour companies and travel sites online that organise "Vietnam by bicycle" style trips and excursions.
Travel Insurance for Vietnam
You should ensure that you have comprehensive travel insurance before travelling to Vietnam. Before purchasing any policy, you should check to ensure that it includes sufficient medical coverage. Insurance is especially important if you plan on renting any form of vehicle during your time in Vietnam.
Wi-Fi and Phone Services in Vietnam
Wi-Fi
Wifi is readily available in most cafes, restaurants and hotels in HCMC and Hanoi and the internet speed is generally pretty good. In the smaller towns and villages and in rural areas, you should expect that you will not receive such a fast connection.
Sim Cards in Vietnam
Opting to buy local sim cards while travelling is a great way to stay connected with friends and family at home at all times during your trip. They are low cost and data can be bought for cheap.
It is important to note that Vietnamese sim cards must be purchased from an approved provider. Unfortunately there are many unapproved stores and markets set up around the country that sell faulty or false sim cards.
Travellers can buy their Vietnamese sim cards upon arrival at Hanoi or HCMC airports which is a good shout. A sim card with a month's worth of unlimited data weighs in at around 20,000 VND. That is $8-9.
Viettel and Vinaphone are two of the "best" phone providers in Vietnam. That said, Vinaphone does not have great coverage in rural areas and so, Viettel is arguably the best provider to go with.
Vietnam Top Attractions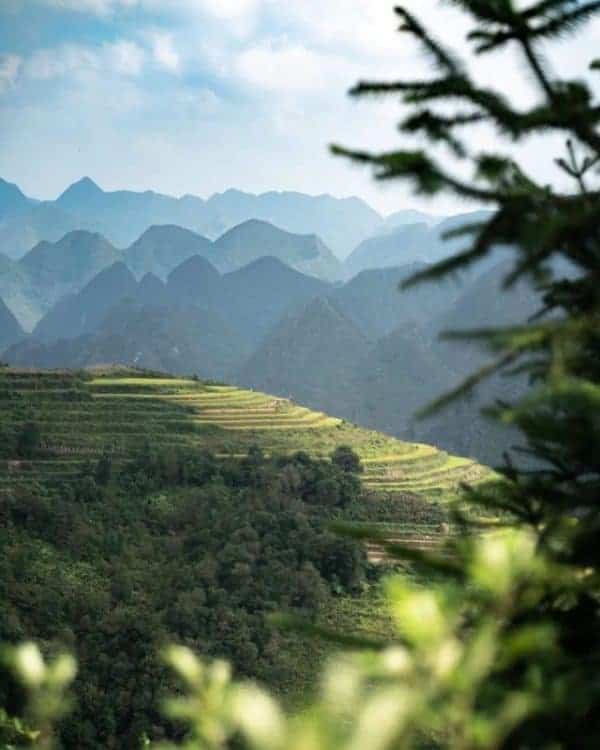 Clambering through the Chi Chu tunnels in HCMC
The picturesque old town of Hoi An
The sand dunes of Mui Ne
Marvelling at the Beauty of Halong Bay
Uncovering the history of Hue
Hiking in Sapa (Sa Pa)
Vietnam: Suggested Itinerary Overviews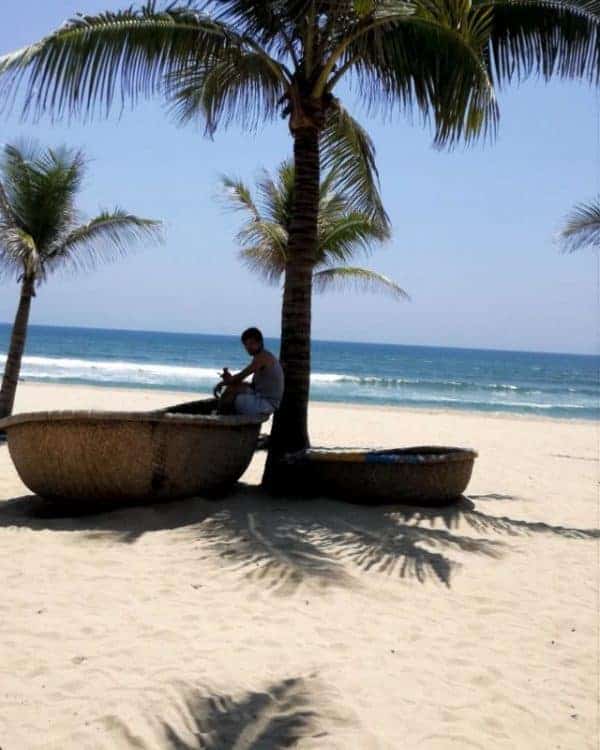 The cross-country Vietnam itineraries listed here suggest some of the prettiest bucket list destinations in Vietnam. They start in Ho Chi Minh City, in Southern Vietnam, and travel northwards to end in Hanoi. It is also possible to do this route in reverse, starting the journey from the north and heading southwards. It all depends on which airport is most logical for you to fly into.
The predominant itinerary here is the three week Vietnam itinerary. Shorter Vietnam itineraries are also suggested for those with limited time.
Three Week Vietnam Itinerary:
Getting Off the Beaten Path in Vietnam
Days 1 and 2: HCMC (Saigon)
After touching down at Tan Son Nhat international, venture into the bustling megalopolis that is Ho Chi Minh City ready to kickstart your Vietnam itinerary. HCMC (formerly Saigon) has exchanged hands several times over the past few centuries, and so fascinating influences from French colonial days, as well as from Chinese culture can be found in HCMC's architecture, history and food culture.

There is an age-old saying in Vietnam that states that when you are in Ho Chi Minh City you should "go out in District 1 but live in District 3". Indeed, many of the major tourist attractions are located in District 1.
For instance, the war remnants museum, the reunification palace and the Ben Thanh market, etc. This is also one of the best parts of the city for nightlife with various independent Saigon craft breweries in this area.
However, if you want to see Vietnam "like a local", the narrow, tourist-free streets and alleyways that make up district 3 of the city are a great place to enjoy a homestay and slurp beef pho with the locals at hidden hole-in-the-wall restaurants.
For a rewarding cultural experience off the beaten track in HCMC, head to Cholon in district five. Cholon is HCMC's Chinatown district and is actually the largest Chinatown in the world.
For venturing out here you are rewarded with beautiful temples and tea rooms undisturbed by other tourists. There are two main Taoist temples within Cho Lon, both of which are free to enter.
When night falls in HCMC, enjoy the city's sexier cosmopolitan side by venturing out to one of the many funky rooftop bars and revelling in the view of the colourful skyline. One to be sure to check out is the Chill Skybar, situated on the 25th floor of the AB tower. Cocktails and drinks here are a little on the pricier side, however they are absolutely worth it for the views and the atmosphere.
Day 3: Mekong Delta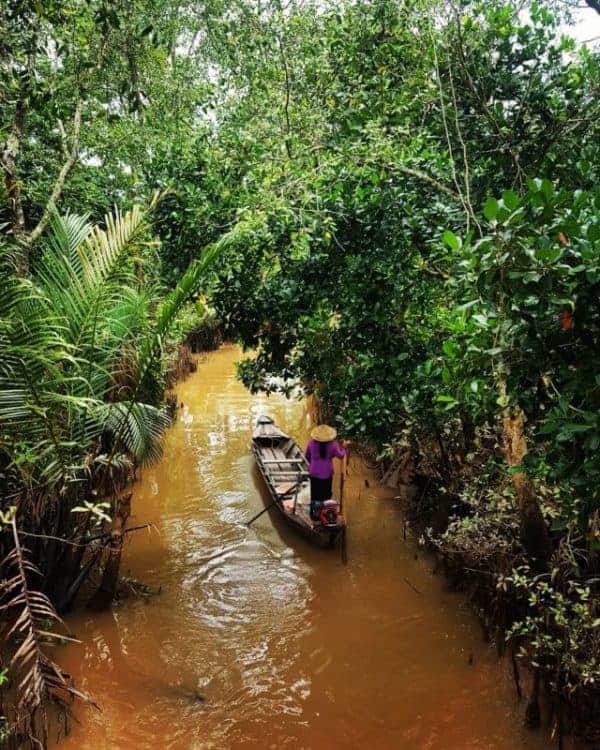 Vietnam's Mekong Delta is a labyrinth-like network of rivers, rice paddies and wooden houses emerging from the water on stilts. The area is popular with tourists for its important Vietnam war sites, however the villages, markets and nature sites in this area are charming in themselves.
Taking a day out to the Mekong Delta and what remains of the Viet Cong's Chu Chi tunnels provides a valuable insight into Vietnam's turbulent history. Various tour operators organise excursions to the region from HCMC which are perfect if you are limited on time, albeit a little rushed.
The tunnels were the hiding places for the Viet Cong and today, you can scramble through them firsthand (perhaps not best suited for the claustrophobic). If you have time, check out the many floating markets in the area such as the Cai Be or Cai Rang markets.
Getting There:
The Mekong Delta can be reached in just over an hour from HCMC. You can explore the area independently or on a tour.
Days 4 and 5:
Mũi Né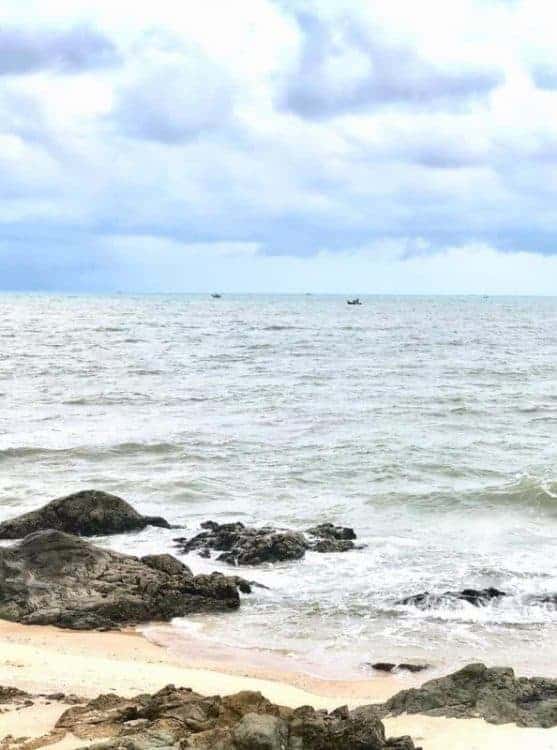 With laid back vibes, rolling white sand dunes that extend as far as the eye can see and translucent turquoise waters, the coastal town of Mui Ne is well deserved of a spot on your Vietnam itinerary. Mui Ne has become very popular with backpackers in recent years and can become crowded, however considering its beauty and charm it is quickly forgiven.
Mui ne is a great stopping point for those who just want to unwind and relax on the beaches, or adrenaline junkies that are interested in trying their hand at the exhilarating sports and activities that the region is famous for.The powder white dunes that encapsulate the town are the perfect place to watch the sunrise over the sea and to make you feel transported to the distant desertscapes of Arabia.
For a slice of culture, venture to the old fishing village of Lang Chi. Fishermen here still embrace ancient practices and their rusting old boats can be seen bobbing in the water. The village can be reached on foot from the coastal road that leads out from Mui Ne.
Getting There:
Take the Reunification Express train eastwards from HCMC to Mui Ne. The journey takes approximately 4 hours and trains run at regular intervals throughout the day.
Days 6 and 7: Da Lat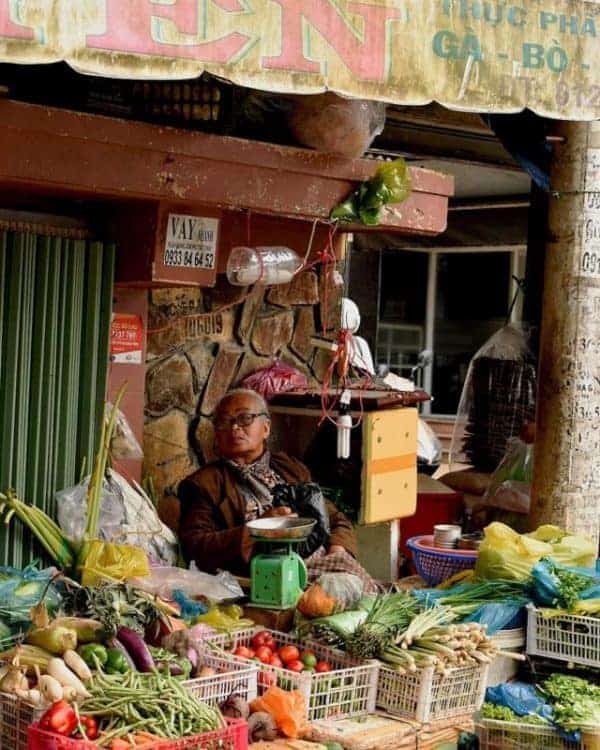 Nestled high within the mountains, Da Lat presents quite a dramatic change of scenery from the sleepy beach-town vibes of Mui Ne. Da Lat is often referred to as being the "city of eternal spring" owing to its cooler climates.
Arriving in Da Lat makes a pleasant change from Vietnam's general heat and humidity, especially if travelling in Vietnam in the height of summer. Throughout the region, there are plenty of spots that enable travellers to enjoy scenic hiking trails past dramatic waterfalls and stunning lakes.
Consider spending one of your Vietnam itinerary days here by cycling out to Lak Lake. The stunning lake is a wonderful place to enjoy a picnic, or walk along the water, however what makes Lak lake unique is the fact that it is home to villages occupied by indigenous Vietnamese people from the M'nong tribe.
It is possible to spend one day in Da Lat and another at a tribal homestay at Lak Lake. The hiking trails at Lang Biang and Elephant waterfalls are a beautiful way to get back to nature. If hiking isn't your cup of tea, rest assured there are plenty of other things to do in Da Lat.
For a unique accommodation experience, book a night at Da Lat's Hang Nga Guesthouse (also known locally as "crazy house"). Designed by eccentric Vietnamese architect Đặng Việt Nga, the guesthouse almost looks like a place where a wicked witch would live and would not look out of place in a Disney movie. Rooms are pretty affordable, and the guesthouse offers quite an experience.
Getting There:
From Mui Ne, the best way to reach Da Lat is by bus. There are typically only two buses per day – one early in the morning, and one at lunch time. The journey takes four hours.
Days 8 and 9: Nha Trang
Transporting you back to the beachfront, paradisiacal Nha Trang's main feature is a sprawling 6km arched beach of golden sands that offers incredible views out to a translucent turquoise bay of water filled with a scattering of tropical islands.
For all of its beauty, Nha Trang has become an incredibly popular backpacker destination. At times, being here can feel like you are in any other western tourist hotspot, however a little scratching beneath the surface helps you to uncover some of the region's tucked away hidden gems.
If lazing around beneath the beach cabanas gets a little too dull, consider hiking up Ba Ho waterfalls, enjoy a blind massage, or explore the mysterious ruins of the nearby Po Nagar Cham Towers. If you are searching for an indulgent place to stay while in Nha Trang, consider the luxurious Anam Resort.
Getting There:
To get from Da Lat to Nha Trang you need to take a bus. The journey takes approximately five hours and buses depart at regular intervals throughout the day.
Days 10 and 11: Hoi An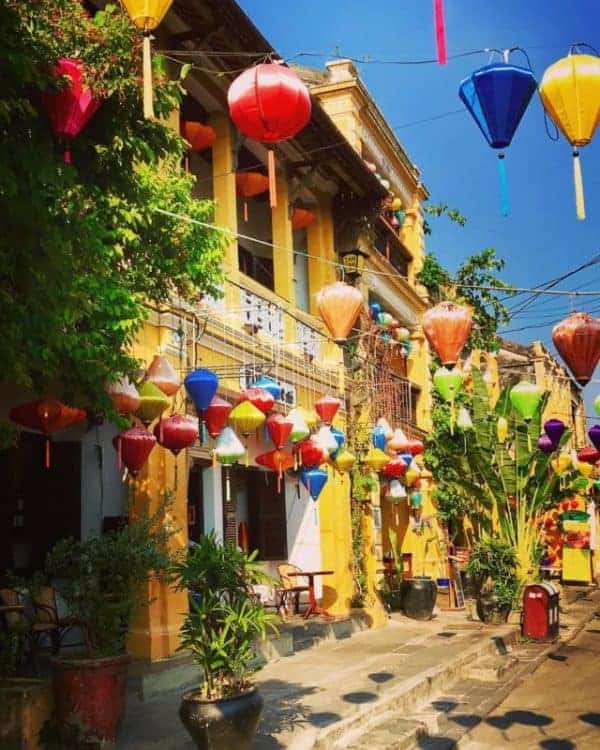 With its pastel coloured colonial buildings painted in soft hues of yellow and orange, Hoi An has an appearance and atmosphere that is altogether different to the rest of Vietnam.
The UNESCO protected ancient town is without a doubt one of the most beautiful places in Southeast Asia. In order to protect the town's unique beauty, cars and other motorised vehicles are not permitted to drive around the historic streets. Instead, people get around Hoi An by bicycle.
The narrow passageways of Hoi An provide a great opportunity to get lost and enjoy a little retail therapy. Hoi An is famous for its tailors and apparel production and it is possible to get a beautiful one of a kind dress or suit custom made here without breaking the bank.
When night falls, the atmosphere in Hoi An becomes altogether more magical as the town is illuminated by dozens of twinkling lanterns and locals setting floating candles off into the waters.
If you have no time constraints for your Vietnam itinerary, you could certainly hang around in Hoi An a little longer, or extend your trip in the area to include the nearby hippie beach town of An Bang, or the beautiful coastal city of Da Nang.
Getting There:
The journey from Nha Trang to Hoi An is one of the longest legs of your Vietnam itinerary. A route that is best travelled by train, consider securing your train ticket booking on one of the first class sleeper berths for additional comfort.
Days 12 and 13: Hue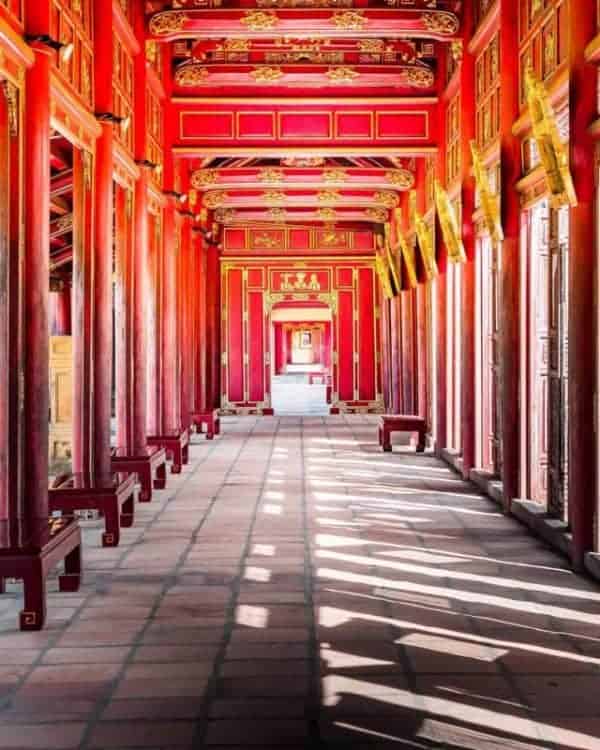 The picturesque and evocative city of Hue transports the traveller back in time to imperial Vietnam and a period when the country was ruled by Nguyen Emperors. Though Hue certainly has a lot to offer, a lot of its appeal seems to have bypassed the majority of backpackers to Vietnam and so, it feels like one of the more rewarding and "off the beaten path" spots on this Vietnam itinerary. If you are a history buff, you could certainly allocate a lot more of your Vietnam itinerary to travelling in Hue.
The city of Hue has a quiet, refreshing rural feel. The main tourist sites are separated by stretches of beautiful countryside and natural beauty and the streets of Hue are lined with trees.
Consider renting a bicycle as a way to get around Hue. Life moves at a much slower pace here and Hue provides a contrast to most of Vietnam's hectic cities. Hue is also a good base if you are interested in taking a day trip to the Vietnamese DMZ – the former border that separated North and South Vietnam during the Vietnamese war.
Getting There:
You can travel from Hoi An to Hue via bus or train. For the purposes of comfort, the train is perhaps the best option. This is one of the most breathtaking parts of your Vietnam itinerary as the train takes you through the lush green scenery of the Hai Van pass.
Days 14-16: Hanoi
Vietnam's capital city, Hanoi is one of the most culturally rich and historically fascinating cities in Southeast Asia. Managing to shake off its former image of a war-torn region, it is often a favourite stopping point on a Vietnam itinerary for many people. Enjoy strolling around the 2000 year old streets and passageways of the old quarter while browsing its kooky boutiques and ornate French architecture.
Though the city limits are crowded and congested, there is a lot of natural beauty to be found around Hanoi also. Venture out to the Hoan Kiem lake – a tranquil and beautiful spot where the Ngoc Son Temple sits in the centre of the water. This is a popular picnic and relaxation spot for locals and tourists alike.
Getting There:
There is a lot of distance to be covered from Hue to Hanoi and so the best option depends on you, your travel preferences and your budget. You can take a sleeper train or bus from Hue, but you should note that the journey takes approximately 14 hours.
Alternatively, you could take an internal flight from Hue's Phu Bai airport. If purchased in advanced, the flight will not break the bank and can be purchased for less than $20.
Days 17 and 18: Halong Bay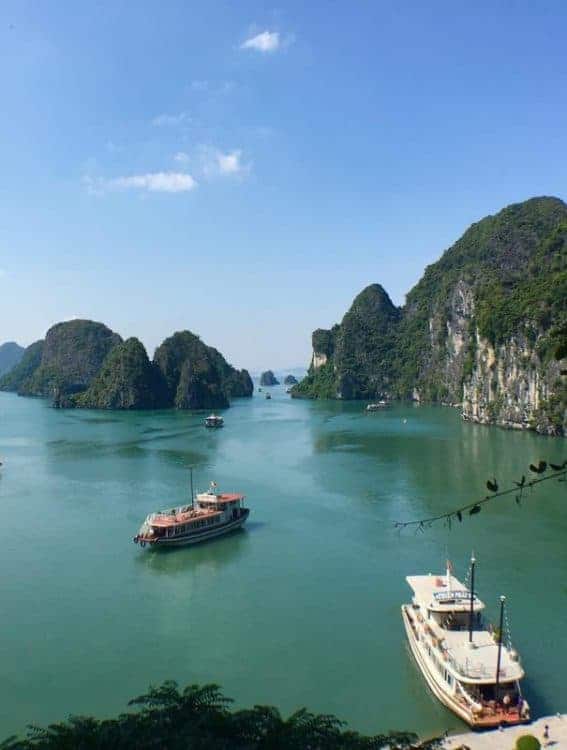 Halong Bay is no doubt one of the most iconic sites of Vietnam. For many travellers, this beautiful place is one of the main reasons they even want to embark on a Vietnam itinerary to begin with. The jagged limestone rocks that jut out from the turquoise waters are breathtakingly beautiful, regardless of how touristic this UNESCO site has become.
Halong Bay is known locally as "the bay of the descending dragons". The scenery here is unlike anything else in the world. As your boat glides around the limestone islands, you will pass floating villages, stilted houses, little wooden shacks that have been tied to rocks to secure them (!) and lots of hidden local beaches.
You have a number of options for travelling to Halong Bay. It is possible to reach the area independently or as part of a tour. Choose your tour wisely. Some Halong Bay tour companies offer experiences that let you swim and kayak among the blue lagoons, and often take you to Cat Ba National Park. Other tours are more party-focused which may or may not suit depending on your travel preferences.
Days 19 and 20: Sapa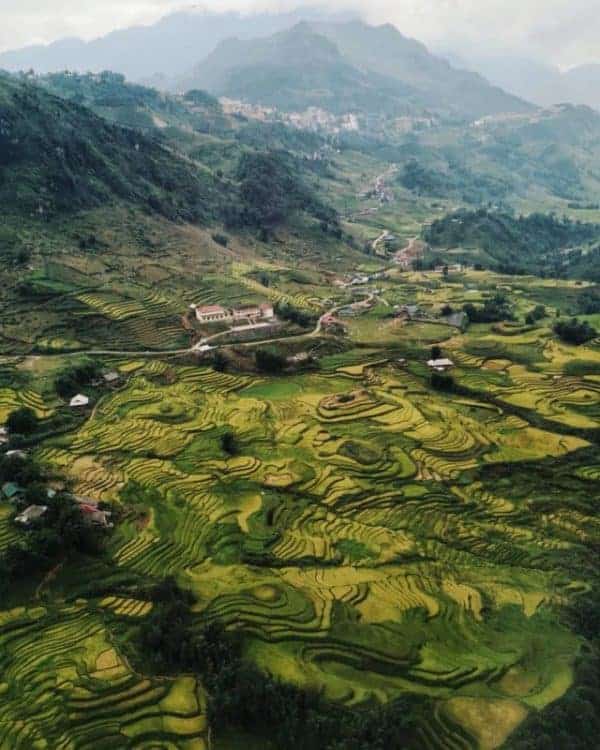 With miles of sprawling green hills and lush scenery, Sapa is an outdoor lover's paradise and Vietnam's premier trekking destination. The temperatures are much cooler here owing to the higher altitudes, and the scenery and atmosphere makes you feel as though you are in a different country entirely.
Hill tribes still exist within this region, with locals speaking their own village dialects and languages. Stunning rice terraces balance on cliffs and quaint villages are filled with craft workshops and handicraft stores.
Sapa town acts as a pleasant base, but the highlight of coming here is the plentiful hiking trails that lead you through the nearby mountain scenery. You can trek alone or opt to hire a local guide.
In the interests of supporting the local community, the latter is good value, with guiding costing around $40 a day for a trek. Once your muscles are sufficiently aching, end the day by enjoy a cold beer on the banks of Sapa Lake.
Day 21: Depart Hano
i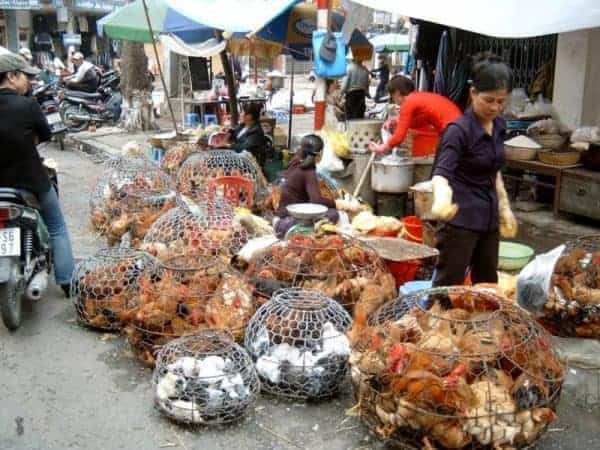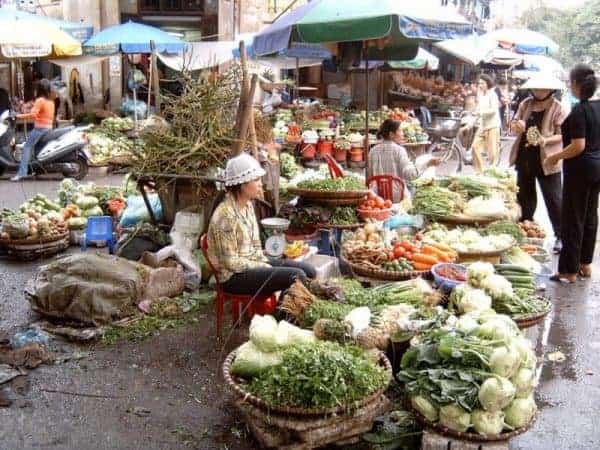 As your Vietnam itinerary draws to a close, it is time to bid adieu to this culturally rich Southeast Asian country and venture onwards.
Suggested One Week Vietnam Itineraries
If you only have a week to spend on a Vietnam itinerary then you still have plenty of time to get a good feel for the country and its culture. Since Vietnam is so large, it is better to focus on either the northern or southern part of the country if you only have one week here otherwise you will spend practically all of your time in transit.
7 Day Vietnam Itinerary One:
Whistle Stop Southern Vietnam Tour
Day Five and Six: Hoi An

Day Seven: Depart Da Nang
7 Day Vietnam Itinerary Two:
Highlights of Northern Vietnam
Days Three and Four: Halong Bay
Day Five and Six: Hiking in Sapa

Day Seven: Depart Hanoi
For more useful information about travelling to Vietnam, you can review this post on useful facts about Vietnam.
Disclaimer: This Vietnam itinerary may contain affiliate links. This means that if you choose to make a purchase from any of the links contained within this post, I will make a small amount of commission at no additional cost to you.
This aids me with the running of High Heels and a Backpack and enables me to continue to provide free travel content. Thank you for your understanding.
---