What to eat in Japan if you don't like fish? Don't worry. The options are less limiting than you may think.
When you first arrive in Japan, navigating menus and restaurants can be overwhelming if you are a non-seafood eater. Everything seems to contain fish. Even things that should not typically contain seafood seem to have questionable bits of fish inside them.
This can be frustrating. Particularly since most restaurants in Japan do not have menus in English.
So, you either have to point at pictures of food, or point at plastic food displays, and pray to Jesus/Buddha/Ganesh that whatever you have picked does not contain fish. Fortunately, there is a world of fish-free delicacies to enjoy.
The truth is that Japanese food is incredibly diverse. During your Tokyo itinerary and travels around Japan, you will uncover an array of regional delicacies.
What to Eat in Japan if You Don't Like Fish
What to eat in Japan if you don't like fish? Fortunately, there are plenty of options.
For me, my dislike of fish is not just simply not liking seafood. I also have a phobia (albeit a weird one) of sea creatures.
Yep. I have this phobia whether they're on a plate or floating around in the sea. Seriously. If someone wanted to torture me for information, all they'd have to do would be to turn on Blue Planet and I'd tell them everything.
Anyway. Maybe you're simply not all that fond of fish, or you just want to know what non-seafood options Japan has to offer.
The reassuring news is that there are plenty of fish free dishes that you can enjoy. Here are some yummy suggestions on what to eat in Japan if you don't like seafood.
What to Eat in Japan (If You Don't Like Seafood)
Gyoza Dumplings
Gyoza are traditional Japanese dumplings. They are comparable to their Chinese counterparts, or to Korean "mandu".
Japanese Gyoza are often stuffed with vegetables, pork, or other ground meat. It is common to order them as a starter before a meal. They are particularly delicious when dipped in soy sauce.
Edamame Beans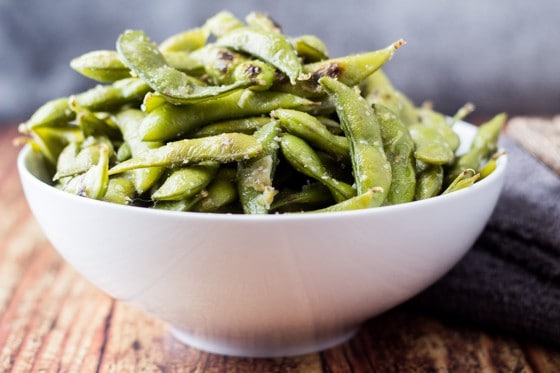 Edamame beans are essentially the Japanese answer to having salted peanuts in bars! If you head out for the evening in Japan and order a beer, you will often be handed a bowl of salted edamame beans. They make a common starter dish in Izakayas.
Korokke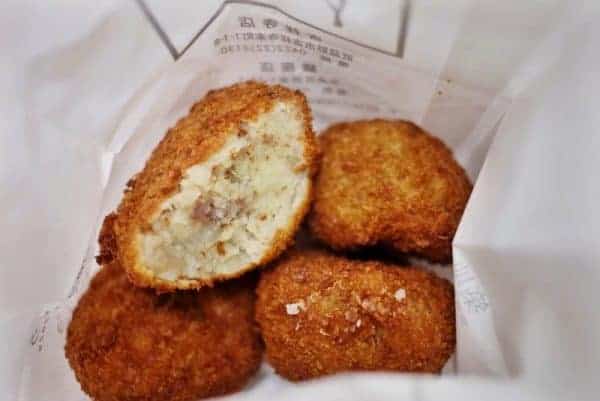 "Korokke" is a Japanese adaptation of the French "croquette". This is more of an "on the go" snack rather than an actual meal.
You can find the fried breaded treat at Japanese convenience stores and street food stands. Japanese Korokke are usually stuffed with meat or vegetables.
Yakiniku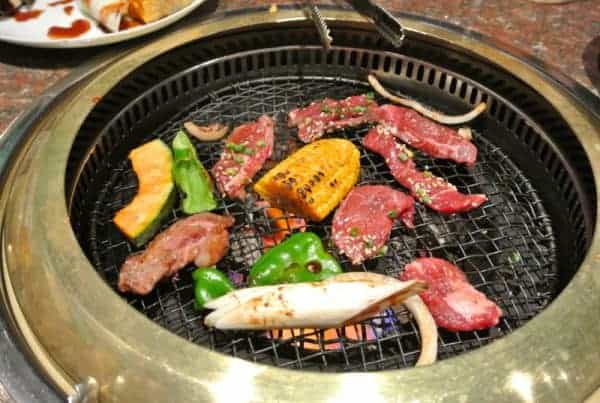 Japanese Yakniku is somewhat similar to Korean BBQ/galbi. The dish is made up of marinated beef or pork that you can flame grill yourself from the comfort of your restaurant table.
It is enjoyed with a variety of side dishes. For the very best Yakiniku in Tokyo, head over to Jambo Hanare.
Jambo Hanare is pricy but absolutely worth it. Alternatively, head to Kim in the Shirokane neighbourhood.
Beef tongue is considered a delicacy in Japan, and often you will find things like offal on the menu. If you don't think too much about what you are eating, you may be surprised by how flavourful the food is.
If you have a less adventurous palette then you can stick to traditional meat cuts and burgers. Kobe beef is one of the best cuts to try in Japan.
Shabu Shabu
Shabu Shabu is the beef hotpot dish that is fun to say as well as eat! It is made DIY style like Yakiniku.
You are typically given a pot of water to boil over the stove on your table. Then, add and cook your own meat and veggies.
Many shabu shabu restaurants are buffet style so that you can go and help yourself to additional side dishes and light treats in addition to the main course. Some shabu shabu recipes do include seafood such as clams or other shellfish, so double check before you order.
Tonkatsu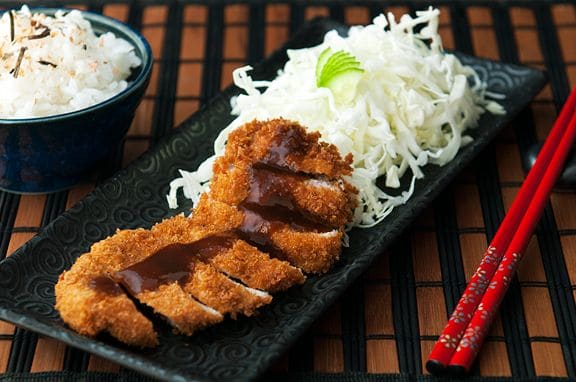 Tonkatsu is so simple, yet so delicious. The dish is simply a deep-fried pork cutlet. It can be served in a number of ways and sometimes comes with shredded cabbage and tonkatsu sauce, or Japanese curry sauce.
Okonomiyaki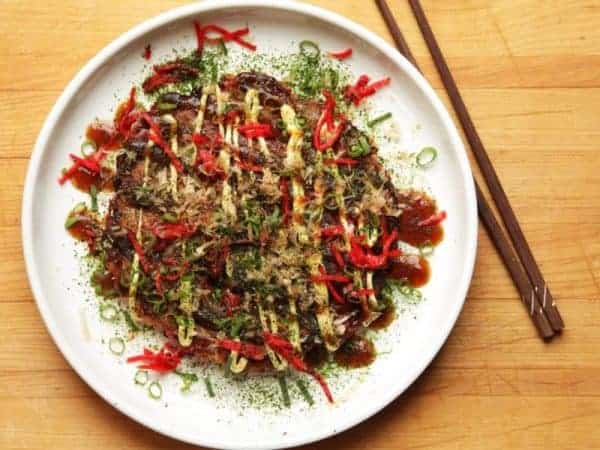 Okonomiyaki is a Japanese street food delicacy that originated in Osaka. The name "okonomiyaki" translates to meaning "grilled as you like it".
The dish is essentially a savoury Japanese pancake. It is cooked in front of you using a blend of seasoned batter and local ingredients.
There is a wide selection of okonomiyaki variations to choose from. Okonomiyaki made with pork belly is particularly popular. This is usually smothered in American mustard and mayonnaise.
However, various other versions (including vegetarian choices) are available. Okonomiyaki can be found in Tokyo, and other major Japanese cities.
However, it is more common in the Kansai region. Definitely add trying a few varieties of this to your list of things to do in Osaka.
Japanese Curry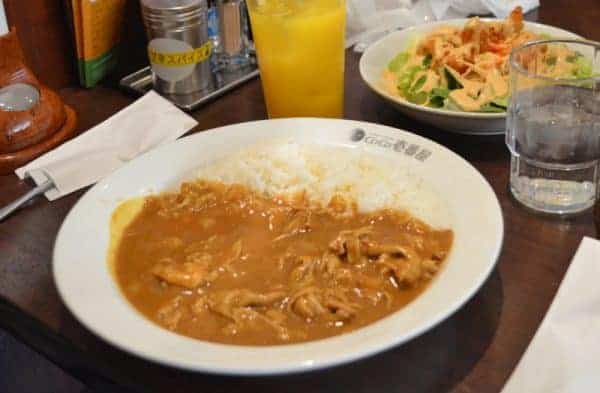 It may be quite surprising to hear that Japanese curry is actually an incredibly popular dish in Japan. Not only that, but Japanese curries are often mouthwateringly good!
Curry dishes here are often made with chicken or beef. They come in a few different variations – you can eat Japanese curry with rice, bread, or thick udon noodles.
You can find a useful list of the best independent Japanese curry restaurants in Tokyo here. Curry House CoCo is a popular Japanese chain that you will find on virtually every street corner. Despite being a chain, their food is pretty good.
Chicken Karaage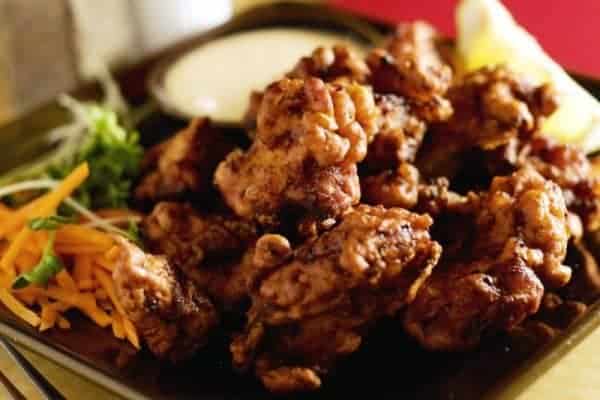 Fried chicken is pretty popular in the Far East. In Japan, Korea, and Taiwan, you will find that "chicken and beer" joints are a much-loved dinner choice.
A variety of different Japanese fried chicken dishes are available. One of the most popular marinades is made by combining sake, soy sauce, garlic marinade and ginger.
The chicken is then fried to crispy perfection. Other options range from sweet and sour style chicken karaage, to the eye-wateringly spicy.
Donburi
Donburi is a simple rice bowl dish. It consists of steamed rice topped with chicken, beef, and assorted vegetables and then mixed together.
Yakitori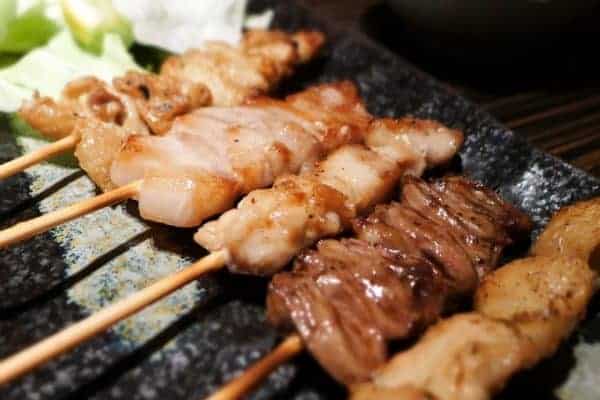 What could be better than seasoned flame-grilled chicken skewers cooked right before your eyes? Many Yakitori restaurants in Japan enable you to sit around a live-action kitchen and watch your dinner prepared fresh.
Yakitori is actually quite a broad term. You can find dedicated restaurants that allow you to experiment with different parts of the chicken, or with different types of poultry.
Nikujaga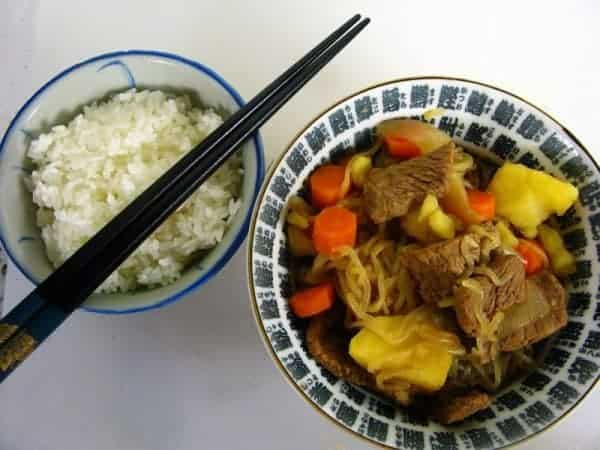 The literal translation of Nikujaga is "meat and potatoes". This dish is exactly what it says on the tin.
Nikujaga is a Japanese beef stew that is made by simmering the ingredients in beef stock with onions and soy sauce. Sometimes you will find variations of this recipe. However, traditional Nikujaga stew is made with beef.
Udon Noodles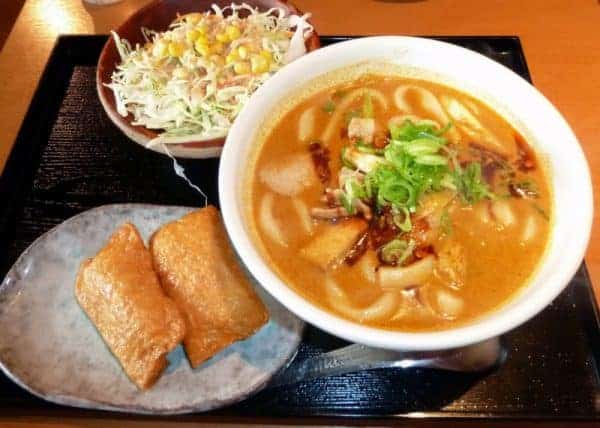 Noodles are a huge part of East Asian cuisine and present themselves in a number of different varieties. One of these variations is udon.
Udon noodles are extremely thick noodles that are made using wheat flour and are often served in some kind of noodle soup. There are various versions of udon noodle soup dishes.
Curry udon is popular. It is sometimes topped with breaded chicken or tonkatsu. Similarly, udon with the addition of fried tofu is a good shout (kitsune udon), as is vegetable udon (sansai udon).
Hiyayakko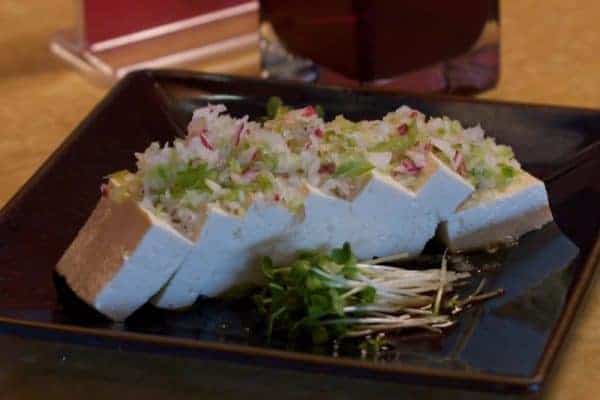 Hiyayakko is a tofu salad. Even if you consider yourself as someone that dislikes tofu, it is worth giving it another try when it is prepared in hiyayakko.
Tofu is marinated and seasoned and then topped with fresh veggies. There is no "typical" way to make hiyayakko and the exact recipe varies from restaurant to restaurant. However the dish is commonly topped with chopped green onion, grated ginger, toasted sesame seeds, and chilli powder.
Yudo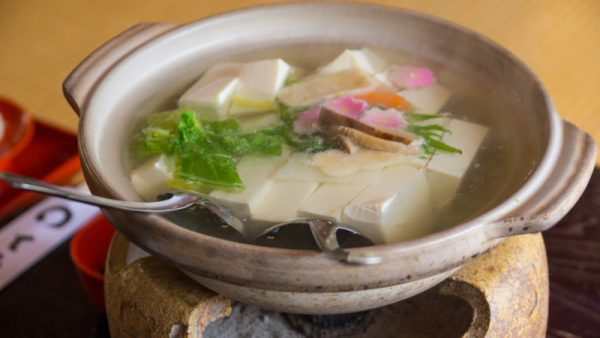 Yudofu or "hot water tofu" is a vegetarian soup dish. Tofu is heated in a saucepan of hot water, and seasoned with seaweed. The dish is then served with condiments and spices for dipping and flavour.
Gyudon
Gyudon is a common dish that can be found virtually everywhere in Japan. To create it, steamed rice is topped with seasoned grilled beef and onions. Occasionally, you will be given the option of adding chilli powder or other spices and flavourings to your dish for a little extra kick.
Parting Words
Do you have any additional questions on what to eat in Japan if you don't like fish? Please don't hesitate to reach out to me below.
I lived in South Korea and travelled solo to Japan a bunch of times. I am happy to assist with any questions or queries you may have.
Safe travels! Melissa xo
Pin it For Later!
---