Not a massive fan of seafood and worried about what to eat in Japan? I hear you! This was something that was a huge concern for me when I took my first trip over to the land of the rising sun several years ago. Thankfully, after numerous solo visits to Japan, I've discovered there is a world of fish-free delicacies to enjoy. The truth is that Japanese food is incredibly diverse, and as you travel outside Tokyo, you will uncover an array of regional delicacies.
For me, it's not just simply not liking seafood, but having an actual (admittedly peculiar and probably not all that common) phobia of sea creatures whether they're on a plate or floating around in the sea. Seriously. If someone wanted to torture me for information, all they'd have to do would be to turn on blue planet and I'd tell them everything.
Anyway… I doubt you're as odd as me. Maybe you're simply not all that fond of fish, or you just want to know what non-seafood options Japan has to offer. The reassuring news is that there are plenty of fish free dishes that you can enjoy. Here are some yummy suggestions on what to eat in Japan if you don't like seafood.
What to Eat in Japan (If You Don't Like Seafood)
Gyoza
Gyoza are traditional Japanese dumplings, similar to their Chinese counterparts. Often stuffed with vegetables, pork, or other ground meat. It is common to order Gyoza as a starter before a meal and they are delicious when dipped in soy sauce.
Edamame Beans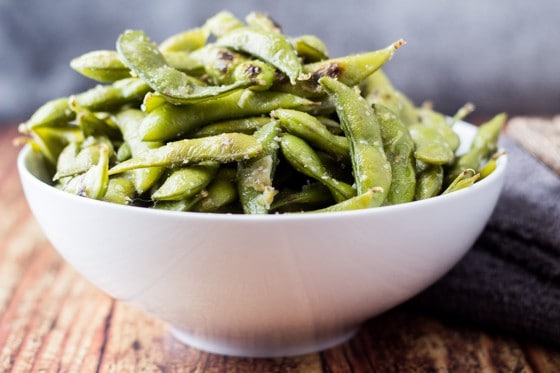 The Japanese answer to salted peanuts in bars! Edamame beans are commonly served on the table in izakayas to enjoy with beer, or as a pre-dinner nibble. Typically lightly salted, this is a delicious snack.
Korokke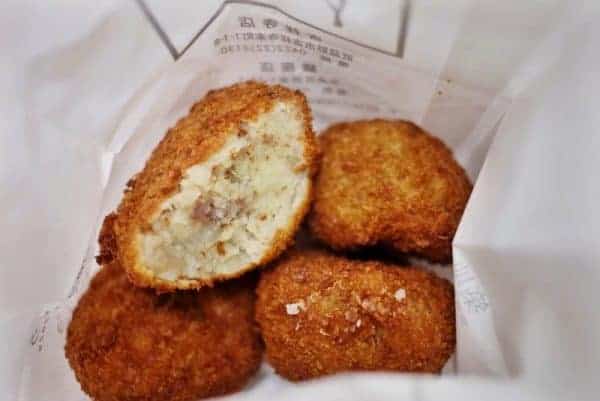 An oriental adaptation of the French "croquette", Korokke is essentially the same thing. It's more of an "on the go" snack rather than an actual meal but you can find the fried breaded treat at Japanese convenience stores (of which there are plenty) and street food stands. Japanese Korokke are usually stuffed with meat or vegetables.
Yummy Japanese Main Courses
Yakiniku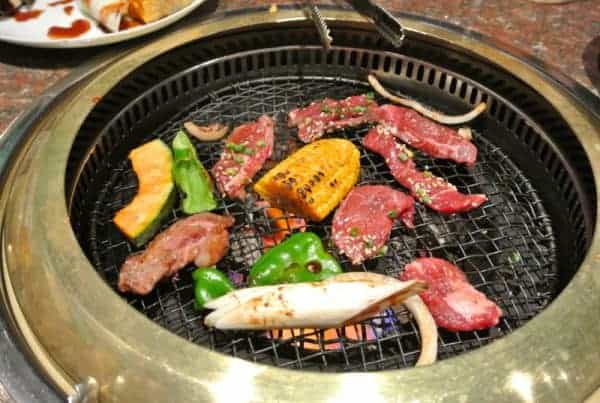 A little bit like Korean BBQ, Japanese Yakniku is marinated beef or pork that you can flame grill yourself from the comfort of your restaurant table, and enjoy with a variety of side dishes. For the very best Yakiniku in Tokyo, head over to Jambo Hanare (pricey but absolutely worth it), or Kim in the Shirokane neighbourhood. Beef tongue is considered a delicacy, and often you will find things like offal on the menu, but if you have a less adventurous palette then you can by all means stick to traditional meat cuts and burgers.
Shabu Shabu
Shabu Shabu is the beef hotpot dish that is fun to say as well as eat! Typically, you are given a pot of water to boil over the stove on your table, and then you add and cook your own meat and veggies. Many shabu shabu restaurants are buffet style so that you can go and help yourself to additional side dishes and light treats in addition to the main course. Some shabu shabu recipes do include seafood such as clams or other shellfish, so double check before you order.
Tonkatsu

What to Eat in Japan: Tonkatsu
I eat Tonkatsu almost every other day at my favourite Japanese restaurant in Seoul. It's so simple, yet so delicious. Tonkatsu is a deep friend pork cutlet. It can be served in a number of ways and sometimes comes with shredded cabbage and tonkatsu sauce, or Japanese curry sauce.
Okonomiyaki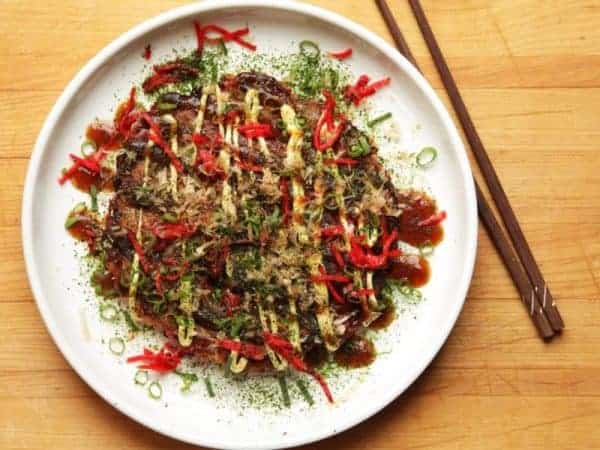 Okonomiyaki is essentially the Japanese approach to pizza (though it's strictly more like an omelette). Made with eggs and flour, there are a wide selection of okonomiyaki variations to choose from. My personal favourite is pork, which sees the delicious tender meat smothered in American mustard and mayonnaise (excellent for your waistline, obviously!). Okonomiyaki is the regional dish of Osaka. It can be found in Tokyo, and other major Japanese cities but it is more common in Kansai region so definitely add trying a few varieties of this to your list of things to do in Osaka.
Japanese Curry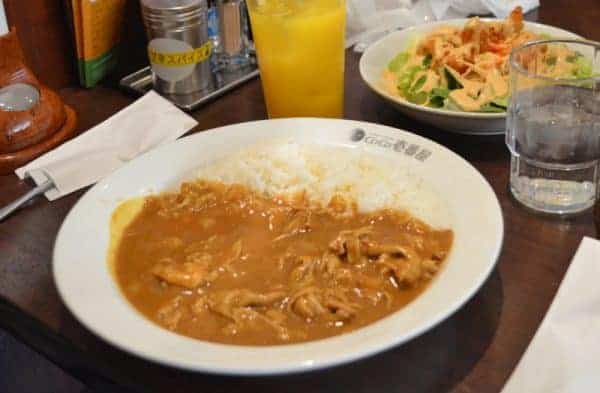 It may be quite surprising to hear that Japanese curry (typically made with chicken or beef) is actually an incredibly popular dish in Japan. Curry House CoCo is a chain that you will find dotted throughout the country and although I typically try to avoid chain restaurants, their food is pretty good. Japanese curry comes in a few different variations – you can eat it with rice, bread, or thick udon noodles.
You can find a useful list of the best independent Japanese curry restaurants in Tokyo here.
Chicken Karaage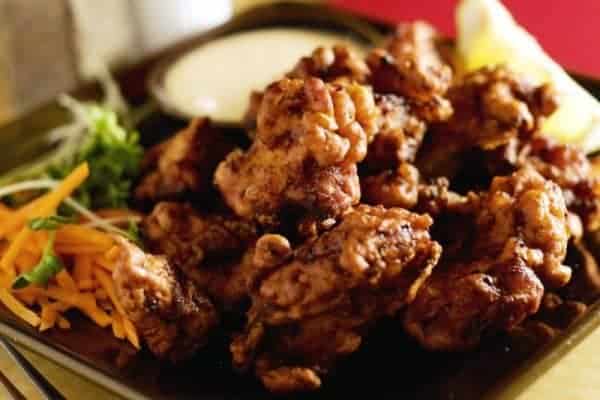 "Asian fried chicken" is pretty popular in the Far East. In Japan, Korea, and Taiwan, you will find that "chicken and beer" joints are a much-loved dinner choice. Far better than anything the colonel could ever rustle up, when you order Japanese fried chicken, you can choose from a variety of different seasoning or sauce toppings ranging from the sweet and sticky, to the eye-wateringly spicy, and everything in between.
Donburi

What to Eat in Japan: Donburi
A simple rice bowl dish, Donburi is steamed rice topped with chicken, beef, and assorted vegetables and then mixed together.
Yakitori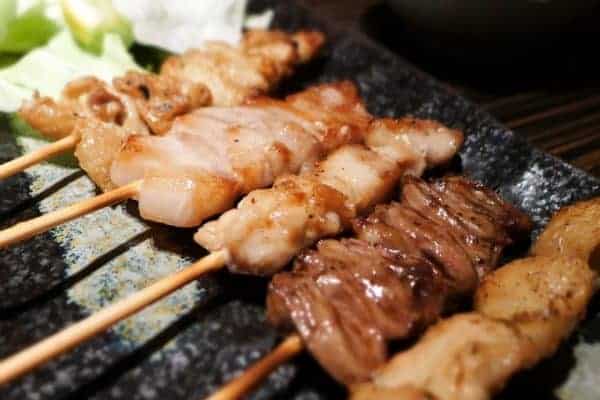 What could be better than seasoned flame-grilled chicken skewers cooked right before your eyes? Many Yakitori restaurants in Japan enable you to sit around a live action kitchen and watch your dinner prepared fresh. Yakitori is actually quite a broad term, and you can find dedicated restaurants that allow you to experiment with different parts of the chicken, or with different types of poultry.
Nikujaga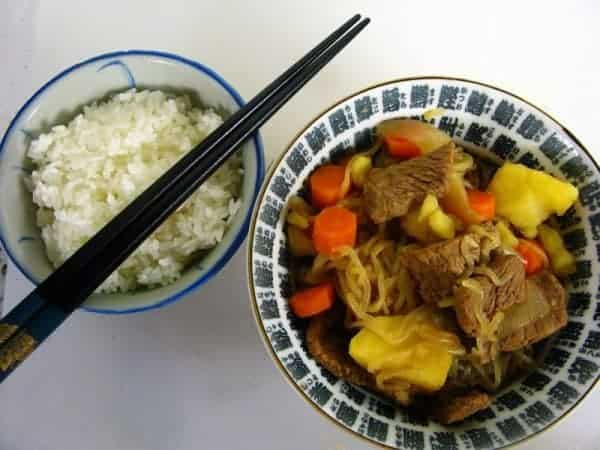 Literally translated to "meat and potatoes", Nikujaga is exactly what it says on the tin. This Japanese beef stew is made by simmering the ingredients in a beef stock with onions and soy sauce. Sometimes you will find variations of this recipe, but the traditional Nikujaga stew is made with beef.
Udon Noodles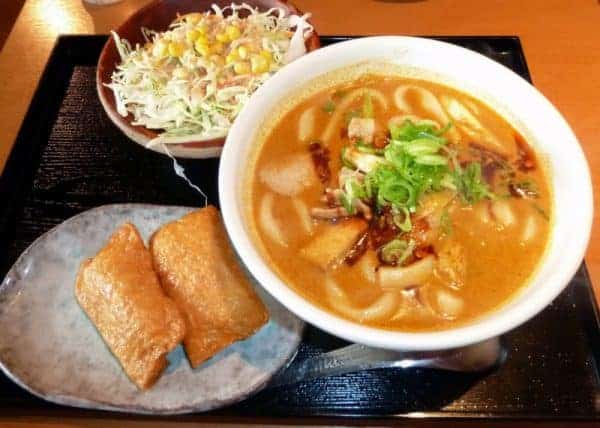 Noodles are a huge part of East Asian cuisine and present themselves in a number of different varieties, one of which is udon. Udon noodles are extremely thick noodles that are made using wheat flour, and are often served in some kind of noodle soup. Typical (and delicious) versions of udon noodle soup dishes are curry udon (sometimes topped with breaded chicken or tonkatsu), fried tofu (kitsune udon) and vegetable udon (sansai udon).
Hiyayakko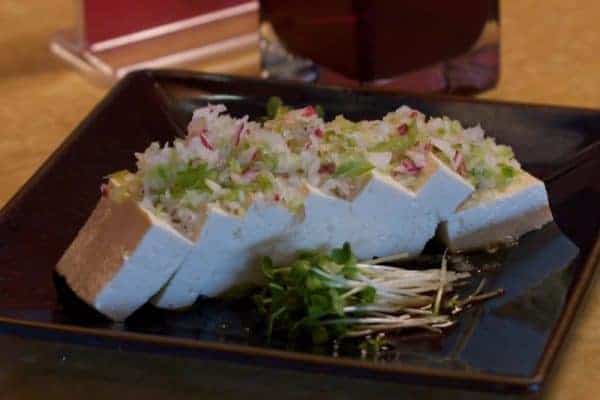 Hiyayakko is a tofu salad – essentially it is cold pieces of tofu that are then topped with veggies and spices.
I encounter a lot of people who tell me that they hate tofu, however I firmly believe that many of those who say that, simply haven't had it good. I too was among the tofu-hating party before I moved to the Far East and fell in love with the stuff, so if you weren't a fan the first time around, I urge you to give it a second try while in Japan.
There is no "typical" way to make Hiyayakko and the exact recipe varies from restaurant to restaurant, however the dish is commonly topped with chopped green onion, grated ginger, toasted sesame seeds, and chilli powder.
Yudofu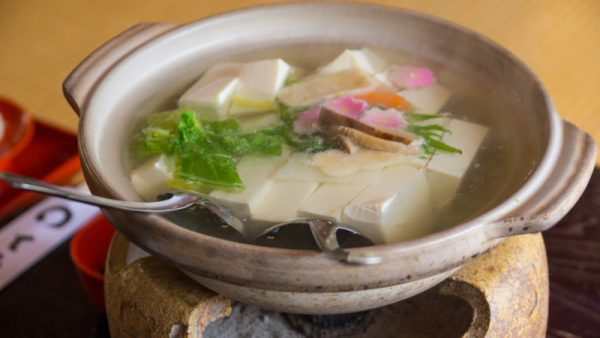 Yudofu or "hot water tofu" is a dish which consists of tofu that has been heated in a saucepan of hot water, with seaweed for seasoning, and is then served with condiments and spices for dipping and flavour.
Gyudon

What to Eat in Japan: Gyudon
A common dish that can be found virtually everywhere in Japan, Gyudon is simply steamed rice that is topped with seasoned grilled beef and onions. Occasionally, you will be given the option of adding chili powder or other spices and flavourings to your dish for a little extra kick.
Feeling Inspired? Find Deals on Accommodation in Tokyo!
Pin it For Later!
---