Cheap holidays to Dubai may seem like something of an impossibility. Dubai is synonymous with the glitz, glamour, and grandeur of luxury living.
Dubai On a Budget: An Oxymoron?
From the sparkling apartment complexes that tower over the Dubai Marina to the glittering designer malls, the entire UAE city exudes elegance and sophistication at every turn. Dubai is the place to travel to in order to treat yourself to a little taste of "the good life".
All things considered, you absolutely can still enjoy Dubai when travelling on a budget. This guide runs through a few of the ways in which budget travel in Dubai is possible.
Dubai Accommodation:


Your Stay Does Not Have to Break the Bank
Dubai may be known for its ultra-luxurious super hotels and man-made islands but that doesn't mean that these places are the only option. It is possible to find accommodation in Dubai that suits every budget – from mid-range to backpacker.
There is also the option to stay just outside the city in nearby Sharjah. Hotels are substantially cheaper in Sharjah and daily buses run frequently between Sharjah Dubai, but keep in mind that many workers commute to Dubai daily from Sharjah, and traffic can be bad during peak times.
Airbnb Accommodation in Dubai
I found a serviced apartment in Barsha Heights for just £35 a night. While that is not ultra-budget travel in Dubai, it is pretty good value considering where you are.
Opting to stay in an Airbnb with its own kitchen gives you the added benefit of being able to buy groceries and cook for yourself so that you can dodge some of the expenses of eating out in Dubai.
Hostel Accommodation in Dubai
"At the top" hostel is a converted high-rise apartment building in the Dubai Marina that offers dorms. Not only is the cheapest accommodation choice for travelling to Dubai on a budget, but the place also offers great views and is considered among the "best" hostel options for budget travellers in Dubai.
Backpackers Hostel in Al Karama was the very first hostel in Dubai. It is a little further out from the glitzy centre. It is close to Deira and Old Dubai and makes a great base for exploring the less artificial feeling areas of Dubai. One night's dormitory accommodation in Dubai will cost around $20.
Couchsurfing in Dubai
Dubai has a very active and large Couchsurfing community. The city is home to ex-pats and travellers from all over the world and it is not difficult to secure a Couchsurfing host here. Opting to couchsurf completely alleviates all accommodation costs.
If you are not comfortable with staying in a stranger's home but want to meet people living and travelling in Dubai while in town, consider going along to one of the Dubai Couchsurfing meetups. The members meet every Tuesday at 8 pm in the coffee shop of the Crowne Plaza Dubai. The locals can give you some insight as to what is going on during your stay.
PS – Travelling to Dubai as a family? Check out this article on the best family hotels in Dubai.
"Ladies Day" in Dubai
"Ladies Day" is a big thing in Dubai. On certain days and nights of the week, exclusive beach clubs and bars offer free admission to women. Sometimes, free drinks and food platters are also included as part of this deal.
It goes without saying that you have to be a female traveller in Dubai to enjoy ladies day perks. Male adventurers could try their luck tucking it between their legs, donning a little lipstick, and flirting with the host but not sure how well that would go down, especially in the United Arab Emirates! Check the schedule for Ladies Day events and offers here (or just Google search "Ladies day deals Dubai" for insight into the latest events and happenings.
Luxury Lite

in Dubai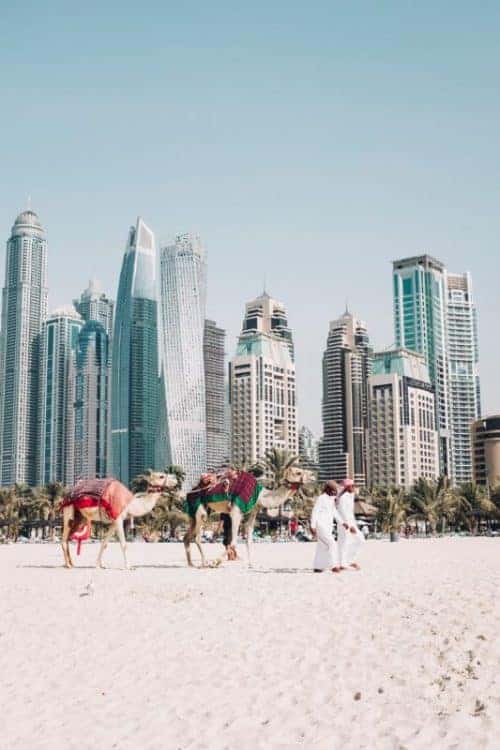 A life of fast cars, super yachts, and an income where we can comfortably drop the £2,500 a night fee for staying at the Burj al Arab without flinching may be a dream for many of us, but it is a dream that is unlikely to become a reality unless we get lucky and win big on the Euro-millions.
For a sampling of the high life without the high life prices, consider the options for spending time at these glamorous places without paying a price that means you have to sell a kidney. You may not have the £2500 to stay at the Burj al Arab for example, but you could consider pitching together with friends and renting a rooftop cabana at the hotel for the day.
With hours of poolside fun and bottomless prosecco, this is a great way to ball on a budget. Many other luxury hotels let you use their pools and exclusive beach clubs for a small fee.
I visited the Jumeirah al Naseem's "Summersalt" beach club for £50. Though that is still not super cheap, it included being driven around the resort in a golf caddy, waiter service, and free drinks, and a welcome fruit platter. None too shabby and quite an experience.
Related Article: What to Wear in Dubai
Visit Dubai in the Off-Season
Dubai is known for being hot all year round. The "off-season" is actually the summer months that run from June until September.
Fewer tourists visit during the summer as temperatures range from between 40 and 50 degrees Celsius making it pretty damn hot outside. You know when you open your oven door and recoil in horror as a waft of hot air hits you right in the face? Yeah, it's like that.
Everywhere in Dubai is air-conditioned. During the off-season, many hotels slash their prices significantly to try and fill their rooms so though it's hot, your wallet will thank you for travelling during this time.
Enjoy a Day at the Races
Emiratis and expats alike love a day at the races in Dubai. While visiting the horse races or the Ascot in the UK may be an expensive, pretentious, "pinkie in the air" affair, in Dubai, these events are actually free. Horse racing is considered as being the national sport of Dubai with Sheik Mohammed himself having a fondness for spectating.
While in Dubai, you can go along to both horse racing and camel racing (yes, camel racing!) events. Both events only run from November through to March. Dubai camel races are held at the Dubai Camel Racing Club (where else?) and races usually take place between the hours of 6am-8am on Friday mornings. Horse races in Dubai take place on Thursdays from 7 pm.
Browse for Deals and Discounts in Dubai
If you are a frugal Freda like myself and you always like to secure the very best prices when you travel, you will be familiar with travel hacking, coupon collecting, and other ways of generally being a stinge expert travel hacker. Dubai offers many touristic experiences that you may want to cross off your list while you are around. For example, venturing to the top of the Burj Khalifa and admiring the view, treating yourself to a spa day or having an afternoon tea at a fancy restaurant.
Check out Groupon Dubai for discounts and offers for travelling to Dubai on a budget. If you will be sticking around in Dubai a little longer – maybe for a work assignment or to visit friends then you could consider subscribing to The Entertainer- a travel app for which a membership can be purchased for several week/months at a time and provides significant Dubai deals and discounts on entries and prices around the city.
Dubai on a Budget:
Enjoy Free Events and Festivals
The delightful camel and horse races are not the only free events that you can enjoy in Dubai. Check Time Out Dubai and to see what is happening during the time of your visit.
Music festivals, art festivals, and events catered to a family audience occur frequently in Dubai and are a fun way to enjoy the city without spending any money.
Budget Dubai:
Find Cheap Flights to Dubai
Since Dubai is such a major transportation hub for connecting flights all over the world, it is easy to find cheap flights to Dubai.
Use flight search engines like Skyscanner and try to search by the entire month to find the cheapest possible deal available over a wider period. It is possible to find cheap flights to Dubai from most of Europe and the Middle East for less than £50 each way.
Free and Budget Things to do in Dubai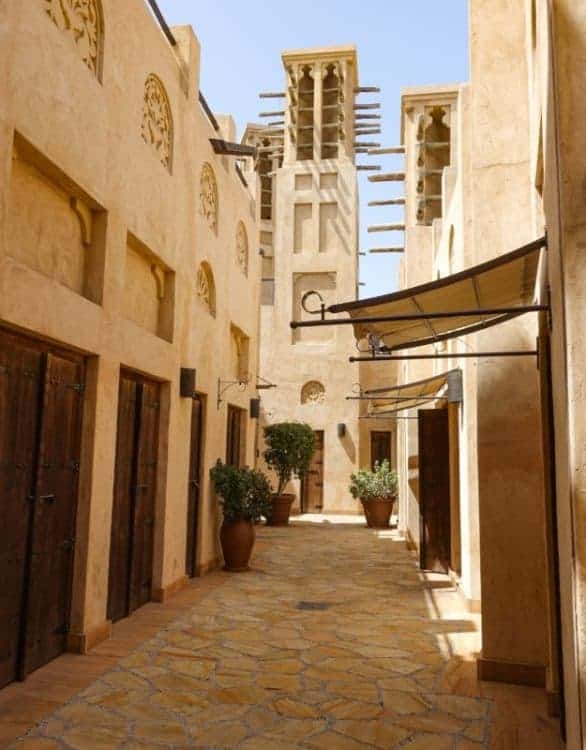 The truth is that you do not have to spend a fortune to have an enjoyable trip to Dubai. There are plenty of things that you can do in the glittering Emirati city without breaking the bank or spending any money at all.
Visit the Hindu Temple of Shiva and Krishna Mandir
Where: 62A Street Bur Dubai (Old Dubai)
There is a large population of Hindus living in Dubai. This is because many Indian workers migrated to Dubai to help build the city.
The Hindu Temple of Shiva and Krishna Mandir is a fascinating place to visit to gain an insight into their religion and culture. Friday afternoons are the best time to visit. On Fridays, you will see devotees attending the temple with offerings to the gods.
Browse the Souk Madinat
The Souk Madinat is a 21st-century Arabian souk that is situated within the Madinat Jumeirah hotel complex. It contains all of the vibrant fabric and spice stores that you would expect to see in a traditional Arab marketplace but has been designed in fancy Dubai style.
Take a Wooden Boat Across to Deira
It is possible to take a wooden boat across the waters towards Deira from Bur Dubai (and vice versa). The wooden boat is an abra – a traditional handmade boat that is used by the Indian, Pakistani, and Bengali migrant workers crossing the creek each day to work.
The ride costs only 1 dirham and offers fabulous views of the skyline without the prices of a waterfront cruise. It also offers a unique insight into the lives of local workers.
People Watch at Dubai Marina
The Dubai Marina occupies a large 8km stretch filled with shimmering skyscrapers and upscale apartment complexes. The glitterati sip their cappuccinos at the various coffee shops and restaurants that line the waterfront and within the water itself, dozens of fancy yachts are moored. Walking here is a pleasant way to pass an afternoon and people watch.
Head Inside the Burj Khalifa
Whether you decide that venturing to the viewing deck at the top of the Burj Khalifa is worth your money is up to debate, however it is worth at least taking a peek inside one of Dubai's most iconic buildings for sure.
On the ground floor of the Burj Khalifa, there are many restaurants and stores. From the outside, the 900-foot dancing fountain show is nice to see before heading out for the evening.
Window Shop at Glistening Malls
The hyper-luxurious malls that Dubai is renowned for are worth a visit even if you don't plan on splurging. These fancy supermalls are home to some of the most expensive and prestigious brand names. They also house obscure "only in Dubai" style attractions such as indoor ski centers. Dubai's malls are worth a walkthrough if only to escape the intense desert heat for a little while.
Stroll Along the Scenic Coastline of JBR
The Jumeirah Beach Residence (JBR Beach) is a long stretch of sandy white beaches and palm tree-lined promenades that sits adjacent to the Dubai Marina. JBR beach is a little like something you would expect to see in Southern California.
It's free to relax on the coast here. Free beach wifi and cheap refreshment stalls make this an affordable day out in Dubai.
You also have a wonderful view of the Burj al Arab from here, making it a great place for capturing photos. Al Mamzar public beach is another free option and a spot that is popular for those both interested in watersports or simply lounging and tanning by the beach.
Haggle Your Way Through Dubai's Best Souks
The Dubai Spice Souk in Deira is a perfect place to sample the very best Middle Eastern spices, fragrant fruit teas, and sweetly candied dates. If you are interested in buying perfumes, cross the road to Sikkat Al Khali Street. Here you can browse all things feminine and fragrant – from ouds sold in ornate vials to incense, essential oils and bespoke custom made scents crafted especially for you.
Rumor has it that Deira gold souk is home to some of the most affordable gold in the Middle East. Even if you don't have the budget for buying jewelry though, browsing the narrow streets and elaborate facades of the jewelry storefronts here is an interesting experience.
At the Deira Gold Souk, you can also view the "largest ring in the world" (not sure of the practicality of that though!). Dubai's Gold Souk is also worth a visit, home to many bespoke crafts.
Witness Pakistani Street Fighting in Old Dubai
The areas of Deira and Old Dubai are largely populated by migrant workers. On Fridays when they finish work, many of these workers gather in the streets to participate in amateur street wrestling. Arguably this is a sight not for the faint-hearted, but a fascinating atmosphere and experience nonetheless.
Wander Around the Bastakia Quarter
Those interested in an insight into Dubai before the glitzy malls, the seven-star hotels, and the flashy cars will enjoy wandering the streets of the old Bastakia Quarter. Built by Persians hundreds of years ago, the narrow passageways, crumbling ancient ruins and looming fortresses here seemingly transport you back in time.
Unfortunately, a lot of the area was destroyed to make way for more modern developments. The 17th century Al Fahidi Fort remains and has been transformed into a museum ($1 admission) that contains hundreds of ancient weapons.
Budget Travel in Dubai:
Dining in Dubai
As with travelling anywhere, to minimise your food costs when travelling to Dubai on a budget, avoid restaurants in touristic areas or in expensive hotels. Fortunately, there are many excellent international options for dining out in Dubai.
International Dining Options
Dubai is a country filled with ex-pats and consequently, many authentic restaurants serving dishes from across the world. From Lebanese food to Indian, Vietnamese, and Thai, you can find a great quality version of virtually everything in Dubai.
Dubai Food Courts
Food served at mall food courts is one low-cost option. In Deira and Old Dubai, there are many Indian restaurants, street food stalls, and bakeries where you can pick something up for less than $10.
Try to do your research as to what eateries are around the neighborhoods that you are going to be spending time in advance so that you don't wind up spending $40 on a bad burger or something as an impromptu choice. The best cafes in Dubai are not always the ones with the highest price tags.
Opt to Stay in Self Catered Accommodation
If you opt to stay self-catered in Dubai such as by staying at an Airbnb apartment, you can drastically reduce your food budget. International supermarket chains such as Carrefour have branches around Dubai.
Fresh ingredients are no more expensive here than in most western cities. You can also pick up small sandwiches, snacks, and salad pots for a few dollars. These are a great, inexpensive lunch for when you are out sightseeing.
Alcohol and Drinking in Dubai
The United Arab Emirates is a relatively strict and conservative Muslim country. Alcohol is not widely available and its sale is limited to certain hotels, bars, and restaurants.
Alcoholic beverages are also heavily taxed. This makes drinking on vacation in Dubai a very expensive way to pass the time. As an indicator? Expect to pay around $12 per pint of beer while out in Dubai.
You can download the Guzzle App – A phone app that offers discounts and deals at certain bars or browse for Ladies Night/Happy Hour events.
Transportation Costs in Dubai
Dubai is perhaps the least pedestrian-friendly city in the world. It is not just the fact that the distances between points of interest are huge, but that the roads are not even pedestrianised or walkable.
The difficulty in getting around Dubai is not helped by the fact that the public transport network in Dubai leaves a lot to be desired. The best way to get around is by cab or by car.
Taking Cabs in Dubai
Taking cabs in Dubai is often the most convenient option to get from A to B but it is certainly not the cheapest. Uber exists in Dubai as does Careem which is the UAE alternative of the app. I actually found the prices to be much cheaper via Uber so I stuck with this app.
Taking the Metro in Dubai
Taking the metro is the least expensive option for getting around Dubai. The only downside is the fact that the network is not extensive and runs only around the touristic areas (the Burj Khalifa, Dubai Marina, Deira, etc). Buy an NOL metro card for 20 AED in order to receive 15 AED worth of travel credit and save money.
If you need to travel somewhere that isn't served directly by metro, the best thing to do is to take the metro as far as you can go, and then take a cab the remainder of the way.
Renting a Car in Dubai
If you are travelling around the wider UAE or travelling as a group, renting a car is a convenient and cost-effective option. Gas is cheap, and there are plenty of beautiful and interesting sites just a short journey away from Dubai.
Places like Fujairah, Abu Dhabi, and neighbouring Muscat, Oman are much more accessible if you have access to a car .
Certain nationalities (including EU residents) can hire a car in Dubai with just their national license. Residents of some countries require an international driving license. Check your government's travel advice before you travel.
Taking the Bus in Dubai
Buses are not a convenient way of getting around Dubai. The only line that may be of any use is the number 8 bus which runs along a parallel route from Bur Dubai to the Dubai Marina and vice versa.
Various tourist sites are scattered along the number 8 route, including the Burj Al-Arab and the Souq Madinat. It can be a useful line if you stay somewhere that is situated close to one of these stops.
How Much to Budget for Travel to Dubai
Depending on your definition of "budget", you can spend anywhere from $40 – $100 a day in Dubai. This can vary depending upon how you get around, your accommodation choices and whether you cook for yourself or choose to eat out.
Disclaimer: This Guide to Travelling to Dubai on a budget may contain affiliate links. This means that I will make a small amount of commission at no additional cost to you if you choose to make a purchase through any of the links on this page. Thank you for understanding.
---