Best places to visit in Muscat? There are plenty!
The Omani capital is altogether more historic, cultured, and authentic than nearby Dubai. It is also relatively compact and the main things to do in Muscat can be covered in just a day or two.
Visiting Muscat, Oman in 2023
Muscat has a long, tumultuous history that stretches back over centuries. Little is known about the city's formative years.
However, in the 14th century, it was a thriving trading port. This was, in part, due to the city's location at the crossroads of the East and West.
It was these trade links that inspired the Portuguese to invade and seize control of the city in the 1580s. The Ottoman Turks tried and failed to invade Muscat, prompting the construction of defensive walls around the city, along with the fortress of Fort-al-Jalali.
The city later fell to the Yarubid dynasty (1649), and then the Persians (1743). Muscat eventually became the Omani capital in 1793.
The name Muscat means "safe anchorage". It sits against the dramatic backdrop of the Taurus mountains and boasts a wonderful juxtaposition of old meets new.
Muscat is not the easiest city in the world to navigate. Getting around is virtually impossible without a car.
The main Muscat tourist attractions are dispersed across the city and are not within walking distance of each other. Muscat does not have a "city centre" and instead consists of lots of different little neighbourhoods.
Unfortunately, these neighbourhoods don't have an awful lot of personality either. Think huge sprawling highways scattered with industrial estates, American-style car dealerships, and giant billboards and you're picturing Muscat.
That's not to say that the city doesn't have its charm. You just have to know where to search for it.
Places to Visit in Muscat Oman in 2023
Visit the Sultan Qaboos Grand Mosque
One of the main places to visit in Muscat, that you should absolutely carve the time out for regardless of how much or little time you have, is the Sultan Qaboos Grand Mosque. This is one of the most stunning places of worship in Oman and arguably, the entire Middle East.
The mosque interiors are embellished with stunning mosaics that shimmer in vivid hues of blue and green. This beautiful structure took over four years to build and previously housed the world's largest carpet and chandelier.
That is until neighbouring Emiratis and Qataris came across to take measurements and steal the title! Nevertheless, both features are still impressive.
The mosque site is expansive. It spans 416,000 square meters and is large enough to house over 20,000 worshippers at any given time.
Sultan Qaboos Grand Mosque is open to non-Muslim visitors between the hours of 8.00 and 11.00 am every day excluding Friday. Entrance to the mosque is free.
Visit the Royal Opera House Muscat
The Royal Opera House in Muscat is a beautiful example of contemporary Arabian architecture. It is arguably one of the most photogenic sites in the city.
The Opera House acts as a cultural crossroads to introduce locals to artistic performances from around the globe. You have the option to take a tour inside the opera house if you wish.
However, even if you don't have a specific interest in architecture or opera, it is worth at least stopping by to take some photos outside. The Muscat Opera House is conveniently close to the Grand Mosque.
Drive out to Fanja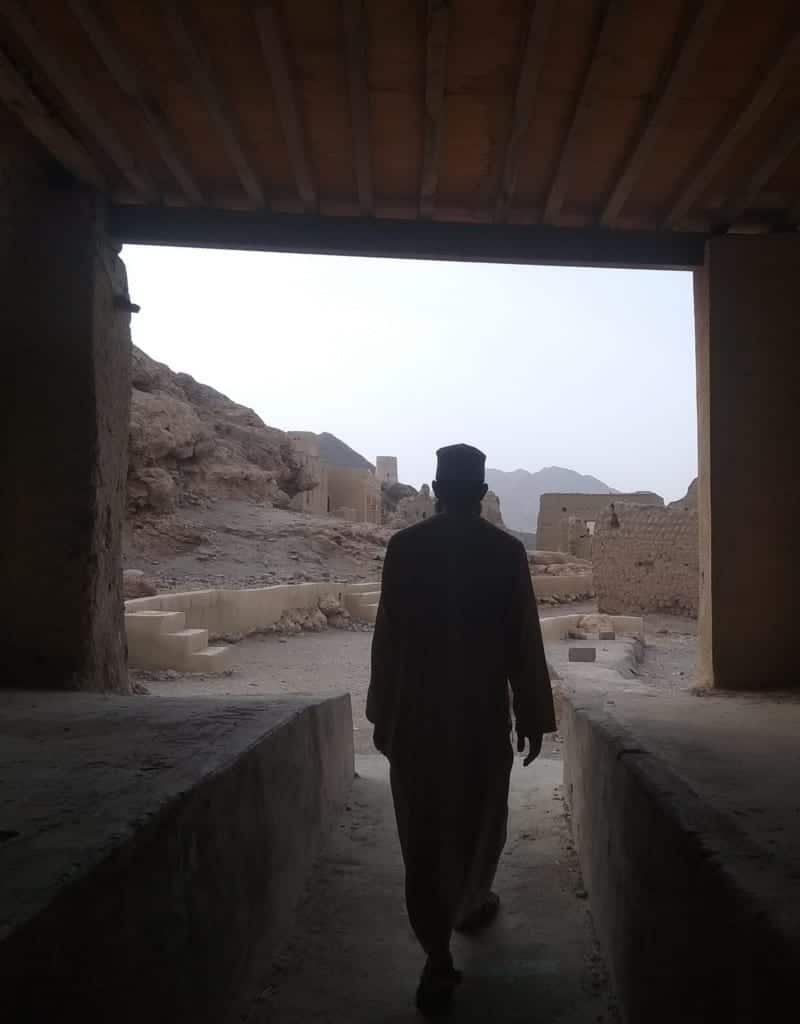 Fanja is one of the best places to visit in Muscat. This is a small town that awaits 25km away from the Omani capital and is divided into an abandoned district and a still-functioning rural town.
Oman is a relatively off-the-beaten-path travel destination as is. But a trip to Fanja is about as offbeat as it gets as few tourists are even aware of its existence.
The modern town sits on the banks of Wadi Fanja – a desert oasis. As you pass through, you will see villagers setting up stalls to sell handicrafts and local produce.
The old town of Fanja is the main draw of coming here though. Little is known about this abandoned fortress – why it was built, or by whom.
Many rusting old cannons are still scattered along its defensive walls and it's a wonderful experience to navigate through the old ruins and be the only tourist there doing so. Old Fanja comes to life at Eid when Omanis come here to shoot guns into the air in celebration. A fascinating spectacle to witness as a traveller.
Admire Al Alam Palace
Al Alam Palace ("Palace of the Flag") is one of six ceremonial palaces that were used by Sultan Qaboos bin Said Al Said up until his death in 2020. It dates back to 1972.
The property occupies a gorgeous waterfront spot on the harbor of Old Muscat. You cannot enter inside the palace and there are several guards perpetually standing outside.
Regardless, it is worth stopping by to admire the flamboyant Islamic architecture of the building. Prior to the palace being built, this land was occupied by the British Embassy.
According to legend, there was once a flagpole situated here. Any slave that touched it would be granted immediate freedom.
Take a Guided Tour of Muscat and Surroundings
Since Muscat and wider Oman's public transport leaves a lot to be desired, tours of the capital and beyond are a great way to get around. They allow you to see many of the best places to visit in Muscat in a short period of time.
These tours are particularly great for solo travellers in Oman. They can work out cheaper than (or at least an equal price to) renting your own vehicle and are a good way to meet others.
A number of reputable tours for Muscat and its surroundings are detailed below for your consideration. Consider doing these at the beginning of your trip, rather than later on.
Why? That way, you can get your bearings in Muscat and you have a local guide whom you can ask for recommendations on the best places to eat, have coffee, hang out, etc.
Visit a Restaurant to try Traditional Omani Shuwa
After a short time in Oman, you will discover that it is very difficult to find authentic Omani food. This is because the majority of Omanis do not work in the restaurant or service industries.
You can find eateries that serve Omani dishes, sure. However, they are operated by people from Yemen, India, and Bangladesh.
As such, they will arguably never be quite the same as what Omanis eat at home. For authentic Omani food (that is well worth the price tag) head to Bait Al Luban.
Alternatively, venture inside one of the many Yemeni restaurants that serve Omani dishes. Lamb Shuwa is the national dish of Oman.
It is eaten regularly and cooked at home. But it is also often eaten on special occasions.
The dish consists of tender, flavourful lamb that is seasoned with black pepper and cooked by steam underground. The traditional Omani/Yemeni way to eat food is by hand while sitting on the floor.
It is fun to try and eat this way to embrace the local culture. However, if you find it difficult to eat with your hands or you wind up throwing rice all over the place, you can always ask for cutlery.
Relax at Qurum Beach
Several gorgeous beaches await in close proximity to central Muscat. They boast fine white sandy shores and crystal clear cerulean waters that rival those of the Greek island groups.
Qurum Beach, in the upmarket neighbourhood of the same name, is a good place to escape the ferocious Middle Eastern sun. Sit beneath the shade of the palm trees as you relax and people-watch.
This beach is known for its watersports. It is possible to rent jet skis here or participate in parasailing, kayaking, and stand-up paddling.
If you want to treat yourself to a luxury stay in Muscat, you could consider booking a night at one of the exclusive resorts or beachfront hotels here. The beach stretches along 2.5km and there is an excellent selection of international dining options along the coast road.
If you have a vehicle and want to head a little further out of the city, consider Fins Beach. This can be found off the road that connects Muscat and Sur and is a great place to free camp.
Witness Ferocious Haggling at the Muttrah Fish Market
The Mutrah fish market is open daily between 8 am and 6 pm and is an interesting sight to behold. Here, vendors and locals haggle ferociously to agree upon the best price for the day's catch.
Over 100 vendors set up shop here each day. Additionally, there is an expanded outdoor market section for fruits, vegetables, and fresh produce.
It is best to stop by here early in the morning if you want to people-watch and see restaurant owners shop for the freshest ingredients. A lot of people that shop at Muttrah fish market are buying in bulk for their businesses, but locals come to buy fresh ingredients too.
Staying in self-catered accommodation or an Airbnb? Shopping here can be a fun experience for you too!
Explore Ancient Muttrah
Ancient Mutrah is one of the oldest parts of Muscat and it is an area that is bursting with personality, history, and charm. There's a souk here that is worth meandering through.
However, Mutrah souk predominantly sells tourist tat and is not all that authentic. So, you are better off waiting until you reach Nizwa to shop at the local souk there.
Stroll along Mutrah Corniche and enjoy navigating the winding pathways here. For an excellent viewpoint over the city, ascend to the top of Mutrah Fort.
Entrance to the fort is free, and the site only opened to tourists quite recently, in 2018.
Visit a Tea Room and Drink Copious Cups of Omani Karak Tea
Much like most of the Arab world, Omanis love their tea. However, Omani tea is much different from what you will have tasted in the Middle East previously.
Omani "karak" tea is prepared with cardamom and milk and possesses a taste that strongly resembles Indian chai. As you drive around Muscat, you will encounter dozens of tea rooms.
Oman doesn't really have a "sit down and people watch with a cup of tea" kind of culture though. The Omani way is to park up out in front of the tea room, wait for the server to run out to you, and ask for a Karak chai to then take with you and enjoy on your drive.
A little cup of karak tea costs around 30-40 cents. A tea drive-through like this is a tea drinker's dream come true! You can literally park outside and shout "Tea!!"
Have a Picnic at Yiti Beach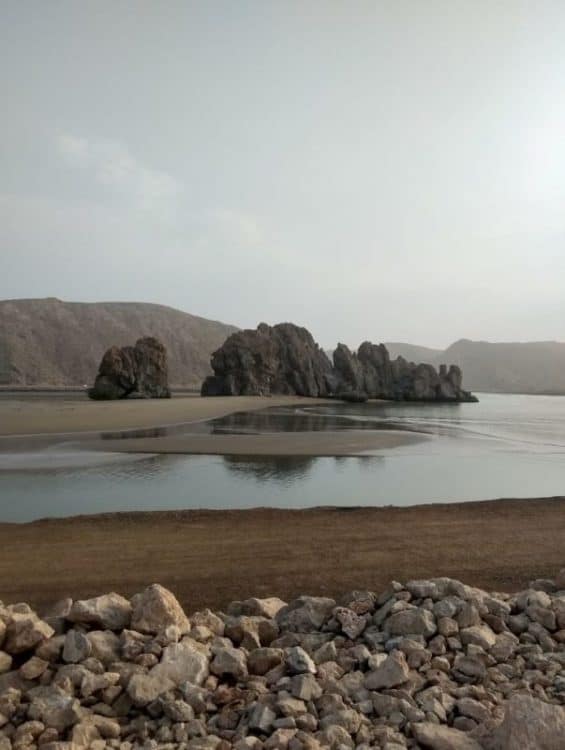 Yiti is a special place that was introduced to me by an Omani friend. The weather here is consistently good, and spending time with family is important.
So, Omanis love to eat picnic-style several times a week during meal times, and Yiti beach is perfect for that. Yiti Beach is located on the outskirts of the capital.
It is an undisturbed slice of natural paradise where you are unlikely to encounter other tourists. Stop by a local eatery to pick up some dinner to take with you or pick up some skewers of mishkak from a roadside stall.
Mishkak is delicious smoked, marinated meat often drilled in chili sauce and is the perfect Omani snack. Alternatively, pick up a cup of karak tea, or maybe purchase a flask to fill with Omani tea!
Browse the Exhibits at Muscat Museums
There are several interesting museums in Muscat. They display artifacts recovered from the region in chronological order and provide a fascinating glimpse into the history of the region.
Ducking into the various Muscat museums and their air conditioning can provide a welcome escape from the scorching desert heat. Al-Bab al Kabir (Muscat Gate Museum) shows the development of Oman throughout the centuries.
The Bait Al Zubair Museum, the Bait Al Baranda Museum, and the Sultan's Armed Forces Museum are also well worth adding to your radar. The latter depicts the military history of Oman.
Getting Around Muscat
The best way to get around Muscat is to either hire a car or see the city on a tour. Although there are some public transport links in Muscat, they do not cover all areas of the city and run very infrequent services.
Private tour guides in Oman can be expensive unless there is a group of you. So, if you are travelling on a budget, or you are looking for the most economical option, you may prefer to rent a car.
Renting your own vehicle in Oman gives you a lot of flexibility for independent exploration. However, if you can't drive or prefer not to, you may also want to consider participating in a small group tour of Muscat.
Renting a saloon car will not cost you more than $40 per day. That's even more affordable if there is a group of you travelling together, or even if you are travelling solo and you are able to meet fellow travellers via Couchsurfing to pitch in.
Muscat is a good starting point for your Oman itinerary. However, there isn't really an awful lot to do there.
You can see the main highlights of the Omani capital in a day. From there, you are better off reserving most of the time on your Oman trip to enjoy the country's beautiful nature.
Where to Stay in Muscat in 2023
The best place for you to stay in Muscat during your Oman holidays depends largely on both your personal preferences and travel style and your budget. Some of the best accommodation in Muscat options are outlined below for your consideration.
Muttrah
Muttrah may be a little touristic. However, it is possible to find Airbnb accommodation and hotels here that do not break the bank.
This is a good place to stay in Muscat on a budget. You can find studio apartments here for just under $30 a night.
Opting to stay in Muttrah places you right in the centre of the action with some of Muscat's main sites right on your doorstep. The added benefit is that the area is pleasant for evening walks or grabbing a cup of tea.
Recommended Muttrah hotels
Central Muscat
The centre of Muscat is not overly attractive and can be difficult to get around if you don't have a car. You pretty much have to drive to get anything – even a simple cup of tea. Assuming that you do have a car though, central Muscat is fine.
Ruwi
Ruwi is arguably the most low-cost option for accommodation in Muscat. The southern part of the district is known as "Little India" on account of the many Indian and Pakistani expats that live here.
You will find hotels and rentals here that do not break the bank. Better yet?
There is an abundance of excellent Indian restaurants right on your doorstep. Dozens of colourful little shops line the vibrant Souq Ruwi Street and are interesting places to shop and people-watch. In terms of prices, rooms here can be found for as little as $30 a night, even during the peak season.
Recommended Ruwi hotels
Beach Resorts
In a similar fashion to Dubai, Muscat is home to plenty of exclusive resorts offering access to luxurious, private beaches. This could be an option if you want to enjoy a little rest and relaxation during your Muscat trip and you are not travelling to Oman on a tight budget.
Recommended Luxe Resorts in Muscat
Parting Words
Have any questions or concerns about what to do in Muscat or Oman tourism in general? Feel free to reach out to me or drop me a comment below!
---