Concerned about what to wear in Dubai? Fear not.
This comprehensive guide by a local will help you determine exactly what you should include in your Dubai packing list so that you are comfortable in the heat and humidity, and so that you do not cause offense.
What to Wear in Dubai:
Your 2023 Insiders Guide
Deciding what to wear in Dubai is often one of the biggest concerns for people travelling to the United Arab Emirates for the first time, especially female travellers. After all, the UAE is renowned for being a conservative Muslim country where women dress modestly and strict dress codes are in place.
Most travellers neither want to inadvertently cause offense nor draw negative attention to themselves. But what is the extent of this?
To clarify, many international ex-pats from across the globe live and work in Dubai so there is absolutely zero expectation that foreign travellers wear the local dress. You can generally wear the same kinds of western clothes that you would wear at home.

But you just need to cover up a bit more. Generally speaking, this means covering your shoulders and knees and your cleavage if you are female.
That's it. Fortunately, you can still look stylish and adhere to these recommendations without it meaning that you have to don a frumpy travel wardrobe.
There are also plenty of places where you can find appropriate clothing that is made from light, breathable materials. So, even if you are wearing trousers, long skirts, and jumpsuits in the hot, desert heat, you will never feel as though you are melting.
What to Wear in Dubai
Precisely what to wear in Dubai varies a lot depending on where you are. For instance, rules are a lot more liberal in hotels, beach clubs, pools, and bars.
This guide on what to wear in Dubai will look at different settings and what to consider for your wardrobe accordingly. At the end, you will find a suggested Dubai packing list for tourists of all genders that is suitable for all seasons.
Consider the time of year that you are travelling
Dubai is hot all year round and the United Arab Emirates has quite a dry, desert heat. However, the temperatures do vary significantly between the summer and winter months.
Summer in Dubai runs from May to September. You will see far fewer tourists at this time or even locals outside, as the temperatures often soar to heights that are unbearable for most people.
Expect to see daily temperatures between 28° and 41°C during the summer months (82° – 105°F), with a daily average of about 38°C. In the winter, expect daily averages between 14° and 26°C. (57°-79°F).
Beware the wrath of the AC!
Most businesses, restaurants, and hotels blast out the AC in Dubai, to the extent that you can often feel as if you have stepped inside a walk-in refrigerator. While this is great when you are hot and uncomfortable after being out sightseeing all day, it can be a bit too cold sometimes.
For this reason, it is a good idea to always carry a light pashmina or jacket, particularly if you are going out for dinner somewhere and you are going to be sat in the air conditioning for an extended period. Of course, in your accommodation or hotel room, you will be able to control the temperature.
General day-to-day wardrobe in Dubai
Your general day-to-day wardrobe in Dubai should consist of clothes that are comfortable and modest. You may notice that a lot of tourists do obliviously wander around Dubai wearing shorts and tank tops but it is better not to follow suit.
While people may not say anything to them, people could approach and say something to you. There have been instances of locals mentioning to guards in Dubai malls, promenades, etc, that they are offended by someone's clothing, and the security personnel has approached the tourist and asked them to leave and change.
Is this really the sort of awkward and unpleasant interaction you want on vacation? It is always a good idea to try and respect local customs and cultures, even if you are not thrilled about it affecting the way you dress and present yourself.
It is usually acceptable for men to wear shorts provided that they are below the knee (No hot pants boys!). However, it is more advisable for women to wear long trousers or maxi skirts.
Since the weather is usually very hot, try opting for silk or linen blended clothing items that are loose-fitting and allow you to breathe. If you are female, consider carrying a light scarf or pashmina in your backpack at all times.
Things can be stricter during Ramadan
If your Dubai itinerary falls during Ramadan, expect the dress code to be more enforced. In 2024, Ramadan will begin on the 10th of March, and end on the 9th of April.
What not to wear in Dubai
Fortunately, the list of what you can wear in Dubai is much longer than the list of what you cannot. Wearing low-cut tops or showing cleavage is a big no-no, as are super short shorts.
At best you may attract unwanted stares and attention. At worst, you may be approached by a local or the police and asked to change.
If you decide to ignore all of this advice on what to wear in Dubai and find yourself being approached, don't make a scene. Simply apologise and go and change as soon as possible.
What to wear in Dubai Shopping malls and hotels
Since hotels in Dubai are filled with international people and Westerners, you can generally wear what you want. This is within reason of course. Nipple tassels and see-through clothes are probably best left at home!
Many people seem to dress however they please within Dubai malls. However, you should still follow the covered knees and upper body rule wherever you go.
Some of these malls have signs asking tourists to dress respectfully or have diagrams of what should and should not be worn. It costs nothing to be respectful, right?
What to wear at restaurants and brunches
It's safe to say that the general appearance of those living or working in Dubai is a classy "see and be seen" approach. Obviously, you should wear clothes that make you feel the most comfortable.
There is no obligation to dress up or don expensive designer labels!
But it's nice to have one "nice" outfit to dust off from the bottom of your suitcase. Say for example if you are heading for afternoon tea at the Burj or similar.
A lot of expats and travellers love going out for brunch in Dubai. This is partly because a lot of establishments have all-you-can-eat and drink buffets every day from 12 p.m. until 4 p.m.
Since drinking alcohol in Dubai is usually very expensive, this is a pretty good deal! Double Deckers (Swissôtel Al Murooj – Trade Centre) and Bubbalicious (The Westin Dubai Mina Seyahi Beach Resort & Marina) are two of the best-loved local brunch spots.
Prices range from 200AED to 900AED. A lot of establishments share their dress code rules on their websites.
Some expect very formal attire and others are more business-casual. Men should wear closed shoes rather than sneakers, and shirts rather than tshirts.
What to wear at Dubai nightclubs and pubs
Dubai does have nightclubs (just be sure not to get intoxicated). The dress code is actually stricter for men than it is for women in restaurants and nightclubs.
Men are required to wear full-length trousers and closed shoes. Conversely, women are fine to wear dresses and sandals in these environments.
What to wear at swimming pools and beach clubs
There are many wonderful pools, beaches, and beach clubs in Dubai that are definitely worth checking out. For a small fee, or for free on certain days of the week, you can hang out for the day at the private pools and beaches of Dubai's fanciest hotels.
In these environments, it's perfectly fine to wear swimsuits and bikinis. You will see everything here – from full-body Islamic swimwear to itty bitty Brazilian thongs.
It should be noted that swimwear is acceptable only in the beach/pool areas. This means that if you then decide to pop into a shop and buy a drink or head to a restaurant for something to eat, you must change.
You cannot enter shops and restaurants in beachwear. Men should not walk around shirtless outside the beach area and wandering along the road or into local businesses barefoot is a definite no-no.
It is also worth noting that while Dubai public beaches are free to enter and you can technically wear what you want, they mostly attract locals. So, if you decide to go swimming at Jumeirah Open Beach or Black Palace Beach, you might receive a lot of stares if you wear Western swimwear.
This can be particularly uncomfortable for female travellers and male attention/catcalling and staring can be at their highest here. It is ultimately your call whether you feel comfortable in your swimwear in this environment or you prefer to go to a private beach club.
What to wear in Dubai mosques and religious sites
The one time that you really need to up your conservative dress game in Dubai is when visiting mosques or areas frequented by more locals than ex-pats. For example, the spice souk.
Long sleeves and trousers are advised and when entering mosques and religious buildings and women need to cover their hair. If you are not dressed appropriately and you want to enter a mosque, you are typically able to rent a scarf for your hair.
Alternatively, they may offer you an abaya (traditional Muslim dress) for a small fee. This depends on the specific mosque. It is best to carry a scarf or pashmina in your bag if you plan on visiting religious sites in Dubai.
What to wear on a Dubai desert safari
When you venture out into the rolling dunes of the Dubai desert, one crucial thing to remember is the intensity of the sun's rays out here. There is no shade and no escape from the sun.
Always pack a hat, or a scarf to protect your head. Wear loose comfortable clothes. Again, a loose cotton shirt and loose long pants are a good shout for all genders or even a trendy kaftan for women.
If you do something like a Dubai helicopter tour or some kind of ATV tour/tour that entails a long journey somewhere, try and wear something cool and comfortable that remains respectful. Again, you cannot go wrong with a cotton t-shirt and loose pants.
Wardrobe suggestions for solo female travellers in Dubai
People often seem to carry the assumption that Dubai and other destinations in the Middle East are not suitable for solo female travellers. That couldn't be farther from the truth.
This article (and in fact, this entire website) has been written by a solo female traveller that was alone in Dubai. There are also a lot of women from all corners of the globe working and living independently in Dubai so you definitely won't stand out here or receive any stares or weird comments for being alone.
Still, it is better to adhere to the suggestions here to not attract unwanted attention. Long linen jumpsuits, maxi skirts, and loose cotton blouses are great choices. That way, you can be comfortable and respectful while still being stylish.

I always covered my legs down to my ankles. Most of my shirts covered my shoulders fully but I packed a pashmina in my bag just in case.

I didn't ever attract any attention or looks from Emiratis. I think provided you dress respectfully in Dubai, you will be completely fine.
What to wear elsewhere in the UAE
While Dubai is relatively conservative in culture, its neighbouring Emirati states are even more so. Not to mention, outside of Abu Dhabi and Dubai, some parts of the UAE are simply not accustomed to seeing many foreign travellers.
So, if you wish to visit the beautiful Sheikh Zayed Mosque in Abu Dhabi and see the stunning nature of Fujairah. Or if you decide to stay in nearby Sharjah because it's cheaper than Dubai proper, always err on the more conservative side of what to wear in Dubai
A Suggested Dubai packing list
It is possible to pack pretty light for Dubai and take clothes with you that can transform from casual daywear to evening chic. Lightweight cotton and linen clothes shouldn't take up much space in your suitcase either.
There are some seasonal variances to consider but when creating your packing list for what to wear in Dubai, consider taking the following.
Your 2023 Dubai Packing List
A wide-brimmed sunhat – The sun is intense, there is often no escape and you can easily burn your sensitive head.


Packing cubes or compression bags to fit more in your suitcase


Sunglasses


Sunscreen


Sun-protecting lip balm


3-4 Loose, breathable cotton t-shirts


Comfortable walking sandals


Flip flops for walking around the hotel or popping out to the shop


Sandals for women, closed-toed shoes for men


2-3 pairs of long, lightweight trousers or skirts


2-3 stylish jumpsuits or maxi dresses for brunches, lunches, and eating out in style


A light pashmina or scarf for modesty or covering hair when entering mosques


2 swimsuits (one to use while the other is drying)


A sarong or beach cover


Reusable period panties (environmentally friendly, lightweight period underwear) or menstrual cup


One or two lightweight sweaters to throw on in airconditioned places or if travelling during the winter months


Comfortable pyjamas – temperatures drop at night. This especially should be considered if camping in the desert for any portion of your trip.


Passports and visa documents


Powerbank, phone charger, and travel adaptors
FAQs on What to Wear in Dubai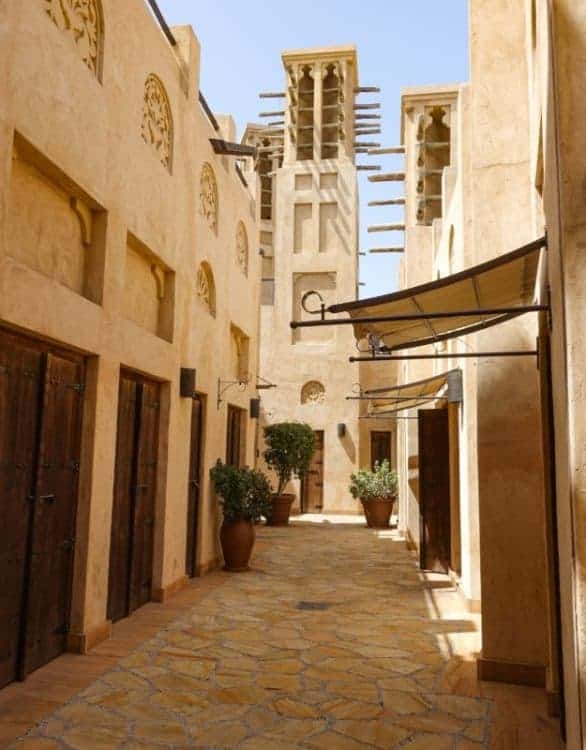 Do you have any more burning questions or concerns about what to wear in Dubai? Hopefully, you will find the answers you are looking for below.
What aren't you allowed to wear in Dubai?
Avoid clothing that is too tight, too short, or too revealing when travelling in Dubai and the wider UAE. This means no ultra-short shorts or skirts, and no low-cut tops that display cleavage.
When you are exploring or walking around during the day, don't wear tank tops with spaghetti straps or crop tops that show your midriff. Generally, things are a little more liberal and relaxed for men.
However, men still shouldn't wear shorts that are shorter than knee length or flimsy vests. Similarly, some places have quite a formal dress code so men should not wear baseball caps inside, and may have to wear business-casual fitted trousers and shirts, as opposed to jeans.
Can you have cleavage in Dubai?
Showing your cleavage is best avoided in Dubai and the wider UAE. If you wear a low-cut top, at best, you will get stares and unwanted attention.
At worst, you may receive comments or someone may even approach you and ask you to change.
Do you have to cover your hair in Dubai?
You do not have to cover your hair while sightseeing in Dubai. The only time that women will be asked to do so is when entering mosques or other religious buildings.
Should I wear jeans in Dubai?
It is perfectly fine to wear jeans in Dubai while exploring the city, going for lunch, going to the mall, etc. The only time where this may be an issue is if you try and enter a more exclusive club/restaurant where only fitted trousers are accepted.
Can you wear sleeveless in Dubai?
Although you should generally try and cover your shoulders and knees in Dubai, a sleeveless, long dress is perfectly acceptable.
Do females have to cover up in Dubai?
Female travellers do have to cover up to an extent in Dubai but this is definitely not to the same degree as Middle Eastern countries like Saudi Arabia and Iran. As long as you do not wear tight or revealing clothes, you are fine.
Final thoughts on what to wear in Dubai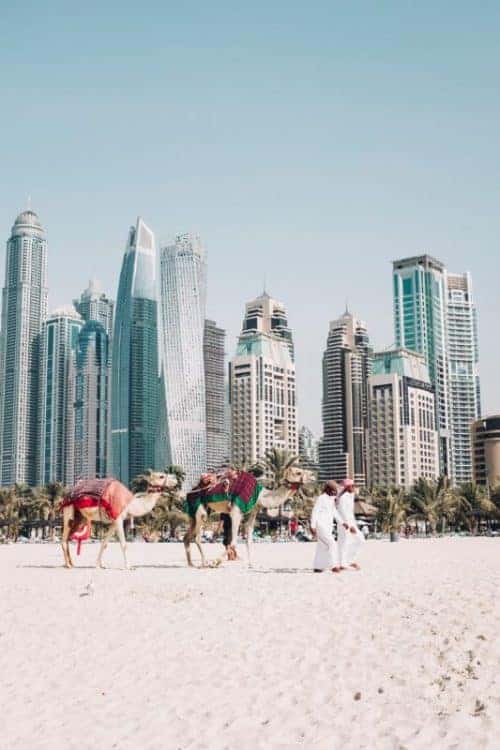 If you have any further questions or concerns about what to wear in Dubai, feel free to reach out to me. Safe travels! Melissa xo
---