What to wear in Dubai is one of the biggest concerns that people have when planning their visit to the Emirati state. It is one thing that gets people in a little bit of a tizzy.
We have all heard on the grapevine that Dubai is pretty strict. However, precisely how strict is it? and how does that strictness affect our travel wardrobe?
The fact that the UAE is a Muslim nation also means that there is some pretty conflicting information whizzing around the internet on what is and what is not acceptable to wear in Dubai. This guide on what to wear in Dubai aims to answer those questions.
What to Wear in Dubai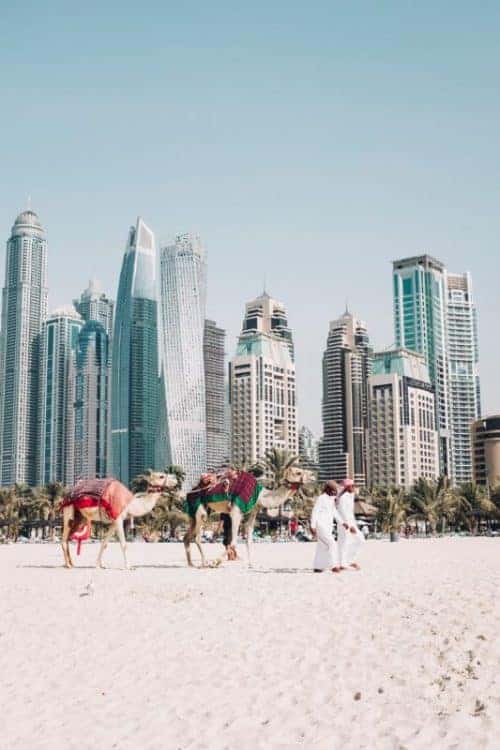 Culture and Traditions in Dubai
The glittering city of Dubai is one of seven Emirati states that make up the United Arab Emirates. The official and predominant religion in Dubai is Islam. This is a religion that promotes modesty of dress.
Dubai: A Multicultural Hub
All things considered, Dubai is a lot more multicultural and diverse than most places within the Middle East. This is owing to its large ex-pat population and its presence as an international business hub.
You can walk down the street in Dubai and hear about ten different languages. To be honest, you are likely to see more foreigners than Emiratis!
Be Respectful of the Local Culture
As with travelling anywhere, you should try to respect the local cultures and traditions in Dubai. This means always erring on the side of modesty so as not to cause offense.
You may notice a lot of western tourists wandering around Dubai in short shorts and tank tops. While they often do not seem to be bothered or questioned by the locals, it seems fairly rude not to be respectful of the culture. During Ramadan, expect the dress code to be more enforced.
What to Wear in Dubai:
Climate Considerations by Season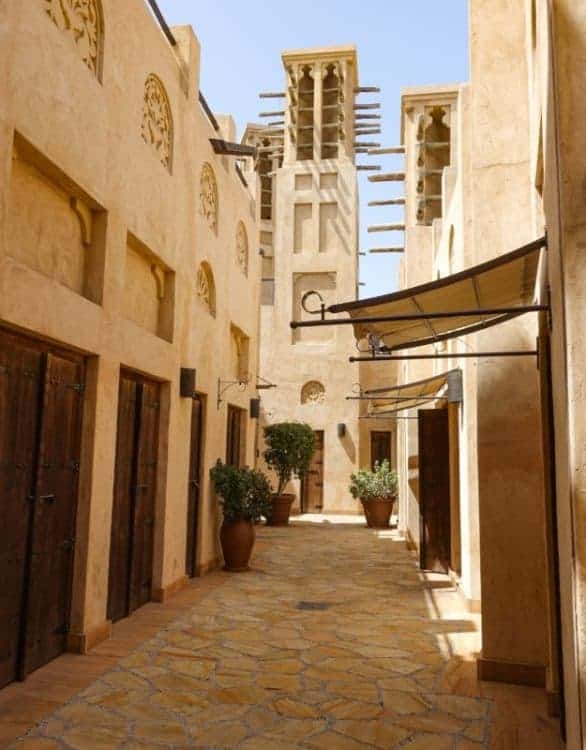 To an extent, the climate during the specific time of year that you visit Dubai is going to have some impact on your choice as to what to wear in Dubai. However, the temperatures here rarely dip below 15 degrees Celsius, even in the winter months! As such, you're definitely not going to need to don the fluffy hats and winter clothes on your Dubai itinerary.
December to February
If you want to avoid the intense heat of Dubai, arguably the best time to visit is during the months of December to February. During this time, the temperatures are at a minimum of 15 degrees Celsius, and a maximum of 25 degrees.
If you plan on sunbathing, this is possible at either end of this period. You should pack a light jacket for the cooler evenings.
The nice thing about travelling to Dubai during this time is that you can comfortably dress in modest clothes and long-sleeved trousers/shirts as required without feeling too hot.
March and April
March and April are the best months for sunbathing and swimming in Dubai. However, the temperatures do start to reach the high thirties or even 40 degrees Celsius.
May to October
The Summer months make visiting Dubai almost unbearable for many. Temperatures exceed 40 degrees Celsius and almost hit 50.
Be sure to focus on sun protection if travelling during this time. Pack a sun hat or purchase a scarf or pashmina locally.
The temperatures now are so hot that extended outdoor exploration becomes almost unbearable. Fortunately, virtually everywhere in Dubai is air-conditioned.
November
November sees the temperatures in Dubai begin to take a cooler turn and dip back to the late twenties/early thirties. The climate at this time is similar to early Spring. Pools and beach clubs start opening again after their summer hiatus and this is a nice time to enjoy the hot weather without frying.
Beware the Wrath of the AC
The silver lining to the consistently hot temperatures of Dubai is that everywhere has air conditioning (and pretty good, strong air conditioning at that). Supermarkets, cabs, malls, restaurants, and coffee shops all have good air conditioning.
AC in Dubai takes you, quite literally, out of the frying pan and into the freezer. It is a good idea to pack a light sweater or a shawl in case you are exploring a mall or having dinner and start to feel a little chilly.
General Dress Code in Dubai
What to wear in Dubai does depend on where you are in the city specifically. However, generally, you should just ensure that your shoulders and knees are covered.
It is usually acceptable for men to wear shorts provided that they are below the knee (No hot pants boys!). However, it is more advisable for women to wear long trousers or maxi skirts.
Since the weather is usually very hot, try opting for silk or linen blended clothing items that are loose-fitting and allow you to breathe. If you are female, consider carrying a light scarf or pashmina in your backpack at all times.
This is lightweight to carry and allows for instant modesty should you need to cover up. You will always need extra coverage when entering mosques or religious sites.
What Not to Wear in Dubai
Fortunately, the list of what you can wear in Dubai is much longer than the list of what you cannot. Wearing low-cut tops or showing cleavage is a big no-no, as are super short shorts.
At best you may attract unwanted stares and attention. At worst, you may be approached by a local or the police that expresses their concern and asks you to change.
If you decide to ignore all of this advice on what to wear in Dubai and find yourself being approached, don't make a scene. Simply apologise and go and change as soon as possible.
What to Wear in Dubai:
Shopping Malls and Hotels
Since hotels in Dubai are filled with international people and westerners, you can generally wear what you want. This is within reason of course. Nipple tassels and see-through clothes are probably best left at home!
Many people seem to dress however they please within the malls. However, you should still follow the covered knees and upper body rule wherever you go.
Some of these malls have signs asking tourists to dress respectfully or have diagrams of what should and should not be worn. It costs nothing to be respectful, right?
What to Wear in Dubai:
Brunch, Lunch, Dinner and Party
It's safe to say that the general appearance of those living or working in Dubai is a classy "see and be seen" approach. I mean, you can dress as casual as you please but it's nice to have one "nice" outfit to dust off from the bottom of your suitcase. Say for example if you are heading for afternoon tea at the Burj or similar.
Believe it or not, Dubai does have nightclubs (just be sure not to get intoxicated). The dress code is actually stricter for men than it is for women in restaurants and nightclubs.
Men are required to wear full-length trousers and closed shoes. Conversely, women are fine to wear dresses and sandals in these environments.
What to Wear in Dubai:
Swimming Pools, Beach Clubs and Water Parks
There are many wonderful pools, beaches, and beach clubs in Dubai that are definitely worth checking out. For a small fee, or for free on certain days of the week, you can hang out for the day at the private pools beaches of Dubai's fanciest hotels.
In these environments, it's perfectly fine to wear swimsuits and bikinis. You will see everything here – from full-body Islamic swimwear to itty bitty Brazilian thongs.
It should be noted that swimwear is acceptable only in the beach/pool areas. This means that if you then decide to pop into a shop and buy a drink or head to a restaurant for something to eat, you must change. You cannot enter shops and restaurants in beachwear.
What to Wear in Dubai:
Mosques and Traditional Areas
The time that you really need to up your conservative dress game in Dubai is when visiting mosques or areas frequented by more locals than ex-pats. For example, the spice souk.
Long sleeves and trousers are advised and when entering mosques and religious buildings and women need to cover their hair. If you are not dressed appropriately and you want to enter a mosque, you are typically able to rent a scarf for your hair.
Alternatively, they may offer you an abaya (traditional Muslim dress) for a small fee. This depends on the specific mosque. It is best to carry a scarf or pashmina in your bag if you plan on visiting religious sites in Dubai.
What to Wear in Dubai:
Desert Safari
When you venture out into the rolling dunes of the Dubai desert, one crucial thing to remember is the intensity of the sun's rays out here. There is no shade and no escape from the sun.
Always pack a hat, or a scarf to protect your head. Wear loose comfortable clothes. Again, a loose cotton shirt, loose long pants are a good shout for both genders or even a trendy kaftan for women.
What to Wear in Dubai as a Solo Female
I travelled to Dubai alone. It was an impromptu trip after crossing the border to the UAE from travelling in Oman.
I bought long linen jumpsuits, maxi skirts, and loose cotton blouses specifically for the trip. That way, I could be comfortable, modest, and still have a little bit of style.

I always covered my legs down to my ankles. Most of my shirts covered my shoulders fully but I packed a pashmina in my bag just in case.

I didn't ever attract any attention or looks from Emiratis. I think provided you dress respectfully in Dubai, you will be completely fine.
What to Wear Elsewhere in the UAE
Dubai is more relaxed about dress codes compared to its neighbouring Emirati states. These are either more conservative and religious or less accustomed to seeing international travellers.
If you wish to visit the beautiful Sheikh Zayed Mosque in Abu Dhabi, see the stunning nature of Fujairah, or even decide to stay in nearby Sharjah because it's cheaper than Dubai proper, always err on the more conservative side of what to wear in Dubai
A Suggested Dubai Packing List
It is possible to pack pretty light for Dubai and take clothes with you that can transform from casual daywear to evening chic. Lightweight cotton and linen clothes shouldn't take up much space in your suitcase either.
There are some seasonal variances to consider but when creating your packing list for what to wear in Dubai, consider taking the following.
Dubai Packing List
A wide-brimmed sunhat – The sun is intense, there is often no escape and you can easily burn your sensitive head.


Packing cubes or compression bags to fit more in your suitcase


Sunglasses


Sunscreen


Sun-protecting lip balm


3-4 Loose, breathable cotton t-shirts


Comfortable walking sandals


Flip flops for walking around the hotel or popping out to the shop


Sandals for women, closed-toed shoes for men


2-3 pairs of long, lightweight trousers or skirts


2-3 stylish jumpsuits or maxi dresses for brunches, lunches, and eating out in style


A light pashmina or scarf for modesty or covering hair when entering mosques


2 swimsuits (one to use while the other is drying)


A sarong or beach cover


Reusable period panties (environmentally friendly, lightweight period underwear) or menstrual cup


One or two lightweight sweaters to throw on in airconditioned places or if travelling during the winter months


Comfortable pajamas – temperatures drop at night. This especially should be considered if camping in the desert for any portion of your trip.


Parting Words
If you have any further questions or concerns about what to wear in Dubai, feel free to reach out to me or drop a comment below. Safe travels! Melissa xo
---