Crossing the border from Oman to Dubai is relatively straightforward. That may sound surprising, considering land borders in the Middle East are often fairly strict.
This article provides a step-by-step guide on how to get from Oman to Dubai (and vice versa) overland. It was last updated on the 24th of June 2020.
Crossing the Oman – Dubai Border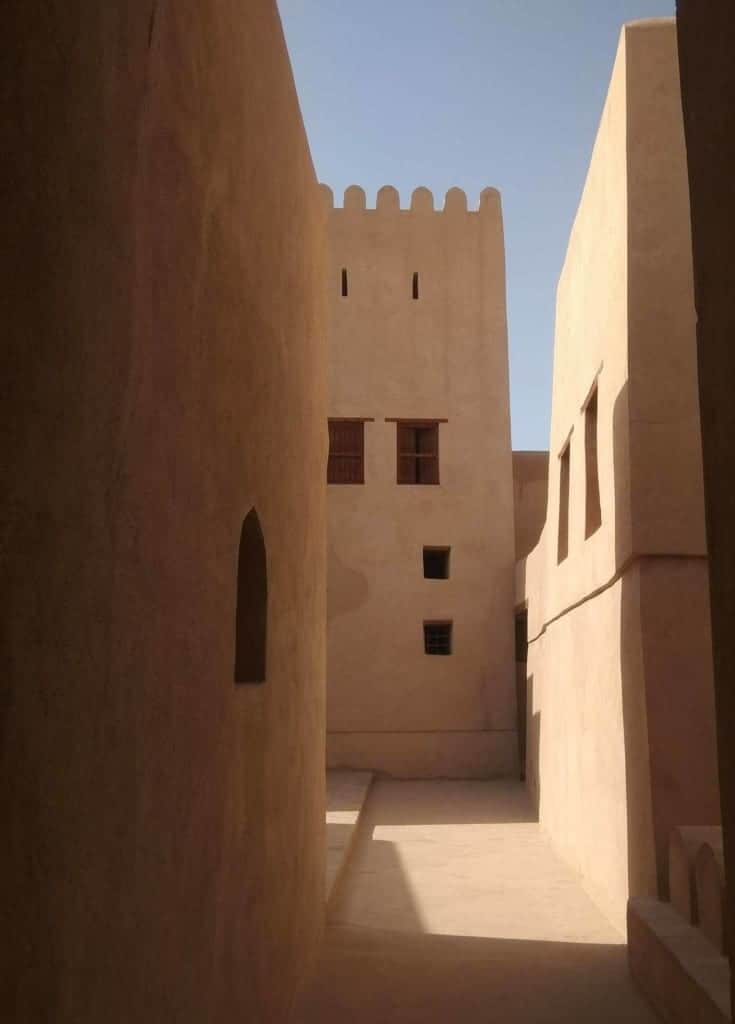 Theoretically it should take you between 6-8 hours to cross the Oman-UAE border and get into Dubai. This is obviously dependent on traffic.
You also have the option to fly between Muscat and Dubai. However, by the time you take getting to the airport, waiting at the airport, and the flight time into consideration, flying does not really work out much faster.
You may be lucky and get through the Oman-Dubai border crossing quickly, or you may have an overzealous Immigration Officer that makes the process a bit of a headache. Let someone know about your travel plans and the date that you intend to cross the border, especially if you plan on travelling alone.
How to Cross the Border from Oman to Dubai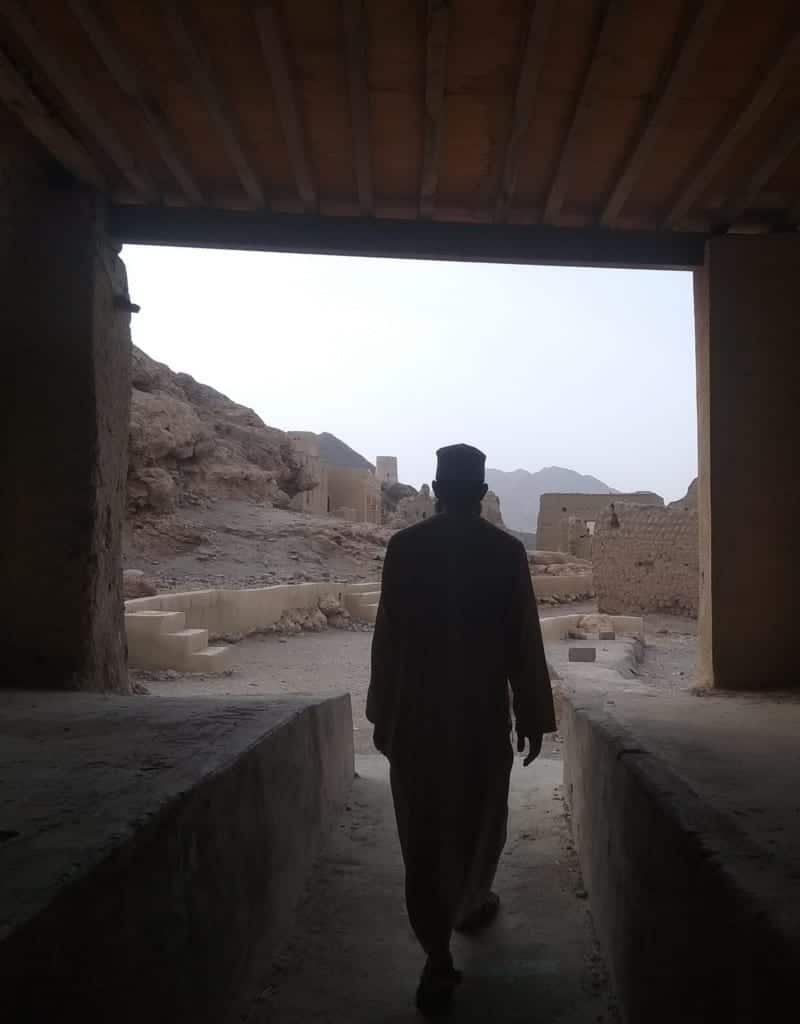 You can cross the border from Oman to Dubai by bus or by rental car. The process is more or less the same whichever option you choose. Taking a local bus is a good option for travelling Oman on a budget.
Crossing the Border from Oman to Dubai by Bus
There are a number of bus companies that offer frequent daily services that take you across the border from Oman to Dubai and vice versa. The main company is Mwasalat which is Oman's main public transportation service. There are also a number of smaller-scale private companies that offer similar services such as Al Khanjry which also has a pretty good reputation.
There are several bus stops and stations in Muscat where you can board a bus to Dubai. The bus also stops at several towns and villages close to the UAE border en route to the Hatta crossing.
The main Mwasalat station in Muscat is situated in Ruwi, and there is another in Mabellah.  The Al Khanjry stations are located nearby.
Mwasalat and Al Khanjry Bus Timetables
Mwasalat and Al Khanjry buses share the same bus schedule. Buses depart from Muscat for Dubai three times daily. The services run at depart at 6 am, 3 pm and 9 pm respectively.
You can check the latest Mwasalat bus timetables here.
Should I Travel with Mwasalat or Al Khanjry?
Oman is a well-developed and sophisticated country. I crossed the Oman – Dubai border using the Mwasalat bus services. However, I would not hesitate to use Al Khanjry.
Most transportation services in Oman are pretty decent. The Mwasalat buses were nice, comfortable and air-conditioned. Al Khanjry buses are supposedly a little older.
Buses in Oman do not have bathrooms onboard. However, they stop frequently for bathroom and service breaks. Mwasalat buses *should* have wifi onboard. However on the two occasions where I used them during my Oman itinerary, this was not working. 
Ticket prices are similar between both operators. Bus tickets cost approximately £11 each way. That's 6 OMR or 55 AED.
Mwasalat bus tickets cannot be purchased online and need to be bought at the station. Generally, you are okay buying these tickets on your intended day of travel. However, you should be mindful if you are travelling on a local holiday as it may be busier.
How to Cross the Border from Dubai to Oman
The process for crossing the border from Dubai to Oman is relatively straightforward too. However, you should be prepared for strict measures and security checks at the UAE borders.
Taking the Bus from Dubai to Muscat, Oman
Services run frequently from Dubai to Muscat, Oman. The main bus station in Dubai is located in Deira city (Abu Hail Bus Station, Salah Al-Din St). You can take a local bus or an Uber in Dubai to reach the bus station. 
Buses depart from Dubai every day at 7.30 am, 3.30 pm, and 11 pm. You can also board the bus at Rashidiya bus station.
How Long Does it Take to Cross the Border?
The journey from Oman to Dubai should take approximately 6 hours. The bus makes a short pit stop at Sohar, Oman and then goes on to the border crossing at Hatta, and then Dubai.
The Process for Crossing the Oman Dubai Border
The journey from Oman to Dubai should take approximately 6 hours. The bus makes a short pit stop at Sohar, Oman. It then goes on to the border crossing at Hatta, and finally to Dubai.
Oman UAE Border Checkpoints (Muscat to Dubai)
The bus stops at three different checkpoints on the way from Muscat to the UAE border at Hatta. There is one checkpoint in Oman and two more on the UAE side of the border. The process is outlined below.
Exit Oman
Exiting Oman was relatively straightforward. Everyone lined up and the Immigration Officers stamped the passports with no hassle.
There are fast-food restaurants, convenience shops and a tea room here to get anything you need for the last leg of your journey.
UAE Checkpoint One
The first checkpoint at the Hatta crossing is a standard border control where your passport and documents are checked. British citizens do not need a visa to enter the United Arab Emirates. However, some nationalities do, so check in advance.
UAE Checkpoint Two
The second checkpoint at the Hatta crossing saw the Immigration Officers take a select few people (myself included) off the bus in order to check their luggage.
A Negative Experience at Hatta
I assumed that crossing the Oman Dubai border was going to be fine. I had all of my official documents with me, and had researched the process in advance. However, I actually ended up being temporarily detained at the UAE border.
Firstly, the Immigration Officers did not believe I was the person in my passport. Secondly, they accused me of trying to transport medicines (I had nothing). 
I don't want to cause panic. However, it is important to be honest and realistic about what may happen. 
I was shoved around and treated quite aggressively by the border agents. I passed into the UAE just fine eventually. However the experience has put me off ever returning in the future.
Onwards to Dubai
Once you've survived the Omani and Emirati border controls, it's a steady journey now to Dubai. The drive takes approximately another hour and a half at this point.
Arrival in Dubai
The bus drops you in Deira in Dubai. This is on the outskirts of town and quite a way away from the Dubai Marina or other central parts of town. location.
Fortunately, Dubai has pretty good public transport links. Getting around by bus and metro is relatively easy. You can check bus, tram, and train times in Dubai here).
Taxis are pretty pricey if you flag them down, and even via Uber so I recommend downloading the Careem taxi app. If you plan on further travel in the UAE and onto Abu Dhabi to check out the magnificent Sheikh Zayed mosque, you can follow this guide on getting from Dubai to Abu Dhabi.
Oman UAE Border Checkpoints (Dubai to Muscat )
There are three different checkpoints that your bus stops at when travelling from Dubai to Muscat. This is just the same as when doing the journey in the opposite direction. However, the process is slightly different.
UAE Checkpoint One (Hatta)
It takes approximately 1.5 – 2 hours to reach the Hatta border from Dubai. Leave the bus at the first checkpoint, present your passport, and pay the UAE exit fee (35 AED). Make sure to keep your exit fee receipt.
UAE Checkpoint Two (Hatta)
You need to board the bus again after the first UAE checkpoint. The bus will drive a little further before you need to exit again and enter another Immigration checkpoint.
Present your passport and your exit fee receipt. Your passport will be stamped here.
Oman Border Control
The bus will continue driving until you cross the Omani border. Your luggage will be checked here in an airport-style security check.
Present your passport and your Omani visa paperwork. Welcome to Oman! The bus will continue on to Muscat which should take another 5 hours.
Things to Consider When Crossing the Oman – Dubai Border
Border controls in the UAE are strict. A few additional considerations for your trip are discussed below.
Arriving at the Bus Stations
You should aim to arrive at the bus station at least 30 minutes before your departure from Dubai to Muscat (and vice versa). Most bus stations have restaurants nearby where you can buy food, coffee, and refreshments as you wait.
Large items of luggage will be placed in the storage space under the bus. Someone will board the bus before it departs to check your ticket.
Solo female travellers should try to be seated next to other female passengers. Women generally sit at the front of the bus
Travelling with Medication
If you are travelling with any medications – prescription or otherwise, you should double-check and ensure that it is okay to bring it into the country. 
Some medications are banned in the United Arab Emirates. This includes those prescribed for things such as depression, mental health issues, and cancer. Travelling with prohibited medications could involve you being questioned or even detained.
My Experience Crossing the Oman-Dubai Border
For whatever reason, I aroused a lot of suspicion when crossing the border in Dubai and got temporarily detained at Hatta, UAE. I can only assume that happened because the UAE Immigration authorities are not used to seeing solo western women travelling alone in Oman and crossing the border. I met a number of other travellers who had used the same border crossing with no issues and so I can only conclude that I was just unlucky.
Do you have any more questions or concerns about crossing the border from Oman to Dubai (or Dubai to Oman)? Feel free to reach out to me or let me know in the comments below. Safe travels! Melissa xo
---