Crossing the border from Oman to Dubai is relatively straightforward. That may sound surprising, considering land borders in the Middle East are often fairly strict.
This article provides a step-by-step guide on how to get from Oman to Dubai (and vice versa) overland. It was last updated on the 22nd of January 2020.
Sometimes, as with travelling anywhere in the world, an overzealous Immigration Officer can make the experience of crossing the border a stressful one. Generally speaking though, the process of crossing the border from Oman to Dubai is relatively simple.
My Experience Crossing the Oman-Dubai Border
For whatever reason, I aroused a lot of suspicion when crossing the border in Dubai and got temporarily detained at Hatta, UAE. I can only assume that happened because the UAE Immigration authorities are not used to seeing solo western women travelling alone in Oman and crossing the border.
I will write about that experience separately; however, this article focuses on the actual process of getting from Oman to Dubai and vice versa. If it wasn't for getting detained, the process would have been relatively straightforward (probably some hilarity in that statement). I met a number of other travellers who had used the same border crossing with no issues and so I can only conclude that I was just unlucky.
Crossing the Border from Oman to Dubai by Bus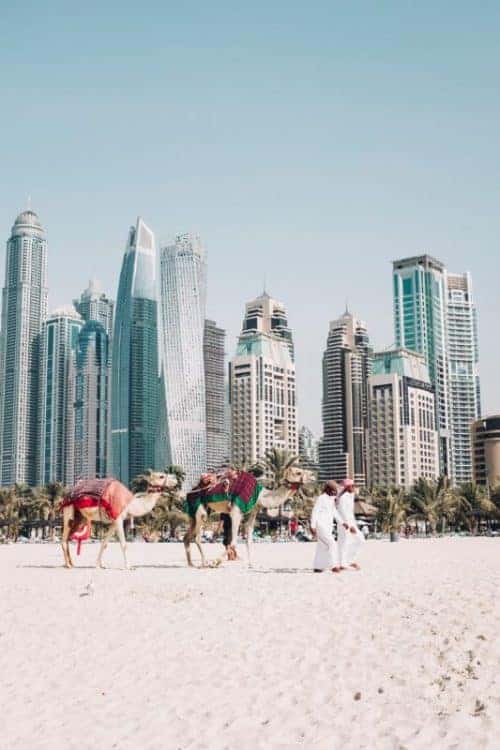 There are a number of bus companies that offer frequent daily services that take you across the border from Oman to Dubai and vice versa. The main company is Mwasalat which is Oman's main public transportation service. There are also a number of smaller-scale private companies that offer similar services such as Al Khanjry which also has a pretty good reputation.
Assuming that you are crossing from Muscat, there are a number of boarding points available to you depending on where in the city you are located. The main Mwasalat station is situated in Ruwi, and there is another in Mabellah.  The Al Khanjry stations are located nearby.
Which Bus Provider to Use?
Since Oman is a developed and sophisticated country, I would say that any public transportation here is pretty decent. I crossed the Oman-Dubai border via Mwasalat bus and the bus was nice. An Omani friend advised that the Al Khanjary buses were a little older and less comfortable, so I think that is the only factor to take into consideration.
Features of Mwasalat Buses
Mwasalat buses are air-conditioned and though they do not have bathrooms, they stop frequently for bathroom and snack breaks. They *should* have WiFi but on the two occasions that I used them, this was not working.
Oman to Dubai Bus Timetables
At the time of writing this article (Jan 2020), there are three services that leave each day from Muscat, Oman to Dubai. They depart at 6 am, 3 pm and 9 pm respectively.
The same timetable is shared by both the Mwasalat and Al Khanjry services. You can check the latest timetables here for Mwasalat buses. Should this change, I will update this article accordingly.
Dubai to Oman Bus Timetables
Crossing the border from the opposite direction, the services run from Dubai to Oman at 7.30 am, 3.30 pm, and 11 pm. To take the bus from Dubai to Oman, you need to head to the bus station that is close to Deira city.
Bus Ticket Price
The buses are a similar price across both Mwasalat and Al Khanjry. They cost approximately £11. That's 6 OMR or 55 AED each way.
Unfortunately, Mwasalat bus tickets cannot be purchased online and need to be bought at the station. Generally, you are okay buying these tickets on your intended day of travel but be mindful if you are travelling on a local holiday as it may be busier.
Oman to Dubai Border Crossing Duration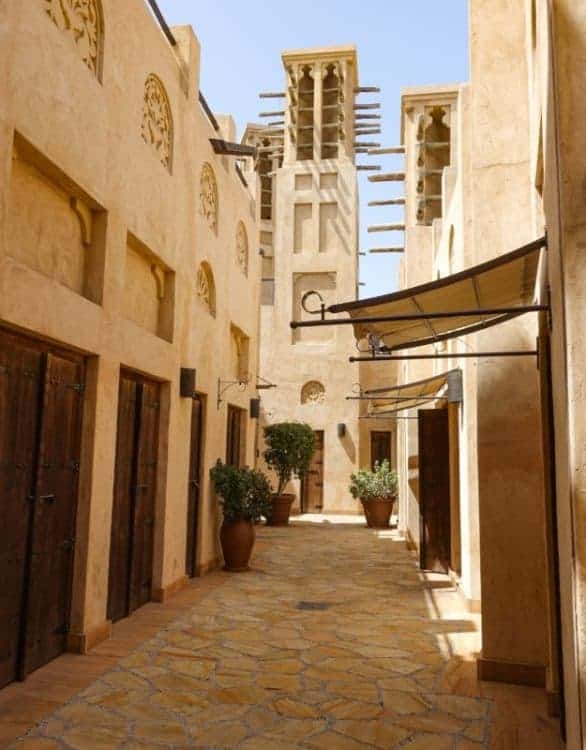 The journey from Oman to Dubai should take approximately 6 hours. The bus makes a short pit stop at Sohar, Oman and then goes on to the border crossing at Hatta, and then Dubai.
Oman to Dubai Border Checkpoints.
When crossing the border, there are three checkpoints that the bus stops at – one at the Omani side of the border, and two more at the UAE side of the border. The process goes as follows:
Exit Oman
Exiting Oman was relatively straightforward. Everyone lined up and the Immigration Officers stamped the passports with no hassle.
There are fast-food restaurants, convenience shops and a tea room here to get anything you need for the last leg of your journey.
UAE Checkpoint One
The first checkpoint at the Hatta crossing is a standard border control where your passport and documents are checked. British citizens do not need a visa to enter the United Arab Emirates, however, some nationalities do, so check in advance.
UAE Checkpoint Two
The second checkpoint at the Hatta crossing saw the Immigration Officers take a select few people (myself included) off the bus in order to check their luggage.
A Negative Experience at Hatta
I assumed that everything was going to be fine with this, having all of my official documents with me and having read other travellers' accounts of the border crossing online, however, I actually ended up being temporarily detained at the UAE border. The Immigration Officers did not believe I was me, and then accused me of trying to transport medicines (I had nothing). I will write all about the ridiculousness of that situation in a separate article, however, this is something to keep in mind as I was shoved around and treated quite aggressively by the border agents.
Onwards to Dubai
Once you've survived the Omani and Emirati border controls, it's a steady journey now to Dubai. From this point, I would say that the drive takes another hour and a half.
Arrival in Dubai
Upon arrival in Dubai, the bus drops you in Deira which is pretty far out if you are staying in Dubai Marina or another desirable "central" location. Fortunately, Dubai has pretty good public transport links so getting around by bus and metro is relatively easy (check bus, tram and train times in Dubai here). Taxis are pretty pricey if you flag them down, and even via Uber so I recommend downloading the Careem taxi app.
If you plan on further travel in the UAE and onto Abu Dhabi to check out the magnificent Sheikh Zayed mosque, you can follow this guide on getting from Dubai to Abu Dhabi.
Have any more questions or concerns about crossing the border from Oman to Dubai (or Dubai to Oman)? Feel free to reach out to me or let me know in the comments below. Safe travels! Melissa xo
---