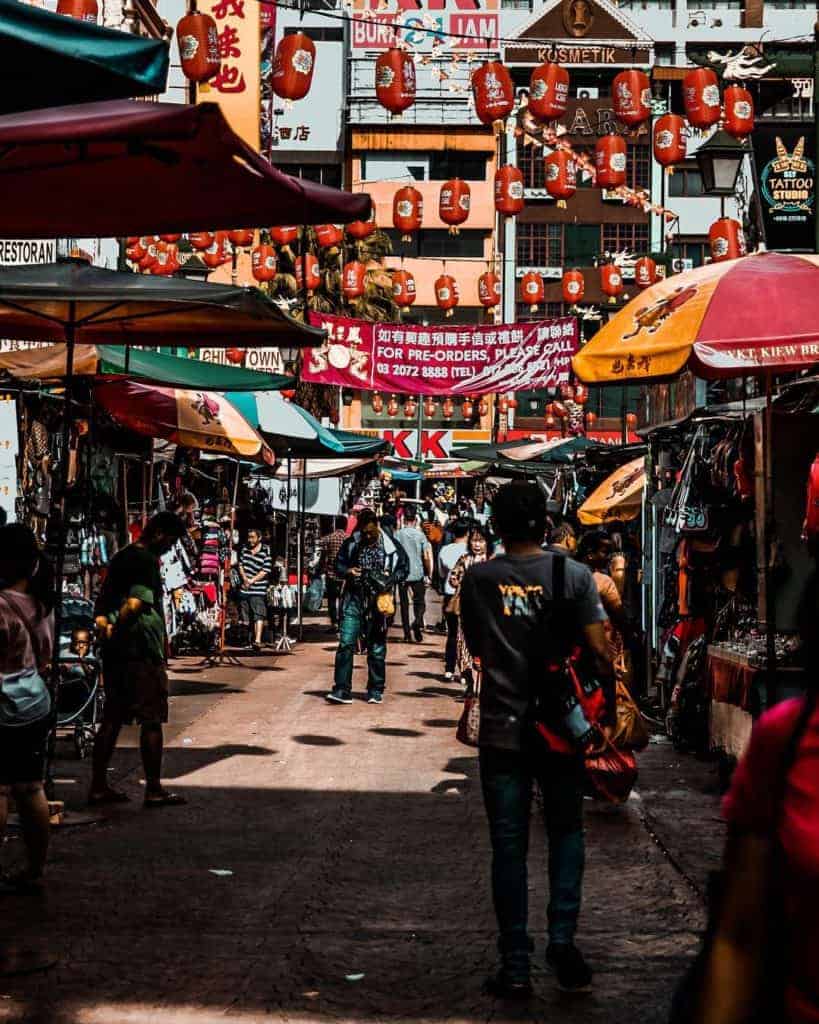 Kuala Lumpur China town quickly became my favourite neighbourhood in the Malaysian capital. Here, ramshackle Chinese shophouses line the narrow streets and passageways, while smouldering coils of incense emit smoke from every doorway.
The population here is predominantly Chinese-Malay. However, Kuala Lumpur China town is a melting pot of local cultures. Islamic mosques, Taoist temples, and statues of Hindu deities all stand shoulder-to-shoulder in this bustling KL district.
Falling in Love with Kuala Lumpur Chinatown
Chinatown Kuala Lumpur boasts some of the best nightlife and street food dining in the city. Here, there are plenty of eccentric, "secret" cocktail bars tucked away down side streets, and atmospheric hawkers markets such as Madras Lane, and the Petaling Jaya night market.
The main street of Petaling Jaya is jampacked full of budget hotels, backpacker hostels, and stalls selling souvenirs. You would be forgiven for seeing this as quite a touristic neighbourhood at first. Don't be so quick to judge though, most of the neighbourhood's charms are hidden from view down unsuspecting side passages.
Kuala Lumpur Chinatown Highlights
Hanging out in eccentric speakeasy bars owned by expert cocktail mixologists


Visiting some of the most beautiful temples and spiritual sites in Malaysia


Sampling traditional Chinese delicacies


Navigating the city's most atmospheric hawker's street food markets


Sipping an iced coffee at Kuala Lumpur's most photogenic hangout spots
About this KL Chinatown Guide
I have tried to make this guide as comprehensive as possible and therefore it runs through many aspects of KL Chinatown – from the sightseeing options to the best bars in Kuala Lumpur China town. Feel free to use the table of contents to navigate and skip forward to the relevant sections.
Coffee Shops in Kuala Lumpur Chinatown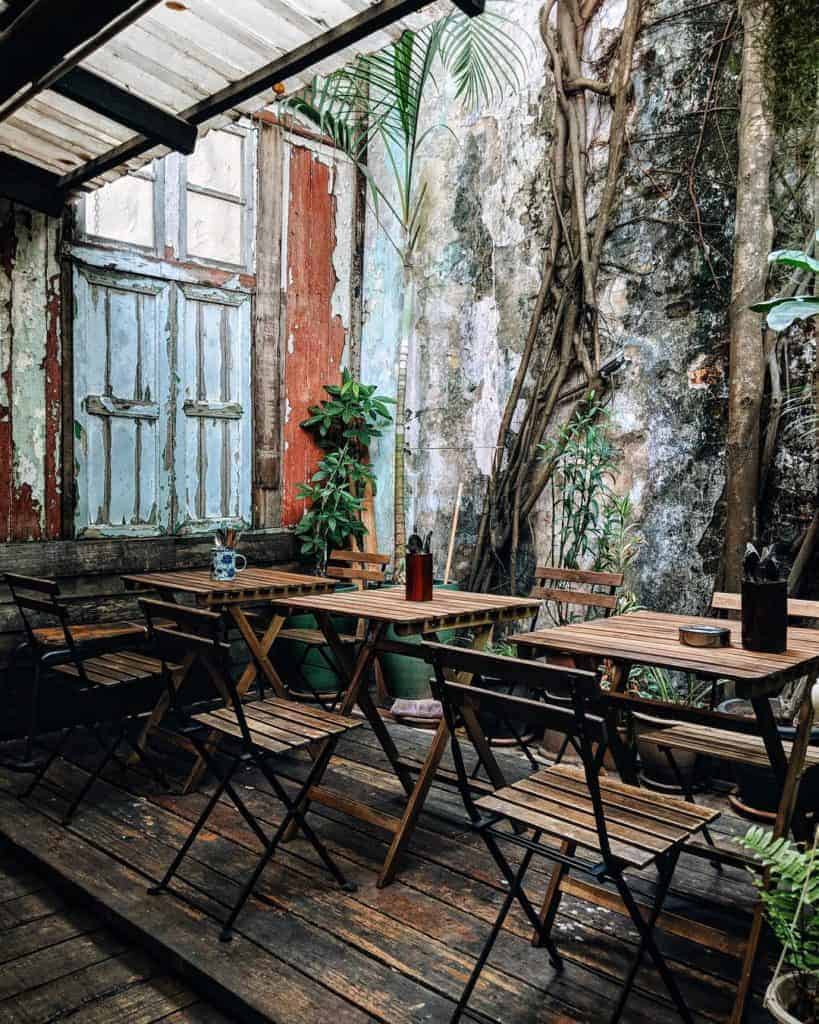 In recent years, Kuala Lumpur China town has seen a new lease of life injected into it with the emergence of several quirky "hipster" style coffee shops. The beauty of these establishments is that they have not renovated or modified the old buildings in any way, but simply polished up and restored them to their former glory. Some of the most charming places to enjoy a coffee break away from the Southeast Asian heat and humidity are detailed below.
Lim Kee Cafe, Tian Jing Hotel
Where: 66-68, Jalan Sultan, City Centre, 50000 Kuala Lumpur
The charming Lim Kee cafe forms part of the eclectic Tian Jing hotel. Lim Kee is essentially a modern interpretation of an old Chinese Kopitiam. It focuses on the beauty of Malaysia's Chinese heritage.
Delicate oriental music plays over the speakers as patrons sit on mismatching handcrafted furniture sourced from all over the country. Lim Kee serves a variety of homemade cakes and pastries, as well as freshly brewed hot and cold coffees.
Merchant's Lane
Where: 150, Jalan Petaling, City Centre, 50000 Kuala Lumpur
It is so easy to walk past Merchant's Lane unless you specifically know where it is. The coffee shop awaits behind a crumbling, unsuspecting old door that is usually closed. Behind the door, at the top of the narrow staircase, you are met with a huge, bright, and airy coffee shop painted in pastel colours and filled with beautiful flowers and rattan furnishings.
This was once an incredibly popular brothel. Today, Merchant's Lane is one of the most popular rendez-vous and brunch spots among KL locals and ex-pats alike. The establishment serves an extensive brunch and lunch menu that offers both Asian and western dishes.
Mingle Cafe
Where: 53, Jalan Sultan, City Centre, 50000
With exposed brick walls and high ceilings, Mingle has something of an urban warehouse feeling to it.
Mingle cafe is part of the namesake Mingle hostel. This is a great place to socialise, meet fellow travellers, or simply while away a lazy afternoon in the Malay capital. Mingle offers a nice international/western focused menu for breakfast, brunch, lunch, and dinner.
Note: Coffee Amo was previously a very popular coffee shop that was renowned for its unusual foam art. A lot of Kuala Lumpur China town guides recommend this place but unfortunately, as of January 2019, it has permanently closed.
The Best Bars in Kuala Lumpur Chinatown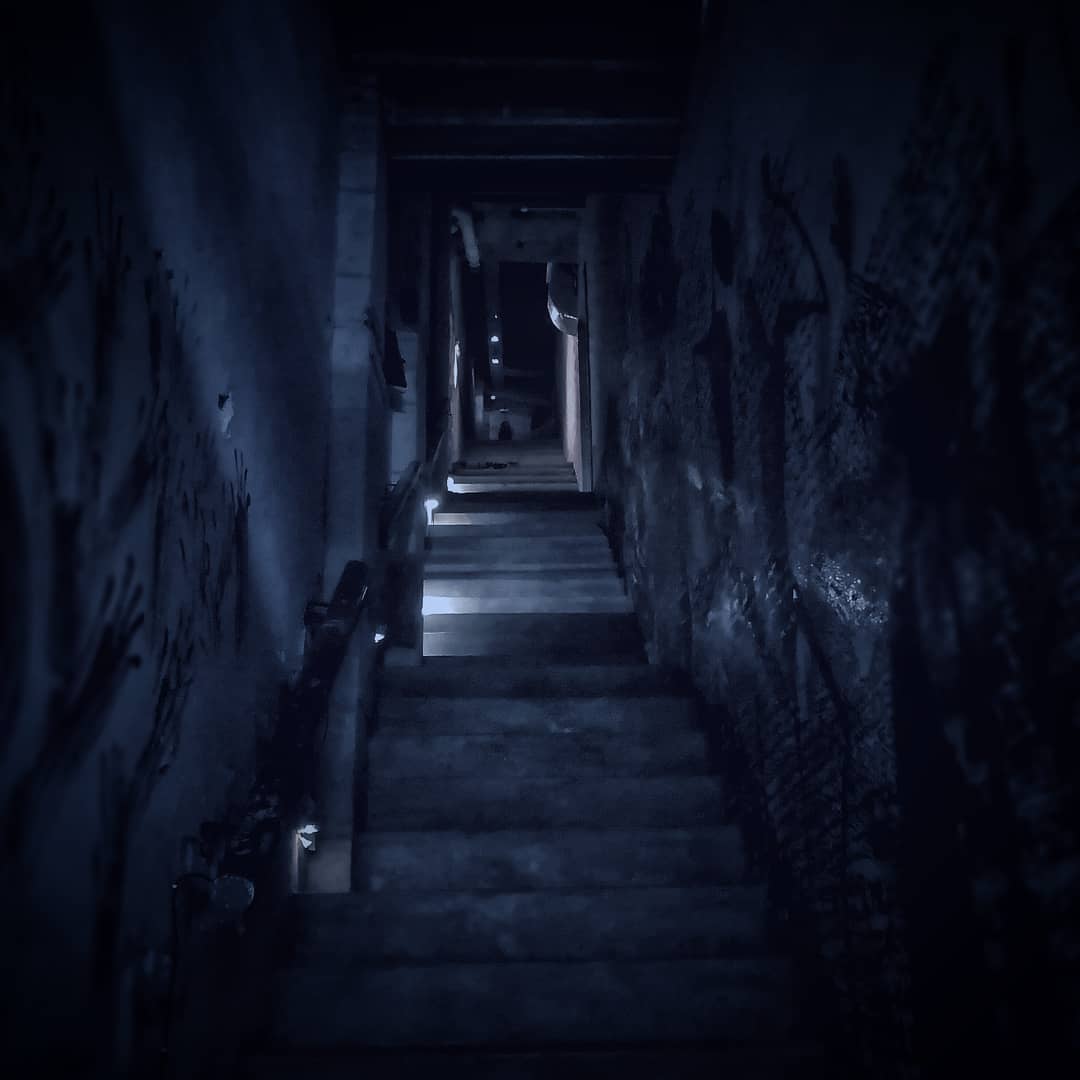 Although Malaysia is officially a Muslim majority country, over 25% of the country's population is Chinese. These residents do not follow Islam and do drink alcohol.
You can find plenty of quirky bars and speakeasies in Chinatown Kuala Lumpur. Many of these places are owned by world-renowned mixologists. The market for cocktail bars and themed hangouts in Kuala Lumpur is still emerging, but some of the themed bars are fabulously unique and eccentric.
The Deceased
Where: 55, Jalan Sultan, City Centre, 50000 Kuala Lumpur
The Deceased is about as unique as a cocktail bar could get. This KL Speakeasy is hidden behind a locked door that requires a passcode to enter.
The door creaks open to reveal a narrow staircase with creepy mannequins positioned every few paces, shrines to the dead nestled into alcoves, evil eyes painted on the walls, and chilling sound effects and scratching sounds echoing down the passageway. If you are able to brave it to the top of the stairs, The Deceased opens out into a dimly lit cocktail bar with an incredible rooftop.
PS150
Where: 150, Jalan Petaling, City Centre, 50000 Kuala Lumpur
The facade of PS150 looks like a little retro toy shop. You would never guess that it led to one of the best bars in the city.
Enter the toy store, tell the man on the front desk that you have come for drinks and he will allow you to pass through an old wooden doorway. The door swings open to reveal a dimly lit passageway filled with mannequins, before leading you into a chic, stylish cocktail bar that plays funky retro music and attracts a well-dressed crowd.
Bar Zhen
Where: 5, Jalan Balai Polis, City Centre, 50000 Kuala Lumpur
There are few cocktail bars that are as cultural and atmospheric as Bar Zhen. Since its opening, the bar quickly established itself as one of the hottest spots on the KL nightlife scene.
Bar Zhen does a good job of embracing the Chinese heritage of the owners. Ancient oriental trinkets and antiques can be found scattered throughout the bar, as old movie posters from Shanghai are plastered on the walls. A lot of the concoctions found on the menus here follow unique recipes that utilize Chinese herbs and ingredients.
Attic Bar
Where: Third Floor, No. 15, Jalan Balai Polis, City Centre, 50000
The Attic Bar was at the forefront of Kuala Lumpur's speakeasy movement. The bar is hidden at the top of Chinatown's popular "Travel Hub Guesthouse" hostel.
The bar is styled like an attic – with wooden flooring and ceilings. The icing on the cake is the stylish rooftop terrace that boasts incredible views out to the Petronas towers, the KL Tower, and the Merdeka tower.
Places to Eat in Kuala Lumpur Chinatown
Dining options in Kuala Lumpur China town are plentiful and varied. You absolutely must try traditional Chinese delicacies while in this neighbourhood. However, whether you're looking for Chinese high tea, cheap street food eats, or western cuisine, you can certainly find what you are looking for here.
Song Kee Beef Noodles
Where: 86, Jalan Tun H S Lee, City Centre, 50050 Kuala Lumpur
Ever since Song Kee's initial opening in 1945, the Chinatown eatery has been one of the most beloved local restaurants in Chinatown. Song Kee is a family establishment that has been passed down through the generations and is now managed by the grandson of the original founder. Song Kee is famous for their "hakka" noodles which are traditionally prepared with marinated beef or pork and served with a side dish of beef ball soup. Those stopping by can expect a hearty lunch at budget prices.
Old China Cafe
Where: 11, Jalan Balai Polis, City Centre, 50000 Kuala Lumpur
The Old China Cafe is a great place to sample Peranakan cuisine. This is a perfect dinner choice if you are looking for something a little different.
The cafe is set in a pastel-coloured pre-war storefront. It has a charming old-fashioned appearance with a touch of modernity.
Antiquated wooden furnishings are used throughout the premises, and the walls are decorated with old calligraphic paintings. Peranakan food is rich and flavourful and there is plenty of variety available here.
Bunn Choon Bakery
Where: 142, Jalan Tun H S Lee, City Centre, 50000 Kuala Lumpur
Bun Choon bakery is a great place to stop by for a quick snack or to pick up dessert in chinatown Kuala Lumpur. The pastry store has won the hearts of many locals and tourists alike.
Don't miss the egg tarts – similar to the western egg custard, these are essentially the national sweet treat of Malaysia, and many KL locals consider Bunn Choon's tarts as being among the very best. Other notable Chinese dessert pastries that are well worth trying include sweet lotus bean cakes, and durian tarts – the latter being a nice alternative to those not quite brave enough to try the pungent fragrant fruit.
Yong Tau Foo, Madras Lane
Where: Madras Lane, City Center (old) Jalan Sultan, Kuala Lumpur, 50000
If you are going to try authentic Chinese delicacies, you want to be sure that you are trying them at a place that serves the very best which is why Yong Tau Foo is a perfect spot to start at. Yong Tau Foo is actually a hawker stall that sits just off the main strip of Petaling street. The stall is so popular among locals that it is not at all uncommon to see a long queue (though it moves very quickly so there is no need to be deterred).
The way to order at Yong Tau Foo is to select a variety of different individual food pieces from the stall and have the hawkers prepare them for you in a bowl. The price is 1.40 RM per item, and you can choose from traditional foods such as lady fingers, fried dumplings, tofu, fried fish balls, and brinjal. Once the food is prepared, it is served with two sauces – a sweet sauce and a chili sauce.
Browse the Street Food Markets of Kuala Lumpur China town
Street food delicacies are a huge part of the Kuala Lumpur food culture and the scene in Chinatown only reinforces that. The main strip of Petaling Jaya is constantly filled with hawker stalls but by nightfall, this becomes particularly impressive and should not be missed.
Handmade bao (Chinese dumplings), stinky durian fruit, Malay curry puffs, and sumptuous chicken satay sticks are among the local delicacies that you must try. Offering an equally extensive array of options is the Madras Lane market where the curry laksa is regarded as being some of the best in the world.
Explore Kuala Lumpur Chinatown with a Food Tour
Navigating the labyrinth-like network of stalls and street food vendors can be overwhelming, especially when it comes to identifying which place serves the best food. Opting to book a Kuala Lumpur food tour is a nice way to discover Chinatown through the eyes of a local and avoid the tourist traps.
Temples and Religious Sites in Kuala Lumpur Chinatown
The places of worship that can be found in Kuala Lumpur China town are very diverse. Here, colourful Hindu temples stand beside Chinese Taoist temples and the glistening minarets of mosques. Most religious sites in the area are open to tourists, though it is important to dress conservatively and to respect the worshippers inside.
Sri Maha Mariamman Temple
Where: Jalan Tun H S Lee, City Centre, 50000 Kuala Lumpur, Wilayah Persekutuan Kuala Lumpur
Dating back to 1873, the Sri Maha Mariamman Temple is the oldest Hindu temple in Malaysia. It was actually founded by the same Indian trader who discovered Batu Caves.
With its vibrant domes, frescoes, gopurams, and murals, Sri Maha Mariamman is a beautiful place to visit to gain an insight into Hindu culture. The temple is free to enter, though you must dress appropriately and cover your legs/shoulders.
Chan See Shu Yuen Temple
Where: 172, Jalan Petaling, City Centre, 50000 Kuala Lumpur, Wilayah Persekutuan Kuala Lumpur
Kuala Lumpur's Chan See Shu Yuen Temple is one of the oldest and largest Buddhist temples in Malaysia. The temple's elaborate interiors and intricate frescoes boast scenes from Chinese mythology.
Guan Di Temple
Where: 168, Jalan Tun H S Lee, City Centre, 50000 Kuala Lumpur, Wilayah Persekutuan Kuala Lumpur
Chinatown's Guan Di Temple is a beautiful, bright Taoist temple. The site is dedicated to Guan Di, a former Chinese militant general who was given the title of being the "God of War" due to his war hero status. At the centre of the temple sits a giant Chinese weapon (a Guan Do). Worshippers believe that touching this will provide them with good luck.
Kuan Yin Temple
Where: Kuan Yin Temple, Jalan Maharajalela, Kuala Lumpur City Centre, 50480
Decorated in playful shades of pinks and reds, the Kuan Yin temple is perhaps one of the most colourful shrines in Kuala Lumpur. The temple is dedicated to the goddess of mercy, Kuan Yin and has been created using a combination of European baroque and Chinese architecture.
The interiors of Kuan Yin are much more simple than other religious sites in the Malay capital, but it is worth visiting for the golden Buddha statues that are scattered inside. If you are able to be outside between 12,30 – 13.45 pm, you will hear the monks chanting Namo Guanshiyin Bodhisattva.
Masjid Jamek Sultan Abdul Samad
Where: Jalan Tun Perak, City Centre, 50050 Kuala Lumpur
The Masjid Jamek Sultan Abdul Samad was built by British Architect AB Hubback in 1907. It was the very first brick mosque to be built in Malaysia.
The premises are encompassed by beautiful gardens filled with lush greenery and beautiful flowers. Non-Muslim visitors are permitted to enter the mosque and its grounds provided that they do so outside of prayer times and are conservatively dressed.
Shopping in Kuala Lumpur Chinatown
If its sleek fashions and accessories that you are after, Bukit Bintang is arguably the best place to head to while you are in Kuala Lumpur. That said, Chinatown certainly has its fair share of shopping opportunities, especially as far as cheap and cheerful products are concerned.
Kuala Lumpur Central Market
Kuala Lumpur Central Market features on a lot of Kuala Lumpur itineraries but it is very touristic in nature. The complex mostly offers touristic stalls selling souvenirs and cheap clothing, and a handful of hawker stalls.
The main appeal of the market is perhaps the artists and street performers who sell their handicraft and independent artwork outside the front of the market.
Kasturi Walk
Kasturi walk and Petaling Street are both good places to stop by. The latter houses some interesting spots including the oldest Chinese medicine store in Kuala Lumpur.
It is important to note that haggling is expected at all of these shopping locations. Vendors will typically quote prices that are at least one third more than their actual price, especially when dealing with tourists. Never take the first price offered.
Where to Stay in Kuala Lumpur Chinatown
Chinatown Kuala Lumpur is one of the most popular places to stay while travelling in the Malaysian capital. There are a wide variety of Kuala Lumpur accommodation options available here to suit every budget – from backpacker to luxury. Some of the most charming and reputable options are detailed below.
Tian Jing Hotel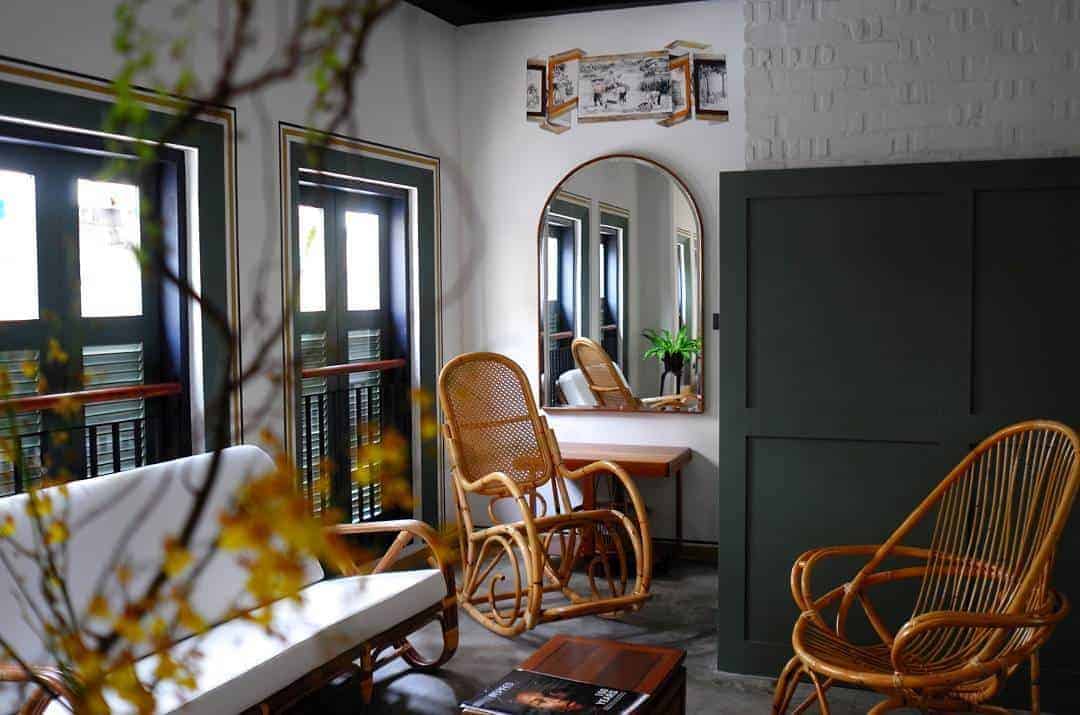 Where: 66-68, Jalan Sultan, City Centre, 50000 Kuala Lumpur
Tian Jing hotel has been built in a style that honours Chinatown's oriental heritage. Its rooms are simple yet elegant.
The furnishings used within the rooms and common spaces of the hotel have been sourced from Chinese Designers across the country. This lovely boutique hotel is a great choice for those looking for something unique and filled with personality. Each room boasts trees, potted plants, and a feng shui style.
Rooms start from $50 (245 ringgit) per night. Click here to check the latest prices and availability.
The 5 Elements Hotel
Where: 243, Jalan Sultan, City Centre, 50000 Kuala Lumpur
The 5 Elements hotel is a stylish boutique hotel that offers spacious, comfortable rooms at affordable prices. Rooms start from $30 per night including breakfast. Click here to check the latest prices and availability.
Mingle Hostel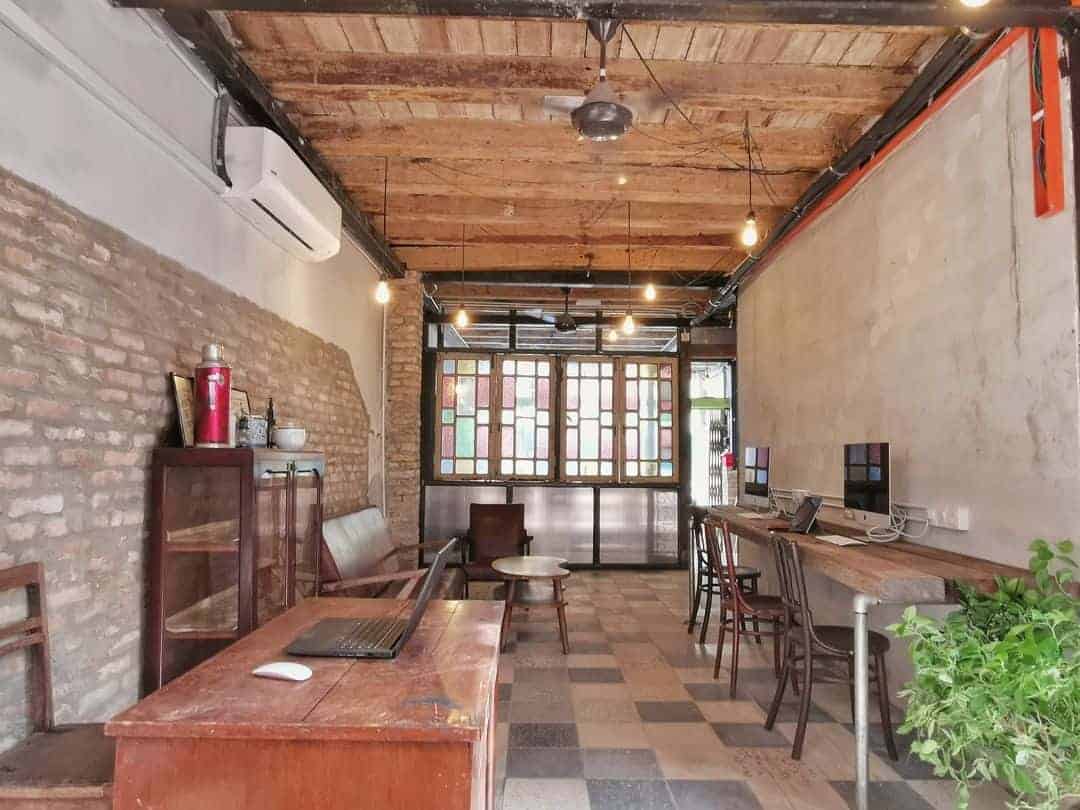 Where: 53, Jalan Sultan, City Centre, 50000 Kuala Lumpur
Chinatown's Mingle Hostel is a good choice for those travelling through Malaysia on a budget and hoping to meet others as they do so. The hostel has a great central location in the midst of Chinatown's best bars and brunch spots.
Dorm bed prices start from $15 per night with breakfast included. Click here to check the latest prices and availability.
Have any questions about this Chinatown Kuala Lumpur guide or about Malaysia travel in general? I based myself here for a month in December and will be happy to answer any questions you may have. Feel free to drop me a comment below or send me an email. Safe and many travels, Melissa xo
Disclaimer: This Kuala Lumpur China town guide may contain affiliate links. This means that if you choose to make a purchase through some of the links on this page, I will obtain a small amount of commission at no additional cost to you.
This Kuala Lumpur Chinatown Guide was originally published in April 2019. It was last updated in May 2020.
---