As a city awarded the title of being Korea's UNESCO city of gastronomy, Jeonju is a popular destination for a weekend break among foodie Koreans. With exquisite restaurants and unique street food eats around every corner, it is easy to understand the appeal. However, so far this tasty city has escaped the radar of international visitors whom, if adventurous enough even to venture to Korea to the first place, only follow the well-trodden paths down to Busan and Jeju island from Seoul.
Since I lived in Seoul, I wanted to take the trip down to Jeonju to see what the city had to offer. I fell completely in love with Jeonju and this has been one of my favorite weekend breaks in Korea so far. The city is relatively compact, and you can explore most points of interest within a day or two.
The Best Things to Do in Jeonju
Jeonju, and the picturesque region of Jeollabuk-do that encompasses it boasts plenty of incredible nature, fascinating history, and cultural highlights that you can incorporate into your Korea itinerary. Some of the best things to do in Jeonju and its surroundings are summarised below.
#1 Get Lost In The Winding Streets Of The Jeonju Hanok Maeul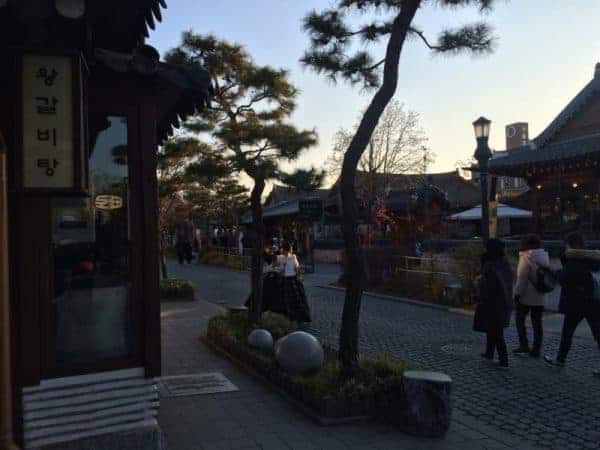 Nestled within the heart of the city are the 700 traditional houses that make up Jeonju's hanok village. Dating back hundreds of years, these were once home to Korea's noble families, but have now been transformed into quirky boutique stores and coffee shops. You can quite easily spend half a day here wandering the narrow streets (some so narrow that only one or two people can fit through!) and enjoying the stores and cafes as you are transported back in time.
#2 Be A Royal For The Day At Gyeonggijeon Shrine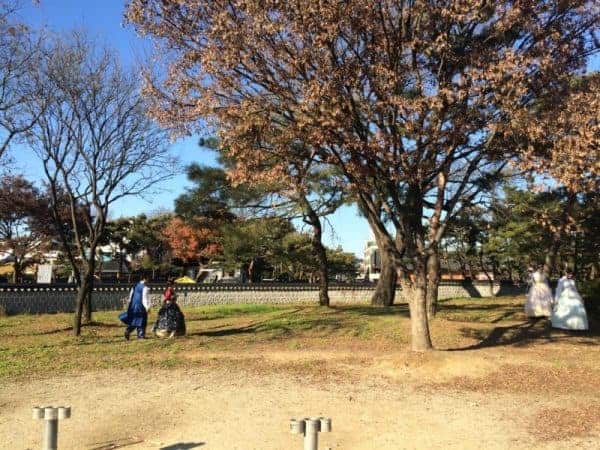 The Jeonju Hanok village also houses Gyeonggijeon Shrine, a shrine constructed in 1410 and holding the portrait of King Tae-Jo, the founder of the Joseon Dynasty. If Korean history isn't your jam I'd still recommend a look around here anyway – the grounds are beautiful, and contain a bamboo forest, and a woodland area of ancient gingko trees that seem almost as though they were created for Instagram!
A popular activity among young Korean couples is to visit the shrine wearing hanbok (traditional Korean noble dress) and to wander through the grounds as beautiful royals.
If you are interested in participating, you can rent hanbok from one of the many stores located within the Hanok Maeul. Alternatively, you can just enjoy watching on as a spectator, as I did.
If you happen to be at the Gyeonggijeon Shrine on a Saturday afternoon, you can watch the colourful changing of the guards ceremony that takes place every week at 2 pm. Comparable to the ceremony at Gyeongbokgung in Seoul, the event sees the guards march from the Sori Arts Centre, along Hanjigil and Taejo-ro Street, all the way up to the Gyeonggijeon Shrine.
#3 Eat Your Way Around the Nambu Night Market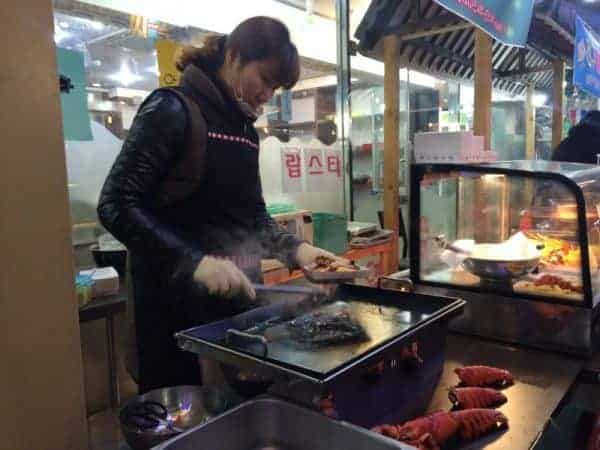 As a self-proclaimed foodie (translation: greedy bastard), the Nambu street market was one of the highlights of my visit to Jeonju. From Ho Chi Minh to Tokyo, Bangkok to Seoul, I've been to a ton of different food markets in Asia, but none have had such a selection of different delicious foods as Nambu. Street vendors cooked Korean BBQ using blow torches (shout out to those East Asian health and safety standards!) and chefs from Vietnam, The Philippines, Japan, and various other Asian countries set up shop.
Some notable delicacies to consider sampling at the Jeonju Nambu Night Market are Chonggaknae Sushi – a dish of torched beef sushi that costs approximately 5000 KRW for a generously sized plate cooked by blow torch, and a warm nokdujeon (mung bean pancake) for 4000 KRW. Those hoping to try Jeonju's famous bibimbap while travelling Jeonju on a budget and not wanting to pay a lot to dine in a restaurant can also get a little pot of roasted bibimbap from the Nambu night market for 3000 KRW.
#4 Try the Local Cuisine of Jeonju!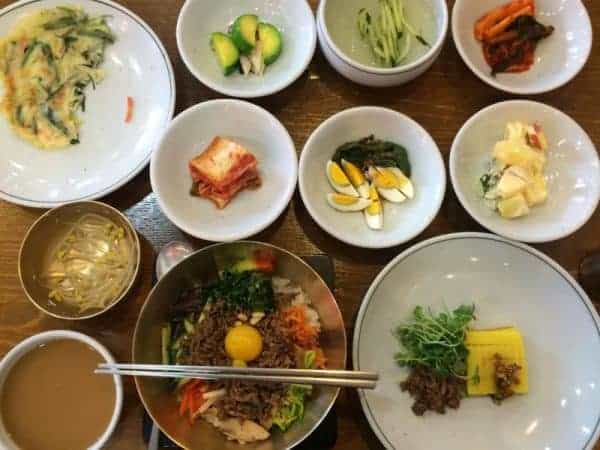 Different parts of Korea are known for their different regional specialties and Jeonju's is bibimbap! If you are not familiar, bibimbap is a rice dish made with chili sauce and meat (typically beef). The traditional Jeonju bibimbap is made using raw beef and the yolk of an egg. I wandered into one of the many restaurants in the hanok maeul and was met with nine different accompanying side dishes.
Makgeolli (traditional Korean rice wine) is also a famous local delicacy. If you are feeling a little peckish, you can head into a Makgeolli house and order a pot, and you will be met with an array of complimentary side dishes just for ordering the drink! If you decide to go wild and order more than one pot, you are presented with a different choice of side dishes each time!
Of course, when you are eating local delicacies in the cities that invented them, you want to know that you are eating in reputable, local restaurants rather than falling into tourist traps. Some of the most highly regarded restaurants for sampling Jeonju bibimbap are:
Hanguk Jip
Renowned for producing excellent traditional bibimbap, Hanguk Jip is a traditional Korean eatery perched on the edge of the Jeonju Hanok village. Popular with locals and tourists alike, the restaurant is typically so busy that it is advisable to reserve a table in advance. (Just stop by in the morning and make a reservation for dinner).
Hanguk Jip serves Jeonju specialty bibimbap (produced with raw beef tartare), and dolsot bibimbap (bibimbap with cooked beef served in a sizzling pot). Each meal is served with a wide selection of banchan (side dishes) and soups for just 12,000 KRW per person.  
Gajok Hoegwan
Slightly pricier than Hanguk Jip but every bit as respected and reputable, Gajok Hoegwan is a dedicated bibimbap joint. The only menu options are the raw or cooked beef bibimbap. At just 13,500 KRW per person, you receive 12 different side dishes with your dinner.
#5 Search for Jeonju Street Art
The Jaman Mural Village is a beautiful spot in Jeonju that is situated directly across the cobbled street from Omokdae. If you have spent any amount of time travelling through South Korea, chances are that you will have encountered several of these mural villages during your adventures. The Jaman Mural Village is nice because it is not so crowded with tourists as the other more popular spots like Gamcheon or Ihwa.
The murals of Jaman village transcend up the sides of houses and restaurants, down alleyways, and across storefronts. The brightly coloured art pieces display scenes from beloved anime movies such as Spirited Away and My Neighbour Totoro. When you are done exploring and taking photos, enjoy a sweet iced coffee in one of the adorable cafes nearby.
#6 Visit the Omokdae Shrine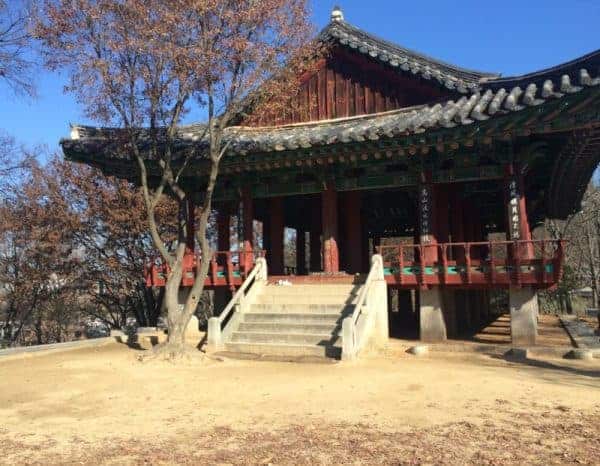 At the limits of Jeonju's hanok village, you will be met with a steep hill, at the top of which awaits the Omokdae Shrine. The shrine is free to enter and offers beautiful 360-degree views of the city below. This is the place where General Yi Seong-Hye celebrated his victory over Japanese invaders.
#7 Sleep on a Traditional Futon Bed in a Hanok Guesthouse
For an "only in Korea" kind of travel experience, I would highly recommend staying in a traditional hanok guesthouse at least once. There are plenty of charming accommodation options nestled within Jeonju's hanok village. Opting to stay in a hanok guesthouse means sleeping on a futon on the floor in a beautifully designed traditional room. Sleeping on the floor is much more comfortable than it sounds and enables you to live as a Korean noble would have. At least for a few days.
#8 Marvel at the Pungnammun Gate Illuminations
Once upon a time, the city of Jeonju was surrounded by colourful gates. Today, the only one that remains is the Pungnammun gate. Dating back to 1768, you will pass the gate on your way to the Nambu night market. In the light of day, the gate is really beautiful, but it is even more special as night falls and it is illuminated by twinkling lights.
#9 Wander Through Scenic Parks Filled with Fragrant Flowers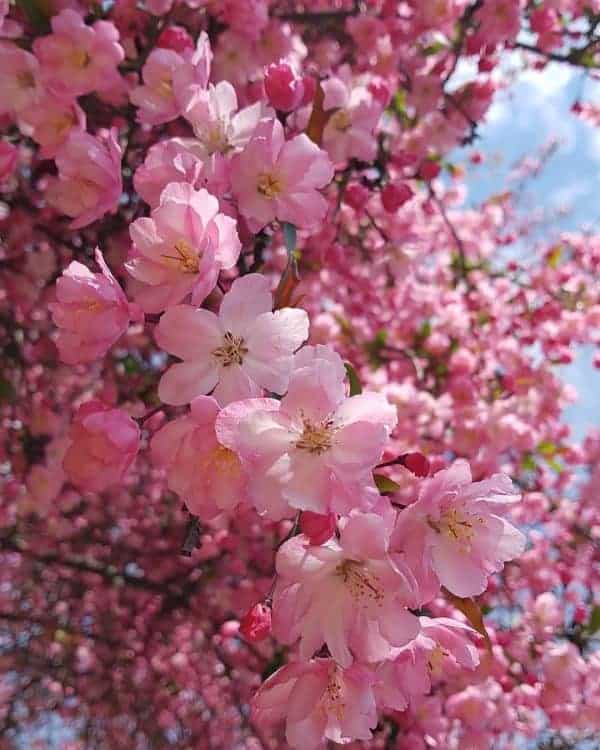 Several picturesque parks are situated in central Jeonju. Filled with fragrant flowers, and beautiful trees with red and pink blossoms, these parks make a lovely place for an afternoon stroll or a picnic. This is especially the case if travelling during cherry blossom season.
Wansan park is one pleasant spot close to the Nambu night market. Equally charming is the nearby Deokjin Park which boasts a tranquil lake, lotus plants, and musical water fountains.
#10 Discover Secret Temples Hidden from Tourists
Most of the tourists that travel to Jeonju spend the majority of their time in the hanok village area of the city. If you wish to venture off the beaten path, you can explore the southern part of the city and some of the temples and historical sites that await there.
Follow Dongseohak-dong road until you reach the Namgo Sanseong Fortress and Namghosa Temple. The former is predominantly ruins and crumbling walls now, but Namghosa temple is a beautiful spot filled with colourful lanterns. There are also several hiking trails that lead through the area surrounding the temple. Continuing on along Dongseohak-dong road, you can also stop by the three-tiered Chunggyeongsa Temple, a shrine built for Yi Jeong-ran who defended Jeonju against an attack from the Japanese in 1592.
Where to Stay in Jeonju
There are plenty of accommodation options available in Jeonju. For a traditional Korean experience, I would strongly recommend staying in a hanok guesthouse. I stayed at the Gingko Tree Guesthouse which boasted spacious traditional rooms with heated flooring and futon beds. The highlight of staying here was the lovely garden that encompasses the property. Hanok Hyeyum is another Jeonju guesthouse with an excellent reputation.
Those travelling to Jeonju on a budget can consider staying in a capsule style hotel such as Dalpengi Guesthouse. It is advisable to book your Jeonju hotels and accommodation at least a few weeks prior to departing for your trip, especially if travelling during the cherry blossom season.  
How to Get to Jeonju from Seoul
Direct buses and trains run frequently throughout the day to Jeonju, and the journey takes approximately 2 and a half hours (traffic dependent for buses). The major attractions are just a ten-minute bus or cab ride from Jeonju intercity and express stations (either take the 1000 bus and get off at "Hanok Maeul" or take a cab asking for the same). Once you arrive at Hanok Maeul, all of the major points of interest are with a short walking distance of each other.
Travelling to Jeonju by Train from Seoul
Travelling to Jeonju by train from Seoul station is perhaps the easiest and most convenient way to reach the city. You can generally purchase your tickets on the day of travel (arrive at the station a few hours before your intended departure). The only exception to this is travelling during popular public holidays and events (Chuseok for example). Tickets can also be purchased online using Korail.
Travelling to Jeonju by Bus from Seoul
An alternative way to get to Jeonju from Seoul is to do so by bus. It is popular to take buses departing for Jeonju from three different bus stations in Seoul. Departures run frequently from Seoul Express Bus Terminal, Seoul Nambu Terminal, and Seoul Sangbong Terminal.
All buses take approximately 2 hours and 50 minutes to reach Jeonju, but the price differences are high so keep that in mind. Tickets from Seoul Nambu are the cheapest at approximately 9500 KRW. Seoul Express bus prices range between 11,000-16,000 KRW, and prices from Seoul Sangbong weigh in at 18,000 KRW.
If you need any advice or tips on travel in Korea, then please do get in touch. I spent two years living in Seoul working as a Travel Writer and teaching English. You can also browse this comprehensive Korea Travel Guide for more general Korea FAQs.  Safe Travels, Melissa xo
Disclaimer: This Jeonju Travel Guide may contain the occasional affiliate link. This means that if you choose to make a purchase through some of the links contained on this page, I will obtain a small amount of commission at no additional cost to you. This helps aid me with the costs of running High Heels and a Backpack so that I can continue providing you with free Korea travel advice.
---