Looking for the best things to do in Jeonju South Korea? You have come to the right place!
This article has been written by an ex-pat English Teacher living in South Korea that has explored the city extensively. There are plenty of things to do in Jeonju to keep you occupied for days. Assuming that you are visiting the city as part of a wider Korea travel itinerary, you should aim to spend at least 2-3 days in lovely Jeonju.
Jeonju South Korea
Jeonju is the capital of the Jeollabuk-do region of Korea and the 16th largest city in the country. It is known as the "Taste City" of South Korea and has been recognised by UNESCO for its contributions to Korean gastronomy. Koreans often travel here with their friends and partners for a weekend break.
With exquisite restaurants and unique street food eats around every corner, it is easy to understand the appeal. However, so far this tasty city has escaped the radar of international visitors.
Korea, in general, is massively underrated as a travel destination. Most of those who are adventurous enough to travel here in the first place only tend to stick to the most popular destinations of Busan, Jeju island and Seoul.
The Best Things to Do in Jeonju
Jeonju, and the picturesque region of Jeollabuk-do that encompasses it boasts plenty of incredible nature, fascinating history, and cultural highlights that you can incorporate into your Korea itinerary. Some of the best things to do in Jeonju and its surroundings are summarised below.
Get lost in the winding streets of the Jeonju Hanok Maeul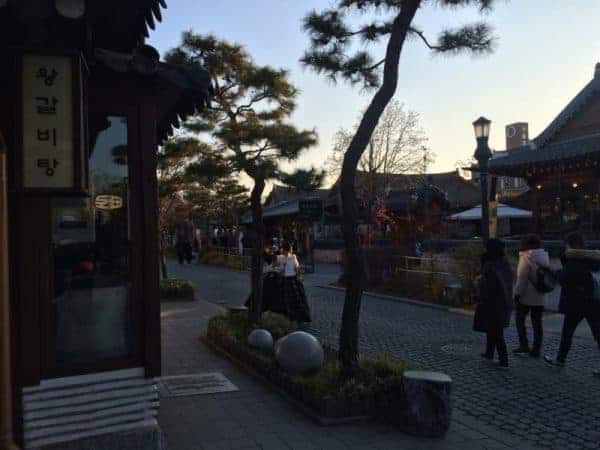 Bukchon Hanok Village in Seoul is arguably the most famous hanok village in South Korea. However, Jeonju too is home to its own historic hanok settlement.
You will find over 700 traditional hanok houses here. These buildings date back hundreds of years and were once home to noble Korean families.
Today, many of them have been transformed into quirky boutique stores, independent hotels, restaurants, and coffee shops. One of the best things to do in Jeonju is to simply enjoy getting lost among the labyrinth-like network of winding streets and passageways here.
Often, the most unsuspecting streets open out into charming plazas or twist and turn to reveal incredible street art. Some of the passageways here are so narrow that only one or two people can fit through them! This part of town almost makes you feel transported back in time.
Stroll along the Jeonjuchun River
The Jeonjuchun River runs through Jeonju, separating the new city from the older, traditional part of town. The river flows beneath the stunning Hanbyukru Pavilion and Namcheongyo Bridge and is a popular rendezvous-point for locals who come here to walk their dogs and catch up over an afternoon stroll and a coffee.
Namcheongyo is a nice place to watch the sunset over the city, with the mountains of Jeollabuk-do in the background. The river doesn't have much of a current and you will often find locals swimming in the river, or sitting on its banks, dipping their feet in it to cool down.
Be a royal for the day at the Gyeonggijeon Shrine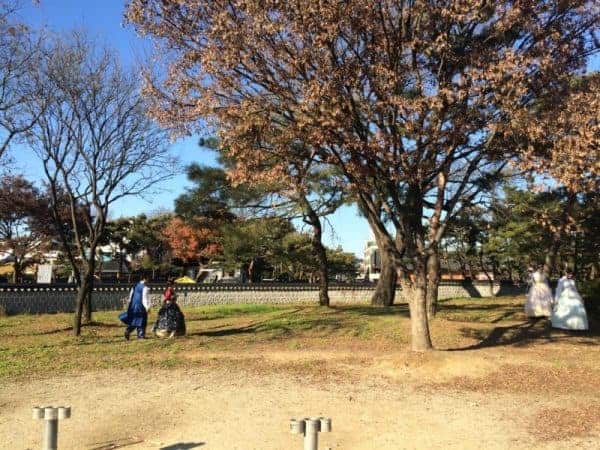 The Jeonju Hanok village also houses Gyeonggijeon Shrine, a shrine constructed in 1410. Inside it, you will find the portrait of King Tae-Jo, the founder of the Joseon Dynasty.
Not everyone is well informed about Korean history. Regardless, the shrine is well worth visiting.
The grounds are beautiful, and contain a bamboo forest, and a woodland area of ancient gingko trees that seem almost as though they were created for Instagram! A popular activity among young Korean couples is to visit the shrine wearing hanbok (traditional Korean noble dress) and to wander through the grounds as beautiful royals.
If you are interested in participating, you can rent hanbok from one of the many stores located within the Hanok Maeul. Alternatively, you can just enjoy watching on as a spectator.
You don't need to feel embarrassed about dressing up and taking photos, even if you are travelling to Korea as a solo female traveller. You will note plenty of Koreans doing the same thing!
If you happen to be at the Gyeonggijeon Shrine on a Saturday afternoon, you can watch the colourful changing of the guards ceremony that takes place every week at 2 pm. The event sees the guards march from the Sori Arts Centre, along Hanjigil and Taejo-ro street, all the way up to the Gyeonggijeon Shrine.
Eat your way around the Nambu Night Market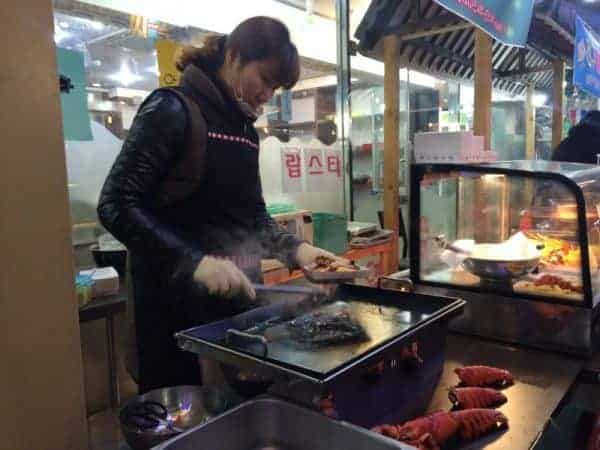 Eating your way around the Nambu street market is one of the best things to do in Jeonju, especially if you consider yourself a foodie traveller. Even if you have travelled to a lot of other street food markets in Korea, there is no place quite like the Nambu market.
Here, you will find street vendors from numerous countries across Asia (Vietnam, the Philippines, Japan, etc) selling their regional fare. Some notable delicacies to consider sampling at the Jeonju Nambu Night Market are Chonggaknae Sushi – a dish of torched beef sushi that costs is cooked using a blow torch (!)
It costs approximately 5000 KRW for a generously sized plate. Warm nokdujeon (mung bean pancakes) are also not to be missed.
If you want to try Jeonju's famous bibimbap while here but you don't want to splurge on dining out in a restaurant, you can get a little pot of roasted bibimbap from one of the vendors at Nambu for 3000 won.
Try

Jeonju delicacies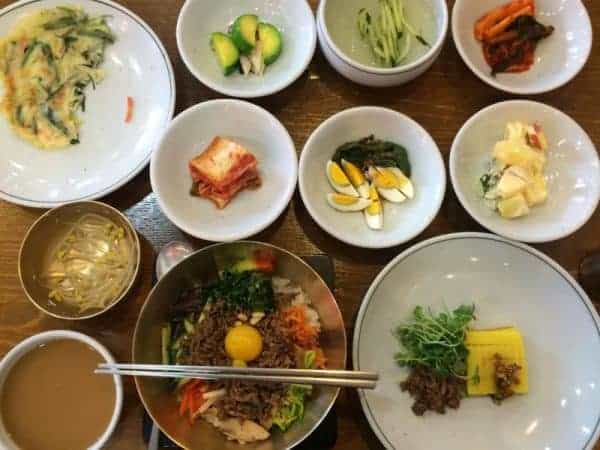 Different parts of Korea are known for their different regional specialties and Jeonju's is bibimbap! If you are not familiar, bibimbap is a rice dish made with chili sauce and meat (typically beef).
Traditional Jeonju bibimbap is made using raw beef and the yolk of an egg. However, most restaurants also serve a cooked beef version of the dish if you are not keen on the idea of eating raw meat.
One of the best parts of eating out in Korea is the complimentary banchan (side dishes) that are served alongside your meal. Some Jeonju restaurants serve you as many as 10-12 different side dishes!
You are usually treated to several different varieties of Korean kimchi. Fish cakes, mu saengchae (spicy radish salad), sukju namul (seasoned bean sprouts) and sigeumchi namul (seasoned spinach) also make frequent appearances.
Where to eat bibimbap in Jeonju
There are an abundance of bibimbap restaurants in Jeonju. However, if you want to treat yourself to the best of the best and avoid tourist traps, you may want to consider the below eateries.
Hanguk Jip
Renowned for producing excellent traditional bibimbap, Hanguk Jip is a traditional Korean eatery perched on the edge of the Jeonju Hanok village. Popular with locals and tourists alike, the restaurant is typically so busy that it is advisable to reserve a table in advance. Just stop by in the morning and make a reservation for dinner.
Hanguk Jip serves Jeonju specialty bibimbap (produced with raw beef tartare), and dolsot bibimbap (bibimbap with cooked beef served in a sizzling pot). Each meal is served with a wide selection of banchan (side dishes) and soups for just 12,000 KRW per person.
Gajok Hoegwan
Slightly pricier than Hanguk Jip but every bit as respected and reputable, Gajok Hoegwan is a dedicated bibimbap joint. The only menu options are the raw or cooked beef bibimbap. At just 13,500 KRW per person, you receive 12 different side dishes with your dinner.
Sample makgeolli
Makgeolli (traditional Korean rice wine) is also a famous local delicacy in Jeonju. If you are feeling a little peckish, you can head into a Makgeolli house and order a pot, and you will be met with an array of complimentary side dishes just for ordering the drink!
Think of this as the Korean version of an Italian aperitivo! If you decide to go wild and order more than one pot, you are presented with a different choice of side dishes each time!
Search for Jeonju Street Art
The Jaman Mural Village is a beautiful spot in Jeonju that is situated directly across the cobbled street from Omokdae. If you have spent any amount of time travelling through South Korea, chances are that you will have encountered several of these mural villages during your adventures.
The Jaman Mural Village is nice because it is not so crowded with tourists as the other more popular spots like Gamcheon in Busan or Ihwa in Seoul. The murals of Jaman village decorate the facades of storefronts, restaurants and houses.
Entire alleyways are covered from top to bottom with murals. They display scenes from beloved anime movies such as Spirited Away and My Neighbour Totoro. When you are done exploring and taking photos, enjoy a sweet iced coffee in one of the adorable cafes nearby.
Visit the Omokdae Shrine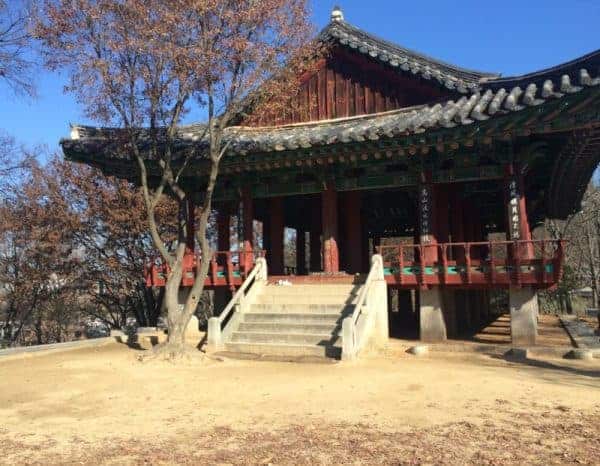 At the limits of Jeonju's hanok village, you will be met with a steep hill, at the top of which awaits the Omokdae Shrine. The shrine is free to enter and offers beautiful 360-degree views of the city below. This is the place where General Yi Seong-Hye celebrated his victory over Japanese invaders.
Sleep on a traditional futon bed in a hanok guesthouse
For an "only in Korea" kind of travel experience, opt to stay in a traditional hanok. There are plenty of charming accommodation options nestled within Jeonju's hanok village.
Staying in a hanok means sleeping on a futon on the floor in a beautifully designed traditional room. However, sleeping on the floor is much more comfortable than it sounds!
Marvel at the Pungnammun Gate illuminations
Once upon a time, the city of Jeonju was surrounded by colourful gates. Today, the only one that remains is the Pungnammun gate.
The grand entryway dates back to 1768 and can be found close to the Nambu night market. The gate is beautiful in itself by day. However, it is even more beautiful by nightfall when it is illuminated by dozens of twinkling lights.
Explore the parks of Jeonju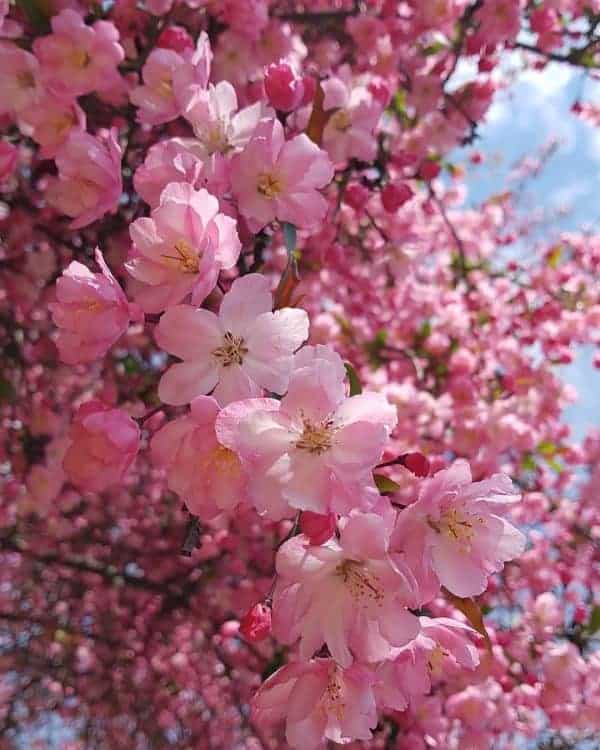 Several picturesque parks are situated in central Jeonju. They make a lovely place to take an afternoon stroll or to pack up some Korean snacks and street food and have a picnic.
Wansan park is one pleasant spot close to the Nambu night market. Equally charming is the nearby Deokjin Park which boasts a tranquil lake, lotus plants, and musical water fountains. Both are particularly lovely during the cherry blossom season in spring.
Discover secret temples
Most of the tourists that travel to Jeonju spend the majority of their time in the hanok village area of the city. If you wish to venture off the beaten path, you can explore the southern part of the city and some of the temples and historical sites that await there.
Follow Dongseohak-dong road until you reach the Namgo Sanseong Fortress and Namghosa Temple. The former is little more than ruins and crumbling walls now.
However, Namghosa temple is a beautiful spot filled with colourful lanterns. There are also several hiking trails that lead through the area surrounding the temple.
Continuing along Dongseohak-dong road, you can also stop by the three-tiered Chunggyeongsa Temple. This is a shrine built for Yi Jeong-ran who defended Jeonju against an attack from the Japanese in 1592.
Visit the Jeonju Korean Traditional Wine Museum
The Jeonju Korean Traditional Wine Museum (전주 전통술박물관) is a small museum just outside the hanok village. It is free to enter and gives visitors the chance to learn about the history of Korean wines and the process of making them. You can even sample some of the different wines for free!
Explore Seohakdong Art Village
Seohakdong art village (Seohakdong Yesulchon) is connected to the Jeonju hanok village via a footbridge. This was once one of the most run-down parts of town, but in 2010, local artists and creatives came together to beautify their neighbourhood.

Head to the Seohak Art Space – a cultural complex home to a coffee shop and an independent art gallery. The gallery showcases the works of artists from across Korea and the exhibitions change frequently. Nearby, you will find Seohak-dong Sajingwan – a photo gallery where street photography showing life in Korea through the decades is on display.
Try Jeonju moju
Soju and makgeolli might be among the most well-known types of Korean alcohol, but in Jeonju, the locals enjoy another beverage: Jeonju moju. You will find moju at most Jeonju restaurants, or sold in white plastic bottles at various stores around town. It is hard to find it in other parts of Korea.
The drink is made by brewing makgeolli with cinnamon, ginger, jujube, arrowroot, ginseng, and liquorice. It has a very low alcohol content and was once considered to have medicinal properties. The cinnamon taste is quite strong, making moju comparable to a cold, alcoholic version of Indian chai!
Where to Stay in Jeonju
There are plenty of accommodation options available in Jeonju. You will find everything for every budget and travel style here. A number of reputable options are shortlisted below for your consideration.
Jungdam – a stay in a gorgeous traditional hanok with a double futon bed, a private bathroom, and mountain views


Daon Hotel – luxurious modern hotel without the luxury price tags. The property boasts large suites with terraces, spa baths and complimentary breakfasts


The Hanok – charming stay in a traditional, family-owned hanok with traditional western beds and an Asian breakfast included
You should try and reserve your accommodation at least a couple of weeks before your intended travel dates. This is especially the case if you plan on travelling during Chuseok (28th-30th September 2023) or the cherry blossom season.
How to Get to Jeonju
Direct buses and trains run frequently throughout the day to Jeonju. The journey takes approximately 2 and a half hours from Seoul and around 3 hours from Busan. Of course, this is traffic dependent for buses.
The major attractions are just a ten-minute bus or cab ride from Jeonju intercity and express stations. You can either take the 1000 bus and get off at "Hanok Maeul" or take a cab asking for the same.
Once you arrive at Hanok Maeul, all of the major points of interest are with a short walking distance of each other. Korean cab drivers are generally pretty straight so you don't have to worry about someone ripping you off.
Travelling to Jeonju by train from Seoul
Travelling to Jeonju by train from Seoul station is perhaps the easiest and most convenient way to reach the city. You can generally purchase your tickets on the day of travel.
Just arrive at the station a few hours before your intended departure. The only exception to this is travelling during popular public holidays and events (Chuseok for example). Tickets can also be purchased online using Korail.
Travelling to Jeonju by bus from Seoul
An alternative way to get to Jeonju from Seoul is to do so by bus. You can take buses bound for Jeonju from three different bus stations in Seoul. Departures run frequently from Seoul Express Bus Terminal, Seoul Nambu Terminal, and Seoul Sangbong Terminal.
All buses take approximately 2 hours and 50 minutes to reach Jeonju, but the price differences are high so keep that in mind. Tickets from Seoul Nambu are the cheapest at approximately 9500 KRW. Seoul Express bus prices range between 11,000-16,000 KRW, and prices from Seoul Sangbong weigh in at 18,000 KRW.
Taking a Jeonju day trip
It is absolutely worth spending a night or two in Jeonju. However, if your schedule does not allow for that, you can see the city on a day trip from Seoul.
Just keep in mind that it will be a long day and you will need to leave Seoul early in the morning. Expect to spend up to five hours of the day in transit.
Final Thoughts
Do you have any additional concerns about the best things to do in Jeonju, South Korea? Alternatively, perhaps you have already travelled to Jeonju. What did you think?
If you need any advice or tips on travel in Korea, then please do get in touch. I spent two years living in Seoul working as a Travel Writer and teaching English.
You can also browse this comprehensive Korea Travel Guide for more general Korea FAQs. Safe Travels, Melissa xo
---