A Jeju itinerary is a perfect addition to anyone's South Korea trip. This little island awaits off the southern coast of Busan and is often referred to as being the Hawaii of Korea. Once you arrive at is paradisiacal shores, you will certainly understand why.
When you think of South Korea, you probably think about congested cities and towering hi-rise buildings. More than likely you do not associate this country with majestic waterfalls, secluded paradisiacal beaches, natural world wonders and rolling green hills but in fact, Korea has all of that encapsulated in the little island paradise of Jeju.
I lived in South Korea for two years and visited Jeju numerous times. This Jeju itinerary and travel guide is the most comprehensive on the internet and will help you to plan the best things to do in Jeju during trip. Feel free to use the table of contents below to navigate to the various sections as necessary.
A Suggested Three Day Jeju Itinerary
Jeju is situated just south of the mainland of the Korean peninsula and can be reached by just one hour's flight from Seoul, or via ferry from Busan. This Jeju itinerary aims to show you the very best of Jeju that you can enjoy in a short space of time.
Jeju Itinerary Day One
Start your Jeju itinerary in the South of the island where there is plenty to see and work your way northwards from there. The picturesque natural waterfalls of Jeongbang and Chengeyeon offer scenic walking trails through the nearby valleys.
Admire Beautiful Waterfalls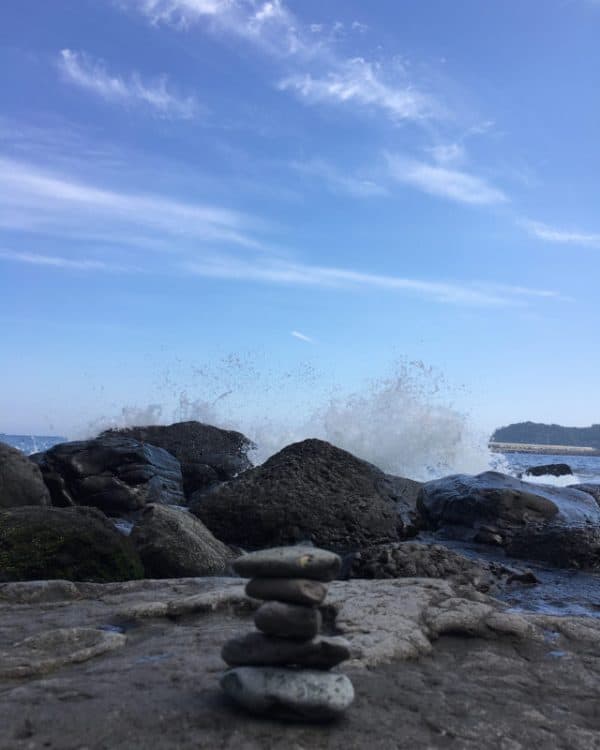 Jeongbang is the only waterfall in Asia that falls directly into the ocean which is a pretty interesting spectacle to see. According to Korean legend, the waterfall has a dragon living in the depths of the water underneath the falls. Maybe you'll fall lucky and see him?
The nearby Cheonjeyeon falls are appropriately named as "Pond of the Gods". This is almost believable since the site is so beautiful it is definitely worthy of God's attention.
Revel in the views here, enjoy a soak in the mineral springs and then head onwards to your next destination on this Jeju itinerary.
Admission: 2,500 won to enter each waterfall zone.
Sample a Black Pig Lunch
Various regions across Korea are famous for their various different regional delicacies and in the southern part of Jeju, it is black pig, which is actually much more appetising than it actually sounds!
Black pig is simply a domestic breed of pig that lives in Jeju and is served marinated in Korean BBQ style. Do a little research as to the restaurants offering this dish in the area which you will be staying. Some touristic restaurants are a little expensive or they serve the fatty parts of the pig.
Cost: Approximately 12,000 won per person
Stop by Daepo Jusangjeolli Cliff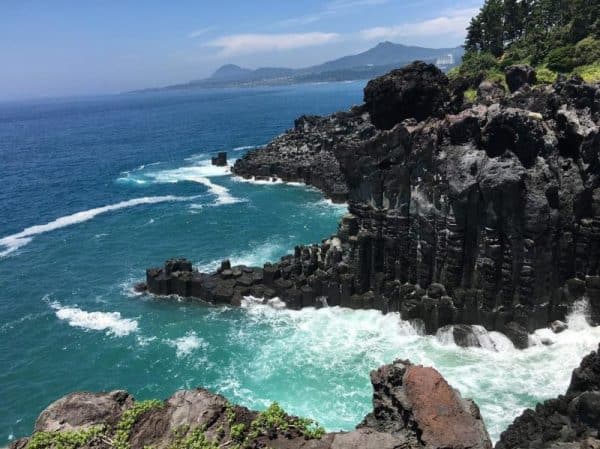 Daepo Jusangjeolli Cliff is a dramatic cliff edge and rock formation that is located at the very edge of a sprawling pine forest. The cliffs have an unusual layout. Their appearance is the conseqence of an eruption from Jeju's resident volcano Mount Hallasan.
When lava flowed from Hallasan, it cut through the rocks and flowed into the sea creating an unusual jagged appearance. There isn't so much to see here, but it is worth a stop for 5-10 minutes for a photo opportunity on your way to Sanbangsan.  
Visit Sanbangsan Mountain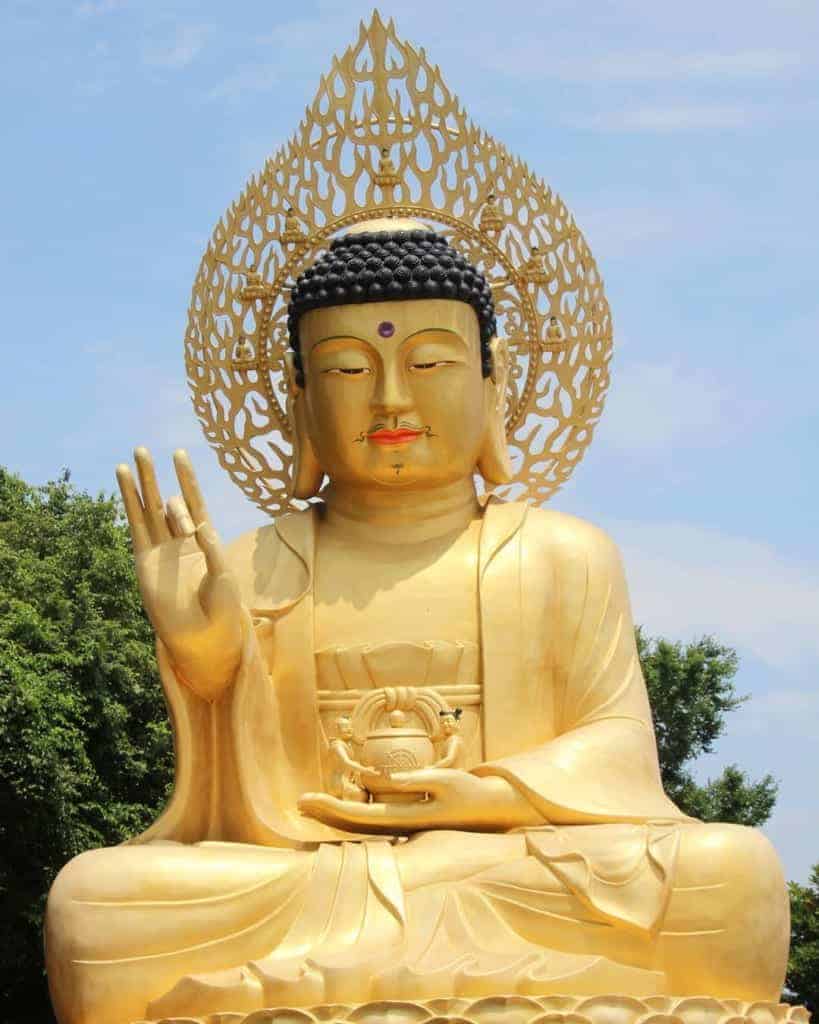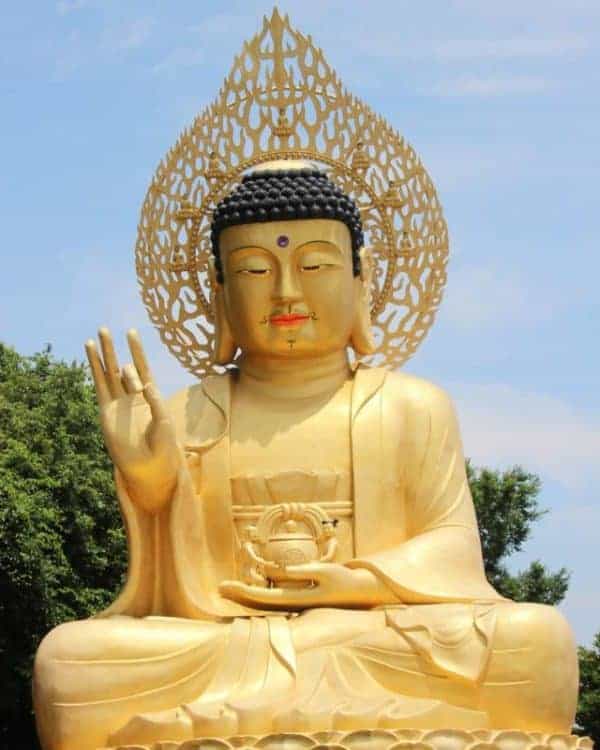 Situated on the Yongmeori coast, Sanbangsan Mountain offers unparalleled views across Jeju. Here, you are treated to rolling hills and impeccable nature that extends as far as the eye can see.
The ascent to the peak of Sanbangsan and the temple that awaits you at the top is not too challenging, provided that you are in generally good physical health. There are also several other, less intensive hiking trails.
Walking the length of the coastline in Yongmeori that encompasses Sanbangsan is also incredibly peaceful. It leads you along the sea coast, past jagged cliffs, and through lush green fields. There are several watchtowers scattered along the route here to look out for which acted as vantage points during the Korean war.
Admission: Free
Watch the Sunset at Hyeopjae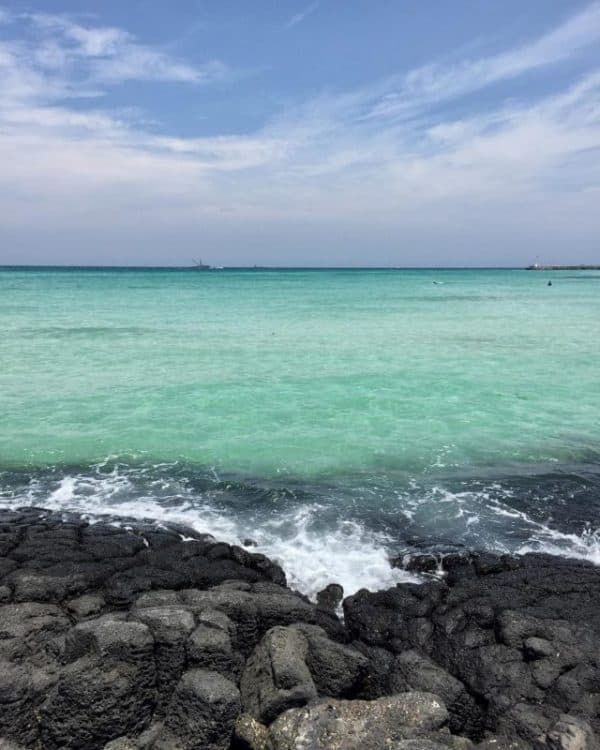 Think crystal clear Azure blue waters that twinkle under the light of the moonlight as the sun sets in shades of pink, red and lilac behind black rocks and you are halfway towards picturing the beauty of the beach at Hyeopjae.
After a long day spent trekking and hiking around the natural beauty that Jeju has to offer, there could be nothing more relaxing than putting an end to the first day of your Jeju itinerary by sitting on the beach, soju in hand and watching the sun set over the Korean peninsula.
Admission: Free
Jeju Itinerary Day Two:
Conquer Mount Hallasan!
Day one of your Jeju itinerary is good physical preparation for hiking Hallasan – the dormant volcano that lies at the centre of the island. There are 6 different hiking trails that lead you around Hallasan and you can choose a suitable trail based upon your fitness levels and how experienced you are as a hiker.
Some trails lead you around the circumference of Hallasan, while others take you all the way up to the crater at the peak. One thing to bear in mind about hiking at Hallasan is that this is not just a small uphill ascension, this is the highest mountain in Korea and it has a height of 6,398 ft!
Conquering the Trails at Hallasan
There are only two trails that take you to the peak of Hallasan – Gwaneumsa and Seongpanak. At 9.7km, Seongpanak is the longest of the two but it takes you on a steadier, more gradual journey to the peak.
The Gwaneumsa hiking trail is steeper but offers incredible views over the cliffs and the 300 or so other mountains that surround Hallasan. The two routes are challenging but if you have no health issues, you ought to be fine.
I ascended via Gwaneumsa and down via Seongpanak. Sometimes the trails are closed due to falling rocks or adverse weather conditions and unfortunately, there is no way of knowing until you arrive there.
Tips for Conquering Hallasan
As of writing this, there is no website or resource site that allows you to check in advance. If you are nervous about the challenge presented by the hike, take a look at the easier Hallasan trails.
For this day, try to organise your accommodation somewhere close to the trailhead. Sometimes it can be late when you complete the hike. I am sure that the last thing that you want after a long day's hike is a huge trek back to your pension!
Admission: Free
Jeju Itinerary Day Three:
The Natural Highlights of Jeju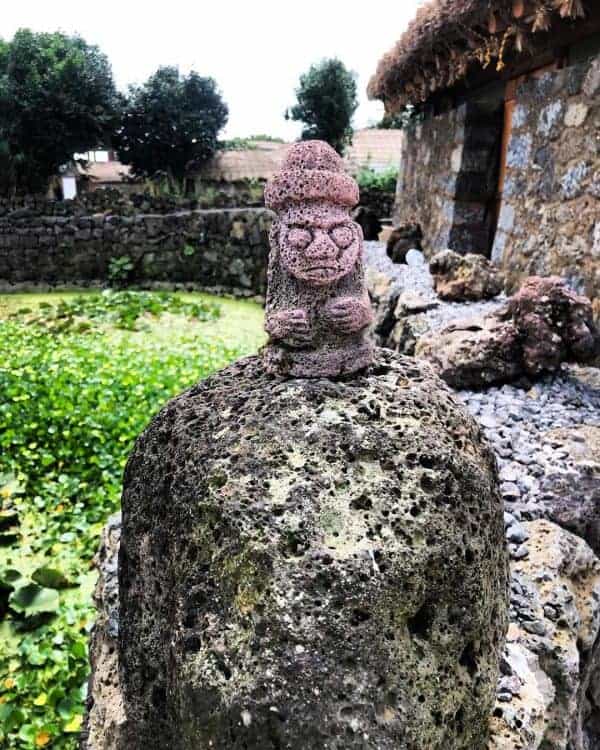 Day three of this Jeju itinerary focuses on the incredible natural phenomena that the island offers. From majestic waterfalls to magnificent rock formations, prepare to have your breath taken away at every turn.
Experience Incredible Natural Wonders
Jeju island's Seongsan is a place that is so beautiful, it has been awarded the label of being a world wonder of nature. Arrive before sunrise, ascend to the top of the peak and watch the sun come up over the sea.
To reach the top of Seongsan only takes approximately 20 minutes. Seongsan is consistently referred to as being one of the best things to do in Jeju. However, the area has much more to offer than just being a spot to watch the sunrise.
Be sure to spend some time exploring the area and its dramatic scenery. If you are lucky, you may be able to spot dolphins, whales and other sea life from the coast.
Admission: 2000 won
Meet the Deep-Sea Diving Korean Superwomen!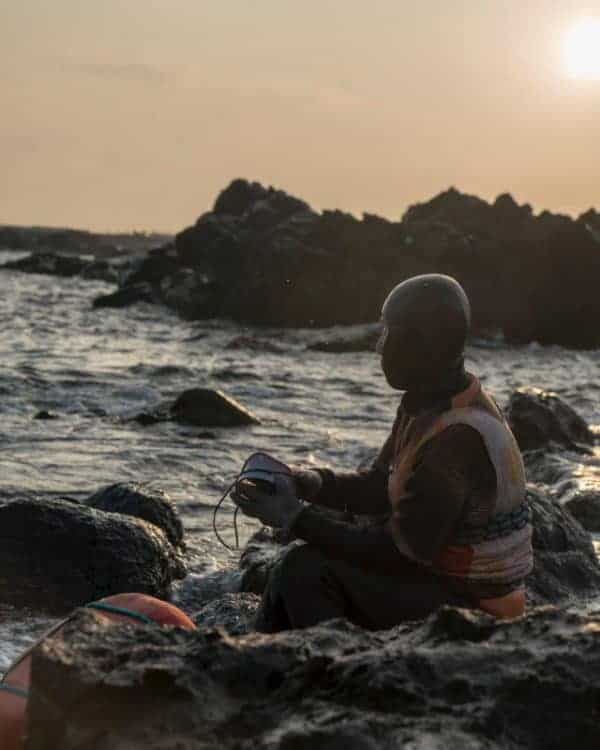 Haenyeo is the title given to a group of incredibly badass all-female group of deep-sea fisherman divers.
Instead of making things easy for themselves and fishing in the sea from the comfort of a cosy, warm fishing boat with a net, Haenyeo opt for a more "hands-on" approach. They dive to the depths of the ocean floor to retrieve sea cucumbers, shellfish and other edible treats with their hands.
This is a traditional profession that you cannot see anywhere else in the world. Having the opportunity to watch these women preparing for their day's work or rifling through their catches is a fascinating sight to behold.
What you may not imagine is that many Haenyeo belong to the older generations – with the majority being anywhere between 60 and 85 years old!
Seopjikoji
Once you've admired the feats of Jeju island's haenyeo ladies, be sure to take a few minutes to stop by Seopjikoji. This is a stunning coastal area that is located close to Seongsan.
Envisage a region of rolling green hills, and bright yellow canola flowers and you are halfway to picturing Seopjikoji. For the views and the photo opportunities, Seopjikoji is well worth stopping by.
Scurry Through Lava Tunnels in Manjanggul Cave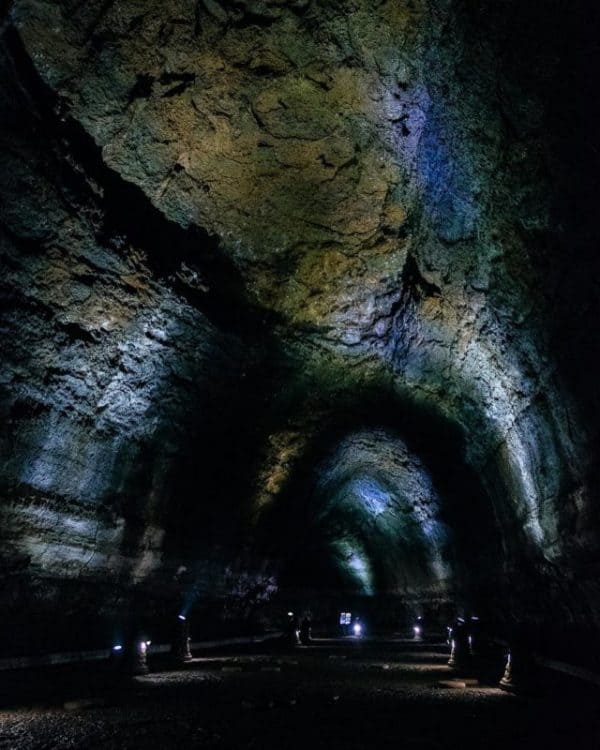 Manjanggul Cave isn't like most other caves. It is a cave comprised of an intricate network of winding narrow lava tunnels and lava shelves.
What the heck are lava tunnels and lava shelves? I wondered the same thing. The tunnels are formed when there is a volcanic eruption and lava escapes from the ground to the surface. Manjanggul cave boasts some of the longest and largest lava tunnels in the world.
The cave is approximately 1km in length (2km round trip).  There is lighting that illuminates the length of Manjanggul Cave, however, it is still quite dim inside. The floors are quite rocky and uneven and so you should take care to watch your step while walking around and be sure to wear sturdy, comfortable shoes.
There is also an interesting museum located near the entrance to Manjanggul cave which gives you a little insight into the history of how the caves were formed.
Other Things to do on Jeju Island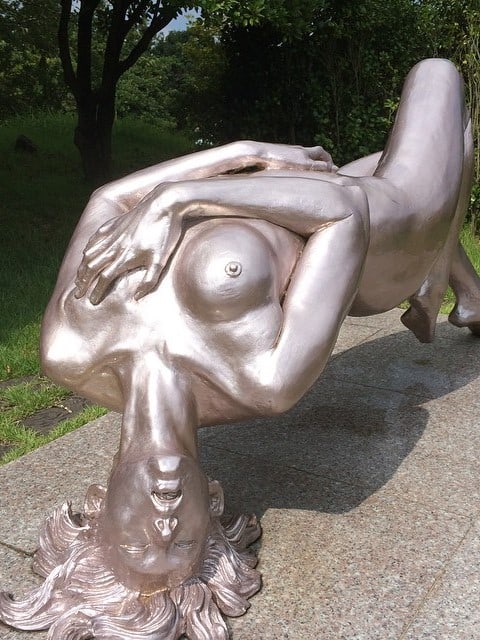 There are plenty of things to do in Jeju to warrant you spending as much as a week here. This is especially the case if you want to incorporate a little R&R into your island break.
I drafted out the above Jeju itinerary on the assumption that you may only have a few days to spare here. If you have more time to dedicate to exploring beautiful Jeju, or you want to switch out some of the suggested activities, I have suggested some other incredible things to do in Jeju below.
Pick the Fresh Fruits of Jeju
Jeju Island is locally renowned for its citrus fruits. All over the island, you will find orchards filled with fragrant hallabong oranges and sweet gamgyul (tangerines). If you are interested, you can organise a fruit picking experience. This is particularly popular during the winter months when these fruits are in season. In November, you can even stop by the Jeju orange festival!
Prices vary depending on the particular farm that you visit for the picking experience. Generally speaking, you can expect a rate of between 2,000 – 5,000 KRW depending on the specific place.
Citrus fruit orchards are scattered all over the island and you're likely to pass a bunch of them during your Jeju itinerary. The easiest option though is perhaps to take a day trip to one of the farms from either Jeju City or Seogwipo.
Make Your Own Cosmetics at Innisfree Jeju House
Admittedly this is not something for everyone, but fellow lovers of Korean skincare products may want to incorporate this into their Jeju itinerary. Innisfree is one of Korea's leading skincare brands (and my personal favourite). The products are made here on Jeju island using natural, locally-sourced ingredients.
You can certainly pick up Korean beauty and skincare items while shopping in Seoul or elsewhere in the country, but at Innisfree Jeju you can try your hand at making your own natural soaps and face masks. You can also take a factory tour to learn about the process of making the items, or relax in the organic cafe.
Educate Yourself at the Island's Numerous Museums
While the main draw of Jeju is nature, there are numerous museums to be discovered. Jeju's museums make the perfect activity for a rainy day, or for those hoping to learn a little more about the history and culture of this beautiful island. 
The Teddy Bear Museum is fairly cute if a little obscure. It features hundreds of cutesy stuffed bears that have been assembled to reenact various famous people and scenes. For example – see the teddy bear Beatles tribute band or an adorable version of Da Vinci's Last Supper. 
For a more cultured and educational experience, add the Jeju Folklore and Natural Museum, the Jeju National Museum, and the Jeju Museum of Contemporary Art to your island to-do list.
Love Land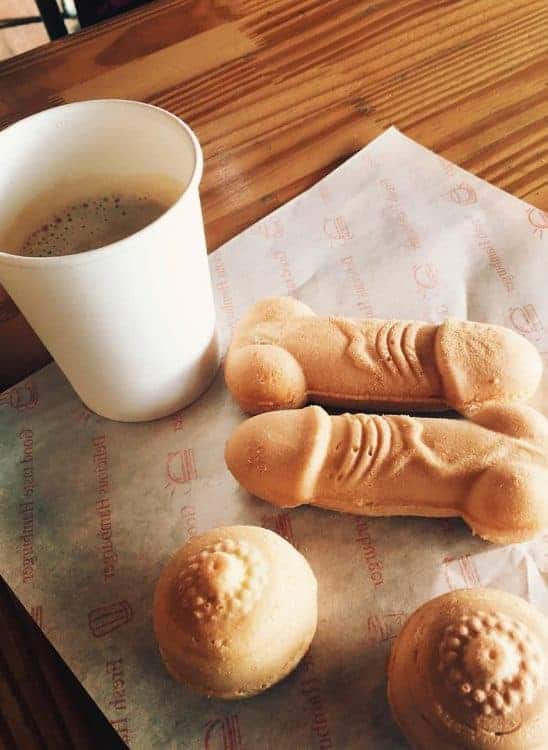 Loveland is one of those eccentric "only in Korea" type of places – kind of like Suwon's toilet museum. I wouldn't recommend carving time out of your schedule to come here, but if you have time to kill, it's worth a visit for the comedy factor.
Loveland is an erotic sculpture park. Envisage giant phallic objects that you can pose with and an assortment of sculptures in compromising positions. 
Oedolgae Rock
Oedolgae rock is an obscure rock formation that juts out of the ocean just off the coast of Jeju island. While you cannot access the rock, there are several excellent hiking trails that twist and turn along the Jeju coastline.
These trails (the Olle trails) offer a little something for people of all hiking abilities. The various viewpoints along the trails enable you to look out to Oedolgae, and some of the smaller islands that float off the coast.
These trails can get very, very crowded. However, given the beauty of this area, you will quickly forget about the other tourists.
Take a Submarine Out to Udo Island
What could be a more unique mode of transportation to get to Udo island than to do by submarine? Besides, how many opportunities do you actually get to ride in a submarine anyway?
While admiring the deep sea creatures is something that is usually reserved to scuba divers, this is made accessible for all travellers with the submarine that runs to and from Udo island.
Visit the O'Sulloc Tea Fields
O'Sulloc are the biggest green tea producer in South Korea. They have two tea plantations on Jeju island. Their rolling hills filled with emerald green tea plants seem almost as if they were built for Instagram!
The tea plantations are very popular among tourists, but walking among the crops and watching how people tend the tea is interesting if you haven't seen something like this before. There is also a wonderful cafe on site where you can drink fresh green tea while indulging in some handmade green tea swiss rolls!
The O'Sulloc Tea Fields are located a little out in the sticks. To reach them, you really need to either have a rental car or be participating in a tour.
Relax on the Beaches of Jeju
While there are plenty of things to do in Jeju, you are forgiven if you also want to spend your time on the island treating yourself to a little R&R. Jeju is fully equipped with everything you need to spend a relaxing few days in a beautiful setting.
Hyeopjae Beach is one of Jeju's most popular organised beaches. Its boulevards are lined with trendy cafes, coffee shops, and bars. The more secluded Geumneung Eutteumwon Beach is adjacent to Heopjae and is a great spot for camping.
If you are seeking more "off the beaten path" beaches, consider Gwakji or Hahyo Soesokkak beach. Both are less developed and more popular among locals rather than tourists.
Soak in Natural Hot Springs
Jeju is a volcanic island that is home to dozens of natural hot springs. While relaxing at a spa or a jimjilbang is one thing, relaxing at a natural spring, surrounded by mountains, flora and fauna is something else entirely.
You can find numerous hot springs dotted around Jeju island. One excellent spot is the Sanbansan Carbonate Hot Springs in Seogwipo. The water here has unique properties and contains carbon dioxide and bicarbonate ions – good for healing ailments and promoting healthy skin.
The Jeju Aragonite Hot Springs is another special place. The water here is milky-white on account of all of the minerals that are contained within it. Germanium, zinc, iron, sodium, potassium, and other minerals in the water help soothe your skin and boost your immune system. 
Getting Around Jeju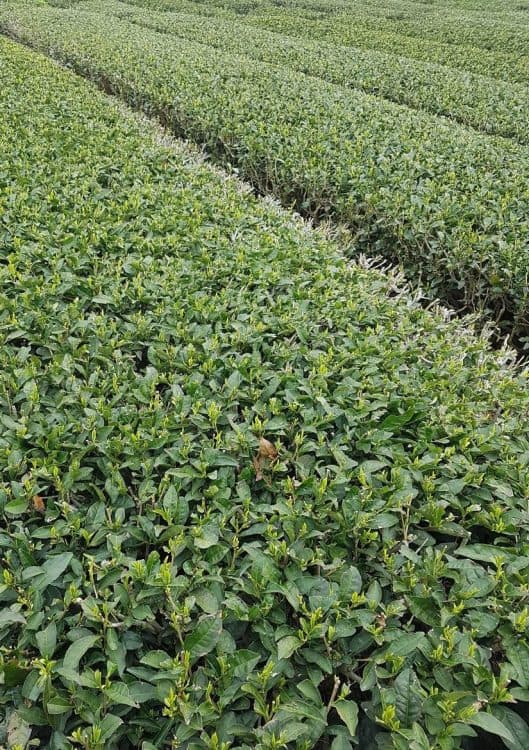 It is important to note that it can be tricky to make your way from A to B on your Jeju itinerary without having your own form of transport. My recommendation to you would be to rent a car for your trip.
If you can't drive, or you feel uncomfortable driving in a foreign country then I can completely understand. The alternative option is to take buses around the island. Sadly, the infrastructure of Jeju's public transport leaves a lot to be desired. Buses often run on infrequent schedules, or they don't take you directly to the sites meaning that you sometimes have to take two buses.
The Jeju itinerary that I have outlined below is perfectly bus-friendly, however, I'll provide a little more insight as to what to expect if you plan on getting around Jeju by bus. 
As I mentioned, getting around Jeju by bus is certainly not the easiest thing in the world but it's manageable. Take lots of patience and a sense of humour with you if you plan on getting around via this method during your Jeju itinerary!
The main bus route that runs through Jeju island is the 201. This essentially follows a circle around the entire island and stops close to most of the major tourist attractions.
If you have been travelling in Korea for a while now, you will know that your T-Money card is your golden ticket to reduced price bus and metro tickets across the country. If you don't have one already, you can pick one up at any 7/11 or other convenience shops upon arrival in Jeju. Bus tickets tend to cost ₩1250 each way. 
At some points during your Jeju itinerary, you may find it easier to get a cab – particularly if you have been walking all day and don't want to wait around for buses for long periods of time. Korean taxi drivers tend to be pretty straight (i.e. they won't try and scam you), however, taxis are arguably not the best option on a budget. 
You will find taxi ranks all over Jeju city, Seogwipo, and close to the major Jeju attractions. Another option is to speak with your hotel reception and have them help you organise a private driver for the day.
Renting a car is my preferred way to get around Jeju island. Having your own transport enables you to enjoy lovely Jeju on your own schedule – rather than waiting around for buses.
This also means that you are able to access numerous temples, beaches, and other Jeju attractions that are virtually inaccessible if you rely on public transport alone.
You will find plenty of reputable rental car companies located at both Jeju airport, and the port – making this super convenient regardless of whether you choose to fly or take the ferry to the island. World-renowned rental companies such as Avis, Rent A Car, Europcar, Sixt, and National all provide rental car services in Jeju.
You need to have both your driving license and your International Driving Permit (IDP) to rent a car in Jeju. You will be asked for these when you arrive at the rental office so don't forget!
For the most part, driving in Jeju is pretty chill. The roads are well-built, and signposts are displayed in English as well as in Korean. Koreans drive on the right-hand side of the road like in the US and most of the world. 
Where to Stay in Jeju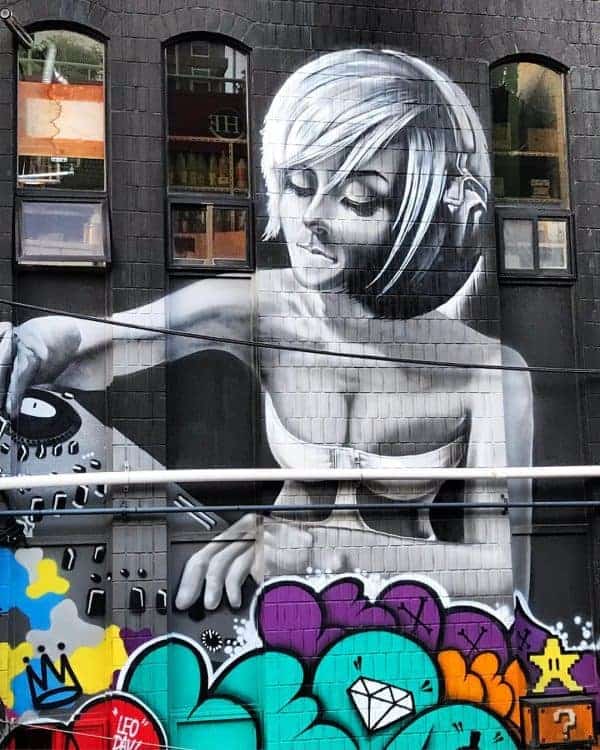 It can be a little overwhelming to try and decide where to stay in Jeju island. There are so many different regions to choose from, and each presents its own unique charm.
The main factor to take into consideration here is whether you intend on renting a car in Jeju or not. If you hope to explore the island by public transport, you want to ensure that the place that you decide to base yourself is not miles out from the activities planned on your Jeju itinerary. If you are renting a car, you have a little more flexibility, and the option to stay in cute, quaint secluded villages and woodland pensions.
Jeju City (제주시)
Jeju City will be your first introduction to Jeju island. It has its charm, and its bustling city streets are teeming with excellent restaurants, stores, and coffee shops.
The City is not an especially beautiful place. It's another crowded Korean city at the end of the day and does not accurately reflect the pristine nature and tranquility of Jeju. 
If you have a really long time to dedicate to travelling in Korea/Jeju then perhaps it's interesting for you to explore Jeju city for a day. Alternatively, this can be a convenient place to spend one night if you have an early morning flight/ferry. Generally though, I would strongly advise choosing Seogwipo as a base.
Seogwipo (서귀포시)
Seogwipo is the area that I would recommend basing yourself in if you are planning on following this Jeju itinerary (or a similar route). This is especially the case if you are going to depend on public transport during your trip. Seogwipo is located very close to a lot of Jeju attractions, making it an incredibly convenient base.
Udo
Lovely Udo is perhaps one of the most scenically beautiful spots on all of Jeju island. That said, Udo is also fairly remote.
If you would like to explore the stunning nature of Udo, I would recommend that you split up your accommodation choices – i.e. spend a few days in Seogwipo so as to explore the main Jeju attractions, then spend a day on Udo. Seongsan Ilchulbong and Seokjikoji can be explored from Udo.
What to Eat in Jeju Island
South Korea is a foodie traveller's paradise. Each region of the country is famous for its own local delicacy, and Jeju Island is no different. While the traditional restaurants across Jeju serve all the beloved Korean classics, there are a few specialties to look out for. 
Black Pork (Heuk Dwaeji)
If you only try one local delicacy during your Jeju itinerary, make it heuk dwaeji. You can thank me later! To clarify, the meat is not black – it is simply taken from a pig with black hair!
Heuk Dwaeji is enjoyed in the typical Korean BBQ style. You sit in front of a grill and prepare the meat to your own liking. When the meat is cooked, you enjoy it with an array of banchan (side dishes) and spicy gochujang.
Seafood Platter from Haenyeos
Jeju's island location makes it the perfect spot for enjoying fresh seafood. You will often find the Haenyeo divers selling their latest catches on makeshift stalls. If you are interested in trying raw seafood, you can purchase a mixture of oysters, sea cucumbers, abalones, and other deep sea delights.
Once you've chosen your seafood platter, sit down beneath a pojangmacha tent, douse your food in soy sauce and sesame oil for flavour, and wash it all down with a strong glass of soju. You can't get more of a local experience than this.
Fresh Abalone
Fresh abalone is found in abundance in Jeju and is essentially one of the island's specialties. The dish is prepared in a number of different ways. You can enjoy abalone raw, grilled, or served in a savoury porridge!
Practically all coastal towns of Jeju have an abalone specialty restaurant. The most famous place (and somewhere that is considered one of the best eateries on the whole island!) is Myeongjin Jeonbok (명진전복). Try to sample this dish during your Jeju itinerary if you can!
Seafood Hot Pot Stew (Haemultang)
Haemultang is a true seafood lover's dish. You can try this delicacy all over the country, however, Jeju is particularly famous for it on account of the freshness of their seafood ingredients. 
The stew is typically quite spicy. The exact ingredients vary depending on where you try it, but ingredients often include shrimp, squid, clams, scallops, and lobster tails. Gochujang sauce and an array of fresh vegetables are usually added for taste. 
Jeju Peanut Butter Ice Cream
If you visit Udo island during your Jeju itinerary, you need to try their local ice cream. The peanuts are grown locally and then added to a generous cup of sweet, creamy ice cream. 
I stopped by HaHa HoHo ice cream store – yes mostly for the name! Here, you can buy peanut ice cream infused with cinnamon flavours. You will not be short of places to try this on Udo Island. Udo Marilyn Monroe is another cute spot that looks like a building from Santorini!
Jeju Hallabong Orange Chocolates
A yummy edible souvenir to pick up from your Jeju itinerary is the island's delicious orange chocolates. When I was teaching in Seoul, my students would always bring me boxes of these back from their Jeju vacations because I was so addicted to them, haha.
The little sweets are shaped like a tiki figure and cannot be bought elsewhere in Korea – a true Jeju specialty!
When to Travel to Jeju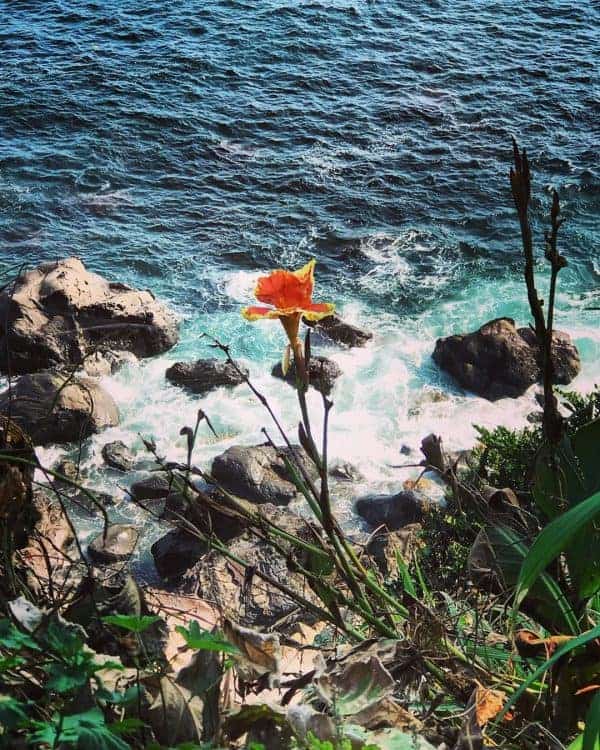 Though most images of Jeju depict the island as a tropical paradise, the climate here varies significantly between the seasons! The best time to plan your Jeju itinerary depends somewhat on personal preference.
A breakdown of what to expect depending on the specific season is detailed below.
Spring (March to May)
Spring is one of the best times to visit Jeju island and Korea in general. Temperatures are warm and pleasant, and travellers can expect a daily average of 25-28 degrees celsius during this period.
The highlight of planning your Jeju itinerary in the spring is the fact that this is cherry blossom season. Trees across the island bloom with delicate pink flowers.
Summer (June to August)
Summers across Korea are very hot and humid. Temperatures of 35-40 degrees celsius are not unheard of during this time. If you want to relax on the beaches of Jeju, June is a good month to go.
Late July and August are monsoon season in Korea. Expect heavy rains during this time, and try to avoid visiting Jeju in these months if possible.
Autumn (September to November)
Autumn is a great time to visit Jeju. Conditions are similar to the spring months, and the fall foliage makes the island look incredibly picturesque.
Winter (December to February)
Temperatures can get very cold in Korea during the winter months. Fortunately, Jeju island is not quite as cold as Seoul, but daily temperatures of minus 12 degrees celsius are not unheard of.
Sometimes it snows on Jeju so brace yourself for this possibility. One good thing is that even when the temperatures drop, most Jeju attractions remain open. Be sure to pack plenty of layers and warm clothes. The little hot packs that you can find at convenience stores in Korea are a godsend!
Handy Apps to Download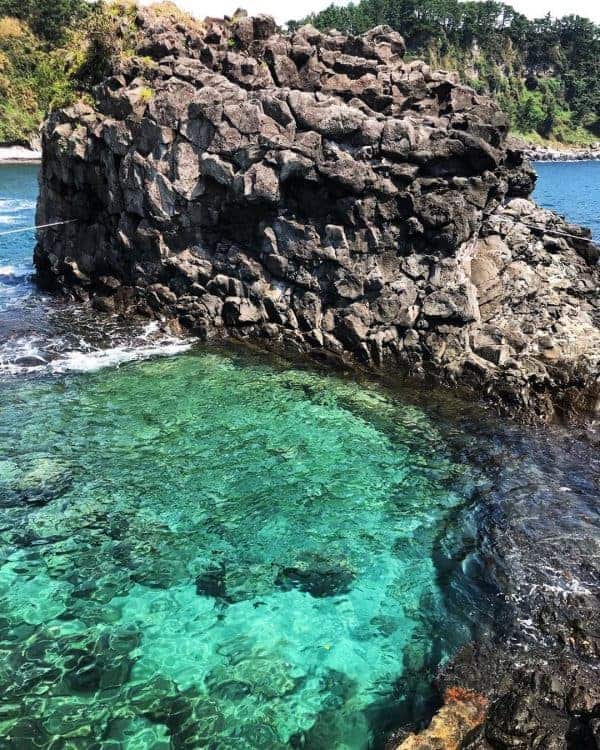 Useful apps that you should download in preparation for your Jeju itinerary are detailed below. These are handy to have with you throughout your Korea trip in general. 
Google maps are not used in South Korea. Download the local alternative – Naver Maps to help you explore this culturally rich country. 
Kakao Talk
KakaoTalk is Korea's answer to WhatApp and Viber. Koreans don't really use other messaging services. I'd recommend installing this while exploring Korea, especially if you plan on meeting locals via Couchsurfing/Meetup, or you need to communicate with an Airbnb host.
Kakao Taxi
Uber is banned in Korea but fortunately, there is a local alternative: Kakao Taxi! Use this handy app for times when you need to hail a taxi. This can be used all over the country. In Jeju, it's particularly handy in Jeju City and Seogwipo. 
For times when you really need to translate something from English to Korean (or vice versa), download Naver Dictionary. This app is slightly more accurate (in my opinion) than Google Translate as it was specifically created for translating English and Korea.
Kakao Bus
The Kakao Bus app is very useful if you intend on getting around Jeju by public transport. The app displays live timetables and routes of various Jeju bus services. This helps you to manage your schedule so that you're not waiting around at remote bus stops for ages.
Visit Korea App
One final app that may be handy for your Jeju itinerary is the Visit Korea app – an official app released by the Korean Tourism Board.
While there's tons of handy advice on what to do in Jeju crammed in this guide, the app is useful to flick through for additional suggestions, and news of seasonal events.
Have any additional questions about what to do in Jeju, or organising your Jeju itinerary? I lived in South Korea for two years. Feel free to drop me a comment below and I'll get back to you ASAP. Safe travels! Annyeonghaseyo! Melissa xo
Note: This Jeju itinerary was first published on June 21st, 2018. It was last updated on the 3rd of October 2019.
---