Best Greek islands for hiking? Actually, there are several!
Greek islands may be best known for their turquoise waters and pristine beaches. However, their overall natural scenery is just as spectacular.
A lot of people don't see Greece as a great destination for hiking but it absolutely is. Some of the best hiking routes in Europe can be found here.
Notably, Vikos Gorge in Northern Greece, and the Ursa trail close to Metsovo. But every single Greek region and island offers a plethora of excellent trails.
Best Greek Islands for Hiking
A selection of the best Greek islands for hiking is provided below. This is not an exhaustive list. There are hundreds of islands after all and each has its own established trails!
Some islands on this list are easier to get to than others. Use Ferryscanner to check routes, schedule info, and prices.
Folegandros
Rugged Folegandros is one of the more wild and undeveloped islands in the Cyclades group. Its location between Santorini and Paros makes it perfect as a stopping point on a wider Greek island-hopping adventure.
Three main villages are scattered throughout the island. The "Chora" is the island's capital.
Ano Meria and Karavostasi are the other major villages. They are worth adding to your Folegandros radar, only because so many trails depart from these points.
Countless hiking trails weave throughout the countryside between these little settlements. From the Chora, you can hike to the beaches around Angáli or to Katérgo and Karavostásis.
Angali is arguably the most naturally stunning beach on the island. From here, you can easily walk to the nearby beaches of Agios Nikólaos and Fyrá.
Both of which are seldom crowded. Similarly, there are many worthwhile trails that depart from Ano Meria to the north-western or south-western coasts.
Camping is relatively popular in Folegandros. If you wanted to, you could consider embarking on a multi-day hike around the mountainous island.
You can set up camp as you go. One particularly rewarding stretch is that between the Chora to Ano Meria via Asprópountas and Livadaki.
Skopelos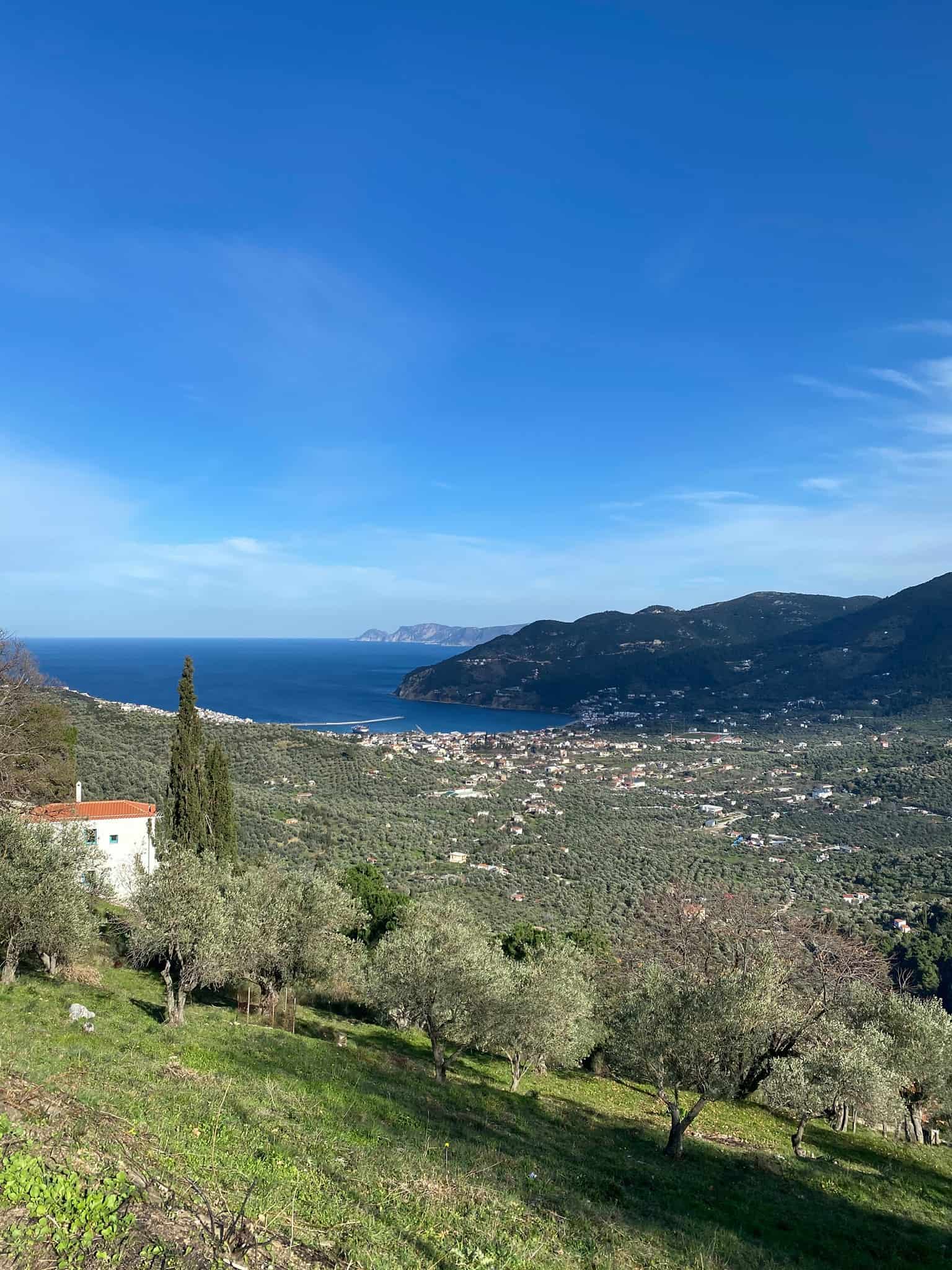 Skopelos sits within the Sporades, just off the eastern coast of Volos. It remains largely under the radar.
This is owing, in part, to the fact that the island is so tricky to get to. Skopelos is globally renowned for acting as the real-life setting for the fictional island of Kalokairi in the movie Mamma Mia.
However, locals keep the best secrets of the island to themselves. Skopelos is actually the greenest island in the entire Mediterranean.
It is nicknamed "the blue-green island" on account of its breathtaking natural beauty. The advantage of visiting the island is that it has not been overdeveloped.
Step outside Skopelos town and the main beach towns of Panormos, and Neo Klima, and you will find large swathes of vast nature and emptiness. The centre of the island is stunning yet frequently bypassed by tourists who stick to the coastal ring road as they beach hop.
Here, you bypass rolling hills and valleys, forests home to secluded woodland churches, and dramatic mountains home to eerie pirate graveyards. It is possible to spend hours hiking in Skopelos and not encounter another soul.
Visit the island out of season and it will feel like your own personal hiking playground. Most businesses close, and islanders leave for the winter at the end of October. This is the perfect season for hiking.
Andros
The Cycladic island of Andros is, without hesitation, one of the best Greek islands for hiking. Andros has been inhabited for millennia.
However, it is only within the last 5-6 decades that cars and vehicles have been permitted on the island! Prior to that, the only way to get around was on foot or by donkey.
As such, it makes sense that there are so many excellent, well-marked, and well-trodden trails around Andros. There is approximately 300km of narrow paths that are interconnected around the island.
Many of these are old Mule trails and have been followed for thousands of years. Unless you are renting a car in Greece, you may wish to consider basing yourself in the Andros capital ("Chora").
From there, you can take local buses to the trailheads of each hike. One of the best trails on the island starts at Apikia Village and takes you to Gialia Beach, bypassing spectacular sunbleached ruins, and walking alongside river beds as you go.
Hikes that depart from the Chora are perhaps the most convenient. One great loop is that which takes you from the Chora, through the Livadia valley, and back to the Chora.
If you are feeling particularly ambitious, you can attempt the 100km Andros trail. This continuous trail departs from North to South and can be completed in as few as 10 days. Pack your camping equipment or stay at a different Andros village hotel each night of your journey!
Skiathos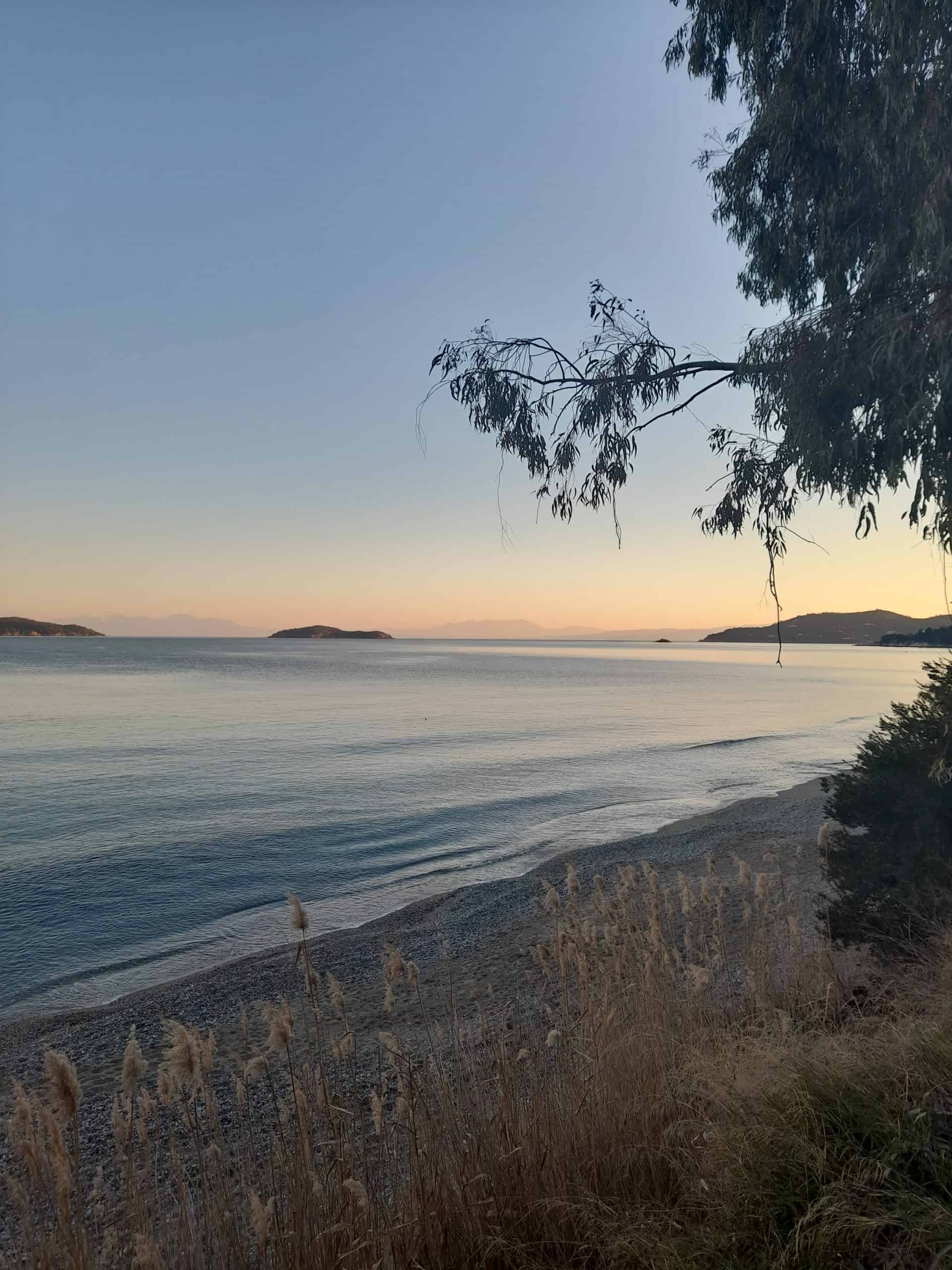 Skiathos is the most popular island in the Sporades island group. During the summer months, it is one of Greece's most sought-after package holiday destinations. Charter flights travel to the island from various airports around the UK and Europe.
In parts, Skiathos has become quite gentrified. Indeed, the town of Troulos for example looks more like a British seaside town than a destination in Greece.
Skiathos has also gained a reputation for its vibrant nightlife. But Skiathos offers much more than initially meets the eye.
There are 26 hiking trails here, all combining to cover a total length of 200km. The island is small – covering a length of just 7 miles.
This makes it perfect for a walking holiday. You can spend a week here and explore almost its entirety on foot.
One rewarding route is the coastal path between leafy Kanapitsa, and the popular beach of Koukounaries. The latter is widely regarded as being not only the best beach in Skiathos but one of the best in the world!
Similarly, from Koukounaries, you can hike to the little woodland monastery of Panagia Kounistra. This is one of the most important religious sites on the island.
It is occupied by a sweet lady who dedicates her life to its upkeep and care. When you visit, the inhabitants are sure to greet you with a strong Greek coffee and a smile.
Milos
Picturesque Milos sits in the North Aegean Greek island group, just north of Crete. It is far from a mainstream Greek tourism destination and thus, is a great place to escape the crowds.
For those in the known, Milos is characterised by its ethereal, other-worldly landscapes. Most notably, the jaw-dropping chalky-white beach of Sarakiniko resembles something you'd expect to see on the moon!
The volcanic island combines so many different landscapes into one small area. Opting to hike here takes you to beaches and coves on the island that cannot be reached by car.
There are countless hiking trails in Milos. If you spent a fortnight on this little island, you wouldn't be able to complete them all!
One of the more popular routes to follow is the hike from Trypiti to Klima via the Catacombs and Milos theatre. Another is the path from Agios Ioannis Siderianos to Kleftiko Bay or to Sikia cave. Whether you want a brisk, hour-long walk, or to embark on a full-day hike, Milos has something for all.
Donoussa
Charming Donoussa is part of the small Cyclades island subgroup. Here, it sits beside Irakia, Koufonisia, and Schinoussa.
Since Donoussa is so small, it is possible to hike around its entire circumference in a matter of hours. From Stavros, you pass by the time villages of Kalotarítissa, Mersíni, and Messariá.
Each of these settlements are home to just a small handful of residents. They boast picturesque ports, secluded beaches, Cycladic architecture, and traditional life. Donoussa is one of the last well-preserved Greek island idylls.
If hiking around the entire island in a circuit is not for you, rest assured there are plenty of other routes you can follow. You may want to consider partial routes. For instance, Stavros to Kalotaritissa, Kedros to Messaria, Merssini to Livadi Beach, Kedros Beach to Kato Mylos, or Stavros to Limni/Aspros Kavos.
Corfu
The Ionian island of Corfu (Kerkyra) is home to one of the best long-distance hiking trails in Greece – The Corfu trail. This trail was established in 2001 and connects many of the island's smaller hiking routes.
Officially, it spans a distance of 140km. However, it is possible to extend this and take detours along the way. The Spring and Autumn months are the best times for hiking in Greece, particularly in the Ionian where temperatures soar from late May.
You could opt to conquer part of the Corfu Trail, or its entirety. If your schedule permits and you choose the latter, you can walk an amount every day, camping as you go.
Alternatively, you can break up the journey with stays in local guesthouses in cute Corfiot villages. Much of the trail takes you to parts of the island that most tourists seldom get the chance to see.
The trail starts just south of Kavos. It immediately takes you through dense olive groves, farmyards, and beautiful woodland scenery.
It takes you past the ruined Monastery of Arkoudillas, past cliffs, lakes, villages, and mountain peaks. The route can be completed in 10 days.
Of course, you have the option to break up the journey at the various towns and villages along the way. For instance, perhaps you'd like a few days' respite swimming and snorkeling at the white-sand beaches of Paleokastritsa.
Donoussa
Crete
Spetses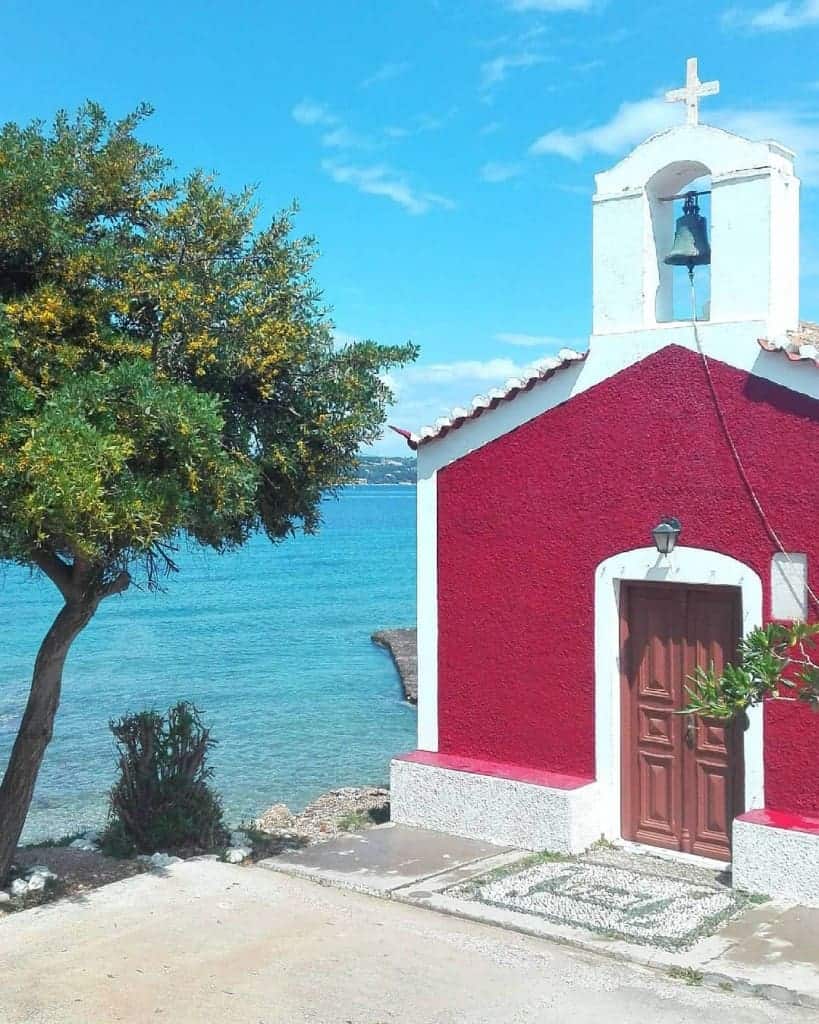 The little island of Spetses sits in the Argo-Saronic Gulf. It is the farthest island from Athens in the Saronic archipelago. However, it can be reached in less than 2.5 hours by boat.
The upscale isle has been a weekend getaway destination for the Athenian jet set for centuries. Many affluent Greeks own vacation properties here.
There is only one settlement on the island: Spetses town. The traditional tavernas and chic cocktail bars that overlook the harbor here are pleasant places to while away an afternoon while indulging in traditional Greek food.
However, the main draw of Spetses is nature. Spetses town can be found in the eastern part of the island.
Venture outside of this settlement and you are met with a vast expanse of woodland. The island is essentially just one big national park.
There are hiking routes here to suit all ages and abilities. These range from long-distance routes, to short coastal walks.
One nice route to follow is the circuit from Spetses town to Vigla, Gouri, and Ligoneri, and then back to Spetses town. This takes approximately 3 hours and leads you to some vantage points from where you have spectacular panoramas of the Saronic.
Amorgos
Amorgos is recognised across the globe for its dramatic nature, wilderness, and unique flora and fauna. It makes sense then, that such a place would be one of the best Greek islands for hiking.
There are dozens of Amorgos trails, each more breathtaking than the last. The routes here are known as the ¨blue paths¨ on account of the fact that you can see the Aegean sea, in all its glory, from each of them.
Amorgos trails vary in duration and difficulty. The ¨Old Strata" is an ancient route that leads you from the Chora to Langada.
It passes the spectacular Monastery of Hozoviotissa whose imposing white-washed walls have been built into a dramatic cliff face. The structure dates back to the 11th century when the monastery was built in honour of the Virgin Mary.
From here, you pass Kapsala, the small monastery of St. John Chrysostom, the rural village of Asfontilitis, Oxo Meria, Upper Potamos, and finally, Langada.
Crete
The most famous hiking trail in Crete is perhaps the Samaria Gorge. Indeed, thousands of tourists flock to Greeceś largest island every year in order to hike its length.
However, Cretan trails go far beyond that. There are rewarding walks and trekking routes to be found in all corners of the island – from Heraklion to Chania and beyond.
If you want to hike the infamous Samaria Gorge, there are several different approaches that you can take. Of course, the most popular is to ascend to the peak of Gigilos.
Ascending Gigilos peak is challenging and follows a steep incline. A lesser-known option is to hike from the Samaria Gorge entrance up to the white mountains and the Katsiveli shelter.
Parting Words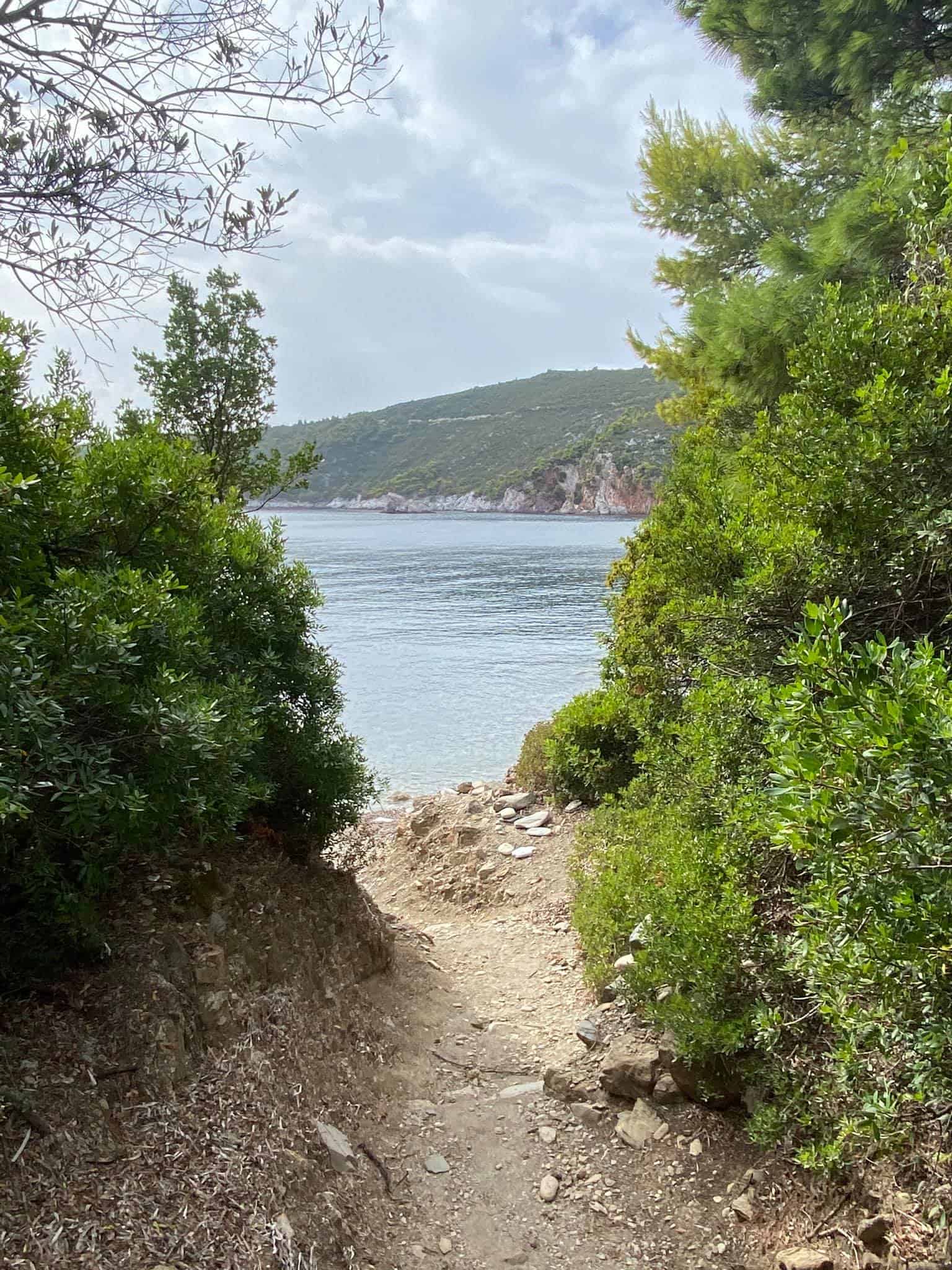 Have any further questions about the best Greek islands for hiking? Alternatively, do you have any suggestions that you'd like to add to the list?
Please don't hesitate to reach out to me via the comment box below. I will get back to you ASAP.
I have been an ex-pat in Greece since early 2017 and I'm always happy to answer any queries. Safe travels!
Geia sou! Melissa xo
---