Deciding where to stay in Skiathos is an important decision for your vacation in the Sporades. The best choice depends largely on your personal preferences and what you are looking for during your trip.
Skiathos island is small. It is only 7 miles long, by 4 miles wide.
However, dont let that mislead you. There are a variety of different scenes and landscapes packed within that little area. Indeed, Skiathos is home to more than 60 gorgeous beaches and 26 hiking trails.
Whether you are looking to stay in a serviced resort town with all the amenities, or you seek out secluded, desert island vibes, Skiathos has something for you. This guide offers a rundown of all of Skiathos´ towns, villages, and resort areas so as to help you best decide where to stay in Skiathos.
Where to Stay in Skiathos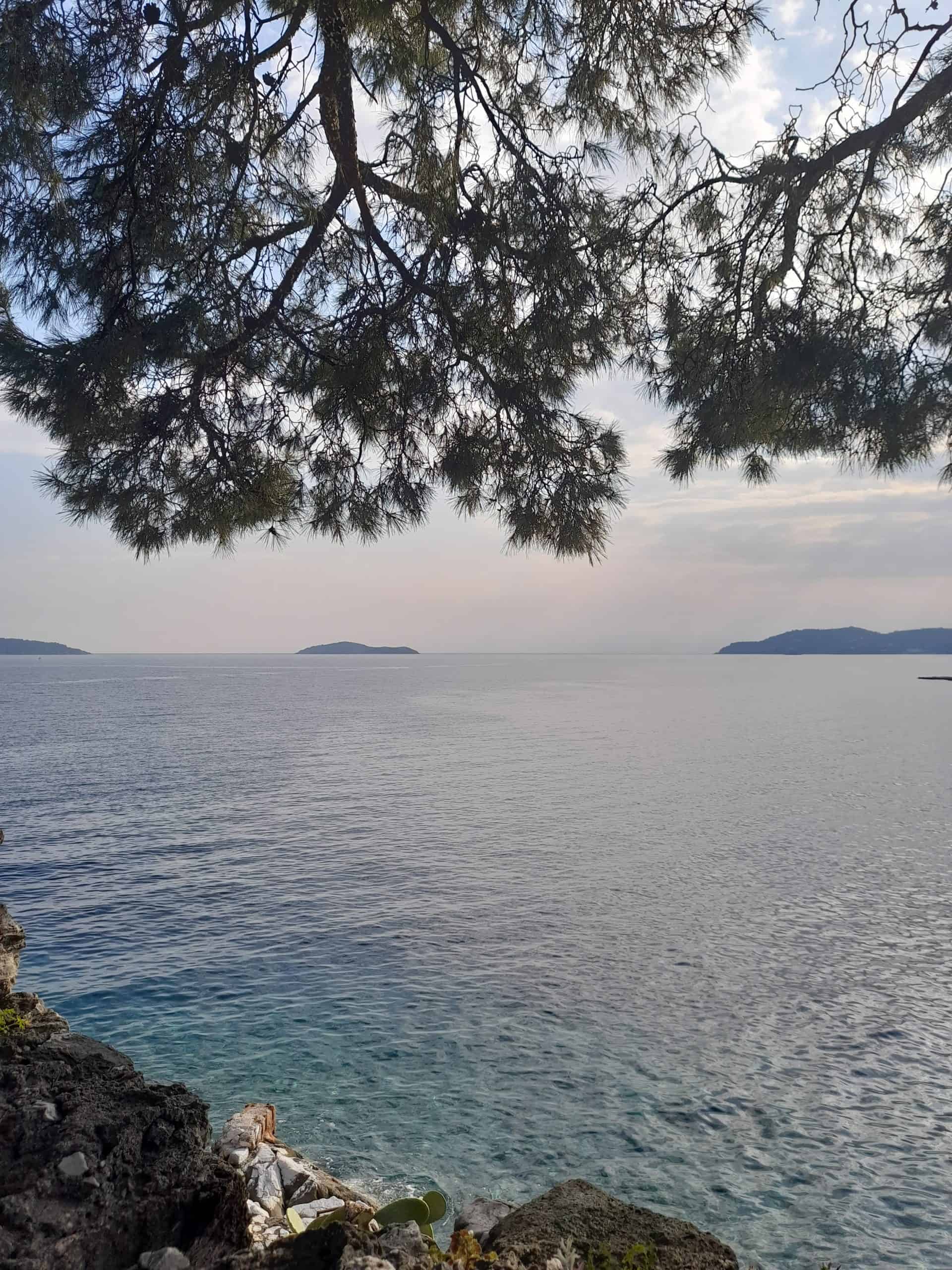 One thing that is worth keeping in mind when choosing where to stay in Skiathos is just how easy it is to get around. The Skiathos bus runs along the length of the island every 30 minutes during the summer season.
As such, no matter where you choose to stay, you are not going to be isolated or restricted to having to spend the entirety of your trip in one small area. Skiathos town is a great choice if you are looking for a cosmopolitan setting that is within close proximity to beaches, hikes, and historical sites.
Troulos and Koukounaries are the main "resort" towns of Skiathos. They are very seasonal and the businesses, restaurants, and hotels here are only open during the summer months.
Escaping the crowds in Skiathos can be tricky during the months of July and August. However, the villas and boutique hotels of Cape Kanapitsa and nearby Vromolimnos offer some nice respite and seclusion.
Skiathos Town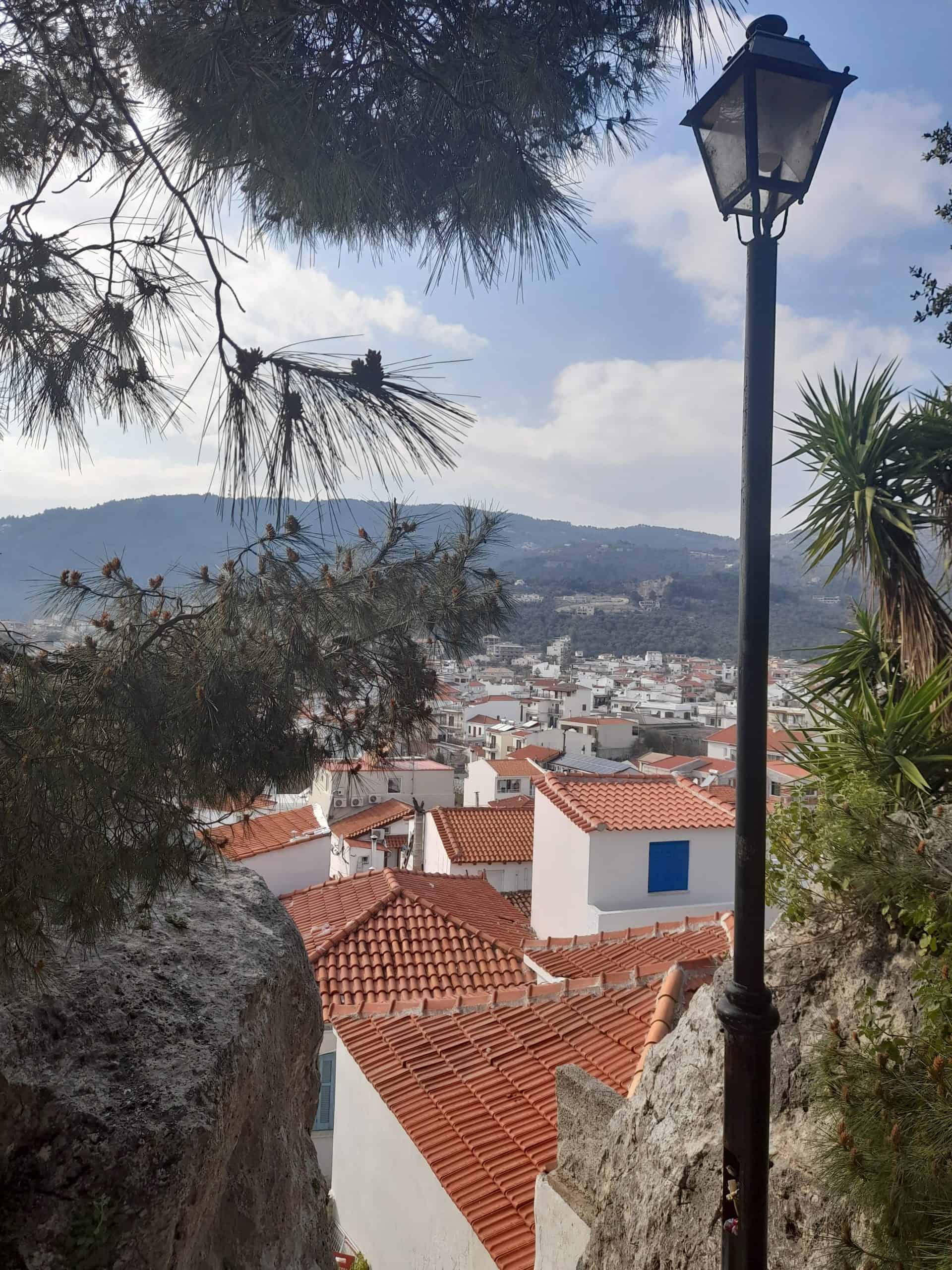 Skiathos town is the island's capital settlement. The majority of its 6,000 strong population lives here.
Opting to stay in the town means having a vast selection of Greek and international restaurants right on your doorstep. Not to mention, the very best of the island's nightlife and shopping.
Convenient transport links in Skiathos town make staying here a good choice if you want to explore as much of the island as possible and take trips out to other locations in the Sporades. From the new port, you can take excursions to Lalaria beach, and the uninhabited island of Tsougkrias.
Not to mention, ferries run between Skiathos and nearby Skopelos and Alonissos each day. These nearby Sporades paradises are very worthy of your time if your schedule permits.
Mamma Mia lovers will also be delighted to note that some of the movie's filming locations can be found right here in Skiathos town. Notably, the charming old port is lined with coffee shops where old wooden fishing boats float in the sea.
Similarly, the narrow cobbled residential streets that lead towards the hilltop church of Agios Nikolaos are where Sophie mailed her letters from in the movie. Whether you have seen the movie and Pierce Brosnan's dreadful singing or not, all of these sites are charming.
Agios Nikolaos church is visible from virtually all corners of the Chora. It boasts incredible panoramas across the town and the nearby Aegean sea.
Recommended Hotels in Skiathos Town
Kanapitsa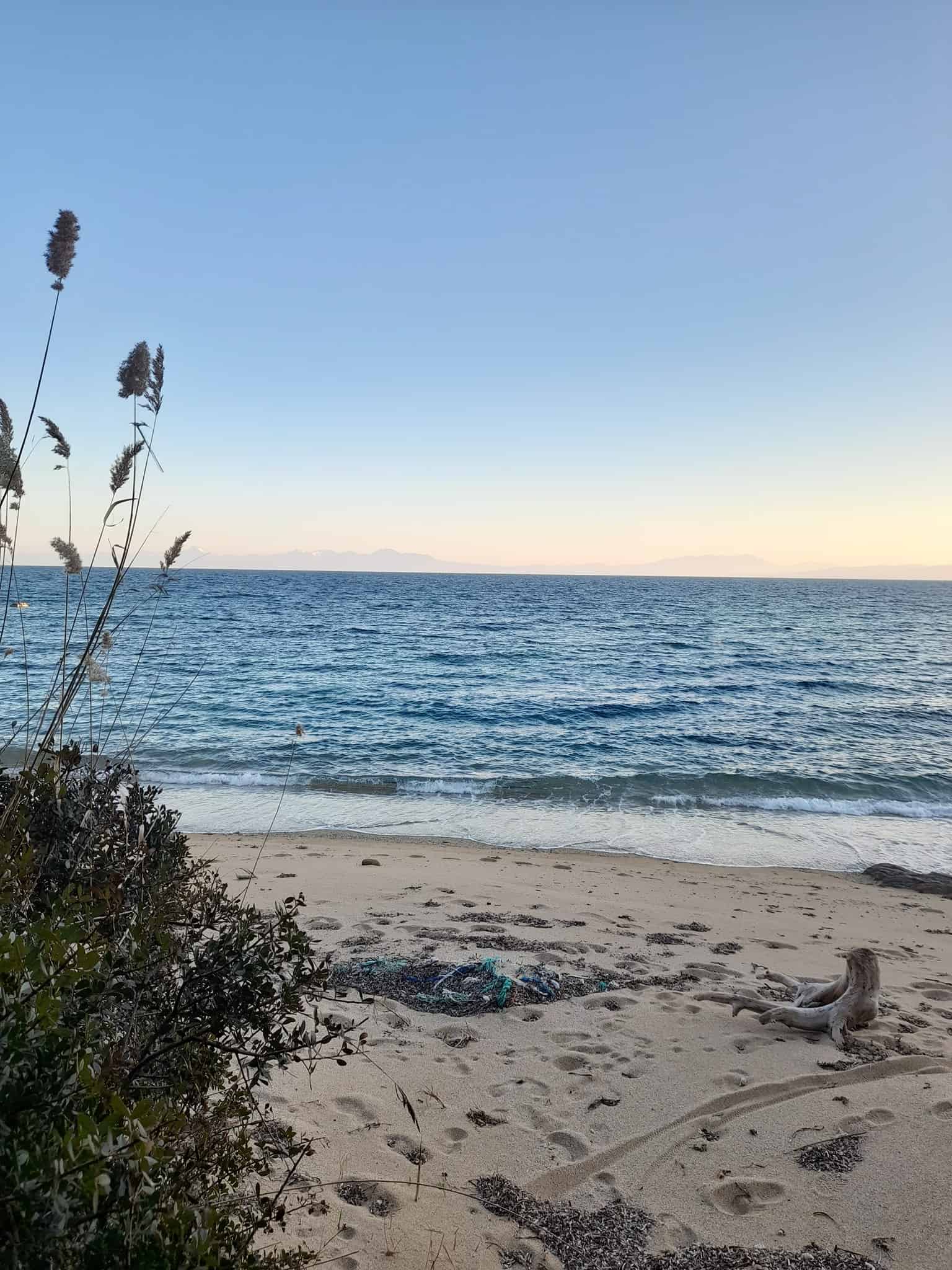 Cape Kanapitsa is one of the most undisturbed, naturally beautiful parts of Skiathos island. A dirt trail veers off from Skiathos ring road and runs around the circumference of this area bypassing stunning beaches and breathtaking scenery as you go.
The region's namesake Kanapitsa beach is gorgeous. However better yet, head to the lesser-known Diamandis beach.
A narrow hiking path leads you through the dense woodlands down towards Diamandis beach. Since this beach is not all that easily accessible, it is seldom crowded, even in the height of summer.
Many people are not even aware of the hiking path that leads you to Diamandis and only reach the area by boat from the port. A small beach bar operates here during the summer months.
This area mostly consists of villas and holiday homes. Prices for luxurious Skiathos villas can be quite reasonable, particularly if you are travelling as a group.
However, you are best advised to reserve your villas as much as 6-12 months in advance of your intended travel dates to avoid disappointment. Skiathos is a very popular island.
Despite being more secluded, opting to stay in Kanapitsa doesnt mean that you are right out in the sticks with nothing around. Johnnys Restaurant & Bar (Tzaneria bus stop 12) can be found on the outskirts of Kanapitsa and is a favourite among locals and Skiathos expats alike.
Reservations are recommended for this highly popular spot. The menu showcases sumptuous marinated meats and Greek classics like smyrna meatballs and lamb kleftiko.
Recommended Hotels and Villas in Kanapitsa
Cape Kanapitsa Hotel & Suites – elegant rooms and suites boasting some of the best views on the island


Skiathos Blu Hotel – gorgeous property with a pool and panoramic views


Villa Christina – spacious villa perfect for families, couples, and groups
Sklithri
Paralia Sklithri is nestled in a small natural bay between Achladies and Kanapitsa. This is a nice choice if you want somewhere peaceful, but you dont have your own transport and prefer not to be somewhere quite as secluded as Kanapitsa.
A short walk along the coast brings you to Sklithri Taverna. This is a seafood restaurant perched right on the waters of Homonymous beach.
What could be a better dining experience than watching the sunset as you listen to the sound of the sea waves gently lap against the shore? Fish served here is caught fresh the same day.
Try the famous lobster and crawfish spaghetti and ask the waiter for their recommendation on the best local wine pairing. From Sklithri, the beaches of Kanapitsa, Diamandis, Vromolimnos and Achladies are all just a short walk away.
Where to Stay in Sklithri Skiathos
Villa Coco Studios


Villa Penelope

Vromolimnos
Vromolimnos beach sits in a secluded bay, just 8km southwest of the town. It can be found nestled between Kanapitsa to the east, and Troulos to the west.
During the summer months, this long sandy stretch of coastline is one of the most popular beaches on the island. This is particularly the case if you are young, hot, and Greek. Beach parties with live DJs and bass-thumping music are a regular occurrence here throughout July and August.
By day, Vromolimnos is a serviced beach with all the amenities you could require – sunbed rentals, watersports, etc. The seafront promenade is lined with tavernas serving up sumptuous Greek traditional dishes.
Recommended Hotels and Villas in Vromolimnos
Troulos
Troulos is a small beach town in the southern part of Skiathos. The name "troulos" means dome in Greek.
Indeed, the town and its namesake beach were awarded their name on account of the tiny uninhabited islet just off the coast of the shore whose shape resembles a Christian Orthodox dome. Troulos beach boasts some naturally gorgeous, dramatic scenery.
It is encapsulated by rocky bluffs and pine trees. The fine golden sand and crystal-clear turquoise waters combine to create the perfect atmosphere for a day at the beach.
It should be noted that Troulos is one of the busiest and most touristic towns during the summer months. Gentrification has made the area look reminiscent of a British seaside town, but if you are looking for somewhere laden with amenities and home comforts, Troulos may be a good choice.
The small town itself is laid back. There is a plethora of nightlife and dining options here.
Some of the bars in Troulos have their own pools which can be a nice change of pace. There are several supermarkets scattered throughout the area meaning that you don't have to trek to Skiathos town to buy supplies if you opt to go self-catered.
There is always a lifeguard on duty at Troulos beach, and you will find all of the amenities you could possibly need in terms of sunbeds, equipment rentals, food, etc. This area is very family-friendly.
Recommended Hotels in Troulos
Koukounaries
If you are wondering where to stay in Skiathos that could put you in proximity to the island's best beaches, Koukounaries is a good choice. This paradisiacal stretch of coastline is widely regarded as being one of the very best beaches in Greece and in fact, the world!
Koukounaries village itself is very small. This small settlement is one of the few residential areas on the island outside of the main town.
Given the popularity of Koukounaries, you would be forgiven for thinking that there was a huge town here. However, the area simply consists of a small strip boasting a few tavernas and stores.
Several other excellent, scenic beaches can be found within walking distance of Koukounaries. Notably, banana beach, little banana beach, and Mandraki beach.
Recommended Hotels in Koukounaries
Maistrali Studios – convenient self-catered studio 450m from Koukounaries beach


Mandraki Village Boutique Hotel – elegant accommodation with a swimming pool and restaurant in the protected area of the Strofilia Lake, 200 m from Koukounaries Beach
Megali Ammos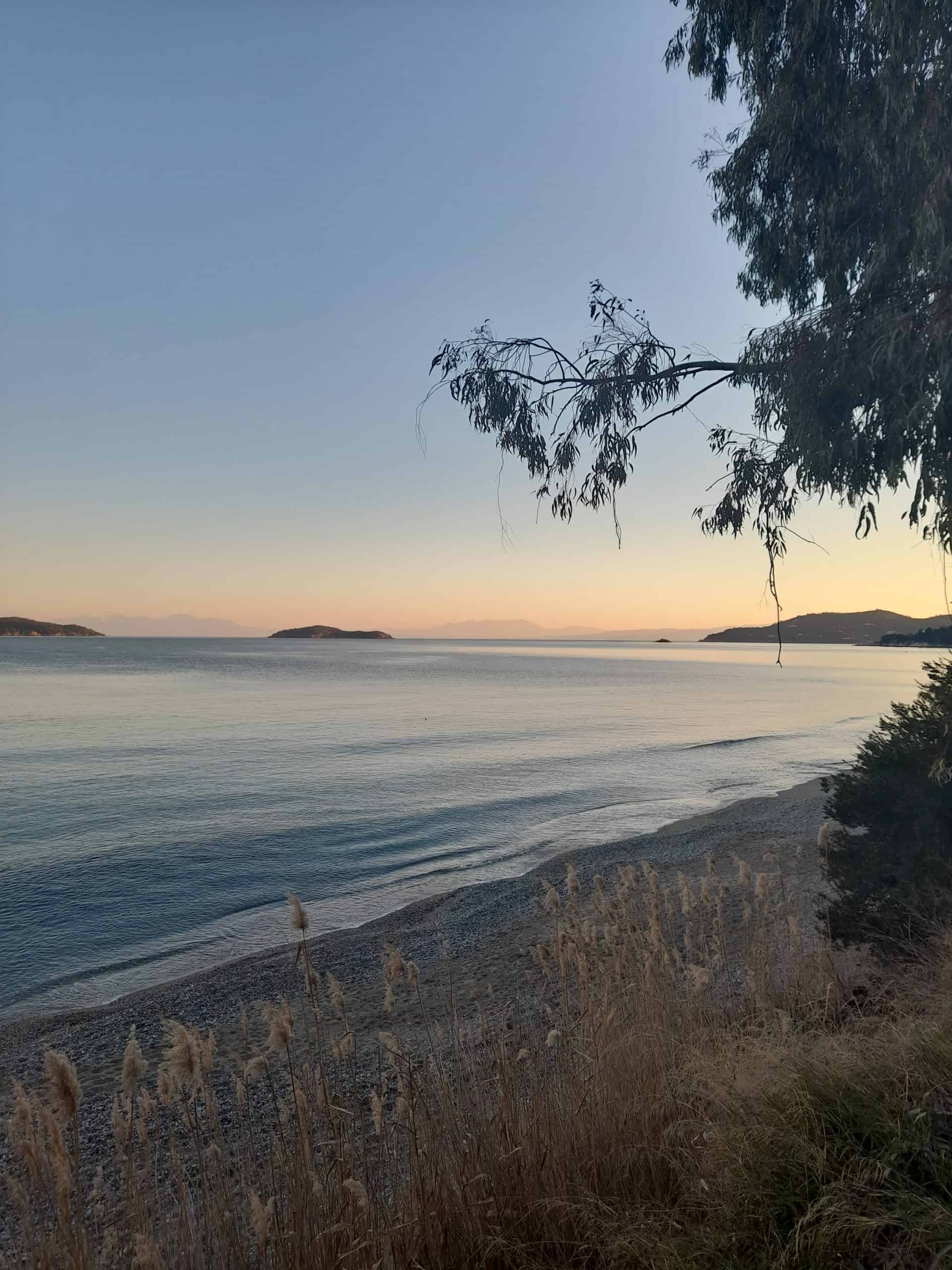 Megali Ammos is one of the closest beaches to Skiathos town. This stretch of sand is relatively long and narrow.
However, some of the scenery from here is unparalleled. From Megali Ammos beach, you can glance across the sea to uninhabited islets and the island of Skopelos in the distance.
Megali Ammos is not a town, but a stretch along the main Skiathos ring road with several hotels, tavernas, and bars. There is a bus stop here for convenient connections to the town, Koukounaries, and other parts of the island.
This area is extremely popular – on account of its proximity to the sea and Skiathos town. You can expect hotels and resorts here to be at maximum occupancy during July and August.
Megali Ammos beach is serviced and during the summer months, you will find rows of sunloungers and umbrellas available to rent. If it gets full, or crowded beaches are not your thing, walk down the coast in the direction of Kanapitsa.
Recommended Hotels in Megali Ammos
Galini Suites – Comfortable and clean affordable studios by the sea


Tomato Beach Hotel – Tastefully decorated rooms and suites overlooking the Aegean sea


Irida Aegean View – Plush modern rooms with contemporary furnishings and private balconies overlooking Megali Ammos beach
Vassilias
Vassilias is a small coastal resort area nestled between Megali Ammos and Cape Kanapitsa. This picturesque beach is encompassed by pine-clad hills and fragrant cypress and olive
Vassilias offers incomparable views across the sea and out to the uninhabited islets of Tsougrias and Tsougriaki. Some spectacular hotels can be found here and make the perfect setting for a luxury stay amidst nature.
The Kassandra Bay Resort and Spa offers five-star luxury without the five-star price tag. You dont have to be a guest at the hotel to enjoy its spa facilities.
You may want to stop by to treat yourself to an indulgent massage or facial treatment. The spa prides itself on its use of natural, locally sourced ingredients. Enjoy a rejuvenating exfoliation of your whole body with a spa peeling massage, or indulge in a hydrating facial with organic algae.
Recommended Vassilias Hotels
Kassandra Bay Resort & Spa


Vassilias Beach Hotel
Achladies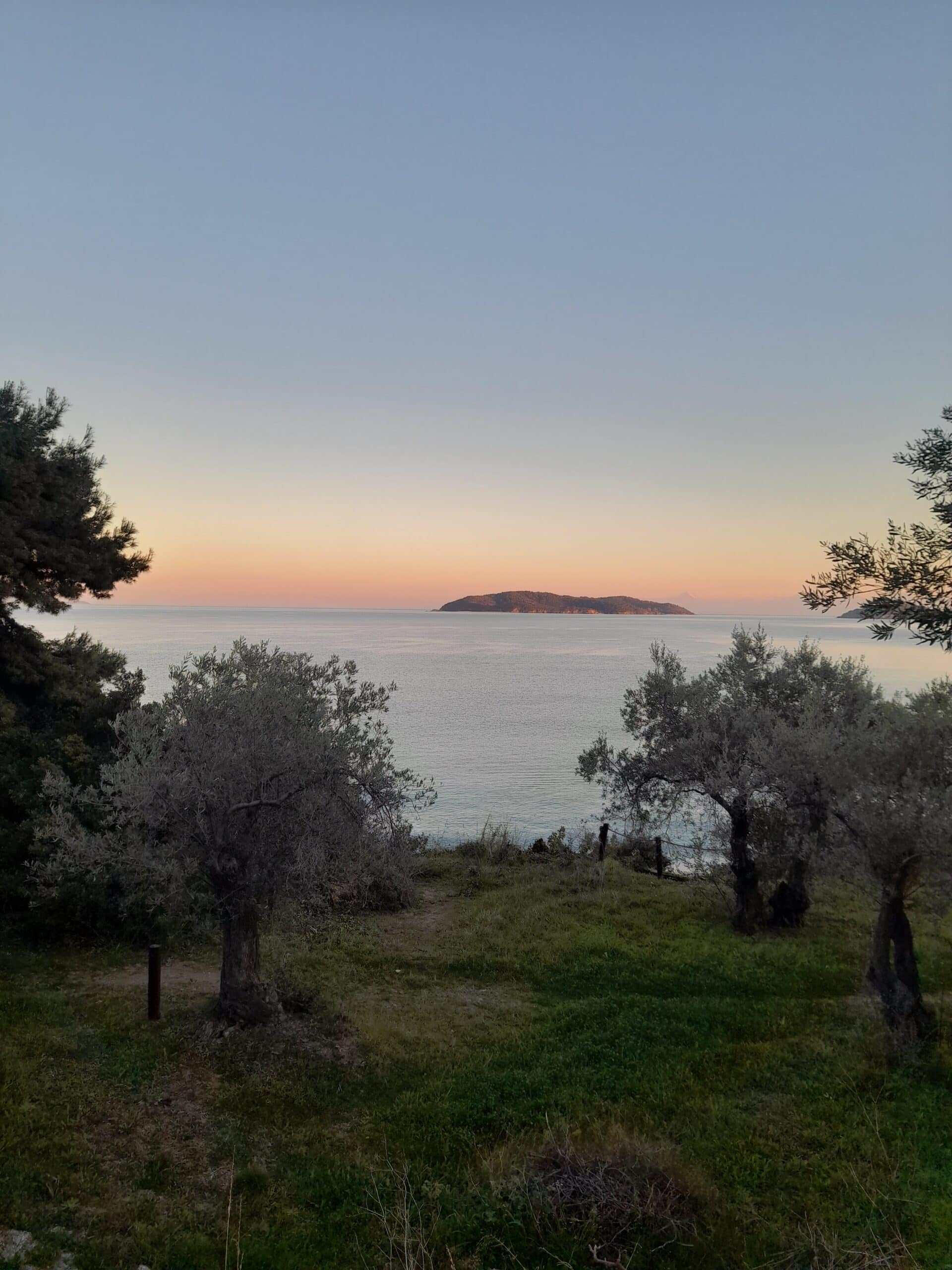 Achladies is an organised beach set within a small cove just 2km away from Skiathos town centre. In the summer, the beach can get very crowded and it's tricky to find a sunbed.
There are many great tavernas, hotels, and stores right on your doorstep here. Porta Rossa restaurant is a Skiathos institution and well worth your consideration.
This gorgeous Mediterranean eatery is located right across from Skiathos bus stop #10 and offers a wonderful al fresco dining experience in the courtyard of a traditional house. You will find all of your favourite Greek and Mediterranean classic dishes here.
The ragu tagliatelle with minced beef & fresh tomato sauce is a good choice. So too is the chicken breast stuffed with cream cheese, sun-dried tomato, and garlic, wrapped in Parma ham & dauphinoise potatoes.
If you prefer to dine right on the beach, head to the namesake Achladies Beach restaurant. Homecooked traditional Greek dishes like mouthwatering moussaka, sumptuous giouvetsi, and meze plates grace the menu here.
Achladies is a popular place for watersports and so equipment can be rented locally. A water taxi connects Achladies with the town between June and September for a convenient transfer.
Recommended Hotels in Achladies
Hotel Suzanna – Simple yet comfortable studios with balconies, garden views, and pool access


Belvedere Hotel – gorgeous four-star property right on Achladies beach


Maniatis Garden – Stunning property decorated in traditional blue and white, right on the waterfront
Kolios/Platanias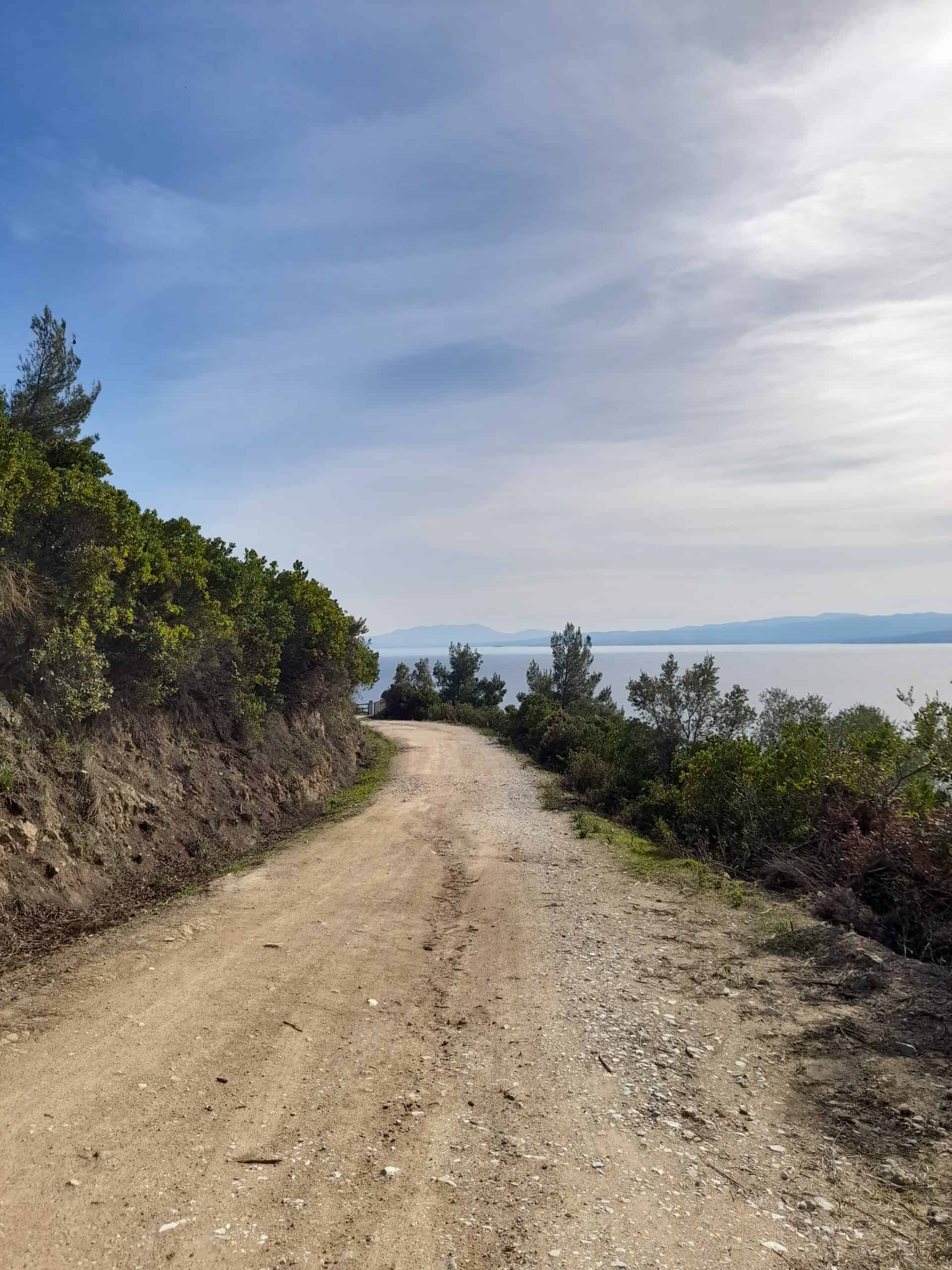 The Kolios/ Platanias region is a peaceful, traditional place to base yourself in Skiathos. The two beaches are within a short distance of each other. So, if you opt to stay in this region, you can easily hop between the two.
The beach here is 600m long, wide, and has ample room to set down your towel or rent a sunbed without being on top of other travellers. Kolios beach, despite being relatively large, does not see a fraction of the tourists that the more popular beaches of Troulos, Koukounaries, and Achladies do. It is possible to rent a boat here if you wish to sail out to some of the gorgeous coves in the area that can't be reached on foot.
Recommended Hotels in Kolios/Platanias
Skiathos Diamond – Stylish, family-owned resort on the edge of a stunning pine forest


Paschalis Studios – spacious studio apartments with a pool, garden, and a terrace
Agia Paraskevi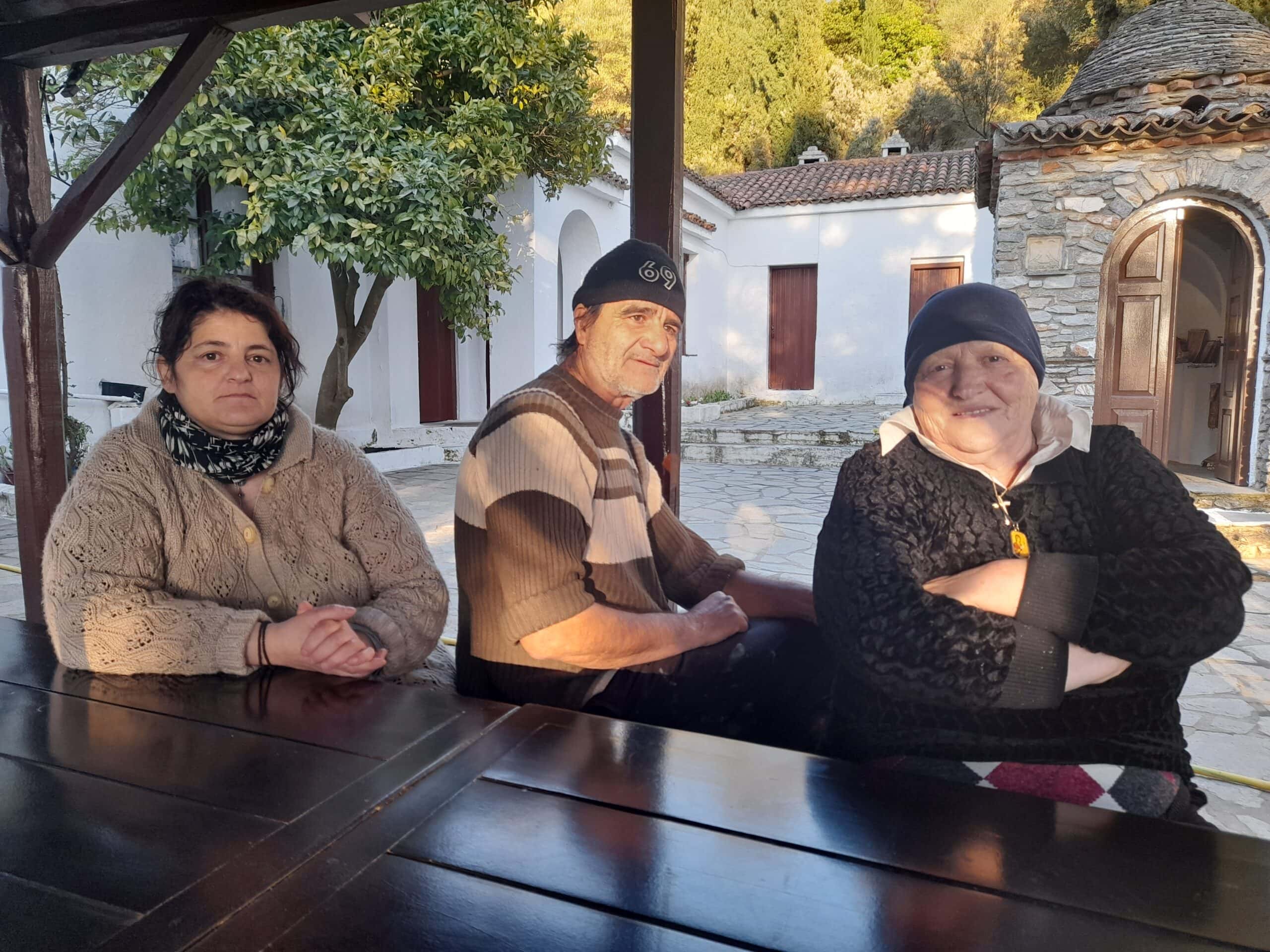 Gorgeous Agia Paraskevi beach took its name from the local church of the same name. With its blue waters and fine sand, it is one of the best places to relax on the island and a great choice if you are unsure of where to stay in Skiathos but you want somewhere away from most of the crowds.
There are several scenic coastal walking trails that pass through this area. From Agia Paraskevi, a one-hour (4km) hike through the pine forest takes you to the Holy Monastery of Panagia Kounistra.
The 17th-century monastery is arguably the most important on the island. It is dedicated to the Virgin Mary and on the 21st November each year, a festival is hosted on its grounds.
The monastery has some interesting quirks. There are chains on the floor from where people would be tied up when they were brought in for exorcisms centuries ago (!).
There are also dormitories that accommodate religious pilgrims. The main draw, however, is not the structure itself but the people who occupy it.
Upkeep and restoration of the monastery are not done or funded by the Greek Government. A Greek lady lives inside, dedicates her life to God, and takes sole responsibility for looking after the important monastery.
Decades ago, she was a famous bouzouki singer in Athens. If you stop by, she will surely greet you with a strong cup of Greek coffee, eager for a chat about where you have come from.
Few tourists take the time to visit Panagia Kounistra. It is surely one of the island´s hidden gems.
Where to Stay in Agia Paraskevi Skiathos
Arco Beach Hotel


Princess Resort


Atrium Hotel
Parting Words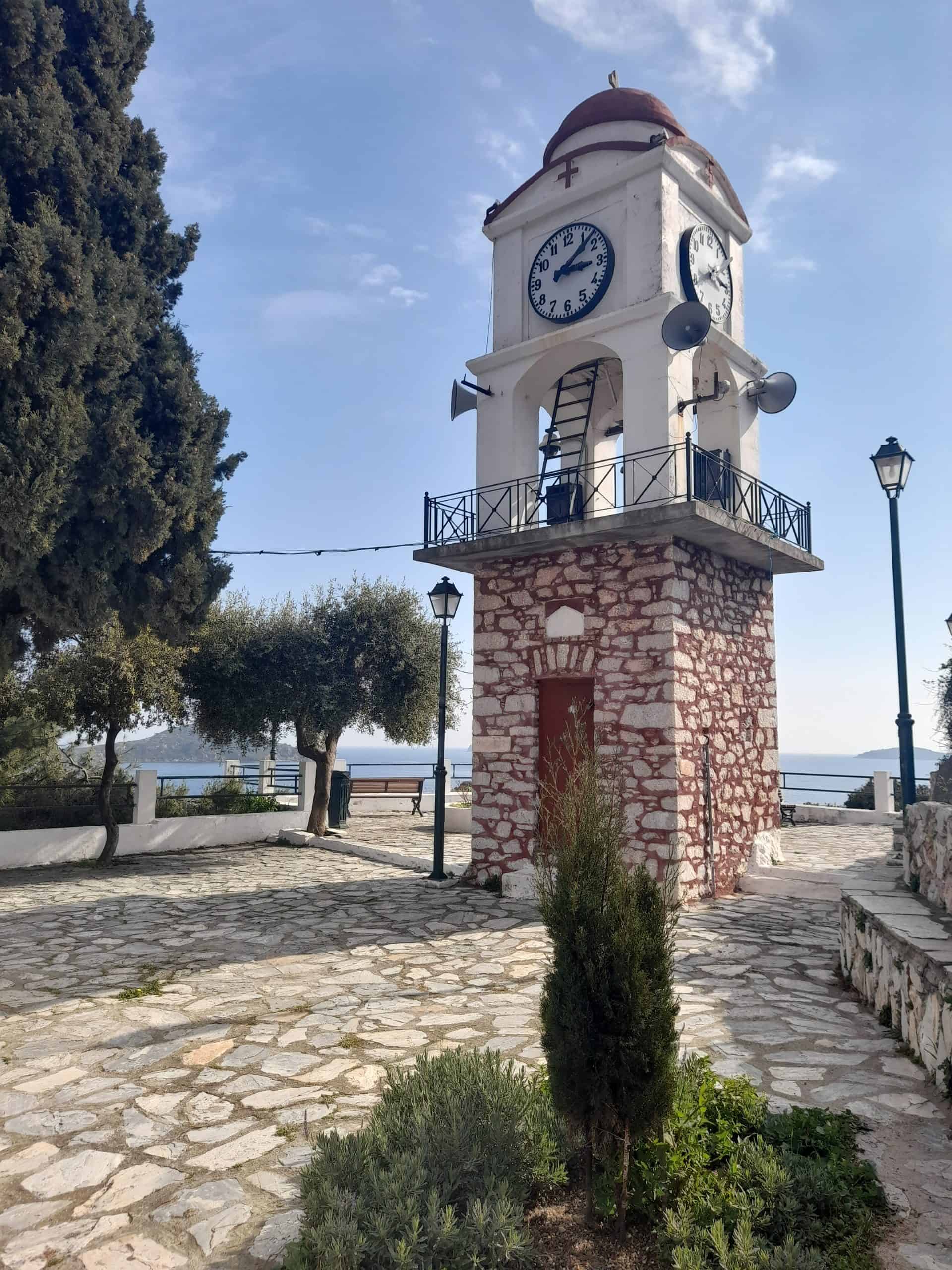 Do you still have questions about where to stay in Skiathos? Don't hesitate to drop me a comment below if you need anything.
I have been living in Greece since early 2017 and spent eight months living in the Sporades.
Safe travels, always! Geia sou, Melissa xo
---