Deciding where to stay in Skiathos is an important decision for your vacation in the Sporades. The best choice depends largely on your personal preferences and what you are looking for during your trip.
Skiathos island is small. It is only 7 miles long, by 4 miles wide.
However, there are a variety of different scenes and landscapes packed within that little area. As such, whether you are looking to stay in a serviced resort town with all the amenities, or you seek out secluded, desert island vibes, Skiathos has something for you.
Where to Stay in Skiathos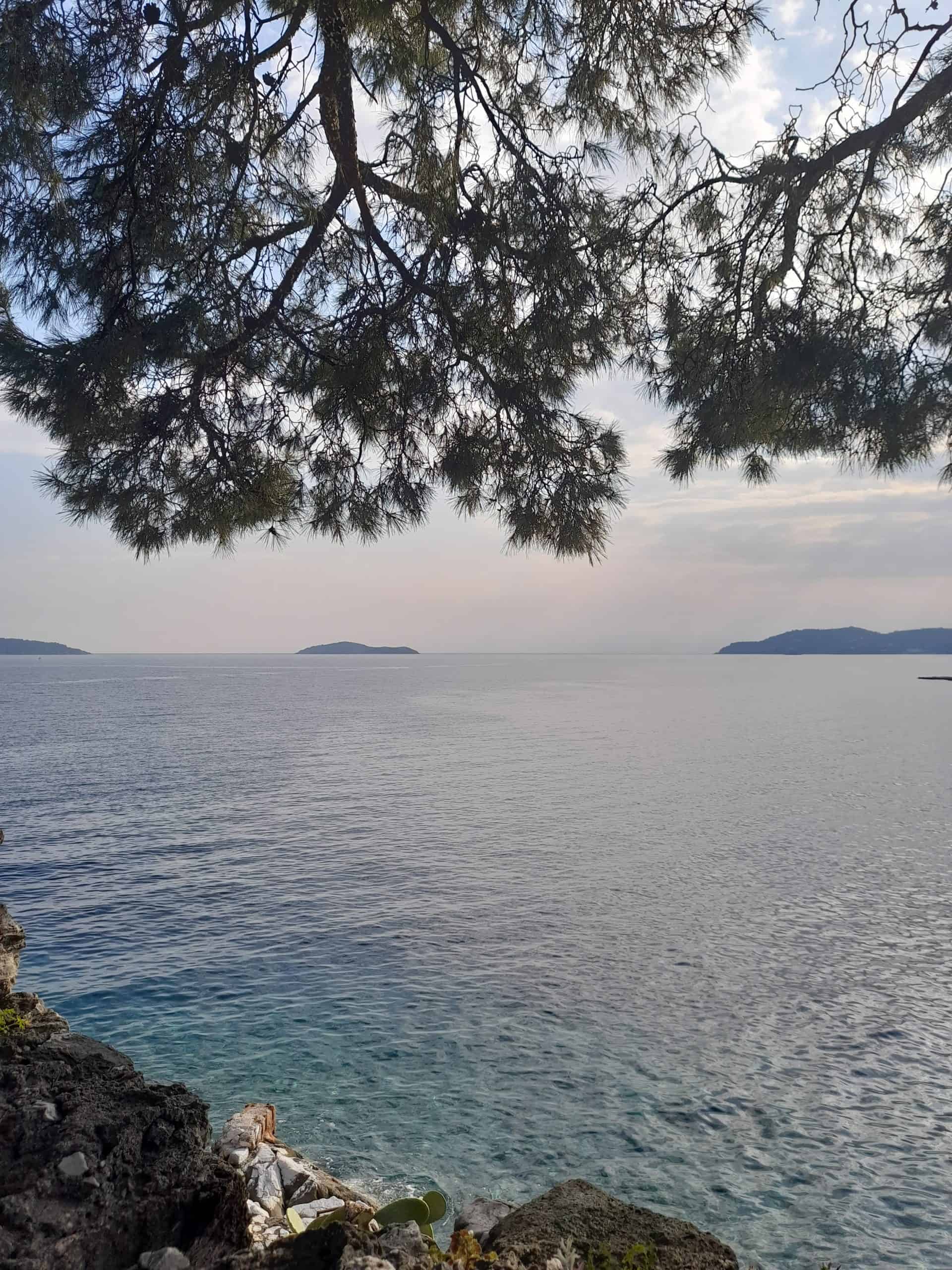 One thing that is worth keeping in mind when choosing where to stay in Skiathos is just how easy it is to get around. The Skiathos bus runs along the length of the island every 30 minutes during the summer season.
As such, no matter where you choose to stay, you are not going to be isolated or restricted to having to spend the entirety of your trip in one small area. Skiathos town is a great choice if you are looking for a cosmopolitan setting that is within close proximity to beaches, hikes, and historical sites.
Troulos and Koukounaries are the main "resort" towns of Skiathos. They are very seasonal and the businesses, restaurants and hotels here only open during the summer months.
Escaping the crowds in Skiathos can be tricky during the months of July and August. However, the villas and boutique hotels of Cape Kanapitsa and nearby Vromolimnos offer some nice respite and seclusion.
Skiathos Town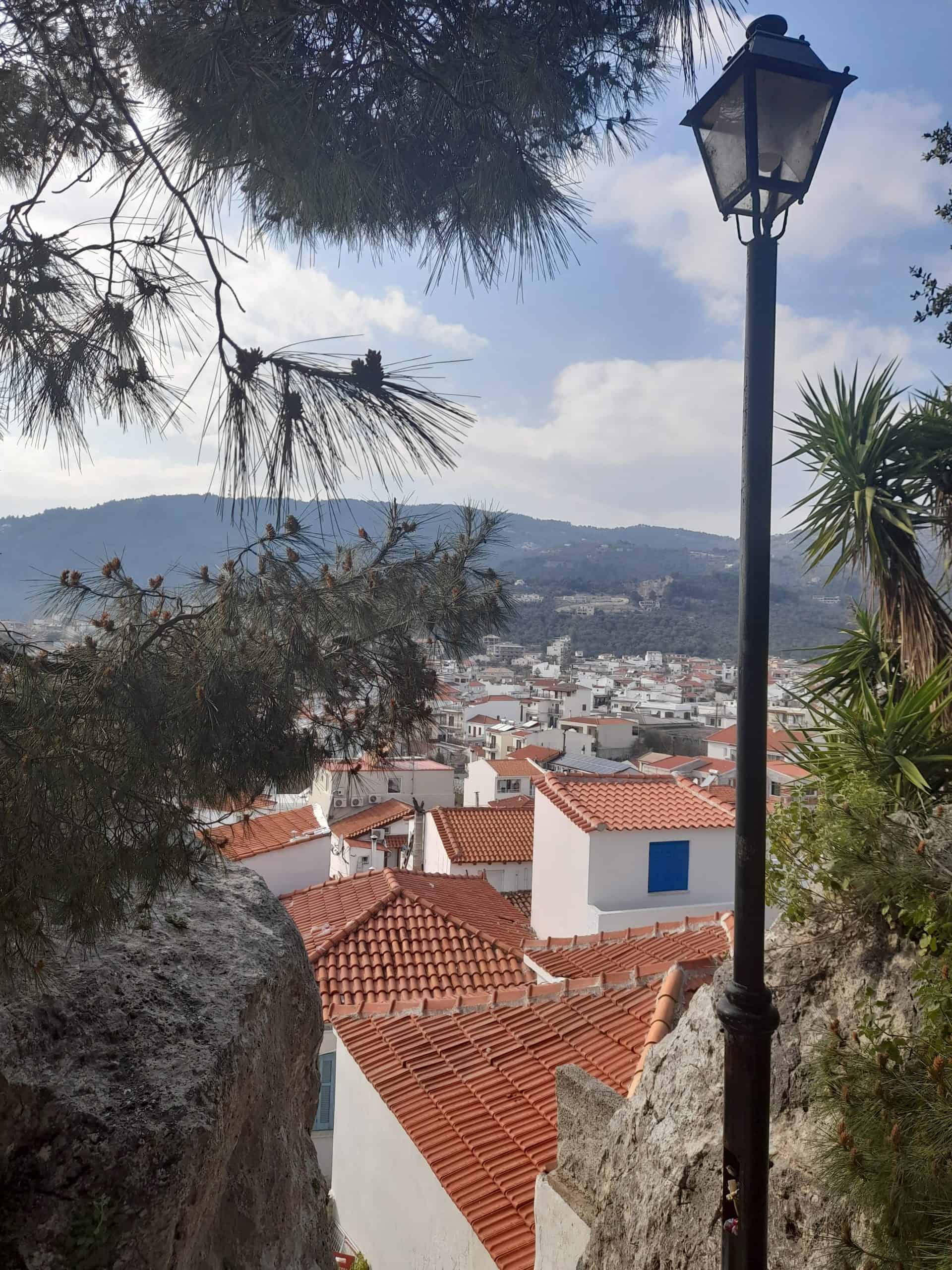 Skiathos town is the island's capital settlement. The majority of its 6,000 strong population lives here.
Opting to stay in the town means having a vast selection of Greek and international restaurants right on your doorstep. Not to mention, the very best of the island's nightlife and shopping.
Convenient transport links in Skiathos town make staying here a good choice if you want to explore as much of the island as possible, and take trips out to other locations in the Sporades. From the new port, you can take excursions to Lalaria beach, and the uninhabited island of Tsougkrias.
Not to mention, ferries run between Skiathos and nearby Skopelos and Alonissos each day. These nearby Sporades paradises are very worthy of your time if your schedule permits.
Mamma Mia lovers will also be delighted to note that some of the movie's filming locations can be found right here in Skiathos town. Notably, the charming old port, lined with coffee shops where old wooden fishing boats float in the sea.
Similarly, the narrow cobbled residential streets that lead towards the hilltop church of Agios Nikolaos are where Sophie mailed her letters from in the movie. Whether you have seen the movie and Pierce Brosnan's dreadful singing or not, all of these sites are charming. Agios Nikolaos church is visible from virtually all corners of the Chora and boasts incredible panoramas across the town and the nearby Aegean sea.
Recommended Hotels in Skiathos Town
Kanapitsa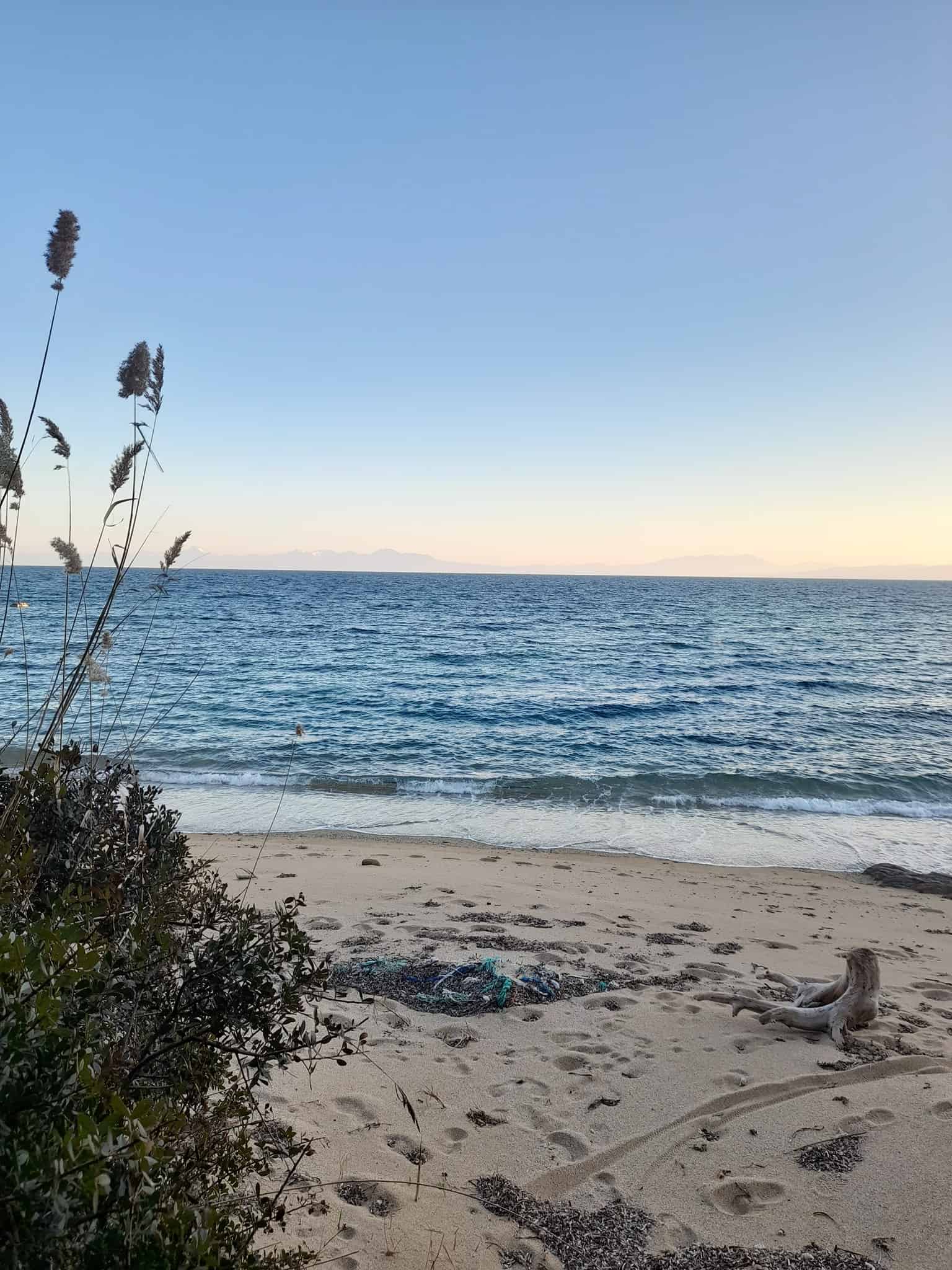 Cape Kanapitsa is one of the most undisturbed, naturally beautiful parts of Skiathos island. A dirt trail veers off from Skiathos ring road and runs around the circumference of this area bypassing stunning beaches and breathtaking scenery as you go. 
The region's namesake Kanapitsa beach is gorgeous. However better yet, head to the lesser-known Diamandis beach.
A narrow hiking path leads you through the dense woodlands down towards Diamandis beach. Since this beach is not all that easily accessible, it is seldom crowded, even in the height of summer.
Many people are not even aware of the hiking path that leads you to Diamandis and only reach the area by boat from the port. A small beach bar operates here during the summer months.
Recommended Hotels and Villas in Kanapitsa 
Vromolimnos
Vromolimnos beach sits in a secluded bay, just 8km southwest of the town. It can be found nestled between Kanapitsa to the east, and Troulos to the west.
During the summer months, this long sandy stretch of coastline is one of the most popular beaches on the island. This is particularly the case if you are young, hot, and Greek. Beach parties with live DJs and bass-thumping music are a regular occurrence here throughout July and August.
By day, Vromolimnos is a serviced beach with all the amenities you could require – sunbed rentals, watersports, etc. The seafront promenade is lined with tavernas serving up sumptuous Greek traditional dishes.
Recommended Hotels and Villas in Vromolimnos 
Troulos 
Troulos is a small beach town in the southern part of Skiathos. The name "troulos" means dome in Greek. Indeed, the town and its namesake beach were awarded their name on account of the tiny uninhabited islet just off the coast of the shore whose shape resembles a Christian Orthodox dome.
Troulos beach boasts some naturally gorgeous, dramatic scenery. It is encapsulated by rocky bluffs and pine trees. The fine golden sand and crystal-clear turquoise waters combine to create the perfect atmosphere for a day at the beach.
It should be noted that Troulos is one of the busiest and most touristic towns during the summer months. Gentrification has made the area look reminiscent of a British seaside town, but if you are looking for somewhere laden with amenities and home comforts, Troulos may be a good choice.
The small town itself is laid back. There are a plethora of nightlife and dining options here.
Some of the bars in Troulos have their own pools which can be a nice change of pace. There are several supermarkets scattered throughout the area meaning that you don't have to trek to Skiathos town to buy supplies if you opt to go self catered.
Recommended Hotels in Troulos 
Koukounaries
If you are wondering where to stay in Skiathos that could put you in proximity to the island's best beaches, Koukounaries is a good choice. This paradisiacal stretch of coastline is widely regarded as being one of the very best beaches in Greece and in fact, the world!
Koukounaries village itself is very small. This small settlement is one of the few residential areas on the island outside of the main town.
Given the popularity of Koukounaries, you would be forgiven for thinking that there was a huge town here. However, the area simply consists of a small strip boasting a few tavernas and stores.
Several other excellent, scenic beaches can be found within walking distance of Koukounaries. Notably, banana beach, little banana beach, and Mandraki beach.
Recommended Hotels in Koukounaries  
Megali Ammos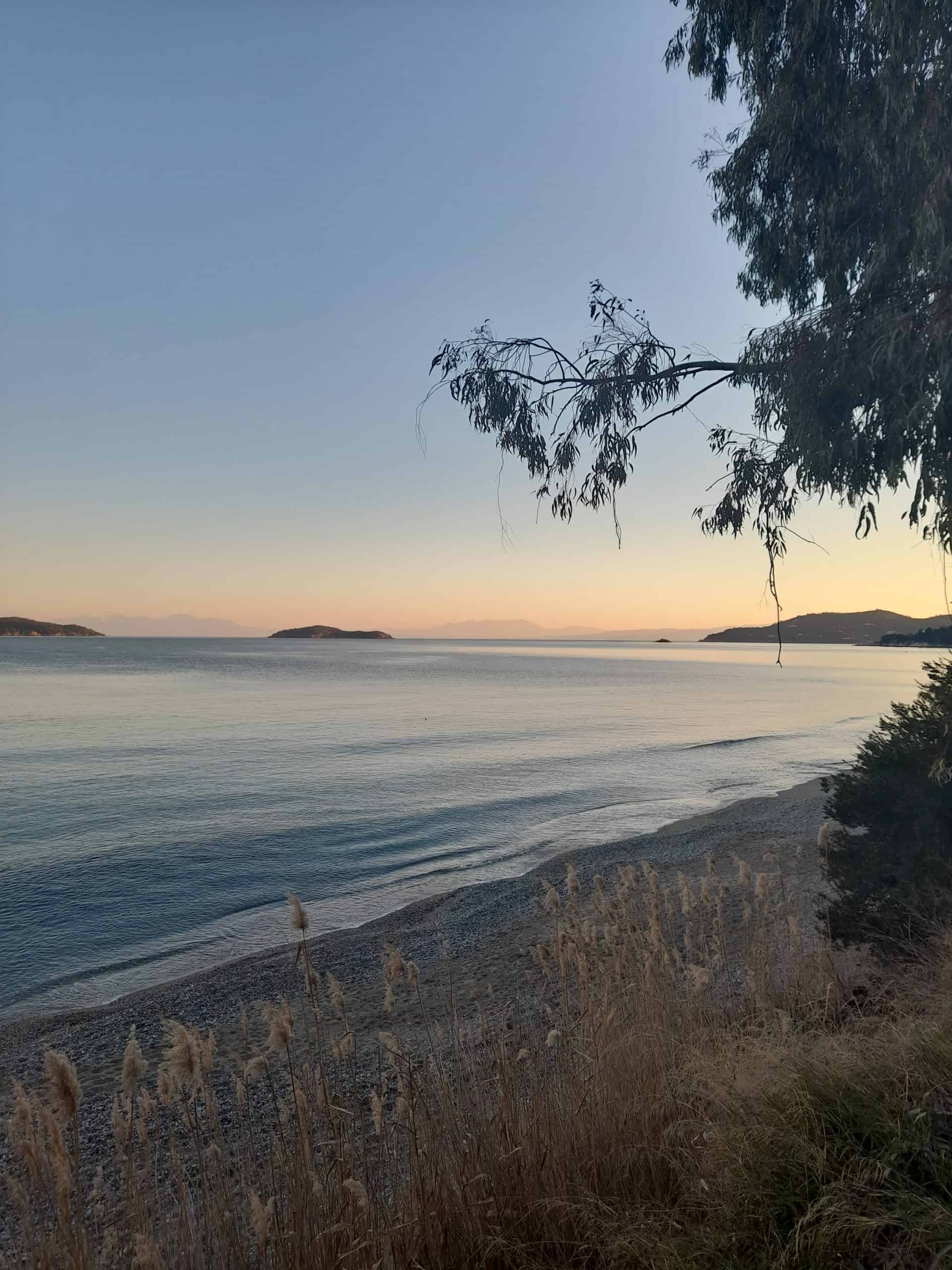 Megali Ammos is one of the closest beaches to Skiathos town. This stretch of sand is relatively long and narrow. However some of the scenery from here is unparalleled.
From Megali Ammos beach, you can glance across the sea to uninhabited islets, and the island of Skopelos in the distance. Megali Ammos is not a town, but a stretch along the main Skiathos ring road with several hotels, tavernas, and bars. There is a bus stop here for convenient connections to the town, Koukounaries, and other parts of the island.
Recommended Hotels in Megali Ammos 
Achladies
Achladies is an organised beach set within a small cove just 2km away from Skiathos town centre. In the summer, the beach can get very crowded and it's tricky to find a sunbed.
There are many great tavernas, hotels and stores right on your doorstep here. Achladies is a popular place for watersports and so equipment can be rented locally. A water taxi connects Achladies with the town between June and September for a convenient transfer.
Recommended Hotels in Achladies 
Kolios/Platanias
The Kolios/ Platanias region is a peaceful, traditional place to base yourself in Skiathos. The two beaches are within a short distance of each other. So, if you opt to stay in this region, you can easily hop between the two.
The nearby Agia Paraskevi beach took its name from the local church of the same name. With its blue waters and fine sand, it is one of the best places to relax on the island.
The beach here is 600m long, wide, and has ample room to set down your towel or rent a sunbed without being on top of other travellers. Kolios beach, despite being relatively large, does not see a fraction of the tourists that the more popular beaches of Troulos, Koukounaries and Achladies do. It is possible to rent a boat here if you wish to sail out to some of the gorgeous coves in the area that can't be reached on foot.
Recommended Hotels in Kolios/Platanias 
Parting Words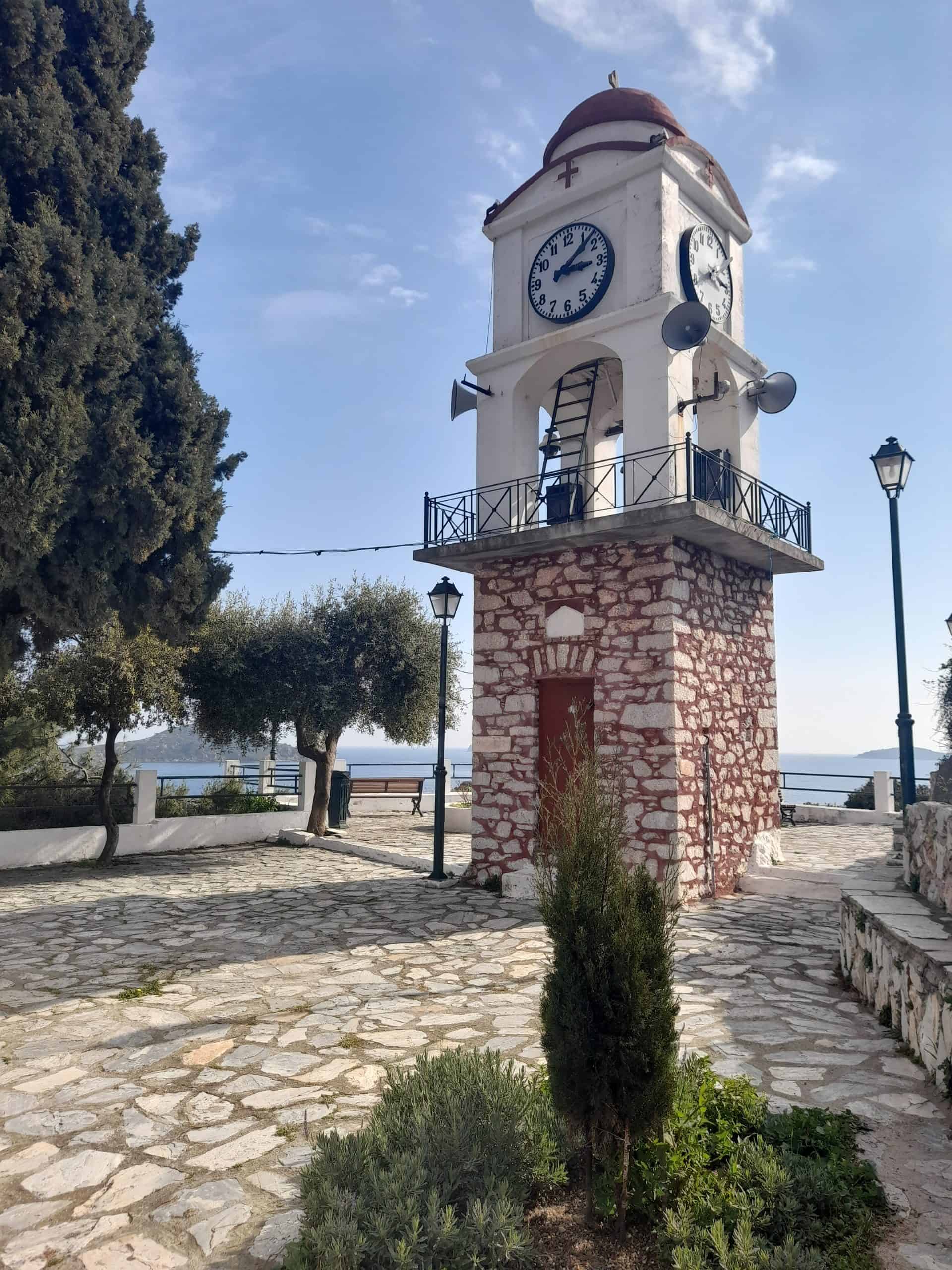 Do you still have questions about where to stay in Skiathos? Don't hesitate to drop me a comment below if you need anything.
I have been living in Greece since early 2017 and spent eight months in the Sporades in 2020/21.
Safe travels, always! Geia sou, Melissa xo
Full Disclosure: This "Where to stay in Skiathos" guide contains affiliate links. This means, if you choose to make a purchase through some of the links embedded on this page, I will obtain a small amount of commission.
This is charged at no extra cost to you. Thanks for understanding.
---