Identifying the best restaurants in Seoul is subjective. Ask a local where they like to eat and they will likely take you to quaint hole in the wall type places that are filled with other Seoulites.
Ask a gourmand, and they will point you in the direction of one of Seoul's numerous Michelin starred or fine dining establishments. Arguably the best foodie experiences on your Korea itinerary involves a sampling of the two polar ends of Seoul food culture.
There are many excellent restaurants in the heart of Seoul tucked away down unsuspecting alleyways that have never seen a western customer. This, in part, is perhaps due to the intimidating nature of entering a restaurant whose name and menu is entirely in Korean hangul.
Not to mention, the fact that many of Seoul´s central districts are a labyrinth-like network of narrow streets and alleyways, Many of the best restaurants in Seoul are spots that you would only find if you specifically knew where to look.
Seoul Food: Unpacking Korean Cuisine
Traditional Korean restaurants tend to focus on one specific dish. In other words, you will seldom go into a typical Korean restaurant and be handed a menu with dozens of meal options as you would in a western restaurant.
Instead, you will enter a restaurant that only serves kimchi jjigae, or a restaurant that only serves chicken and beer. Korean food is as much of a highlight of exploring Korea as seeing the sights and learning the history.
In recent years, Seoul has really flourished as a foodie city for gourmands. Restaurants opened by globally-acclaimed, award-winning chefs have enabled Korea to enter a new era of dining culture.
The Best Restaurants in Seoul: Exquisite Places to Dine
"If I ever bring you to a place where there are other white people, I give you permission to kill me" That was an exact quote from a Korean friend when we made our dinner plans in Seoul. When you live in Seoul for several years, and you have Korean friends, you learn to identify the best restaurants in Seoul from a local perspective.
Many of the eateries on this list are simple, homely, and unpretentious. They serve mouthwatering marinated meats, hearty soups, and flavourful noodles. This is the true Korean dining experience if you want to experience Korea's capital like a local.
Similarly, there are occasions where you want to treat yourself. Some of the luxe, fine-dining restaurants on this list are recognised as being among the best in Asia.
The Seoul restaurants that fall into the latter category offer tasting menus whereby you can try several tapas-style small dishes over several courses. That enables you to sample a large number of local delicacies in a short space of time. Others boast in-house sommeliers who can help you choose the best wine pairing to go with your food.
Tosokchon 토속촌
Where: 5 Jahamun-ro 5-gil, Chebu-dong, Jongno-gu, Seoul
Ask Koreans where the best place to try samgyetang is and they will all answer you with the same thing: Tosokchon. This restaurant is so synonymous with making good samgyetang that it was a favourite haunt of Korean presidents and politicians. The late President Roo Moo-Hyun was often seen dining here.
Samgyetang is ginseng chicken soup. It consists of a whole young chicken that is marinated in ginseng and stuffed with rice, garlic, onion and spices.
Tosokchon can be found close to Gyeongbokgung and Insadong, in the heart of one of Seoul's oldest districts. It is housed within a traditional hanok-style wooden house, making for a wonderful dining experience.
Samgyetang is served with fresh kimchi and kkakdugi (radish kimchi). The ¨Korean¨ way to eat your samgyetang is to mix salt and pepper on one of the spare bowls on the table. Then, as you cut off pieces of your tender chicken, rub it in the salt and pepper for flavour.
Hanok Jip
Where: 7-1 Yangpyeong Dong 3(sam)-ga, Yeongdeungpo-gu, Seoul
Hanok Jip is a traditional Korean restaurant in a charming setting. The eatery is set inside a hanok-style house and is about as local as it gets. Here, restaurant patrons remove their shoes at the entrance and dine while sitting on the floor.
This eatery has been satisfying Seoulites and travellers for more than 20 years. It was their kimchi that put them on the map. However, in recent years, Hanok Jip have diversified their menu offering.
The two key dishes to be found here are Kimchi jjim (steam) and jjigae (stew). Both dishes come served with deliciously marinated pork, while kimchi jjigae also comes with ramyeon.
You cook the pork yourself to your liking on a stovetop grill. Vegetables picked from the restaurant's own garden are also provided and are particularly delicious after being cooked in pork broth.
Na Jeong-sun Halmae Jjukkumi
Where: 144 Muhak -ro, Yongdu-dong, Dongdaemun-gu
Na Jeong-sun Halmae Jjukkumi is a Seoul restaurant reserved for the most adventurous eaters. It can be found on jjukkumi alley in the heart of bustling Dongdaemun. Jjukkumi is one of South Korea´s most popular street food eats.
The dish consists of baby octopus stir fried in a spicy, gochujang sauce – the same as which is served with tteokbokki rice cakes. As the name suggests, jjukkumi alley is a narrow passageway lined with jjukkumi restaurants.
Of all of the options available, not all jjukkumi restaurants are created. There are those that stand out among the crowd and among those is Na Jeong-sun Halmae Jjukkumi.
When the eighty-something Na Jeongsun opened Na Jeong-sun Halmae Jjukkumi for the first time some forty years ago, her restaurant was the only one serving jjukkumi in the area. Other Jjukkumi restaurants started to sprout up along the same road, following Na Jeongsuns success.
The jjukkumi is the only recipe on the menu here. As soon as you sit down, you will be served a steaming hot bowl of it without even having to order.
Ejo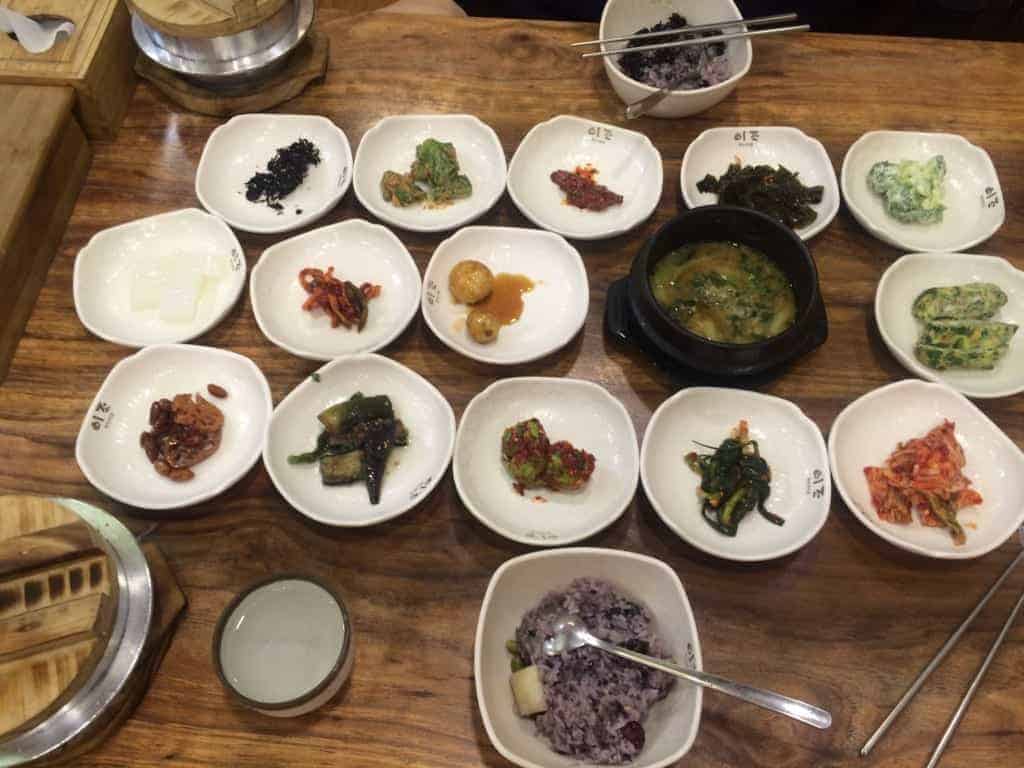 Where: 256-21 Gongdeok-dong, Mapo-gu, Seoul
After spending a few days in Seoul, you will quickly become accustomed to being served ¨banchan¨ with every meal. Banchan are Korean side dishes.
They are served for free alongside every meal and are intended to be shared among all of those at your table. At the very least, you will get 2-3 banchans with each meal. The traditional red kimchi virtually always makes an appearance.
Ejo Korean restaurant is particularly special on account of the vast variety of banchan that is served. The only dish on the menu here is grilled fish. But in accompaniment, you can expect to receive no less than around 20 banchan.
Balwoo Gongyang
Where: 56 Ujeongguk-ro, Gyeonji-dong, Jongno-gu, Seoul,
Balwoo Gongyang is the Seoul restaurant that introduced the world to Buddhist temple cuisine. Korean Buddhist monks follow a vegetarian diet that focuses on clean, healthy living and minimal waste. Historically, you could only sample this by taking part in a Korean temple stay or having lunch at a Buddhist temple.
There is the assumption that because Buddhist temple food prohibits the inclusion of meat, and various spices and flavourings, it must be bland. This could not be farther from the truth.
Other Seoul restaurants have started serving temple-style food in recent years. However, Balwoo Gongyang is the only place that is managed by the Jogye Order of Korean Buddhism.
Gwanghwamun Jip
Where: 43 Dangju-dong, Jongno-gu, Seoul
Gwanghwamun Jip is a hole in the Wall that brings literal meaning to the phrase 'hole in the wall'. This is a tiny restaurant, the size of someone's living room.
It is tucked away in an alley near Gwanghwamun and has been a popular local for Seoulites for the past 30 years.
The specialty dish here is kimchi jjigae. Countless locals will tell you that Gwanghwamun Jip serves the best kimchi stew in town. The owners have won recognition in countless Korean and international media outlets on account of how good their food is.
The secret? Preserved mugenji (super ripe kimchi), a deep savory broth, and chunks of pork, accompanied by delicious and healthy green sides. This restaurant has existed here for more than 30 years. You will seldom if ever, see non-Koreans among the crowd.
Mapo Jeong Daepo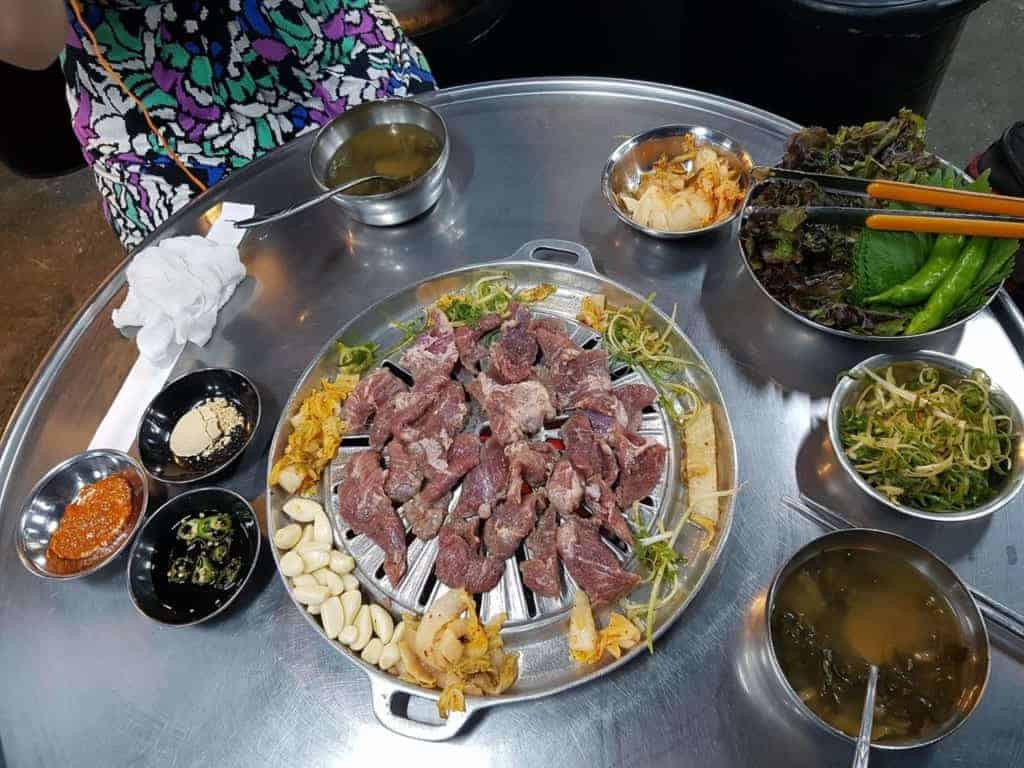 Where: 52, Mapo-gu, Dohwa-gil, Seoul
Mapo Jeong Daepo is a Korean BBQ ¨galbi¨ restaurant that was firmly placed on the radar of international foodies visiting Seoul when the late Bourdain ate here. His acclaimed ¨Parts Unknown¨ docuseries.saw Bourdain stuffing his face and drinking soju with a group of Korean business men.
Galbi is thinly cut strips of beef short ribs. The meat is beautifully marinated.
As with all Korean bbq restaurants, you can cook it yourself to your liking. Then, the server pours an egg batter, along with herbs and garlic into the outer rim of the cooking pot creating a beautiful spicy omelette.
The name Mapo Jeong Daepo translates to mean ¨mapo cannon¨. It is a popular place for Korean company men to head to after work for dinner and drinks with their colleagues. The food here is delicious, though it would be hard to find a bad galbi restaurant in Seoul.
Gwangjang Market
Where: 88 Changgyeonggung-ro, Jongno 4(sa)-ga, Jongno-gu, Seoul
Gwangjang market is the oldest food market in Seoul. It first opened its doors back in 1905 and has been an important rendezvous point for locals ever since.
Gwangjang is far more than just your typical food market. Not only can you buy fresh produce and ingredients here, but people also come to Gwangjang for their lunches and dinners.
Many of the street food stalls that operate at Gwangjang are essentially open-air restaurants. Here, you can pull up a seat beneath a pojangmacha tent and tuck into sumptuous dishes that are cooked fresh right in front of you.
You can find all of your Korean street food favourites at Gwangjang. Similarly, the market has become known for its more exotic fares.
Yukhoe is a Gwangjang specialty. This dish comprises raw beef that is marinated in a mixture of Korean sauces and spices – commonly pine nuts, sesame oil and soy sauce. In some ways, you could compare yukhoe to the western beef tartare.
You should also look out for soondae – Korean blood sausage. It is made by mixing pork blood with noodles, glutinous rice, and a mixture of soybean paste, chili and spices.
Doore Yoo
Where: 65 Bukchon-ro, Gahoe-dong, Jongno-gu, Seoul
Doore Yoo is the brainchild of Michelin-star chef Tony Yoo. The menu boasts a unique selection of dishes that are unlike anything you will find elsewhere.
Dishes here are essentially traditional Korean recipes with a contemporary twist. Kimchi and other banchan are homemade and prepared on-site.
Vegetables are prepared temple-style, with inspiration being taken from the diets of Korean Buddhist Monks. For the best experience, you can enjoy a full-course han-jeongsik-style meal.
Hell Cafe
Where: 238-43 Bogwang-dong, Yongsan-gu, Seoul
Hell Cafe is widely regarded as being one of the very best coffee shops in Seoul. Coffee culture is huge in Korea.
However, most Korean coffee shops place a lot of focus on ambiance and aesthetics over the quality of their coffee. The excellent coffees here are brewed from a diverse selection of beans.
What's more, some of those that work here have become stars of KNBC (Korea National Barista Championship). Some of the best baristas in Korea are found here.
Hell cafe may have a questionable name. But the atmosphere here is far from hellish.
The coffee shop is tucked away down an unsuspecting alleyway. The jazz rhythms of Miles Davies and Thelonious Monk play out over loudspeakers as you enjoy coffee and cake in one of the cosy armchairs.
Han Chon Galbi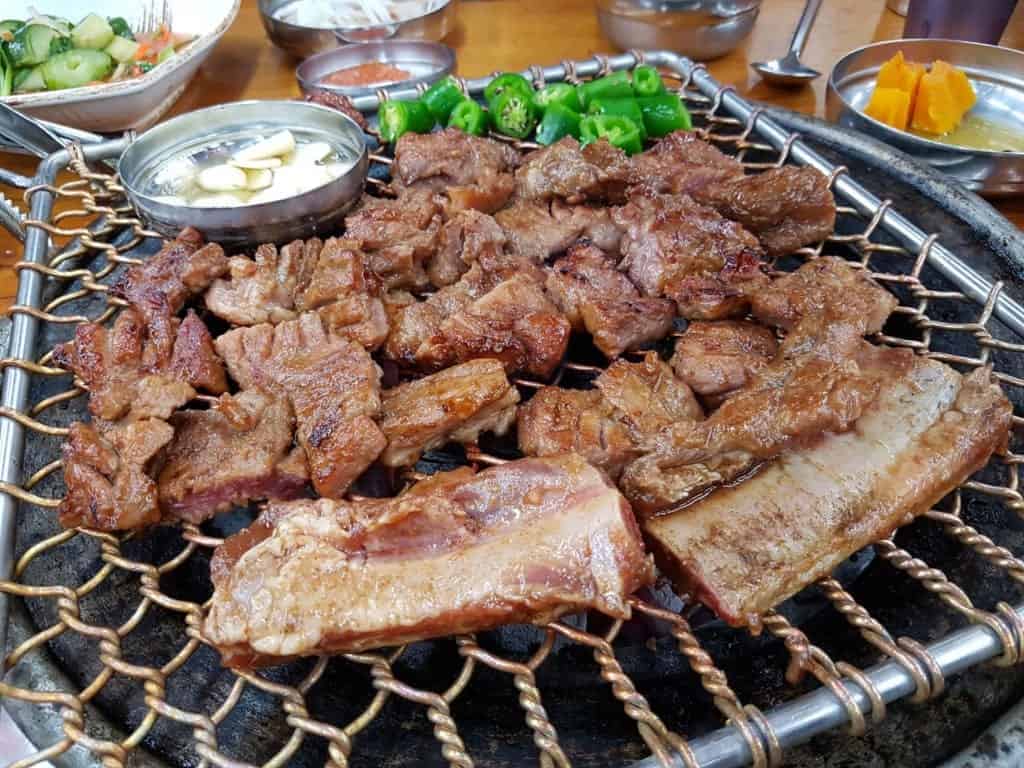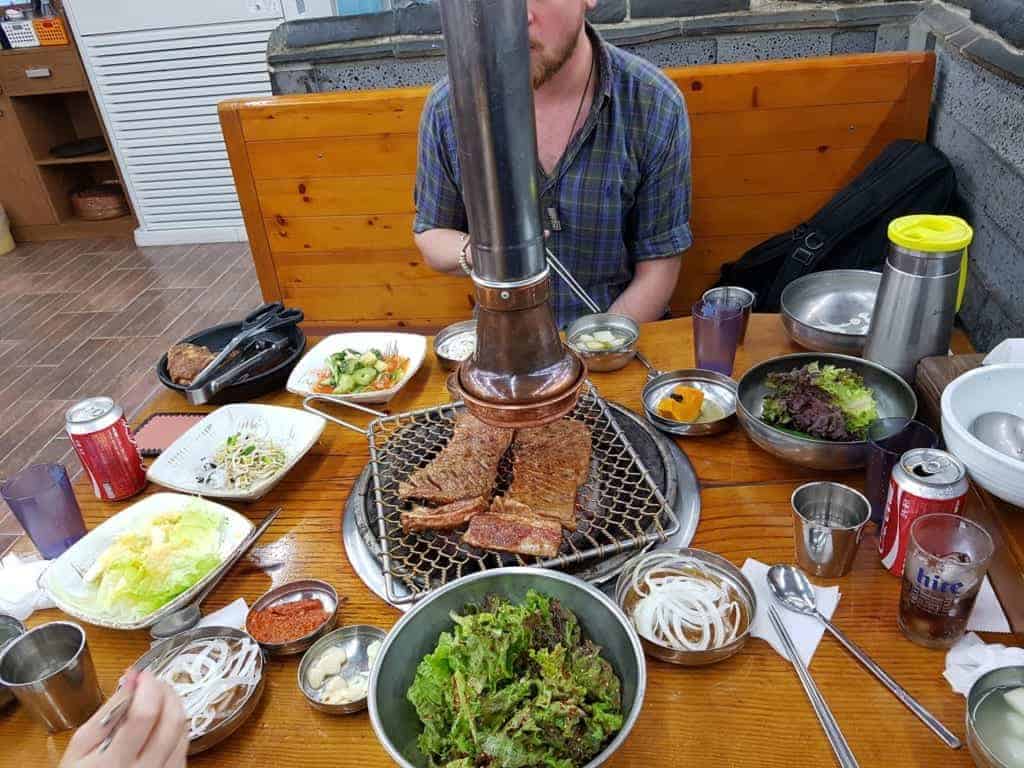 Where: 92 Gyeongin-ro, Sosa-gu, Bucheon-si, Gyeonggi-do
Han Chon Galbi is a galbi restaurant found in Bucheon. It is a little trek away from the centre of Seoul. However it is well worth the effort to get to.
The cuts of meat here are second to none, and the marinade is impeccable. Galbi is a very popular dish made from beef short ribs. The ribs are marinated in a sauce made from Korean pear juice, rice wine, soy sauce, garlic, sesame seed oil and sugar.
Cook the meat to your desired level. Then, the beef is best enjoyed wrapped in a lettuce leaf with onions and a generous dollop of ssamjang sauce.
Yonggeumok
Where: 41-2 Jahamun-ro, Tongin-dong, Jongno-gu, Seoul
Yonggeumok is not only one of the best restaurants in Seoul, it is also one of the oldest. The establishment first opened its doors in 1932, thus making it the third oldest restaurant in the city.
Yonggeumok´s specialty is chueotang. This is a unique type of soup that is made from pond loach, and Yonggeumok has been preparing the dish for almost 90 years.
To make chueotang, the restaurant boils freshly-caught loaches sourced from Buan, Jeollanam-do. Rumour has it that the fish is a beautifier. So if you want to become more attractive or handsome, eat all the loach that you can while you're in Seoul!
The dish is incredibly healthy too. It is filled with calcium, protein, and vitamins.
Noryangjin Fish Market
Where: 674 Nodeul-ro, Noryangjin-dong, Dongjak-gu
Noryangjin is one of Korea's largest wet markets, and the main fish market in Seoul. Even if you don't particularly like seafood, it is worth passing through Noryangjin for the people watching opportunities it presents.
If you stop by Noryangjin early in the mornings, you can watch as local fishermen haul in their day's catches and sell them to the vendors. Similarly, you can witness the city's restaurant owners ferociously haggle over the price of bulk fish orders for their eateries.
The beauty of visiting Noryangjin is that you can meander through the various stalls and pick out the various fish and shellfish that appeal to you. Once you have chosen what you want, you can take the ingredients to the restaurants within the market and have them prepared for you for just a few thousand Korean won.
Hoe 회 is a nice thing to try here. This is sliced, raw fish similar to Japanese sashimi. You can also buy large, fresh lobsters and king crabs at Noryangjin at affordable prices.
Cheong Jin Ok
Where: 32 Jong-ro 3-gil, Cheongjin-dong, Jongno-gu, Seoul
Cheong Jin Ok is a cosy Seoul restaurant with a cult following. Its specialty dish? Hangover soup.
Hangover soup, as the name suggests, is supposedly a cure for drinking too much the night before. Cheong Jin Ok is perpetually crowded with young Koreans and business men that have had a little too much soju the previous night.
The ingredients of this soup are not for the faint of heart. Hangover soup (haejangguk) is made with coagulated oxblood, intestines, rice and vegetables. It is actually quite delicious, if you don't think too much about what is inside.
Cheong Jin Ok first opened its doors in 1937. Since then, it has been passed down through the same family for three generations.
Parting Words
Do you have any other thoughts or suggestions about the best restaurants in Seoul? I lived in Seoul for several years. If you are interested in foodie experiences when you travel, you may also want to consider taking a cooking class in Seoul.
Please don't hesitate to reach out via the comments below. Safe travels! Melissa xo
---