Noryangjin market is one of the places that you absolutely must visit while in Seoul. If you've spent a lot of time in Asia and you've already visited your share of food markets, then this may not be that spectacular for you. However, if you are brand spanking new in the Far East then prepare to be bedazzled (yes, bedazzled).
It's wet, it's crowded, it's smelly, there's definite splash back potential and you will be met with sights that wouldn't look out of place in a Tarantino movie (have I sold it to you yet?) Noryangjin is Seoul's biggest fisheries market!
The interesting thing about the Noryangjin market is that it isn't just a typical street food market. Instead, Noryangjin is a working, lively wholesale fisheries market where representatives from Korean businesses come in to buy fish in bulk and engage in some pretty intense negotiations.
If you feel the urge to swing by Noryangjin market between the hours of 1 am – 3 am (who knows, maybe you're a fish-loving night owl?), you can watch the boisterous fish auctions taking place.
Foods to Try at Noryangjin Market
If you like seafood, Noryangjin Market is a great place to scoff some high quality, fresh fish at affordable prices. If you don't, the market is an interesting spectacle all the same.
Take your time perusing around the various market stalls and some of the creatures on display. Many of which, you probably never knew existed and likely aren't even advertised with English names
Look out for some haunting Korean delicacies that are much loved by the locals – the urechis unicinctus, or "sea penis" is one that I will forever be traumatised by. When you see it… well then you'll understand why it has that name.
Hoe 회
Hoe 회 (pronounced "hweh") is raw fish that is sliced and prepared in a similar way to Japanese sashimi. This is a popular choice among Koreans at Noryangjin fish market. You can have a wide variety of fish prepared in this way. (Squid, shrimp, halibut, mackerel, etc).
Those who want to add a little something extra to their hoe can opt to modify the dish into hoe-deopbap (raw fish with steamed rice, spices and veggies), or Mulhoe (spicy soup with raw fish)
San-nakji
San-nakji could be considered the national dish of Korea. This is a live octopus and it is available in two forms – you can opt to order baby octopuses which are eaten alive whole, or you can choose an "adult" octopus whose tentacles are removed while alive and then eaten.
In either case, sashimi style octopus is doused in soy sauce and then consumed. Honestly, I find this quite cruel so I have personally never tried it, but it is a very important local dish.
If you order the tentacles of a larger octopus, you may note that they still wriggle and writhe around on your plate. Rest assured the octopus is technically not still alive, this is simply its muscles contracting.
Crabs, Lobsters & Shellfish
Those who adore dining on lobsters and crabs will be in their element at Noryangjin market. The sumptuous shellfish do not have the same hefty price tags associated with them here as they do at most restaurants. Better yet, by buying them at Noryangjin, you are assured of their freshness.
A king crab from Noryangjin typically weighs in at around 45,000 KRW ($45). Large lobsters are priced at around 75,000 KRW ($75). These creatures have enough meat to fill 2-3 people on average.
With your crab or lobster in hand, head over to one of the nearby restaurants to have it prepared for you. Most eateries offer a flat fee of 8,000 KRW ($8) to grill a lobster/crab, in addition to a 3,000 KRW ($3) service fee.
The exact price varies depending on the establishment and the size of the crab/lobster – if the one that you have bought is a Goliath, expect to pay 10,000 KRW or more.
The Sea Penis (gaebul)
Calling all adventurous eaters… The sea penis is a Korean delicacy best reserved for only the bravest foodies. The appearance of the fish and its uncanny resemblance to the male genitalia reflects why it has this nickname. The delicacy is best enjoyed raw with either a savory sesame oil sauce or a fiery gochujang topping.
Surprisingly, most Koreans really really like the taste of gaebul. It is much different to san-nakji which is otherwise flavourless without the soy sauce. Gaebul has a salty, savory taste.
Seafood Stew
Maeuntang (매운탕) is a great thing to try at Noryangjin fish market if you are looking for something really local. The hearty seafood soup is especially nice in the cold winter months.
Just enough gochujang paste is added to the soup to give it a kick. The direct translation of Maeuntang is "hot and spicy soup".
All of Your Seafood Favourites
Visiting Noryangjin fish market doesn't mean that you have to indulge in something weird and wacky. Instead, you can simply opt to find your favourite fresh seafood. Whether you prefer pan-seared marinated halibut, smoked salmon, or spicy crab, you will easily be able to find something delicious.
Korean Street Food Classics
If seafood is not your cup of tea, you can breathe a sigh of relief in the knowledge that the street food stalls at Noryangjin do sell other delicacies besides fish. Tteokkbokki, hotteok, jeon, and other Korean favourites can be purchased here for a few Korean Won.
In recent years, some of the stalls have become more innovative in their concoctions. One of the most popular places to eat is at the market's "Hotdog in a pancake" stall which regularly sees a snaked queue filled with hundreds of foodie locals.
Things to Keep in Mind When Visiting Noryangjin Fish Market
A few practical and cultural considerations for visiting the Noryangjin fish market are detailed below.
Language Barriers
Don't fret if you cannot speak Korean. Although the Vendors speak little to no English, they are accustomed to foreigners wandering into the market to take photos in awe and fascination and they will try their hardest to communicate with you. If you indicate that you want to buy something, they will show you the price on a calculator.
Be Prepared to Negotiate
Haggling is certainly encouraged at Noryangjin fish market. While the vendors aren't actively trying to charge you over the odds, prices are likely to be slightly over inflated as it is just expected that customers will try and lower the initial price offered, as is typical in a Korean market environment.
Know What Prices to Expect
The prices of the fish at Noryangjin market are relatively competitive. That is unless you happen upon a vendor who tries to seize an opportunity of a naive tourist.
You can pick up a lot of shrimp at a good price. High-quality products like lobster and king crab are still a little expensive because of their size and quality, so don't expect to get everything for nothing.
If you do decide to make a purchase, you can either choose to take the fish home and cook it yourself (no fun!), or head over to one of the restaurants within the market.
To provide you with a little frame of reference on the types of prices to expect at Noryangjin fish market, I have listed some averages for popular seafood delicacies below. To convert the values of Korean won into US dollars, simply divide each value by 100.
A huge king crab fit for a feast – 40,000 – 50,000 KRW per crab
Large lobsters – 75,000 KRW per lobster
Sannakji (live octopus) – Three small octopus for 10,000 KRW
Shrimps – Five for 10,000 KRW
Large Abalone – between 3,000 KRW and 20,000 KRW depending on the size
Have Your Fish Cooked at a Local Restaurant
Representatives for the various restaurants will be wandering around the market looking for customers so they will escort you to one of the tented restaurants.
You will pay extra for the preparation of the fish at the restaurants but the prices are very low and you are only charged if you decide to have the fish cooked, rather than eat it as sashimi (raw). The fish is served with onions, and fresh wasabi and the cooks will prepare you a hot, spicy soup using the bones so that absolutely nothing goes to waste.
Enjoy Exploring the Various Sections of Noryangjin Fish Market
Noryangjin market is divided into two sections – the old Noryangjin fish market and the new market. To be honest, there really isn't so much variance between what you can find on offer at each one. The "new" side is perhaps a little pricier but not substantially so. If you want an authentic "only in Asia" market experience then I recommend sticking to the old side of the market.
Dress Appropriately
Not to be gross or put a dampener on the whole cultural experience of Noryangjin fish market, but it is important to dress appropriately for your visit so as to protect yourself from the wrath of fish juices. Yes, that's right: fish juices.
Noryangjin market is a wet market and the floors are often filled with puddles as fish water and ice drips onto the floor. This is not the time to wear your cutest summer sandals. Opt for closed shoes/sneakers and ideally wear some comfy, casual clothes/long pants that keep your skin covered too.
Noryangjin Fish Market:
Additional Information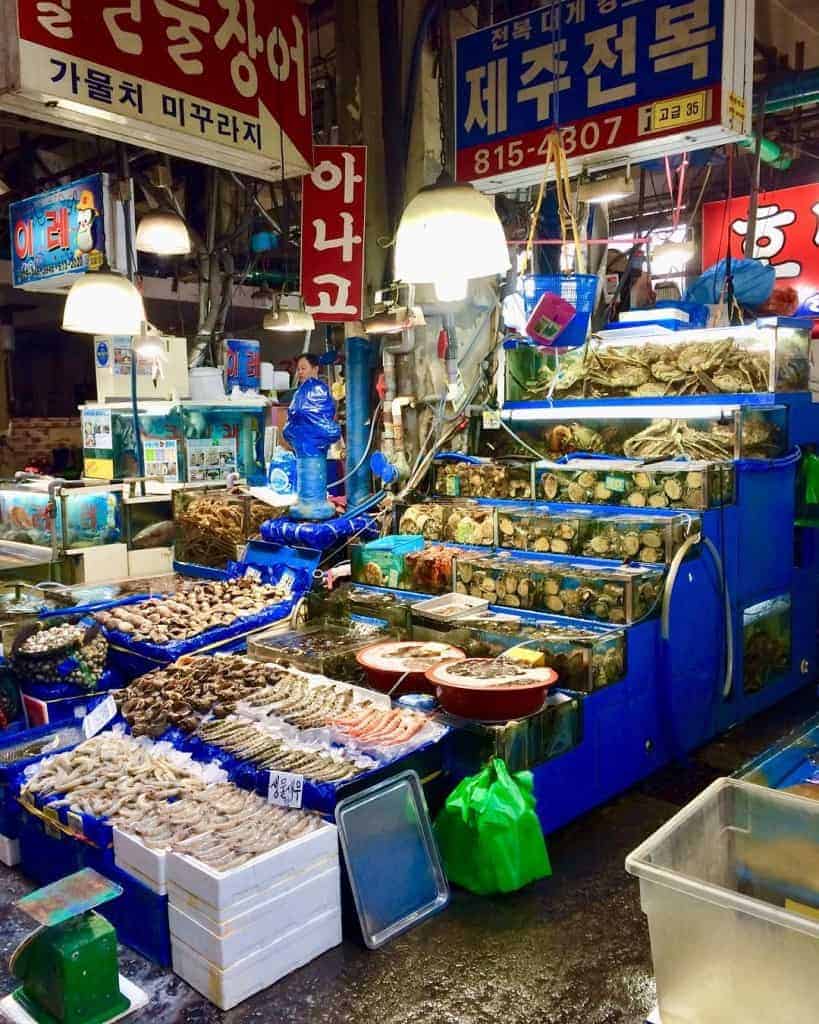 Opening Times:
Noryangjin market is open 24/7 and whatever time you go, it's never empty! If you're looking to eat at the market, it's better to go in the morning while the catch is fresh and you have time to browse the stalls. Weekends are typically busier.
Where is Noryangjin Market?
You can take Seoul metro line one to "Noryangjin" and leave at exit 1. Walk under the bridge and follow the fishy smell and you'll be faced with the market.
Have any further questions about visiting Noryangjin market, or exploring Seoul and South Korea in general? Feel free to reach out to me via the comments below. I will do my best to get back to you as soon as possible. I lived in Seoul for several years and I'm happy to answer any questions that you may have. Annyeonghaseyo! Melissa xo
---