Travelling to Korea in winter presents travellers with the opportunity to spectate at eccentric seasonal festivals, ski in the mountains of Pyeongchang, and see the country's cities and temples covered beneath a blanket of soft white snow.
What to Expect
Winter in Korea might sound like something of a fairy tale. The reality is that the country can get bitterly cold during this time of year.
In Seoul, Paju and other northern areas of South Korea, it is not uncommon for temperatures to dip as low as minus fifteen or minus twenty degrees celsius.
In fact, living in Seoul, I would often find that my eyelids froze when I had just popped out quickly to buy something from the convenience store. My eyelids froze! That was the first time I had experienced such a phenomenon!
Unless you grew up in say, Russia, Mongolia or Northern Canada, I'm going to hedge a bet and say that you will find Korean winter pretty darn chilly.
You don't have to completely write off Korea travel during this period though. There are many incredible seasonal events and festivities that happen at this time of year that make braving the icy temperatures worthwhile.
Places to Visit in Korea During Winter
There are numerous unique things to do and places to visit in Korea during winter that make Korea in December and beyond truly magical.
Cosy up in the Tearooms of Insadong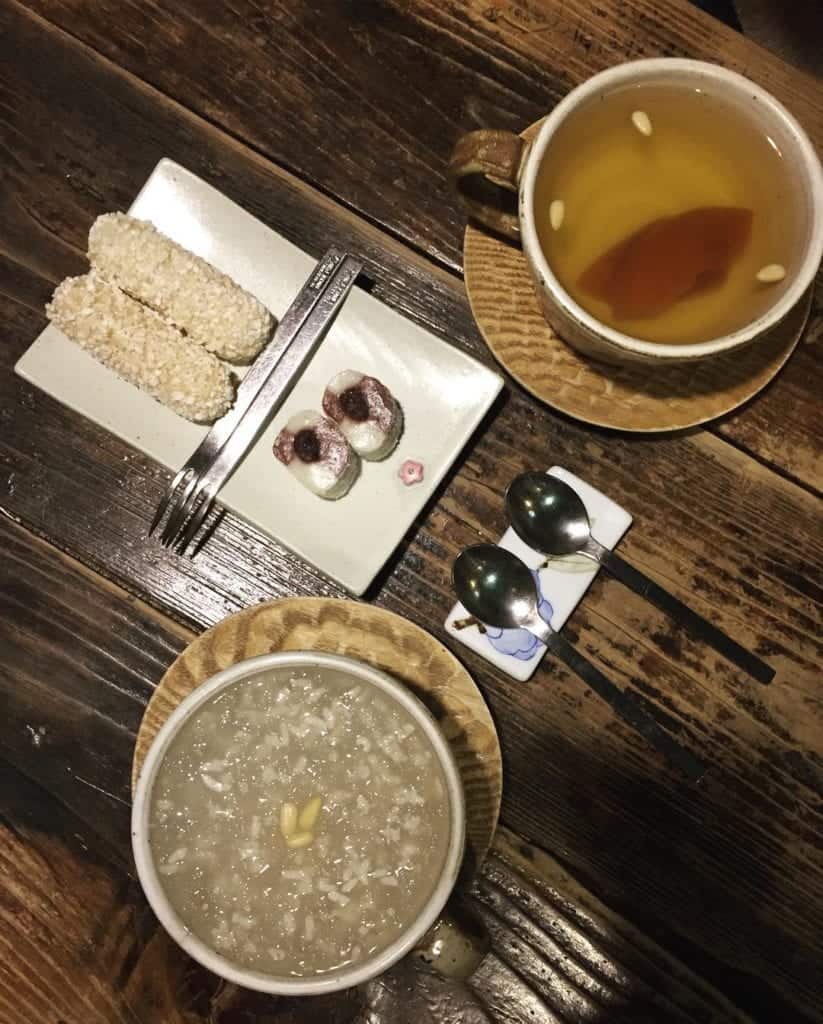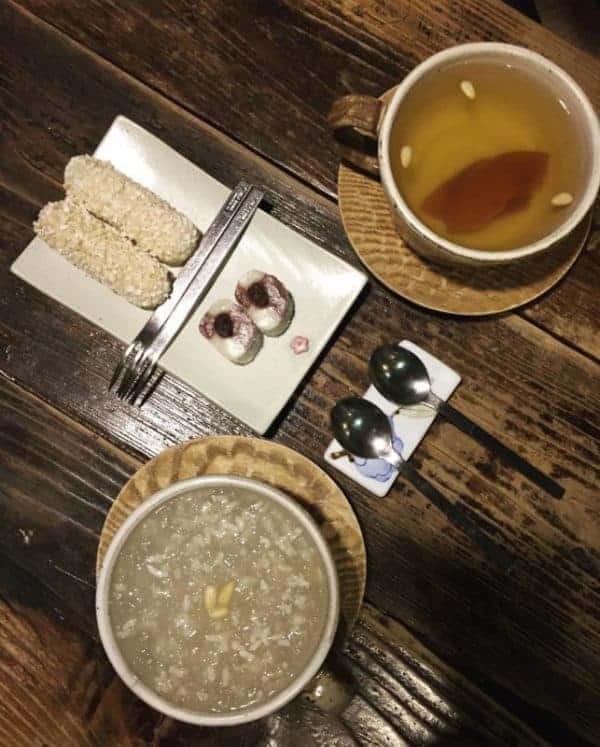 The charming tea rooms of Insadong and Bukchon offer the perfect, cosy escape from the cold wintry conditions of Seoul. Korean teas are fruity and sweet.
Often thicker and more syrupy in texture than your average tea, they are made with natural ingredients to address a range of ailments. Try the thick apricot tea served with a side of sticky sweet rice cakes, it's a winter favourite.
Seogwipo Penguin Festival
The Seogwipo penguin festival is likely one of the most unique and strange things to do during winter in Korea. Actually scratch that, it is one of the most strange things that you could do anywhere ever.
Don't let the name fool you. The Seogwipo penguin festival has nothing to do with penguins, and everything to do with locals stripping down to their undies and embarking on a swimming race in the icy cold waters close to Jeju island. So yeah, that's a thing.
If you're brave enough, you can participate. If you manage to survive, you can warm up again after the race with a nice hot bowl of kimchi jjigae and a snuggly blanket.
Visit Seoul's Themed Cafes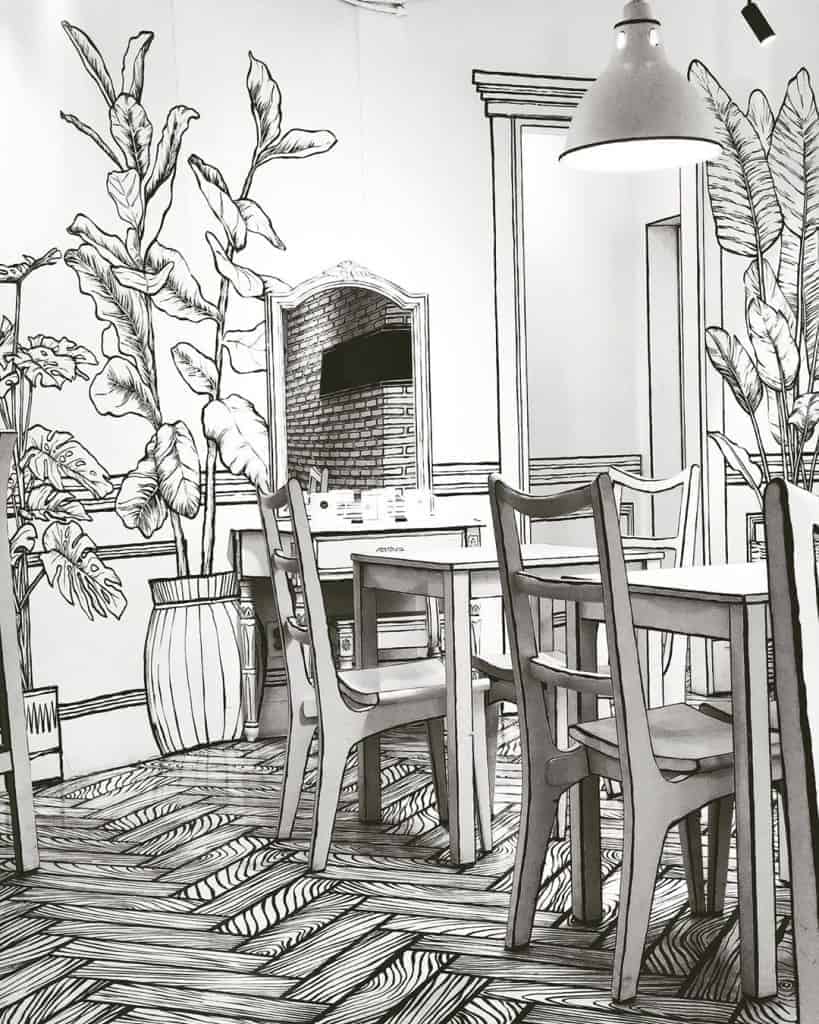 Between avoiding blizzards and sightseeing in Seoul, the Korean capital's many themed cafes and coffee shops are great places to warm up in Korea during winter. The coffee culture in Seoul is huge.
Quirky coffee shops are situated on every corner and follow every theme imaginable – from the cute and quirky, to the downright strange.
One great place to check out in the winter is "All that Sweets" whose photogenic drink decorations attract queues of locals. Some other inspiration is included below. This list barely scratches the surface of the weird and wonderful coffee places in Seoul!
The Hello Kitty Cafe, Myeongdong

Zapangi

Daerim Warehouse

Ban Bossy

Stylenanda Pink Pool Cafe

Hell Cafe

AVEC EI

Sona

Magnastudio

Take Out Drawing

Coffee Hanyakbang

Thanks Nature Cafe

Monster Cupcake

Matchacha
See the Light Show at Herb Island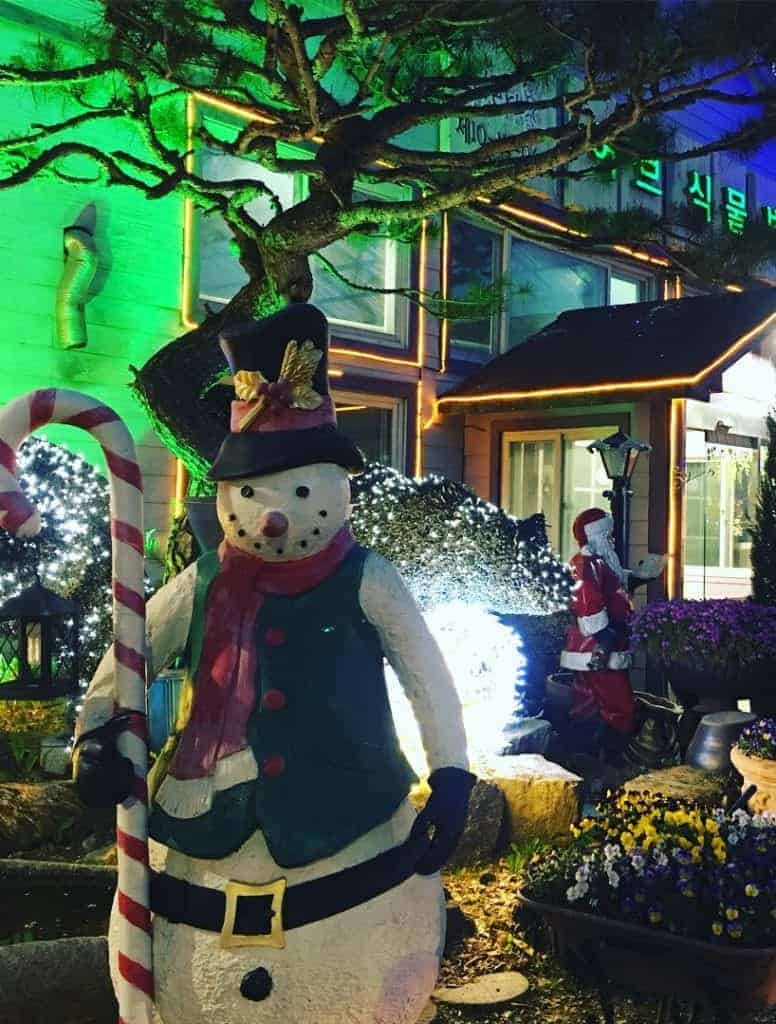 A little north of Seoul, the Herb Island light show at Pocheon City sees the area illuminated with tens and thousands of twinkling fairy lights.
Travellers can expect to see entire fields of artificial flower lights, trees decorated with every colour of the rainbow, and daily performances and shows.
This is one of the most romantic places to visit in Korea during the winter, and makes a pleasant day trip from Seoul during the Korea winter season. The Herb Island light show runs until the 31st December every year.
Stay in a Hanok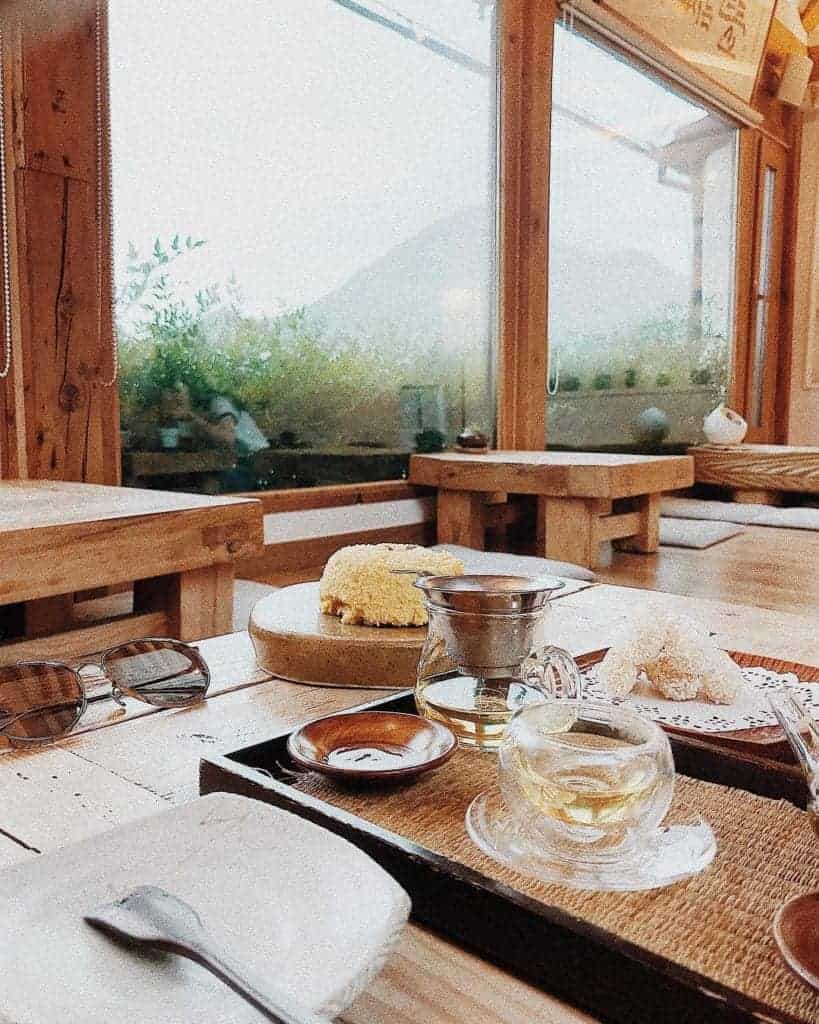 Staying in a traditional hanok house is arguably one of those quintessential experiences that you must have while travelling in Korea regardless of when you travel, however opting for this type of accommodation becomes especially comfy in the winter months.
Hanok houses are traditional Korean houses that were originally built during the 14th century to house nobility. Staying here entails sleeping on a futon bed (comfier than it sounds) on the heated floor.
The Bukchon Hanok Village in Seoul, and the Jeonju Hanok Village are both great choices for a hanok stay experience during your Korea itinerary.
The insides are comfortable, cosy and stylish. For added comfort and glamour, consider staying in a luxury hanok such as the glamorous ones at the contemporary Bonum 1957 hotel in Seoul.
Pyeongchang Trout Festival
It's not very often that you get to try your hand at ice fishing and feel like an eskimo for the day. Actually, the Pyeongchang Trout Festival is much more than the name suggests.
Visitors can participate in a diverse range of winter activities here – from snow tubing and sledding, to ice skating. The main attraction of the event is of course ice fishing. Holes are drilled into the ice and you can sit by the side to try your luck catching a trout. There is also bare handed fishing if you're not worried about losing your fingers to frostbite. Brr.
Whatever you catch at the festival, you can have cooked and prepared at one of the little pop-up restaurants on site. That way, you can warm up with delicious grilled trout washed down with soju.
There are numerous tour companies that arrange excursions to Pyeongchang Trout Festival from Seoul like this one.
Indulge Yourself at a Jimjilbang
Korean jimjilbangs are traditional bathhouses and the perfect place for indulging in a little relaxation. What better way to escape the cold weather than by soaking in steamy hot baths infused with various herbs and fragrances?
Jimjilbangs are a beloved part of Korean culture. You can find them in practically every neighbourhood of every city during your Korea winter trip. In Seoul, I'd recommend Spa Lei women's only jimjilbang if you are female travellers. Alternatively, Siloam Sauna has facilities for both men and women.
Taebaeksan Snow Festival
The Taebaeksan Snow Festival is a free annual festival that is hosted in the city of Taebaek. Accessible with an hour's bus journey from Seoul, the highlight of the festival is the giant structures that have been carved into the snow and ice.
It's incredible to see the level of detail that has gone into the structures. You can see huge icy wendy houses of Gyeongbokgung and other notable Korean sites.
There's also a delightful snow cafe where the tables and chairs are made from blocks of ice. For just 3000 KRW, you can warm up with a delicious cup of hot cocoa.
Several tour companies lead trips to Taebaeksan from Seoul. It is advisable to book early.
Take a Trip to Jeju Island
Beautiful Jeju island is often referred to as being the "Hawaii of South Korea" and is arguably one of the best places in Korea if you like immersing yourself in nature. Jeju is a great winter travel destination. Not only is Jeju warmer than Seoul, it also boasts plenty of winter activities that are not affected by the colder weather.
If you decide to plan your Jeju itinerary for the winter months, you will find that the island's attractions do not close. Even places like Mount Hallasan, and the Olle hiking trails remain open. What's more, Jeju boasts countless indoor museums.
If it coincides with your travel dates, don't miss the Jeju winter festival. The festival takes place on Mount Hallasan and runs from December 20th – January 6th every year.
Expect to see live Kpop performances, street food markets and local artisans presenting their wares. During this time, a sequence of after parties and events are hosted at bars and clubs nearby.
Go Sledding at Everland
Everland, located in Yongin, is South Korea's largest theme park. Think of it as the Korean Six Flags if you will. During the Korea winter season, several seasonal attractions pop up at Everland.
The "Snow Buster" is a winter highlight – a huge snowy hill that travellers can sled or tube down. Snow tubes can be rented and there are numerous "tracks" that you can go down. Some are curved and winding, some go straight down at breakneck speed, etc.
Once you've had your snow tubing fill, you can warm up in the nearby Korean cafe with some delicious steamed mandu (Korean dumplings).
Inje Ice Fishing Festival
The Ice Fishing Festival in Korea's rural Inje county is a relatively new festival. Similar to the Pyeongchang Trout Festival, the highlight of the festival is to try your hand at ice fishing.
If the Pyeongchang festival does not coincide with the dates of your Korea winter trip, this is a nice alternative.
See the Seoul Lantern Festival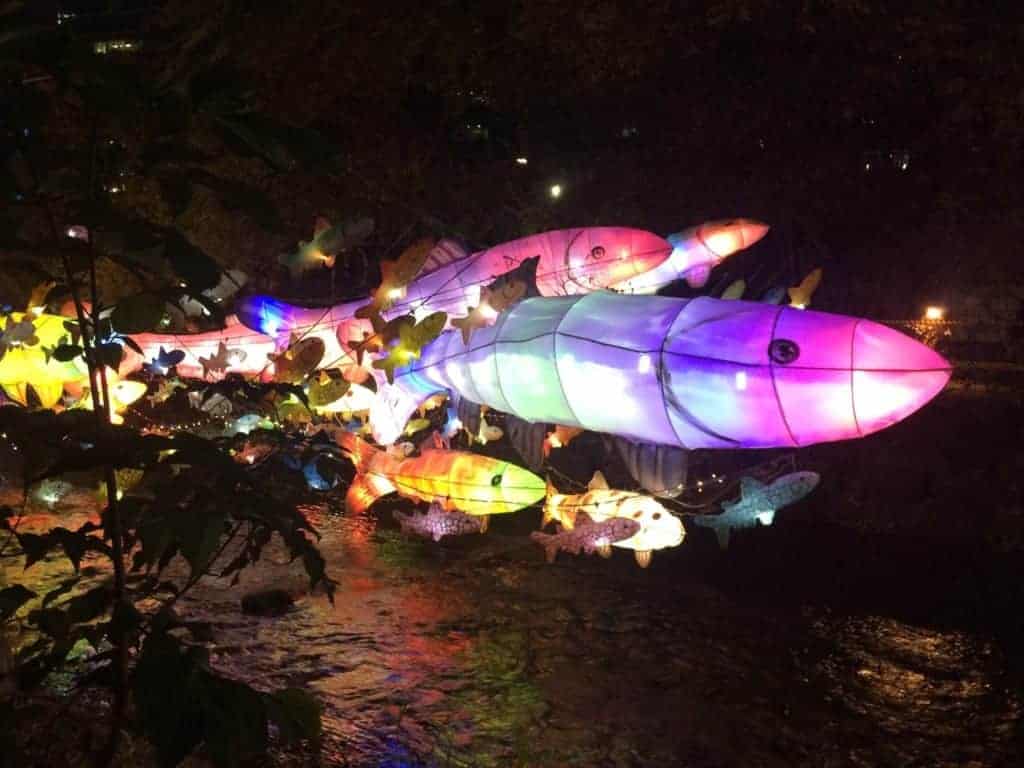 The Seoul Lantern Festival is an annual event that takes place along the banks of the Cheonggyecheon every year. The festival sees tens of thousands of handmade lanterns set up along the stream and beautifully illuminated.
The festival typically takes place during the first two weeks of November. It is well worth stopping by if it coincides with your Seoul itinerary.
Go Hiking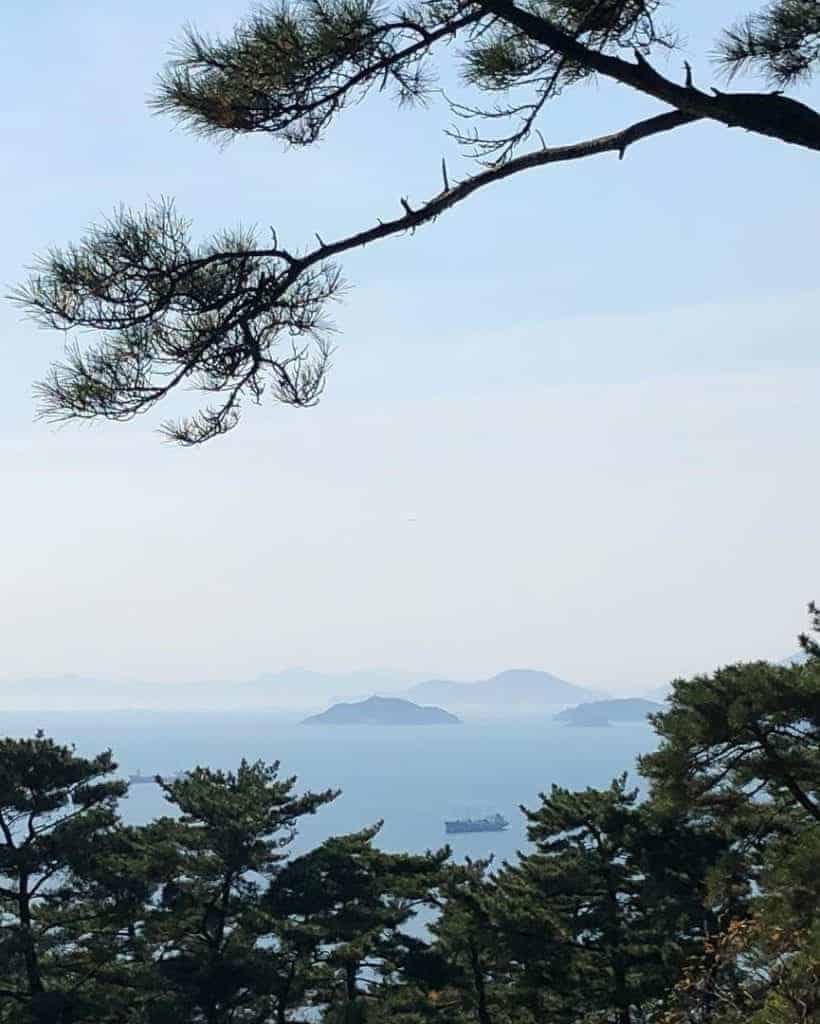 Hiking is essentially the national pastime of Korea and is enjoyed year round. Though the snow and ice can make some of the more challenging hikes inaccessible, there are still plenty of trails that can be enjoyed during this time.
Frozen lakes, and mountain temples covered in a blanket of fresh white powder transform Korea's national parks and mountains into a magical winter wonderland. Bukhansan and Taebaeksan are both stunning places to visit in Korea during the winter.
Try Your Hand at Skiing
Whether you're a snow bunny or an absolute clutz that has never tried skiing before, there is no better place to try your hand at the sport for the first time than during the Korea winter season.
Pyeongchang – the spot where the Korean Winter Olympics were held, is a popular spot for locals and offers great resorts and facilities. Equipment rental is available, as are lessons for beginners.
For alternative ski destinations, consider one of the resorts situated in Hong Cheong or Muju county. Various tour companies organise day trips and excursions to Korean ski resorts. These are perfect for solo travellers in Korea also, as they provide a great opportunity to meet travel buddies during a weekend away.
Go Ice Skating in Seoul
Amid the backdrop of glistening skyscrapers, the frozen Han River, and the ancient temples of Seoul covered under a blanket of snow, there are few places more scenic to try ice skating than during winter in Korea.
There are dozens of ice skating rinks scattered around Seoul and wider Korea. Some scenic rinks to consider are:
Yeouido Ice Park

Grand Hyatt Seoul Ice Rink

Olympic Park Ice Rink

Seoul Plaza Ice Rink

Seoul Arts Center Ice Rink

Sheraton Walkerhill Ice Rink
Marvel at the Garden of Morning Calm Illuminations
The Garden of Morning Calm is a beautiful private garden that is nestled within the moutains of Korea's Gapyeong County. Every winter, the 30,000 m2 garden is illuminated with thousands of twinkling lights.
Wander beneath illuminated arch tunnels, and marvel as the lights flicker and dance to KPop classics.
Korea Winter Travel Hacks
Temperatures of minus 15-20 degrees are unheard of for a lot of us. If you come ill-prepared, waiting at windy subway stations, or wandering the streets of Seoul can be a nightmare in the cold weather.
Some general travel hacks for enjoying Korea during the winter months are detailed below.
Hot Packs
Head to Korea in winter and chances are, you will see locals shaking strange little bean bags like their lives depend on it. These strange little bean bags are actually hot packs.
Korean hot packs can be bought at convenience stores for less than a dollar and get piping hot. Just unwrap the bean bag, shake it ferociously for a few moments and you've got yourself your own personal heater. I used to keep these stuffed in my pockets when I headed out.
Ondal Heating
Baby it's cold outside, but fortunately most places are incredibly cosy during the winter in Korea. All of that is owed to ondal hearing – a delightful underfloor heating.
If you decide to stay in a hanok, you will have the pleasure of sleeping cosily on a futon right on top of the ondal floor. Many Korean restaurants require sitting on the floor and also have this pleasant feature.
Comfy, Snuggly Clothes
If you travel to Korea in the winter, you should pack your winter wear (more on that below), but if you live in Korea, or you find yourself freezing to death in Seoul because you haven't packed enough snuggly layers then don't fret, there are plenty of places to pick up comfy winter clothes.
One thing to look out for is the fleece lined stuff sold at markets and on the stalls at the subway stations. Korean fleece lined sweaters and pyjamas unlock a whole new level of snuggly. The items sold at these places are relatively cheap and good value for money.
Another suggestion is to always wear thermals beneath your regular clothes when hiking or spending extended periods of time exploring outside. If you forget to take these with you, it's worth checking out the heat tech clothes sold at Uniqlo.
What to Pack and Take With You to Korea
Seriously don't underestimate how cold it gets outside during winter in Korea. At the same time, many restaurants, cafes, and jimjilbangs will put their heating on full blast. The best approach is to layer up.
A Thick Winter Coat
Be sure to wrap up warm when you are heading outside in Korea in winter. The weather can be unpredictable and snow is common.
3-4 Sweaters
You want to make like an onion and layer up during winter in Korea. That way you can easily add or remove layers as necessary and you're not sweating like a beast indoors.
3-4 sweaters should be plenty for a week. Pair with light cotton tees underneath.
Winter Garments
I never go outside in Seoul in winter without taking a hat, a scarf, and some gloves. The other plus point to this is that you can buy tiny hot packs that you can fit right inside your gloves for maximum cosiness.
Thermal Underwear
Okay so there's nothing glamorous or attractive about thermal undies but you are going to need them during winter in Korea. As I mentioned, Uniqlo offer an excellent "heattech range." I recommend taking at least one pair of thermal leggings along with a vest.
Shoes With a Good Grip
I recommend that you pack a pair of closed shoes with a good grip for sightseeing during the day. Some of the streets in Seoul are very hilly and become super slippery when there's snow or black ice. Sneakers, winter walking boots, or something similar are all good choices.
Thick Socks
Be sure to bring several pairs of thick, thermal socks to keep your tootsies warm. Again, UNIQLO stock a great range of these, but any thick, snuggly socks will do.
What to Eat in Korea During the Winter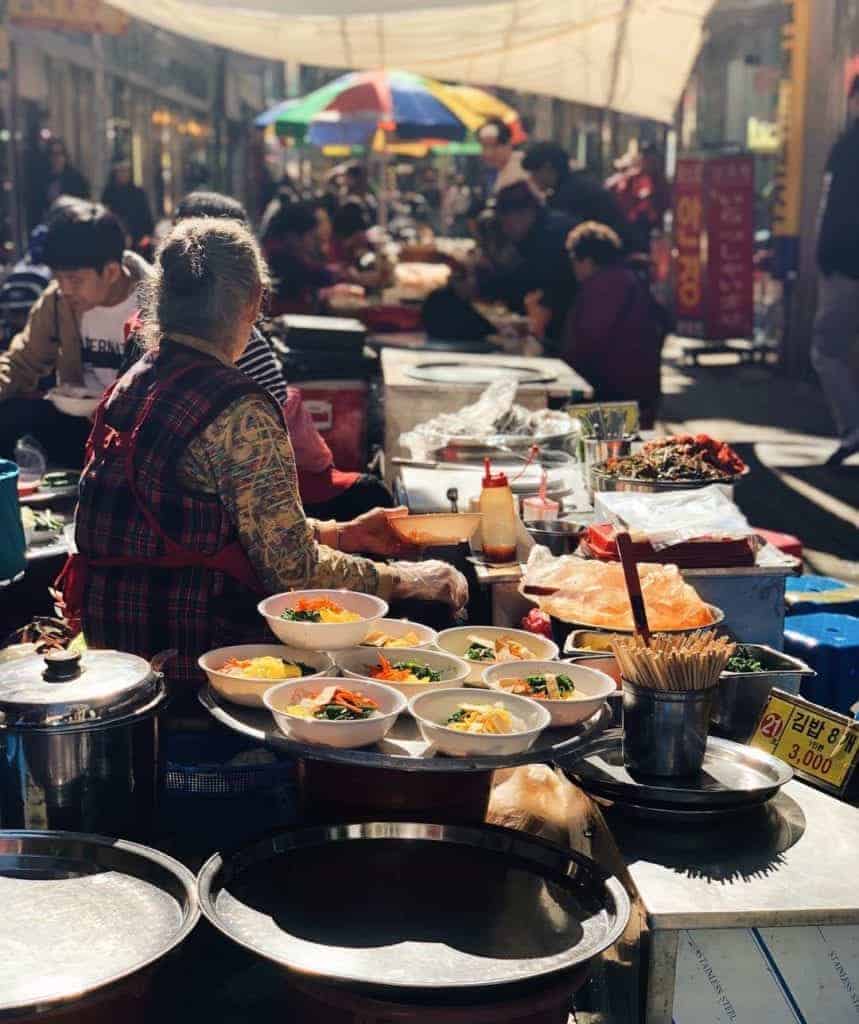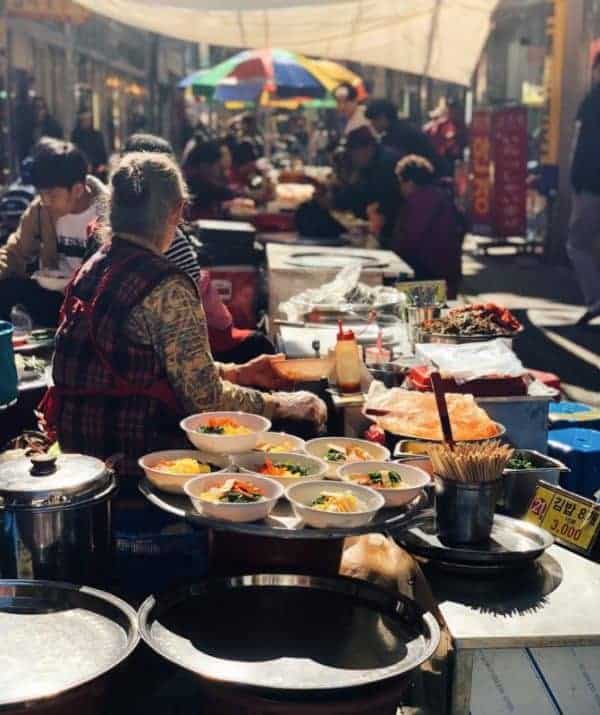 Korean food is far more than simply Korean BBQ. The rich, hearty soups and stews are a delight when travelling in Korea at any time of year, but they are particularly comforting in the winter months.
For reference, be on the lookout for foods that have guk (국), tang (탕) or jjigae (찌개) in their titles. These are soups that guarantee maximum warmth factor.
Warming Winter Foods to Eat in Korea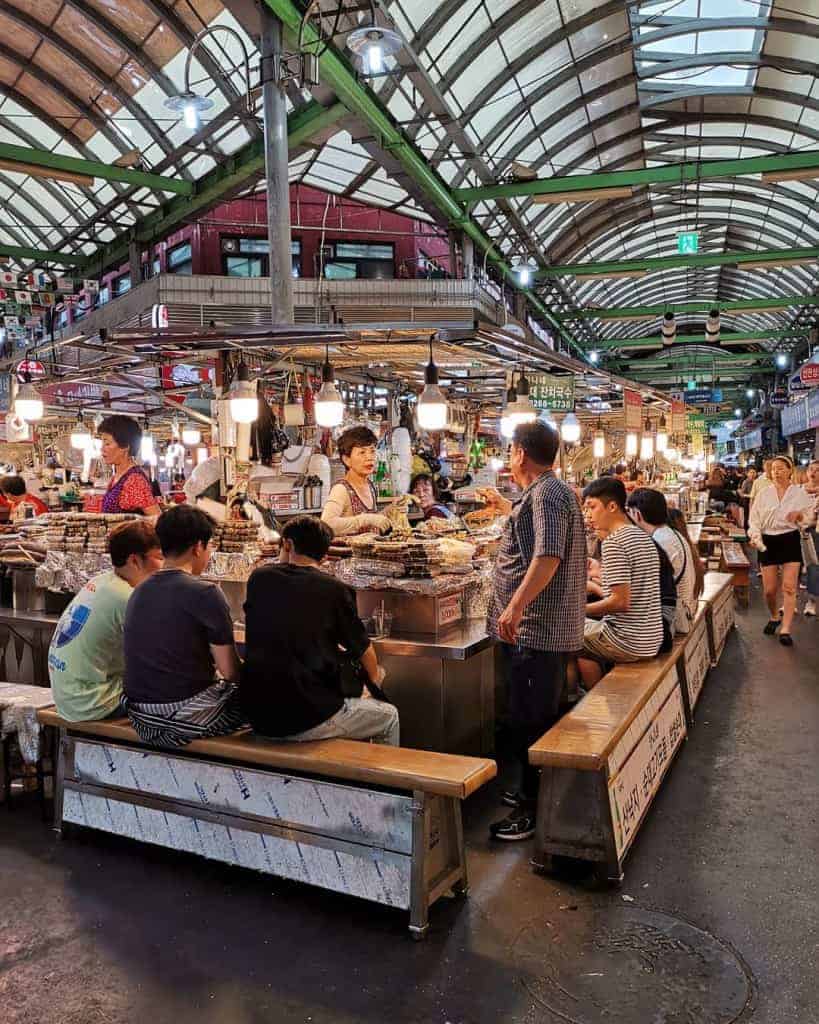 Some suggested foods to sample during your Korea winter trip are detailed below. You can find these at traditional restaurants across Seoul and beyond.
Ttukbaegi Bulgogi (뚝배기불고기)
Delicious marinated beef stew served with veggies in a piping hot earthenware pot.
Ttokkbokki (떡뻑기)
Tteokkbokki are delicious chewy rice cakes that are served in a spicy gochuhang sauce. You can enjoy a little cup of tteokbokki for as little as $1 and they are one of the most common Korean street food delicacies.
Kimchi Jjigae (김치찌개)
Spicy kimchi soup. Variations of kimchi jjigae are available. Commonly this is served with onions, chopped pork, tofu or seafood.
Galbitang (갈비탕)
A hearty, nourishing soup served with beef short ribs that are marinated with onion and garlic.
Dolsot Bibimbap (돌솥 비빔밥)
Bibimbap is a rice pot dish that could essentially be considered as the national dish of Korea. This is served with ground beef, rice, fresh veggies, chilli sauce and an egg. Dolsot bibimbap comes in a piping hot earthenware pot that cooks the rice to a crunchy perfection.
Korean Winter Street Foods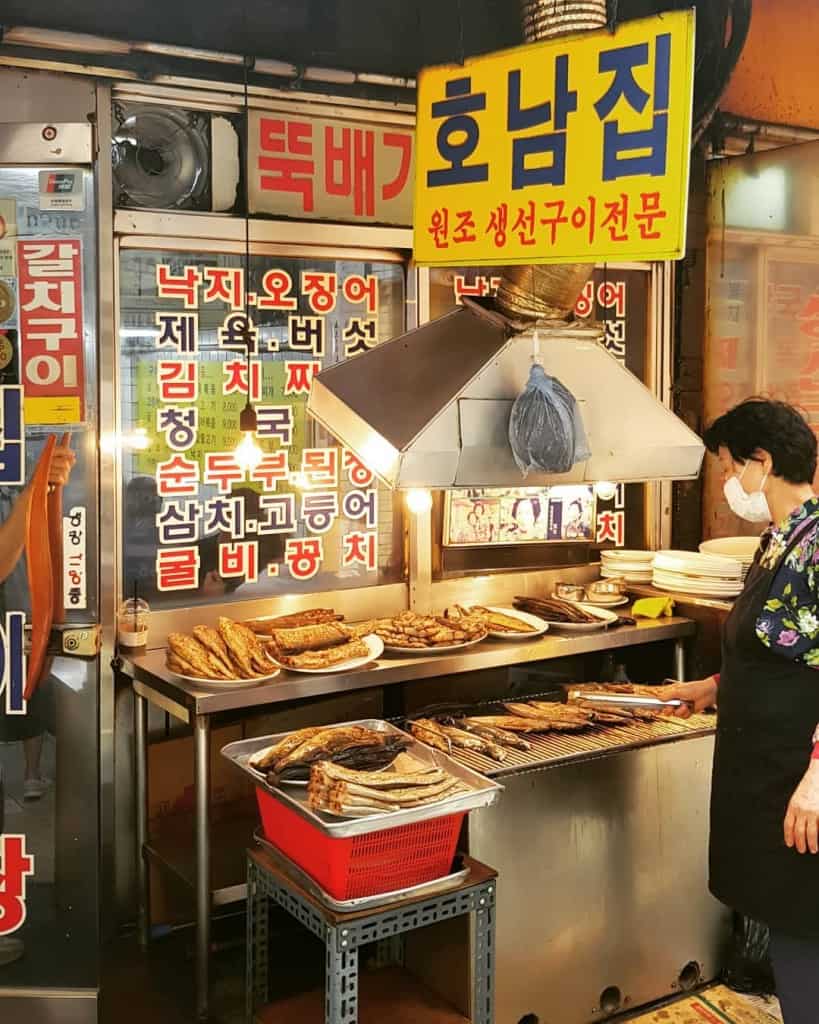 Street food culture is huge in Korea. You can find vendors all over the Korean towns and cities.
A great cultural experience is to enjoy one of the traditional dishes mentioned below, while sitting beneath a pojangmacha tent at a bustling food market like Gwangjang.
Roasted Sweet Potatoes (군'고구마)
During the Korea winter season, dozens of street vendors set up stall around the city and serve warm, delicious sweet potatoes cooked and seasoned to perfection.
Roasted Chestnuts (군밤)
Roasted chestnuts, pure and simple. You can find these everywhere.
Bungeoppang (붕어빵)
Bungeoppang is a favourite street food dessert during the Korean winter season. Often created in fish shapes, these are sweet pastries that are filled with delicious sweet red bean (adzuki bean). For a few dollars, you can get a bag of 10-15 pastries.
Hotteok (호떡)
Sweet pancakes served with sugar, honey or cinnamon.
Gyeranppang (계란빵)
Korean egg bread. Gyeranppang is a warm, sweet mini bread loaf with a whole egg inside. It's more delicious than it sounds.
Manju (만주)
Manju is available all year around in Korea but it makes for a perfect comfort snack during the winter. Similar to bungeoppang, manju are little sweet pastries that are filled with hot custard. There are manju stalls at almost every underground subway station in Seoul.
Have any further questions or concerns on travelling to Korea in winter, or places to visit in Korea during winter? Feel free to reach out and let me know! I spent two years living in Seoul so I know a thing or two about travelling through Korea in the winter. Safe travels! Annyeonghaseyo, Melissa xo
For more generalised Korea advise, take a peek at this comprehensive Korea Travel Guide as written by a local in Seoul. (me!)
Note: This article on travelling to South Korea in winter was originally published on the 24th November 2018. It was last updated on the 3rd October 2019.
---