Before Winter arrives in Korea and the sub zero temperatures force me into hibernation, I wanted to escape the City and experience a little more nature. As I searched for inspiration as to where I should venture next, one place was consistently at the top of "must see" lists of things to see in Korea: The Garden of Morning Calm.
Intrigued by its poetic name, I hopped on the train to Gapyeong in search of its beauty…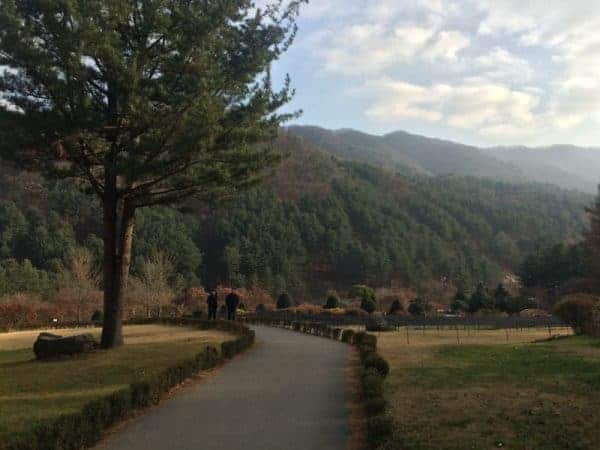 Getting there was no mean feat I'll tell you that! If you are based in Seoul or the surrounding area, your best bet would be to rent a car and drive to the garden, but if that isn't an option for you, or you don't feel confident driving in Korea then you can also get there by public transport as I did – just keep in mind that it will take you a couple of hours.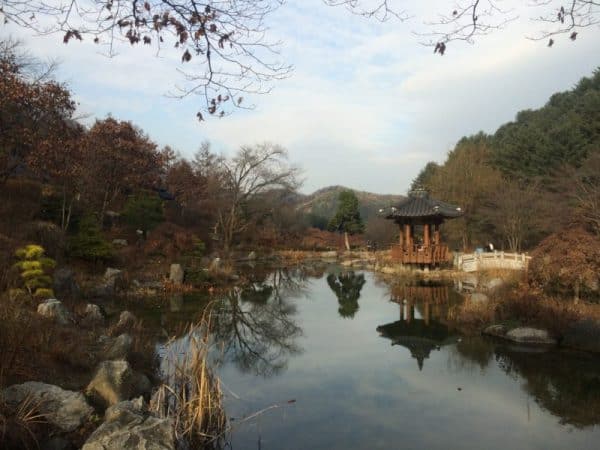 The garden is nestled amongst the mountains of Gapyeong county – a really beautiful region of Korea popular for outdoor sports and hiking, and home to other attractions such as Nami Island and Petite France – meaning that you can tie your garden trip into a wider Gapyeong itinerary.
The Garden of Morning Calm is the largest private garden in Korea, and was named after the works of an Indian poet named Sir Tagore who referred to Korea during the Joseon dynasty as "The Land of the Morning Calm".
Visiting in November, some of the trees were starting to lose their leaves but the fall foliage was truly stunning, and the flowers throughout the garden were still in bloom.
I was blown away by the vastness of the place and just how beautiful it was. Every angle was a perfect photo opportunity but I feel that the pictures I have taken still don't do it justice.
The garden is comprised of a number of  themed sections that demonstrate the different traditional gardens of various Oriental nations. Within this mix is a Japanese bonsai garden, a traditional Korean garden, and a Chinese water garden. Just when I would think that I had seen the most beautiful spectacle, I would turn a corner and be met with something even better.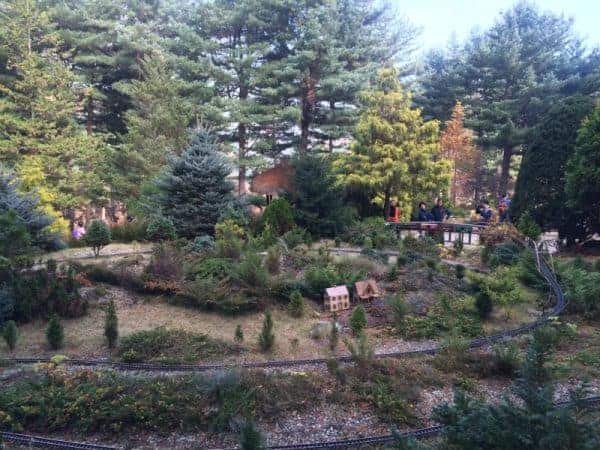 You can explore the garden in about two hours. In the heart of it, there is also a traditional tea room, and you can find a number of street vendors lined up at the entrance selling Korean snacks such as tteokbokki (spicy rice cakes) and sweet red bean pastries.
Various events and festivals take place at the garden throughout the year. You can check the Korean tourist board site here for dates and further information on these.
Admission is 9,000 Won (around £6)  per person on weekends, and 8,000 (£5.50) on weekdays.
Getting There: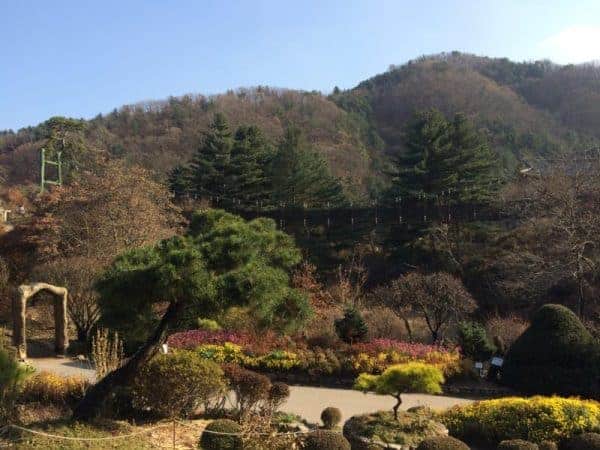 As I mentioned, it's a bit of a trek, so pack some tasty snacks, grab a coffee and put your headphones in in preparation for your journey. You have two main options from Seoul – train, or bus. Traffic is often a nightmare in and around Seoul, particularly at weekends so I opted for the train as the lesser of two evils…
By Train: From wherever you are in Seoul, you need to get to Sangbong metro station (Subway line 7) and then take the Gyeongchun Line to  Cheongpyeong station (try saying that sentence fast 7 times!). Cheongpyeong is one of the smaller stations on the route, so when you arrive at Sangbong station, follow the signs for "Chuncheon" in order to get to the right platform. This journey takes around 50 minutes, and the trains come every half hour or so.
By Bus: From Dong Seoul bus terminal, you can take an intercity bus to Cheongpyeong. This takes 2 hours (exc. traffic) which is why I would recommend the train.
Whether you arrive by train or bus, from Cheongpyeong, you can take the 'Gapyeong City Tour Bus' to the garden (exit the station and take a left to the bus terminus). The bus is really great actually, as you can buy a day ticket from the driver for 6,000 Won and "hop on/hop off" at all the main attractions in Gapyeong county.  The bus makes announcements in English at each stop, so it's easy to know where you are going.
There is also a small information booth by  Cheongpyeong station where I picked up an English map and information guide of the area.
The buses run hourly so when I realised I had missed it by about 30 seconds upon arrival, I felt too impatient to sit around and wait for another hour as I had a lot to cram into my day. Thankfully, a cab to the garden only cost 16,000 Won, so if there's a group of you, it's not so pricey.
I visited a few other attractions in Gapyeong during my visit, so I will update you on those soon! I am excited to return to the GOMC again in the Summer and see how it is then.
Have you visited Gapyeong and The Garden of Morning Calm? What did you think?

---