The Mr. Toilet House (Suwon Toilet Museum) is one of the most eccentric attractions in the Gyeonggi-do capital of Suwon (and arguably in all of Korea). In Korean, it is known as "Hae Woo Jae" (해우재).
It's a little crude, sure. But it's a fun place to visit if you are already going to be visiting Suwon for the day. (Suwon makes a great day trip from Seoul!)
You can also get some great and comical photos while you are here. Perhaps the best thing about this unusual place is the fact that it was not built ironically.
The Suwon toilet museum, as the name suggests, is a museum all about toilets. It was built as a symbol of one man's appreciation for the toilet!
The Suwon Toilet Museum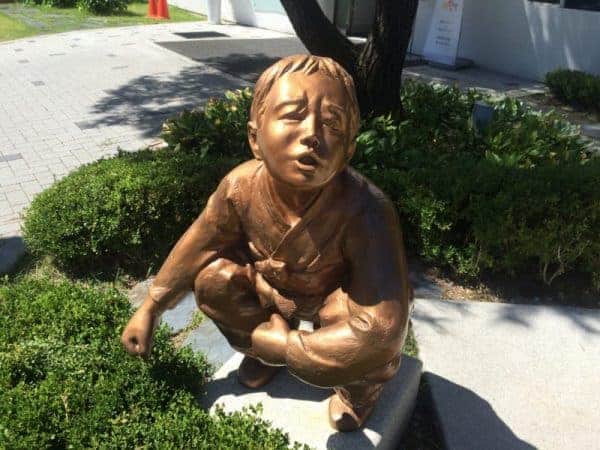 The Suwon Toilet Museum (9 Jangan-ro 458beon-gil, Jangan-gu, Suwon-si) is located on Yeongdong Expressway, on the outskirts of Suwon. It is the former residence of Mr. Sim Jae Duck, the former Mayor of Suwon City.
As South Korea prepared itself for hosting the 2002 Olympics, the country wanted to make sure that it supplied the rest of the world with a good impression of Korea. So, Sim Jae Duck was tasked with "beautifying" public toilets across the country ready for Korea's time in the spotlight.
He took the project very seriously and decided that bathrooms should not just be a place to do your business and leave. Instead, he took pride in creating beautiful bathrooms where people could relax for extended periods and revel in the beautiful scenery around them.
You can see many examples of Sim Jae's work across Suwon. The public bathrooms at the Hwaseong fortress, for example, are more reminiscent of a Japanese zen garden than a boring bathroom stall.
Each cubicle has a glass panel wall that faces out to a private walled garden. Meanwhile, relaxing oriental music plays out over loudspeakers.
Taking a number two has never been so pleasant! Sim Jae Duck then went on to become the founder of the WTA (World Toilet Association) in 2007.
The organisation states that it is dedicated to protecting lives through the improvement of sanitation via toilets.
Hae Woo Jae: From House to Toilet
The Suwon Toilet Museum is set inside one giant toilet structure. (Hence the name ¨Mr Toilet House¨.)
Sim Jae Duck took his assignment of beautifying Korea's bathrooms so seriously, and he enjoyed the project so much that he decided to knock down his family home of 30 years, and build a giant toilet to live in instead.
The house was renamed "Hae Woo Jae". This is a word that stems from the Buddhist word for toilet "Haewooso".
"Haewooso" translates to mean "a place to relieve your worries". A fitting title, no?
After Mr. Duck passed away, his former home was opened to the public. In parallel, his family created a garden filled with structures with comical, pained expressions on their faces as they relieve themselves.
Maybe a nice wreath would have sufficed?
Stepping inside the Suwon Toilet Museum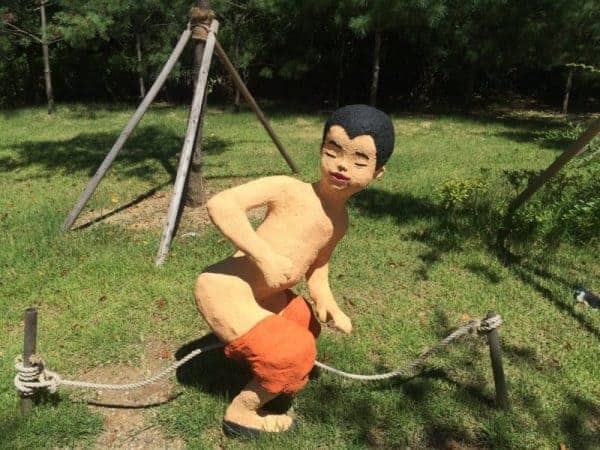 The interior of the Suwon Toilet Museum contains several educational exhibits about the history of the toilet and Sim Jae Duck's life. The former mayor was actually born inside a toilet so that may explain his lifelong obsession with the contraption!
Information cards about the various exhibits that you can see inside the Suwon Toilet museum are displayed in a number of languages including English and Korean. Visitors to the Suwon Toilet Museum can get around by following the yellow brick poop. (No, seriously).
There's also an exhibit that explains the digestive system and the importance of gut health that is targeted toward children.
One nice thing about South Korea is that toilets, bowel movements, and any related topic are not considered embarrassing. As a matter of fact, poop symbols are actually considered lucky here!
While the museum may come across as quite silly, if you are travelling with children, you may find that it is a nice way to have awkward and unpleasant conversations.
The sculpture garden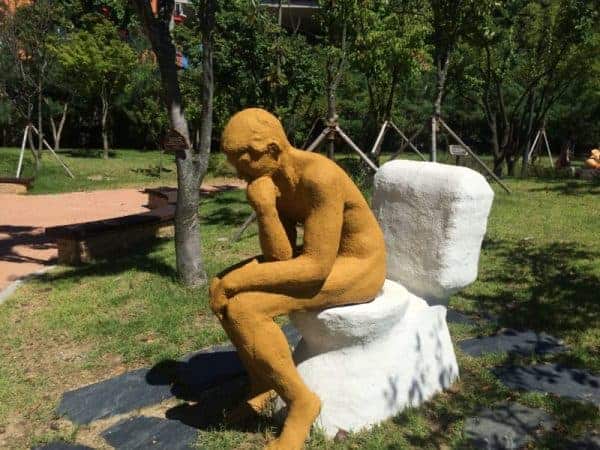 Arguably the main highlight of the Suwon Toilet Museum is the sculpture garden that encompasses the toilet house. Many hilarious figures and sculptures are scattered between the beautiful pathways and flower beds.
The figures are squatting, showing pained expressions, or displaying thoughtful, pensive poses as they do their business. This makes for a great spot to get some photos or strike some hilarious poses of yourself imitating the sculptures that you see.
Attractions Near the Suwon Toilet Museum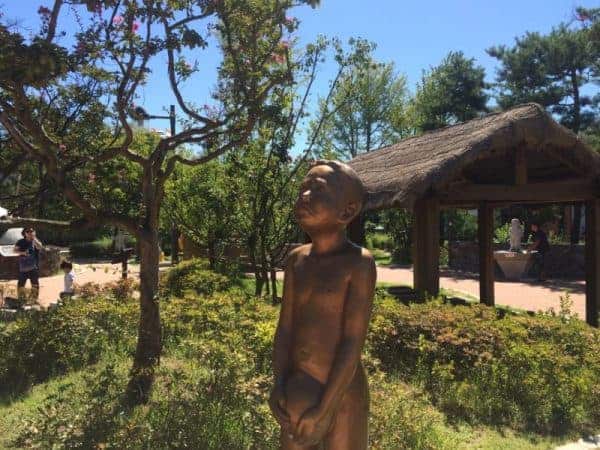 It is not necessarily worthwhile to trek all the way to Suwon specifically to visit Hae Woo Jae. However, the Mr Toilet House makes an interesting addition to any itinerary here.
Toilet Culture Centre
Just across from the Suwon Toilet Museum, you will also find a Toilet Culture Centre. You can go up to the top floor to see the view from the observation deck.
Since you are only a couple of floors up, you hardly get sweeping panoramas of Suwon. However, it places you at a good point to take birdseye photos over the unusual structure that is the Mr Toilet House.
While you are in Suwon, you should also carve out the time to stop by the UNESCO-protected Suwon Hwaseong Fortress, Suwon Fried Chicken Street and Haenggung Dong Mural Village
The Suwon Hwaseong Fortress
The UNESCO-protected Suwon Hwaseong Fortress is a sprawling ancient complex that surrounds the city of Suwon. If there is one place that you absolutely must visit while in the area, it's this.
The fortress was originally built by King Jeongjo in 1794. The purpose was to defend the city and to house the remains of his father Crown Prince Jangheon. The fortress walls extend to almost 6km in length.
Many of the old structures here are still intact. This includes the observation towers, bastions, command posts, and the gates at Paldalmun and Janganmun.
On certain days of the week, free cultural shows take place outside of the fortress such as traditional dances and musical performances. If you happen to be here in Autumn, you can catch the Suwon Hwaseong Cultural Festival.
Suwon fried chicken street
Different areas of South Korea boast different regional foodie delicacies. In Suwon, the local dish is fried chicken. This is believed to be one of the best places in the country to indulge in a little Chi-Maek (치맥).
The Suwon Fried Chicken street runs next to the Hwaseong fortress and houses dozens of chicken restaurants that follow a local tradition. Here, the chicken is roasted in an iron pot (가마솥), rather than being fried the traditional way.
Jinmi Chicken (진미통닭) or Yongsung Chicken (용성통닭) are among the most beloved local favourites but be warned that the portions are fairly huge! What better way to enjoy a lunch break in Suwon after visiting the Suwon toilet museum?
Suwon Haenggung Dong Mural Village
Mural villages can be found all over Korea. These are former slums where the local residents have decided to "spruce up" their environment and decorate their streets and homes with graffiti and public art installations.
Perhaps the most famous mural village is the Gamcheon cultural village in Busan. Suwon's Haenggung Dong Mural Village is a lesser-known art village that sits by the Hwaseong Fortress.
It's worth taking a short stroll through the area to admire the local artwork and enjoy a coffee or some traditional Korean tea in one of the quirky local places.
Suwon Ingyedong
Ingyedong is Suwon's primary nightlife and entertainment district. In some ways, the vibe here feels somewhat comparable to Seoul's Hongdae neighbourhood – only without the crowds of international tourists.
The pedestrianised streets of Ingyedong are filled with bars, noraebang (karaoke bars), galbi joints, and clubs that are open until the early hours of the morning. If you want to experience Suwon by evening, head here before taking the train back to Seoul from the nearby "Suwon town hall" station.
Getting to the Suwon Toilet Museum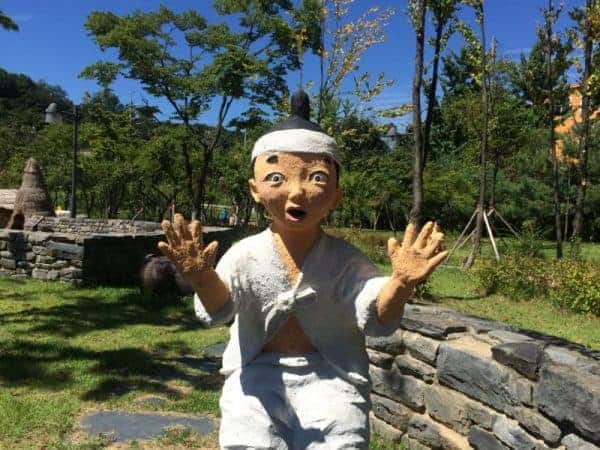 Haewoojae Address: 9 Jangan-ro 458beon-gil, Imok-dong, Jangan-gu, Suwon-si, Gyeonggi-do, South Korea
Admission: Free!
Admission Times: Tuesday to Sunday 10 am to 5 pm (Nov – Feb), and Tuesday to Sunday 10 am to 6 pm (March – Oct). The museum is closed on Mondays.
Getting to the Suwon Toilet Museum
Suwon can be reached easily from Seoul by taking the yellow Suin Bundang subway line or the blue metro line 1. The closest metro station to the Suwon Toilet Museum is either Uiwang or Sungkyunkwan University stations.
You can board metro line 1 from Seoul Station. Alternatively, Shin Bundang line trains can be boarded from Gangnam, Apgueong Rodeo, Seoul Forest, and other stops in central Seoul. (Though this train takes longer).
However, if you plan on spending a day in Suwon first, you may prefer to go to Suwon City Hall for Ingyedong or Suwon Station for Suwon fortress.
Getting to Mr Toilet House from Suwon
It's a little awkward to get to the Suwon Toilet Museum from downtown Suwon, or the Suwon Hwaseong fortress. You need to take a bus, and then walk for approximately 10 minutes.
Be sure to download Naver maps so that you don't get lost!
Buses to Mr Toilet House Suwon
A number of buses follow routes that run close to Hae Woo Jae. Hop on board any of the below services and then get off at Dongwon High School.
City Bus: 5, 36, 63, 64, 65, 92, 98, 99, 310, 400-1, 990
Town Bus- 2-1, 2-3, 2-5, 21
It is arguably better to take a taxi, just for ease. It's approximately 10,000 KRW ($10 USD) by cab from Suwon Ingyedong and 7,000 ($7) KRW from the Hwaseong fortress area.
Final thoughts on visiting the Suwon Toilet Museum
Have any questions about visiting the Suwon Toilet Museum, or organising a South Korea itinerary in general? I spent two years living in Seoul. Feel free to reach out.
Safe travels! Annyeong! Melissa xo
---