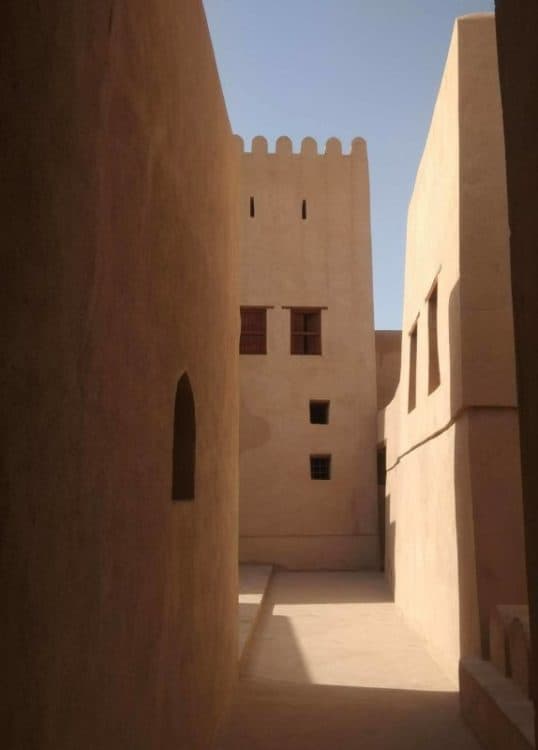 There are so many beautiful places to visit in Oman that it is difficult to shortlist the highlights! Gorgeous Oman is one of the most underrated travel destinations in the Middle East and, arguably, the world.
Few people plan a trip to this culturally rich Arabian Gulf country which is a shame. Oman has so much to offer.
The country's tagline is "beauty has an address". That is certainly fitting. Oman is a country of paradisaical desert wadis, cerulean oases and pristine sandy beaches.
Omani cities are characterised by shimmering turquoise minarets, ornate, exquisite mosques and bustling traditional souks. The settlements and desertscapes here are true, undisturbed Middle East.
In some ways, you could compare Oman today to Dubai but before all the tourists and expats arrived. There are places to visit in Oman to suit travellers of all interests. Oman is an Arabian nights fairy-tale come to life.
The Most Beautiful Places to Visit in Oman
The best places to visit in Oman suggested in this guide will hopefully act as a little inspiration and food for thought for planning your own Oman itinerary. There are destinations and activities here to suit all.
Lovers of history and archaeological sites will be in awe of the many abandoned ruins and ghost towns that are scattered around the country. Meanwhile the jagged mountain ranges, natural wonders, and challenging hiking trails are perfect for those who enjoy immersing themselves in the "great outdoors" when they travel.
When you travel to Oman, you are greeted by warm, friendly locals who are the epitome of Middle Eastern hospitality. The culture here is quite unlike anything you will experience elsewhere in the world.
Best of all, not only are the locals friendly, the scenery beautiful, and the historical sites fascinating, Oman lies off the usual tourist track. This means that when you venture to all of these beautiful places to visit in Oman, they are virtually free from tourists.
This is especially the case if you are travelling during the shoulder and off-peak seasons. Where else in the world could you have pristine beaches and desert oases practically all to yourself, bar the occasional friendly local?
Gasp in Awe at the Natural Beauty of Jebel Shams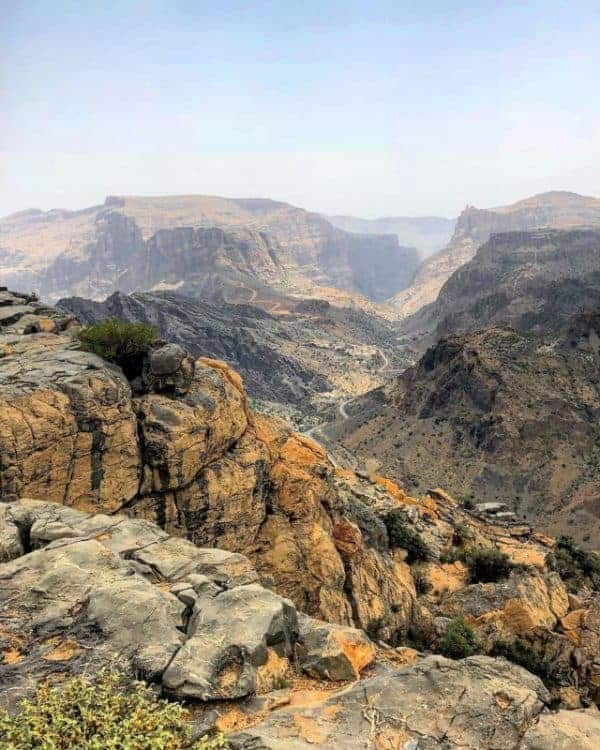 Jebel Shams is certainly one of the most breathtaking and best places to visit in Oman. This is Oman's tallest mountain and it stands proud at a height of 3009m.
Its name means "mountain of the sun" in Arabic. There are many stunning hiking trails that weave through the scenery here.
This is a great place to free camp if you are hoping to travel Oman on a budget. You will be sure to see many Omani families doing the same.
Jebel Shams Highlights
The trails are magnificent. However, the highlight of Jebel Shams is the breathtaking panoramas that you can enjoy from its peak.
From the top of Jebel Shams, you can peer into Wadi Ghul. This is a dramatic canyon that featuresunique, jagged rock formations, vertical cliffs and flat top mesas and plateaus.
Wadi Ghul has been affectionately nicknamed as "the Grand Canyon of the Middle East". Of course, this is due to its similarities with the midwestern American landmark.
It is not possible to hike down into Wadi Ghul as it is at the actual Grand Canyon. However, Jebel Shams is well worth a stop for the viewpoints. There are many excellent treks and hiking routes in the nearby Hajar mountain range.
Pay Your Respects at The Sultan Qaboos Grand Mosque, Muscat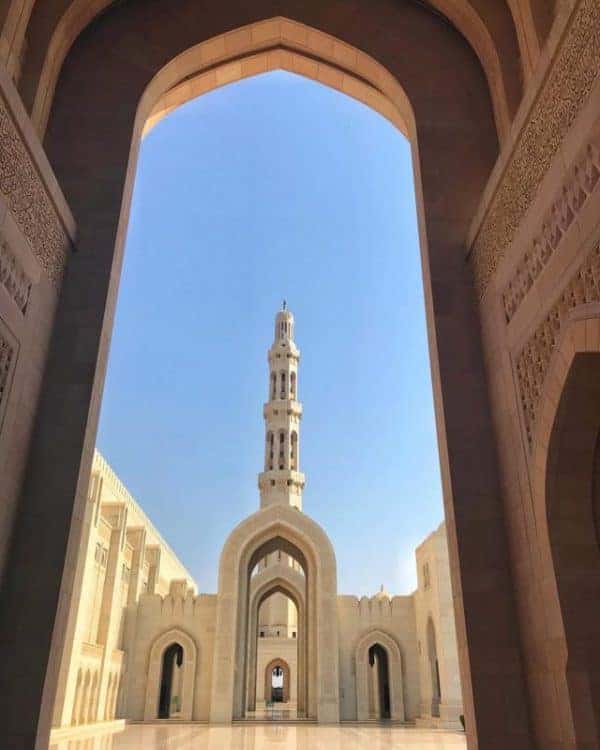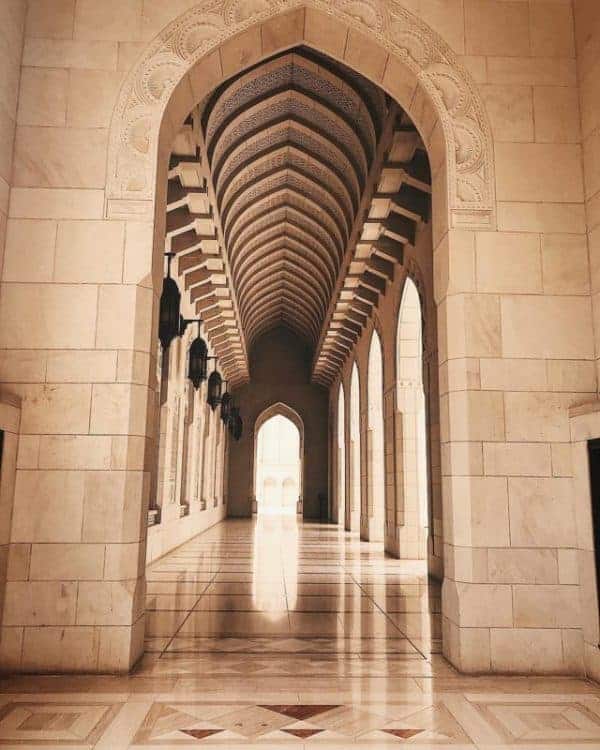 Muscat's Sultan Qaboos Grand Mosque is one of the most spectacular structures in the Omani capital. This is the only mosque in Oman that allows non-Muslim visitors to enter.
Even if you are not remotely religious or spiritual, you will be blown away by the exquisite detail that has gone into the decor. The exteriors of the Sultan Qaboos Grand Mosque boast white-washed walls and grand archways.
The Grand Interiors of the Sultan Qaboos Mosque
The mosque's interiors are every bit as spectacular as its external architecture. Inside you will find decadent royal blue ceramic tiles that cover every inch of wall space and incredibly detailed, intricate hand-woven carpets.
The Sultan Qaboos Grand Mosque once held the accolade of being home to the world's largest chandelier, and the world's longest carpet. That is, until the Emiratis and the Qataris came in, took measurements and made theirs slightly larger! Nonetheless, the mosque is quite a sight to see.
Hop from Rock to Rock at Wadi Bani Khalid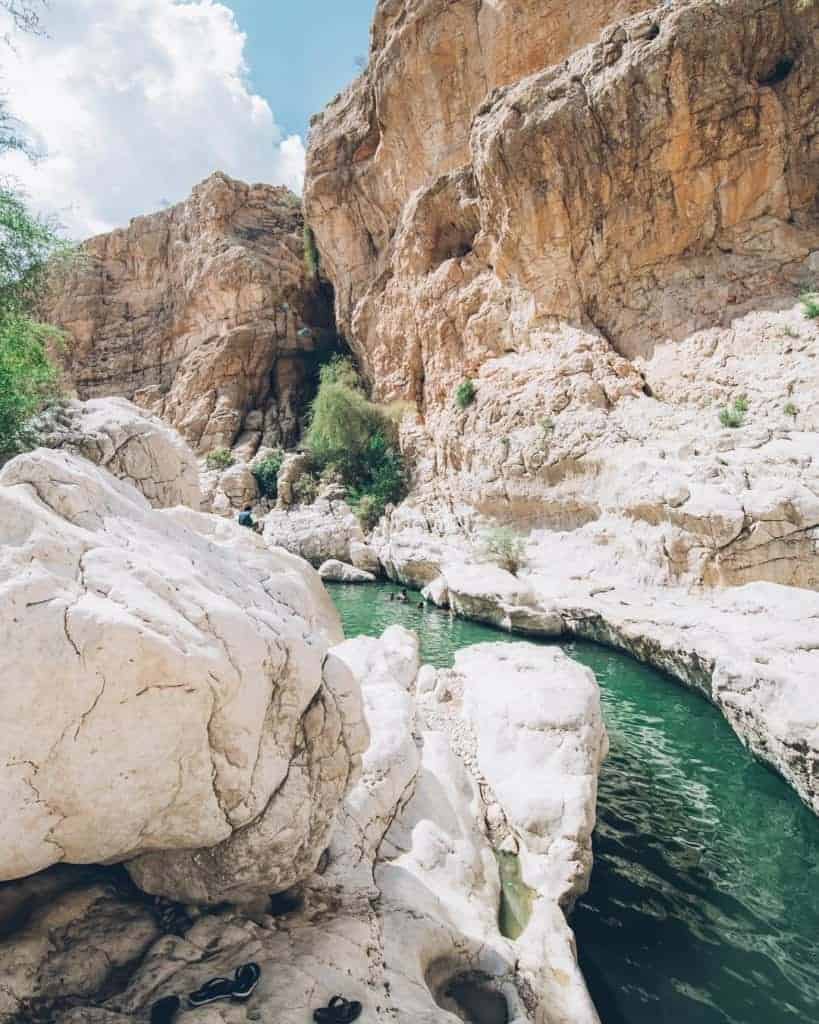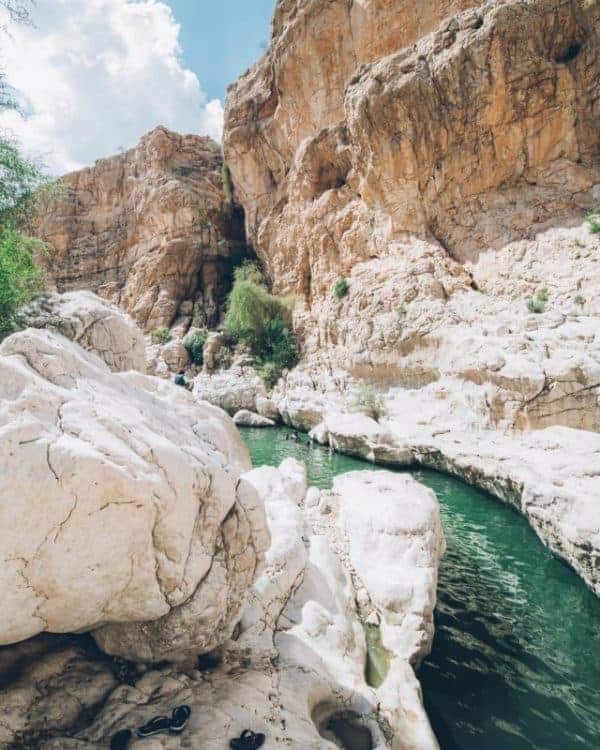 Wadi Bani Khalid is one of the best places to visit in Oman if you are looking to swim and relax beneath the Middle Eastern sun. The paradisaical desert Wadi is famed across the country for its beauty.
The Wadi sits against the backdrop of the Hajar mountains. Its translucent cerulean waters of this desert oasis are perfect for swimming.
Wadi Bani Khalid is comprised of a network of natural pools tucked into the rocks. It is possible to hike or swim from pool to pool. You can navigate your way through underground tunnels to other smaller "hidden" pools.
A few minutes' drive away from Wadi Bani Khalid there is also an ayn (natural spring). This is said to offer healing properties to those who decide to soak inside it.
Admire the Views from the Peak of Jebel Akhdar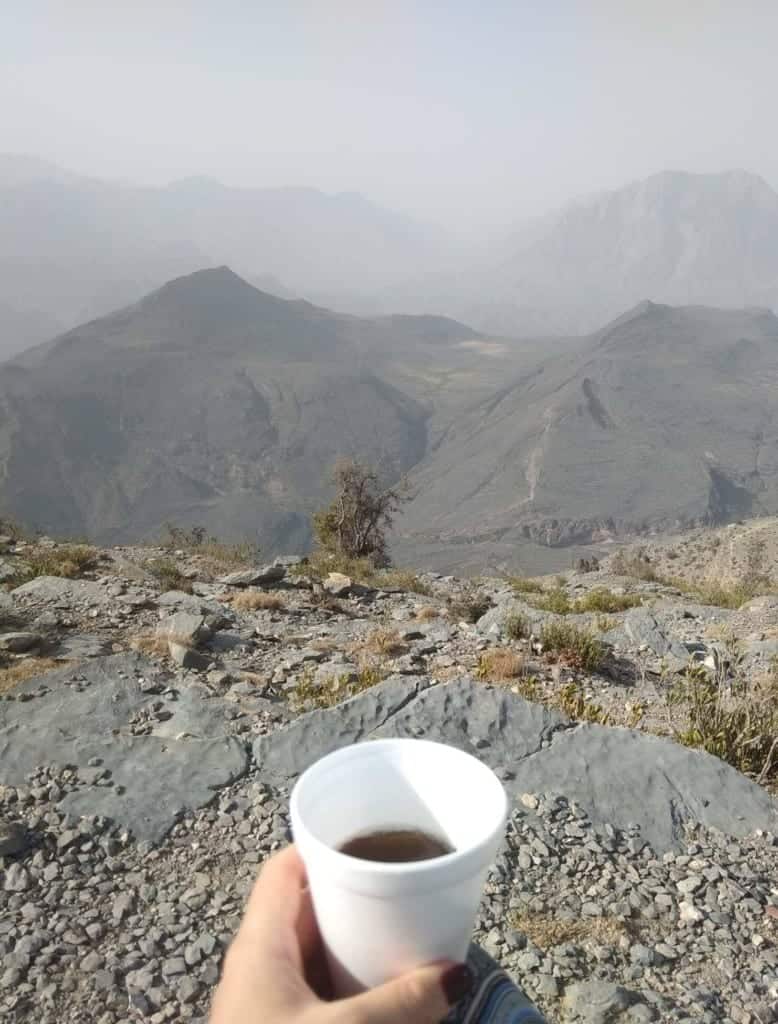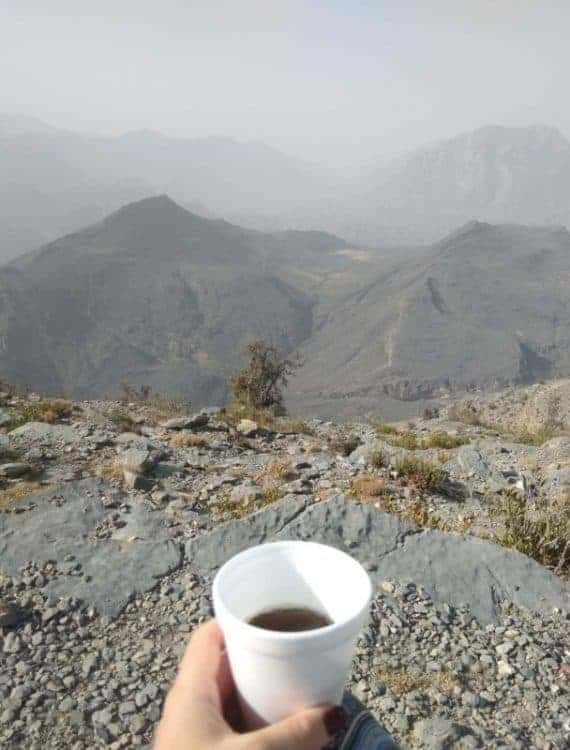 Jebel Akhdar ("the Green Mountain") is a stunning spot nestled in the Hajar Mountains. It is situated close to Jebel Shams.
Arriving at Jebel Akhdar is sure to leave you breathless, regardless of how much you have travelled. The slopes of the mountain are adorned with lush greenery, dense woodlands, and terrace plantations.
Free Camp or Hike at Jebel Akhdar
Jebel Akhdar is a favourite place among locals for walking, enjoying a picnic, or simply pitching up a camping chair and soaking in the ambiance. Part of the charm of coming here is found in enjoying dinner and a flask of tea by the campfire and enjoying the view.
Temperatures are cooler at Jebel Akhdar compared to the rest of Oman, even during the summer months. This makes the conditions here perfect for trekking. You will encounter many farms, old villages, canyons, and plateaus as you make your way along the worn footpaths here.
Learn About Sinbad at the Coastal Town of Sur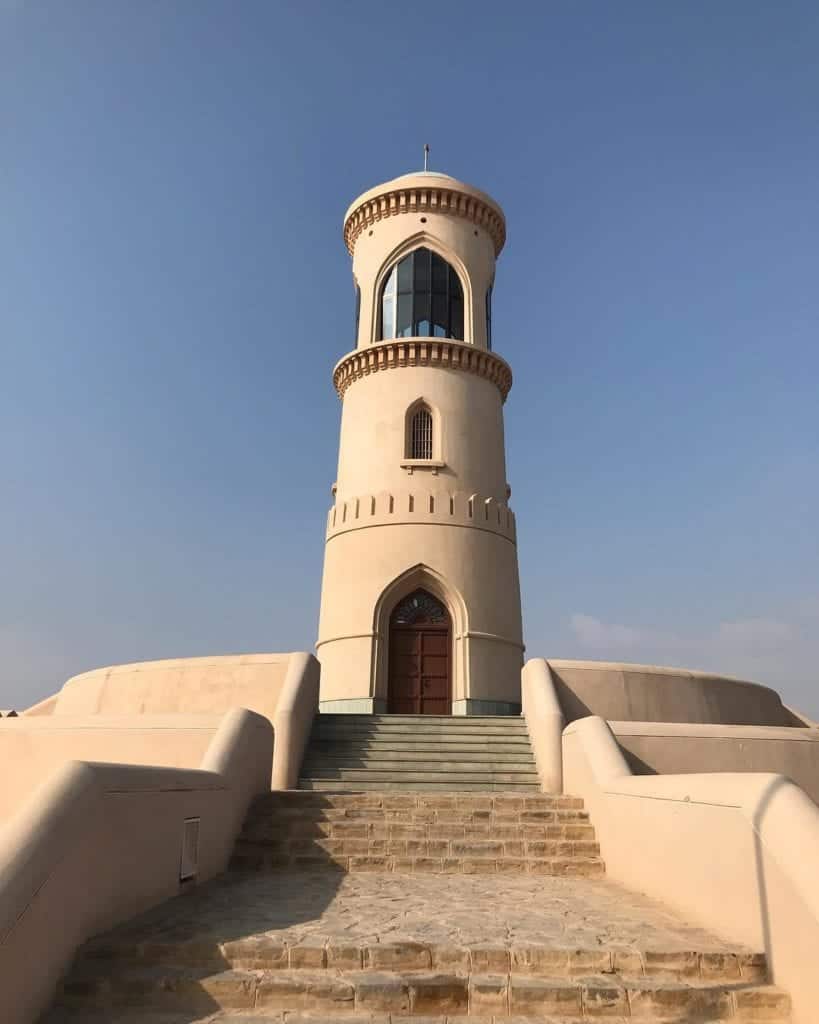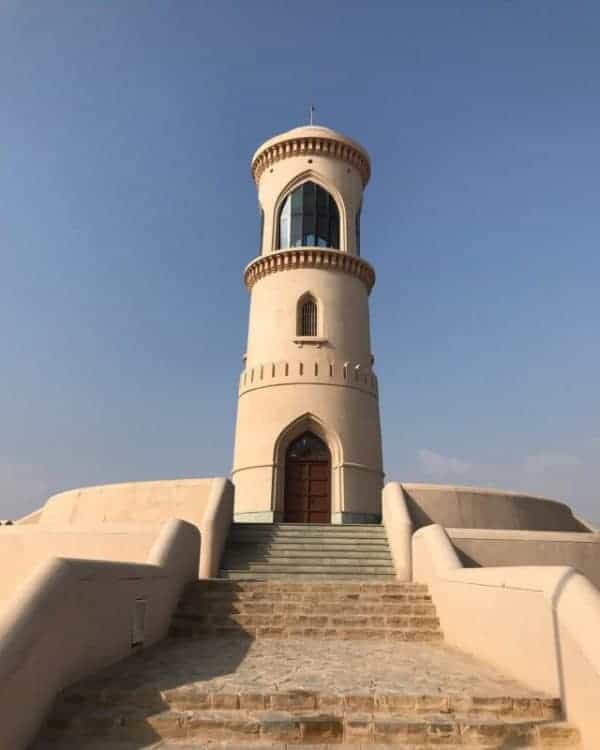 The coastal town of Sur in southeastern Oman is essentially a sleepy seafront town. It offers a serene and tranquil ambiance that makes a nice change of pace if you have been basing yourself in the sprawling Omani capital of Muscat.
Highlights of Visiting Sur
Sightseeing opportunities in Sur are few. However, a visit here is more about enjoying the laidback pace of life and soaking up the culture. You can enjoy pleasant walks along the corniche, or enjoy a cup of Yemeni tea as you watch the sunset over the Gulf of Oman.
Sur is famed for being the birthplace of the fictional Sinbad the Sailor. Traditional wooden boats (dhows) are still constructed here. As you walk along the corniche, you will see many carpenters hard at work, crafting these ships by hand.
Sur also makes a good base for visiting the Ras Al Jinz turtle reserve. This is a popular attraction and a good place for viewing these majestic creatures in their natural habitat.
Plunge into the Bimmah Sinkhole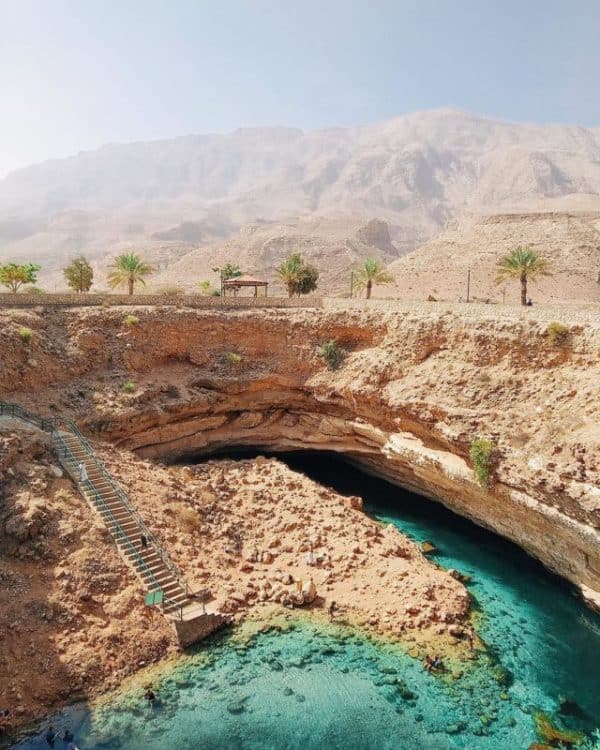 The Bimmah Sinkhole is arguably one of the most unique places to visit in Oman. This is a peculiar natural wonder that awaits in a relatively nondescript location in the middle of the hot, dusty Omani desert.
The sinkhole, as the name suggests, is quite literally a hole within the ground. It boasts pools of translucent waters and an intricate network of underwater caverns and tunnels.
The Legend of Bimmah Sinkhole
The pool is 20m deep and is a popular spot among locals and tourists alike. Bimmah Sinkhole is shrouded in stories of magic and mystery.
There are scientific explanations for the sinkhole. However, it is known locally as Hawaiyat Najm. This translates to meaning "fallen star" in Arabic.
As the name suggests, local legend has it that Bimmah Sinkhole was formed when a star fell out of the sky and formed a hole in the ground. Whether you believe the tale or not, it is a lot more interesting than the scientific explanation that it was formed by limestone erosion!
Race Over Sand Dunes at the Wahiba Sands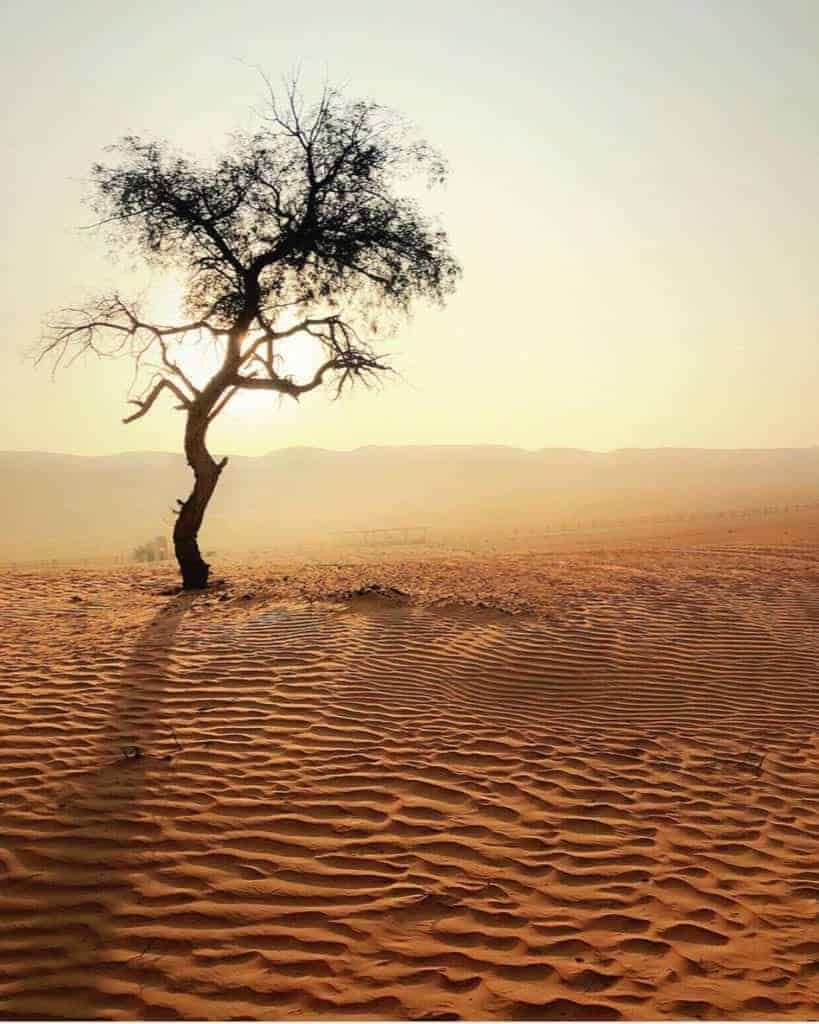 At the mention of travelling in the Middle East, your mind probably conjures up images of roaming through desert-scapes and rolling sand dunes that extend as far as the eye can see. It is likely that there are also camels and Bedouins involved in the image too – Lawrence of Arabia style.
That fantasy becomes a reality in the Omani desert of Wahiba Sands. The dunes here extend over a length of more than 180 km. They span all the way from northern to southern Oman.
It's possible to wild camp in the Wahiba Sands or opt to stay at a local Bedouin campsite. There are few more magical Middle Eastern travel experiences than falling asleep beneath the twinkling stars in the heart of the desert.
Swim in the Clear Pools of Wadi Shab
Wadi Shab is one of the most stunning sites in Oman. The desert wadi is the perfect spot to relax and cool down from the intense Omani sun.
It consists of a collection of pools filled with clear turquoise waters and offers incredible opportunities for swimming and hiking.
Spending a Day at Wadi Shab
The hiking trails that lead around the area will capture the hearts of even the most reluctant trekkers. From the first pool at Wadi Shab, you can follow trails that lead through shallow rock pools, stunning cave networks, and past incredible natural waterfalls.
Lush greenery grows around the waters of the wadi during the spring months. Picturesque pastel coloured flowers and wildlife make for a delightful ambiance.
Wadi Shab is one of the best places to visit in Oman to break up the drive from Muscat to Sur. It is easily accessible if you have your own transport.
Relax at the Breathtaking Fins Beach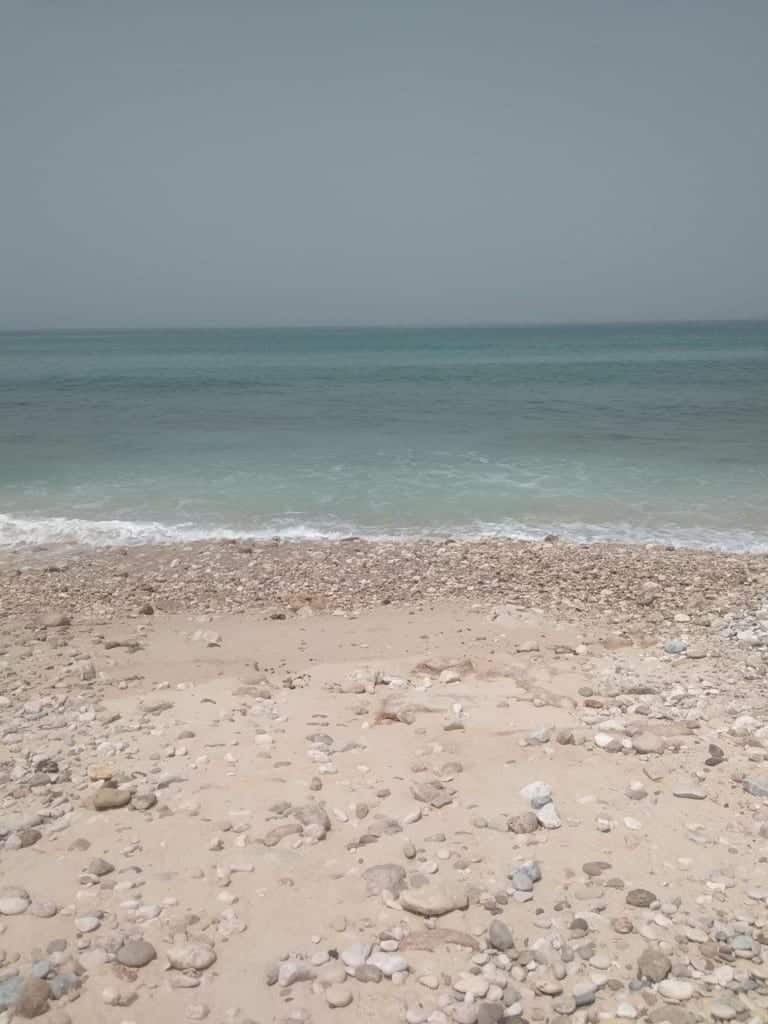 The gorgeous Fins Beach is situated close to the village of the same name, in the Sharqiya region of Oman. Fins beach is accessible by a scenic coastal road that leads towards Sur.
Sinking your toes into the sand here, or wading through the cerulean waters feels reminiscent of being on a desert island paradise. If you are considering free camping during your trip, you will be hard pushed to find a place more beautiful than Fins.
Escape the Heat in Tropical Salalah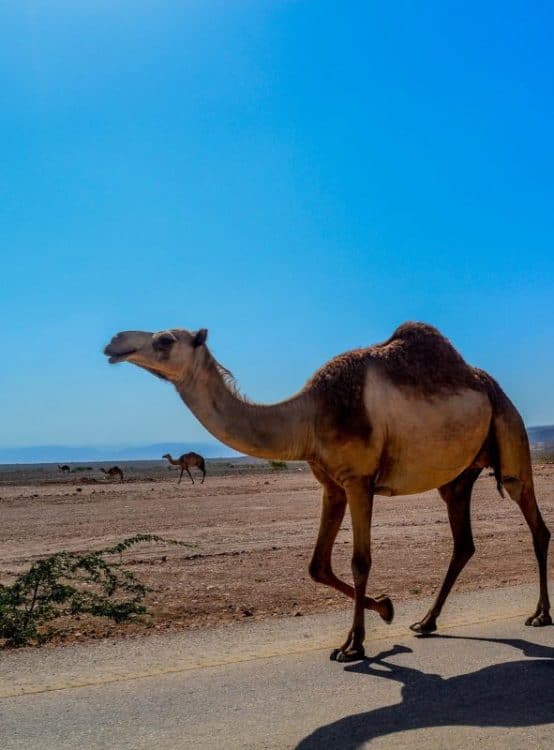 Salalah is one of the most unique places to visit in Oman. Salalah is home to a climate and atmosphere that is quite unlike the remainder of the country. It sits in southwestern Oman.
Oman is typically associated with being a hot, desert country. However, Salalah boasts lush green rain forests, alluring oases, and a tropical climate.
Salalah is a popular travel destination for Omanis during the summer months. At this time, locals flock southwards in order to escape the intense heat of the rest of the country.
Historical and Unique Places to Visit in Oman
Wander Through the Eerie Ruins of Fanja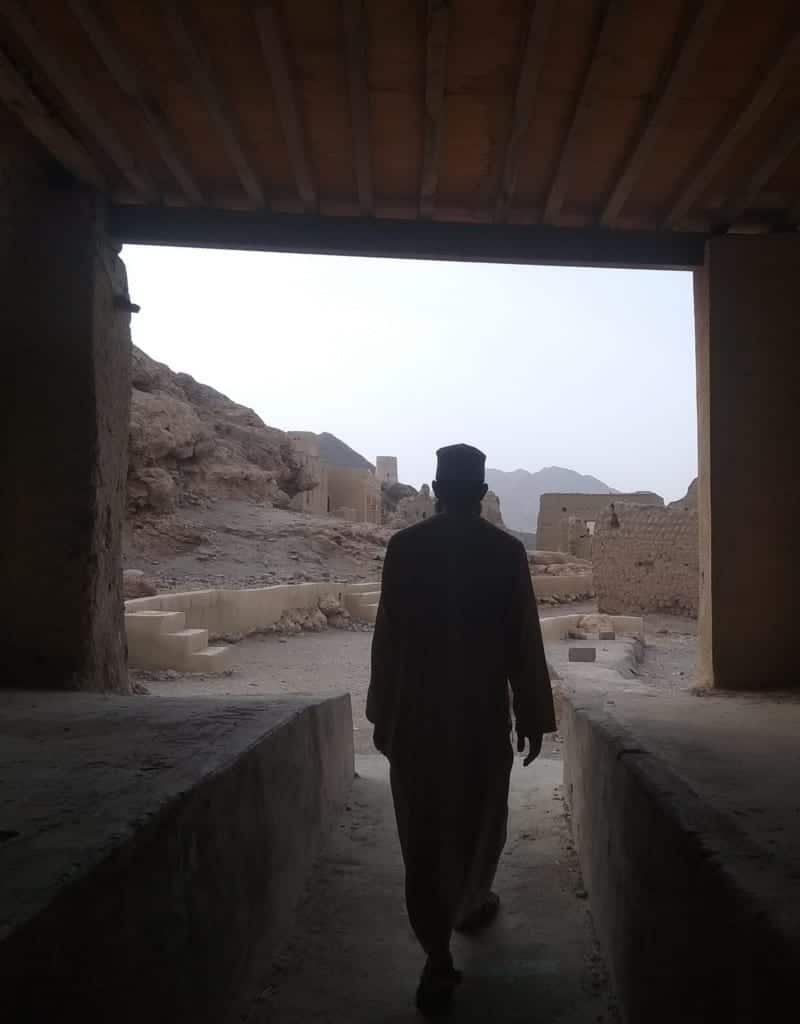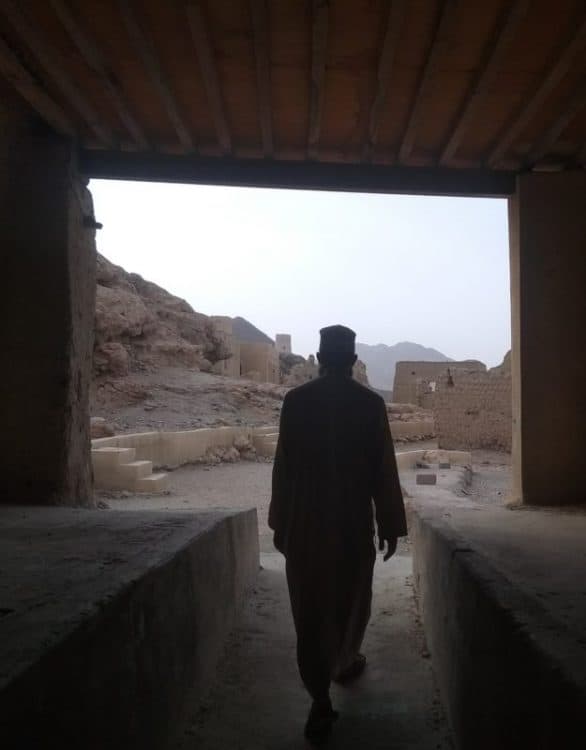 Fanja is a town situated some 25km from Muscat. The modern part of the town here is charming.
Bordering the picturesque Wadi Fanja, it is home to traditional markets selling handicrafts and local produce from the nearby farmlands. This is about as off the beaten path as you can get in Oman. Most international tourists don't even know that Fanja exists.
The Mysterious Ruins of Old Fanja
The most fascinating attraction of this area is the abandoned ancient city of Fanja. The ruins of old Fanja were once an important site and defensive fortress in Omani history. They are hidden away down an unsuspecting trail that you would never find unless you were with a local.
The old fortress still stands today. Its rusting cannons are still scattered along its defensive walls still seemingly protecting the area.
To this day, some old people still reside within the crumbling houses here. They hang their laundry out to dry among the ruins, reluctant and far too stubborn to move on from their hometown.
Eid Celebrations at Fanja
The town of Fanja isn't completely forgotten. Omanis still come here in the summer months during Eid celebrations. At this time, it is tradition to fire the ancient cannons and shoot guns into the air to celebrate.
Explore the Abandoned Streets of the Ghost Town of Al Hamra
As you drive through the Omani countryside, you are met with the crumbling remnants of many old towns that are now abandoned and uninhabited. From afar, it can be difficult to see which towns are occupied and which are not.
That is until you approach those towns up close and encounter the almost spooky desolate streets and abandoned houses with doors left ajar. One of the most expansive of Oman's abandoned towns is Al Hamra.
Al Hamra situated in the Ad Dakhiliyah district of Oman, close to Nizwa. It is certainly one of the best places to visit in Oman if you are into abandoned places.
Al Hamra is incredibly well preserved. It consists of winding narrow passageways filled with mud-brick houses.
The settlement is seemingly frozen in time. Old city walls, gates, and watchtowers still stand, as if still guarding the town against intruders from rival villages.
Decades ago, Oman was a relatively poor country and people lived in these kinds of mud-brick houses. Once the oil was discovered and Oman transformed into a rich nation, people abandoned their mud villages and moved to Muscat for work.
In doing so, they left behind many eerie settlements such as Al Hamra that are now scattered throughout the Omani countryside. Al Hamra has been used as the filming location for Arabian horror movies.
Restoration work is currently underway to preserve the village and its buildings and stop them falling into ruin.
Learn the Gory History of Nizwa Fort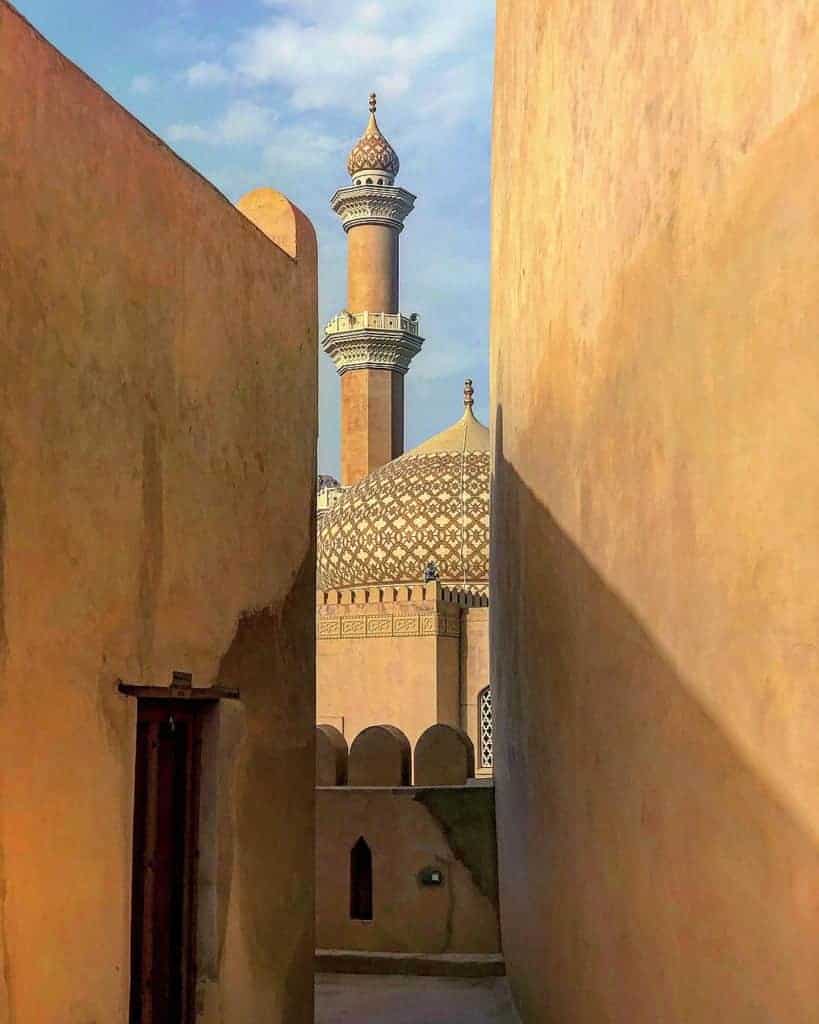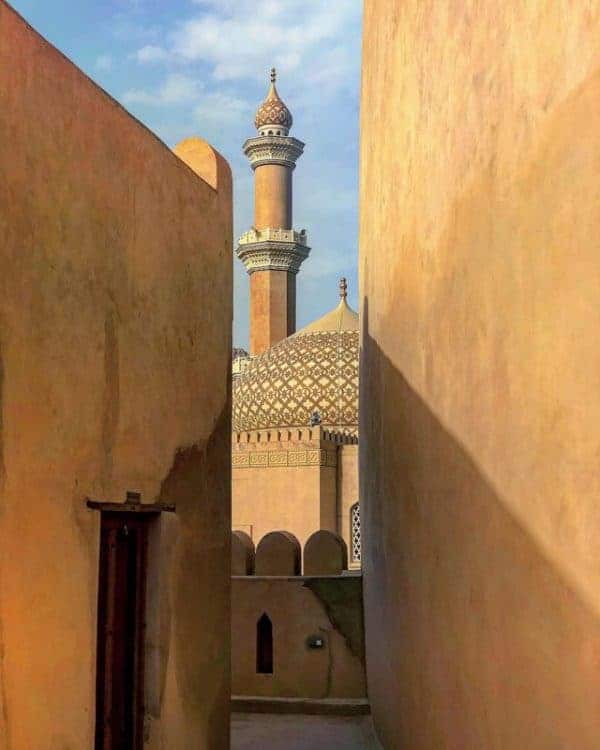 The Nizwa Fort is Oman's most visited site and for good reason. This defensive structure provides an excellent insight into Omani history.
The structure dates back as far as the 9th century. However, it was then renovated and restored by Imam Sultan bin Saif Al Yarubi in the 17th century.
Nizwa Fort: A Fortress with a Macabre Twist
Nizwa fort is far from your average crumbling fortress. There are many gruesome and innovative defense mechanisms scattered throughout the site that show what life was like in ancient Oman.
As you make your way around the fortress complex, you will stride over pitfalls covering tomb-raider style spike pits (now covered with perspex!!), gun-shooting windows, and appropriately named "murder holes". The murder holes were holes in the staircases and ceilings from which burning hot date juice was poured on enemies. This left them deceased but delightfully seasoned!
Enjoy a Sunset Stroll Along the Muttrah Corniche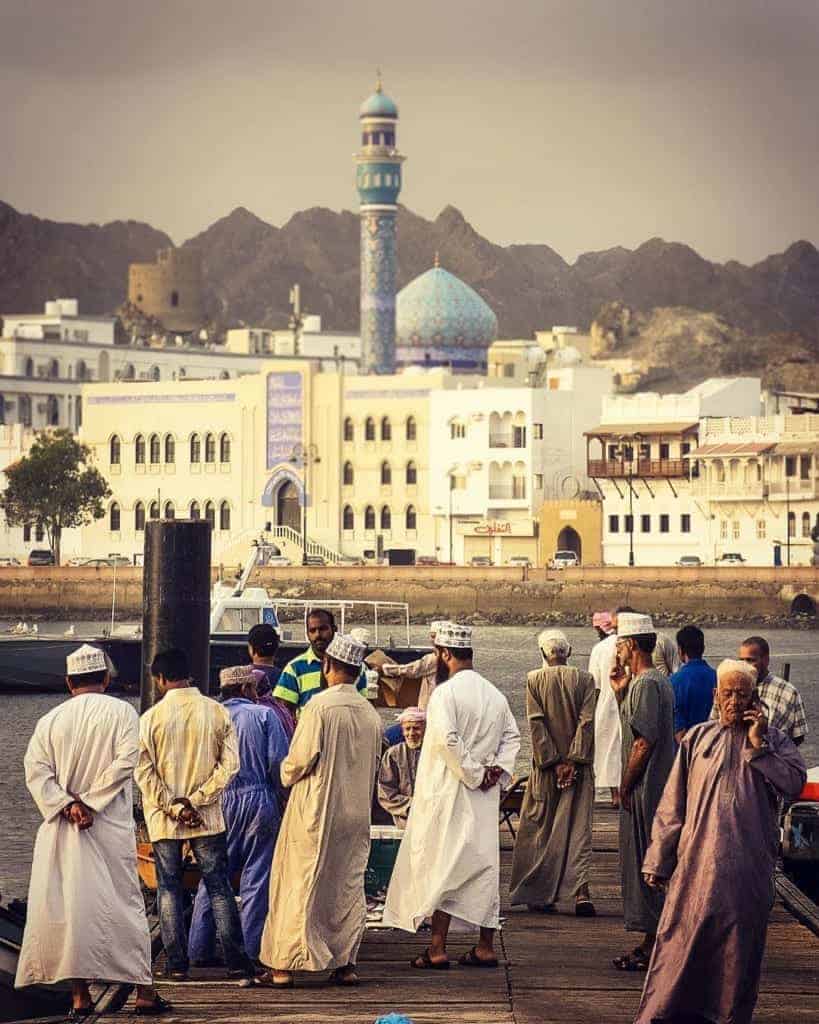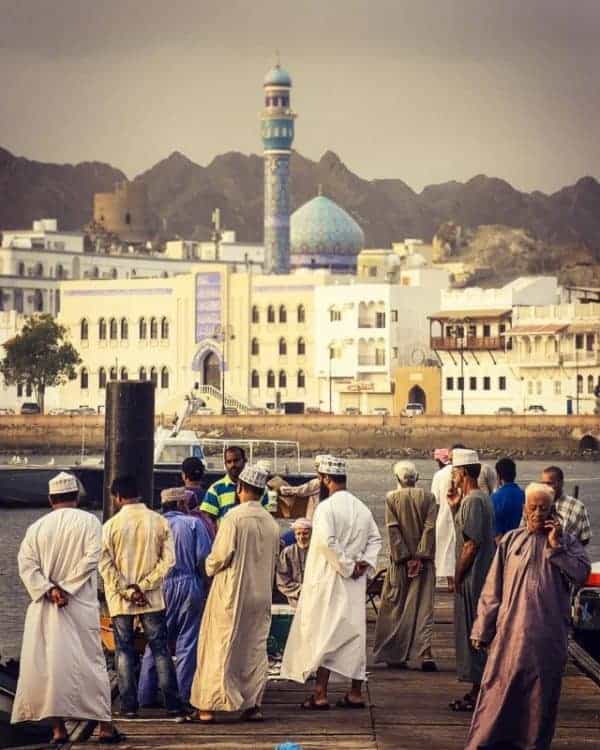 The Muttrah Corniche is the seafront of Muttrah's old town. This area is quite a sight to behold. This is particularly the case at sunrise when the local fishermen come ashore with their latest catches.
At night, the ambiance feels almost magical. At this time, the lights of the buildings glisten against the looming mountain ranges that encapsulate the city
A Day at Muttrah Corniche
The promenade that borders the corniche leads you past latticed buildings and historic marketplaces. Muttrah's intricately designed mosques boast minarets that shimmer in different colours beneath the sun.
Muttrah fish market sits at the western end of the Cornice. This is a fascinating place to watch locals haggle in the early hours of the morning.
To the eastern edge, you will find Muttrah fortress. The fortress only opened to the public in recent years.
It is free to enter and is well worth the climb. You have excellent panoramas across Muscat and Muttrah port from up here.
Fall in Love with Quaint Misfat Al Abriyeen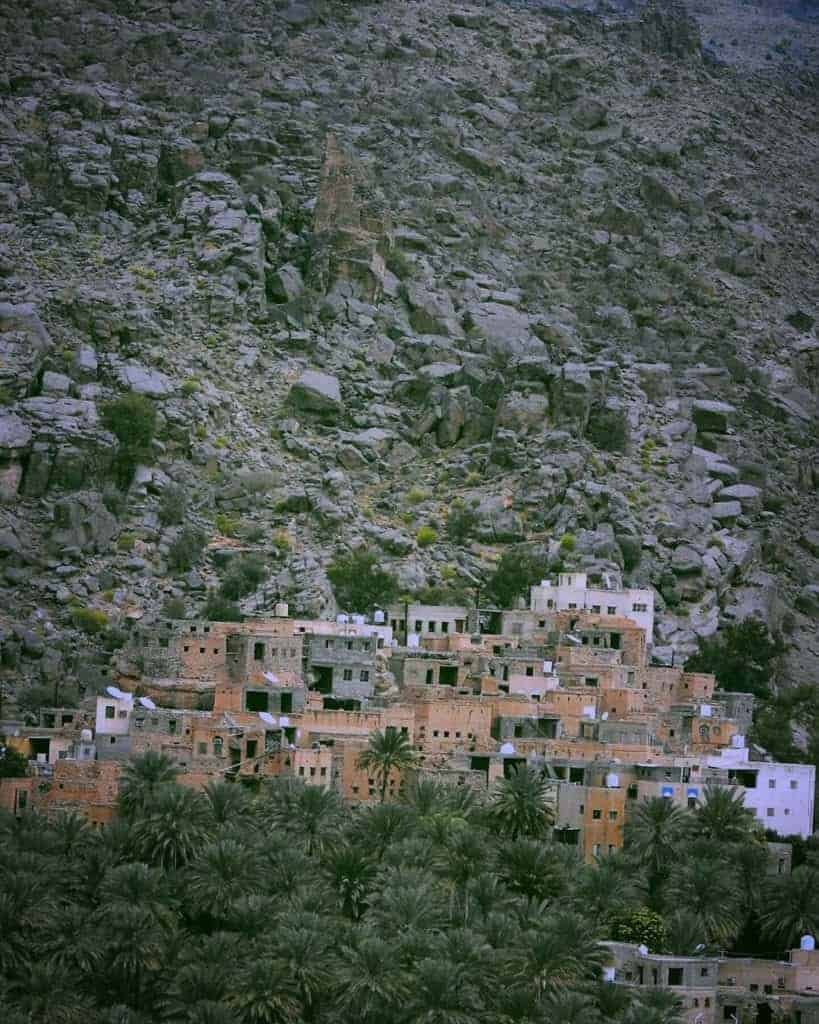 Misfat Al Abriyeen is a farming village that has resisted modernisation and retained its authentic historic roots. It is nestled high in the mountains of Al Dhakhiyla. Many people cite Misfat Al Abriyeen as their favourite place in Oman.
Spending a Day at Misfat Al Abriyeen
The old houses here are perched almost precariously on top of cliffs and solid rocks. People in Misfat Al Abriyeen still live in traditional mud-brick houses with palm roofs.
Additionally, ancient methods of farming and irrigation are still used in the area. The village provides a journey back in time.
The farming terraces that surround the village cascade down the mountains like Southeast Asian rice paddies. However, the farms here consist of palm trees that grow bananas, dates, pomegranates papayas and an array of other tropical fruits.
There is a pleasant walking trail that leads visitors through the narrow alleys and passageways of Misfat. It takes you past farmlands and beautiful gardens and provides you with incredible panoramas over the valley below as you go. Just follow the signposts that sport the Omani flag.
Take a History Lesson at Jabrin Fort
The well-preserved ruins of Jabrin fort possess a fascinating history and backstory. Jabrin dates back to 1670.
The fort was originally a castle. However defensive mechanisms and towers were added to the site retrospectively in order to transform it into a fortress.
Why? Well, the Imam Sultan of Oman at the time was Sultan bin Saif Al Ya'arubi. He decided to make Jabrin the capital of Oman instead of Nizwa.
Highlights of Jabrin Fort
Jabrin Fort is filled with aptly named "murder holes", trap doors and spike pits in order to ward off any intruders – much like the fortress at Nizwa. Today, the complex has been transformed into a living museum. It provides an interesting insight as to what life was like for an Omani Sultan centuries ago.
Jabrin Fort contains expansive living quarters that were occupied by the Imam, his wife, and their consorts. Additionally, there is a mosque, a Quran school, courtyards, and prisons. This could well be the most impressive fortress in the country and without a doubt one of the best places to visit in Oman.
Swing by Bahla Fort
Bahla Fort is an impressive UNESCO protected fortress that can be found in the foothills of Jebel Akhdar. It may seem that there are a lot of fortresses to choose from in Oman.
If you are short on time, you should certainly prioritise Nizwa Fort above Bahla and Jabrin. However, each fortress has its own distinct architectural style and background story. Consequently, you never feel that you have seen 'too many' Omani fortresses.
Bahla Fort was constructed by the Banu Nebhan tribe. This is actually the oldest and biggest fort in all of Oman, and its mudwalled structure makes it look like something right out of a movie set.
The Banu Nebhan tribe (Nabahina) were the predominant tribe in Central Oman between the 12th and 15th centuries. They made Bahla their capital.
This site is actually far more than "just" a fortress. It is an entire fortified settlement, complete with a Friday Mosque and a souk.
Parting Words
Are you considering a trip to Oman? Have any further questions about these wonderful places to visit in Oman, solo female travel in Oman or Omani adventures in general? Let me know!
---