Athens in March isn't the most common time of year to travel to the Greek capital but it is a pleasant one nonetheless. January and February are the coldest months of the year in Greece and in March, temperatures finally start to warm up. 
Flowers start blooming in the National Gardens, and everyone is in high spirits as they prepare for Orthodox Easter (Sunday, April 9 2023) and Greek Independence Day (March 25th).
March isn't the best time of year to travel to Greece if you are looking to lounge on the beaches of Greek islands. But for city exploration it is perfect. It is neither too hot nor too cold. 
This guide to visiting Athens in March has been written by someone who has lived in the Greek capital for almost five years (Me!) It runs through the best things to do in Athens at this time, and the seasonal celebrations and events that are taking place throughout the month.
Athens in March weather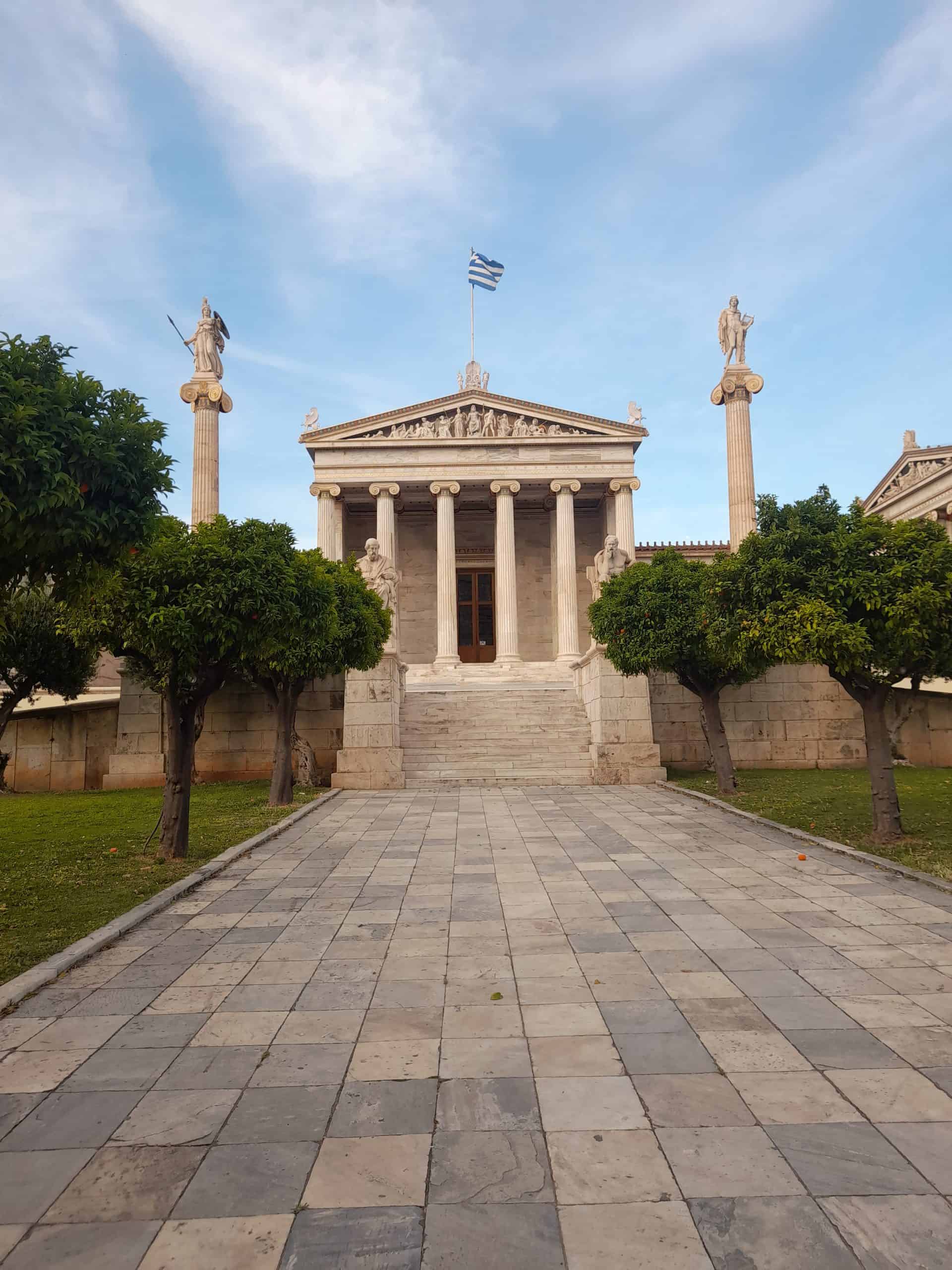 Athens in March weather sees an average daily temperature of around 12°C/53.6°F, with an average high of 16°C/60.8°F and a low of 8°C/46.4°F. Towards the end of the month, things really start warming up and higher temperatures are not unheard of. 
On average, 4 out of 31 days of the month see rain. However, Athens is not London. Rain showers here are usually brief and the skies quickly clear up. 
Greece sees 250 days of sunshine a year. So even on cooler, crisper days, you can still expect clear blue skies!
Is March a good time to visit Athens? Pros and cons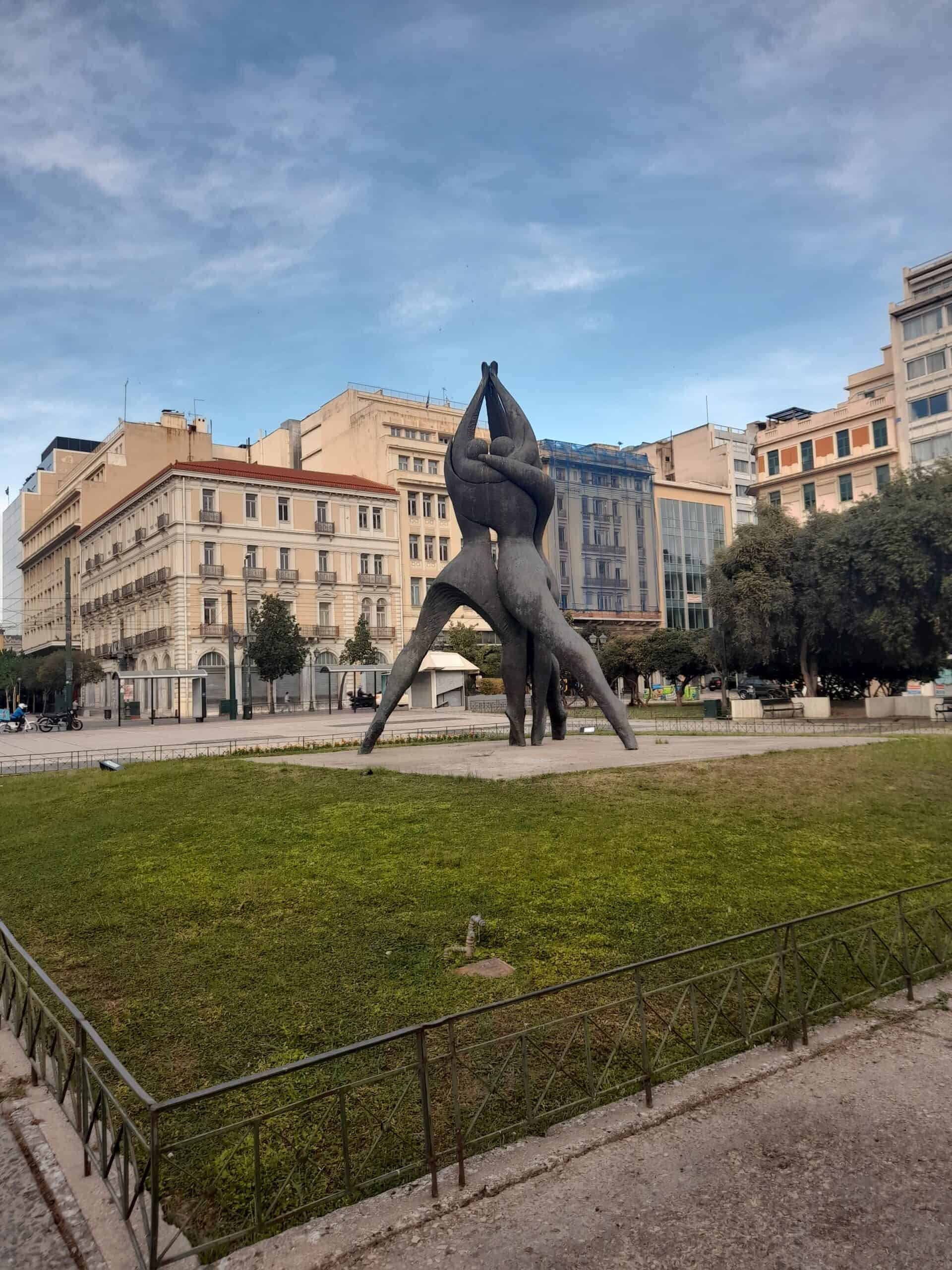 March is a great time to visit Athens for various reasons. First and foremost, this is considered the low season for Greece, as most travellers visit the country between June and September each year. 
This means that there are fewer crowds everywhere you go, and prices are often as much as 60-70% lower than they are during the peak Greek summer months! You may find that you actually prefer travelling to Greece in the spring rather than the summer, as temperature conditions are a lot more bearable. 
(Who wants to be walking around the Acropolis when it is 40°C, humid, and there are thousands of other tourists everywhere you turn? No thanks!)
There are plenty of cultural events that happen during this time. Sometimes, Orthodox Easter falls in March, although in 2023, it falls in April.
Things to do in Athens in March 2023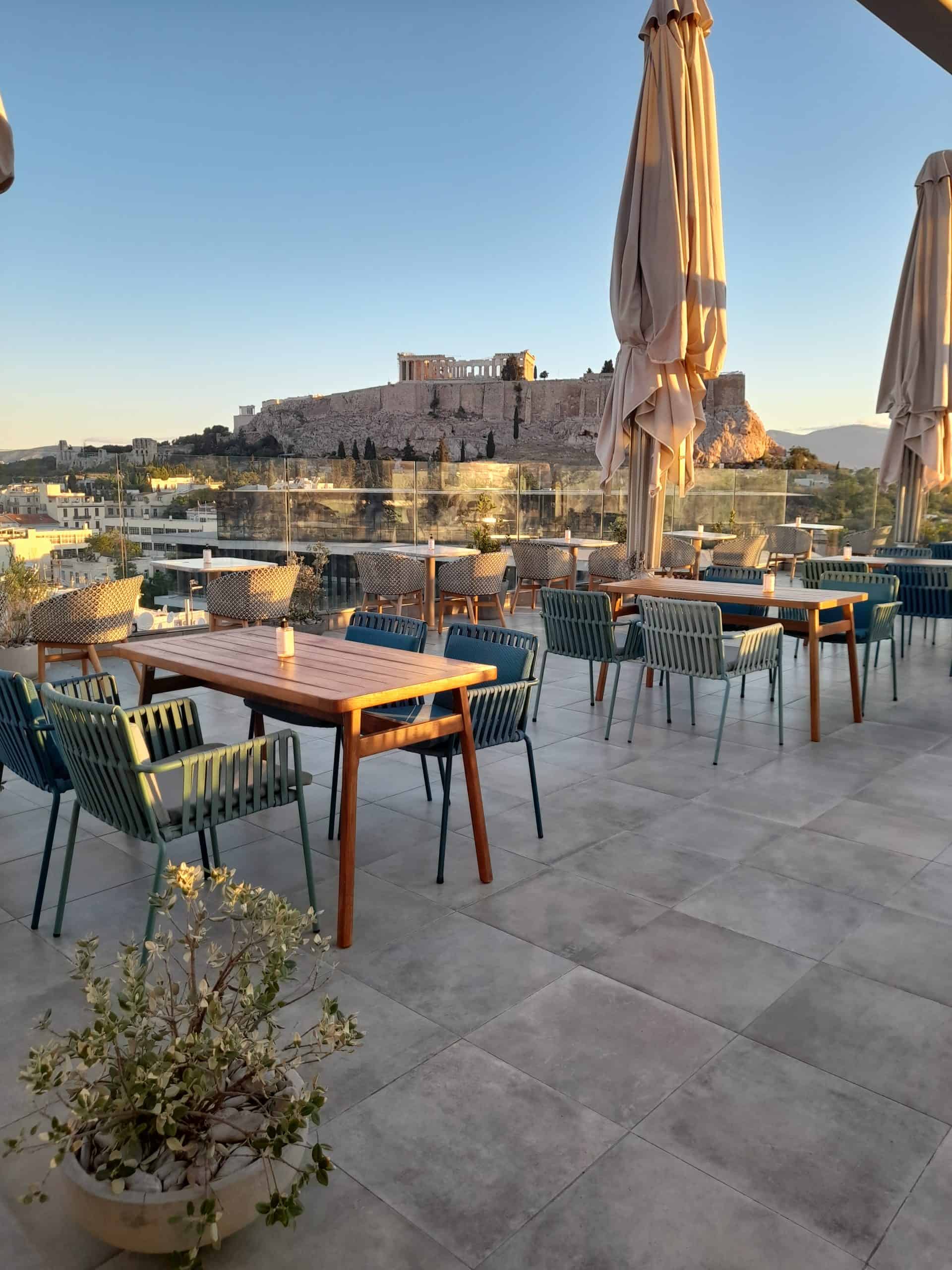 All of the things that you would do on your summer Athens itinerary can be enjoyed in Athens in March too. The great thing about Athens is that many of the city's main attractions are not dependent on the weather being good. 
Plus, if you are unfortunate enough for your trip to coincide with rainy weather, there are plenty of excellent museums, cafes, restaurants and art galleries where you can hide away from the elements.
Enjoy the Greek Independence Day celebrations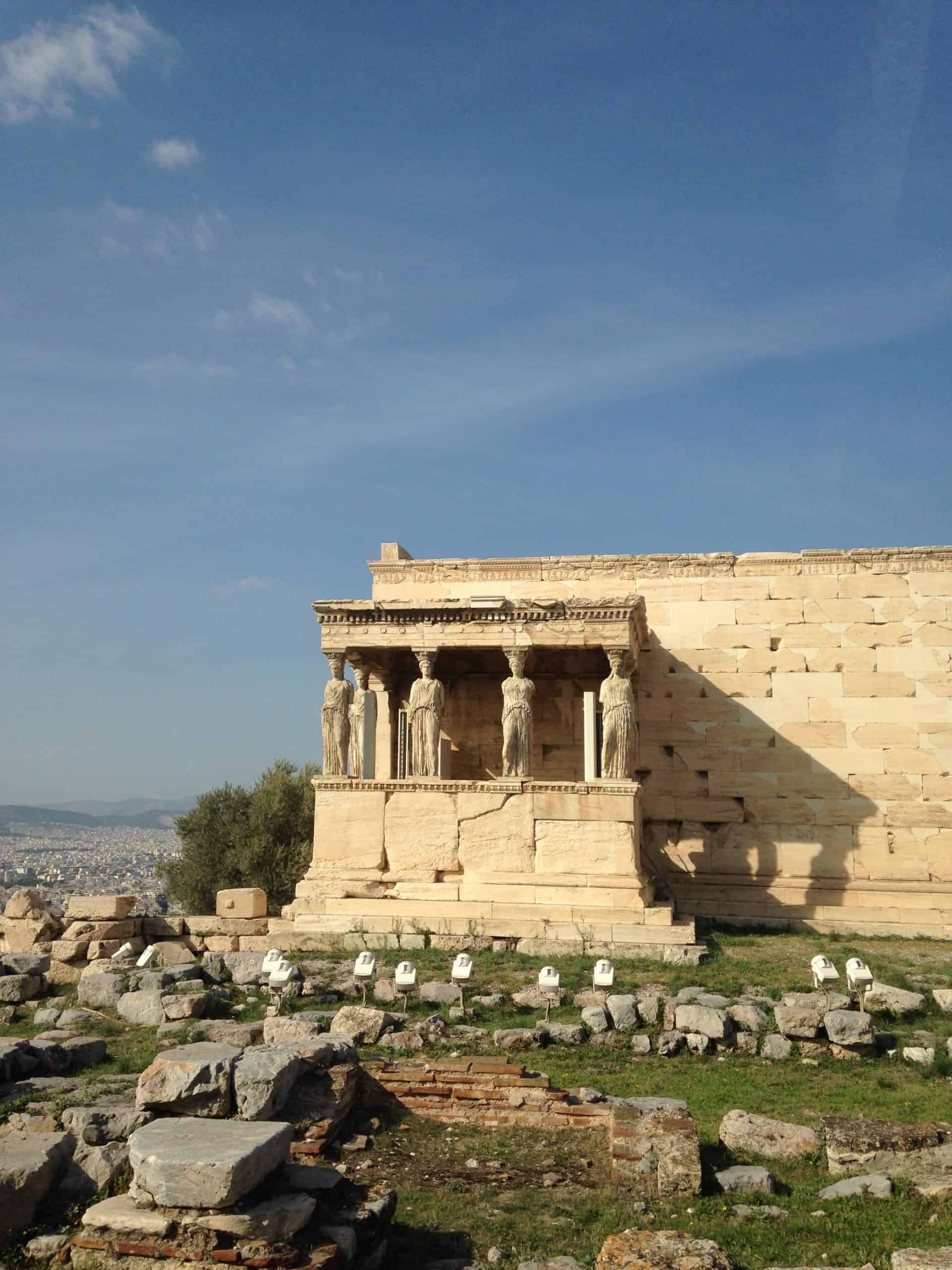 On Saturday 25th March 2023, Greece will celebrate years of 202 independence from Turkey. This event has been celebrated every year since the end of the revolution in 1821.
A lot of international travellers are not aware of the fact that Greece struggled under the Ottoman rule for nearly 400 years! A grand, military parade takes place in Syntagma Square to commemorate this date.
Buildings around the city hang their Greek flags with pride, and military flyovers take place over downtown Athens. 
Bakaliaros skordalia is a dish that is traditionally eaten on this day. This is salted cod served with a garlic paste.
You will find it on the menu at many restaurants and tavernas on independence day if you wish to try it.
Search for street art in Exarchia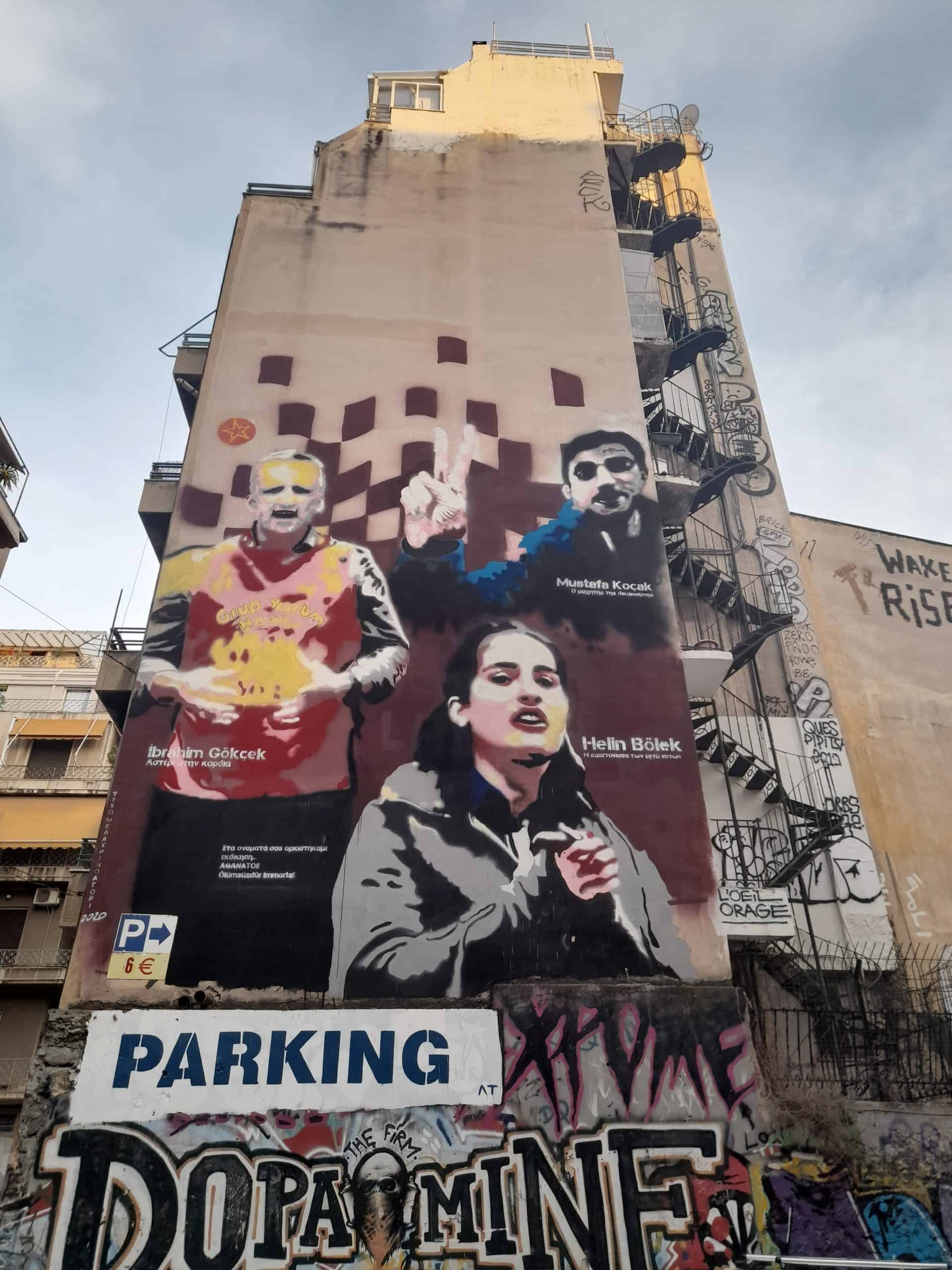 Exarchia is Athens' most alternative neighbourhood and it is quite unlike anywhere else in the city. This part of town was previously known for its links to left-leaning politics and anarchist groups, as several political demonstrations have taken place here over the decades. 
Today though, Exarchia is best known for its politically-motivated street art, rock bars and ramshackle stores selling vintage clothing and vinyl records. A lot of law students from the nearby Athens university campus come here to hang out and study over steaming cups of coffee.
If you are into street art, Exarchia, Metaxourgio and Psiri are the best places to add to your Athens radar. Virtually every wall, surface, storefront and alleyway in Exarchia is covered in graffiti – to the extent that you cannot see the bricks beneath! 
Some of the pieces have been created by famous European graffiti artists like INO and Borondo. You can get to Exarchia by walking down Themistokleous street from Omonia/Athens Central market area.
This little street is filled with many interesting stores that are the perfect places to pick up unique souvenirs. Some of the most controversial graffiti can be found on Tzavella street, and it is here where you will find a small shrine to Alexis Grigoropoulos – a teenage boy shot by a Greek cop in 2008. 
Take an Athens walking tour
A walking tour can be a great way to get your bearings in a new city and the same is definitely true of visiting Athens for the first time. The Greek capital is a sprawling metropolis and it can definitely be an overwhelming place to explore.
An Athens tour with a local can help you gain more context into the various Athens neighbourhoods, buildings and historical sites that you see. Not to mention, you will probably stumble across places that you never would have found independently. 

Better still? You have an Athens expert on hand to ask all the questions you want to ask about what to see and do, and where to hang out during your trip.
Recommended Athens tours
A handful of reputable Athens tours are detailed below for your consideration. Book online in advance to secure your place and avoid disappointment!
Visit the Acropolis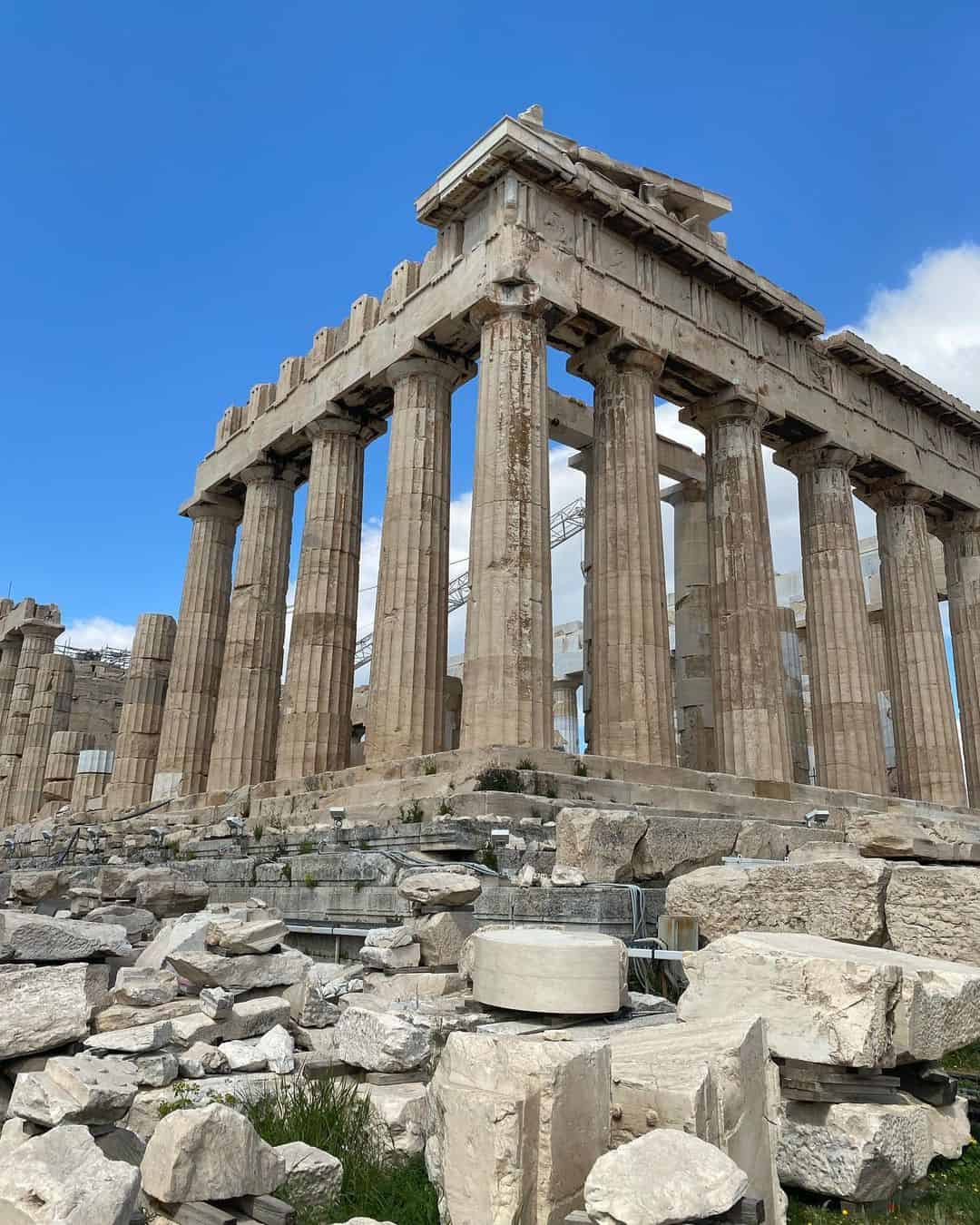 The Acropolis and its magnificent Parthenon is the iconic postcard image of Greece. This is arguably one of the main reasons that people want to visit Athens in the first place.
Centuries ago, virtually every Greek city had an Acropolis hill at its centre. 
However, most were built for defensive purposes whereas the Athenian Acropolis was built for the worship of Goddess Athena. The Parthenon was built in the 5th century BC and has been a UNESCO-protected world heritage site since 1987. 
You should dedicate at least 2-3 hours to exploring the Acropolis as the site is larger than it looks from the outside. You will find various theatres, shrines, and collonaded walkways throughout the complex.
Look out for the Theatre of Dionysus – an ancient theatre that was constructed on the southern slopes of the Acropolis hill in the 4th century and named after Dionysus, God of Drama.
Nearby, you will also see the Odeon of Herodes Atticus. This grand theatre was built in 161AD during the Roman era by Herodes Atticus in memory of his wife.
When you visit Athens in March, you don't have to worry about having to get up at the crack of dawn to get to the Acropolis as soon as it opens to avoid the crowds. (Although early morning and late afternoon are still the quietest times.)
Visit the "New" Acropolis Museum
The "New" Acropolis Museum (Dionysiou Areopagitou 15) sits adjacent to the spectacular Acropolis. It is housed inside a spectacular contemporary glass structure that is a piece of art in itself.
The building was designed by Architects Bernard Tschumi and Michael Photiadis. The extensive exhibits here display items that were recovered from the area surrounding Acropolis Hill and provide more backstory and context to the site.
Your Acropolis entrance ticket includes admission to the Acropolis Museum, while if you purchase an Athens combo ticket for 36 euros, both are included. There is a pleasant coffee shop on the top floor where you can enjoy Greek coffee and a slice of cake with a view. 
Visit the Ancient Agora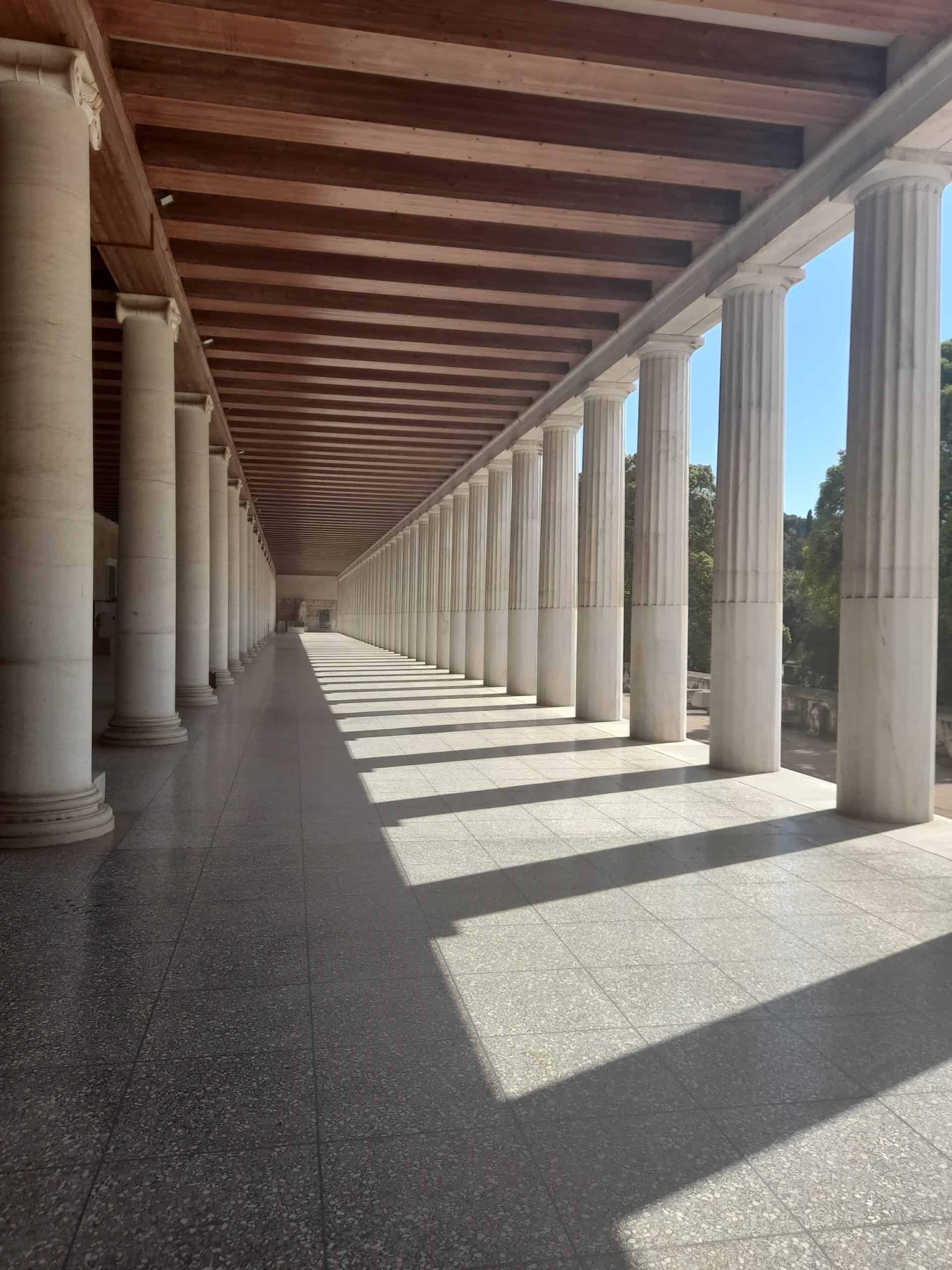 In Ancient Greece, the Agora was the place where locals would assemble to listen to important announcements and speeches. The Athenian Agora site was frequented by notable Greek Philosophers such as Socrates and Plato who would wander around barefoot and share their wisdom and thoughts with anyone that would listen. 
The spectacularly well-preserved Temple of Hephaestus is one of the most impressive things to see here. This is the best preserved Doric temple in the world today.
It was built around the same time as the magnificent Parthenon (circa 450 BC). It is special because it was the very first temple in the world to be made entirely out of marble.
The grand, collonaded building on your left-hand side when you enter the Agora complex is the Stoa of Attalos. This was once the city's main marketplace, but today it contains the Agora Museum.
The museum contains exhibits recovered from the region that have been organised in chronological order. The items on display date all the way back to the Neolithic, Bronze, Iron, and Geometric periods.
Everything from antiques, to intricately carved statues, weapons, and vases can be found inside.
Visit the National Historical Museum
Athens' National Historical Museum (Stadiou 13) is the oldest history museum in the country. It dates back to 1882 and is set inside a former Greek parliament building. 
The collections here are a diverse array of every weird and wonderful object imaginable. Everything from traditional clothing to personal letters and furnishings can be found inside. The museum essentially celebrates Greek culture and history through the ages. 
Stop by the Museum of Cycladic Art 
The 1986 Museum of Cycladic Art displays art pieces from the Cyclades. There is all manner of obscure ceramic depictions of humans here. 
A lot of the creations are as much as 5,000 years old. Many say that some of these historic pieces inspired great artists such as Picasso with their works.
Visit the Temple of Olympian Zeus
The sunbleached ruins of the Temple of Olympian Zeus sit on Leof. Vasilissis Olgas Boulevard, just behind Hadrian's Arch.
Its millennia-old pillars provide a stark contrast to the modern city that has developed around it.
The temple was dedicated to Zeus, the leader of the Ancient Greek Gods.
Construction on the site started in 520 BC. However, the project kept being abandoned, and then picked up again, for several centuries. In all, it took a whopping 638 years, from start to finish for the temple to be completed.
It was the Roman Emperor Hadrian that finally finished construction in 131 CE. After that, it was functional for less than two centuries, as it was attacked and looted various times throughout history. 
Today, only 21 of the original 104 Corinthian columns remain. Still, this is one of the most impressive landmarks in Athens and when you enter the complex, it is easy to imagine how grand it must have looked all those centuries ago when the grounds were decorated with glittering golden statues of Zeus and Hadrian.
Enjoy Athens by night
Athens by night has something for everyone. There are glamorous rooftop cocktail bars that overlook the Acropolis, underground techno bars, and cosy bouzouki spots where you can listen to live Greek music.
Couleur Locale (Normanou 3) is a local favourite. This trendy rooftop cocktail bar awaits down an unsuspecting alley just off Monastiraki square. From up here, you have perfect views out to the Parthenon, Mount Lycabettus, and Filopappou Hill. 
Jazz in Jazz (Dinokratous 4) is a charming jazz bar in upscale Kolonaki. The bar transports you back to New Orleans in the 1920s and is so small and cosy, it feels like you are sitting in someone's living room.  
Take a day trip to Cape Sounion 
Cape Sounion and the Temple of Poseidon are easy to get to from the city centre. This is one of the best, and most convenient day trips from Athens. 
The temple dates back to 444 BC – the same year as the Acropolis. Historically, Sounion was a port of great importance in ancient Greece. 
As you explore the area surrounding Poseidon's Temple, you will find the remnants of ancient defensive walls, stone houses, and ramparts. The nearby Sounion National Park is also worth some exploration. The caves here were once the dwellings of cavemen. 
Sail out to the island of Hydra 
There are some Greek islands that require hot, sunny weather to enjoy them to the maximum, and then there are those that can be enjoyed at any time of year. Hydra, Greece, falls into the latter category.
Hydra floats in the cerulean waters of the Saronic Gulf. It is an island seemingly frozen in time.
There are no cars on the island, and people get around on horseback. The port at Hydra is rumoured to be the most beautiful in all of Greece. Several tour operators offer day tours of Hydra from Piraeus port. 
FAQs and things to know about travelling to Athens in March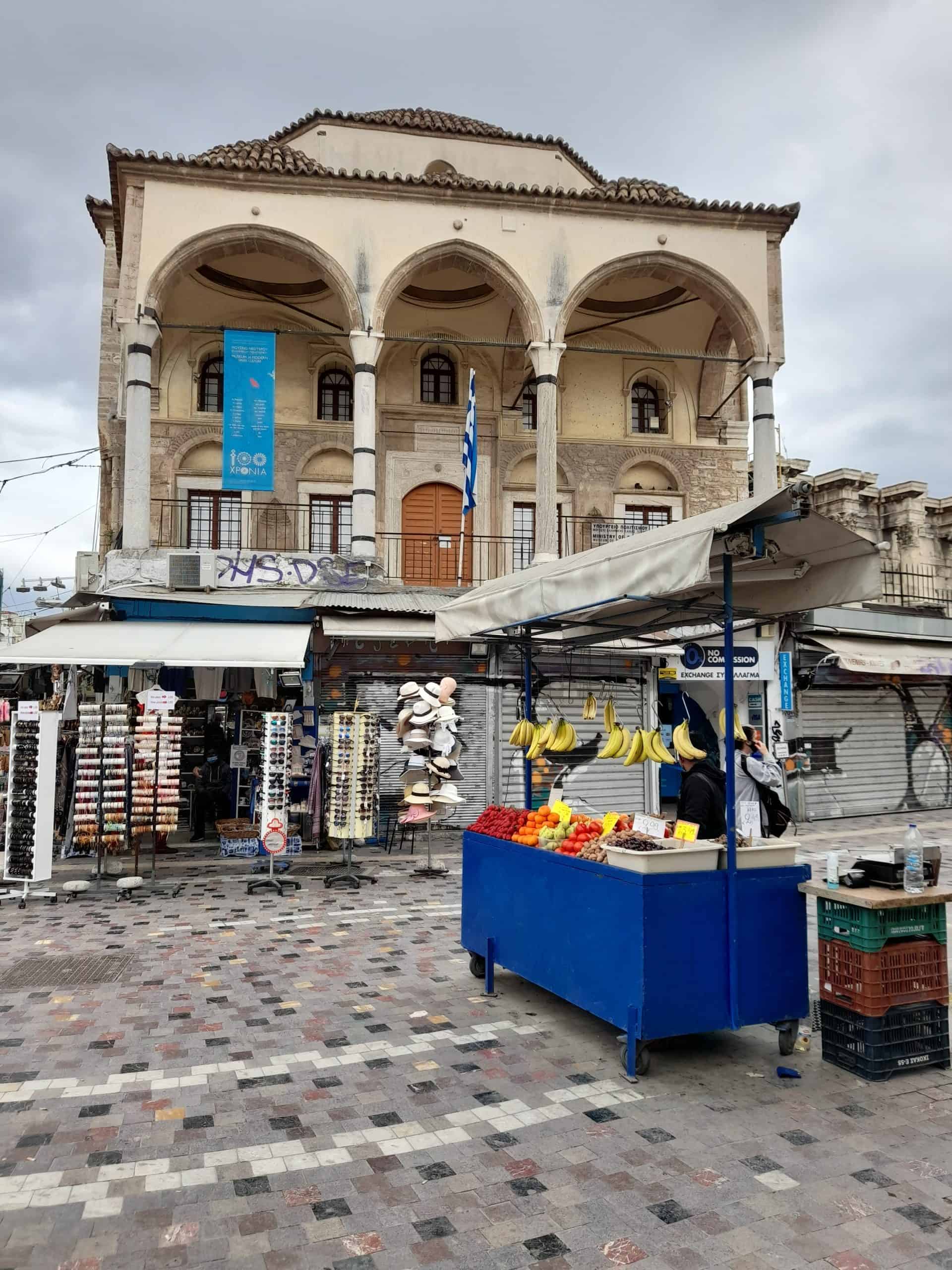 Do you have any additional questions or concerns about visiting Athens in March? Hopefully, you will find the answers you are looking for below. 
If not, you are more than welcome to reach out!
What clothes to take to Athens in March?
The best thing to do when packing to visit Athens in March is to layer up like an onion! The average daily temperature here is 12°C.

While it isn't cold, it isn't exactly hot either. You will be okay wearing a t-shirt and jeans/trousers/long skirts and dresses most days.
Occasionally, it gets a lot warmer in the daytime, particularly towards the end of the month. When you are walking around all day, it can make you feel a lot hotter too, so it is better to wear layers that can be removed rather than clothes that are really thick and heavy. 
Pack a light coat or a jacket as mornings and evenings are cooler. You should pack comfortable shoes as you will likely be walking a lot and a lot of the pavements in Athens are uneven.
An umbrella doesn't go a miss either, just in case it should rain during your visit. 
Is Athens crowded in March?
Athens is by no means crowded in March and the city (and Greece in general) sees a fraction of the crowds it sees in say, July or August. Still, Greece is one of the most popular travel destinations in the world and Athens is home to some of the most important archaeological sites in Europe.
As such, you can expect to always see a steady trickle of tourists. Things won't be chaotic in Athens in March but you are not going to have ruins and beaches entirely to yourself either. 
Some places operate on winter admission schedules
Many Athens museums, ruins and sites of interest are open on a reduced winter schedule from November to March. Most sites are open from 8 AM to 5 PM, with the last entry at 4:30 PM.
This varies from site to site, so it is worth having a quick Google of the specific place that you are hoping to visit before you go, to check their exact opening times.
Some museums and archaeological sites are free on certain days
Between November and March, certain Athens museums and attractions are free on the first Sunday of the month. In March 2023, you can enjoy free admission to many of Athens' most notable attractions on Sunday 4th March.
Admission to many sites is also free on the 6th of March for Melina Mercouri day. This is a day dedicated to the beloved late Greek actress Melina Mercouri who died on the 6th of March 1994 at New York's Memorial Hospital.
Is Athens cold in March?
Athens is not cold in March. It sees average daily temperatures between 8°C and 16°C.
This is definitely a big difference from the temperatures you see during the summer. However, it is much warmer than other parts of Europe.
Final thoughts on visiting Athens in March 2023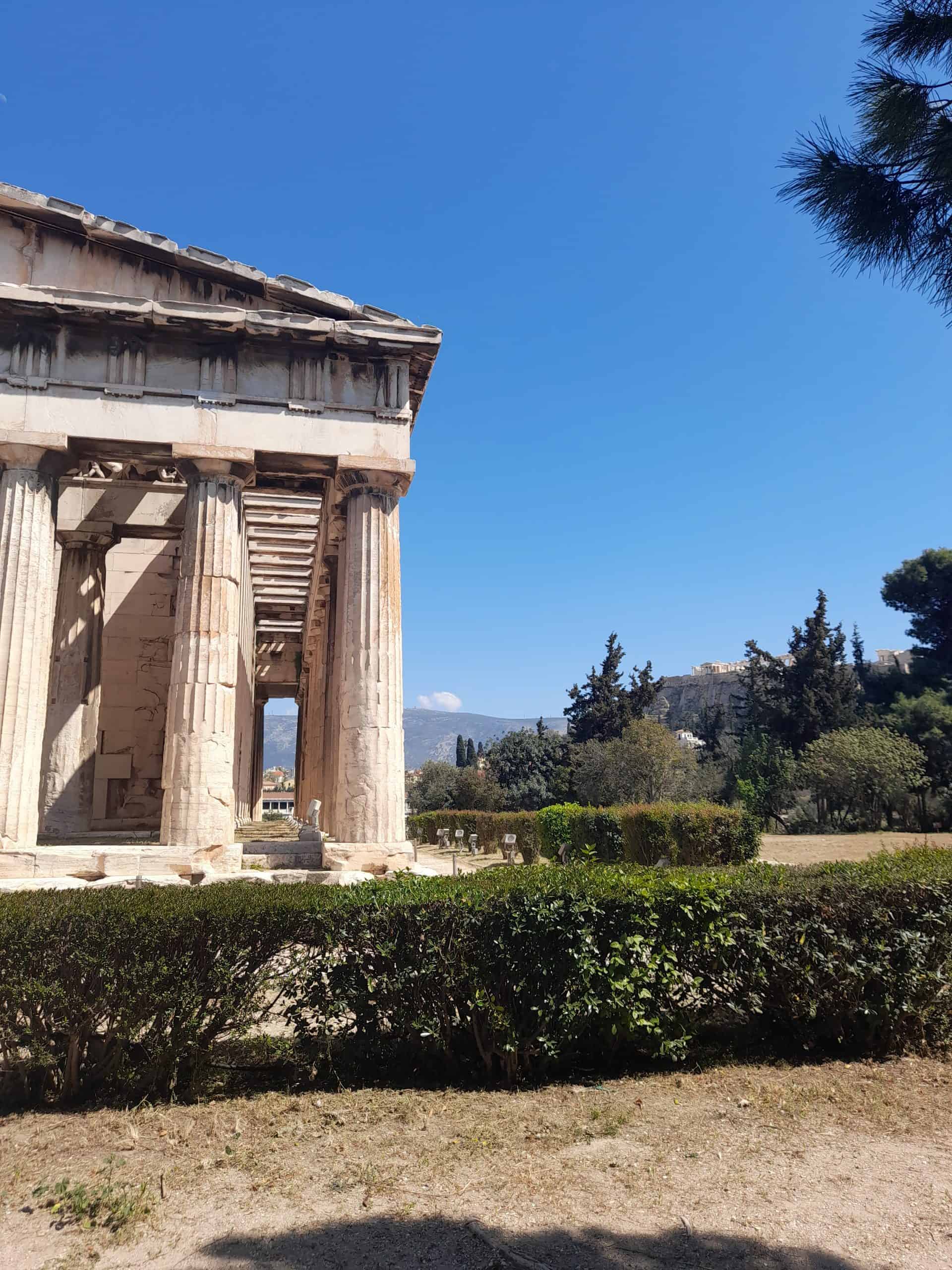 Do you have any additional questions about visiting Athens in March or planning a vacation in Greece? I have lived in Athens for almost five years now.
I am happy to assist where I can. Safe travels!
Geia sou! Melissa xx
---