Shangpree spa Seoul is widely regarded as being one of the best places to get a facial in Seoul. The spa comes highly recommended by the likes of Vogue, Conde Nast, Forbes, and The New York Times.
As such, Shangpree's reputation precedes it. K-Pop stars, international celebrities, and the Korean elite are among Shangpree's loyal clientele.
The spa has a cult following on account of its estheticians' expert knowledge and ability to give customers the sought-after "glass skin" look that is oh so uniquely Korean.
The signatures and signed photographs of Shangpree's world-famous clients hang on the walls of the spa's reception. Shangpree Seoul is also an official sponsor of acclaimed designer Alexander Wang, among others.
If you have a chance, you should consider treating yourself to a Shangpree spa facial during your Korea travel itinerary. Your skin will certainly thank you for it!
Making an Appointment at Shangpree Seoul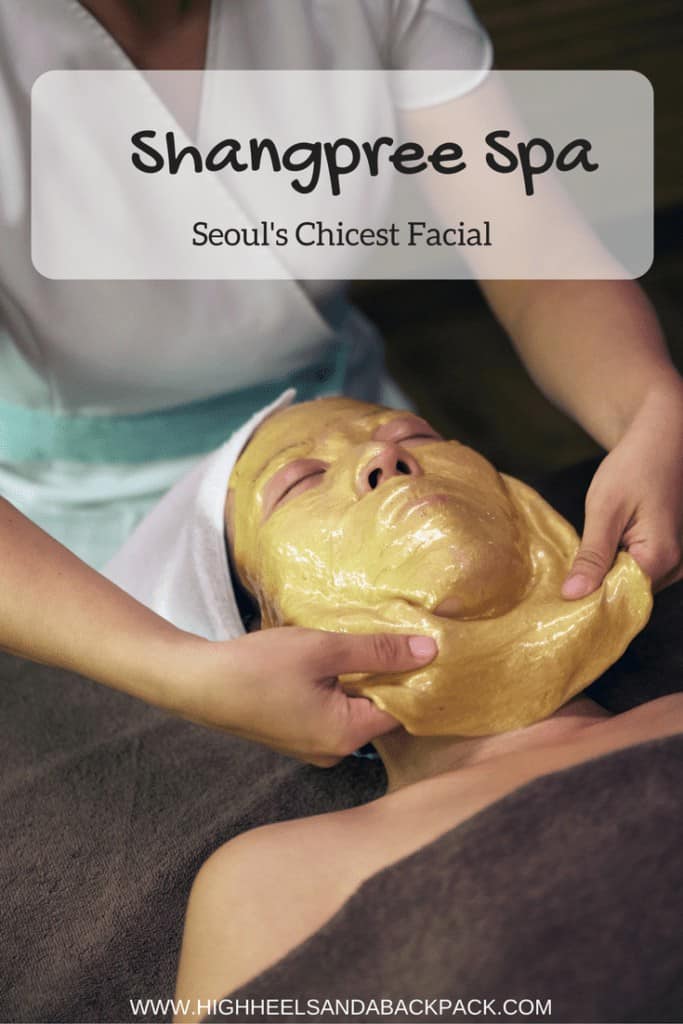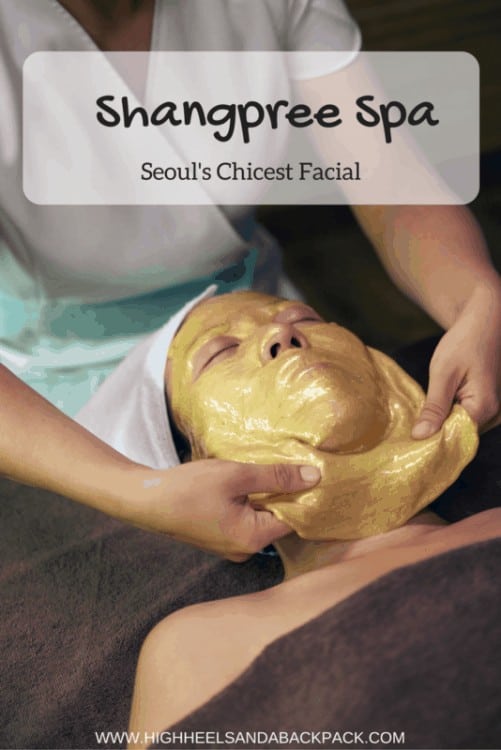 Shangpree's S-Power and S-Energy facial treatments are widely considered as being among the best facials in Seoul. Making an appointment at a spa that is associated with the rich and famous may sound intimidating.
However, the atmosphere at Shangpree spa is non-pretentious and all of the staff are very friendly. If you call to make an appointment, you will typically find that they are able to pencil you in very quickly.
Shangpree Seoul:
Branches in Glamorous Locations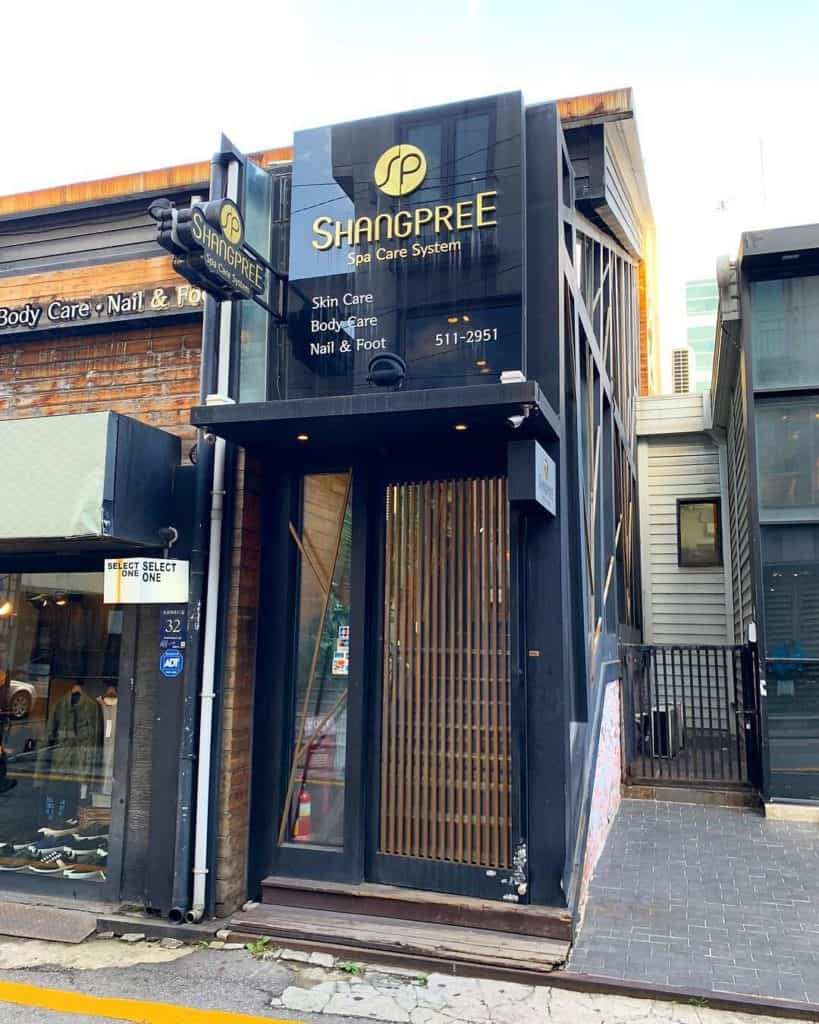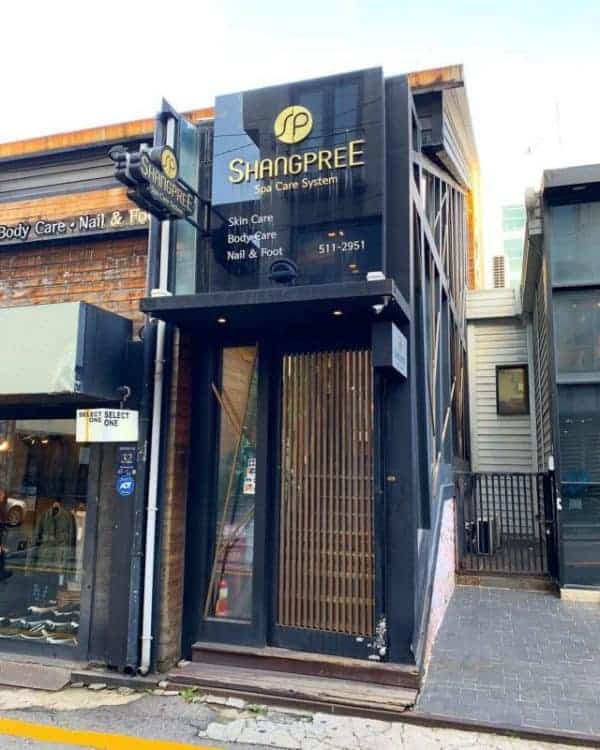 Shangpree spa has three branches throughout Seoul. These are located in Cheongdam, Gangnam, and Myeongdong respectively.
The spa chain has expanded in recent years. Shangpree now also has branches in Suwon, Daejeon, and Daegu.
I visited the spa's Cheongdam branch. This acted as the perfect location to enjoy a facial as part of a girly day out in Seoul. Shangpree Cheongdam is nestled between upscale designer boutiques, quirky coffee bars, and chic eateries.
Shangpree Seoul:
What to Expect During Your Facial
You are met with luxury from the moment you step inside Shangpree Seoul. The interiors of the Cheongdam branch are exquisite. The entrance area alone boasts beautiful wooden flooring and a sculpted wooden back wall, complete with a water feature in the centre of the room.
All customers are treated like Royalty. Upon arrival, you will be provided with a golden locker to store your shoes inside.
Snacks and refreshments will be set out for you in the sofa area. So, you can relax and get comfortable while you are waiting for your appointment.
Arrival at Shangpree Spa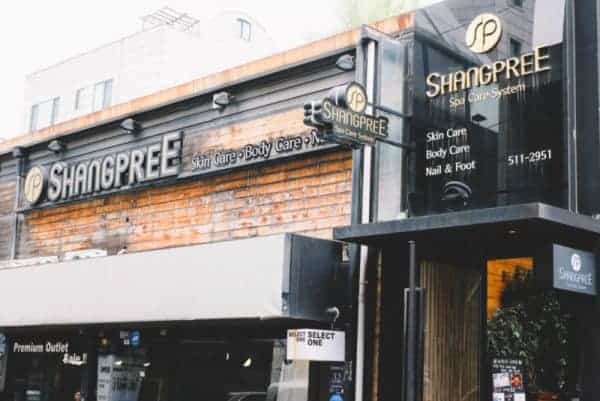 The two ladies that greeted me were extremely friendly and spoke a good level of English. They explained the process to me before I was lead to my private dressing room to change.
You will be provided with a light yellow robe. You can wear this during your facial.
This is to ensure that none of the products get onto your clothes. The Shangpree spa dressing room had all of the amenities that you could ask for.
There was a wardrobe to hang your clothes, a sink, and a vanity table. There are a number of beauty and skincare products at your disposal.
You will be given plenty of time to prepare after your facial. You can fix your hair and makeup as you like, ready to continue with your Seoul itinerary. Soft, traditional Korean music played in the background creating a very relaxing environment.
Step One:
Assessing the Skin for a Shangpree Spa Facial
You will be given ample time to change and get yourself ready for your Shangpree facial. The esthetician will then assess your skin and determine the best treatment option for you.
This is where Shangpree's facials stand out among the crowd. Their formulations are bespoke to suit your skin type.
This means that whether you have dry, oily, or combination skin, you will be treated with something that is perfectly tailored to you. There are many wonderful spas and jimjilbangs in Seoul.
However, most places offer generic facials that have a "one size fits all" approach. This is not always the best choice for people with sensitive, problematic, or acne-prone skin.
Sometimes, having an ill-suited facial can result in breakouts. The estheticians at Shangpree spa are trained extensively.
They must have three years of training before they are even allowed to touch a client's skin. This should give you plenty of reassurance that you are in the best hands.
The consultation with the esthetician is your opportunity to raise any skin complaints that you would like to address. Don't hesitate to ask any questions that you may have. Most of the estheticians will speak English.
Step Three:
Cleanse, Tone, Moisturise, Massage!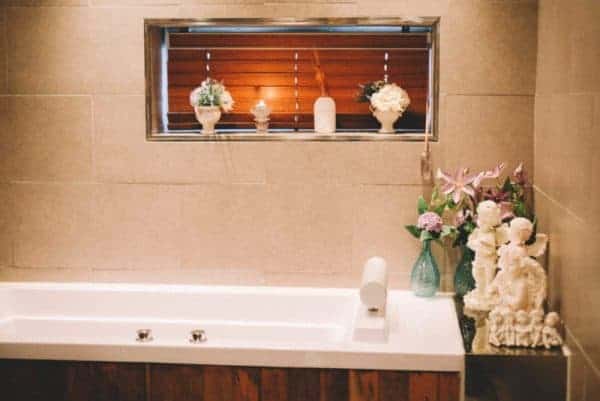 Once everything has been agreed, the esthetician will prepare your skin for the facial. They will cleanse and tone your face, and remove any makeup that you have on.
I had recently started having Fraxel laser treatments in Seoul to even out my skin tone. A combination of this and the extremely cold temperatures during winter in Korea left my skin feeling very dry and sensitive.
The esthetician cleansed my skin and then applied some soothing cream to my face. She then applied a moisturising sheet mask which she left on for ten minutes to begin to combat some of this dryness.
The Air Compression Massage
Another lady entered while the esthetician was cleansing my face. She cleansed my feet and massaged them with hot towels.
This was a nice touch. She asked if I would like to have a leg massage which I agreed to.
The massage is conducted with the aid of an air compression massager. This can feel a little strange if this is not something you have had before.
The air compression massager is essentially like putting your legs into long plastic socks that filled with air of varying pressures. The air is pumped out at different points around your leg to encourage better circulation.
Step Four:
Application of the Face Mask
The esthetician removed the sheet masked and used an ionic device to remove excess sebum from my skin. She then massaged my face before moving on to the main aspect of the facial: the modeling mask.
The treatment option that she selected for me was Shangpree's popular 'S-Energy' treatment. This formulation is made from a combination of natural herbal ingredients.
The Shangpree S-Energy Mask
The Shangpree Spa S-Energy mask contains no artificial fragrances or preservatives. This particular treatment is very popular as it is suitable for even the most sensitive of skin types.
The esthetician blended all of the ingredients together there and then before applying the mask to my face. The mask was extremely thick in texture.
You will be asked if you are happy for the mixture to be applied to your eyes and mouth. If you agree, you should keep your eyes tightly closed throughout the rest of the facial.
If you don't like the idea of that, dont worry. It is possible to have the mask applied to avoid these areas.
Step Five:
Time to Relax
Once the S-Energy mask has been applied, you will be left to relax for 20 minutes as the mask soaks in. You will be then offered a chest and shoulder massage before it is removed.
After removal, the remaining product is patted into your skin. A day moisturiser and an SPF treatment will be applied.
Shangpree Spa Facial:
S-Energy vs S-Power
Two of the most common Shangpree spa treatments are the S-Energy and the S-Power facials. But what is the difference between the two?
The S-Energy treatment is essentially Shangpree Seoul's "signature" facial package. This costs 130,000 KRW (approximately $110).
The S-Power treatment is the S-Energy supercharged. This costs 230,000 KRW (approximately $230).
Which Shangpree Treatment Should You Choose?
Both the S-Energy and the S-Power Shangpree spa facial packages are modified depending on your specific skin condition and complaints. They each use different ampoules depending on your personal needs.
The S-Energy treatment is a nice choice for first-time visitors to Shangpree Seoul. If you enjoy it, you can return again for the S-Power!
However, the S-Power treatment is the more premium and intensive of the two. So, you may want to opt for this one if you have skin issues you want to address. For instance, visible wrinkles, discolouration, or aging skin.
Conclusion
The entire process at Shangpree was very enjoyable and relaxing. Everything from the initial cleansing to the massages and the facial treatment itself was wonderfully indulgent.
My skin felt so refreshed after the experience. It actually had a shiny, healthy glow to it for a couple of days afterward that is so typically Korean!
The Shangpree Spa staff were eager to catch up with me after the facial. They offered me some suggestions on the best ways of caring for my skin type and the types of products I should use.
Shangpree Seoul is arguably the leading spa in Seoul. They are often scooping up awards at international and Korean beauty expos.
But at the same time, the owners and staff are all so down to earth and friendly. They make themselves available should you need to ask any questions about your treatment or your skin routine.
Shangpree Spa, Seoul:
Is it Worth it?
The skin treatments at Shangpree Seoul have won hearts all over the globe and impressed even the fussiest of clientele. The price tags are certainly not budget, but is the Shangpree facial treatment worth the money?
Yes. Particularly if you are wanting to treat yourself, are on vacation, or are suffering from dry or problematic skin.
If you follow a strict and intense skincare regime may not see such substantial results as those who are a bit haphazard with it. In other words, if you are following a Korean ten-step skincare routine, applying face masks, serums, night creams, and intensive moisturisers every day then the change will not be so dramatic.
Shangpree Spa, Seoul:
Appointment Bookings
Appointments at any of the Shangpree Seoul branches (and other Shangpree spas around Korea) can be made online via email or on the phone.
Unfortunately, the Shangpree website does not display the prices of the various treatments. However, it is possible to inquire and check the specifics prior to confirming your appointment.
Shangpree Spa, Seoul:
Additional Treatments
It may be their exquisite facial treatments that put Shangpree Seoul on the K-beauty map but that isn't the full extent of their treatment packages. In fact, Shangpree offers a comprehensive menu of skincare and full-body treatment products.
Their treatment menu includes nourishing body wraps, massages, and nail treatments. Nail bars sit adjacent to most of their Seoul branches
Shangpree products such as face masks, creams, and take-home skin treatments can be purchased on-site at the majority of the Shangpree branches. It is also worth noting that Shangpree items can be purchased from Galleria and several other department stores while you are shopping in Seoul.
Shangpree Spa, Seoul
Additional Information
Cheongdam address: 32, Dosan-daero 51-gil, Gangnam-gu, Seoul
Cheongdam contact number: 02 511 2951
Shangpree Seoul e-mail reservations: [email protected]
Prices: A facial treatment at Shangpree spa is ₩130,000.
Skincare range: Shangpree's range of products is available at the spas, and in Galleria retail stores in Korea. Their products are now also available from Harrods, London. This makes Shangpree the first Korean brand to grace the shelves of the luxury London store.
Parting Words
Have you visited Shangpree? Please don't hesitate to let me know if you have any additional questions about planning a trip to Korea.
I lived in Seoul for several years while teaching English in Korea. I am happy to assist with any questions you may have.
Safe travels! Melissa xo
Disclaimer: High Heels and a Backpack is in no way affiliated with Shangpree Spa Seoul.
Pin This Shangpree Spa Seoul Review For Later!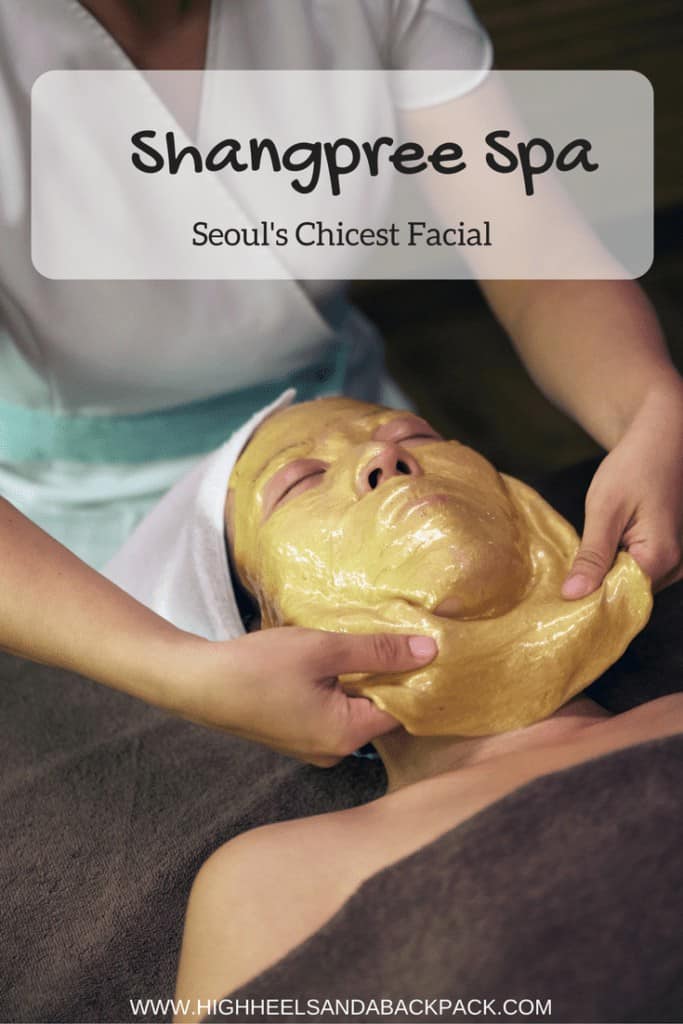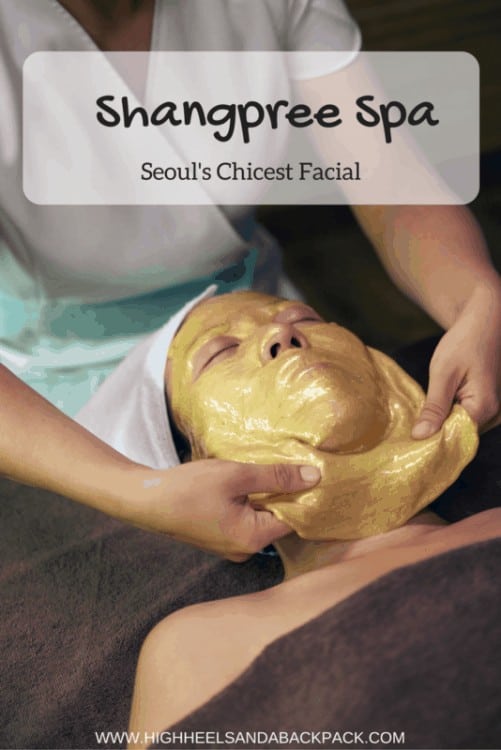 ---